In the first two months of Q2 2022, one of the primary product updates was to improve the opt-in experience on Desktop. To do this, we updated the Desktop Popup Editor to allow additional images and GIFs on the Popups, to help increase engagement and contribute to higher conversions.
At the same time, the implementation of Default Segments and a new segment condition was focused on. This update was built to assist with targeting the best audience with SMS Campaigns to boost your CTR as well as your ROI.
On top of these, we implemented Shopify tags to complement our in-app reporting. The Contact Card feature is now also live, which allows your subscribers to easily save your number to their contacts.
Keep reading to learn more details about our product updates!
Summary of new features and product updates in April and May 2022
Opt-in Tools
Additional images on Desktop Popups
Popup duplication
Segmentation and Targeting
Default Segments
New Segment Condition: Language
SMS Content
Reporting
Opt-in Tools
🖼 Additional images on Desktop Popups
Simple images
Positioning the content on your Popup is crucial. From now on, instead of uploading a background image, you can easily add additional images without interfering with the offer.
You can choose from three different positions according to your liking on the right side of the editor. You can place the images either on the left side, the right side, or on the top of the Popup.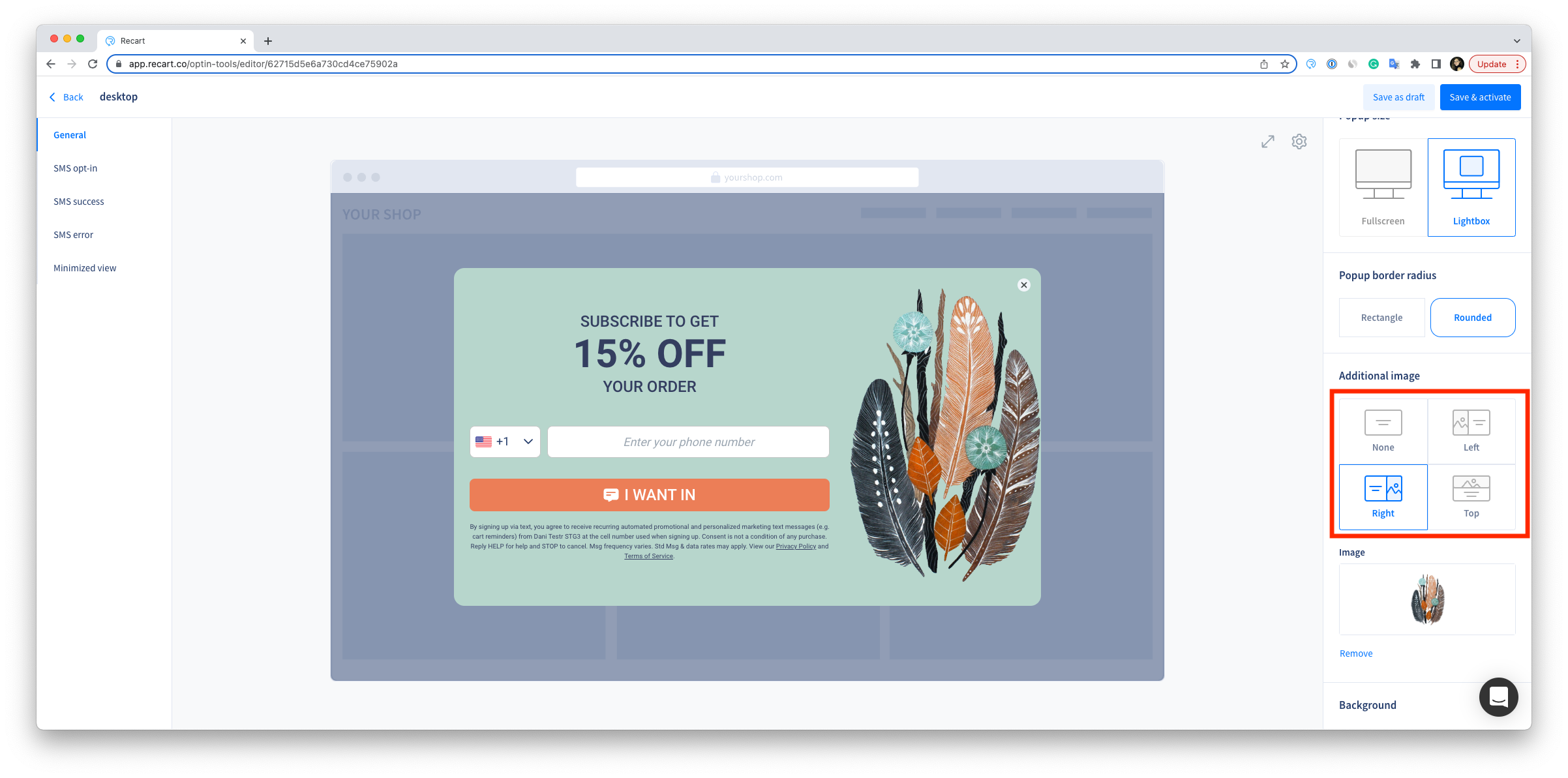 Transparent png images
If you would like to have a unified background color you can use png images with transparent background. Uploading a png image to the sides or on the top will let you choose a background color applied on the whole Popup, as shown in the above example.
GIFs
Similar to adding images to the sides or on the top of the Popup, you can now add GIFs to enhance the customer experience with animation. Showcase your products or use a simple GIF that fits your brand's style.
You can learn more about the new Desktop Popup editor here.
⏩ Popup duplication
It's incredible how much time the Popup Duplication feature update will save you!
From now on you can easily duplicate an existing Popup instead of building a new one from scratch. Plus, this means you can modify your Popup but keep the existing version's statistics to be able to compare them later, simply duplicate it and modify the duplicated version.

Segmentation and Targeting
🎯 Default Segments
Segmentation is key when you send SMS Campaigns to your subscribers. We can't emphasize how important it is to target your audience with specific offers based on their behavior in order to maximize your ROI. To make your life easier we have built some useful Default Segments, so you'll have audiences that can be targeted immediately.
Once the SMS feature is active on your account, the below Default Segments will be created automatically.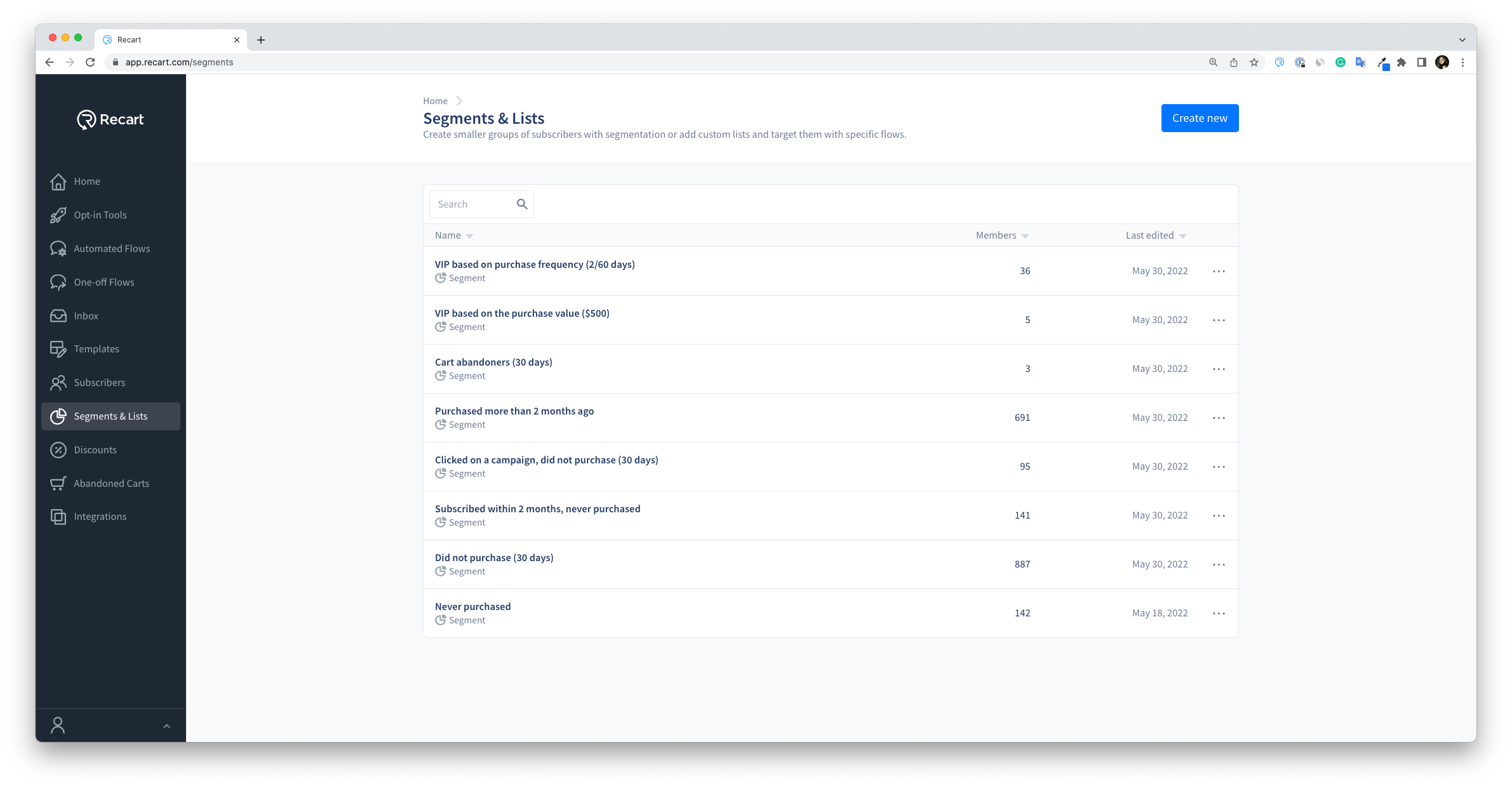 Never purchased
Subscribed within 2 months, never purchased
Clicked on a campaign, did not purchase (30 days)
Purchased more than 2 months ago
Did not purchase (30 days)
Cart abandoners (30 days)
VIP based on the purchase value ($500)
VIP based on purchase frequency (2/60 days)
Default Segments were implemented to give you an idea of targeting best practices and to make it easier to start segmenting your audience when it comes to Campaign sending. Naturally, you can target your audience based on different conditions as well, there is no limit on the number of segments you create. Learn how to create new segments here.
🤌 New Segment Condition: Language
From now on you can segment and target your audience based on language. (This data is collected from the subscriber's browser language setting.) You can choose any language from the dropdown, and all subscribers whose browser's language matches the chosen language will be included in the segment. In case we can not detect the subscriber's browser language setting, your store's default language will be applied to the subscriber.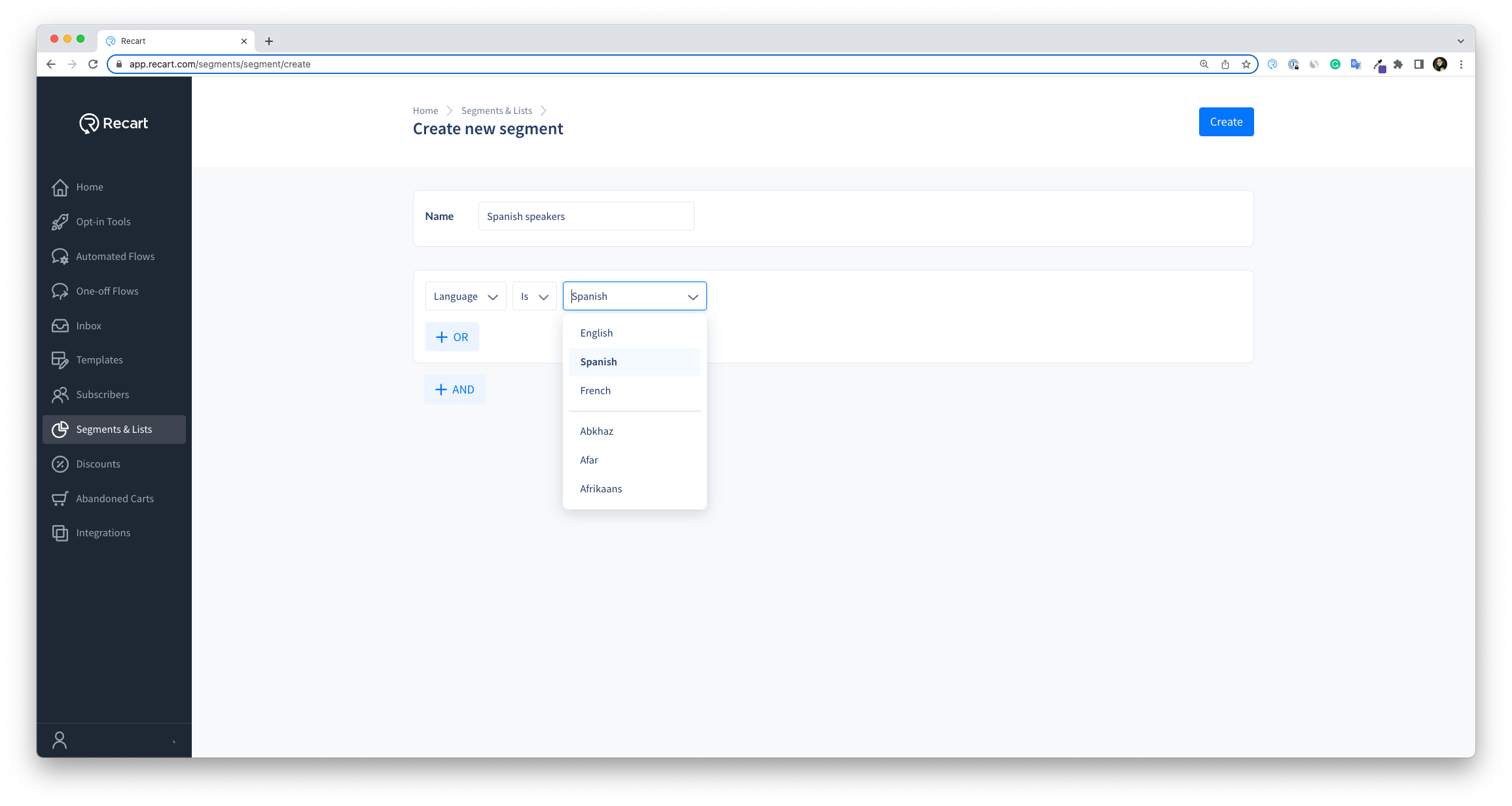 SMS Content
💌 Contact Card
Text messaging is a personal way of communication. If you think about it, unlike your email inbox, your SMS inbox probably isn't full of messages that you never signed up for. With the help of the new Contact Card feature, you can easily keep up this personalized experience with your text message subscribers.
By adding a Contact Card to your text messages your subscribers can save your phone number to their contact list with two clicks. But what's in it for them, and for you?
Your subscribers will instantly know who messages them when you send a campaign. Additionally, they can easily reply to your messages by searching for your brand's name instead of searching for your number.
When a number is saved in the recipients' contacts messages are less likely to get stuck on spam filters, improving your deliverability.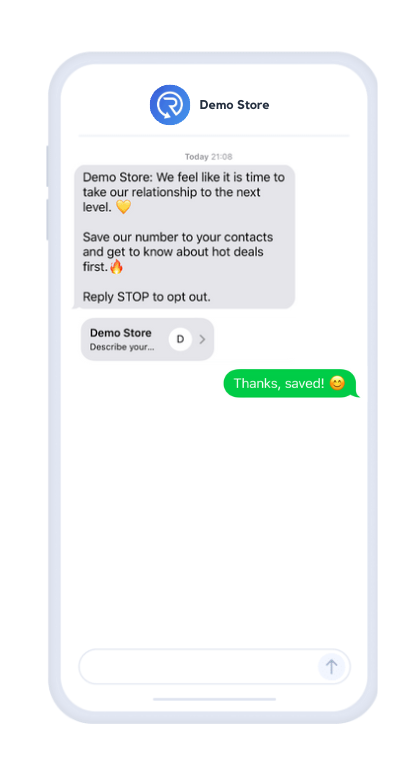 We strongly recommend adding your Contact Card to your automated messages. Alternatively, send a Campaign that includes your Contact Card, asking your subscribers to save your number. This can be repeated every now and then to make sure new subscribers receive it too.
Learn how to update and include your Contact Card in text messages here.
Reporting
🖇 Shopify Tags
We thrive to provide accurate data on the orders and sales that are associated with our app. To complement our in-app statistics and reporting, we have implemented Shopify tags. This means that from now on, each customer and order that came from Recart will be tagged in your Shopify Admin.
The Recart tag will appear on the order pages when the order came from a Recart message. Additionally, it will appear on the customer pages where the customer submitted the order via a Recart message.
If you go to your Orders, you can easily filter for those associated with Recart by selecting the Recart tag in the upper right corner.
Thanks for reading, those are the product updates and highlights for April and May. We recommend visiting our blog regularly, June's new features will definitely hold surprises. Stay tuned!