If you had $100 dollars in your pocket and accidentally dropped $77.12 on the ground, you'd pick it up … right?
You wouldn't be content with the remaining $22.88. And you definitely wouldn't write off the loss as "the cost of doing business in our new digital age."
With Shopify cart abandonment rates at roughly 77.12%, that's what ecommerce brands without a savvy and (dare I say) aggressive recovery program in place do every day: Leave revenue at their feet.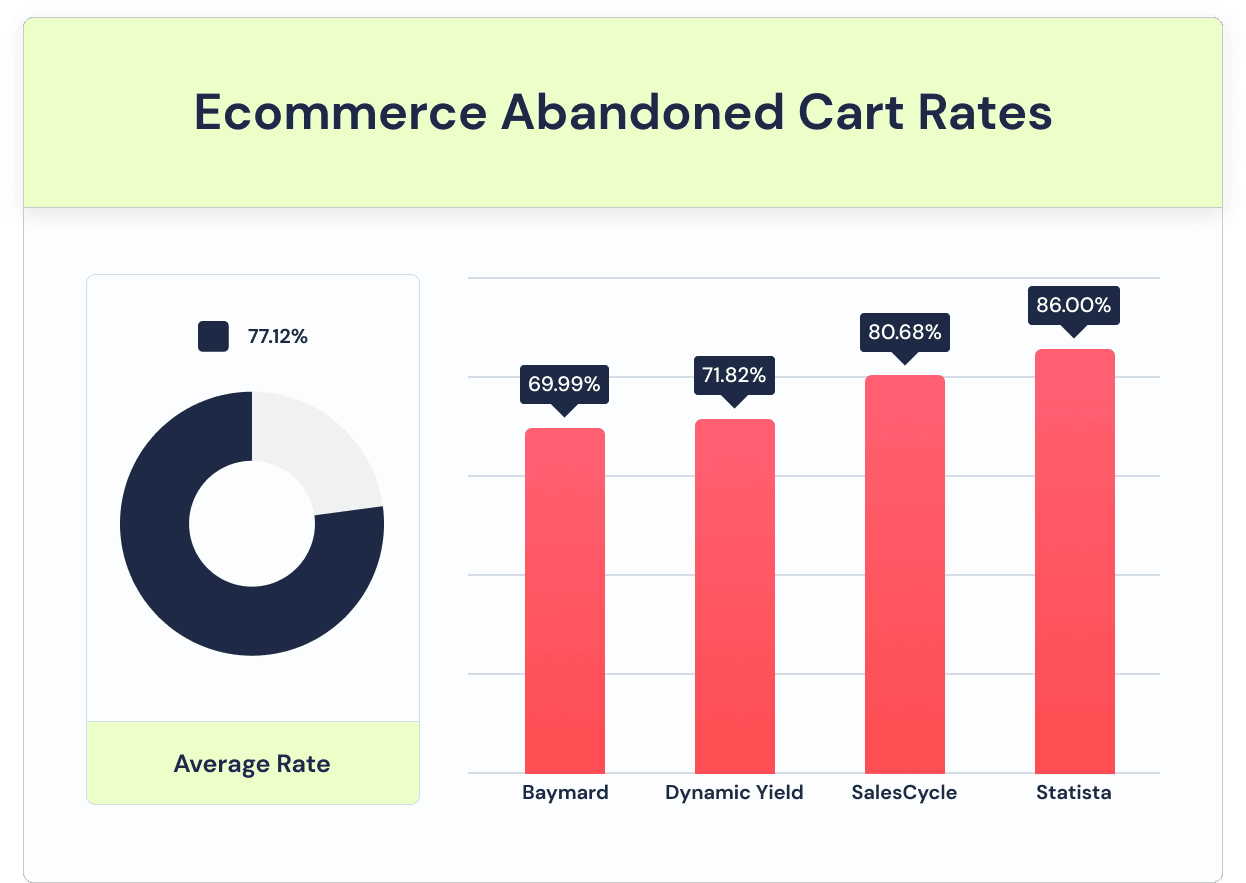 Worse, shoppers who checkout before (you know) checking out represent more than one dead deal. Think of the potential value that would have been realized through retention and reorders.
Of course, we can't promise you'll scoop up every lost sale. But we can help you …
Understand why shoppers don't buy and how to salvage Shopify abandoned cart revenue with SMS.
Five Reasons for Cart Abandonment

Lack of Purchase Intent
Price Sensitivity
Shipping Dissatisfaction
Checkout Friction
Real-Life Distractions
Five Steps to Rescue Revenue With SMS

Capture SMS Subscribers
Set Up SMS Automations
Address the Abandonment Causes
Use SMS to Identify Technical Issues
Supplement SMS With Email Marketing
Tired of losing sales?
Salvage those orders by downloading our SMS revenue rescue guide.
Learn why shoppers don't complete checkout and follow our five steps to win them back with text marketing and beyond!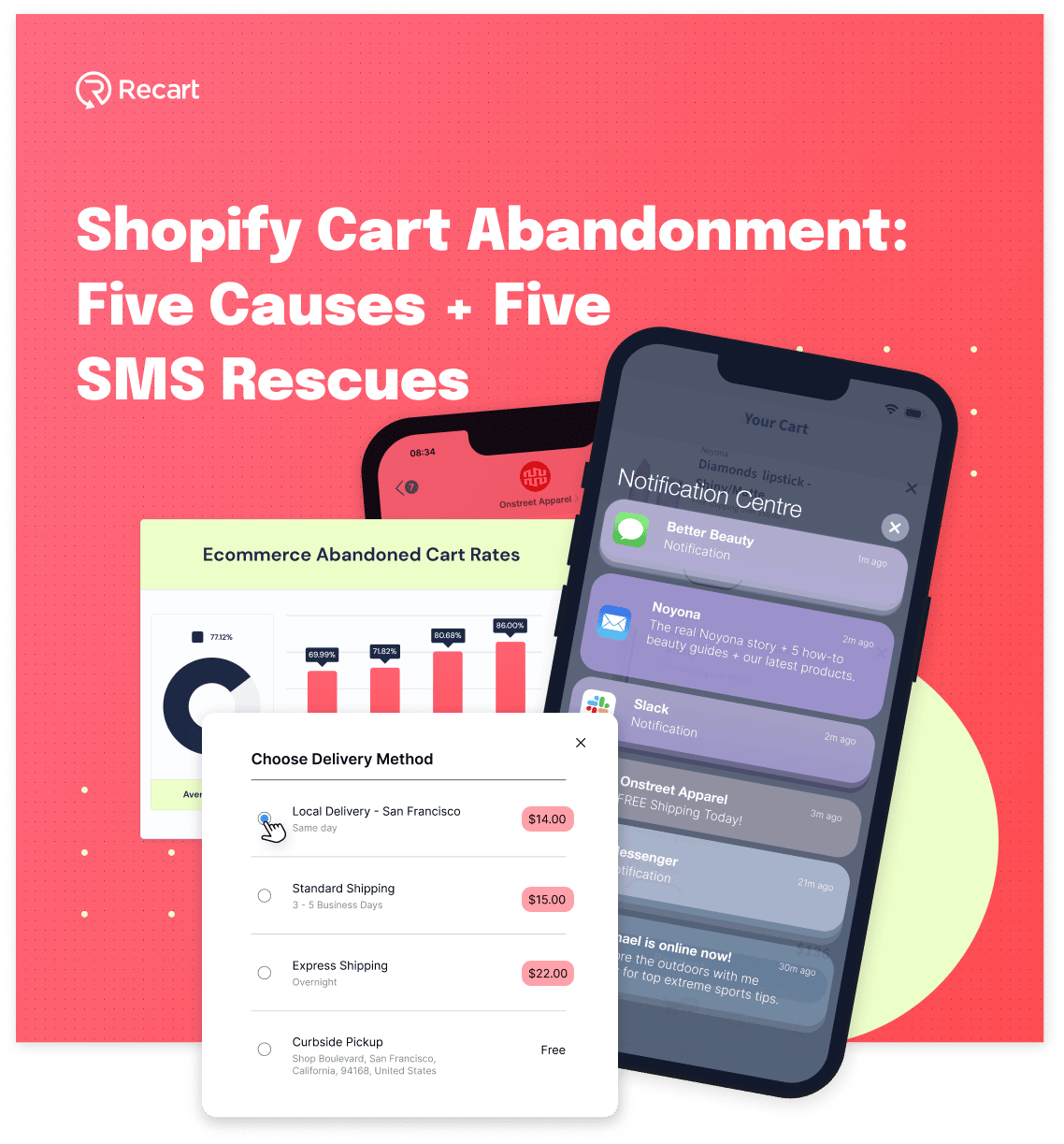 Five Reasons for Cart Abandonment
Shopify store owners miss out on countless orders every day when seemingly high-intent consumers don't make it all the way through checkout.
These abandoned carts are so common they would quickly clog the aisles of physical retailers. Add in the shoppers who browsed without placing items in their carts and you have a staggering amount of unrealized sales.
Why are cart abandonment rates so high? We can break the major causes into five categories.
As we walk through the reasoning behind these lost buyers, don't get discouraged by factors that seem out of your control. The second half of this article will outline steps you can take to rescue the revenue.
1. Lack of Purchase Intent
Not everyone who comes to your online store is looking to buy at that moment.
In the old days before ecommerce, plenty of people gathered at shopping malls simply to hang out for fun. If you've done a good job of creating an engaging website, it should be a prime destination for visitors whether or not they're intending to spend.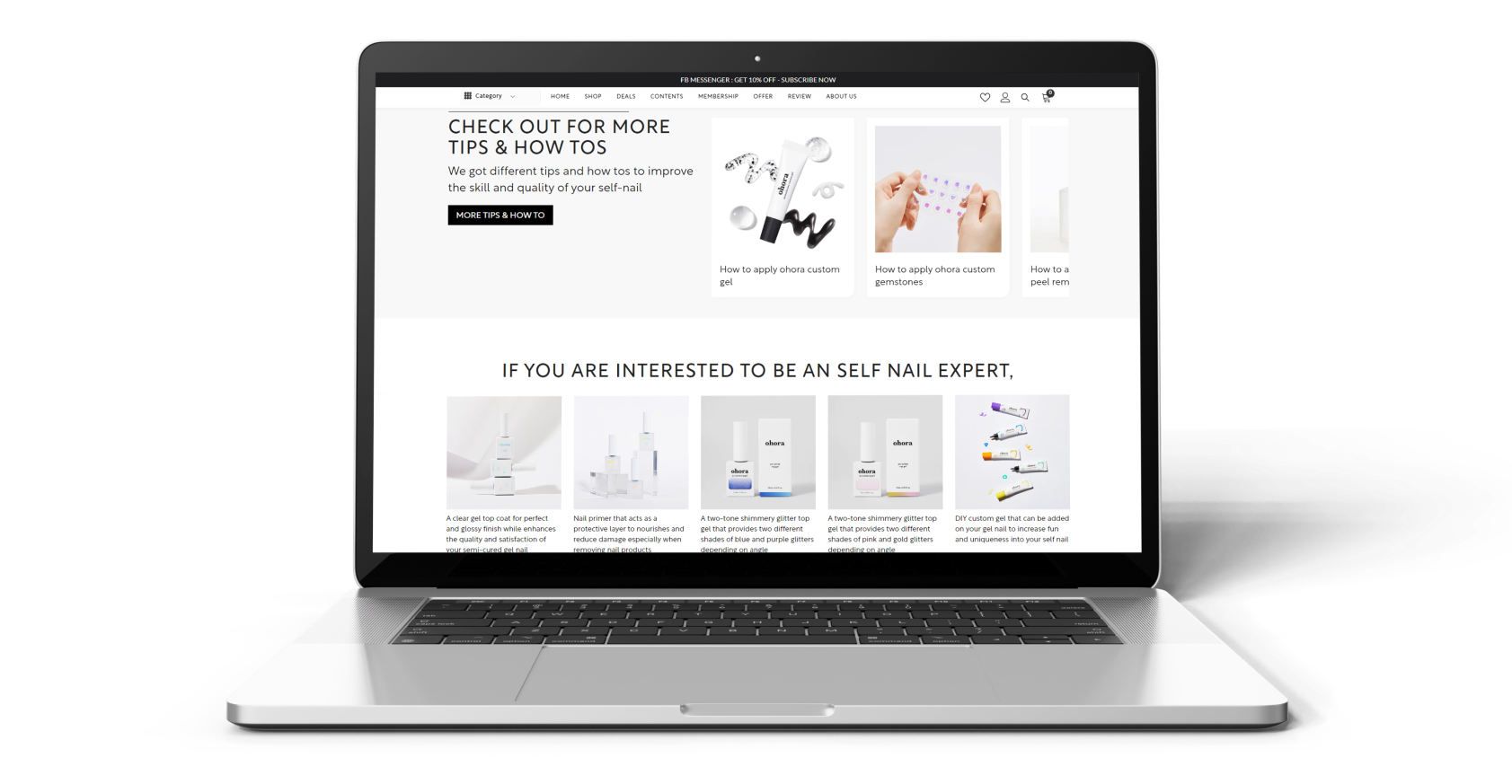 Of course, your traffic includes more than just window shoppers. In addition to browsing for entertainment, some consumers habitually peruse product offerings over several sessions before making a choice. Online shopping has made it easy for these slower decision-makers to go at their own pace.
If your goods are high-end, complex, or technologically advanced, you are likely also seeing diligent researchers eager to learn or comparison shop.
While this first group of shoppers has no intention of buying right now, don't disregard them like broke teenage mall rats. Later in the article we'll discuss ways you can increase their purchase motivation.
2. Price Sensitivity
Dollars always factor into consumer buying decisions.
Dissatisfaction with price-point is not an issue just for high-ticket items – low-cost products can also experience sticker sensitivity during tougher economic times.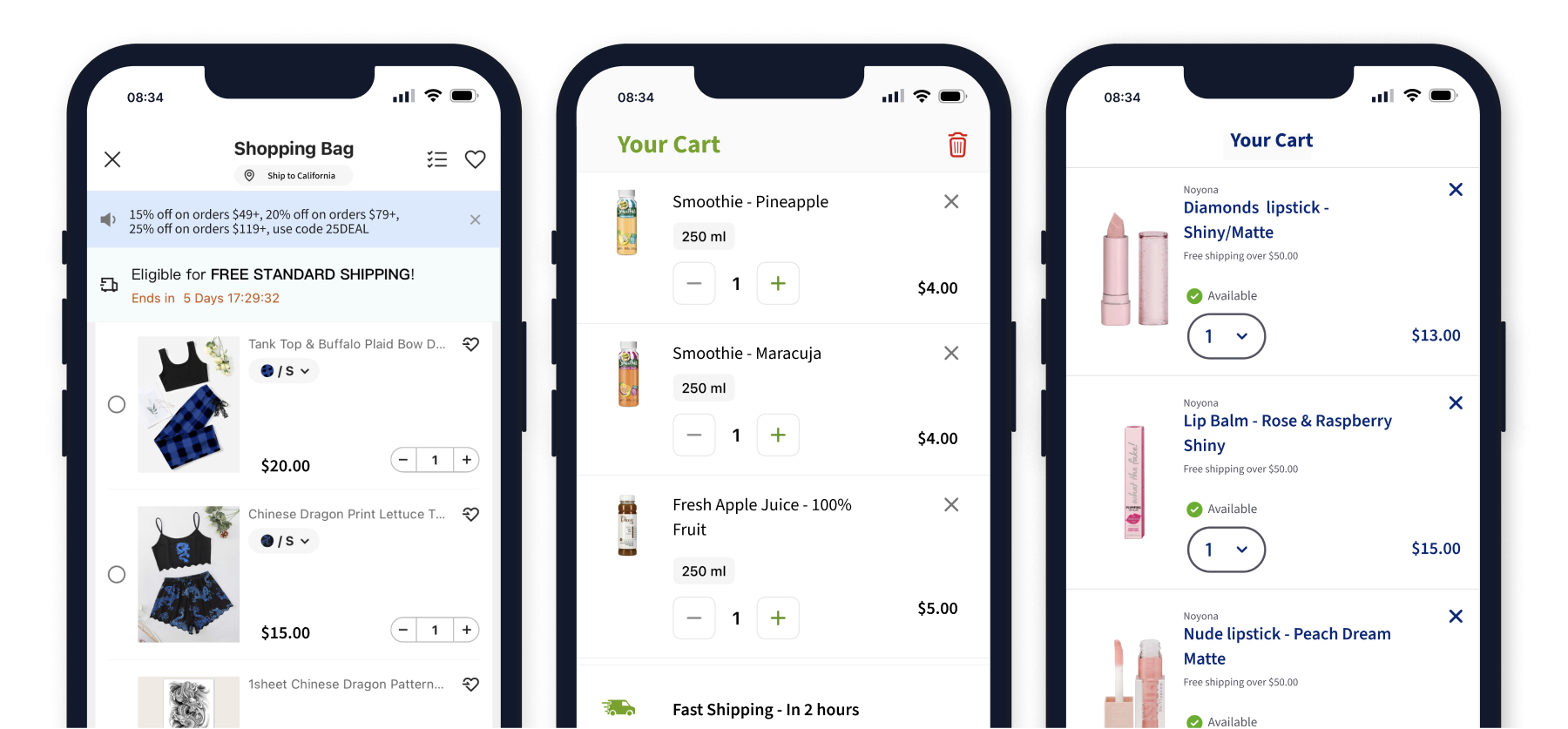 Even if a customer agrees with the price, they might delay checking out simply to wait for payday or to save up further.
Frugal-minded individuals (or those who enjoy the thrill of bargain hunting) often leave carts strewn all over the internet as they search around for the best deal. This can be particularly prevalent during high-traffic retail periods like Black Friday when consumers are being bombarded by marketing.
Finally, there are shoppers who abandon the checkout process because they were hoping to get a discount code that never materialized. Whether the regular price is reasonable or not, these customers have come to expect a special offer.
3. Shipping Dissatisfaction
Shipping carries more importance than you expect in ecommerce purchase decisions.
For better or worse, it's a Prime world – your Shopify store is just living in it. Many consumers have become accustomed to the kind of fast, free delivery that rocket-owning billionaires provide.
Fulfillment solutions that are a bit slower cause some potential buyers to back out because they need the product sooner or are not willing to pay for expedited options.
Other shoppers will withdraw when they arrive at your checkout page and encounter higher shipping costs than expected.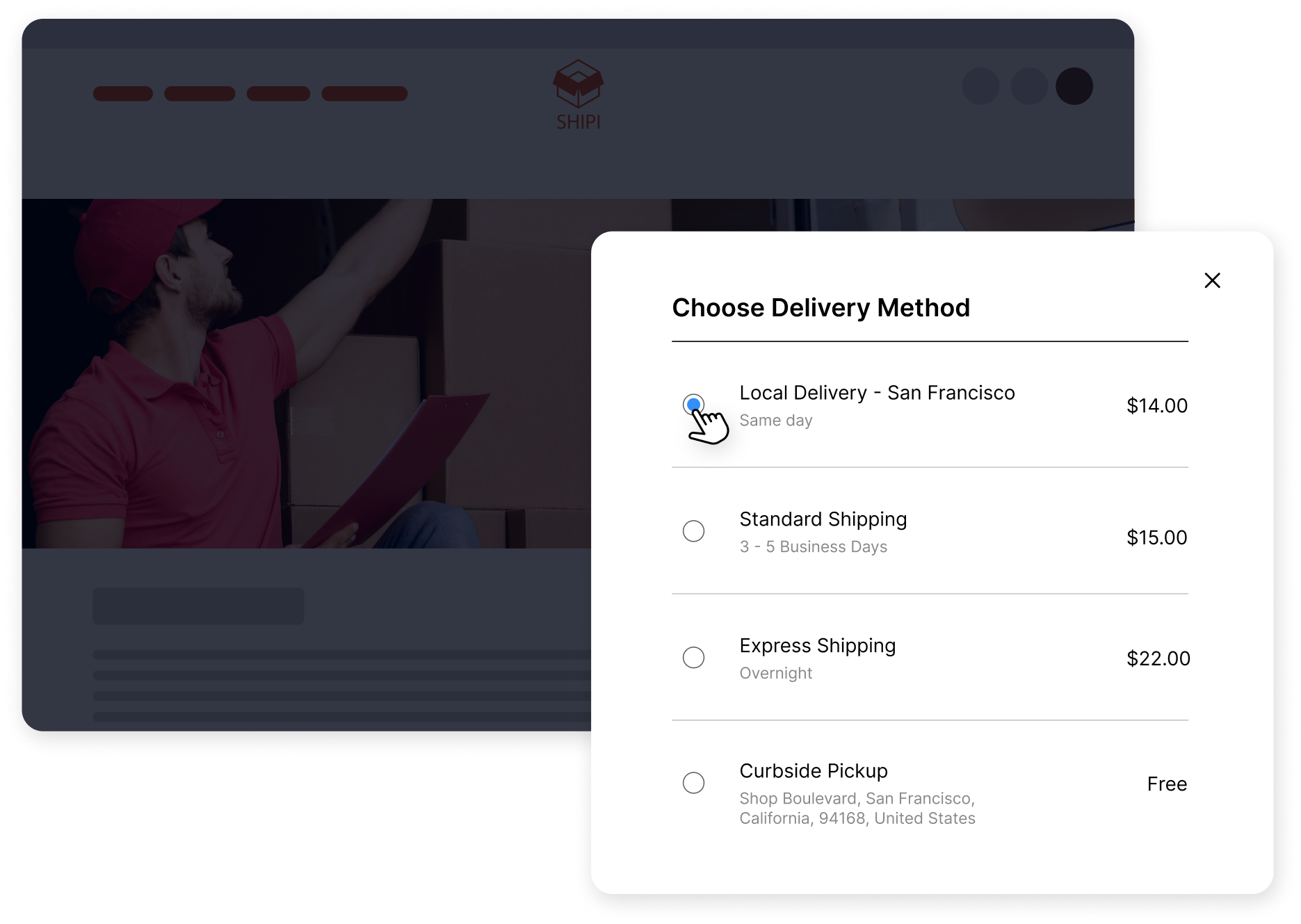 Even if customers are willing to tolerate extra charges or wait time, they might be dissatisfied with the choices available. When buying a similar item in-store or elsewhere is a possibility, shipping can be the culprit that spoils the order.
4. Checkout Friction
The slightest bit of difficulty or confusion during checkout can interrupt an otherwise sure sale.
As with the topic of shipping, consumers have certain expectations for online buying. Anything short of those standards can create friction.
Characteristics of your checkout process that cause abandonment include:
Not mobile-friendly
Too time-consuming
Confusing or difficult
Website not secure-looking
Payment details not pre-saved
Preferred payment option not available
Not all ecommerce stores will be able to offer capabilities like one-click ordering that shoppers desire. A motivated buyer will hopefully spend the time to work around that, perhaps by digging up a credit card from their wallet. But every stumbling block they encounter will decrease the likelihood they complete the purchase.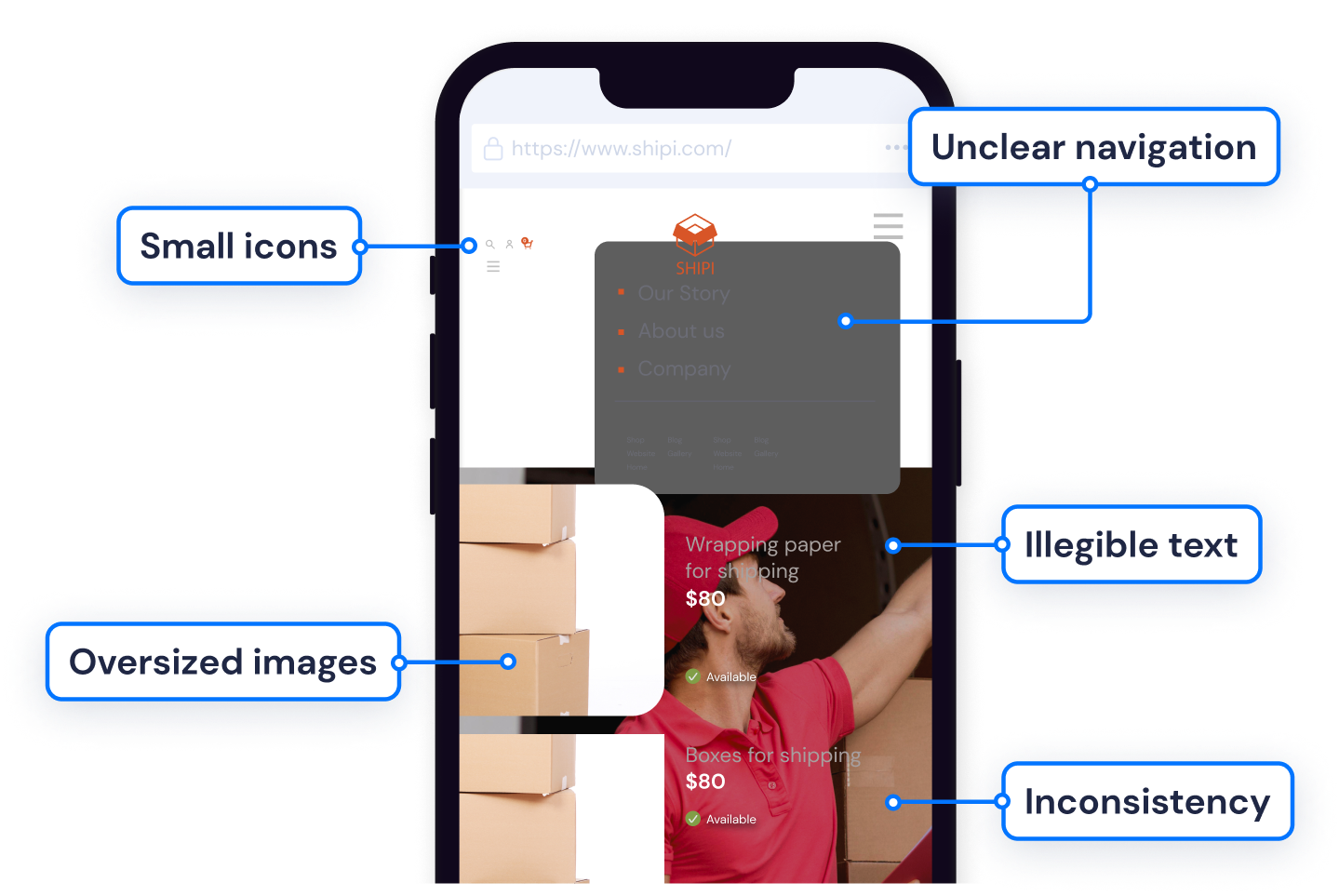 5. Real-Life Distractions
A supermarket patron who receives a text message with a funny cat video might get temporarily distracted. But they are not likely to laugh so hard that they leave their basket of groceries in the aisle and walk to their car without dinner.
Unfortunately, this can very easily happen with ecommerce shoppers, especially those browsing on mobile devices. Your products are always competing for attention with the latest push notifications from social media, not to mention in-person interruptions.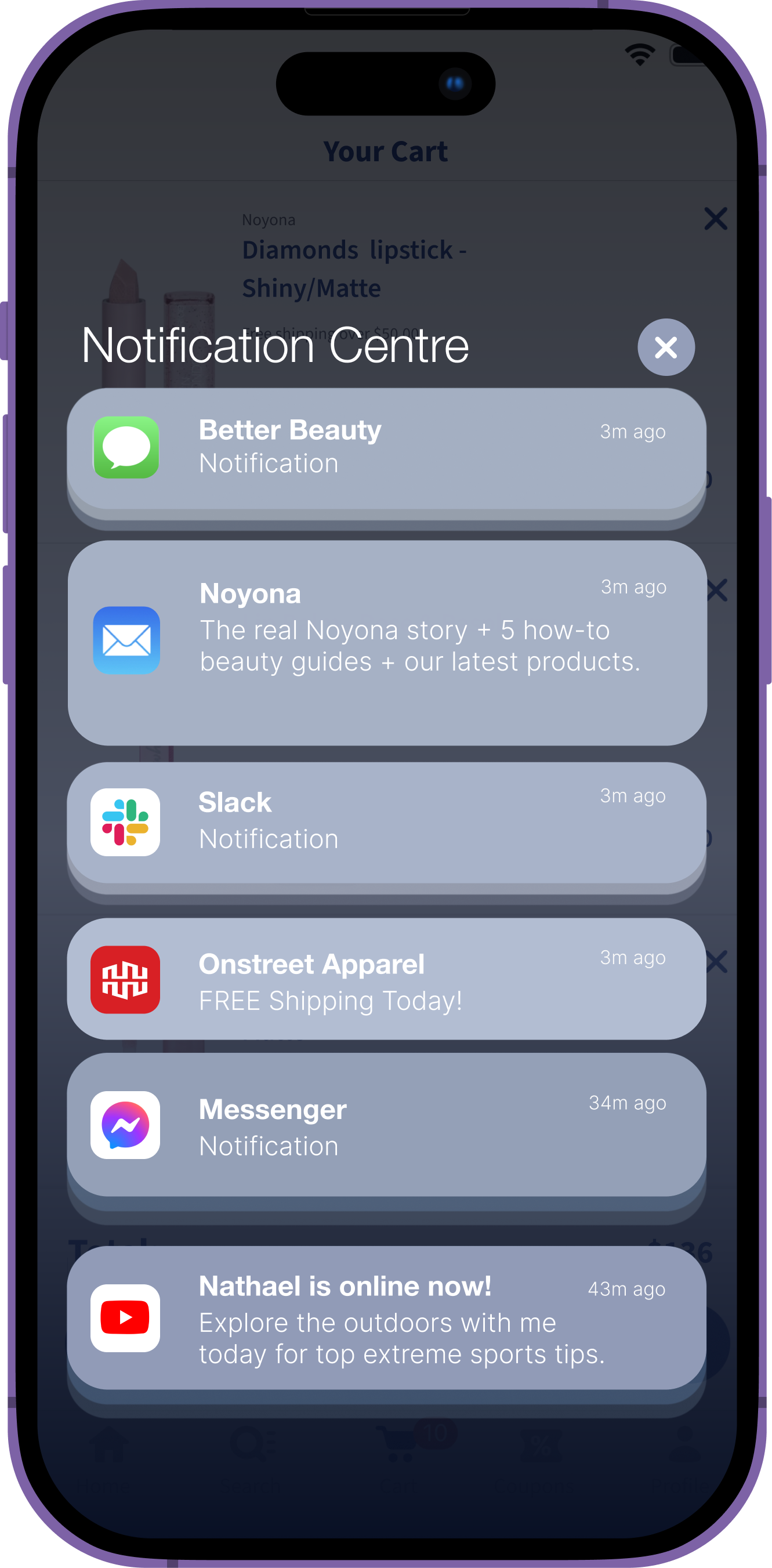 While a user-friendly and engaging website can help keep browsers' attention, there's not much you can do to control the diversions of modern online life. The good news is that there are concrete actions that will help you win back the spotlight.
Five Steps to Rescue Revenue With SMS
With this understanding of the major reasons for abandonment, you ought to be crying over all those spilled carts. Happily, your business can recoup some of those lost orders. 
Follow our five steps to unleash the power of SMS automation for sales recovery. This is a huge opportunity to generate incremental revenue, not just with the initial salvaged checkout, but with future purchases through retention efforts too.
1. Capture SMS Subscribers
The timely, intimate nature of SMS marketing for ecommerce makes it a powerful tool for recovering abandoned shopping carts. But you can't reap those benefits without phone numbers to contact. 
Naturally, compliance laws require consumers voluntarily opt in to receive text, so a business needs to build its own subscriber list. There are multiple entry points for recruiting sign-ups.
Opt-in at Checkout
One no-brainer is enabling SMS opt-in at checkout. Turn this feature on in your Shopify app and within minutes you'll be set up to capture subscribers.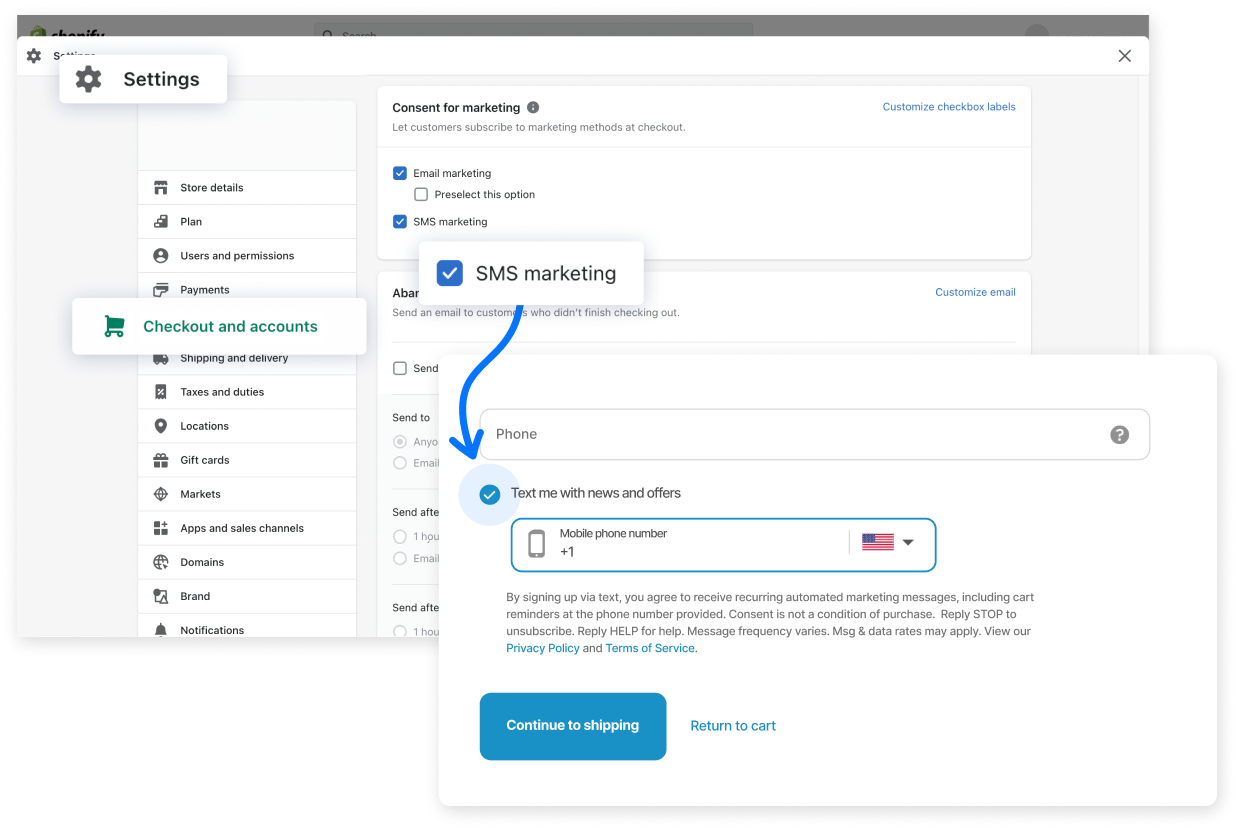 Website Popups
Not every potential subscriber will make it all the way to the checkout page, but popups can be served to virtually all website visitors. 
Some marketers fear the "intrusive" nature of these interstitials, but a streamlined design with a five-to-ten second delay minimizes the annoyance factor. 
Many shoppers will also welcome the interruption when a discount or other incentive is offered.
While various templates can be deployed on desktop or mobile, an SMS-only, direct-to-text popup will fast-track your list growth.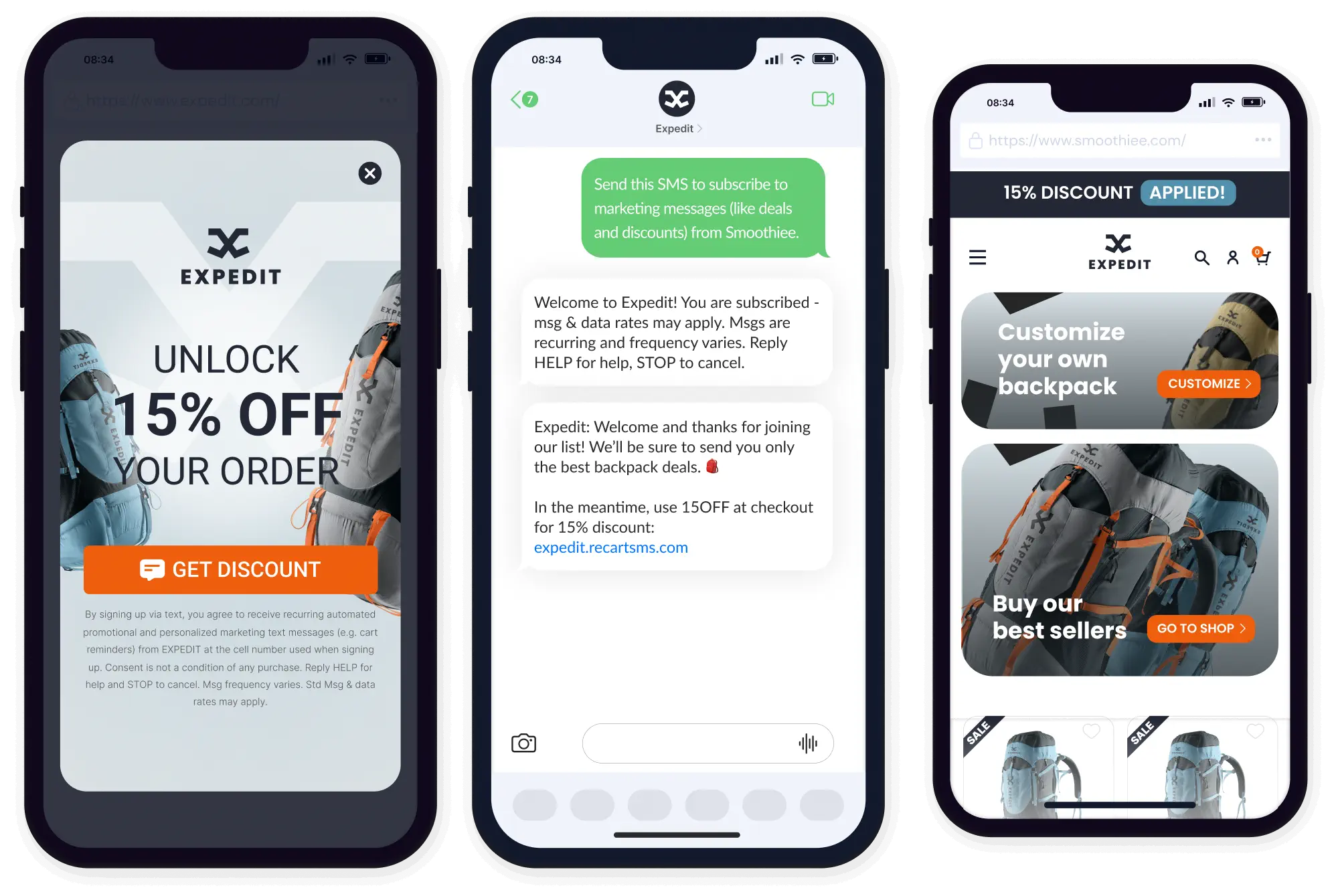 Other Avenues for SMS Sign-Ups
As you expand your text message program, consider additional opportunities for adding subscribers such as:
Email list conversions
Social media SMS subscription links
Off-site text-in subscriptions via SMS keyword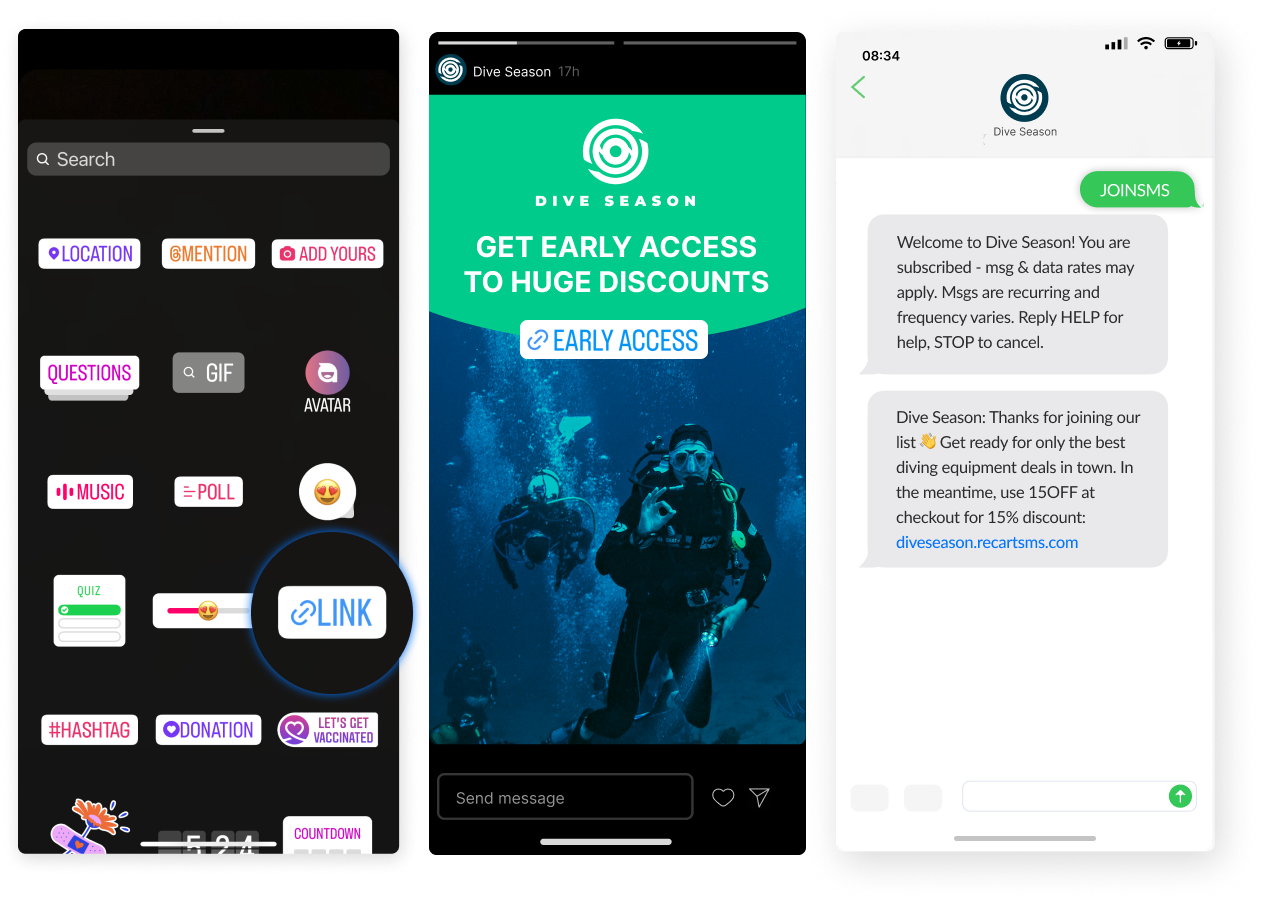 As with pop-ups, offering incentives will boost your opt-ins for any of the above methods. Learn more about list growth strategies here.
2. Set Up SMS Automations
Building your subscriber list takes time, but the effort pays off. These highly motivated leads respond well to marketing, including SMS automations.
Contrary to the spam fears of some marketers, automated texts are among the most personal and relevant messages you can send. There are numerous use cases for automation but here we will focus on those relevant to abandoned cart recovery.
Browse Recovery Flows
Conditional split functionality in an SMS platform allows you to text website visitors on your list who did not purchase. The beauty of automation is that these nudges will be sent – you guessed it – automatically. 
Time delay these messages by one hour to reach shoppers while your brand still feels top of mind (but without seeming naggy).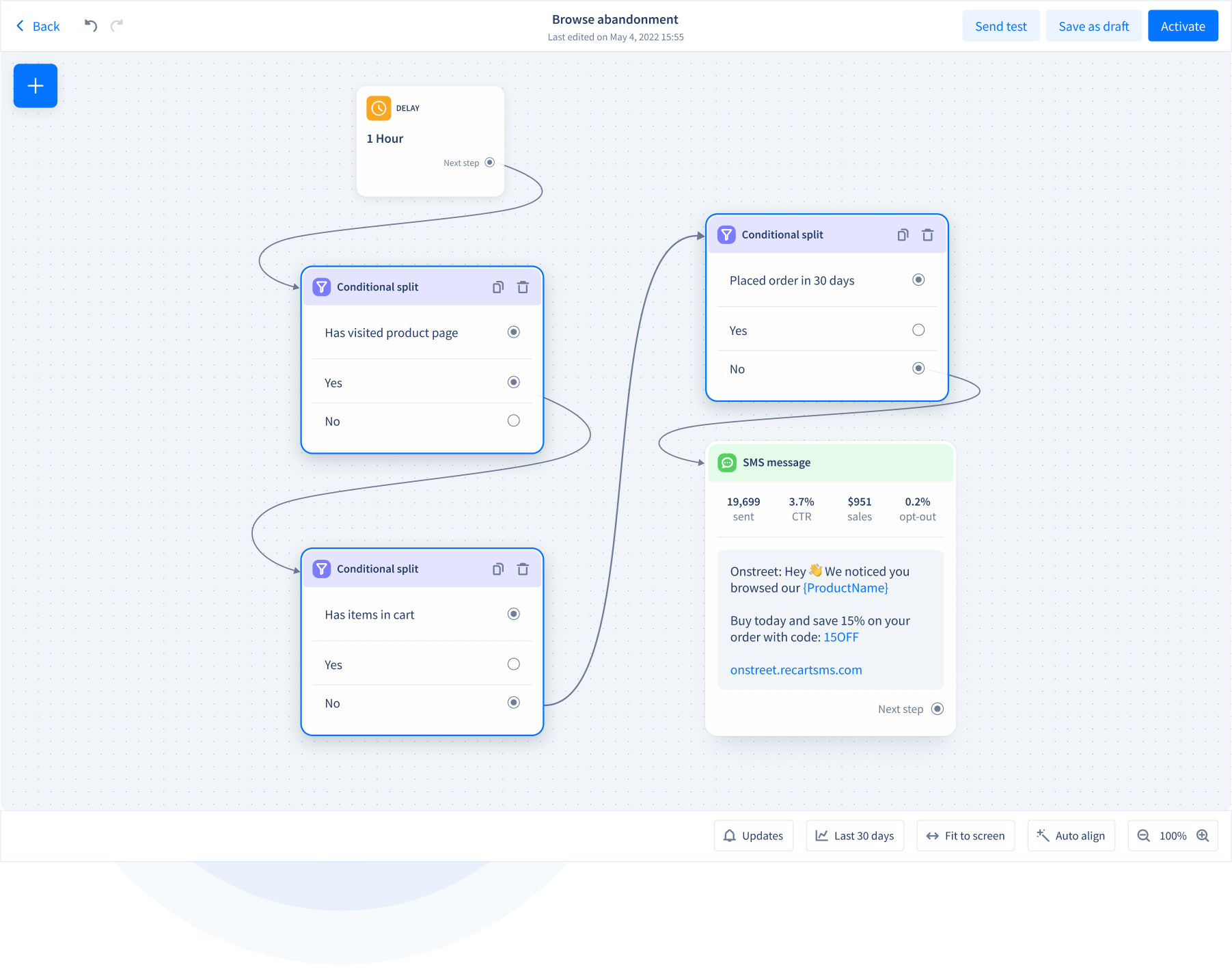 Cart Abandonment Flows
For subscribers who added items to their cart, a similar segmentation strategy can be used to remind them that they abandoned checkout.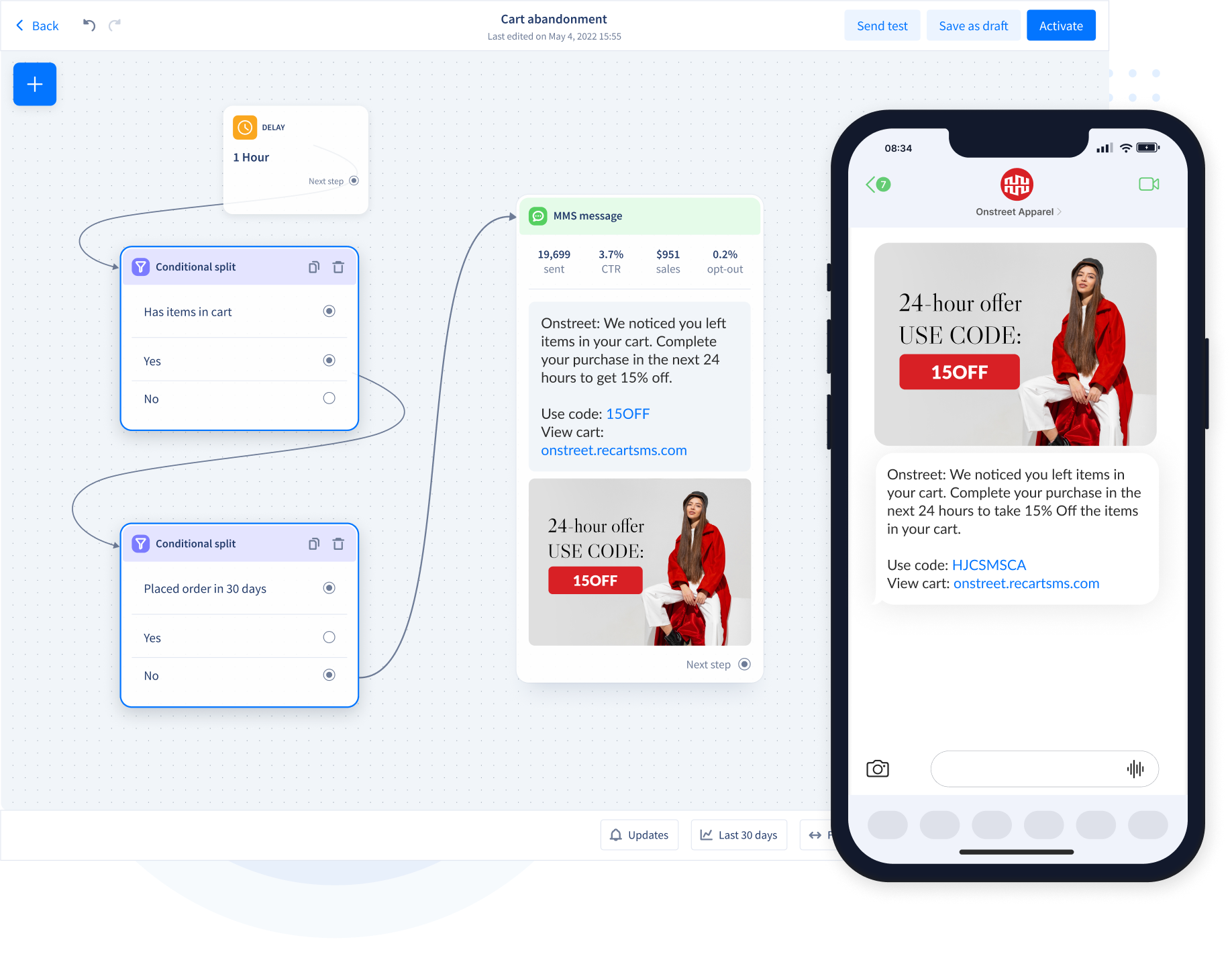 These timely cart reminders have solid conversion rates because they reach potential customers who are already high-intent. The shopper got thrown off the checkout track for one of the reasons we discussed above, but their order is still attainable. 
3. Address the Abandonment Causes
With your new ability to contact "runaway" customers at the right moment, make sure to text them content that might rectify whatever went wrong. In the case of simple distraction, your timely SMS alone can be enough to salvage the sale. Shoppers who had particular concerns require more work for checkout recovery.
A/B test various approaches to find what practices works best for your text program — taking into account both SMS conversion rates and overall profitability.
A few ideas to try …
Discount Code
Coupon codes are the most common tactic for luring back lost customers. A small concession can spur a purchase from someone unhappy with the price or shipping costs. It might even motivate a window shopper who had no intention of buying today.
Creating a unique discount code that can only be used once prevents misuse. It also helps with accurate tracking and attribution of revenue.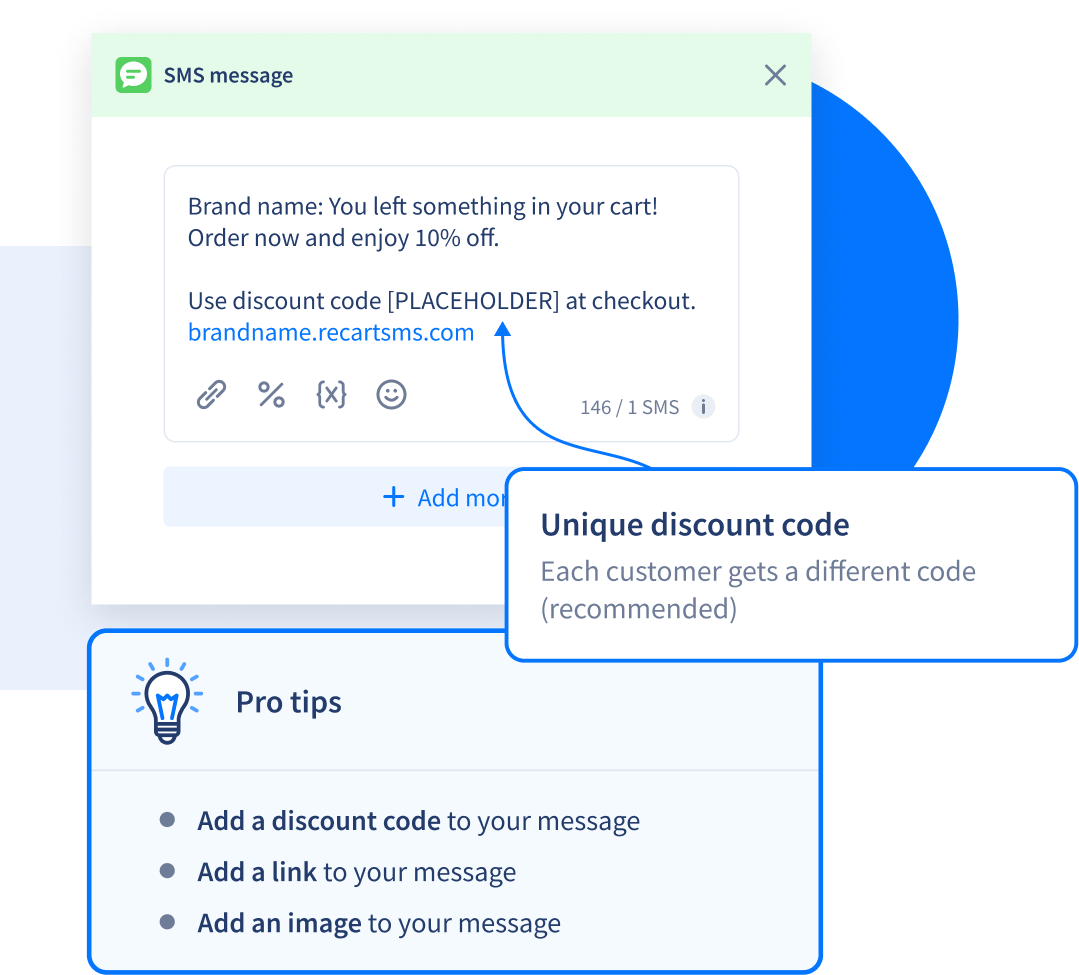 Free Shipping
An offer to cover shipping will win back those who took issue with delivery costs. Price-sensitive shoppers may also find the incentive valuable enough to overcome their wallet shyness.
This tactic is especially valuable for brands with a premium image that want to avoid the "bargain" impression associated with discounts.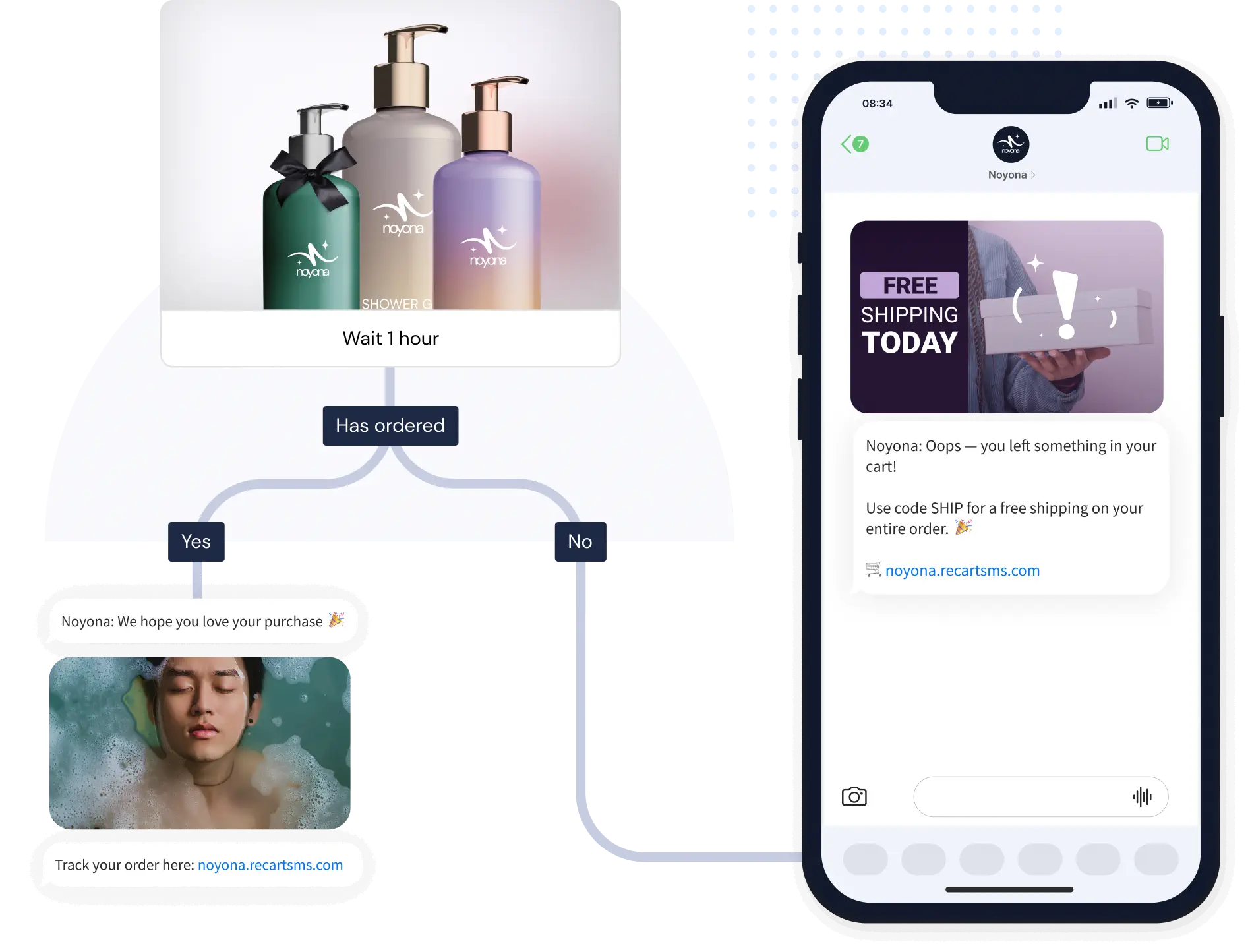 Gift With Purchase
Another way to entice shoppers is by offering free samples or gifts with purchase. While this does not directly address the concerns of those who were unhappy with their checkout total, the extra value could persuade them. The unexpected treat may also catch the eye of someone who was just browsing.
If your business has a star product to promote or excess items to dispose of, this could be a sensible route for inventory reasons.
Information
Remember all those unsure visitors who were comparison shopping, seeking product details, or simply taking their time to make a decision? Supplying information through customer self-service could be the ticket to winning their orders.
Try answering a common FAQ, linking to an instructional website page, or providing social proof via testimonials.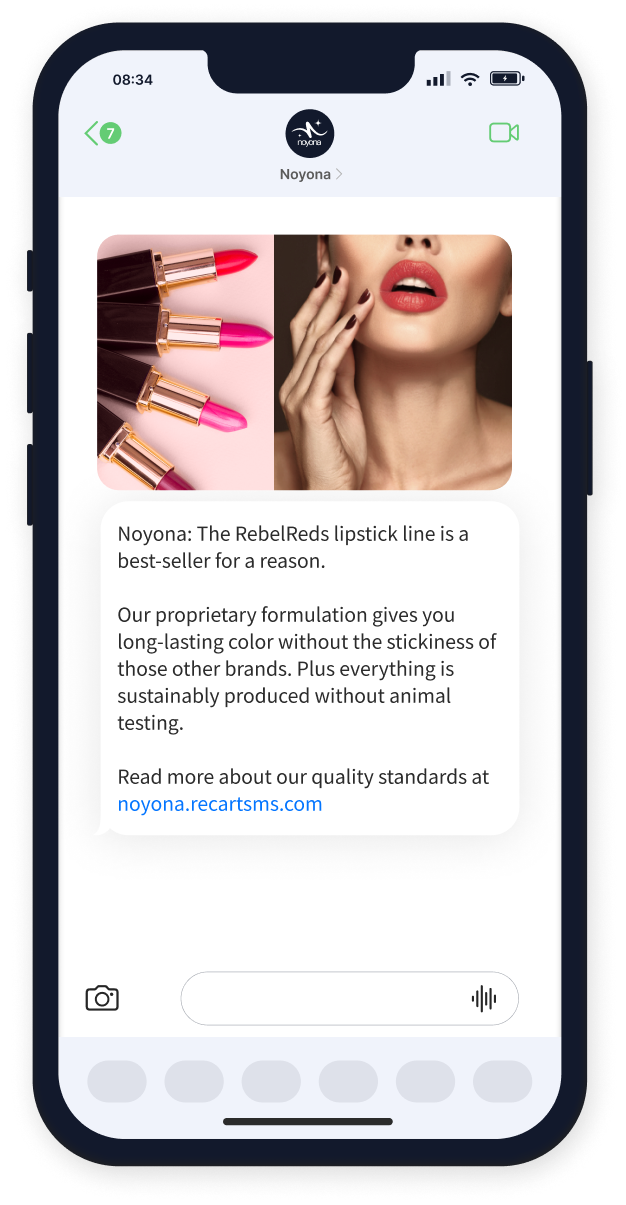 Including an incentive may not be necessary but it will certainly sweeten the deal.
A clever abandoned cart SMS example​
Recovery efforts don't necessarily need to explicitly reference items left in the shopper's cart.
Avena Originals crafted a campaign using the same conditional split as a normal checkout abandonment effort but delayed the send and altered the CTA (call to action).
Framing the small campaign as a "Friday Flash Sale," the health brand garnered a 313X return on investment.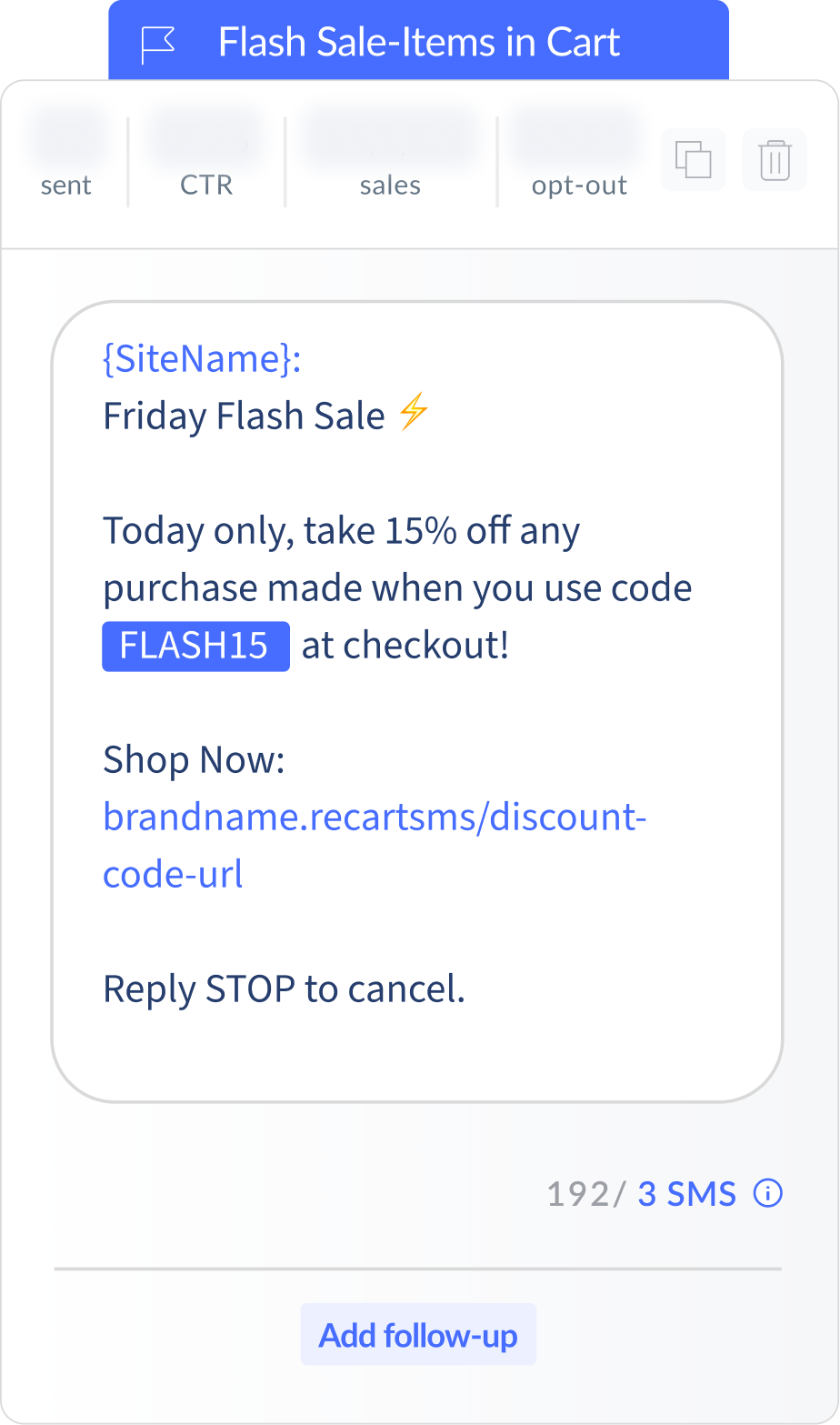 4. Use SMS to Identify Technical Issues
The ideas above are effective at addressing concerns like price sensitivity or a need for information. But what about potential customers who bailed on your checkout for technical reasons?
If cart abandonment texts convert poorly no matter what incentives you extend, it could be that shoppers are frustrated by your store. Perhaps the checkout process is too long, you're not offering the preferred payment methods, or users find the website confusing to navigate.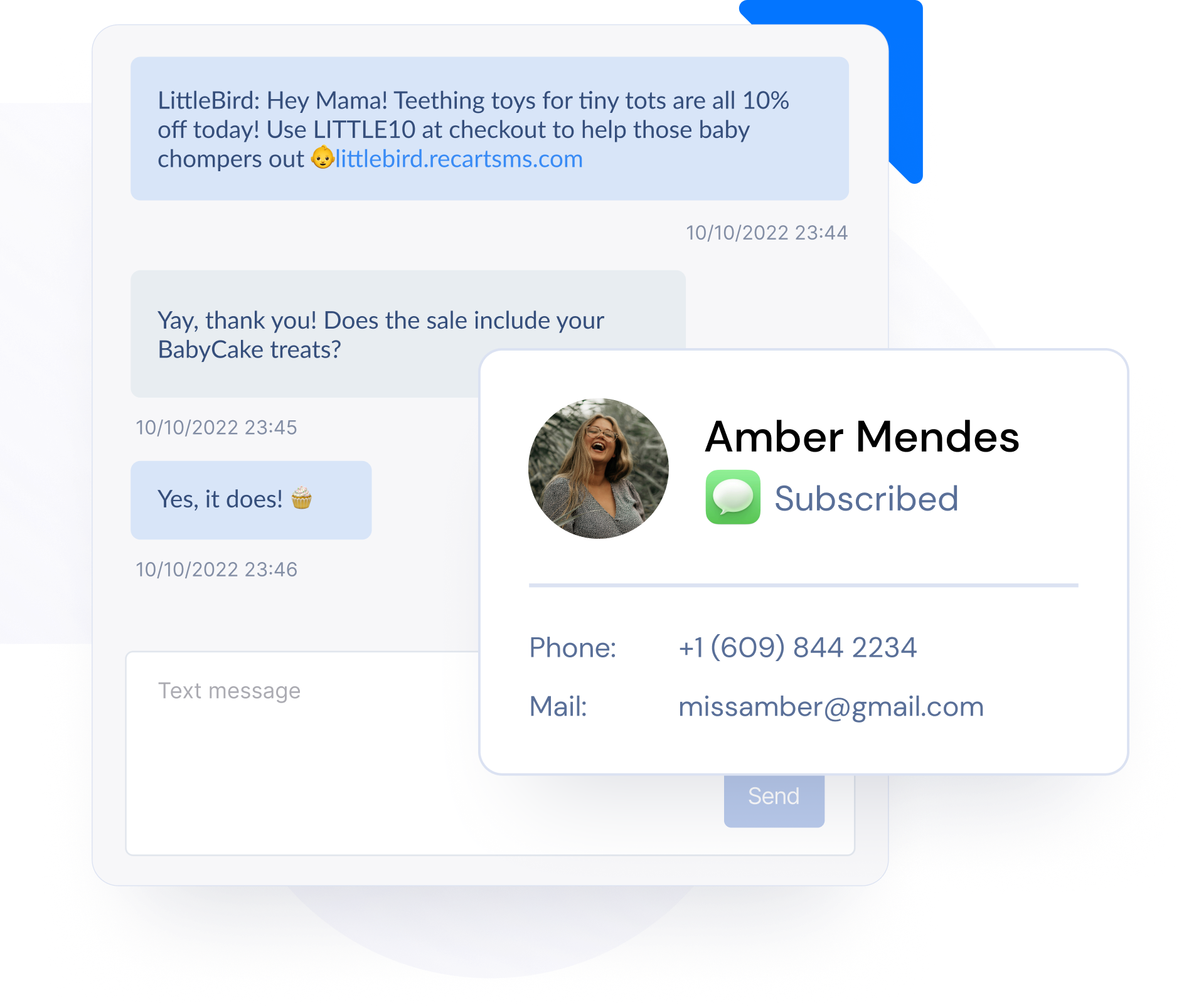 Two-way text messaging can shed light on what stymied these would-be buyers so you can fix it going forward. Your customer support will hopefully salvage the sale as well.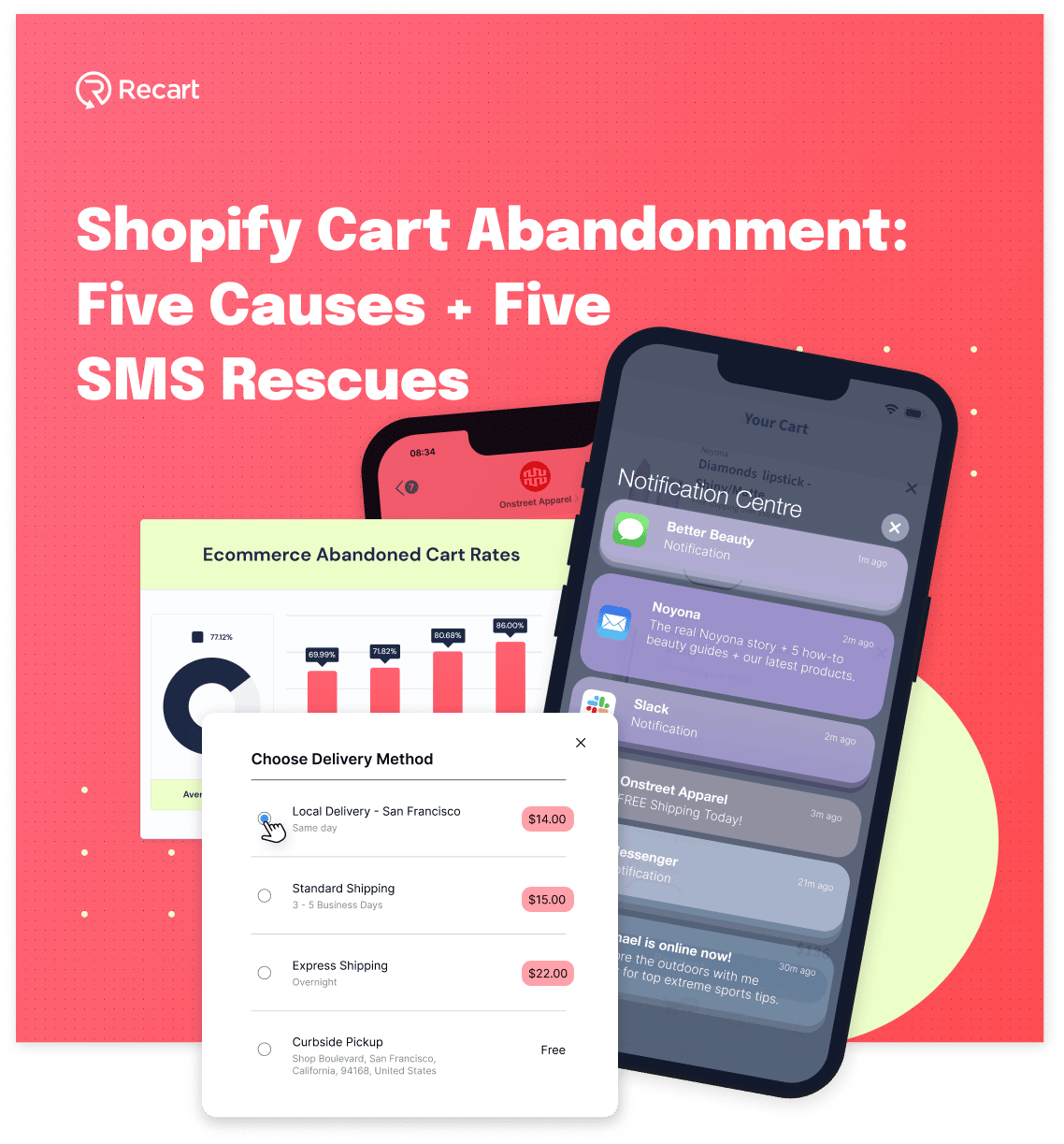 5. Supplement SMS With Email Marketing
Thus far, we've been walking through steps to rescue a Shopify abandoned cart with SMS examples. These should be complemented by automated emails.
Abandoned cart emails have more real estate on which to make a pitch than text messages. This allows you to include extra product imagery or follow up on multiple common concerns.
That said, email campaigns tend to have a lower sense of urgency than SMS. Play up scarcity or limited-time offers in the subject line or else your open rates may be low. Put some thought into crafting the messaging – the email templates you rely on for fulfillment flows or other email sequences will likely not be appropriate for cart abandonment emails.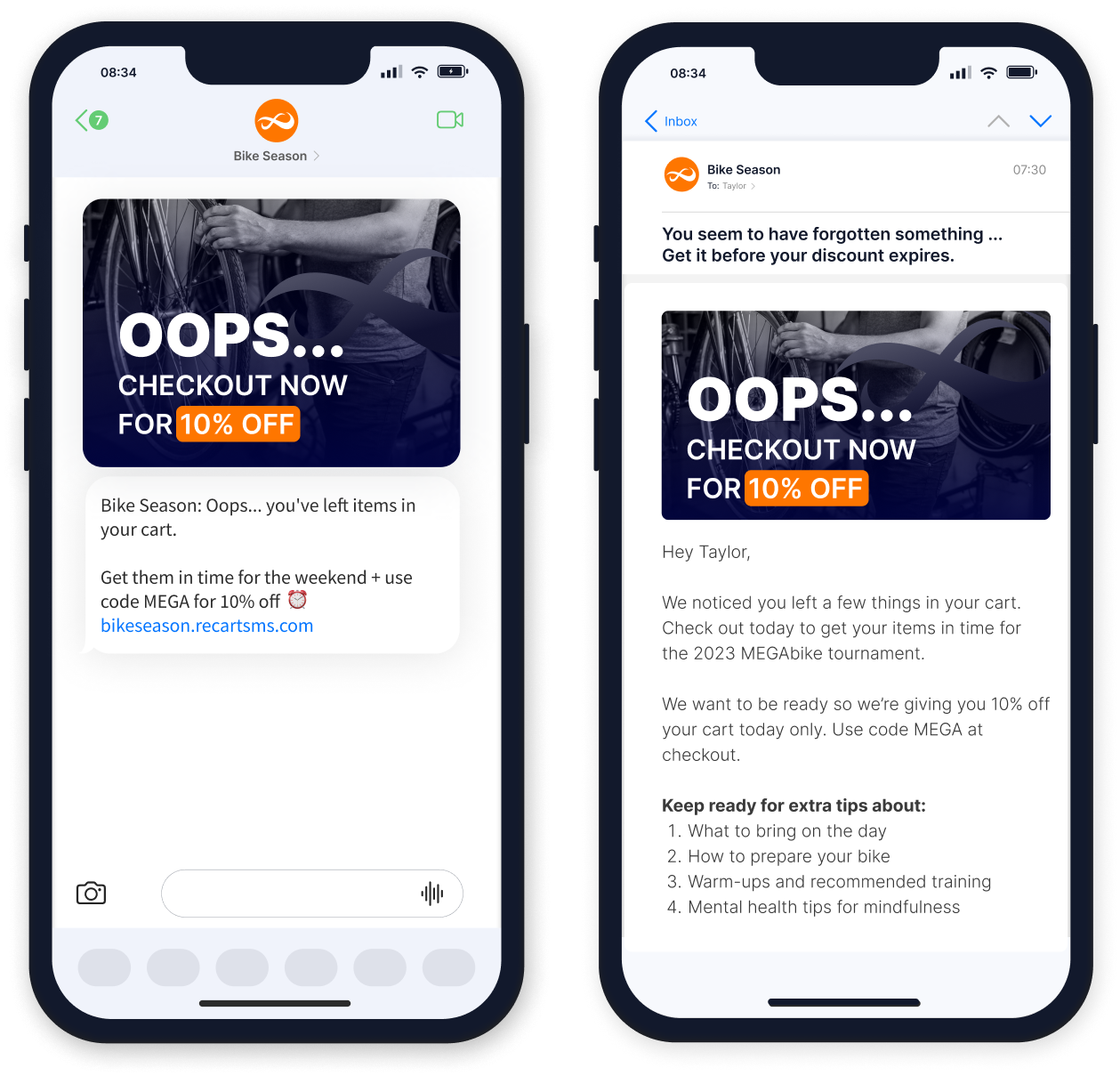 Stop Losing Revenue to Shopify Cart Abandonment
Now that you understand why shoppers checkout before checking out, you're equipped to scoop up some of that lost revenue … with very little day-to-day effort.
Those salvaged sales compound in value when you account for future purchases.
If you need help setting up your SMS marketing tool or simply want experts to manage all of it for you, Recart is your solution.
Schedule a 30-minute demo and get started within 48 hours.