You're here looking for ecommerce SMS marketing examples. Texts that generate incremental revenue through new and existing customers alike.
Of course, the internet has no shortage of sample text messages. Ideas and inspiration abound. Here's the rub: Even with the best SMS platform — if you imitate without understanding — your SMS messages themselves will be ineffective.
Or worse, knock-off spam.
That's why we've done more than toss together an endlessly scrollable wall of screenshots.
Instead, we've hand-picked each one, rooted them in context, unpacked the principles behind their success, and included real data. Together, let's learn from more than …
50 SMS examples organized into 10 tactics specifically for ecommerce marketing:
Delight With Genuine Content
Make a Lasting First Impression
Capitalize on (All the) Holidays
Create Your Own Special Days
Be Kind & Please 'Remind'
Segment Your List Shrewdly
Whip Up a Sense of Urgency
Earn Trust with Social Proof
Unlock Your Offbeat Concepts
Lean on Experts for More Ideas
Want proven SMS marketing ideas?
Download all 50+ examples along with the tactics they illustrate. 
Or — if you'd prefer one-on-one help with ideation  and implementation — let's connect!
Book a demo to get started in 48 hours.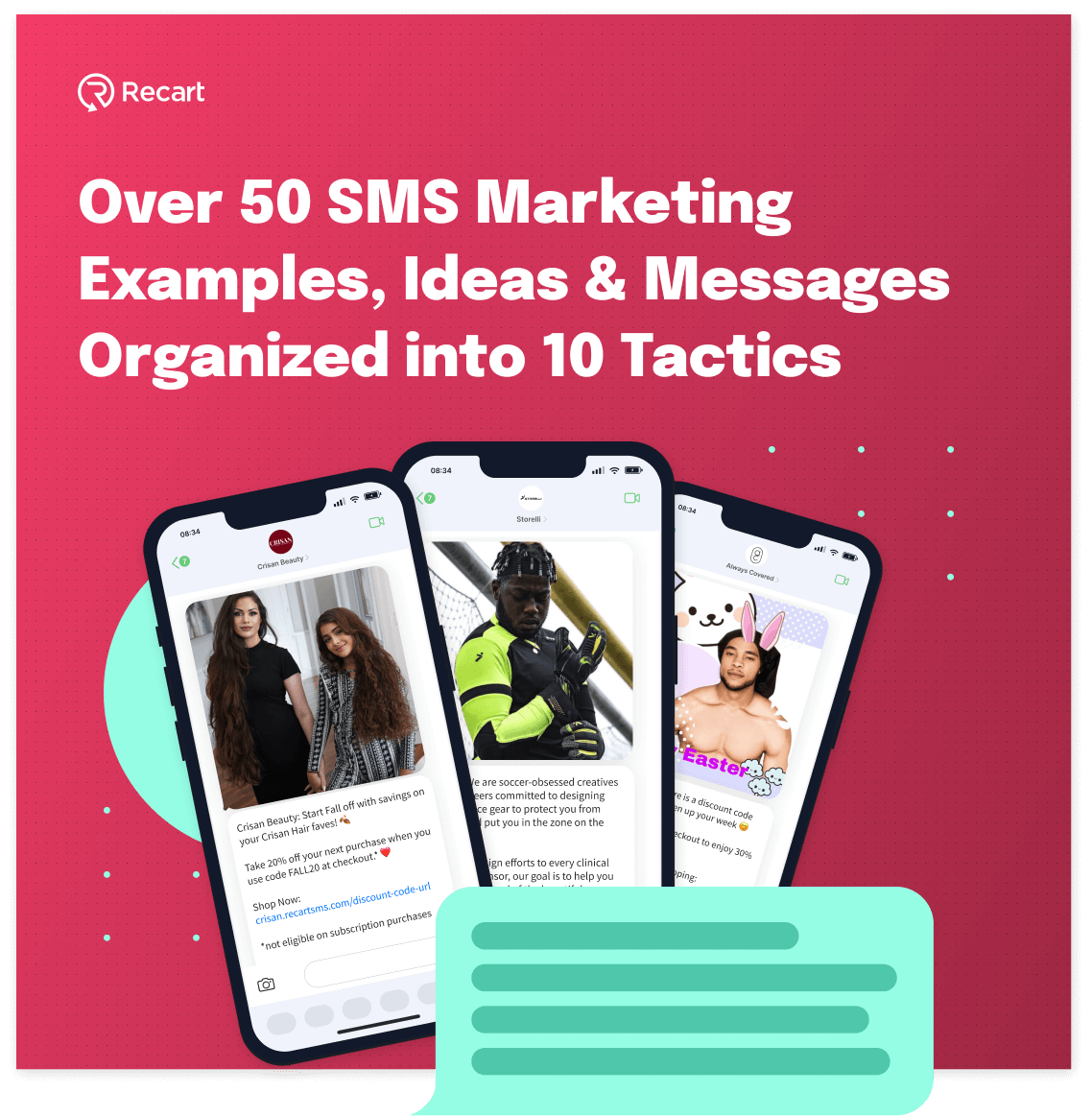 Tactic 1
Delight with Genuine Content
Consumers perceive text messaging as more personal than channels like email marketing. The bar to entry is higher. So too, the expectations.
With that intimacy comes the opportunity to delight with content that's educational, informational, and captivating.
Her Juice Bar's Practical Tips
Getting text notifications from vaginal health and sexual pleasure business Her Juice Bar means one thing: You're about to read helpful advice from experts, written in the brand's playful "girlfriend" tone of voice.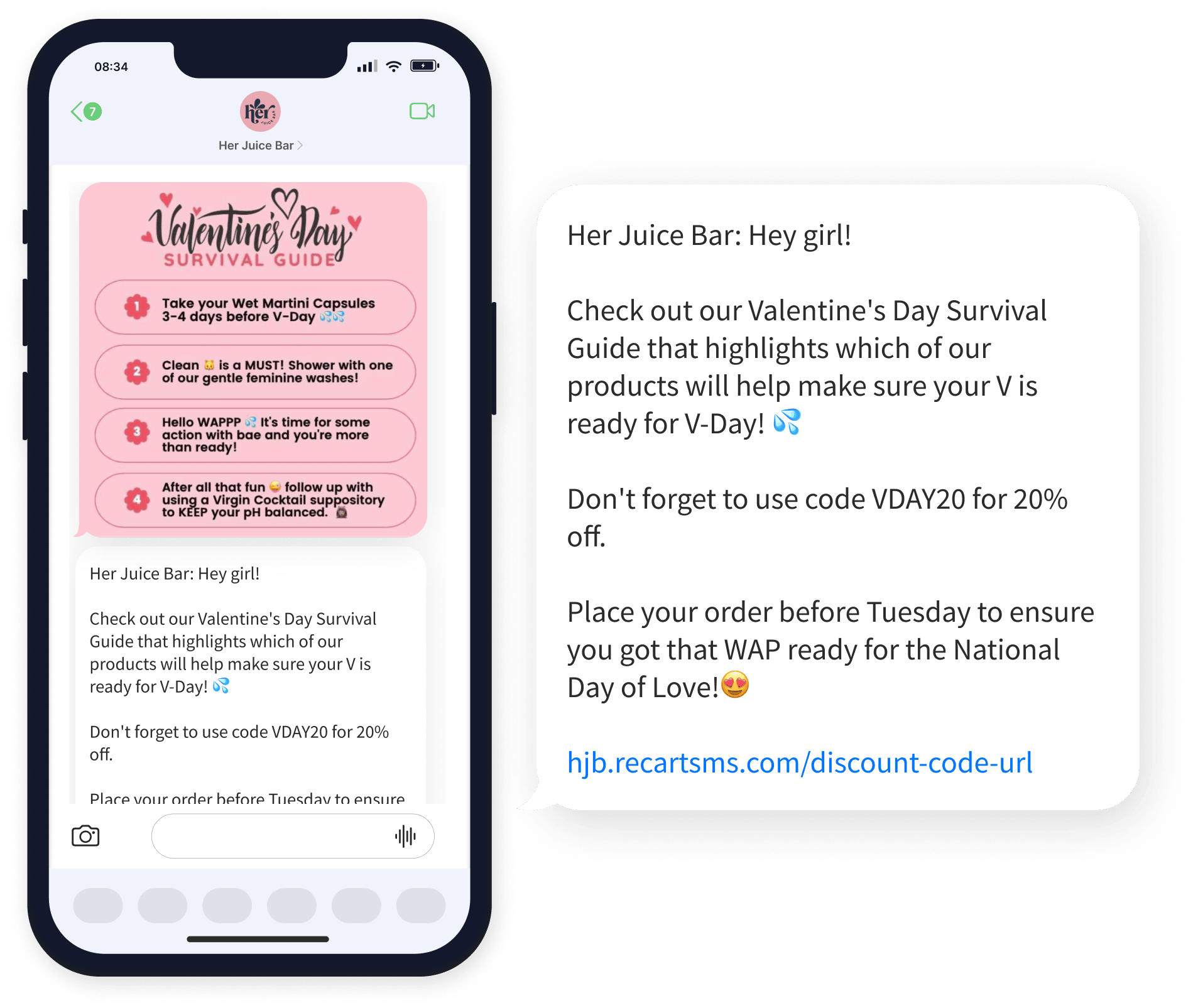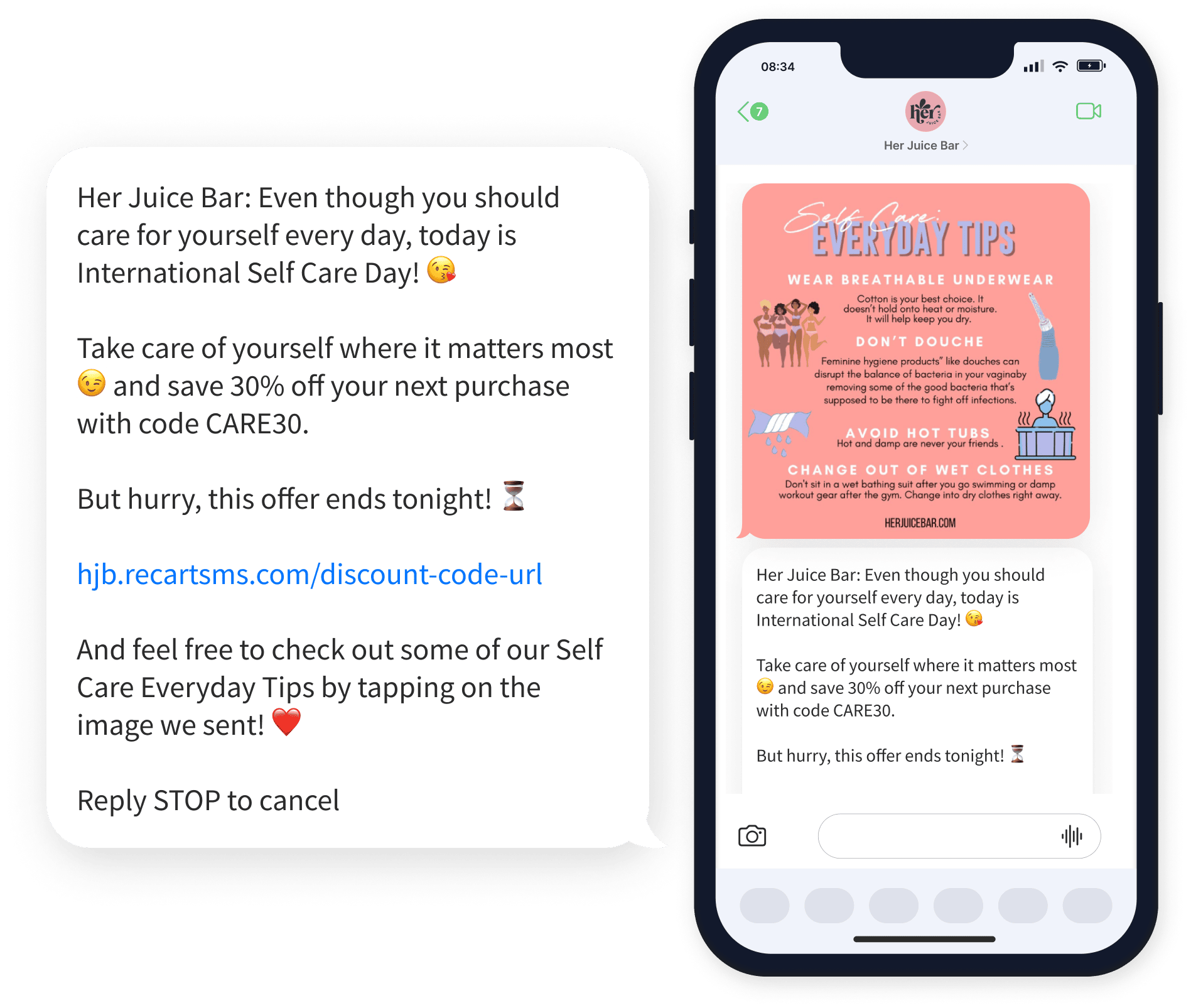 Her Juice Bar regularly sends multimedia messaging services (MMS) loaded with info like how to get your "V" ready for V-Day or everyday self-care. Both campaigns brought in significant revenue with an 18X return on investment (ROI) for the Valentine's send.
Note: All ROI figures are based on 7-day-click windows or the use of unique discount codes; although "view" attribution looks better, it inflates revenue, obscuring the price and value of SMS marketing.
Whether or not they're looking to purchase, subscribers will find value in these types of SMS messages — keeping open rates high and unsubscribes low.
Riot Swim's Trendy Update
The customer base for Riot Swim is fashion-forward. They're eager to keep up with trends. Naturally, an MMS featuring various looks from Miami Swim Week fits these subscribers as snugly as the swimsuits on the runway.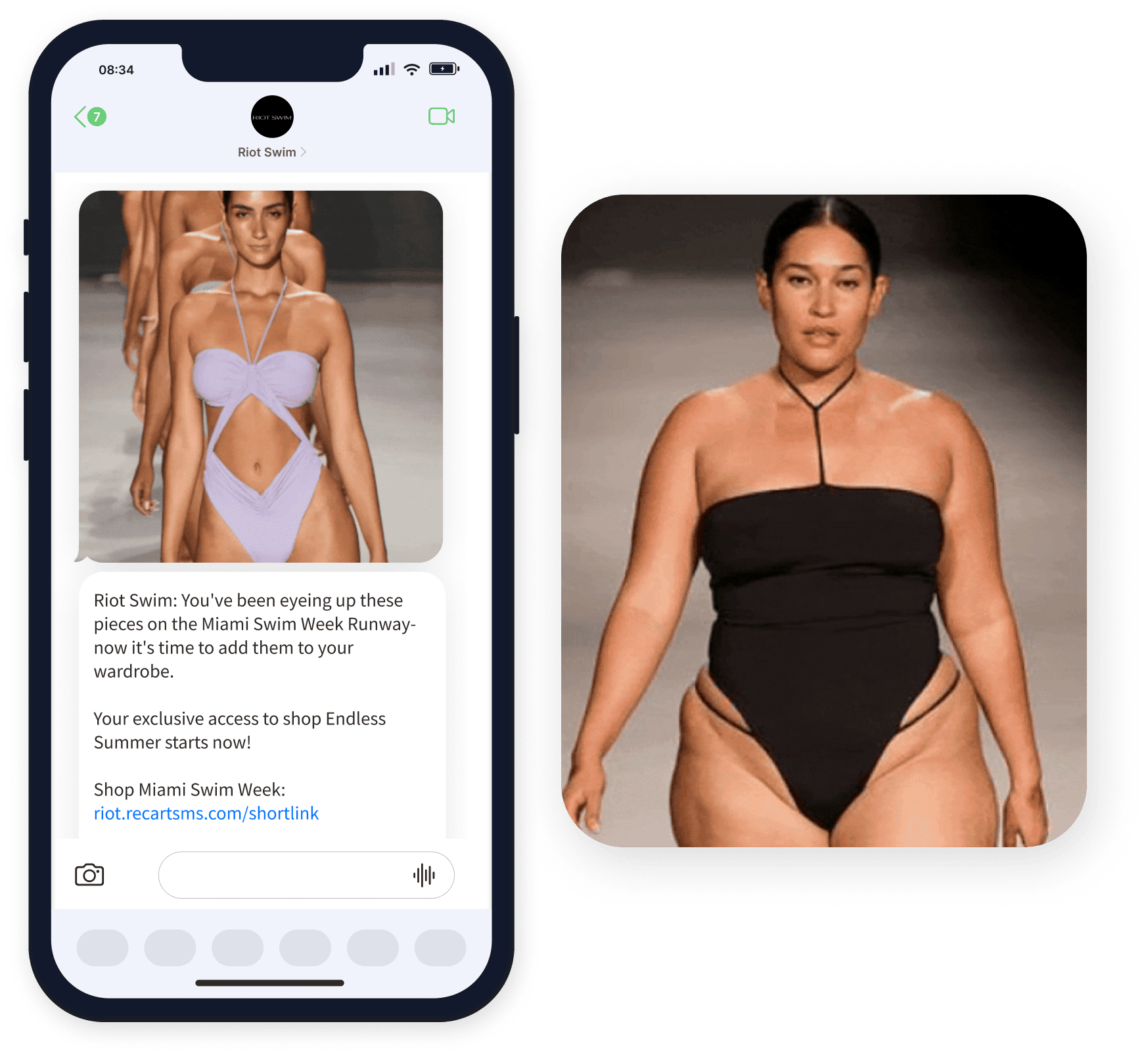 The GIF displayed multiple photos, allowing fashion-hungry shoppers to view numerous styles. Even more to the point, it reinforced the company's value of body type inclusivity (and got a 14X ROI to boot).
Always Covered's Sexy LOL
Sometimes you receive a text that enchants you. The following sales message example from Always Covered announced a holiday discount for shower caps and bonnets with a very unique image.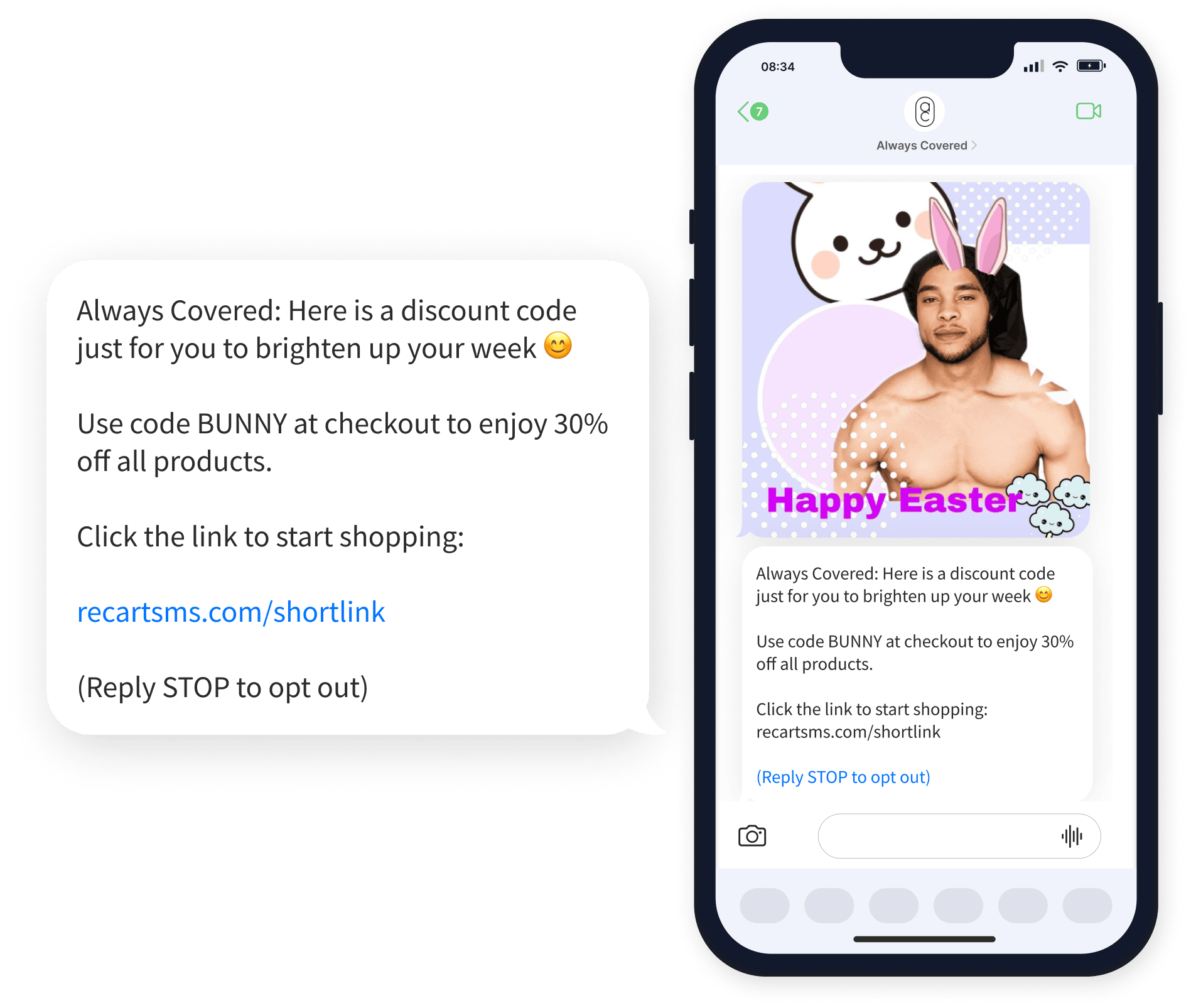 Not every business can pull off a mash-up as provocative as this one, but the sexy humor suited Always Covered's brand, delivering 14X.
Tactic 2
Make a Lasting First Impression
A Welcome Flow of three to five messages forms the foundation for any SMS marketing automation. The series should accomplish more than greet new subscribers and press them to purchase.
This is your chance to generate big revenue while simultaneously making a memorable brand impression.
Storelli's Premium Differentiation
Founded by soccer experts, Storelli "sweats innovation" with its well-engineered apparel and gear. The high-end business needs to communicate quality to win customers in the crowded sports market … as well as justify a premium price.
Messages in Storelli's Welcome Flow tout the company's expertise and explain the lifetime value of its long-lasting products. Likewise, the photography reflects a premium image balanced with a discount code inviting immediate action.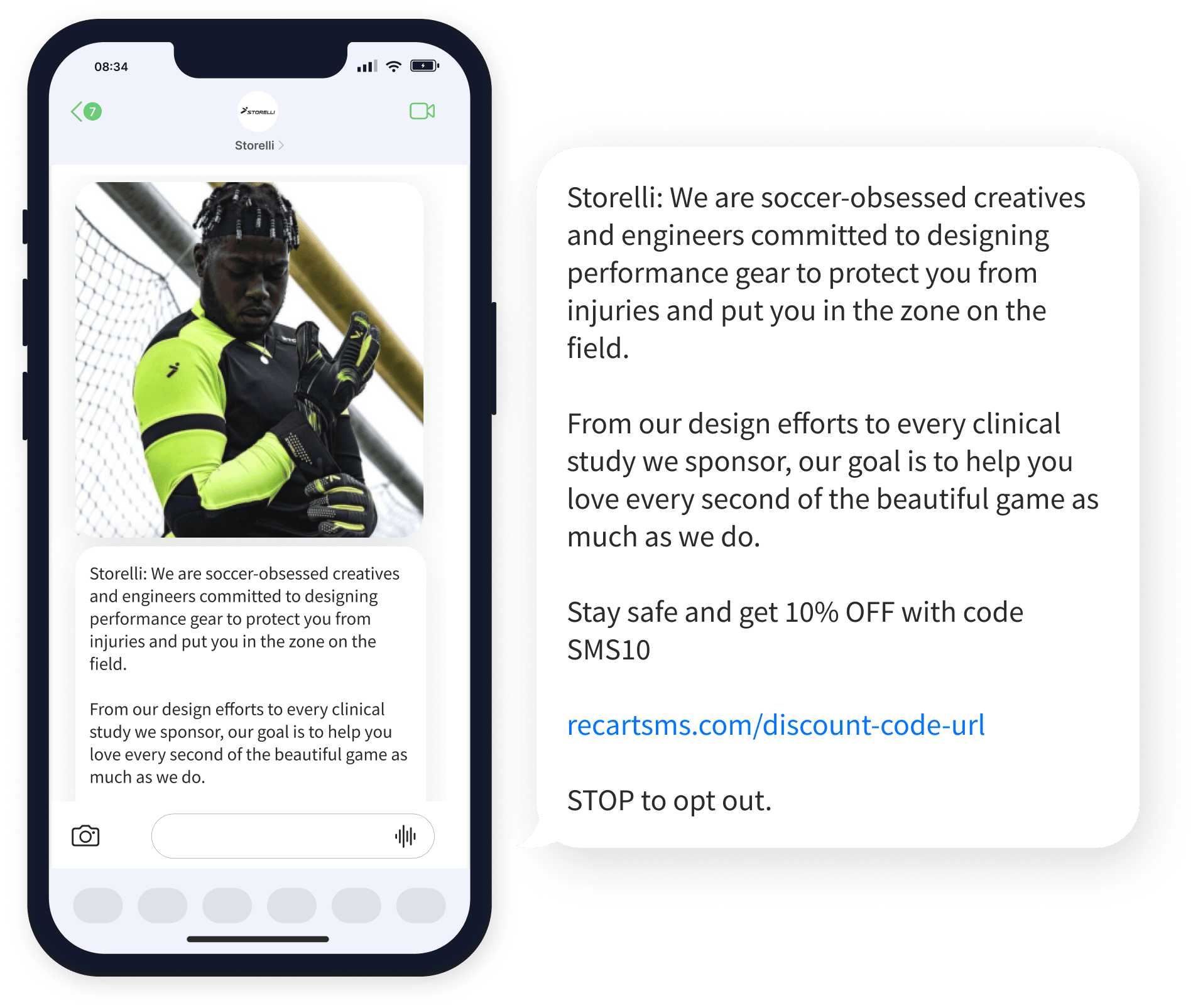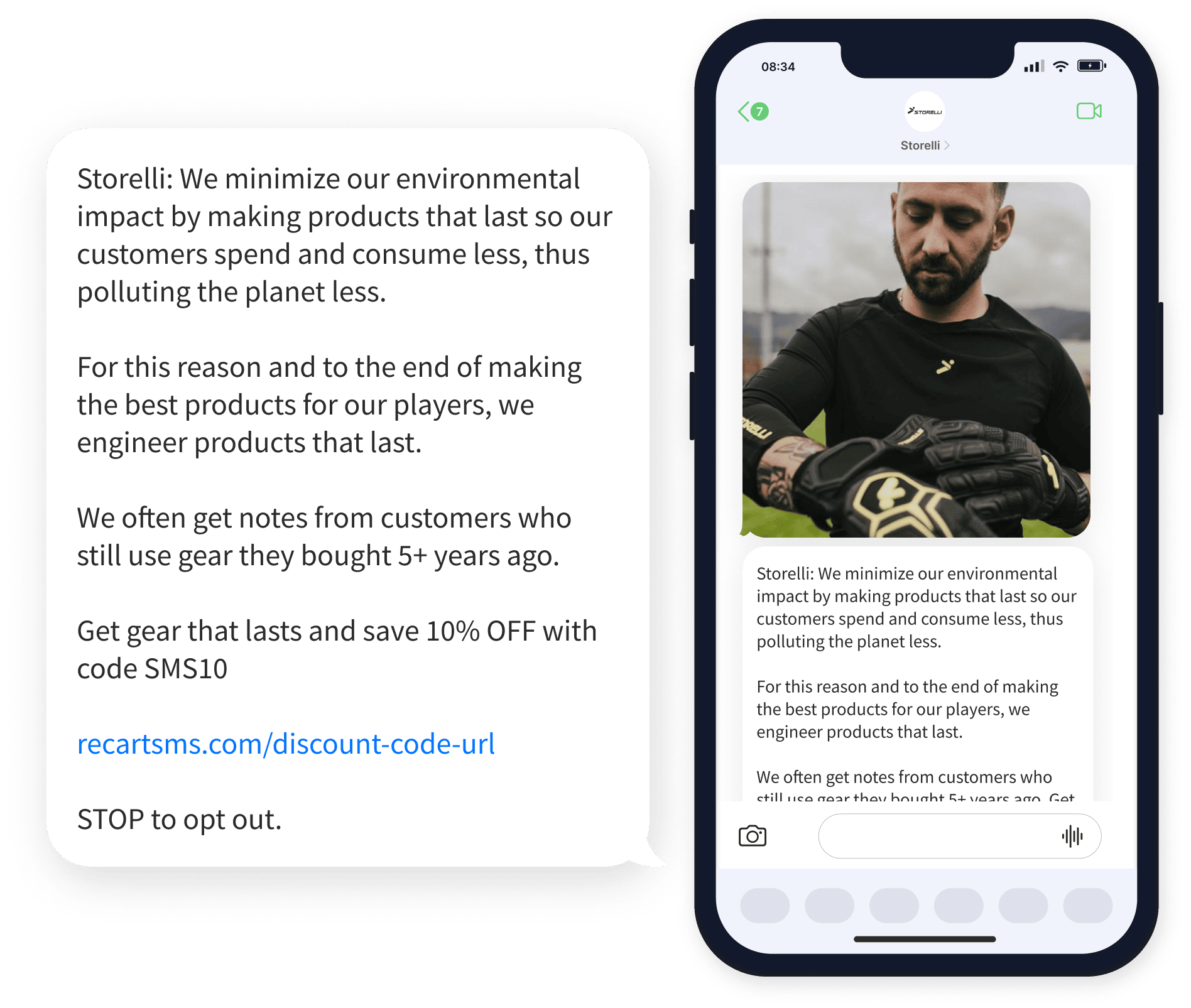 Atlantic Rancher's Best Seller
Product spotlights are a lucrative component of Welcome Flows, sent to subscribers who have not yet purchased. Atlantic Rancher's Salt Farm Coat SMS is exactly the kind of text you could include in your sequence.
It garners high sales by promoting one of the company's top-selling coats, a widely appealing item that's available in both men's and women's sizes. The text message shows the coat in action and highlights practical details, matching Atlantic Rancher's overall emphasis on functionality meets fashion.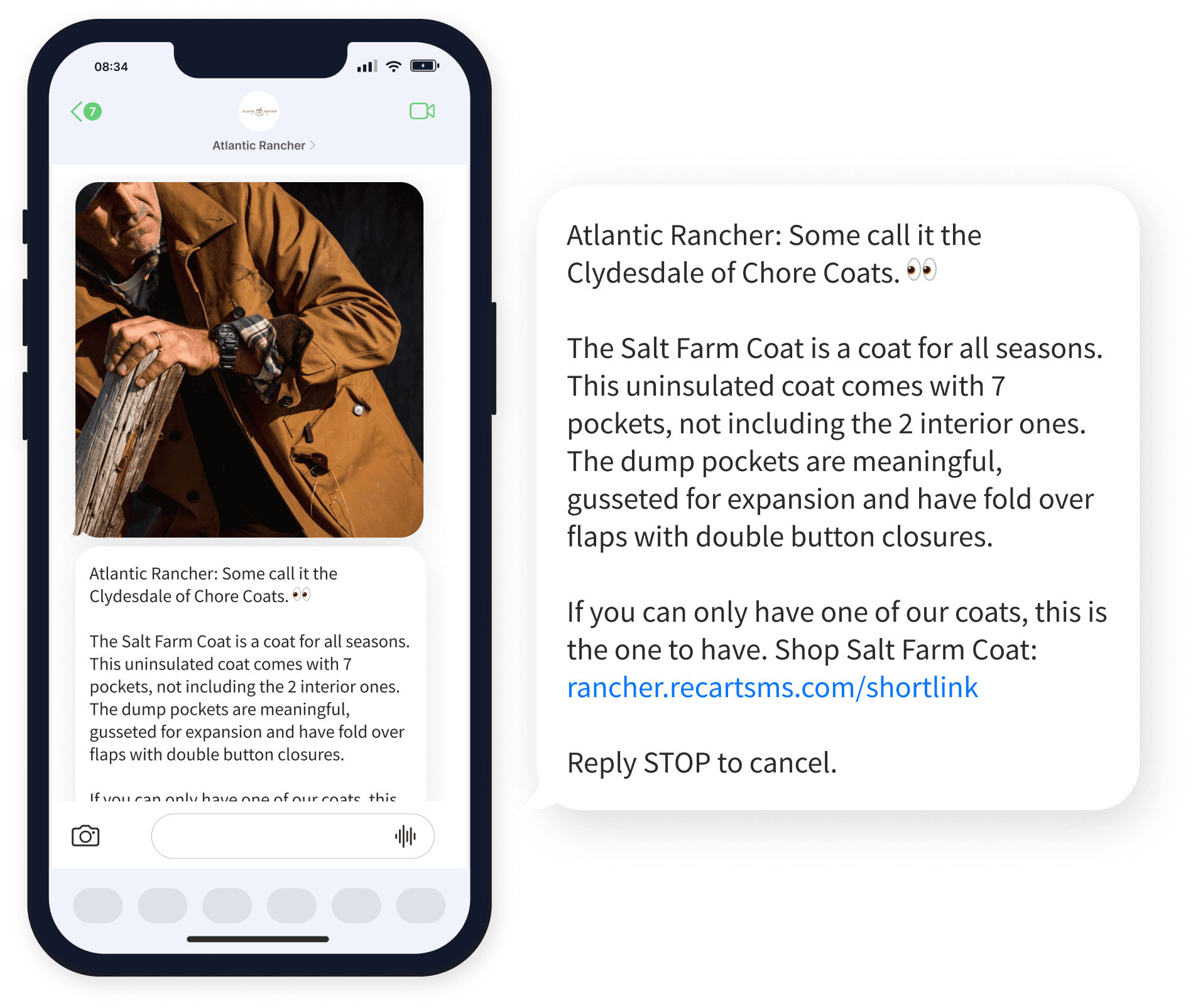 Her Juice Bar's Self Discovery
Core values are central to brand image, which is why Her Juice Bar follows its welcome message — a straight discount + contact card — with a 24-hour-delayed note summarizing the company's mission.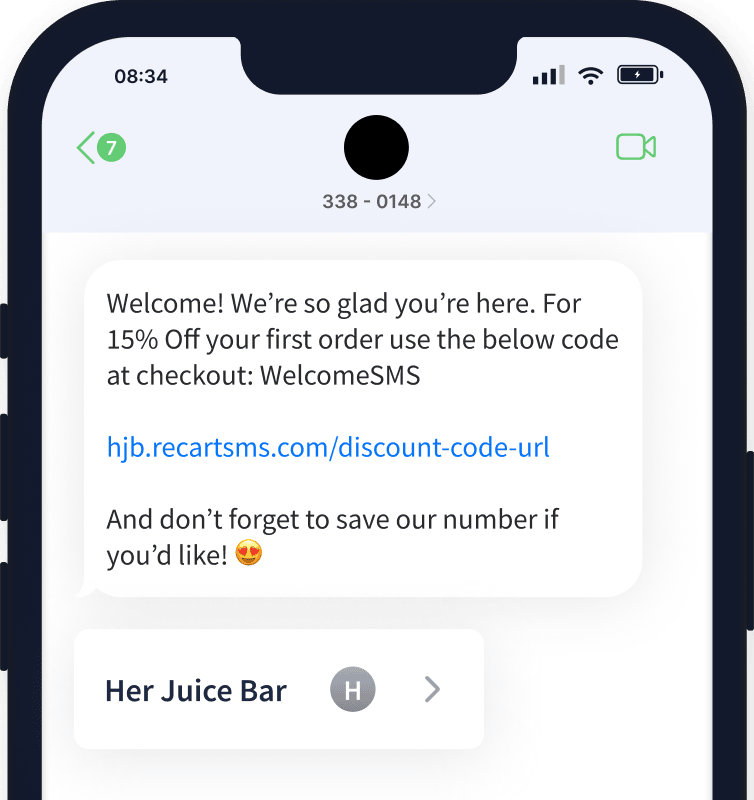 However, sales more than double when its third text (this time about finding the right product) arrives after another 72 hours.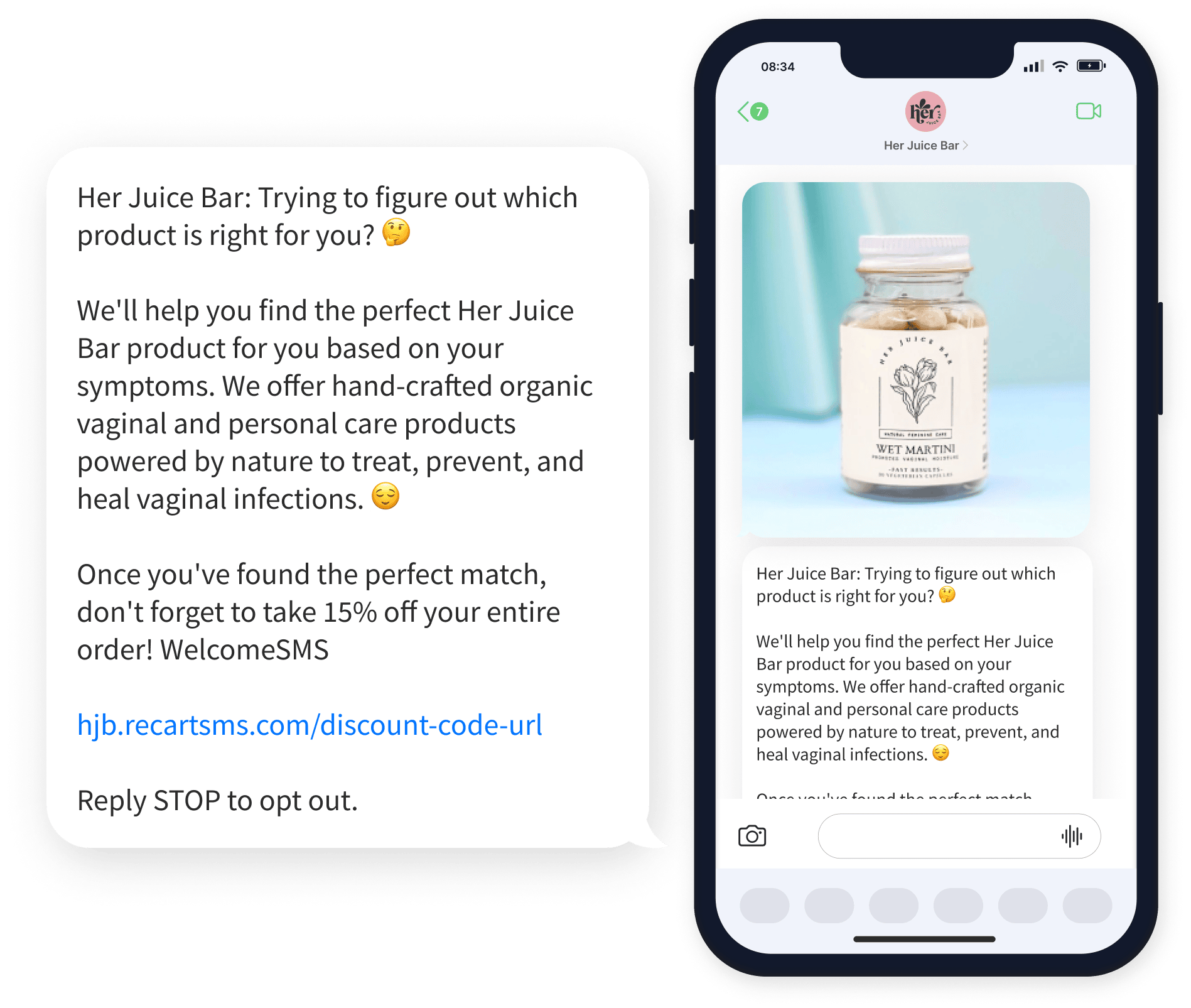 The lesson?
Deliver what you promised from your popup immediately. Take time to develop a relationship — for SMS, one text is plenty. Then, seal the deal with a strong CTA to help undecided shoppers find their own "perfect match" (i.e., discover the right product for them).
Tactic 3
Capitalize on (All the) Holidays
Most retailers observe one or two major shopping holidays, but the year is filled with plenty of revenue-generating dates to celebrate.
By leaning into at least three non-Q4 events, you create a "four peaks" marketing calendar that drives sustainable growth. As long as your list is clean of unreachable numbers, you can push hard with full-list sends (high revenue) coupled with targeted follow-ups (high returns).
Intrinsic Holidays
Brands with natural connections to specific holidays often see favorable results. Think Canada Day for Canadian watersports, Mother's Day for nursing mom apparel, and International Women's Day for vaginal health products.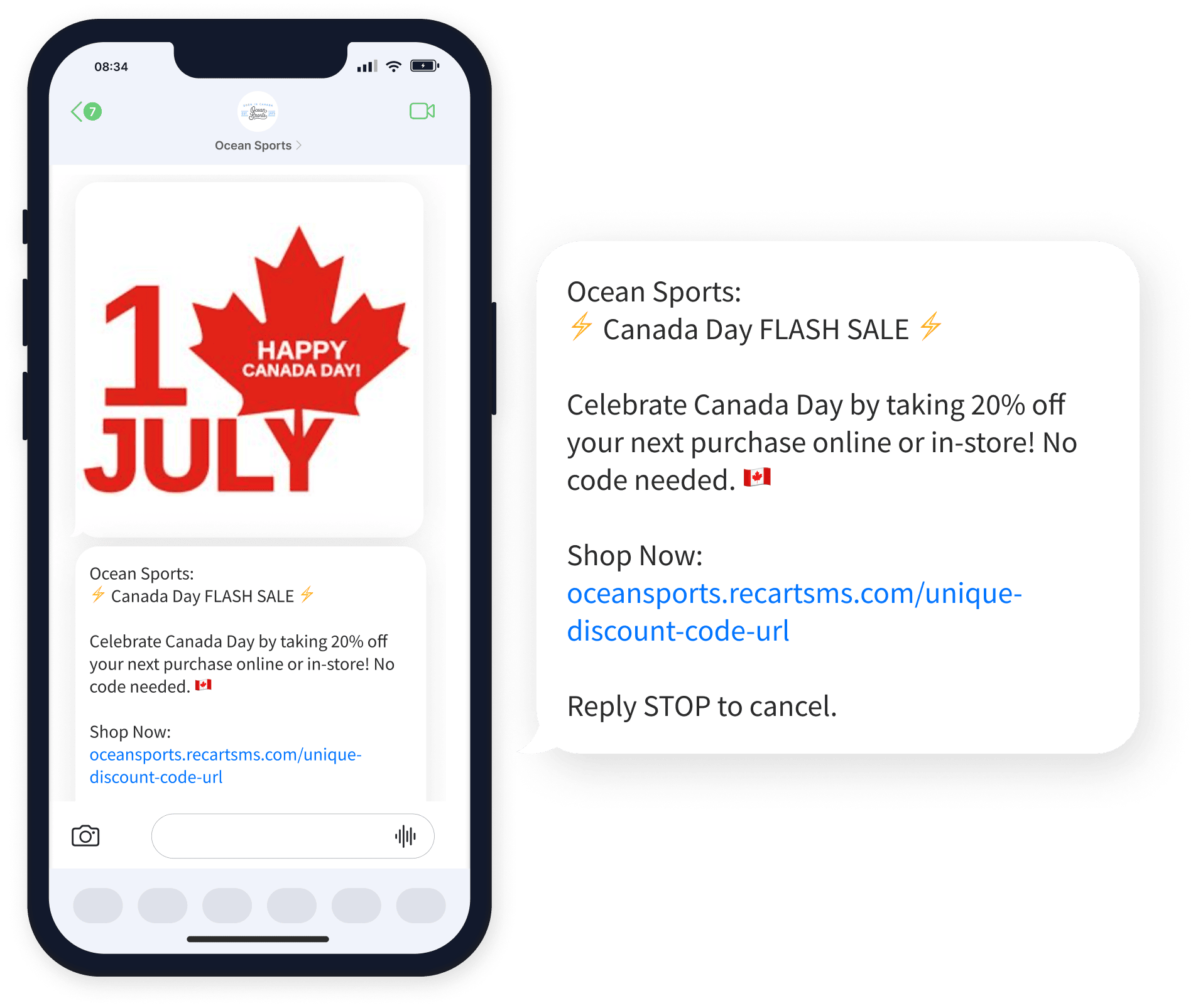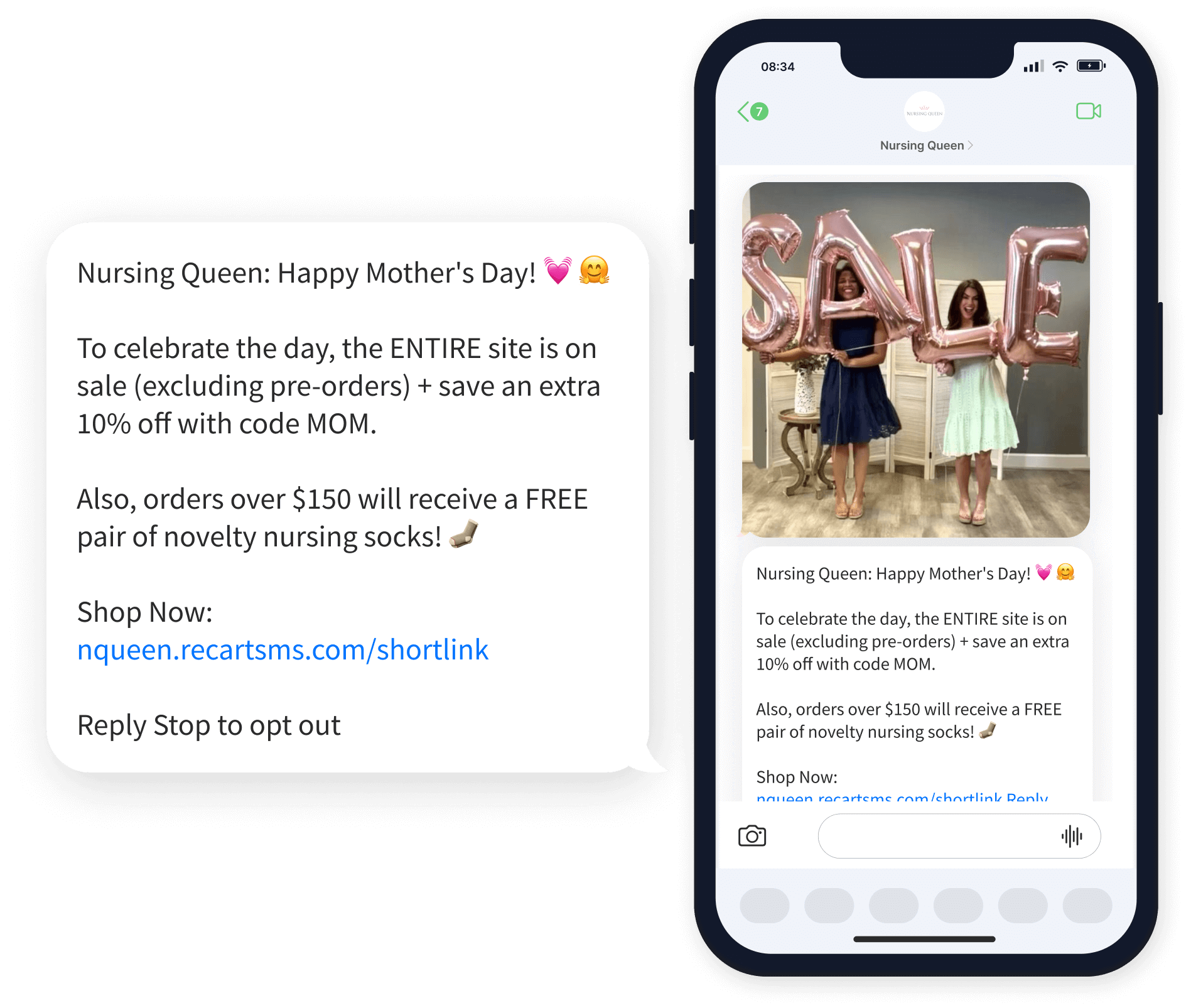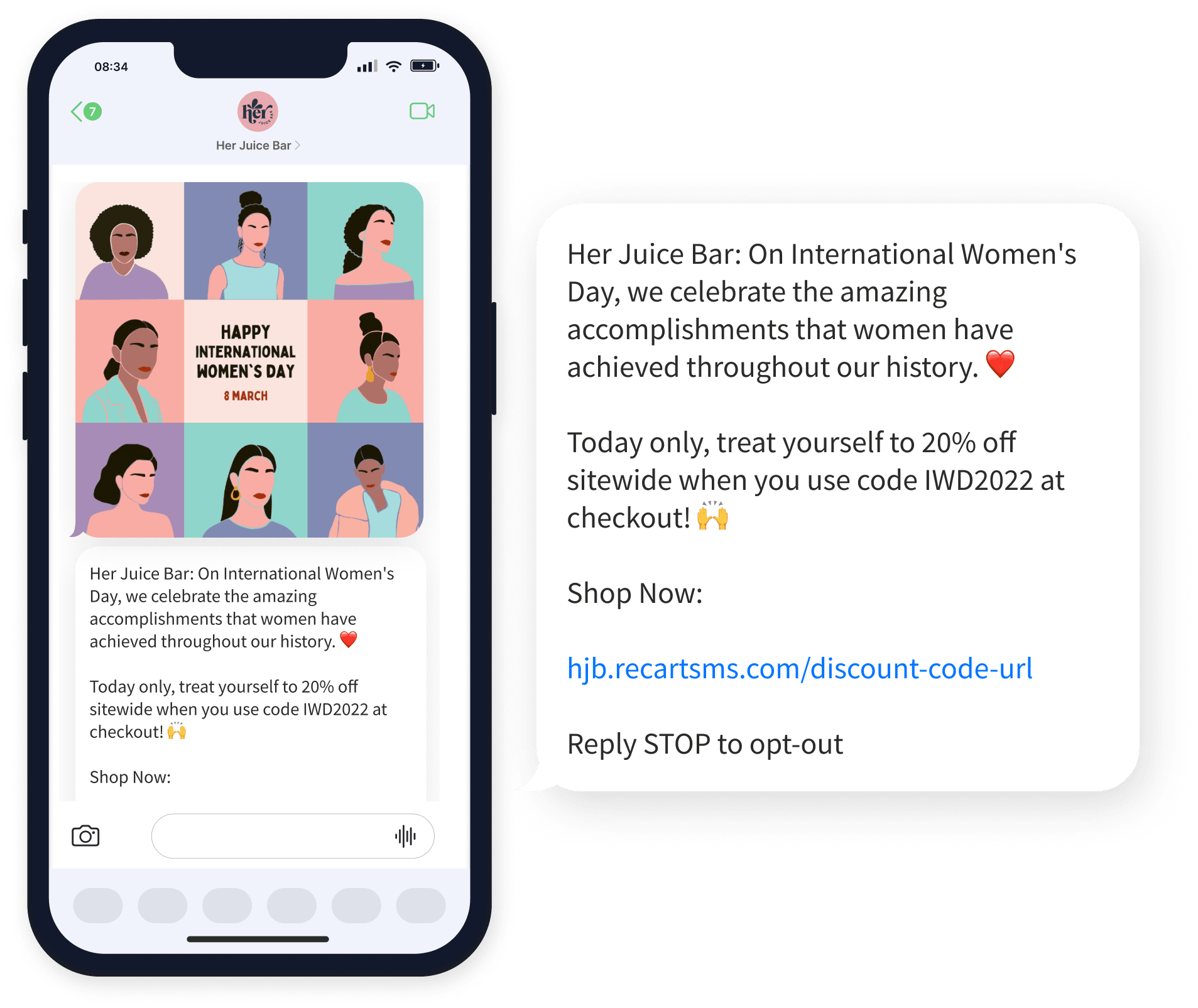 You might expect bigger moments to perform better. Particularly compared to retail-centric celebrations.
There's truth to that (as we'll see in the next few examples). Nonetheless, Canada Day brought in 28X, International Women's Day scored 36X, and Mother's Day — always a heavy hitter — earned 17X.
Even if lesser-known dates deliver lower volume, they're a great way to fill out your text message marketing.
Non-Gifting Holidays
Don't be shy about experimenting with non-gift-giving holidays unrelated to your brand.
Nursing Queen saw 38X on a Memorial Day campaign, slightly beating its more relevant Mother's Day effort. Earthen SkinCare had just started its SMS program but plunged in with a Fourth of July sale that garnered a 297X ROI on a small spend.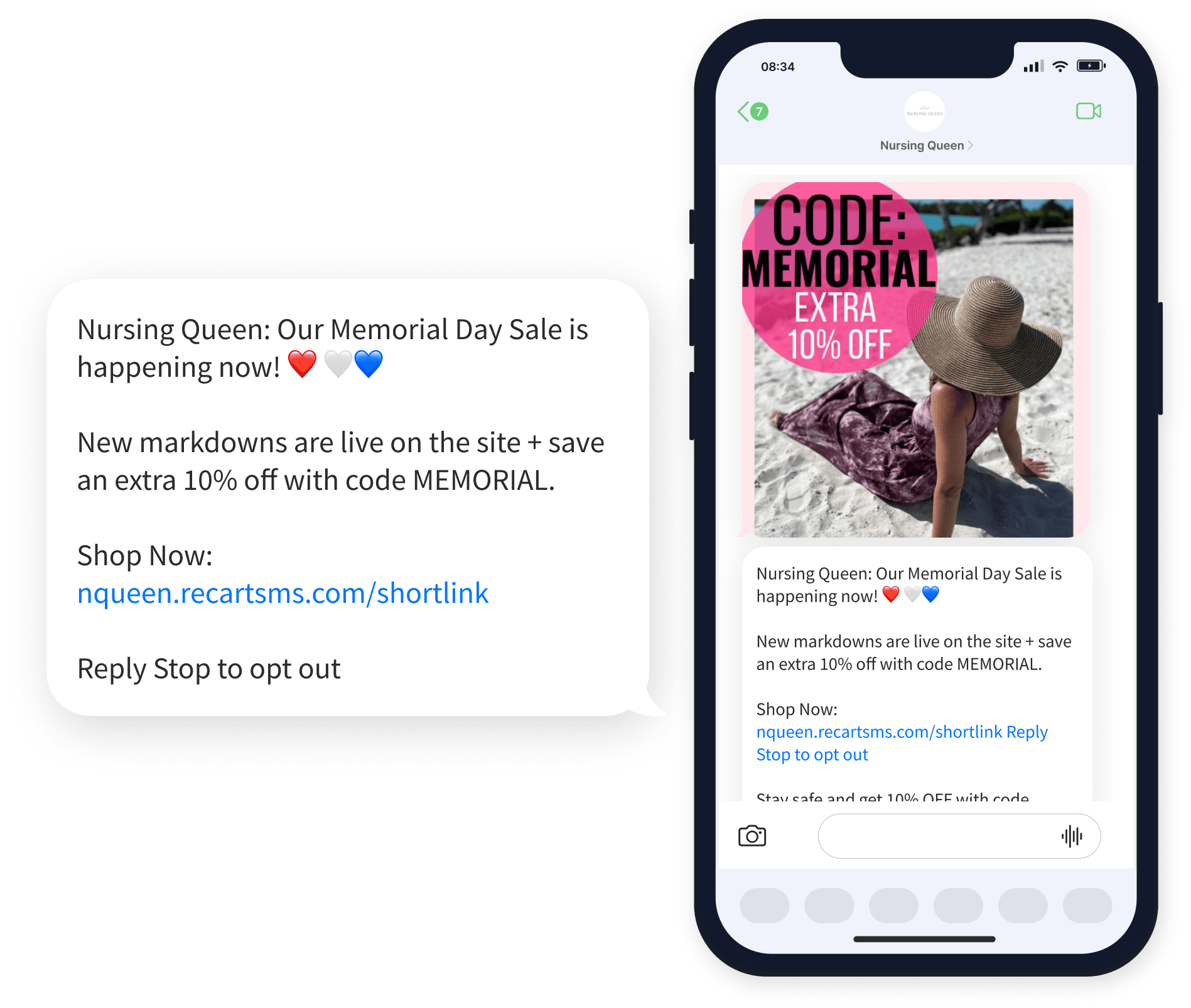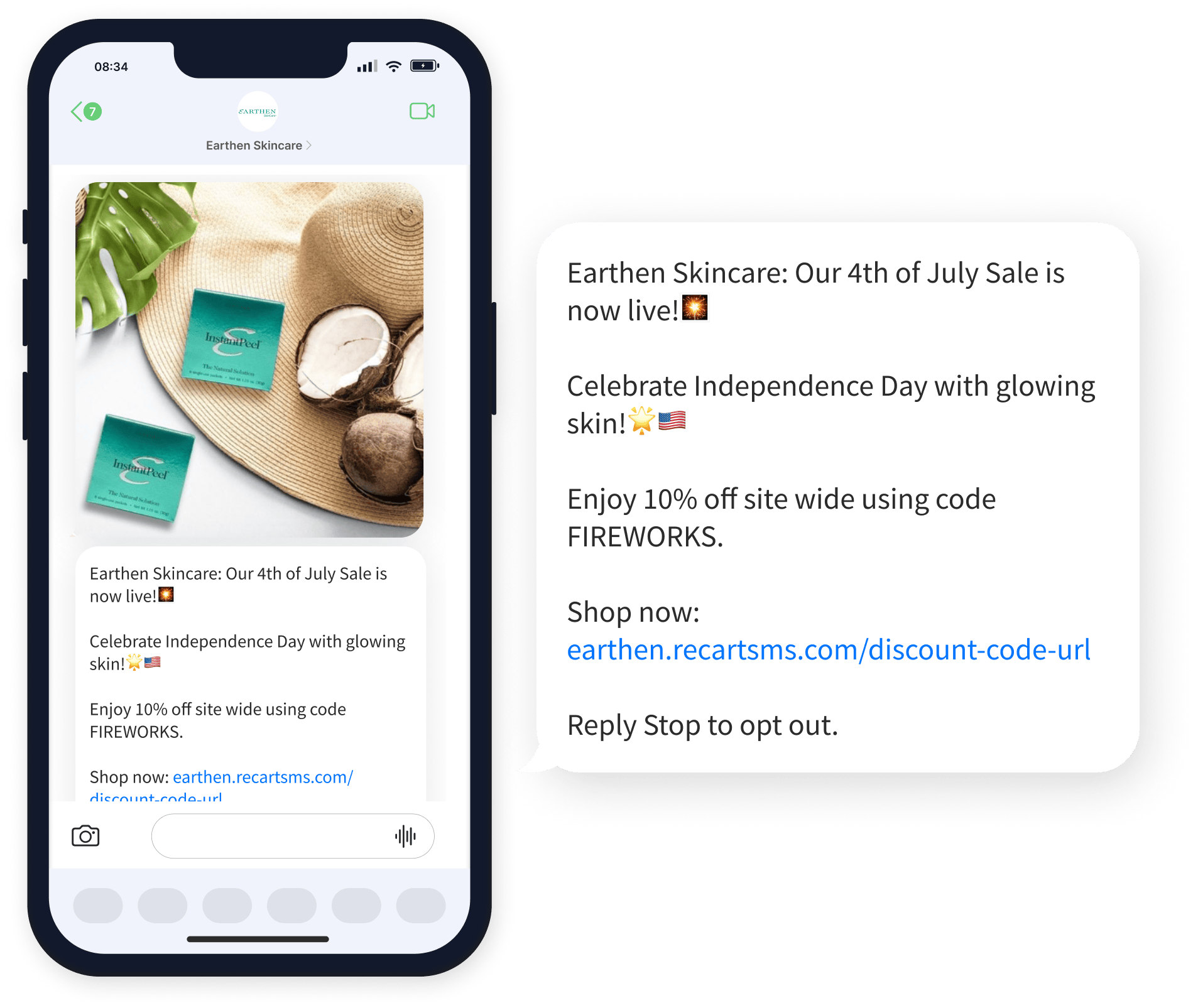 Gifting Holidays
Major present-giving holidays are a no-brainer for ecommerce businesses.
With a strong holiday-product fit, handcrafted knife maker TheCaveManStyle kept its Father's Day discount light. Then, fired off a short reminder for the sale that assured presents would arrive in time.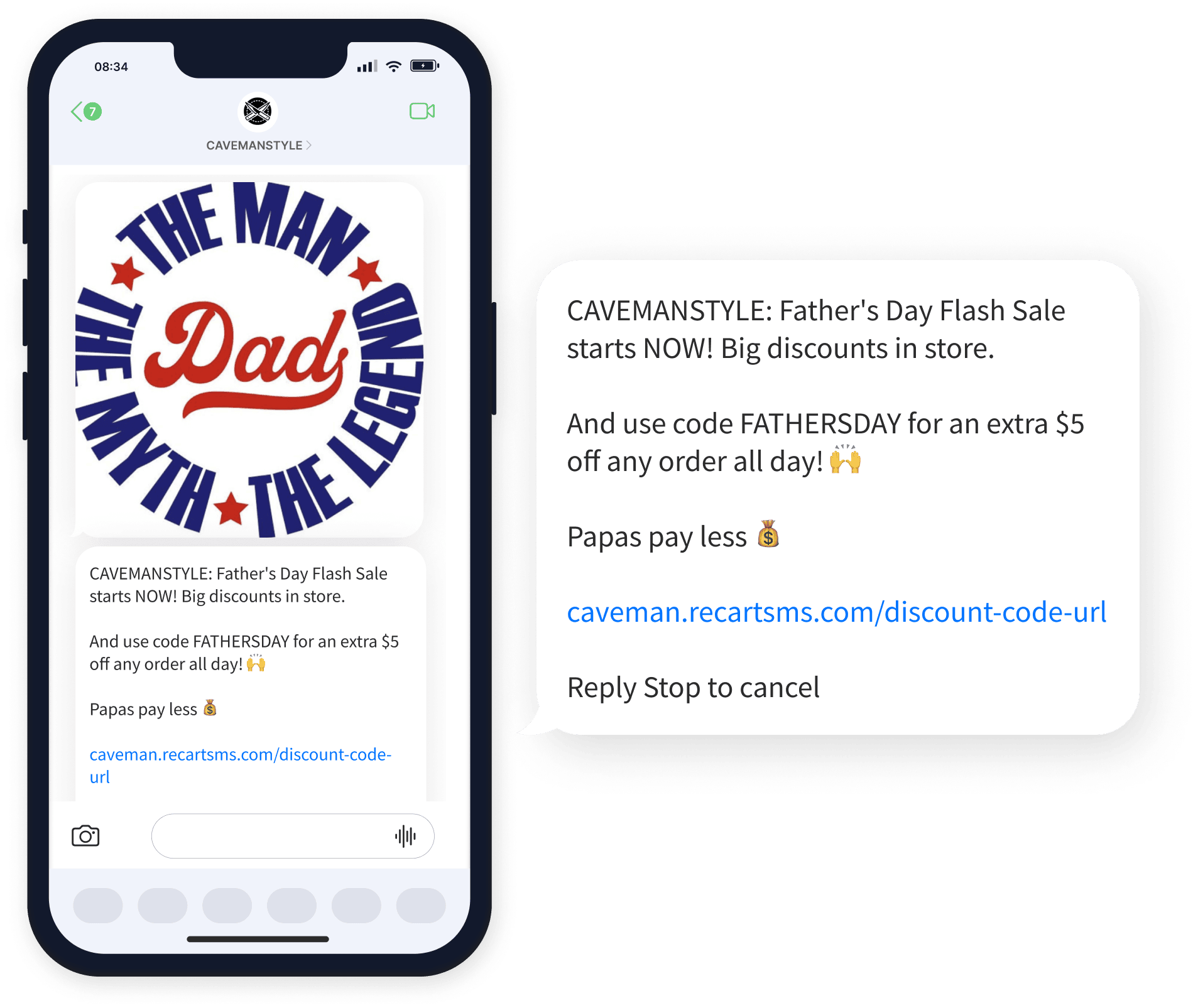 Together, the two conspired to generate 9X return without sacrificing margins.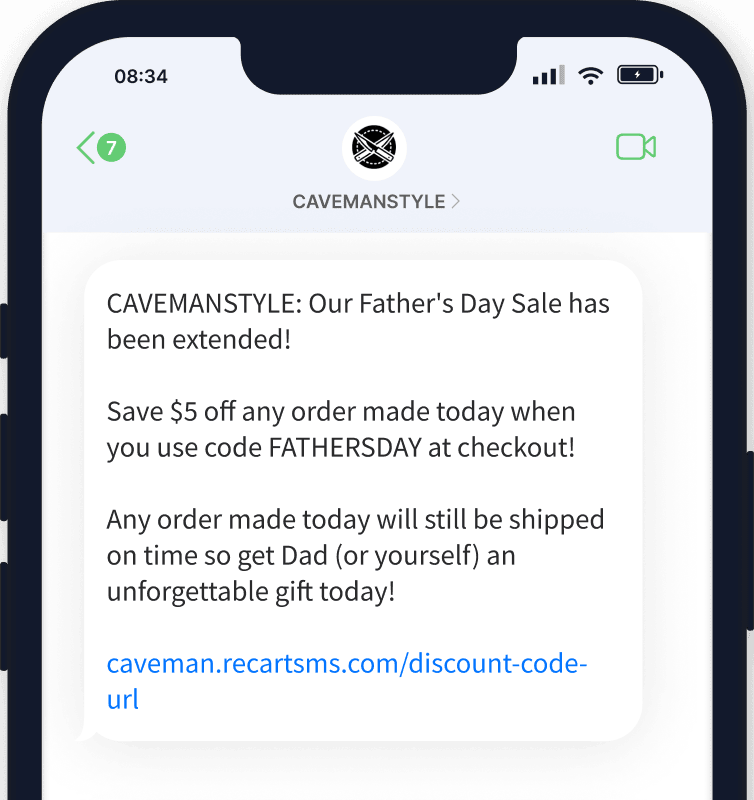 Bella All Natural took a similar approach for Mother's Day … with two twists.
One, the for-women, by-a-woman supplement company offered a more substantial discount of 20%, yielding 11X for the first send.
Twist number two? It literally sent the same message for the second text to people who clicked and didn't purchase. The same exact message, yielding 34X.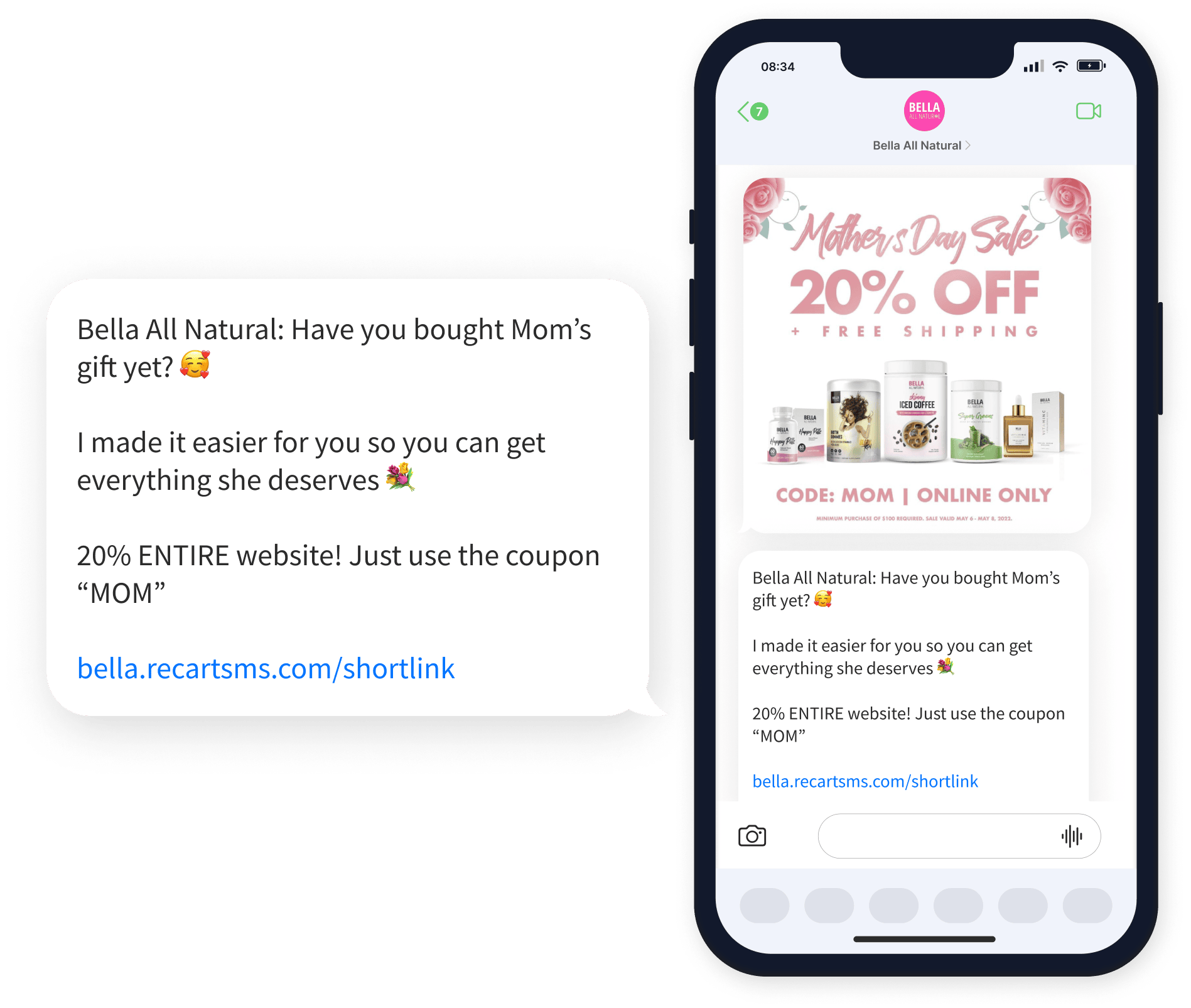 Even if you don't have a one-to-one match between holiday and product, that doesn't mean you can't still win big.
Although Pretty Biznez offers skincare for all genders, it sent a message honoring moms for Mother's Day. The one-off promo was the deepest discount in this section … with a $50 threshold to lift average order value (AOV).
The result? Almost twice the revenue of its previous best campaign with a whopping 163X ROI.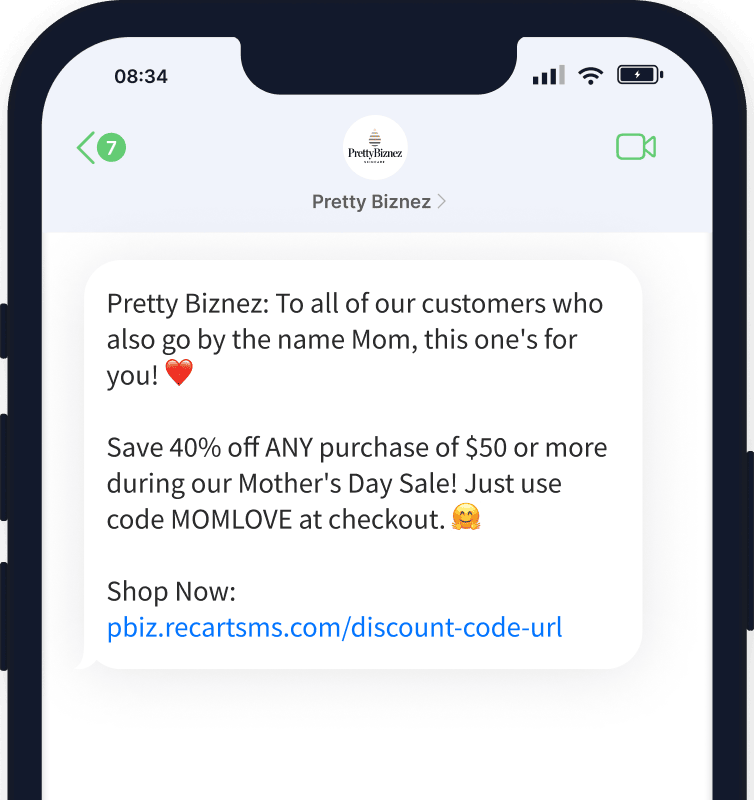 'The' Holidays
Given its dominance, we've covered Black Friday, Cyber Monday SMS extensively in a standalone guide + calendar. Here, let's keep things simple, which is exactly what your texts should do — up to a point.
The key to winning retail's biggest days is threefold. First, make the main thing the main thing; namely, your offer. Second, send that offer over and over … and over. Third, build to a deal-closing crescendo.
Portable kitchen appliance, BlendJet, offers the perfect illustrations.
To kick off its event, the brand announced an "Early Bird" sale on Thanksgiving, followed by a morning-of text on Black Friday. Both, full-list sends; both, straightforward SMS (no images or emojis); and both with solid returns — 6.8X and 14X.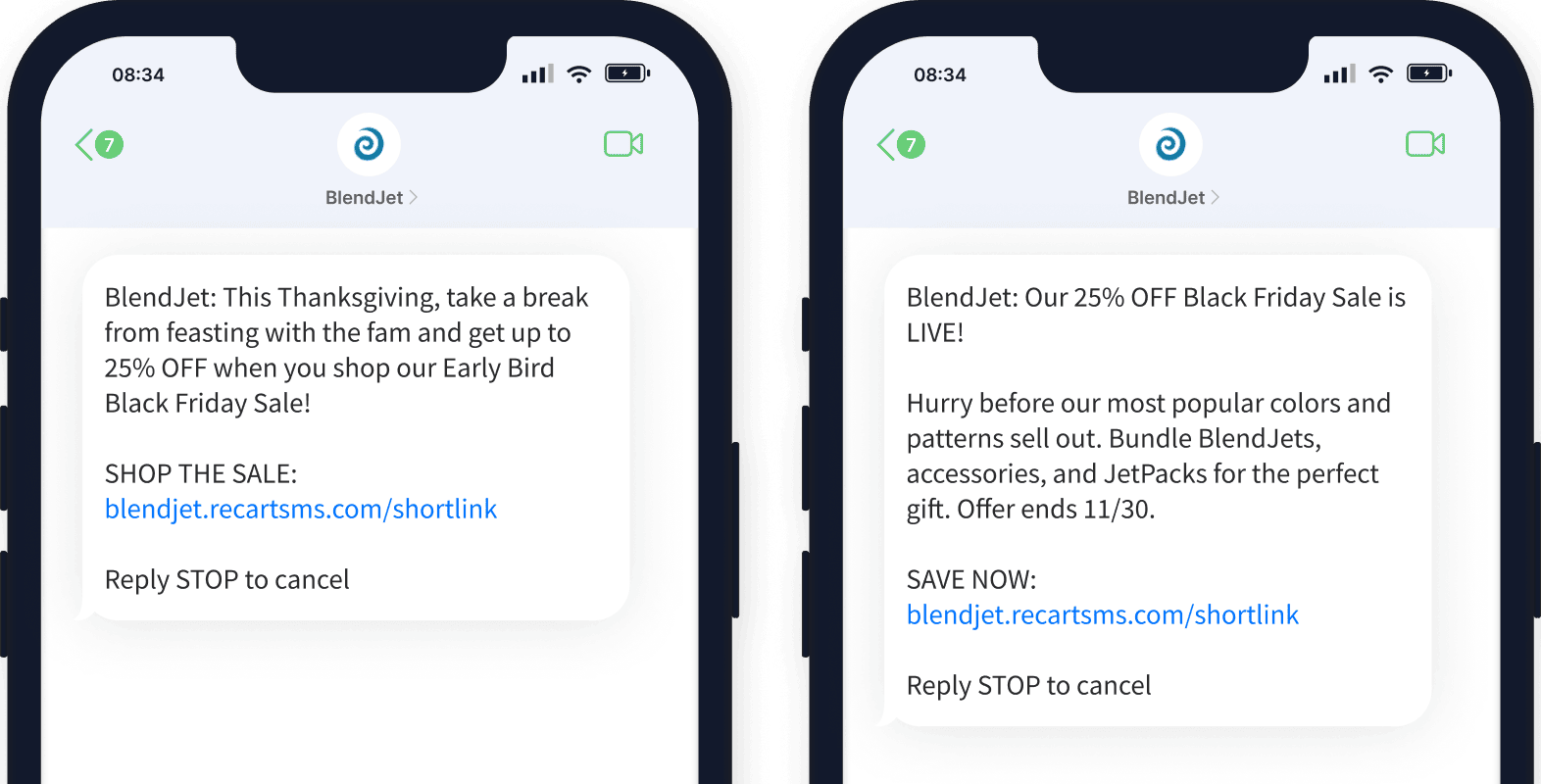 Mid-day Black Friday, it excluded recent purchasers — as well as anyone with items in their cart — and fired off an MMS of the same offer.
This time yielding an 8.9X.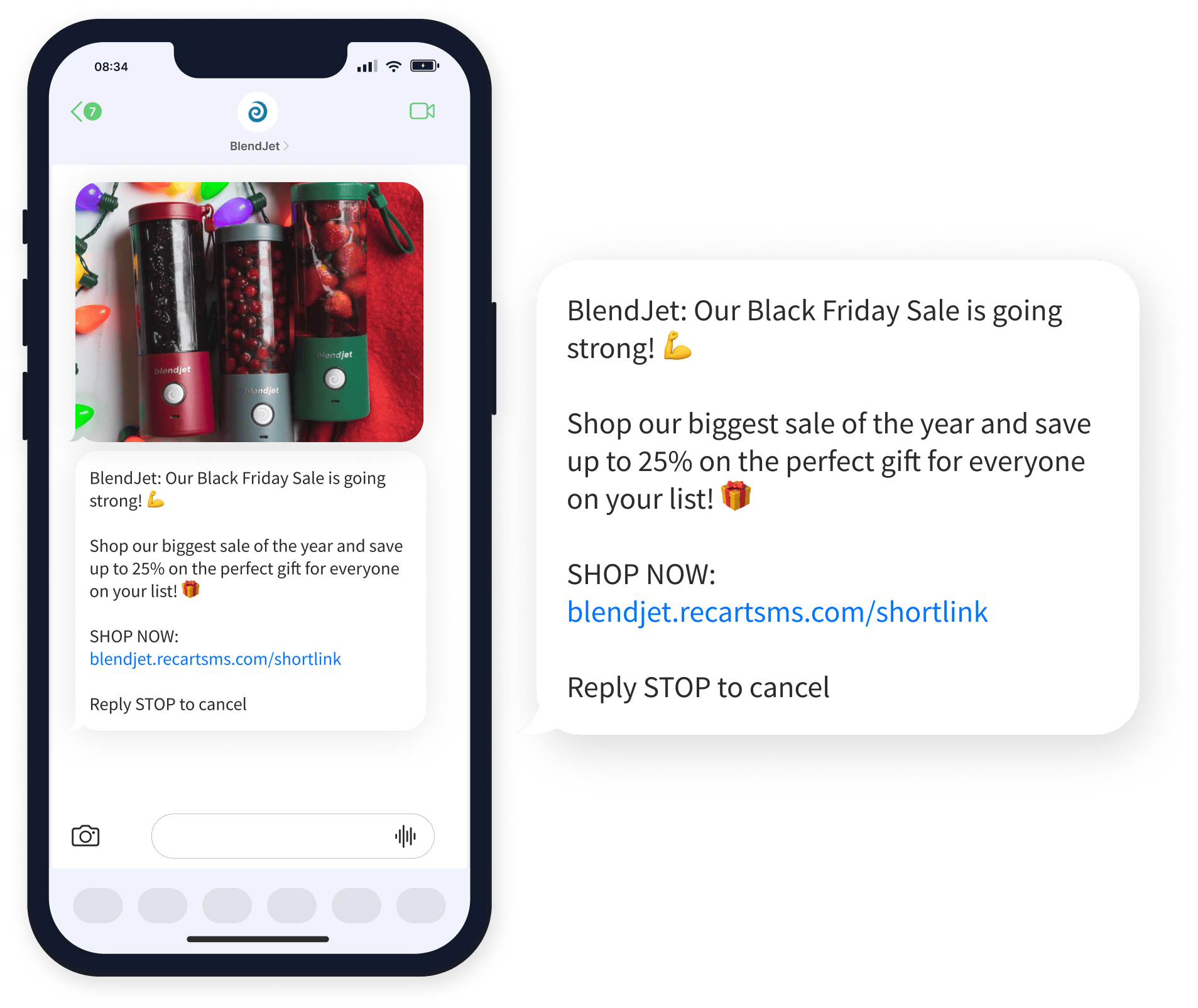 Finally, to top the whole thing off, BlendJet sent everyone who'd engaged with previous messages without purchasing an end-of-day SMS centered on (you guessed it) the same deal all over again.
Urgency plus relevancy producing 57X.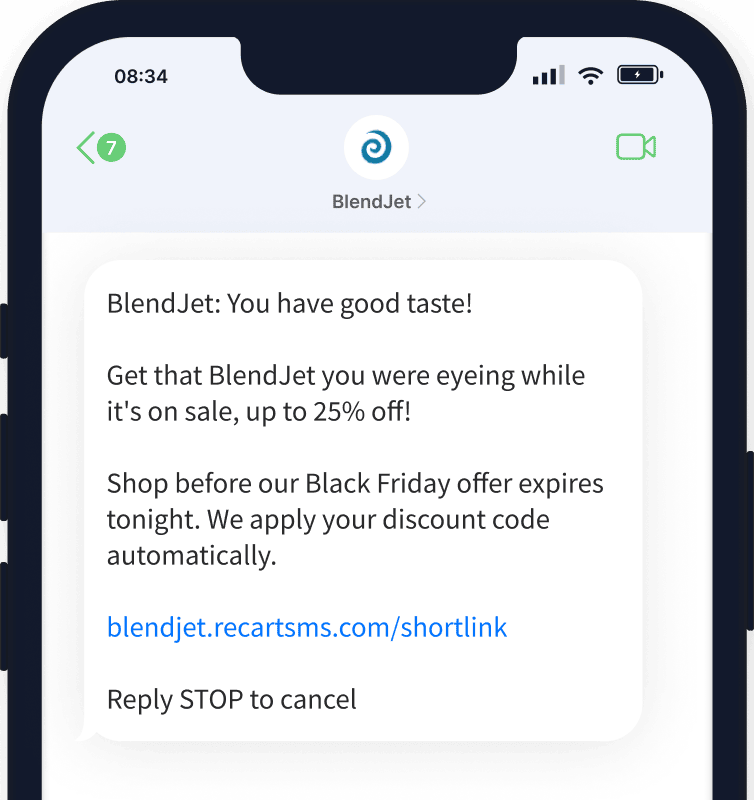 Behind the scenes, that strategy might not appear "simple." Especially when you pile on executing it throughout the weekend and on Cyber Monday.
Shoppers, however, experienced (1) a single offer, (2) sent consistently, and (3) built to a crescendo based their level of intent. Simplicity at its best.
Tactic 4
Create Your Own Special Days
As the old joke goes, marketers will celebrate everything from the opening of a store to the opening of an envelope. In addition to traditional holidays and brand tentpoles (like new product launches), get creative with the dates you honor.
As long as the message is relevant and valuable to subscribers … go for it.
9FIVE's $95 on September 5th
Sometimes it takes ingenuity to associate yourself with a specific date. Sometimes it's as plain as the nose on your face — or, rather, what rests on your nose.
For sunglasses retailer, 9FIVE, a $95 sale on Sept. 5th has been a staple since its inception. Known for delivering a luxury product at a reasonable price, the site-wide sale garnered 23X on a full-list send without undercutting 9FIVE's positioning.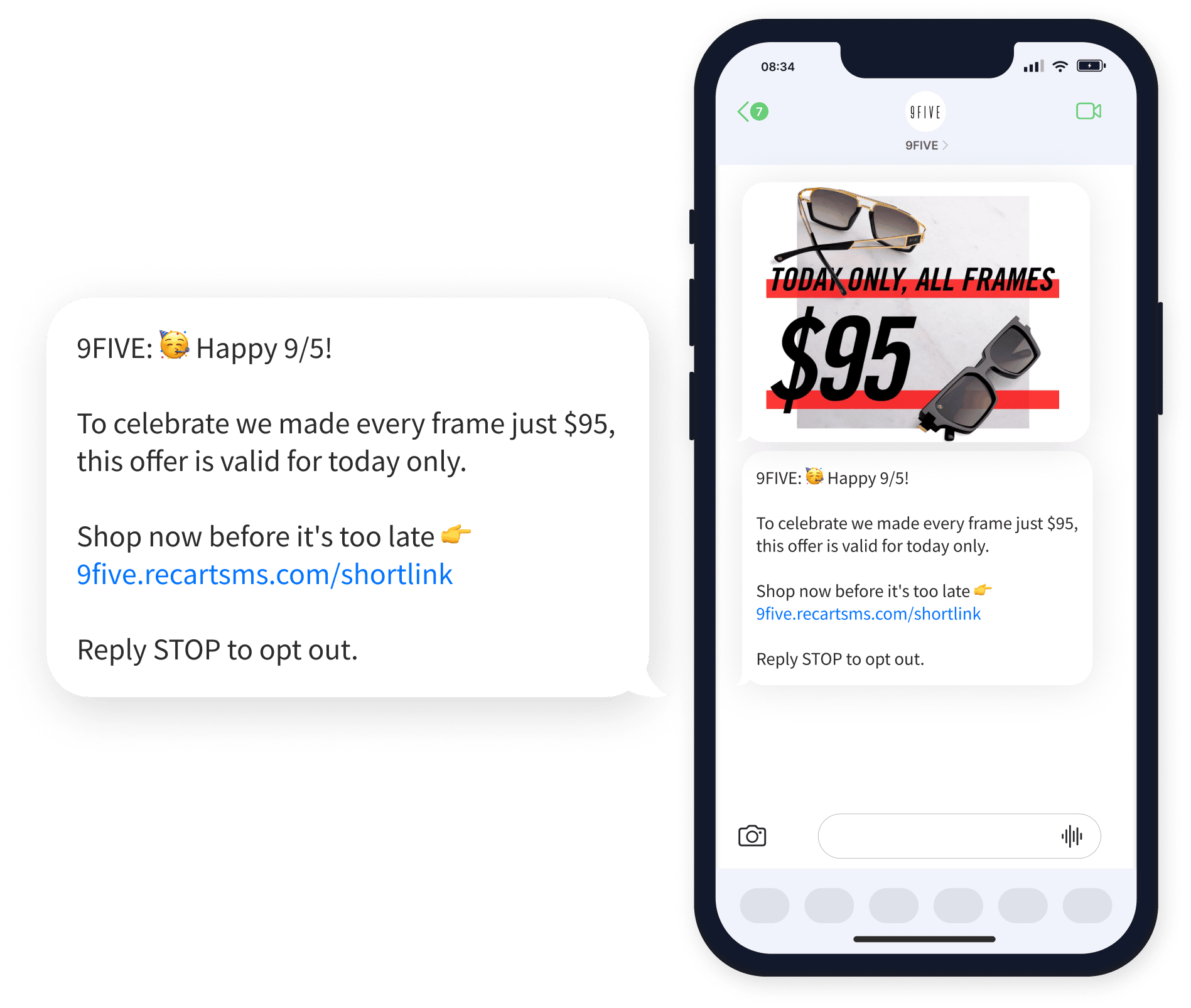 The Jawned Collection's 50k Flash
This handmade blanket business seized on racking up 50,000 social media followers, running a limited-time flash sale via text.
The "50" themed promotion highlighted The Jawned Collection's growing cachet while thanking loyal and new fans with a huge discount. The time-sensitive promotion was so successful that a follow-up extension was added, combining for a 66X ROI.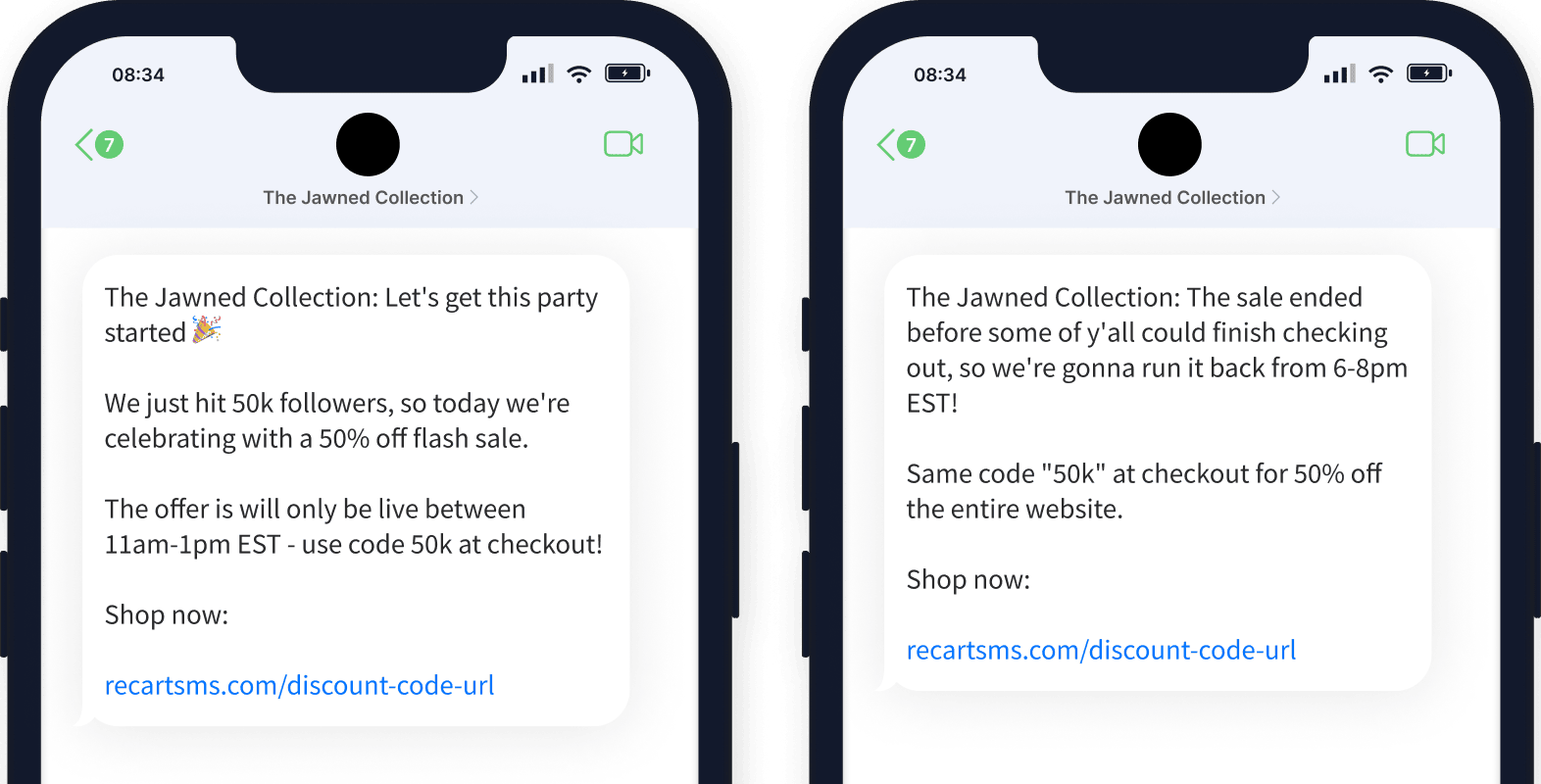 Danielle Gerber's 29th Birthday
Jewelry designer Danielle Gerber went all out for her 29th birthday — creating a dedicated landing page, custom popup, temporary Welcome Flow, and cheeky promo code ("OMGIM29") … to promote a 29% sitewide discount.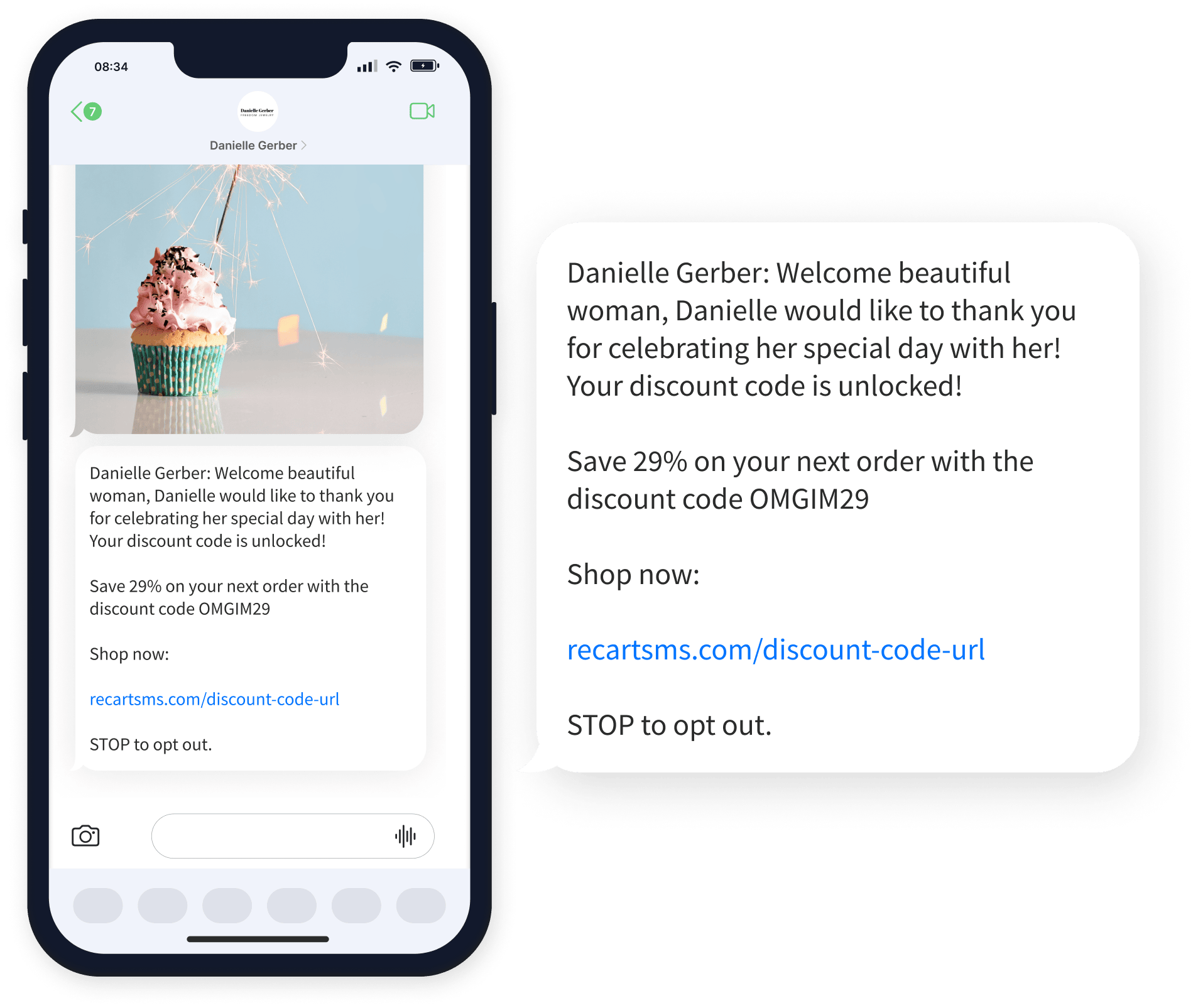 The week-long automation included three additional texts (the last two shown below). The combined efforts brought in new SMS subscribers, drove traffic to Danielle's Instagram profile, and generated a 25X ROI.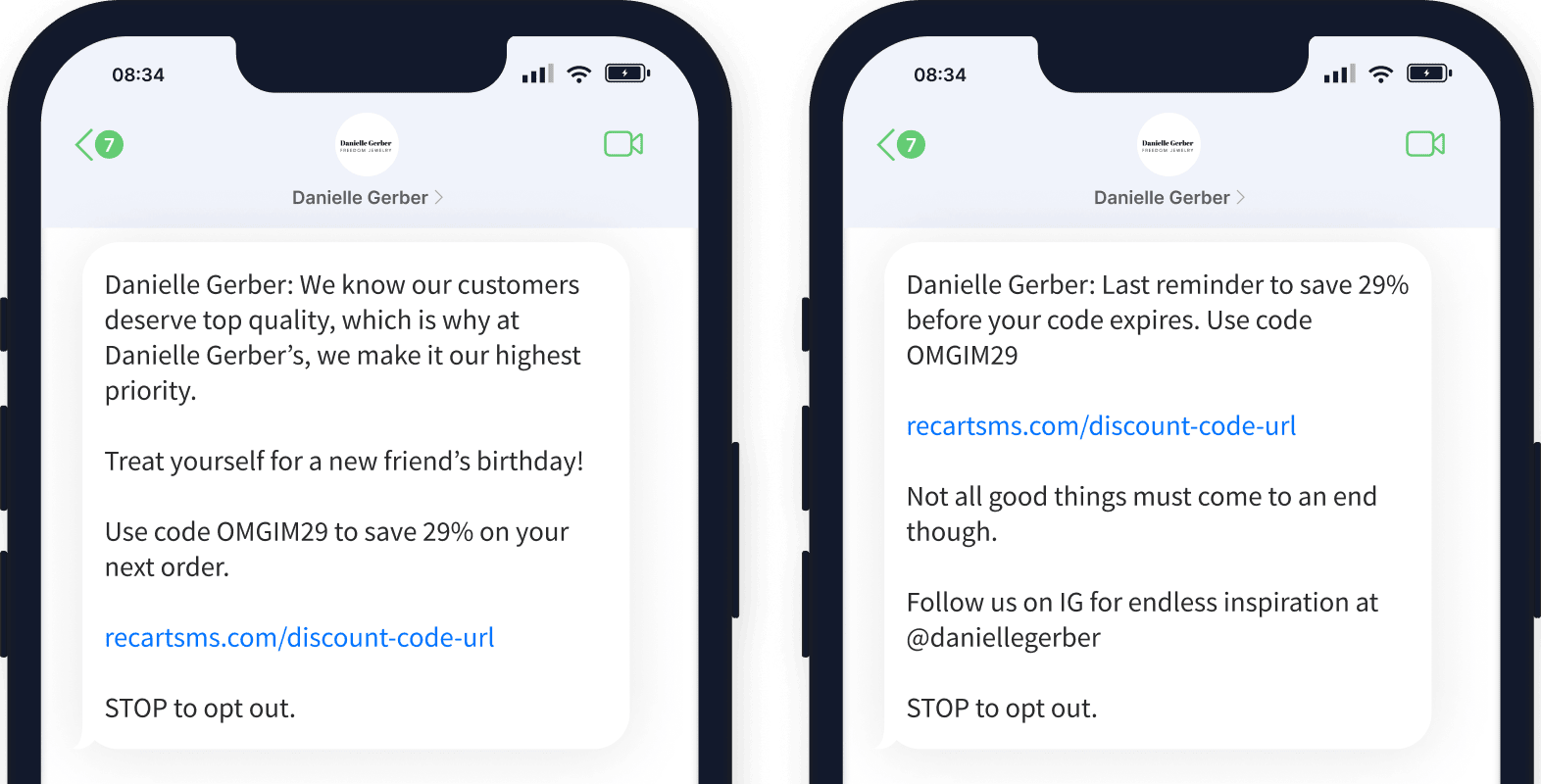 Tactic 5
Be Kind & Please 'Remind'
No matter what kind of holiday or sale you're pushing, targeted follow-ups are an effective strategy for boosting revenue.
An initial text announces the promotion; subsequent messages serve as reminders before the event ends.
Crisan's Short Sale for Long Hair
Many businesses splurge on MMS for the first send but find that cheaper SMS texts are sufficient for follow-ups. Family-owned Crisan opened a fall sale with a photo evoking the benefits of its hair-strengthening products.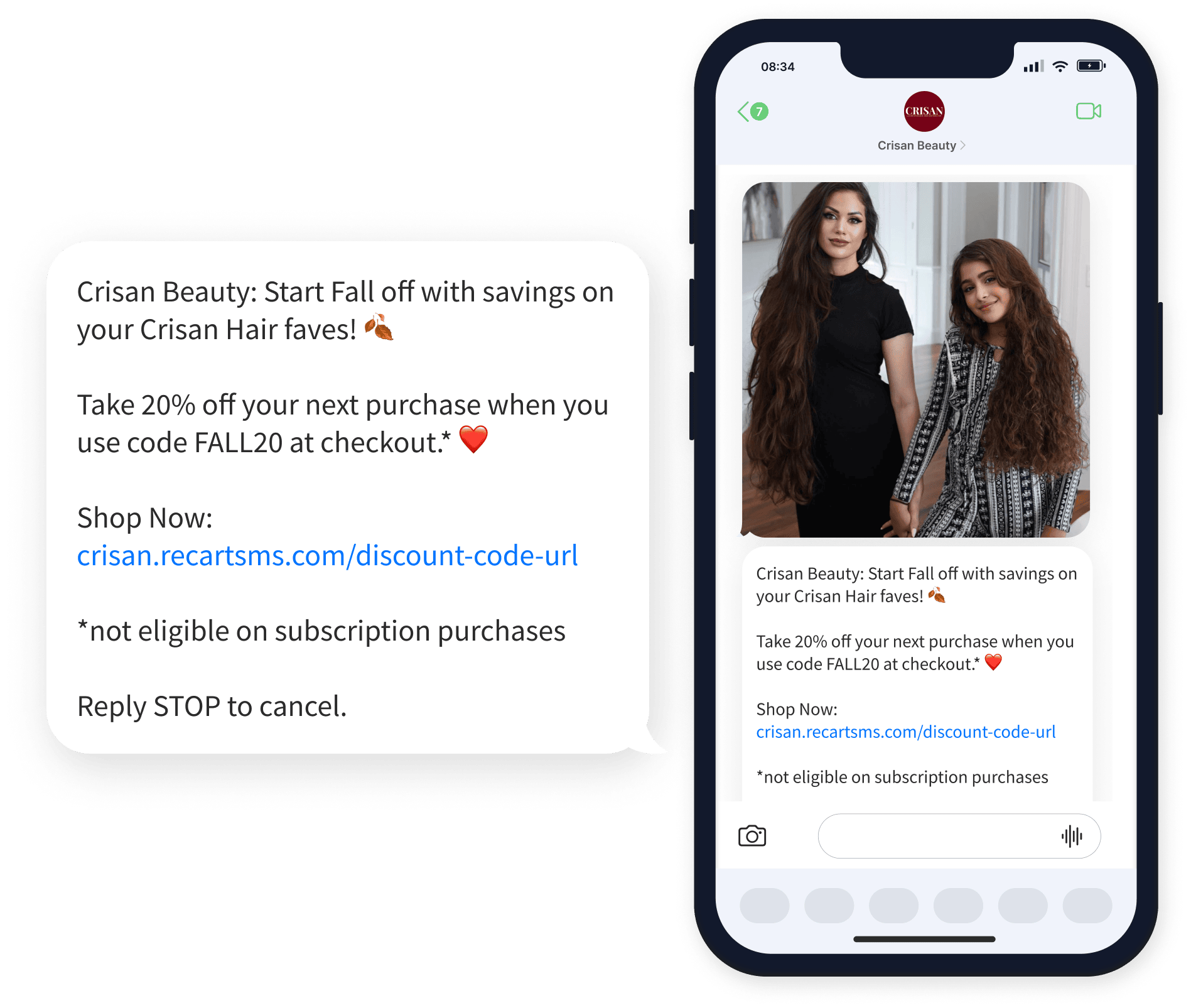 The initial push (24X ROI) was followed by a nudge to non-purchasers before the two-day event ended (26X). The mini-sequence concluded with an enhanced discount sent to the small group who had clicked but not ordered (171X).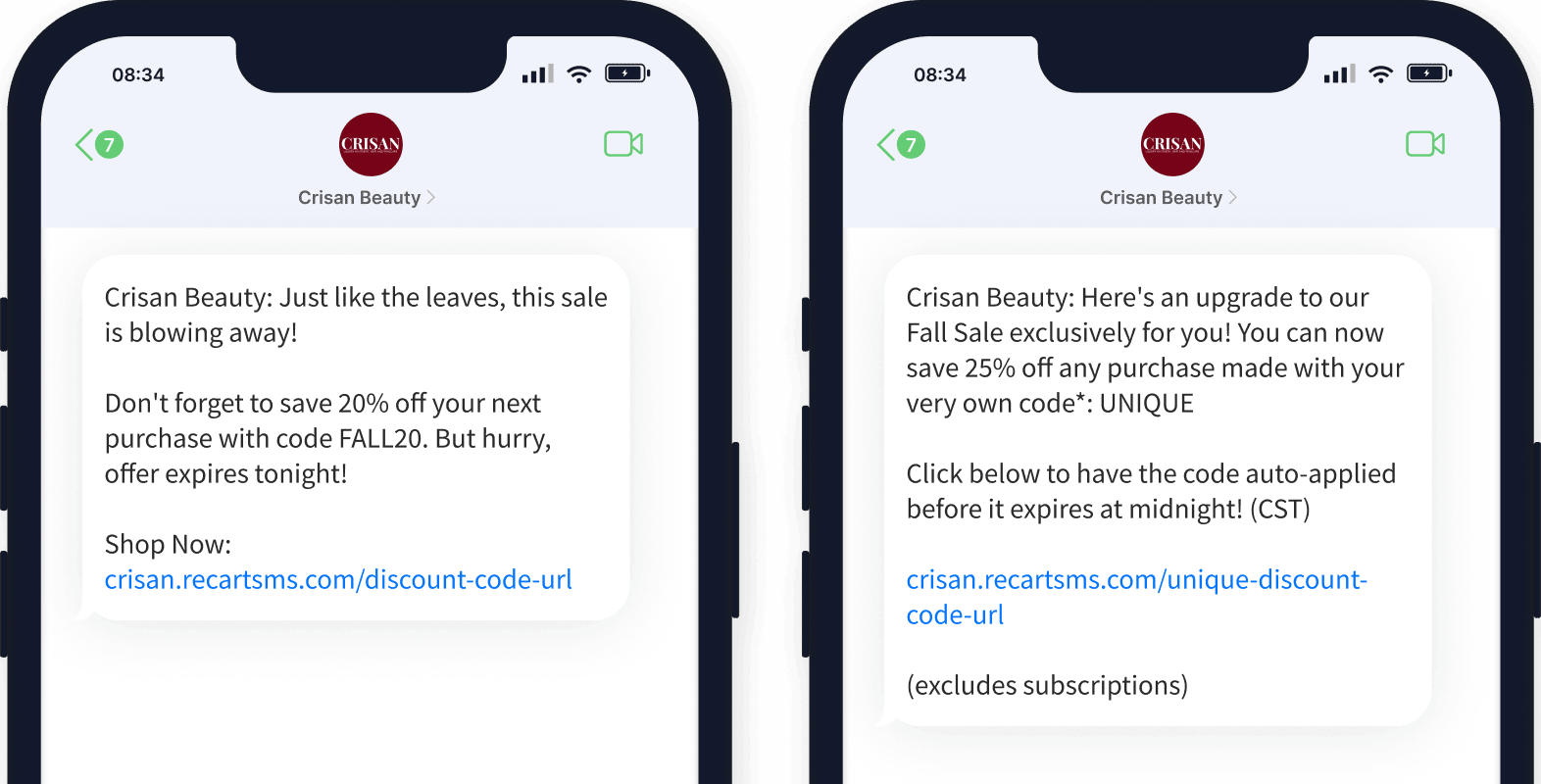 Storelli's One-Two Kick
With soccer games happening in-person or on TV during the weekends, Storelli has found success with a two-text framework surrounding match day. On Friday, it feeds into pre-game excitement; on Sunday, the reminder scores after play concludes.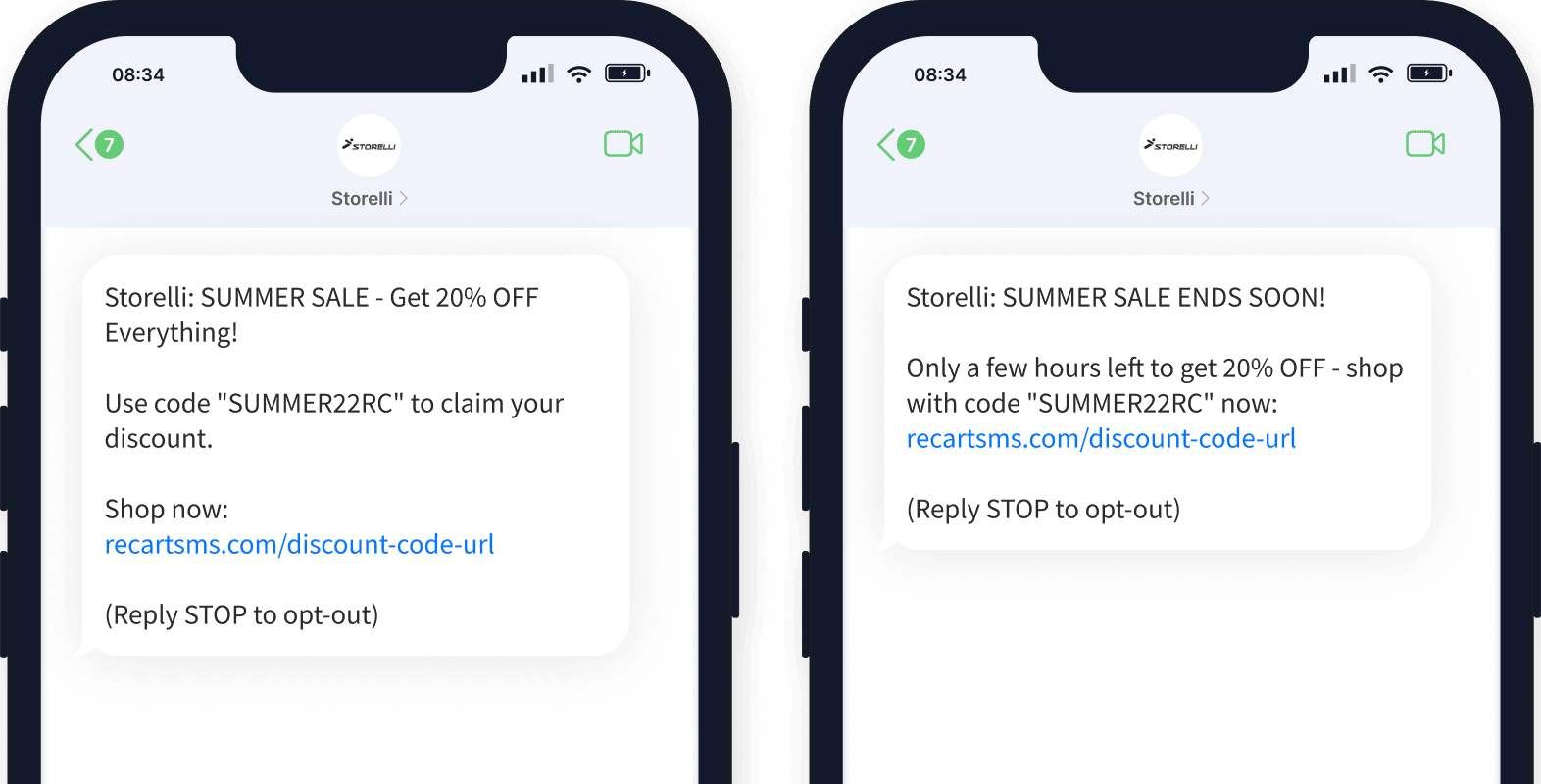 The mini-sequence template has been effective for special events like a Summer Sale (above: 114X, 128X) and everyday value offers (below: 139X, 88X).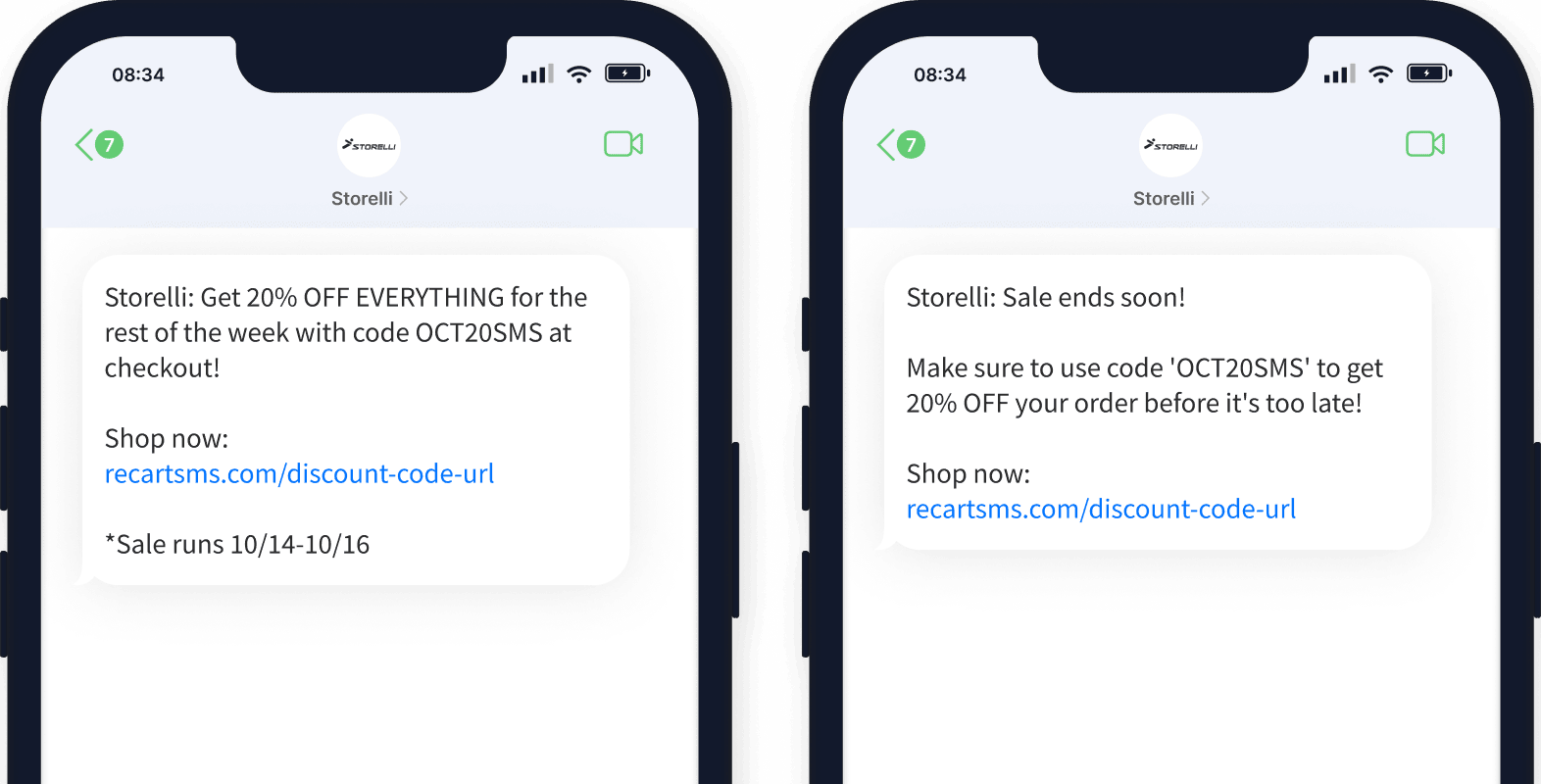 Is over 50 examples too much for one sitting?
No problem! We assembled every text, idea, and tactic — along with all the results — in one beautiful PDF. It even includes full-resolution versions for easier adaptation.
Save them all for later, or share them with your team here.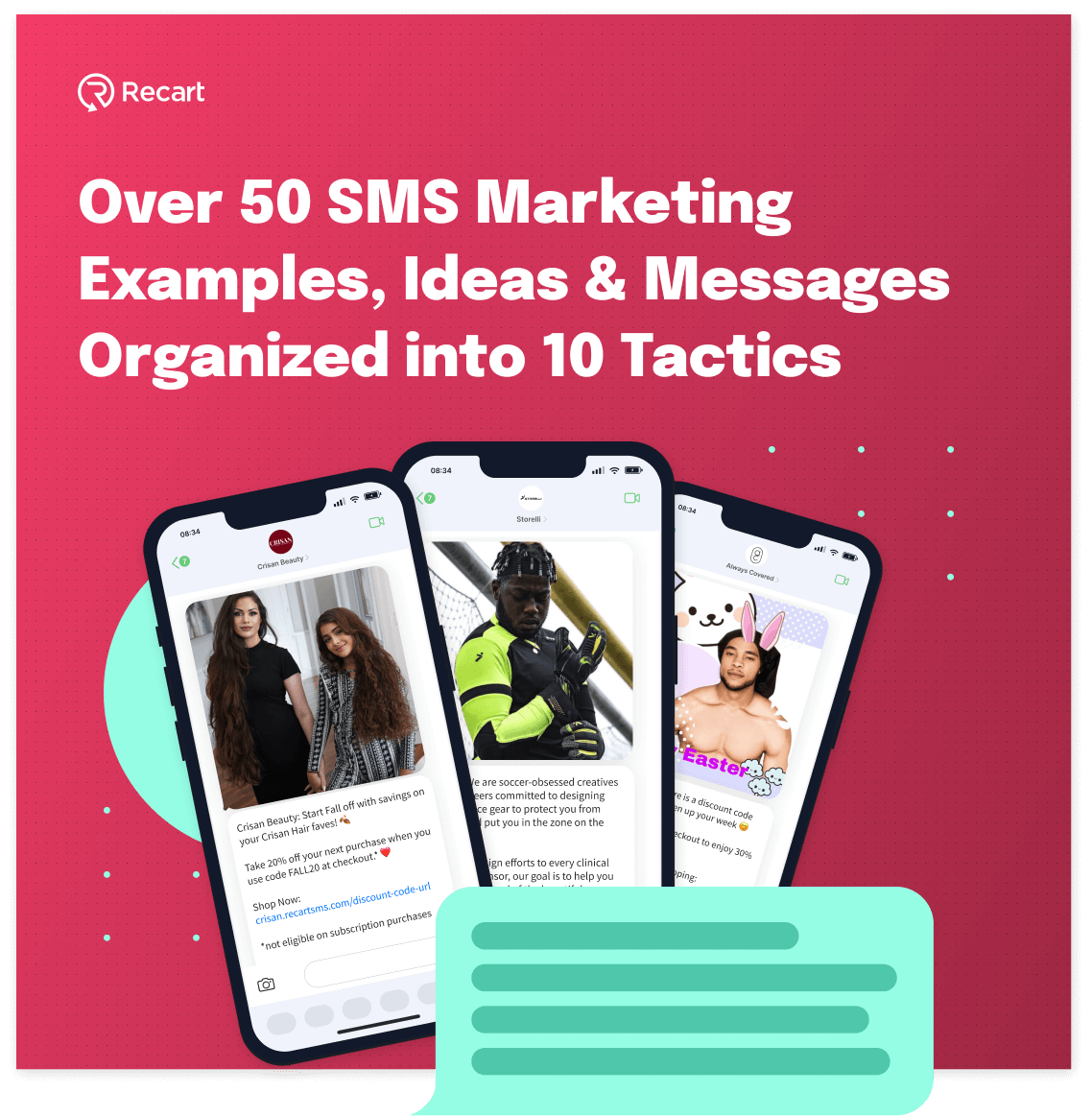 Tactic 6
Segment Your List Shrewdly
One advantage of an owned channel like SMS is the ability to slice and dice your subscriber list. Buying cycle stage (from no purchase to first order to loyal customer) tends to be the most common.
Still, that's just the start. Almost any data can be used to carve up your phone numbers for more profitable and personal campaigns.
Her Juice Bar's Scary Good Segmentation
For a Halloween flash sale, Her Juice Bar used the one-two punch we just finished covering. At the same time, it segmented with slightly varied offers.
Previous buyers were offered a 20%-off discount; non-customers received 25%. (Presumably, shoppers who have experienced the products can be convinced with a lower incentive.)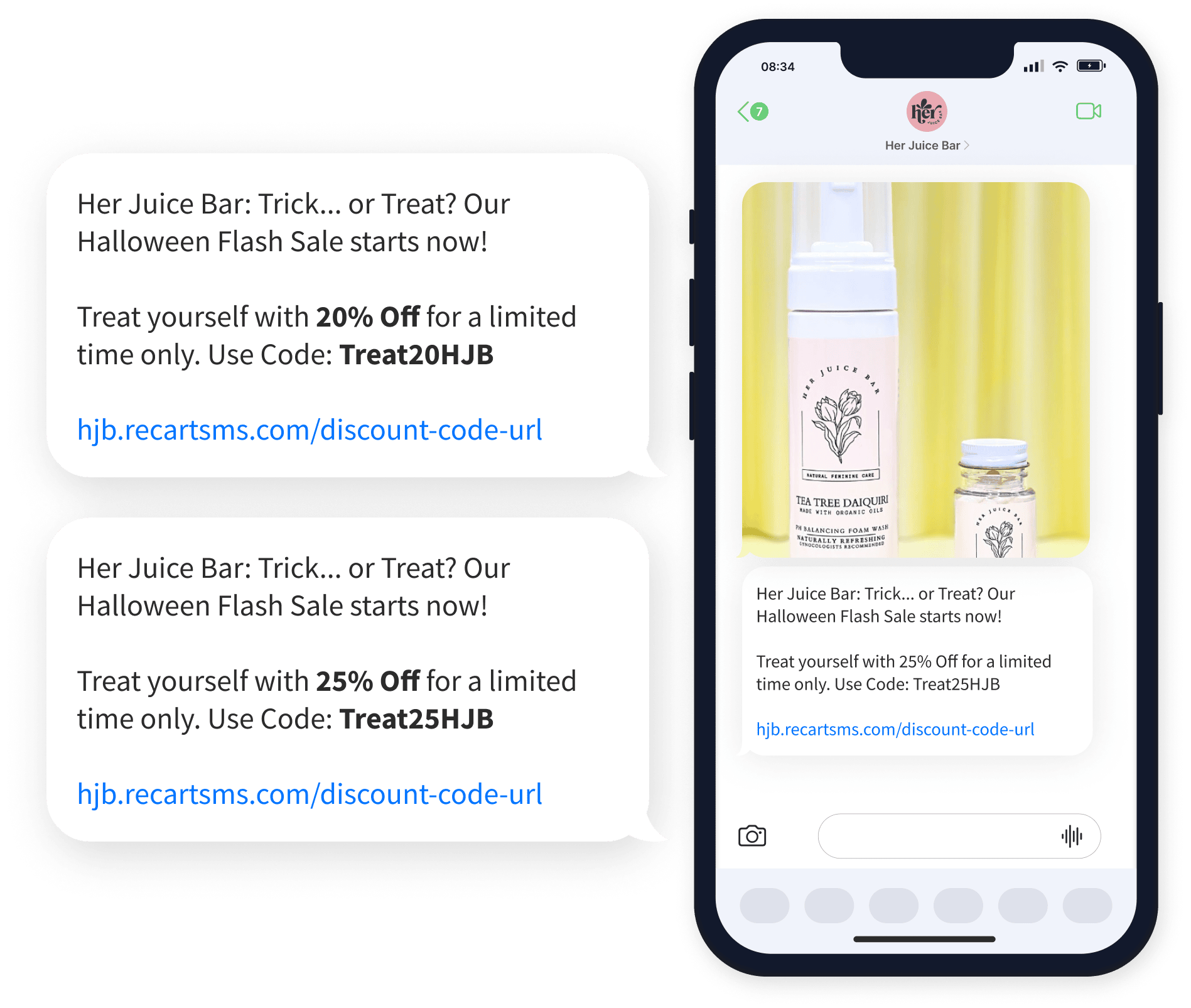 For the reminder message, the segment who had never purchased received another enticing MMS. But Her Juice Bar further protected margins by using a plain text SMS for existing customers.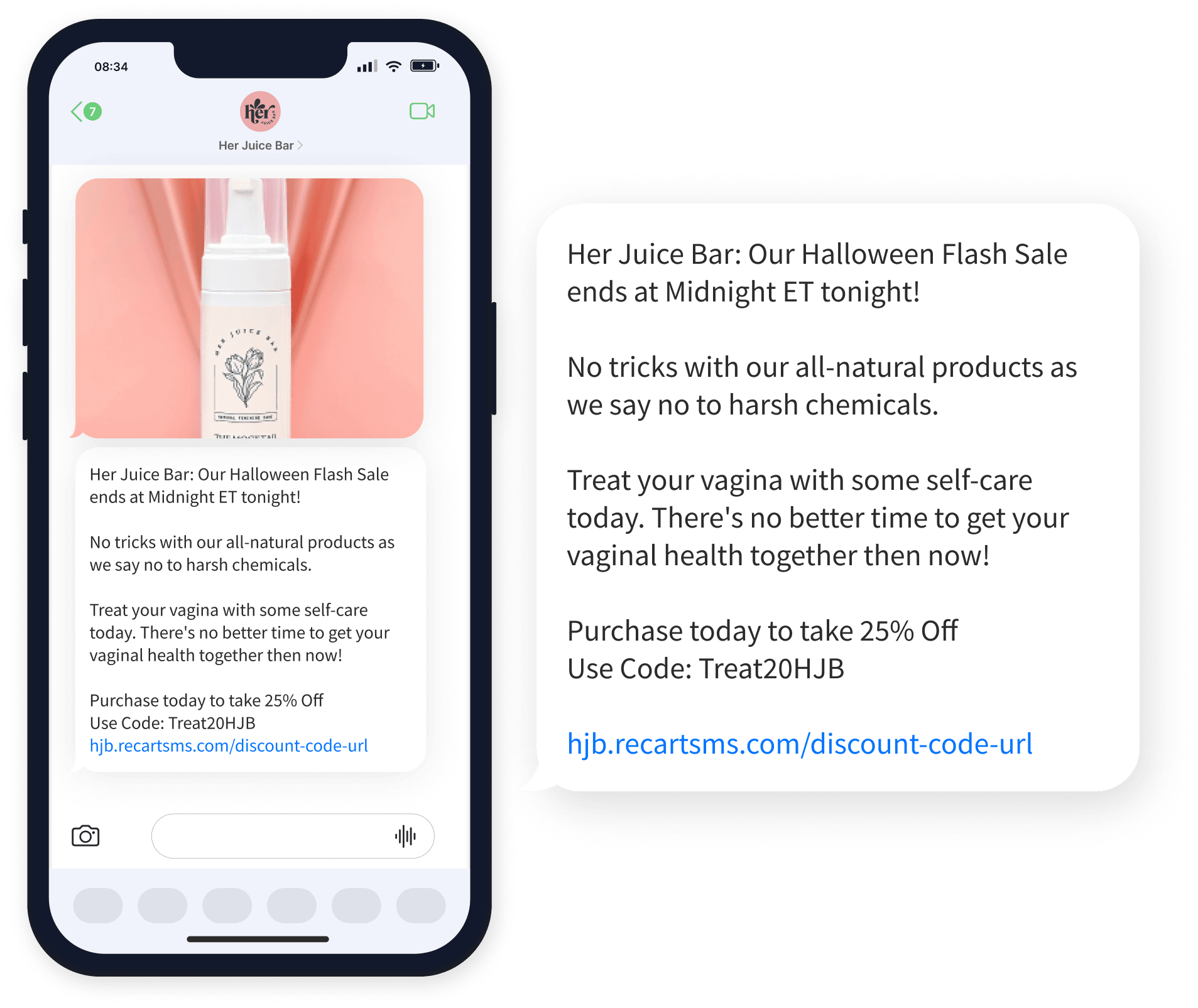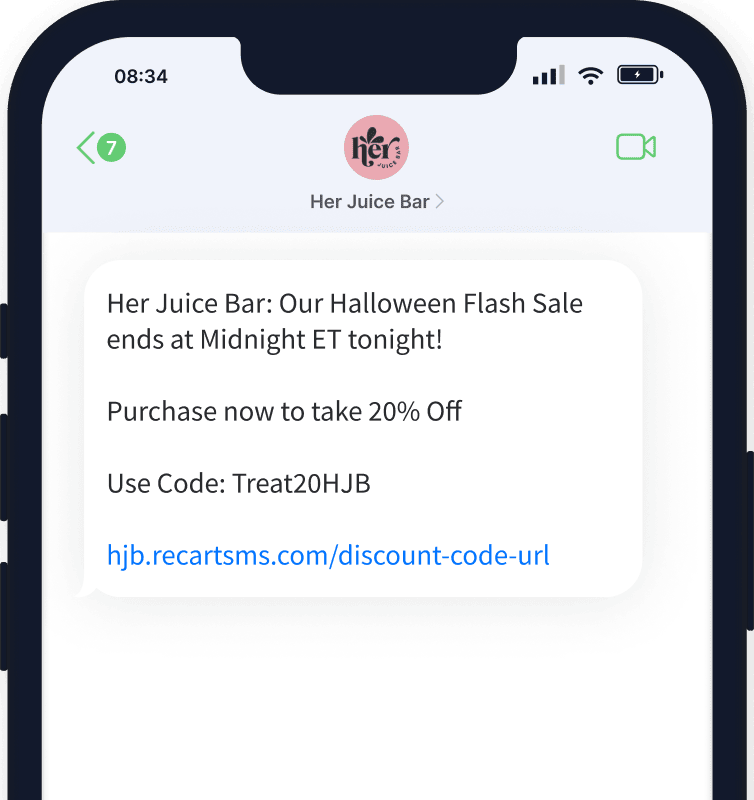 The never-purchased group produced over 5X on both MMS sends. The segment of previous buyers had even better conversion rates. What's more, the thrifty use of SMS boosted ROI from 11X on the initial campaign to 33X for the follow-up.
Realizing that loyal customers outperform newbies, Her Juice Bar tried a related segmentation tactic by offering a BOGO deal to "VIP members" — those who had bought two or more times.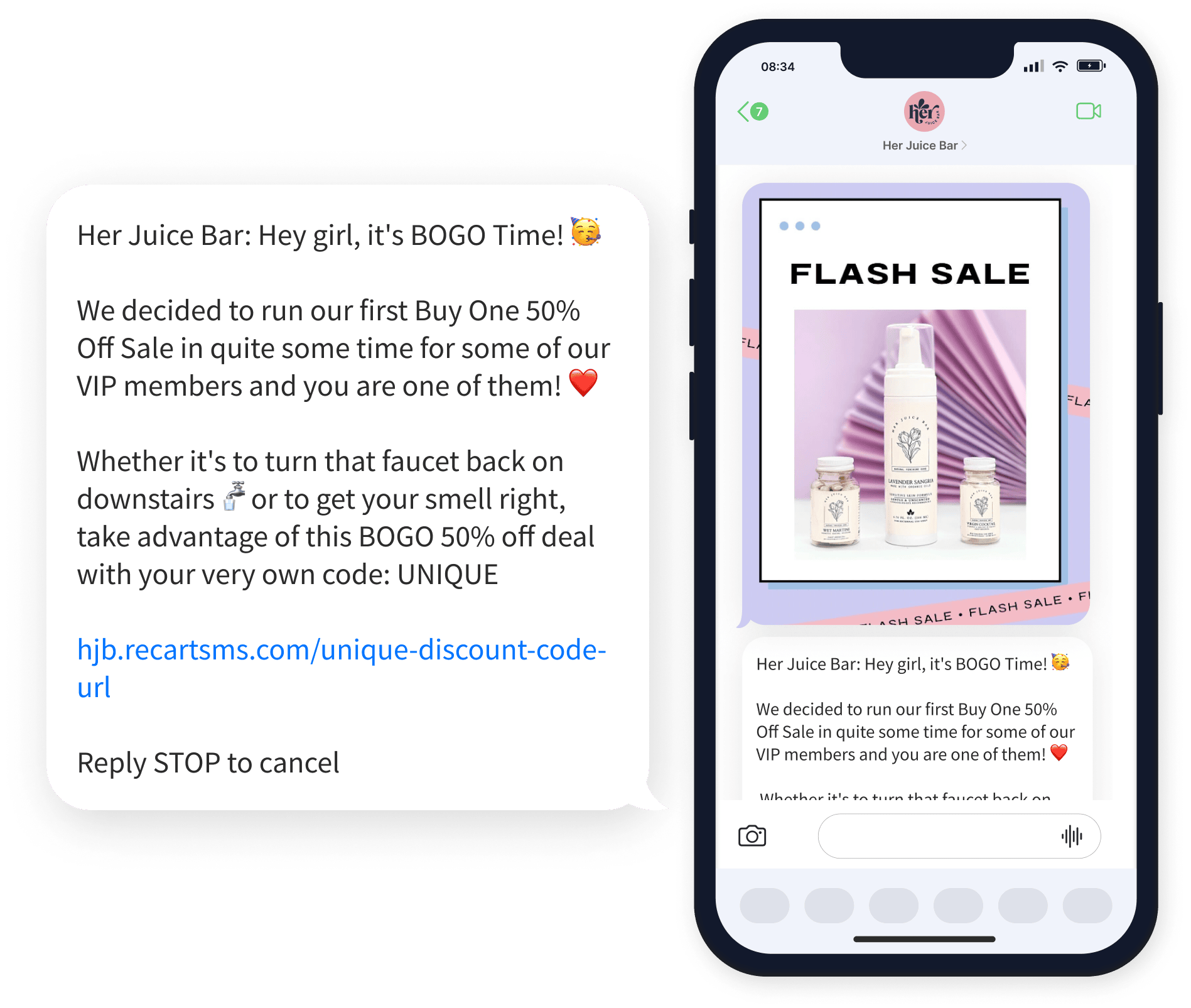 With the same MMS-to-SMS format, the effort produced ROIs of 17X and 28X, respectively. A great example of optimizing based on prior results.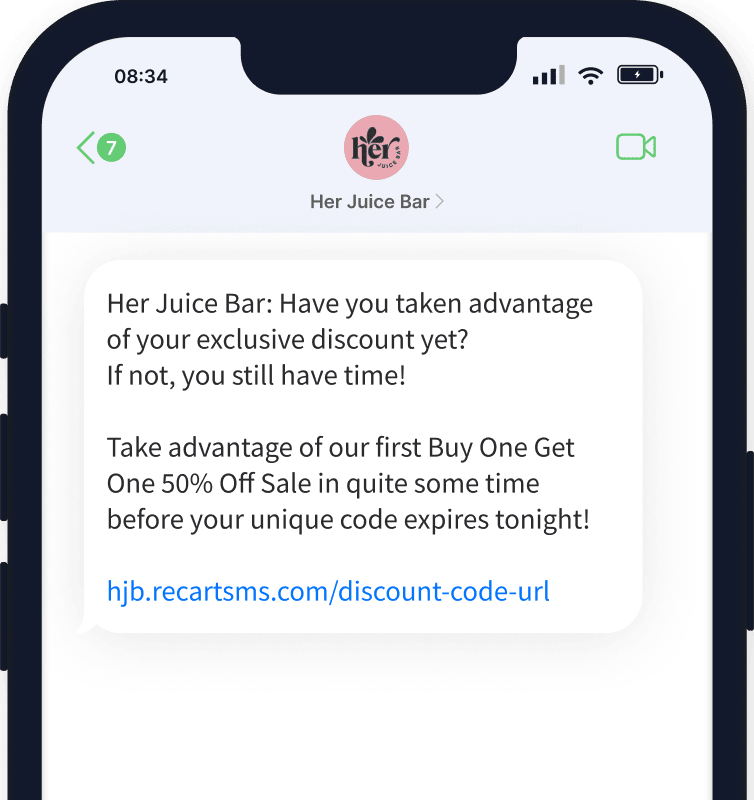 Hem Healer's Related Product Offense
Another smart way to segment is by specific item purchases.
Hem Healer isolated those who had bought its top-selling offering without ever ordering anything else. A targeted promotion for the complementary "Defend" product produced a 51X ROI for the hemorrhoid relief business.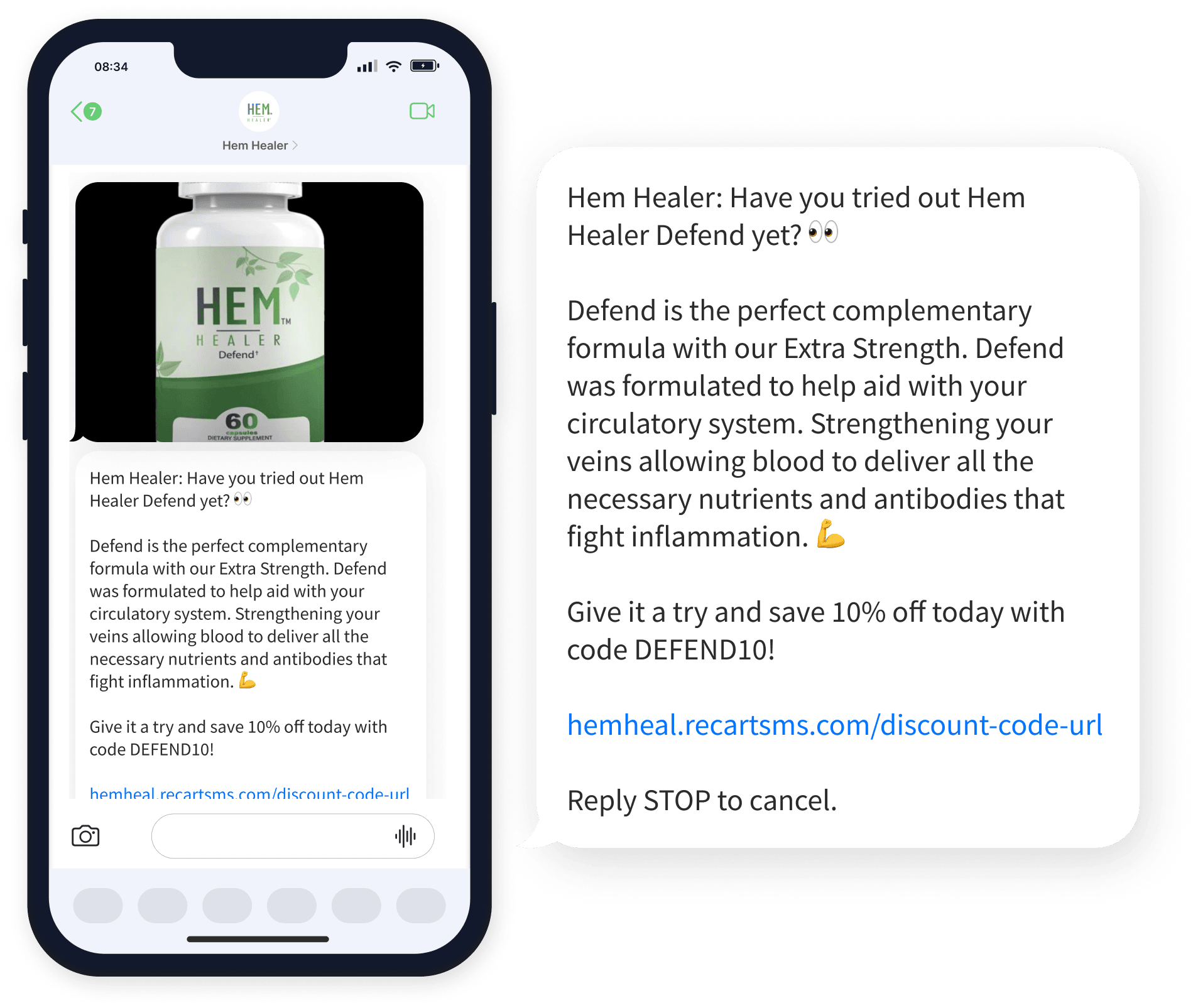 Ocean Sport's Cart Rescue
Abandoned carts are usually recovered via marketing automation delivered with an hour delay. But Ocean Sports tried something a little different by creating an entire segment of users who had failed to checkout and sending a one-off SMS campaign.
The "end of month flash sale" offer was enough to convert hesitant buyers to the tune of an 81X ROI.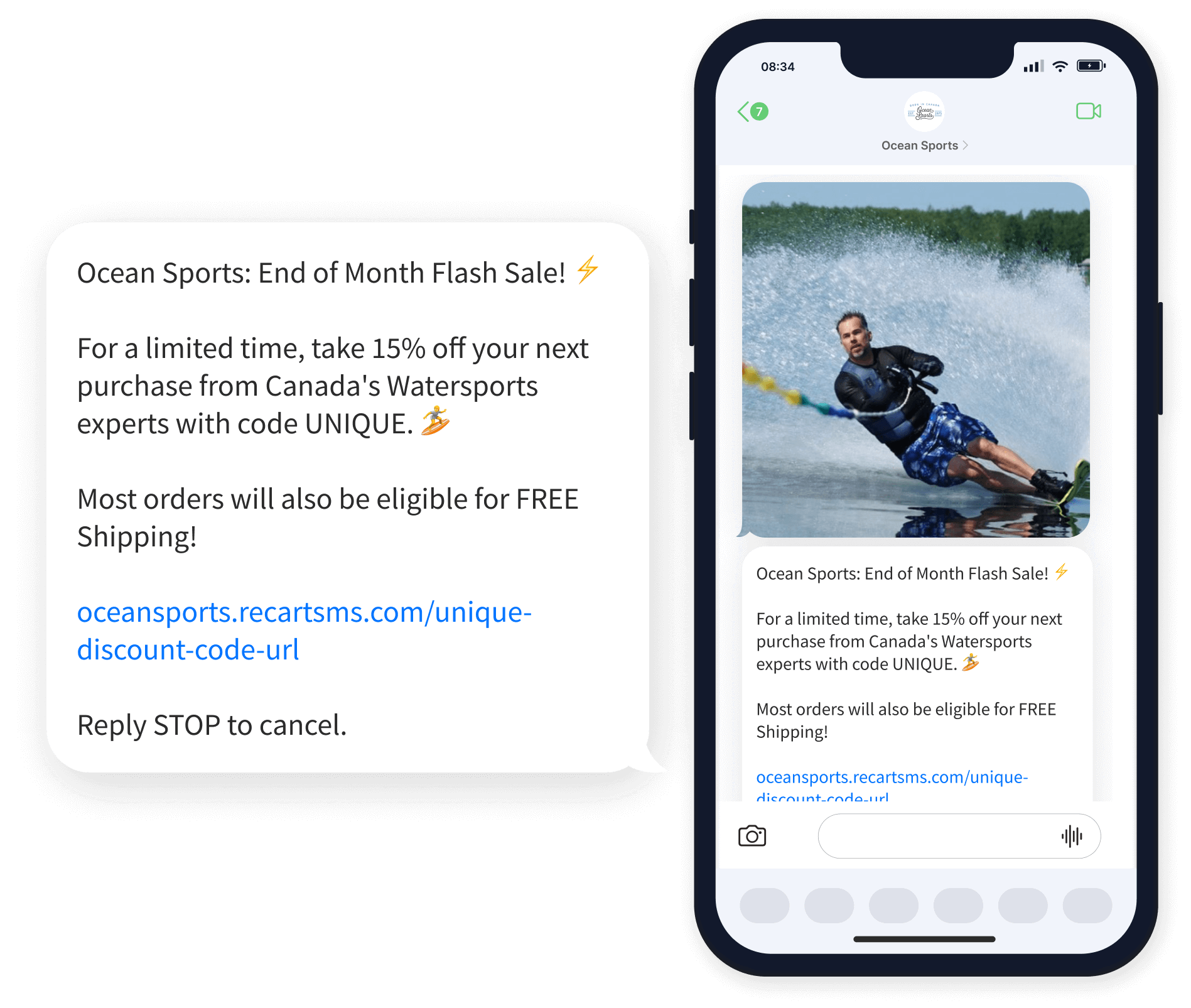 Tactic 7
Whip Up a Sense of Urgency
SMS is the most responsive marketing channel at your disposal. Why? Because people consume texts in real-time. It's a hardwired outgrowth of our new mobile reality.
Take advantage of immediacy by emphasizing limited-time offers, FOMO, and scarcity.
Final Hours of an Event
Whether as a standalone campaign or part of a short sequence, texts that stress urgency prompt action. Schedule these sends near the very end of your event. Subscribers will hear the clock ticking when they read a special offer is in its final hours.
Though included earlier, the power of these examples bears repeating. Keep "last chance" messages straightforward. The deal and the deadline were enough to produce 28X for Her Juice Bar and 128X for Storelli.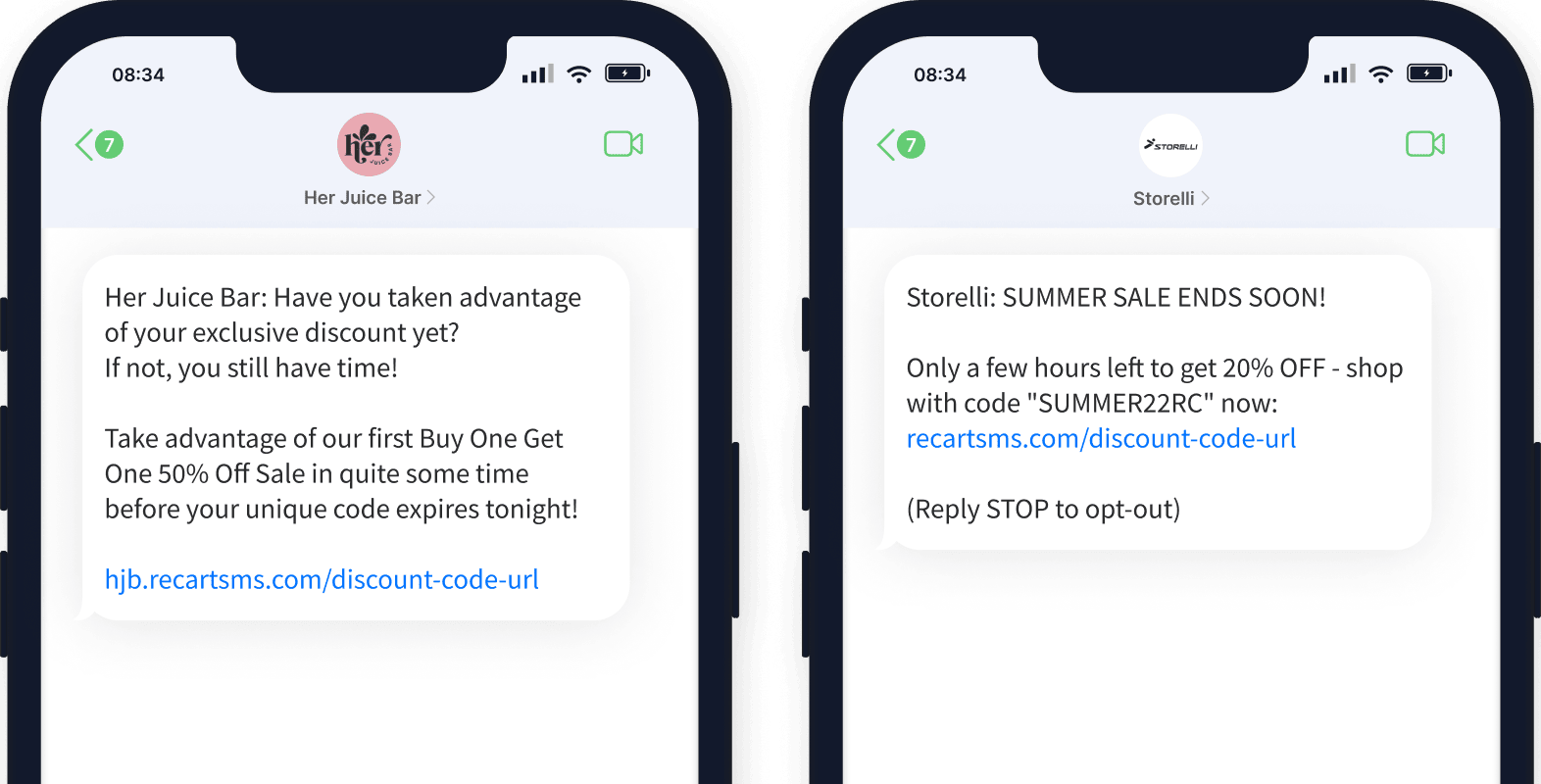 Limited-Time Exclusivity
SMS marketing messages are the perfect vehicle for events that are not only time-capped but also exclusive. Riot Swim gave VIP customers 48 hours to shop its warehouse sale ahead of opening it to the general public.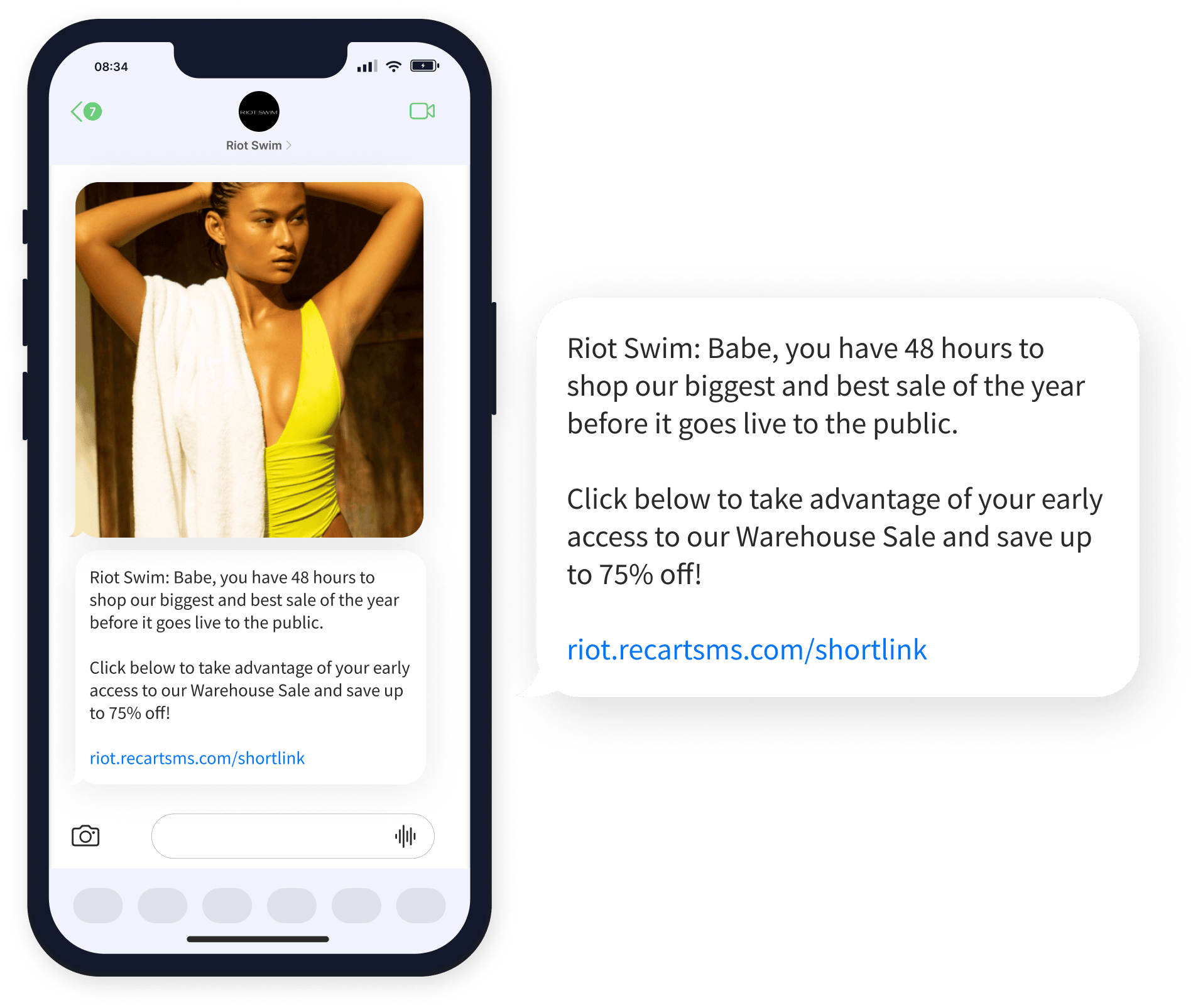 The fear of missing out spurred loyal customers to purchase quickly before swimsuits were available to anyone else. This invitation was one of its best-performing campaigns at 76X ROI.
Stock Shortages
When there is no explicit time sensitivity, scarcity can drive action. Design Dua includes a reminder that items frequently sell out as a way to increase the urgency of its cart abandonment automations.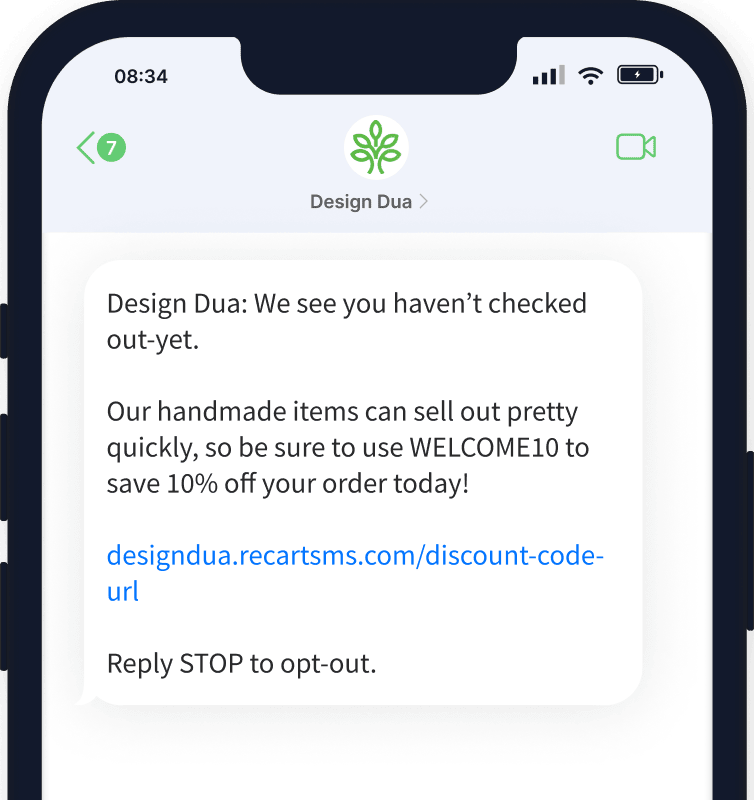 Announcements about restocked products are another opportunity to play up this theme. After all, something that got snatched up before is likely to sell out again.
With several deodorant and oil items having been unavailable, Sweet Cookies sent out a large restock campaign that generated massive sales at 19X ROI. Atlantic Rancher got a 27X return by underscoring the potential scarcity of its Boatyard Shirt that lots of shoppers had been asking for.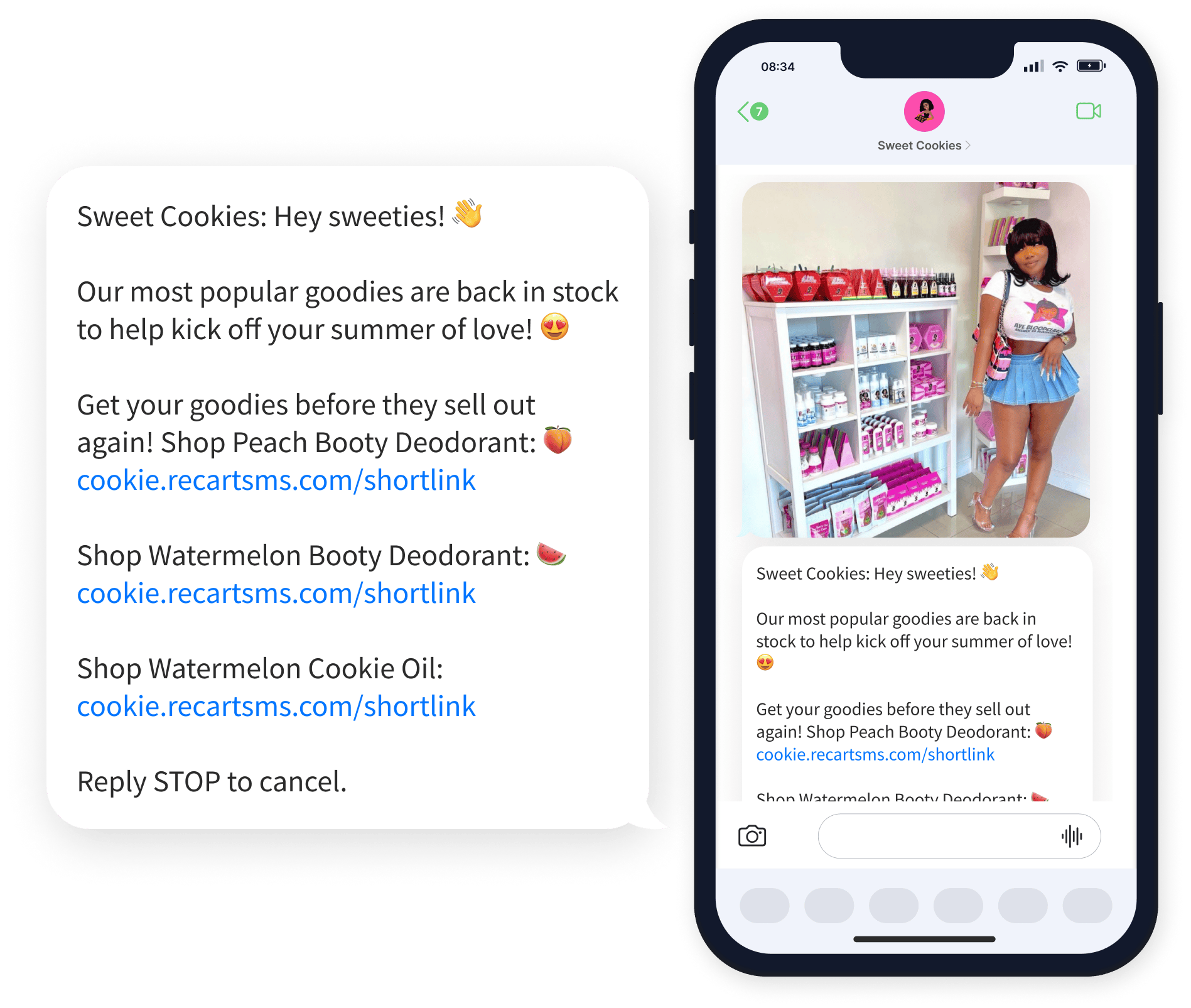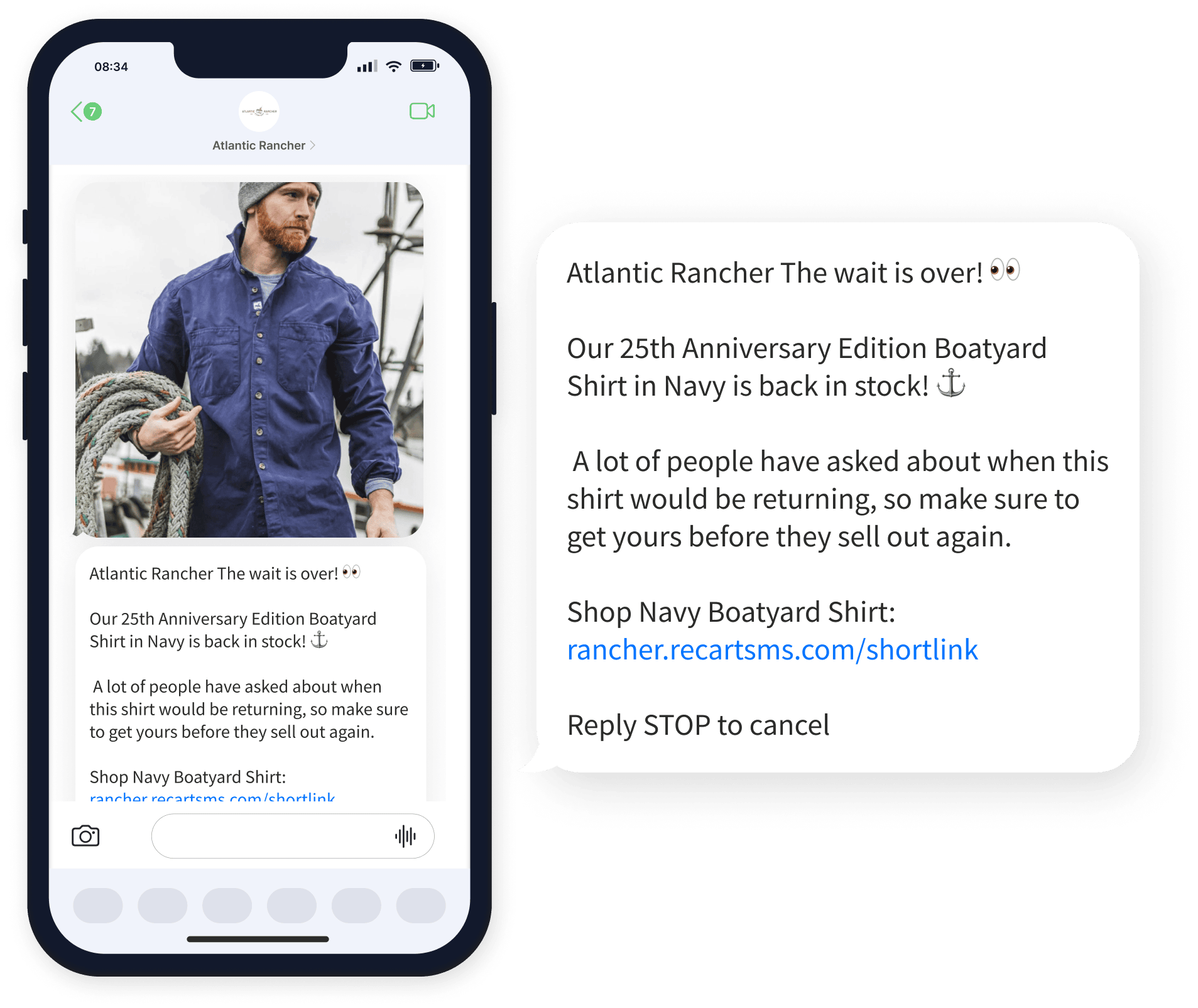 Tactic 8
Earn Credibility Through Social Proof
Sales pitches bombard consumers all day long, especially on their mobile devices. Your brand can distinguish itself by providing social proof — persuasive opinions from outside your business.
Riot Swim's Elle Appeal
When a leading women's magazine says your swimwear will "maximize sex appeal," that's the type of endorsement worth bragging about. Riot Swim includes this quote and a related image from Elle Magazine in its Welcome Flow series sent to new opt-ins.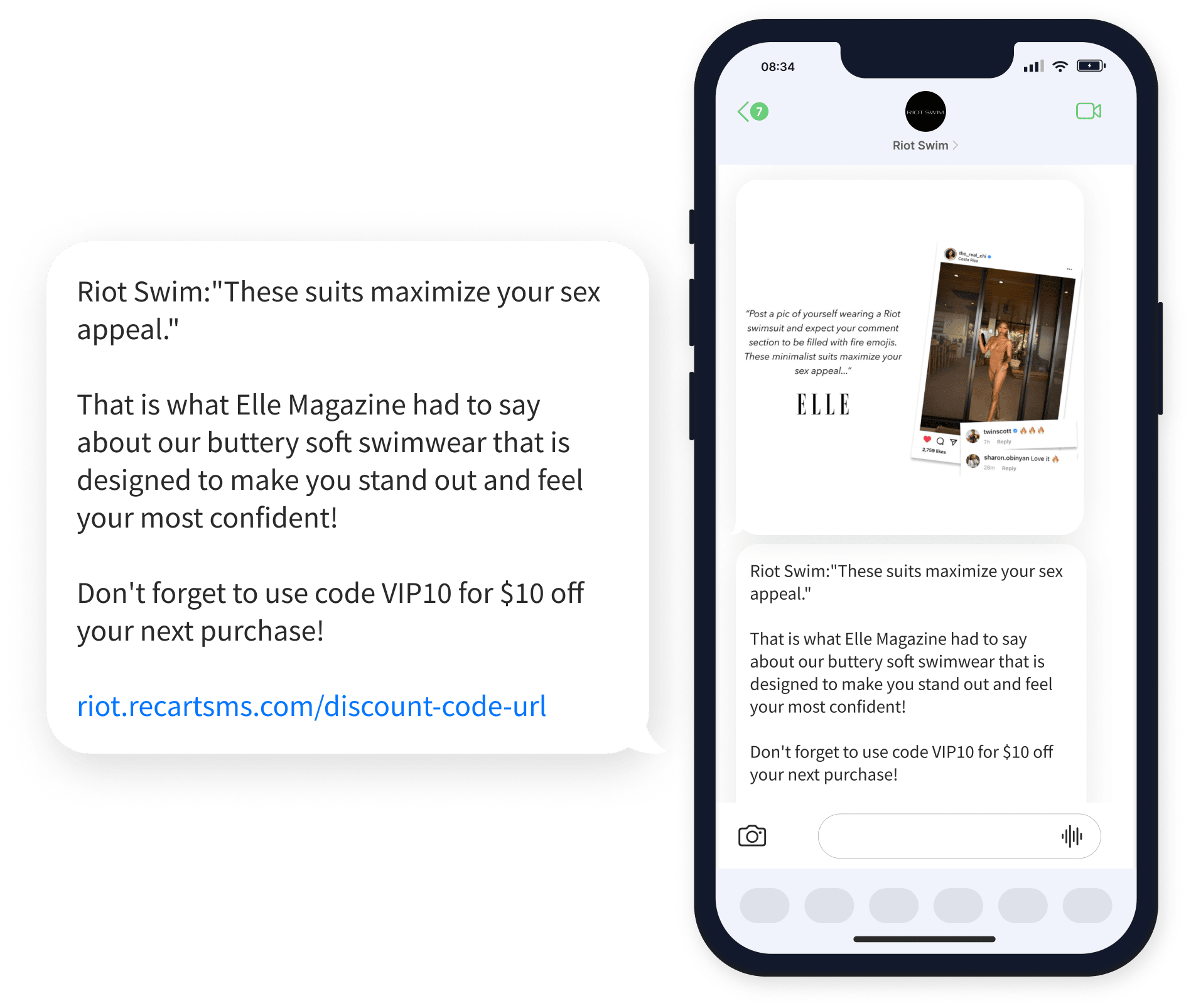 Sweet Cookies' Personal Freshness
A good customer testimonial provides information about your product in addition to lending credibility. Sweet Cookies includes a glowing review of its Honey Wash within a restock campaign.
The personal endorsement adds to the social proof already present because of the item's previous sell-out.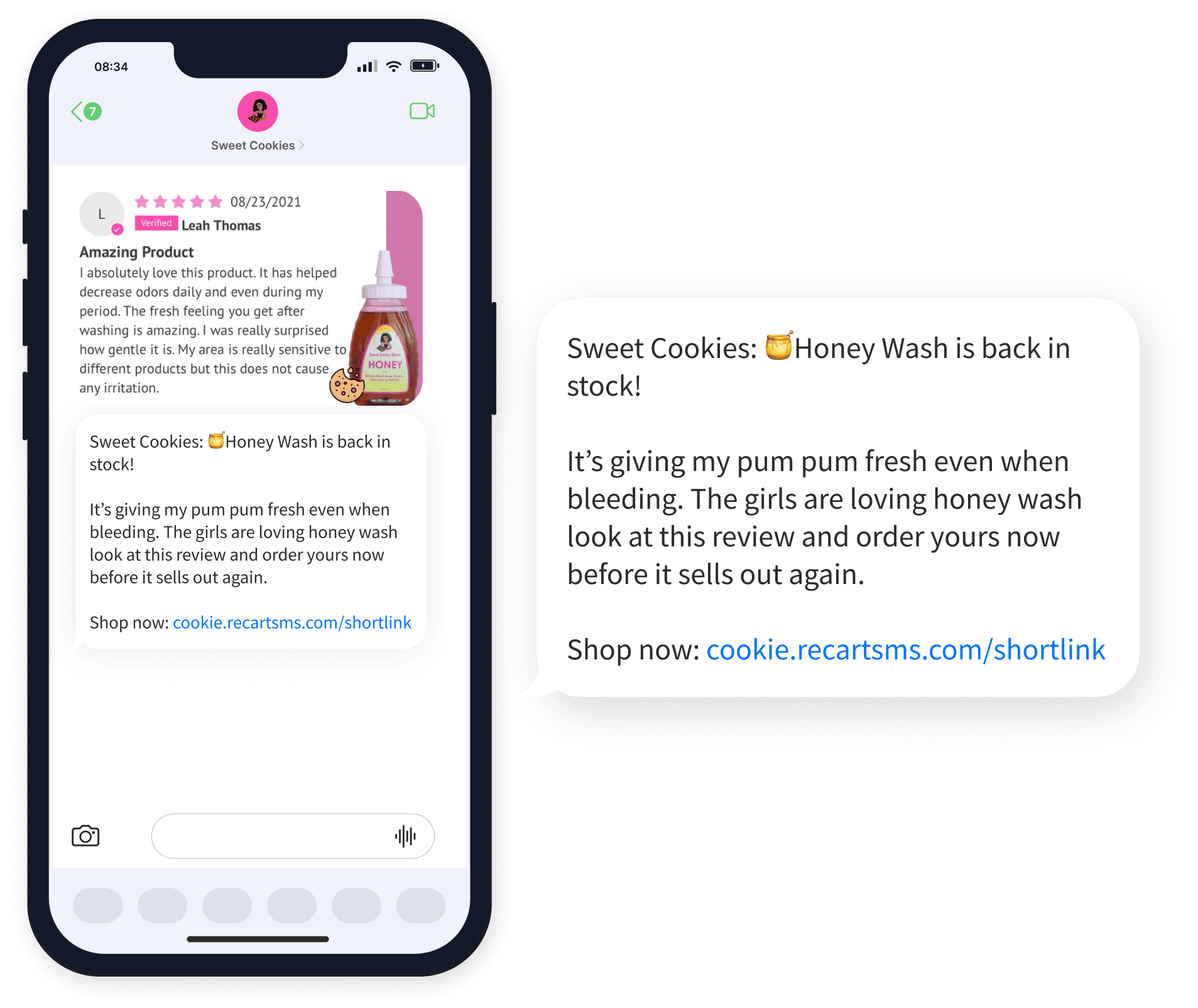 Tactic 9
Unlock Your Offbeat Concepts
While tried and true techniques can provide a solid foundation for your SMS marketing strategy, consider exploring alternative ideas too. You never know what might strike big. The more novel, the better.
We have already seen some creative use cases above — the results speak for themselves.
Nursing Queen's Random Incentive
Shoppers are accustomed to being offered discounts, free shipping, or giveaways. So when Nursing Queen announced that 20 random shipments would receive a $25 gift card, subscribers clamored to place their lottery orders.
Not only did the campaign produce a 35X ROI but the lucky winners will surely return as repeat customers to spend their gift cards.
The Kindred Studio's Password Party
Riffing on the idea of a VIP sale, The Kindred Studio announced a one-day preview for its holiday collection, exclusive to SMS lists subscribers.
However, instead of sending a discount code, the family clothier provided a password for revealing the secret web page. Shoppers were intrigued, unlocking enough apparel for a 62X ROI.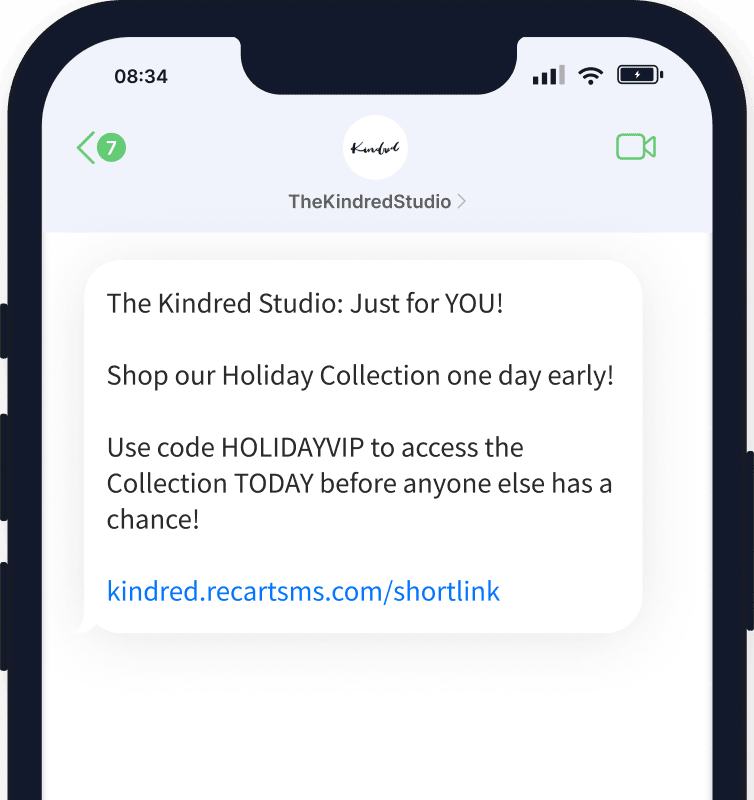 Tactic 10
Lean on Experts for More SMS Marketing Examples & Ideas
As you study the successful SMS marketing examples in this article, you may have noticed a few throughlines. Some were part of automations. Others were one-off promotional SMS marketing campaigns.
What do these marketing efforts have in common? They generated revenue for the business, fostered good customer relationships, and followed SMS marketing best practices.
The other commonality …
Every single example was sent through Recart.
What's more, a lot of the innovative concepts came directly from the brand's Customer Success Manager (CSM).
In fact, all Recart plans come with a dedicated CSM who handles the day-to-day management of your SMS program. That includes setting up list growth strategies, creating automated workflows, and — of course — ideating as well as launching texts themselves.
If you're pressed for time or simply want expertise to supercharge your results, schedule a 30-minute demo to get started within 48 hours.