On July 31st, 2019, a big change took effect in Subscription Messaging.
Therefore, in order for your business to send Instant Campaigns with Recart outside the 24+1 rule, you need to apply for Page Subscription Messaging permission for your Facebook page. Facebook has released a full announcement about Subscription Messaging.
What Is 'Subscription Messaging'?
Subscription messages are non-promotional messages sent outside of the 24-hour period for the purpose of updating your subscribers without using any promotional content or discounts in any form.
The best example for this case is Recart's Instant Campaigns. With that, you can send Messenger campaigns outside of the first 24 hours. Moreover, using the Smart Promotional template, you can send promotional content while staying Facebook compliant.
How to Apply for the Page-Level Subscription Messaging
All in all, you just need to follow a few easy and quick steps to submit your request. But please be aware: Only admins of the page will be able to apply.
1. Go to your Facebook page's Settings and click on Messenger Platforms.
2. Scroll down to see Advanced messaging features and click on Request next to Subscription Messaging.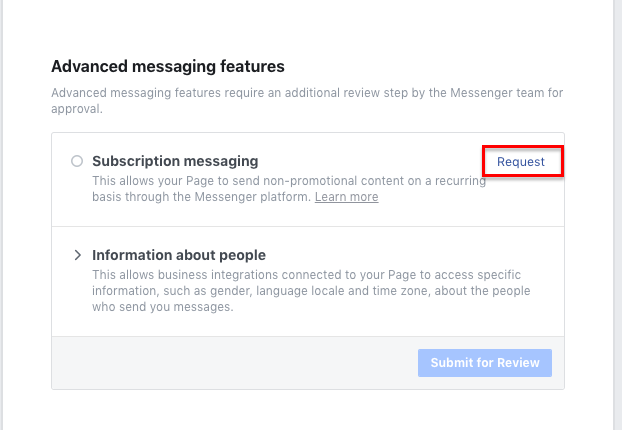 3. The form you'll need to fill out will appear. You can choose from three different categories:
News
Productivity
Personal tracking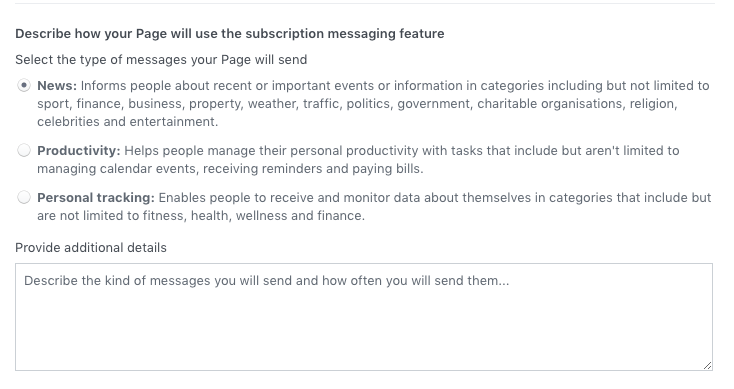 Choose the News category, as this stands the closest to what you'll probably use Subscription messaging for. Under the different categories, you can provide additional details about what messages your chatbot would like to send out.
4. After that, you need to give some helpful examples. The examples will show Facebook the news you would like to share with your subscribers in the future.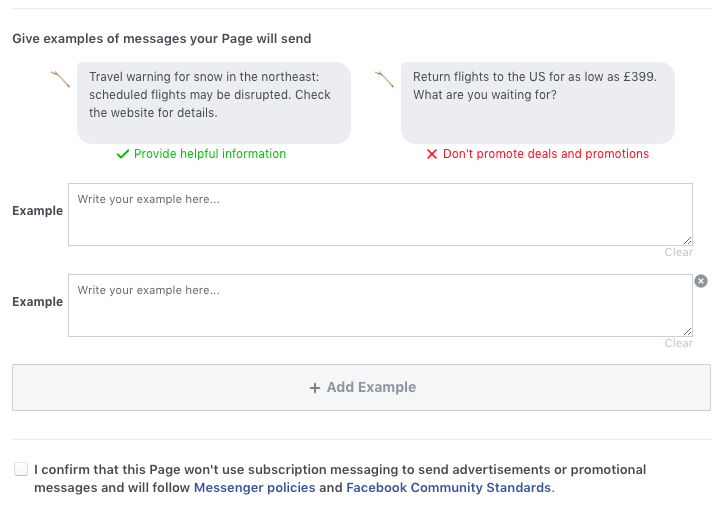 Here are a couple of useful examples from us. However, don't forget to edit them. We recommend phrasing the examples in such a way that it reflects your brand.
"Scientists found a new energy source for gadgets of the future. Click below to read our summary."
"Neon colors trending this summer. Check out this article about celebrities in bright colors."
"Interested in how the brain selects what to learn? So were we, so we ran a study to learn more."
"How to eat healthy in the winter? You can find it out from our blog post."
What Happens If Your Page Gets Accepted?
That's awesome news! Good for you. Once your page is accepted, you'll be able to send out Recart's Instant Campaigns, and no further action is required. This is what you'll see after approval:

What Happens If Your Page Gets Rejected?
If your application gets rejected, your page will be restricted to the 24+1 messaging rule. But do not worry; there are alternative solutions. For instance, you can use Facebook's Sponsored Messages.
What Is 'Sponsored Messaging'?
Sponsored messages are paid advertisements. This function allows you to send messages containing updates or promotional content to those who have already subscribed to your Facebook page. Similar to text marketing for ecommerce, you must get consent before sending. Likewise, be sure to …
Conclusion
To sum up, we highly advise applying for the Page Subscription Messaging permission as fast as you can. The process is manually reviewed by Facebook and can take a while for them to evaluate.
If you still have questions regarding this topic, don't hesitate to contact our support team. We are always happy to help.