Oftentimes, you'll see SMS and email put head to head in battle. But the truth is you're comparing apples to oranges when you should be making a marketing fruit salad.
While both are highly effective stand-alone channels for ecommerce brands … the real power comes when SMS and email work together.
To get the most out of this duo, you have to treat them as two channels while aligning them to one strategy.
You'll need worthwhile ways to avoid conflict, pay attention to the end-user experience, drive the most total revenue, and improve retention. Ultimately all supporting the goal of selling more.
This demands a clear plan that's tied directly to your ecommerce platform.
Discover 3 steps with 14 proven tactics to unlock dual-channel success…
Maximize acquisition: Improve new contacts subscription rates
Set automations: Put sales on autopilot for both channels
Send campaigns: The right messaging to sell your products
Sell more with email and SMS marketing using proven tactics.
Download tried and tested tactics, packed with actionable steps and examples. 
Learn the best ways to combine your email and SMS marketing to boost sales and improve retention using better acquisition, powerful automations, and impactful campaigns.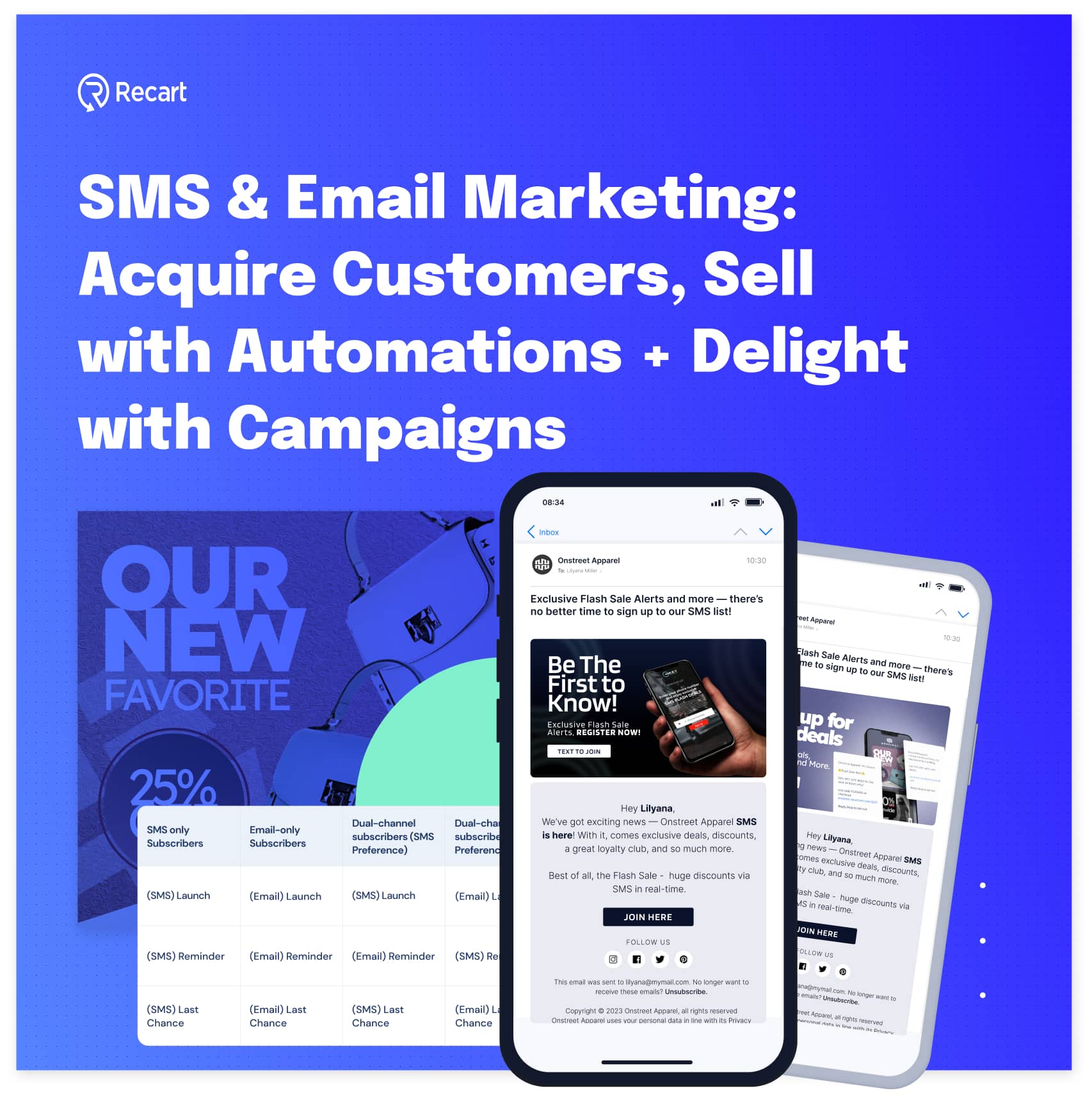 1. Maximize Acquisition: Improve New Contacts Subscription Rates
Knowing where to start is easy … because without subscribers, who are you talking to? 
Building a list of opt-ins is the first step in any email or SMS program. 
And the first step in this first step is getting your compliance pieces in place. In general, the rules around SMS compliance — especially in the United States — are stricter than for email.
If you want to avoid hefty fines, you'll need to implement rules like explicit opt-in, privacy language, allowing opt-outs via reply keywords, and observing quiet hours for sends. 
Luckily, any good SMS app should have this stuff built in.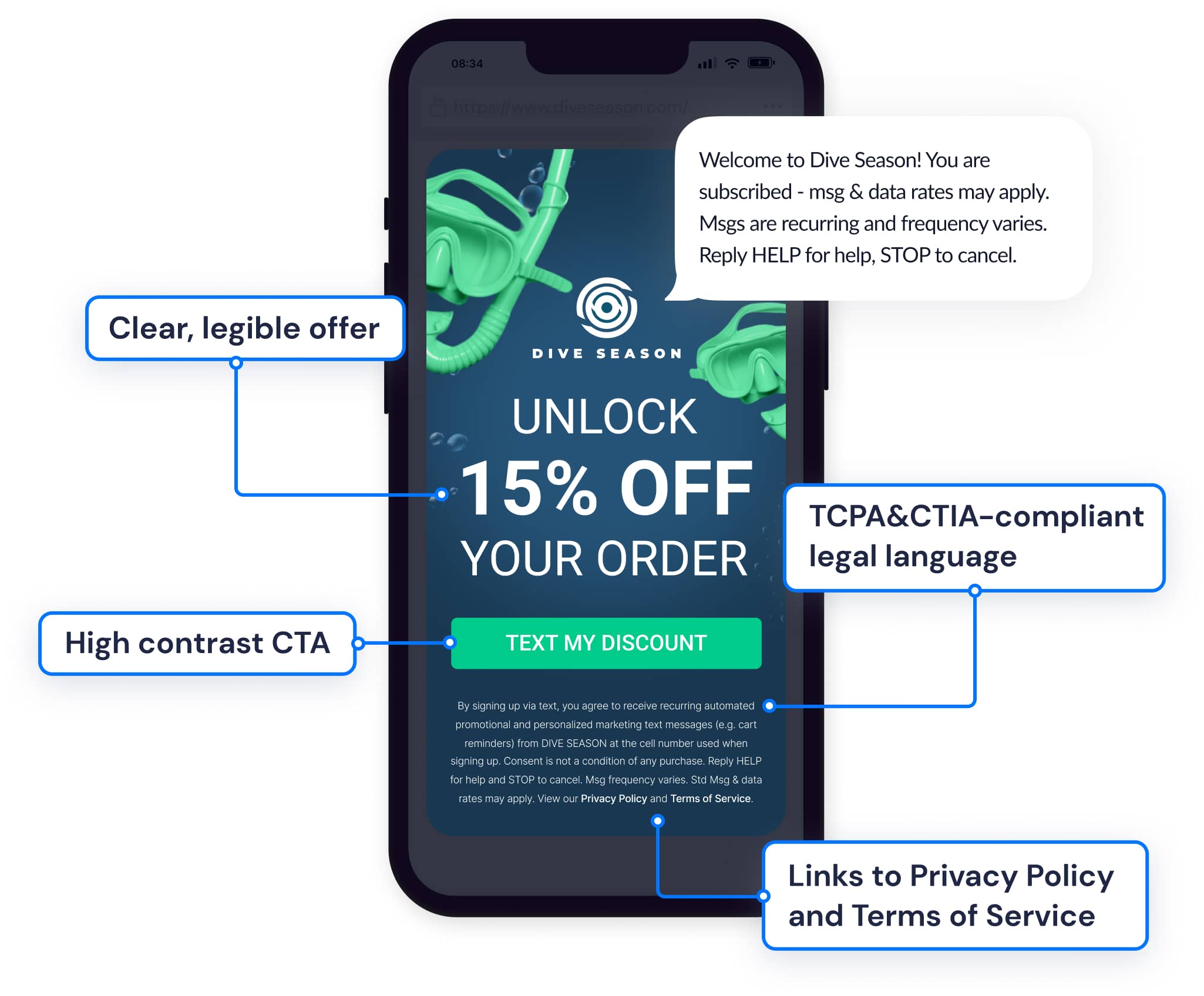 Next, it's time to set up capture mechanisms to grow your lists.
Some typical list growth tactics include:
Two-step with direct-to-text popups
High-intent loyalty capture at checkout
Cross-channel promotional campaigns
Two-Step With Direct-To-Text Mobile Popups
For popup or "fly-out" signup forms, you can structure your email and SMS captures as a two-step process.
The first step will get the maximum amount of subscribers. So, start with the primary channel you want to capture — usually whichever drives the most sales and return on investment.
The second step should, of course, be your secondary channel.
Here are a few ways to maximize signups for both …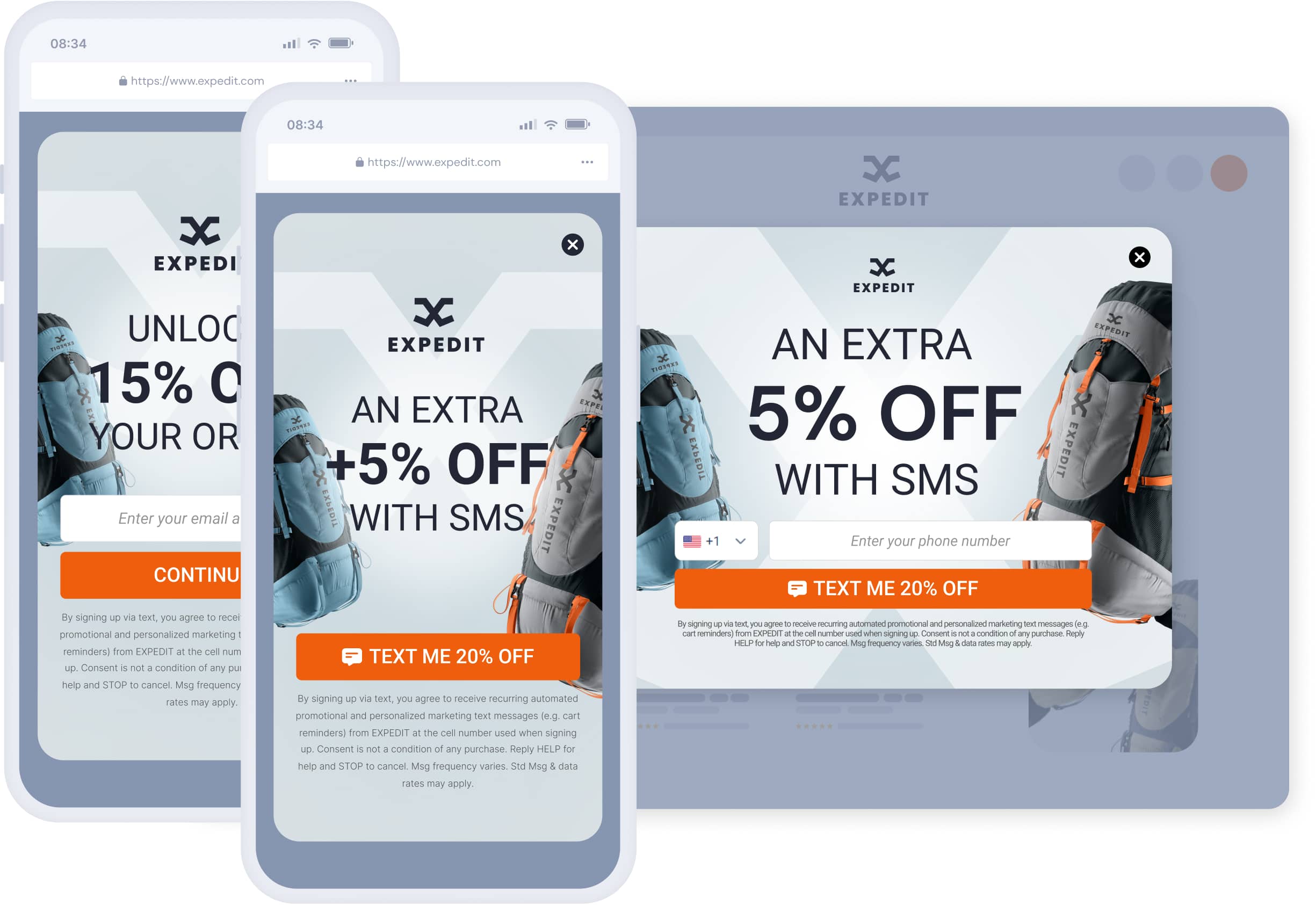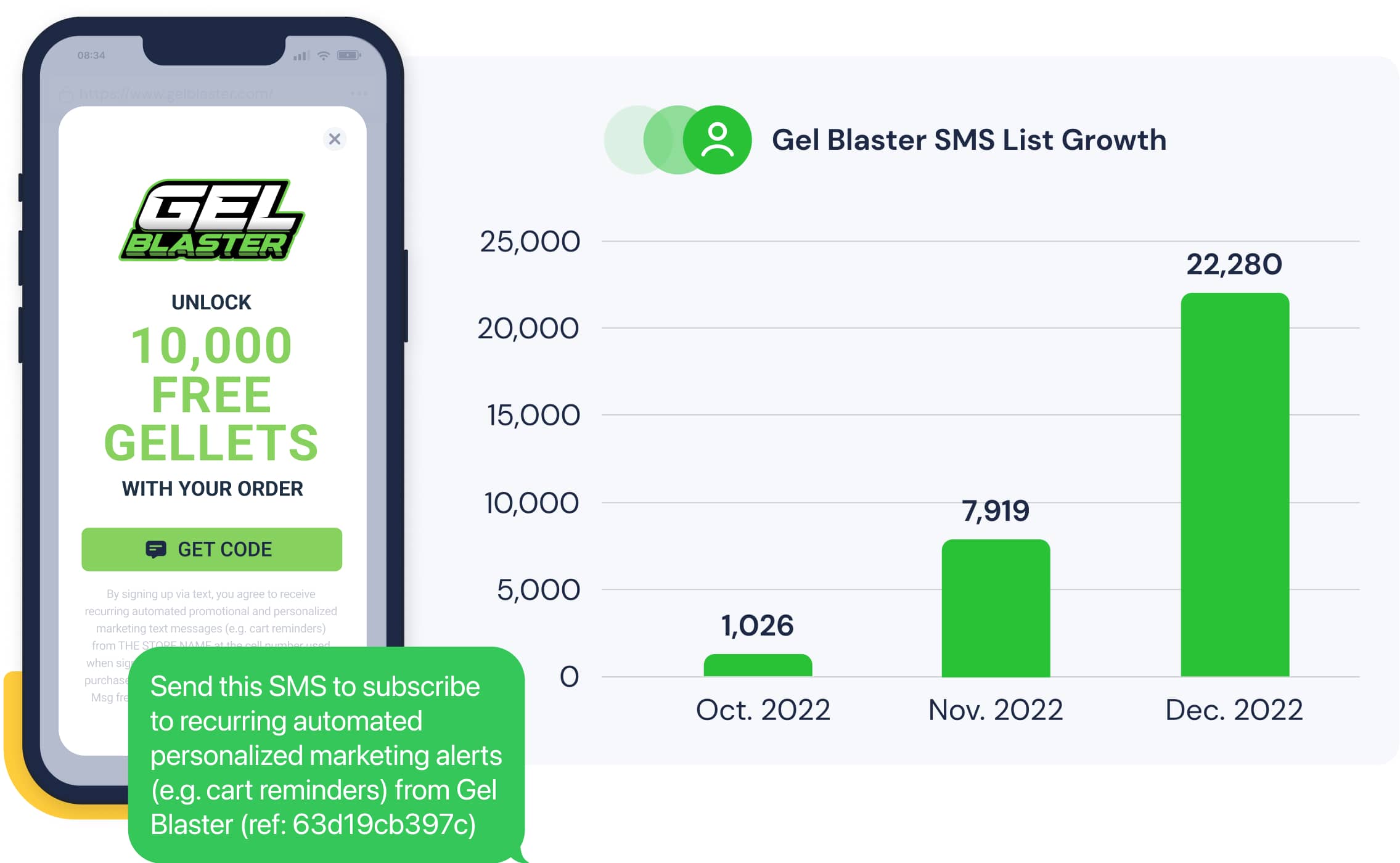 You can also implement methods such as incentive upgrades to decrease drop-off between steps. And optimize by testing the order of channels in your popup: SMS first in one test, and email first in another. 
Using Restore Links to Improve Customer Journeys
Customer satisfaction is often about the journey. Using direct-to-text sign up for SMS will improve your conversion rate. But, your customers will be forced to navigate from your welcome text link to your homepage and then back to shopping.
Restore links create a better experience and in turn result in a more effective channel. These dynamic URLs send your subscribers to the same page they signed up on — picking up browsing where they left off.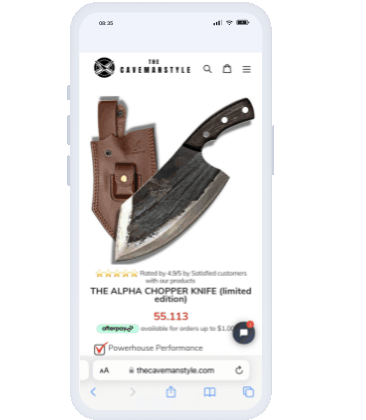 Switch Opt-in Channel For Desktop or Mobile
Users behave differently on mobile devices vs desktops.
This is especially true of list capture. For example, a user on a mobile device may find it much easier to subscribe to SMS. This is due to direct-to-text features that pull up their text inbox with a pre-filled subscription opt-in text.
Having to type out their phone number or their email address on a mobile device can lead to typos and creates more friction and could decrease subscription rates.
Conversely, it's much easier on desktop devices to type out email addresses, and certain mechanisms like direct-to-text opt-in don't work.
With this in mind, try these methods for desktop and mobile.
For desktop users:
Step 1: Desktop Email signup capture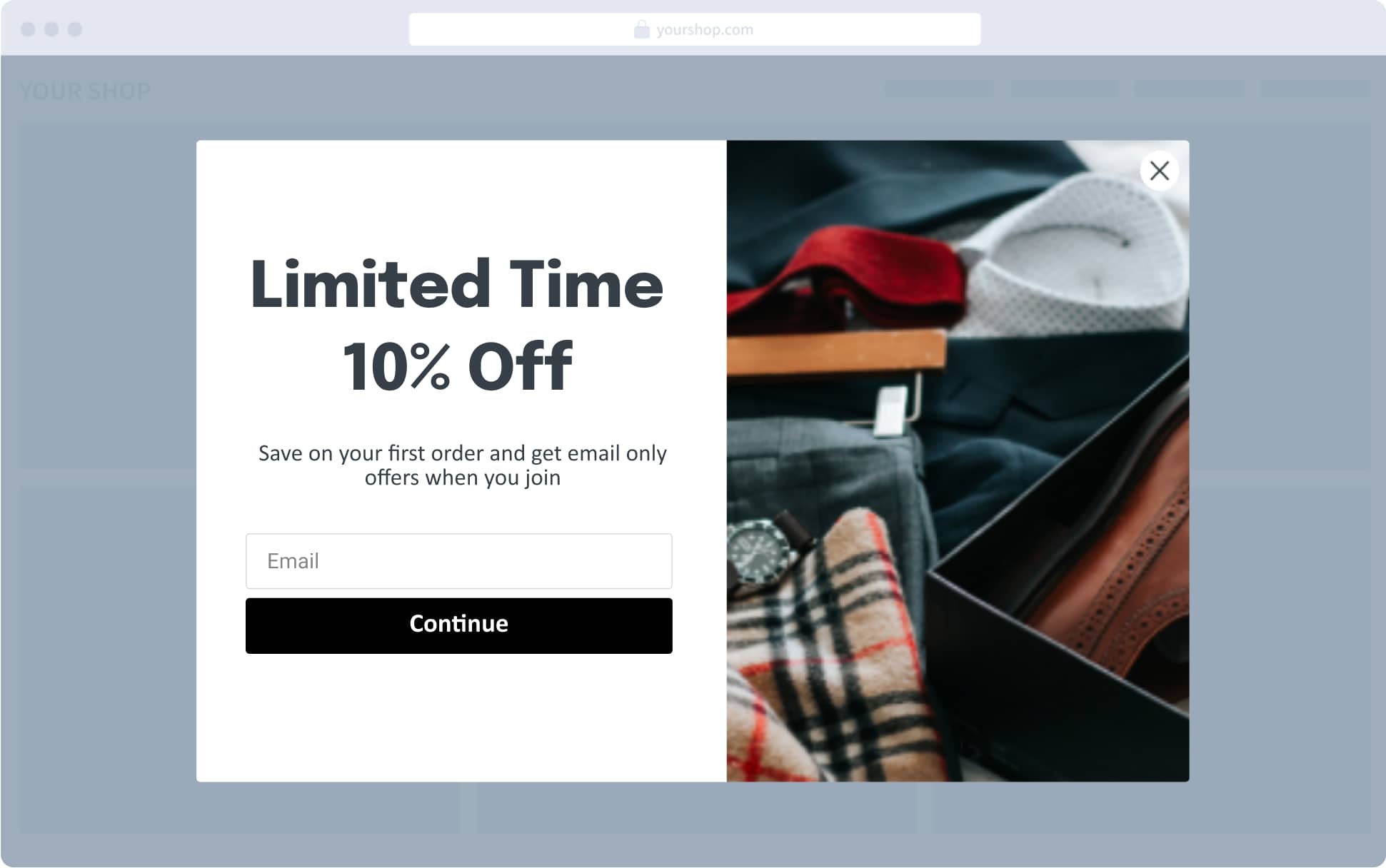 Step 2: Desktop SMS signup capture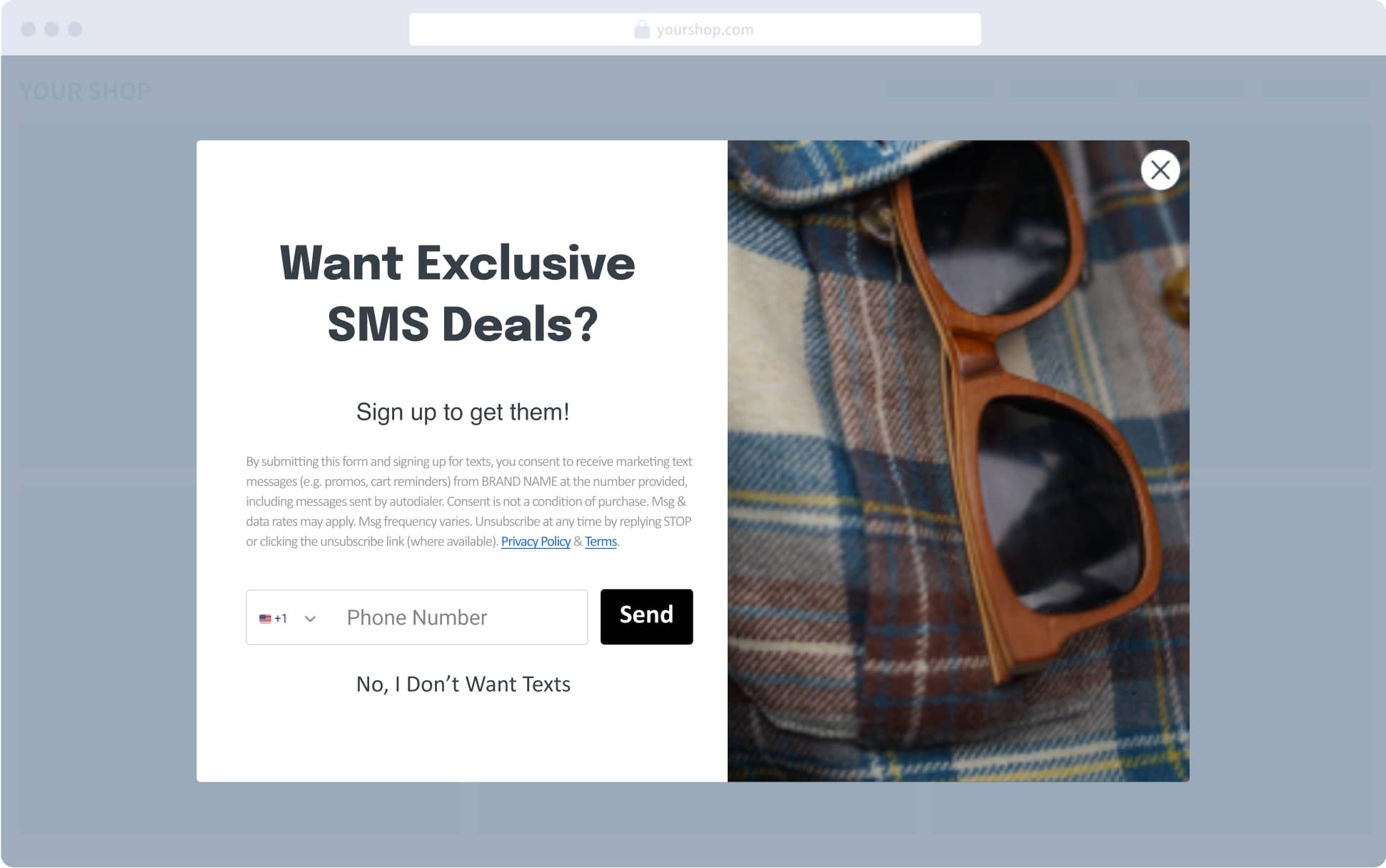 For mobile users:
Step 1: Mobile SMS direct-to-text capture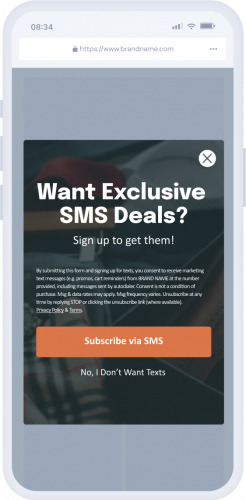 Step 2: Mobile email signup capture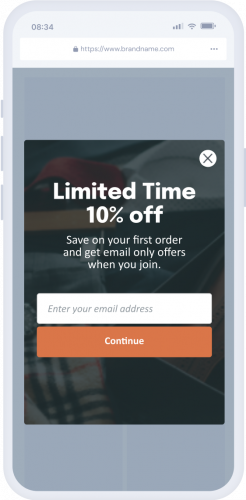 High-Intent Loyalty Capture at Checkout
You can get SMS and email consent from your soon-to-be purchasers quickly, easily, and usually without an incentive by enabling opt-in at checkout.
All it takes is activating a simple feature. The best part, it's natively available on Shopify Checkout and takes a few minutes to turn on.
Go to your Shopify Settings
Select Checkout and Accounts in the left menu
Check the SMS marketing box under Consent for marketing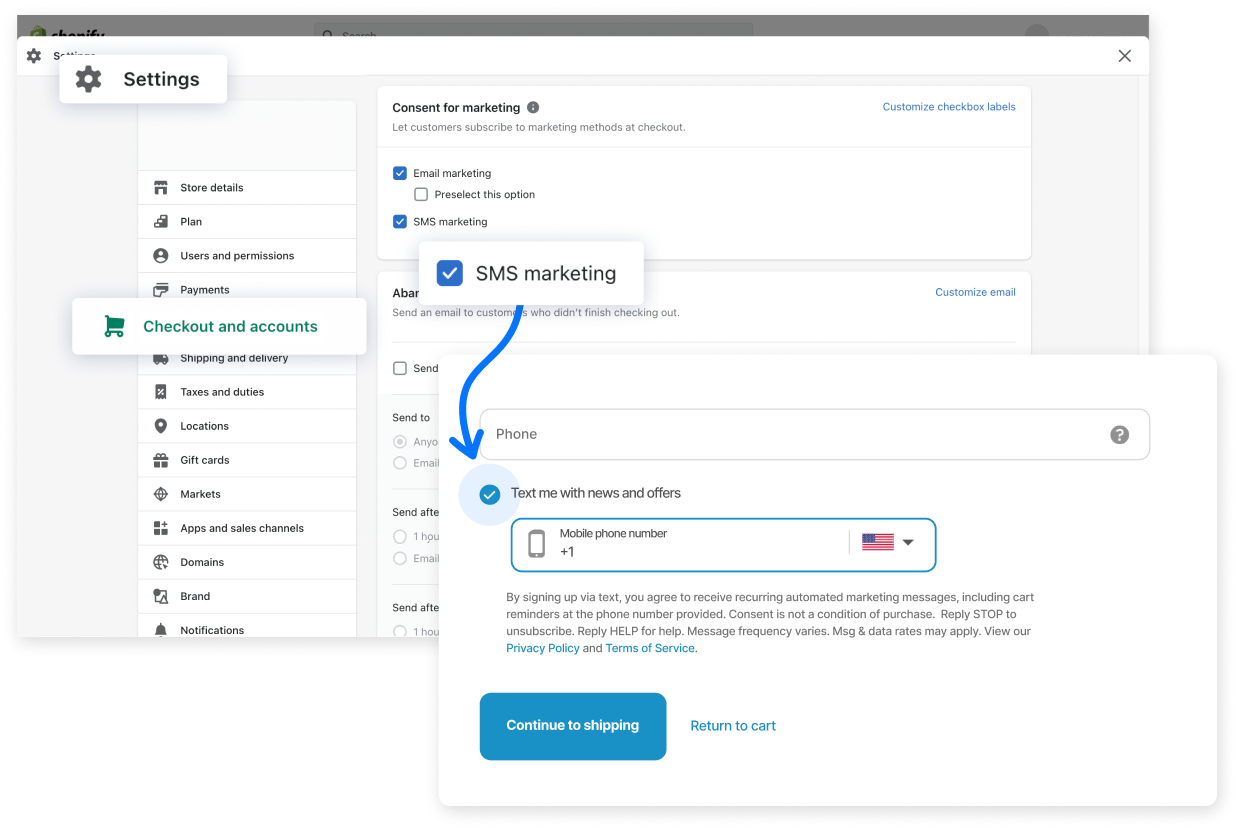 You can also customize your SMS opt-in text. If you click Customize checkbox label, you won't actually find it. Instead, Shopify buries the option under Themes > Edit languages. Search for SMS and edit the Accept SMS checkbox label.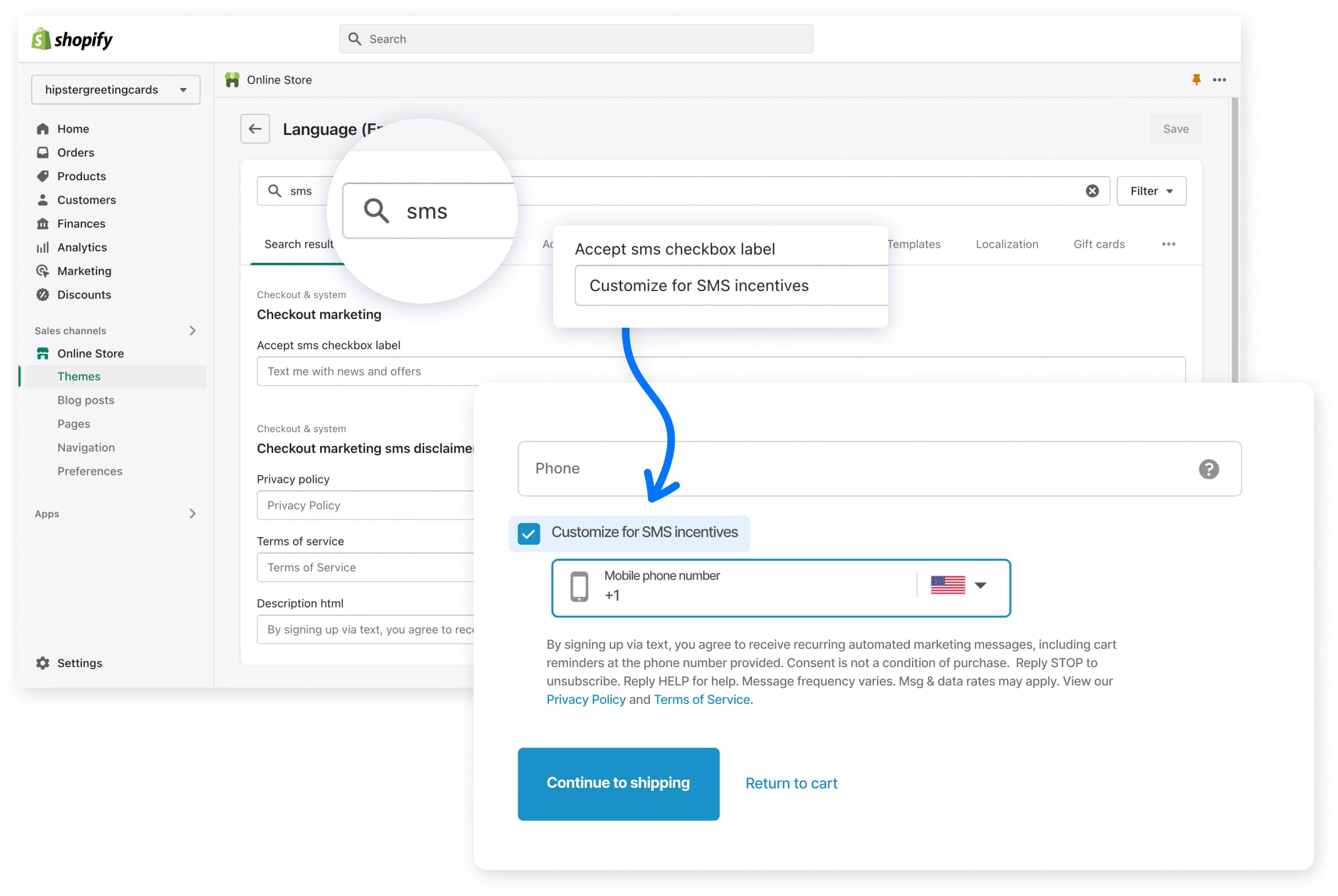 It takes less than five minutes. Then, those valuable sign-ups can immediately (or with a short time delay) get sent a post-purchase upsell or downsell via automation.
Cross Channel Promo Campaigns
If you already know whether SMS or email works best for your brand, you might find that focusing on single-channel opt-in yields better results.
If your SMS program far eclipses your email program, having both captures may decrease your SMS subscription rates. In that case, it'll benefit you to only ask for phone number opt-in.
This is a smaller and more direct request of the consumer, and can ultimately net out more conversions.
Once you've captured one channel, you can try to convert subscribers for the other channel too. 
Because text is newer to the marketing game and people more easily sign up for emails … you'll likely have a larger email base than SMS.
Inject some growth into your SMS subscriber list by sending an email campaign and prompting your subscribers to join your text list. Try adding a unique and compelling incentive to help drive more sign-ups.
You can do this in reverse as well, i.e. promoting your email program signup to your existing single-channel SMS subscribers.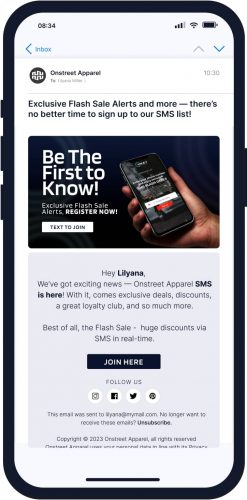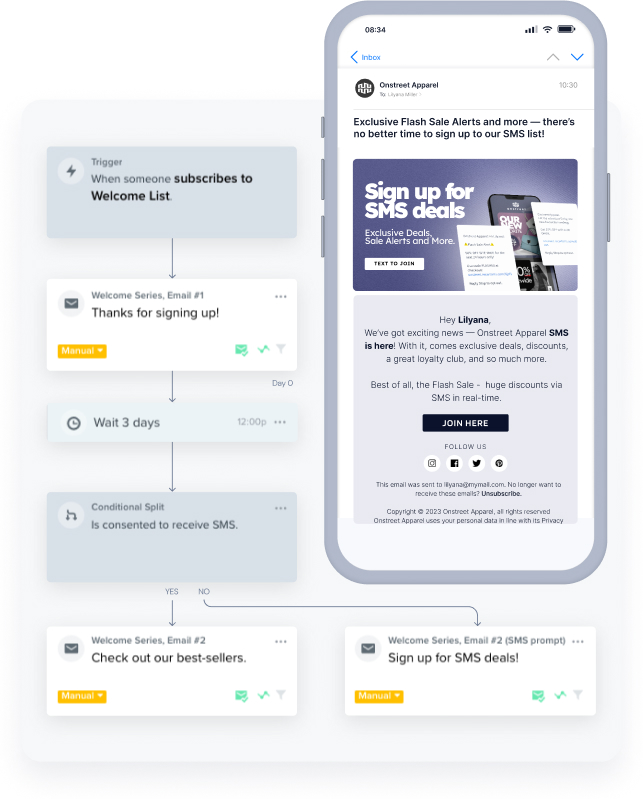 Another way you can incorporate the SMS signup call-to-action in your email campaigns is to utilize a dynamic block.
This is a bit more advanced and may require some logic coding but you can add an SMS signup banner in emails that only display to people who are not signed up for text.
If a user is already subscribed to both channels, that SMS signup block will be hidden. Giving your mail subscribers continuous exposure to the SMS signup prompt and generating incremental subscribers over time.
Plus, those who are already dual-channel subscribers won't be distracted by the irrelevant signup messaging.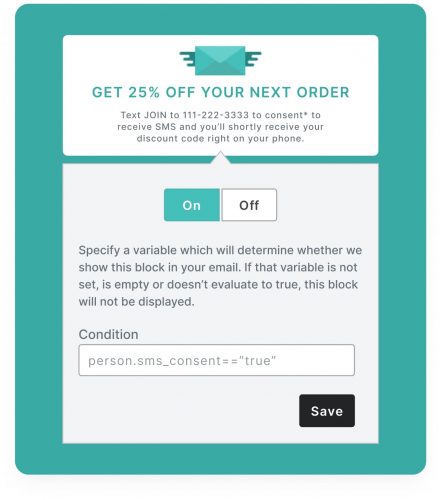 2. Set Automations: Put Sales on Autopilot for Both Channels
There are a few key automated messages and flows that you should set up for both SMS and email.
While you can repurpose some of your content between the channels, it's important to consider the strengths and limitations of both.
SMS messages are read faster but have character limits. MMS is more expensive but highly effective, email allows longer format, etc.
Key flows include:
Welcome
Abandonment
Transactional
Post-Purchase
Win-Back
Given the shorter content format of SMS, the messages themselves may look different. For example, the abandoned checkout message on email likely includes a table with the set of products in cart: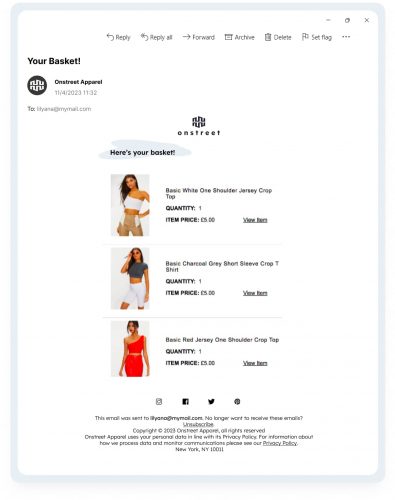 Whereas, with SMS, you're more likely to just include a short message plus the tracked link back to the cart/checkout:
Consider Automation Frequency 
Because the SMS channel is a little more sensitive to over-sending, you should scale back the frequency of automated texts relative to automated email messages.
If you have a three-message Cart Abandonment sequence on email, you may only have a corresponding one or two-message SMS Cart Abandonment sequence.
You should also be mindful of subscribers who are on both your email and SMS marketing lists.
These subscribers should not get the full set of automations from both channels. Instead, they should see a scaled-down frequency of automations, excluding certain later touch-points, and altering by engagement behavior.
Also, be aware of the time delay after a certain trigger event for sending SMS or email messages so subscribers don't receive too many messages from multiple channels at the same time.
There are a few ways you can deal with modulating the two channel's automated messages:
Stagger SMS vs. Email Message Delays
Making sure your SMS and email messages don't overlap in terms of send delays will help create a better customer experience. 
In many cases, you may be sending your SMS and email messages out of two different platforms, so you might structure your checkout abandonment automation like this: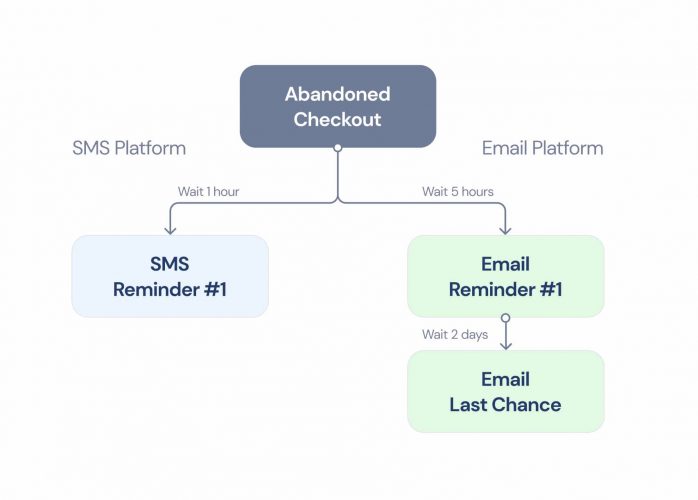 Keep in mind that SMS also has to abide by quiet hours, so if a scheduled message falls within this time, it'll get kicked back a further delay.
Give The Primary Channel Priority
In case of a conflict of timing for a message, you can simply give either email or text messages priority. Which channel you pick largely comes down to the comparative effectiveness of the equivalent automated sequence.
You can segment your audience based on their preferred channel — or judge each channel as a whole and decide with automation performs better for each goal.
3. Send Campaigns: The Right Messaging to Sell Your Products
As with automated messages, your marketing campaigns should also be coordinated between the email and SMS channels.
By tailoring your approach for each channel with relevant content, you'll spark loyalty in your subscriber base, and ultimately improve subscriber lifetime value.
As with automation, SMS campaigns tend to see larger opt-out rates than email, to the order of 10x (such as 1% vs. 0.1%). This number increases further if the frequency of marketing texts goes up too fast.
Therefore, you should send texts less frequently and be more selective about which content to send to SMS subscribers in a month.
Select the strongest sale-driven campaigns (large seasonal sales, new products) and/or anticipated highly engagement-driven campaigns (very good content, viral content) for your SMS campaigns.
You should always look at the metrics specific to your brand first and adjust accordingly. Some brands, particularly ones with younger audiences, can sustain a much higher SMS send frequency.
Promotional Campaigns To Start With
Product Catalogs And Newsletters Using Email
Because email has no character limit, loads images quickly, and is cost-effective for high volume it's very effective for long form content such as product catalogs and newsletters.
You can include multiple call-to-actions with unique links for each section — easily sending readers to different pages and products.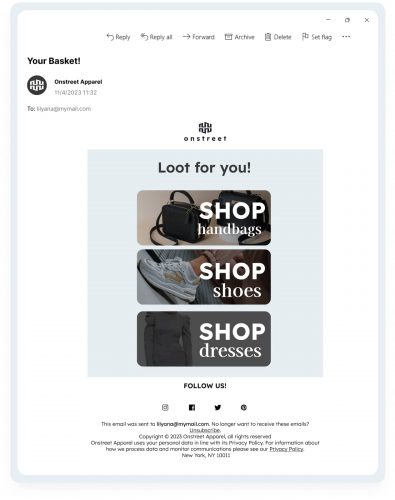 SMS Exclusive, Time-Limited Flash Sales
SMS is a particularly good channel for more time-sensitive messages due to its short-form, to-the-point content. We've seen great success using SMS to launch flash sales (exclusively SMS or not).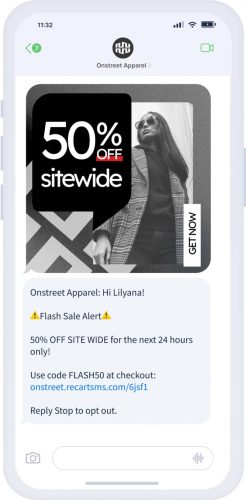 Early Access Deals And Product Launches Via SMS
The SMS inbox tends to have a more personalized perception given the more immediate nature, mobile device reliance, and proximity to personal contacts.
You can take advantage of these properties of the medium to run more "exclusive" messaging like for early access deals (we've seen success with pre-Black Friday and big holiday sales) and building anticipation for new products.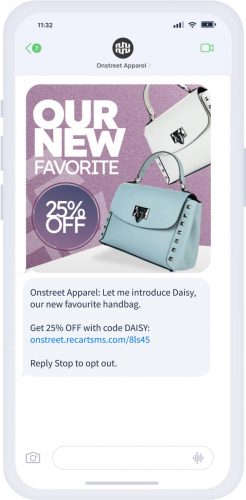 Supporting Sales Emails With SMS
Separating your campaigns is a good start. However, once you've figured out which content works for which channel and audience, you can combine them into a dual-sending strategy.
Here's a typical framework for running limited-time sales using both channels:
Launch
Reminder
Last chance
Generally, you can mimic this set of three messages via email and SMS.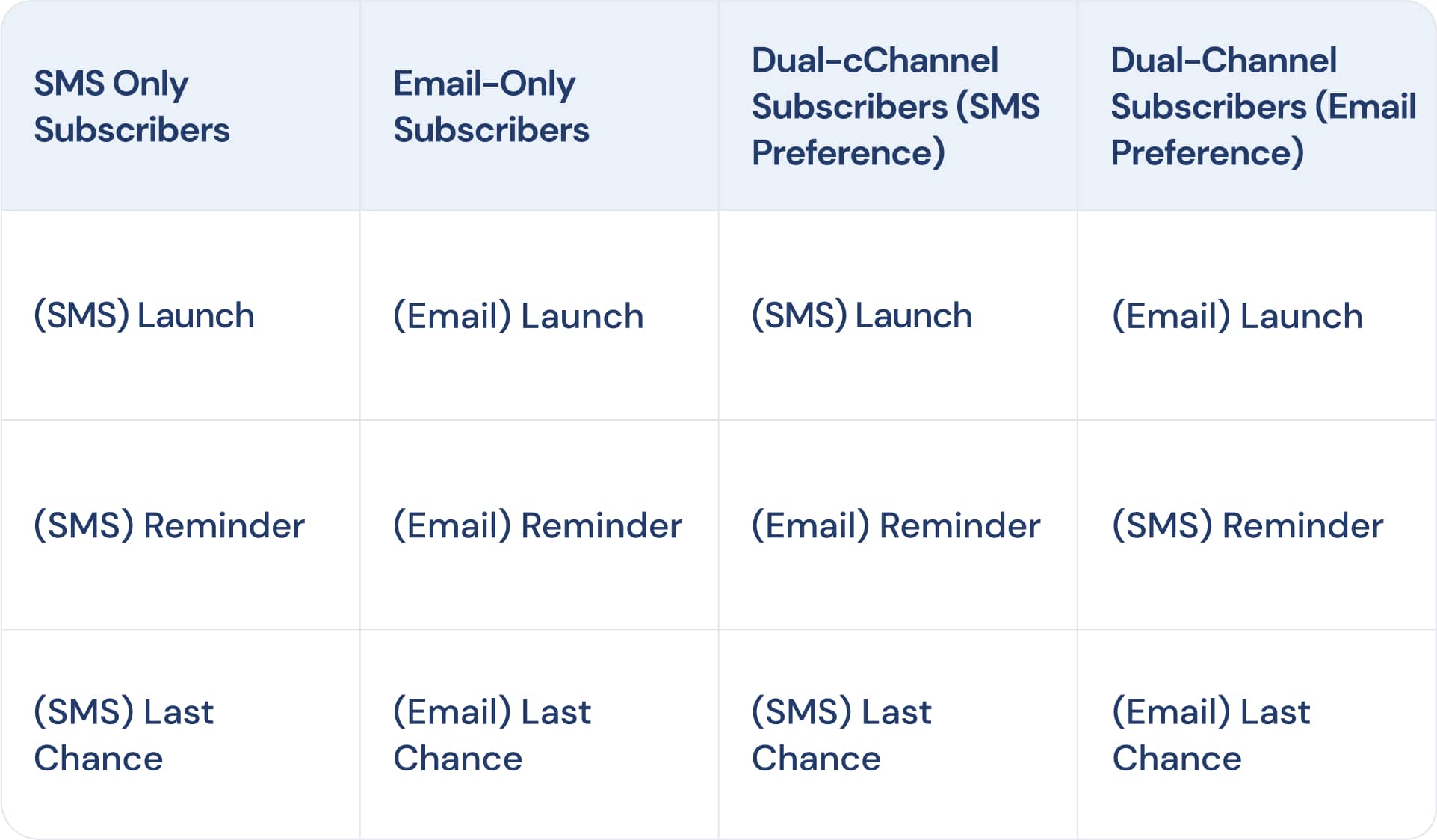 The logic behind this setup:
The single-channel subscribers will get the three messages in their respective channels, SMS or email.
The dual-channel subscribers are separated out based on if they have a stronger preference towards one channel or the other.
Then, based on their preference, we send the Launch and Last Chance messages via that channel. This is because those two types of messages tend to generate around 80% of the total revenue as opposed to the middle reminder email, which is around 20% typically.
Segmented Campaigns By Channel Preference
Because you can break out dual-channel (email and SMS) subscribers by channel preference — you can split them into "email engagers" and "SMS engagers".
As an example: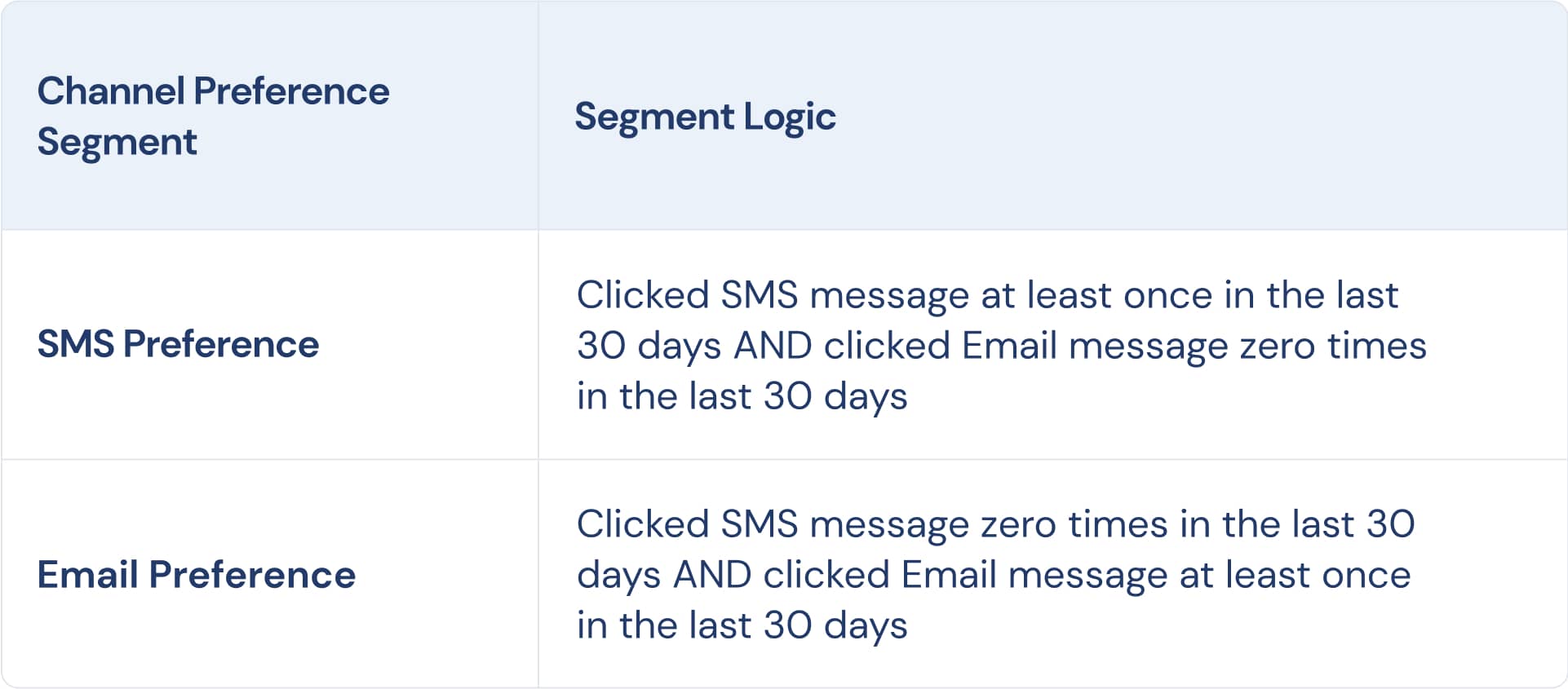 These are based off tracked clicks because open rates are not really trackable on SMS and are increasingly less reliable on email (with Apple Privacy).
Given the stronger preferences towards one channel, you should treat these subscribers accordingly and expose them to more messaging on their primary preferred channel and less messaging on the less preferred channel.
A Cohesive Marketing Strategy Puts Customer Experience First
Both email and SMS are great channels for driving ecommerce sales. To optimally run both, you'll want to implement their synergies but also be wary of the potential inherent conflicts that could hurt the end customer experience.
By implementing a well-coordinated dual-strategy, you'll improve the relationship with customers, subsequently improve your brand perception plus boost top line revenue.
If you do manage to navigate these waters and utilize the strengths of both channels properly, you'll be well on your way to selling more and maximizing your retention marketing efforts.