You might hate it or love it, but one thing is sure – it's hard to ignore the buzz around Valentine's Day.
And as a merchant, you'd truly miss out if you did.
According to NRF, customers spent $21.8 Billion USD on Valentine's Day, and it's expected to reach $23.9 billion this year.
While the most popular gifts remain sweets, jewelry, postcards, and flowers, shoppers are also looking for additional products for their loved ones.
NRF also found that on average, US customers plan to spend $175.41 USD on gifts this year! Whichever niche your Shopify store is in, someone might find a perfect gift for their loved ones in your inventory, so don't miss the Valentine's Day train!
This Annual Valentine's Day Spending Survey discovered that 38% of all shoppers would rather shop online, using their mobile phones.
Talk to your customers where they are and focus on mobile campaigns this year!
In this article, we brought a few Valentine's Day campaign ideas for you that you can start sending right away, and we're also sharing our top tips to keep in mind to turn Valentine's Day into a revenue-generating machine!
Note: Recart SMS customers can activate these templates straight from this blog post!
SMS Template #1: Prepare Shoppers for Valentine's Day
Valentine's Day is just around the corner! Send a thoughtful message to remind your forgetful shoppers and get them to act now to get the best gifts in time!
To incentivize your shoppers to purchase from you, include an attractive discount (10% off!), introduce a buy one – get one deal, or create a bundle of your best products.
Tip: Keep the festive spirit up and create a thematic coupon code, such as "VDAY" or "LOVEISLOVE".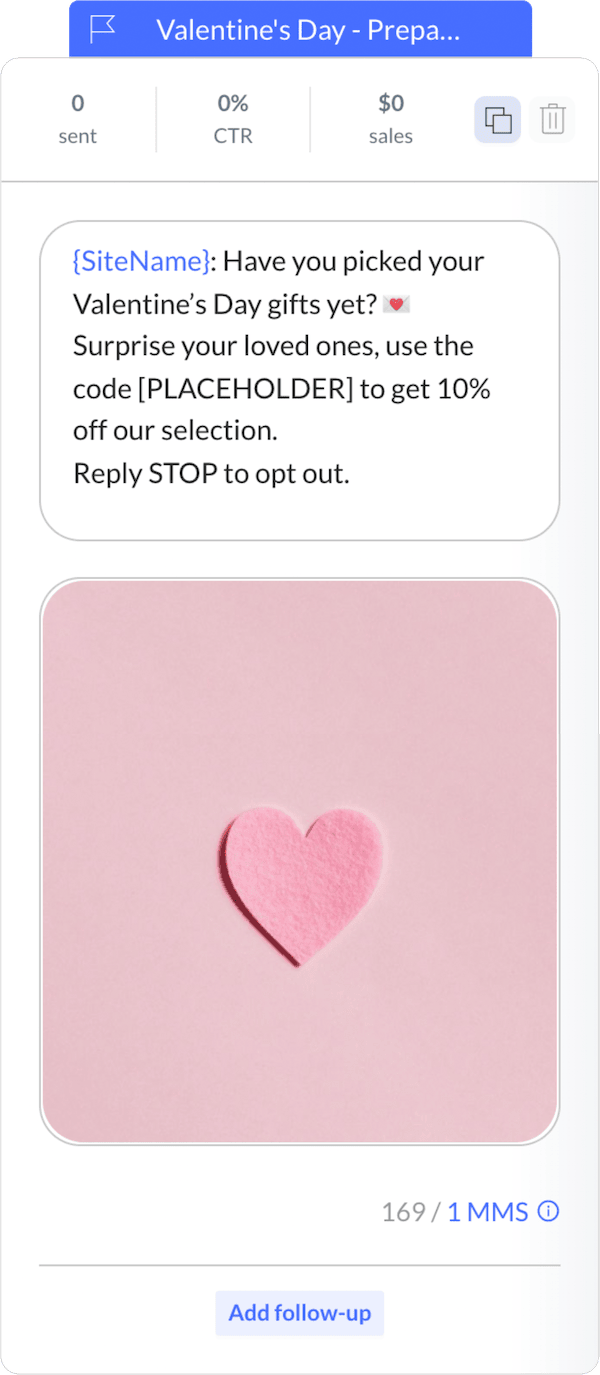 SMS Template #2: Last Call
Are you one of those people who won't get a task done until you're pressed for time?
Well, some of your customers might be.
Give a little sense of urgency and create a last day for your Valentine's Day promotion. When should that be? That depends on how fast your store can ship items. If you can't do same-day delivery, have your promotion end on February 13th already.
To make it more specific and get your SMS subscribers to act now, you can even add how many hours are left. One of the great things about SMS marketing is that your subscribers get your campaigns shortly after you hit "Send", making timely promotions easy.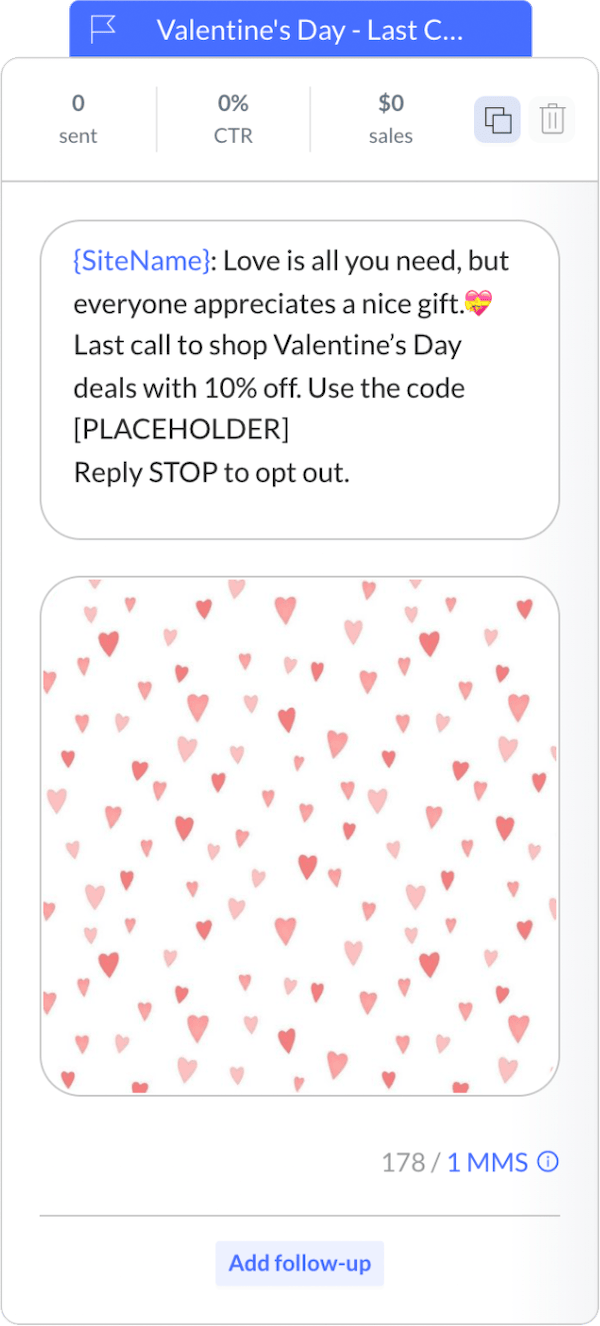 SMS Template #3: Hurry – Valentine's Day Sales Extended!
Okay, maybe you had a deadline in mind, but the orders just kept coming! Your customers will appreciate it that you open your gates for them for another day.
Use this Sales Extended template to offer your coupon for another 24 hours!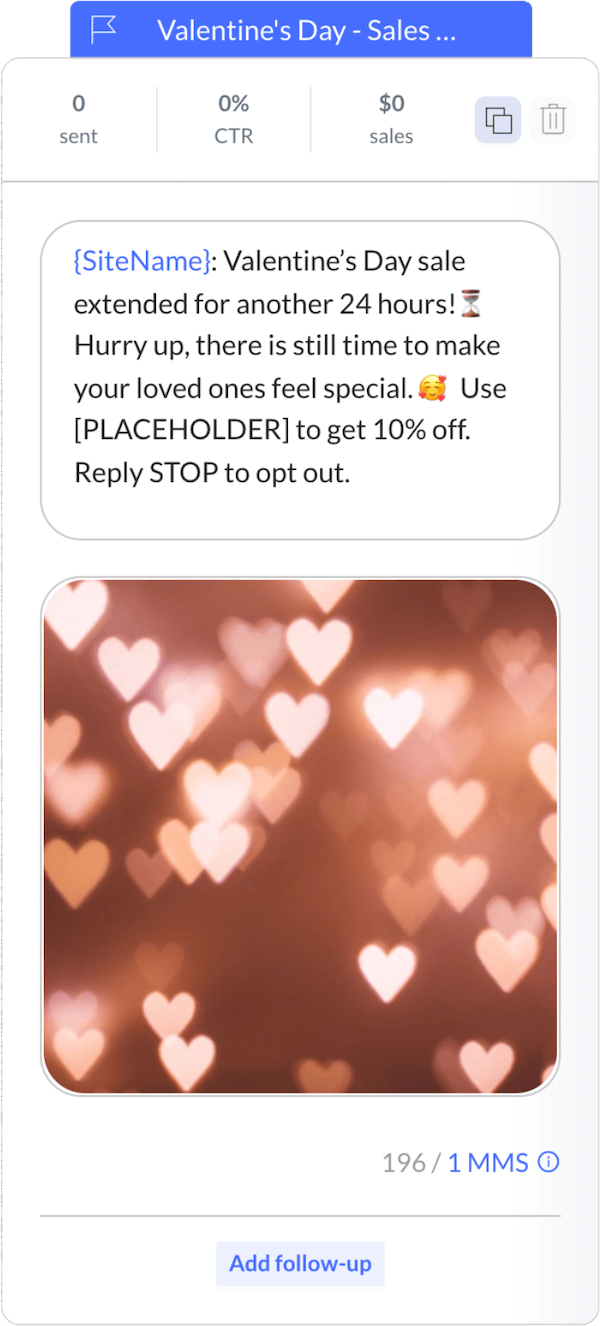 Notice the "Reply STOP to opt out" line at the end of each SMS template?
This is an easy way to avoid frustration and give your SMS subscribers a way to unsubscribe from further communication. It's better to keep a clean list with fewer but quality subscribers than trying to keep the number high. Making it easy for your leads to opt out improves user satisfaction and saves you from spending money on text messages that are not welcome.
Top Tips for Valentine's Day SMS
Create a special welcome popup for Valentine's Day. Change the color and messaging of your SMS opt-in form, and show your special offer right away.
Segment your list based on behavioral data, e.g cart abandonment, and remarket those shoppers before your Valentine's Day offer is over.
Don't limit yourself to his & hers. Be inclusive of the LGBT+ community! Love comes in all shapes and sizes.
Keep your communication short and conversational. Users get many promotional messages during this period, don't waste their time with just another dry, salesy, boring message!  Use emojis, talk to them as a friend (if your brand allows it), and respect their time by keeping it short.
Not everyone is in a romantic relationship. Why not offer singles a self-care package, or ideas for a Galentine's Day party? Many people like to give gifts to their friends, family, or their pets.
You don't have to give a discount to make your offer special. How about free gift-wrapping, a small gift, a special thematic bundle, free returns, or a Buy One – Get One For Yourself?
Instead of an offer, you can announce a new arrival, e.g. your heart-shaped soap bars.
We wish you a happy and successful Valentine's Day.