Generic. Spammy. Inhuman. 
Automated SMS marketing doesn't exactly have the best reputation. Particularly in ecommerce. Of course, it's hard to fault such unflattering labels given the standard fare …
Multi-part sequences slammed together with one-day delays and ever-more aggressive refrains of, "Buy. Buy now. Have you bought yet? You should buy!"
Thankfully, that's not what SMS automation is about. Not when it's done right. And definitely not when it works.
Because, here's the thing: In terms of revenue generation, automated texts trounce one-off campaigns. For Recart customers, flows make up nearly 70% of monthly SMS sales. Even during November (when campaign sends accelerate for Black Friday, Cyber Monday) the split barely changes.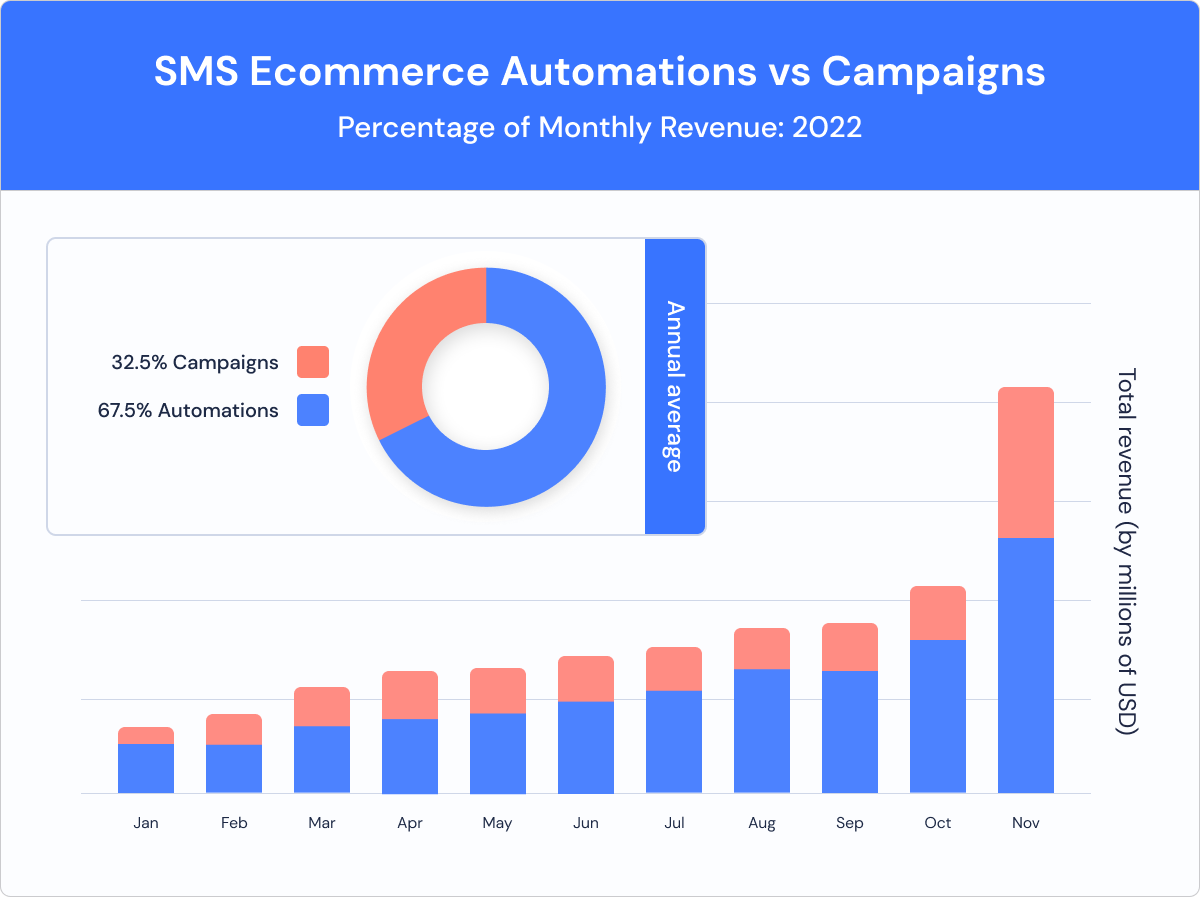 If you aren't driving the bulk of your text-message revenue through automations — or, worse, if you haven't set them up yet …
Then let's dig into 5 SMS automations + 5 humanizing tactics to grow your dough with flows.
Five Automated SMS Flows Ecommerce Brands Needs
New Subscriber Welcome Flow
Cart Abandonment & Browse Recovery
Personalized Receipt + Fulfillment
Post-Purchase for Additional Products
Time-Delayed Replenishment or Reorders
Five Tactics for Creating 'Human' SMS Automations
Support Customers With Real Humans

Personalize With Conditional Splits
Pay Attention to Timing & Frequency
Provide Value With Great Messages
Use MMS Messages Strategically
Revenue on autopilot? Absolutely!
Download our SMS Marketing Automation Guide with five flows to build your foundation and five tactics to make them soar.
Or, if you want someone else to fly the plane, the Recart team can manage your entire SMS program. Book a demo to get started in 48 hours.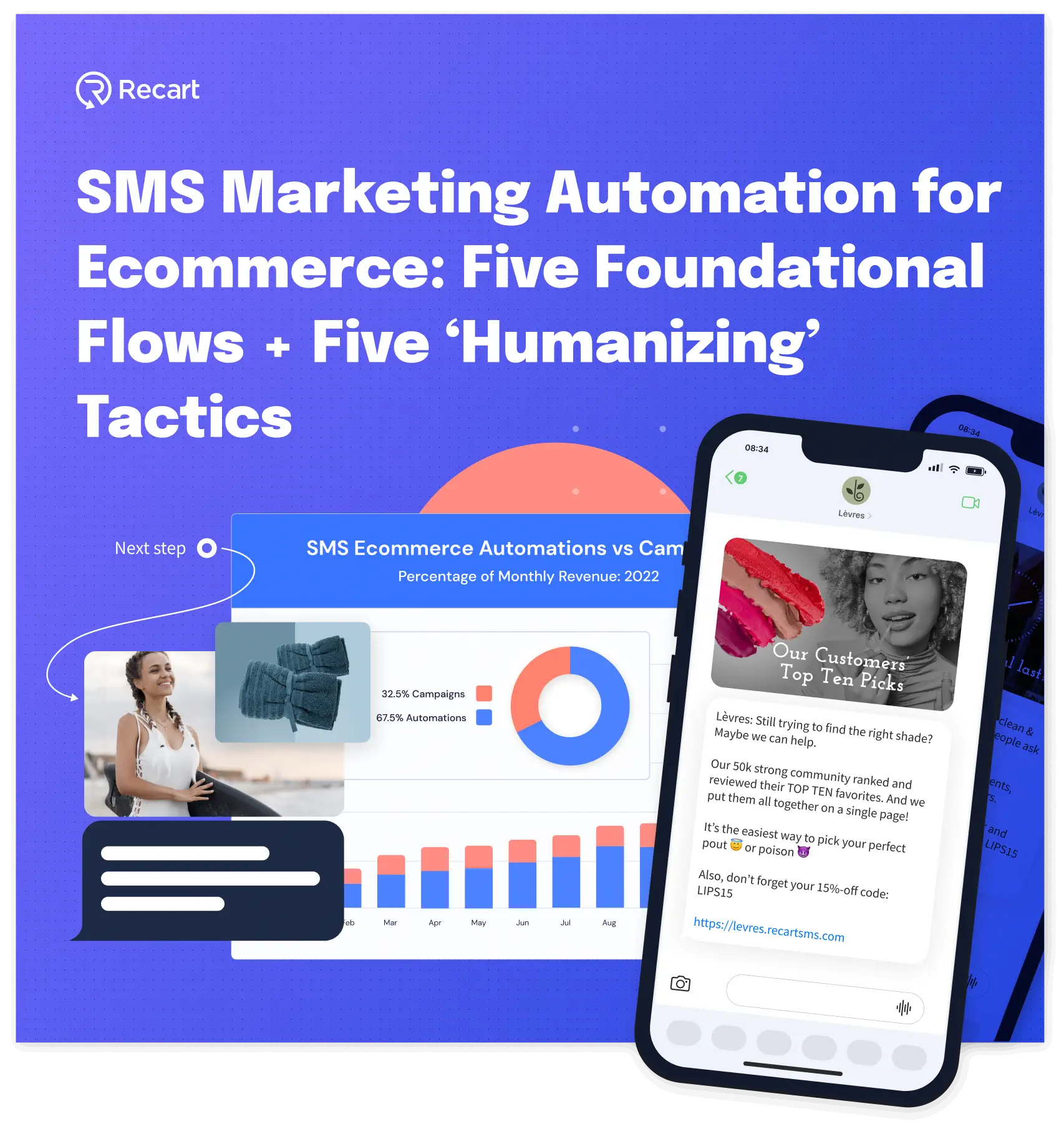 Five Automated SMS Flows Ecommerce Brands Need
1. New Subscriber Welcome Flow
Just like email marketing, your SMS welcome series should be both your highest-volume automation as well as your biggest money maker. Why? Because a consumer who trusts you enough to hand over their number wants to hear from you. And, if you offered them an incentive,
they want to use it
. Engage promptly and automatically through a multi-part sequence with three-to-five messages:
Immediate
Greet new opt-ins and deliver any incentives you promised at sign-up. Note: Immediate means
immediate
. If you're sending welcome emails, do not delay either. Instead, use custom links
and discount codes
for attribution.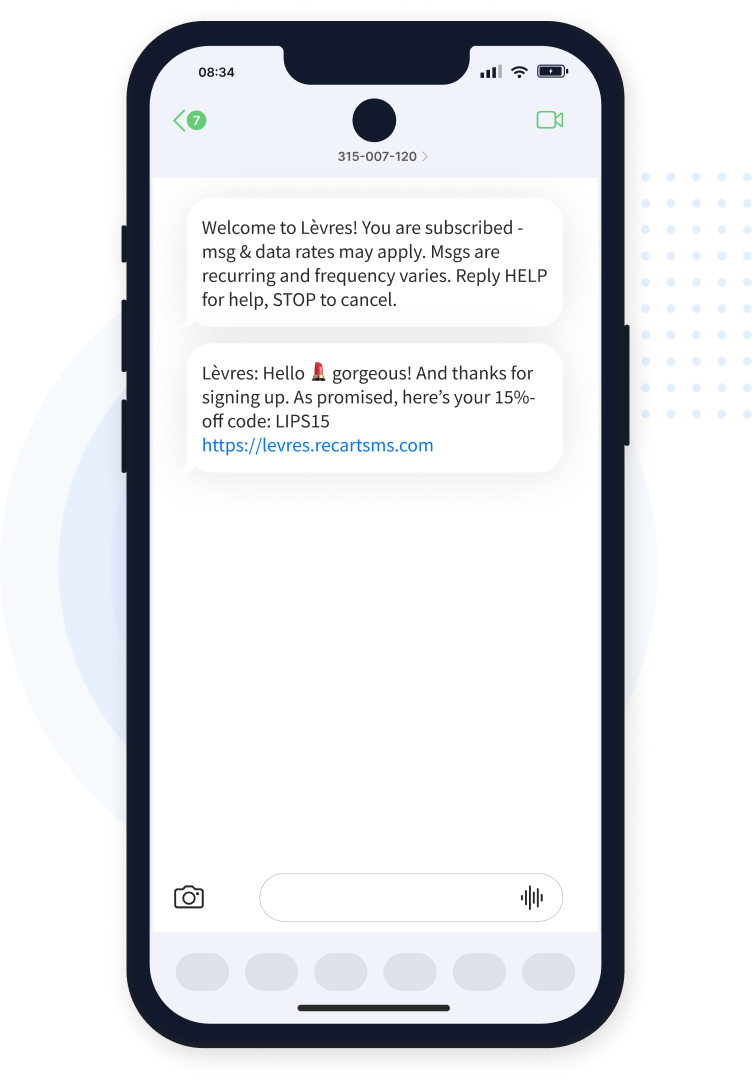 Delay duration: 1 day
Send a contact card allowing subscribers to easily add your business to their phone's contact list. This strengthens brand recognition and improves deliverability. It's also a golden opportunity to infuse "mirco-copy" with your brand voice.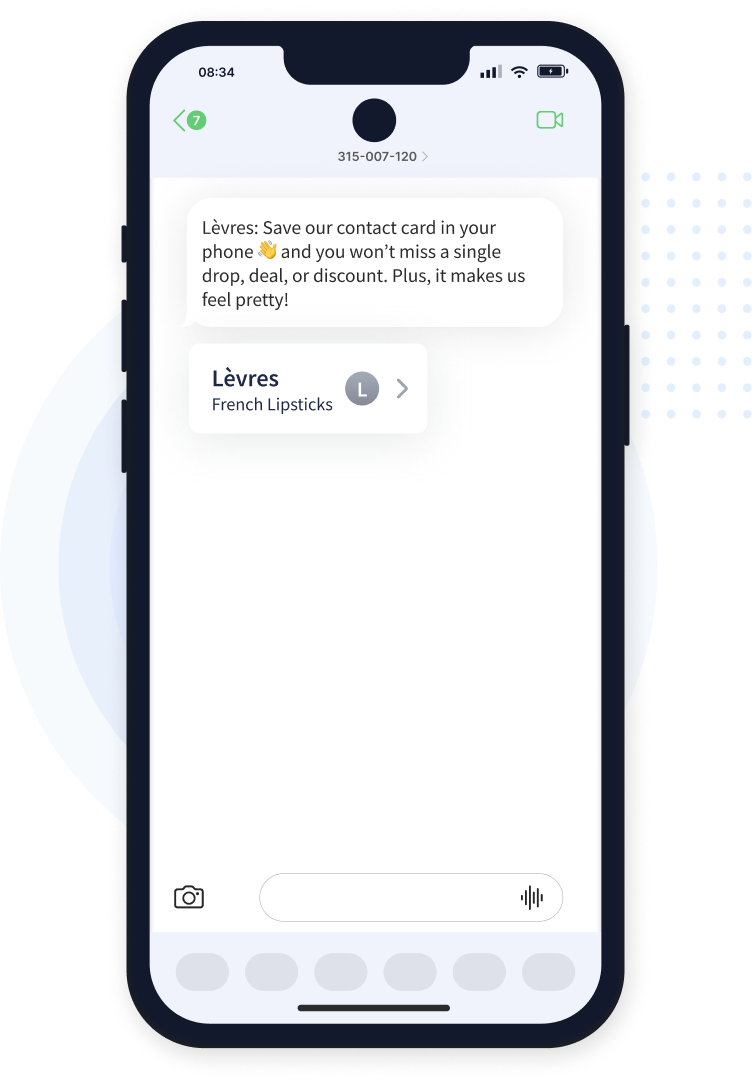 Delay duration: 2–3 days
For those who haven't yet purchased, spotlight a top-selling product or collection. Content-focused landing pages (i.e., list articles or how-to guides) work brilliantly as do onsite quizzes. Lastly, don't forget to reinforce the initial incentive.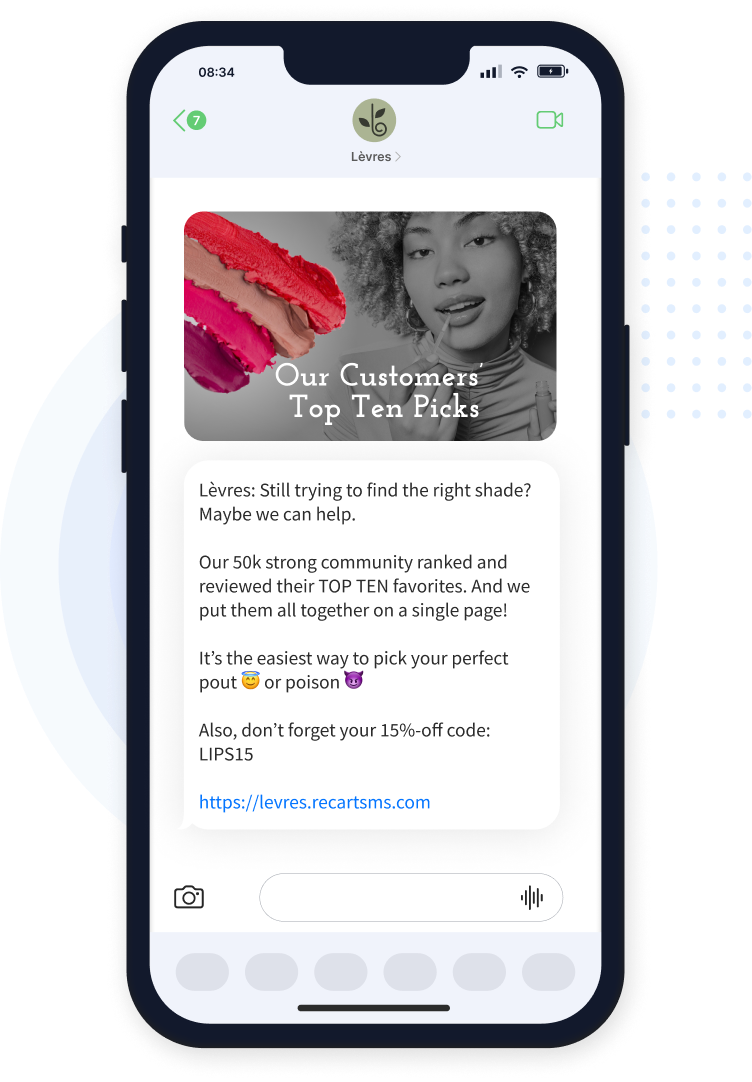 Delay duration: 5 days (optional)
Take a break from selling to share your founder story or a friendly introduction to your brand — core values, causes you support, or social proof in the form of press coverage and customer reviews.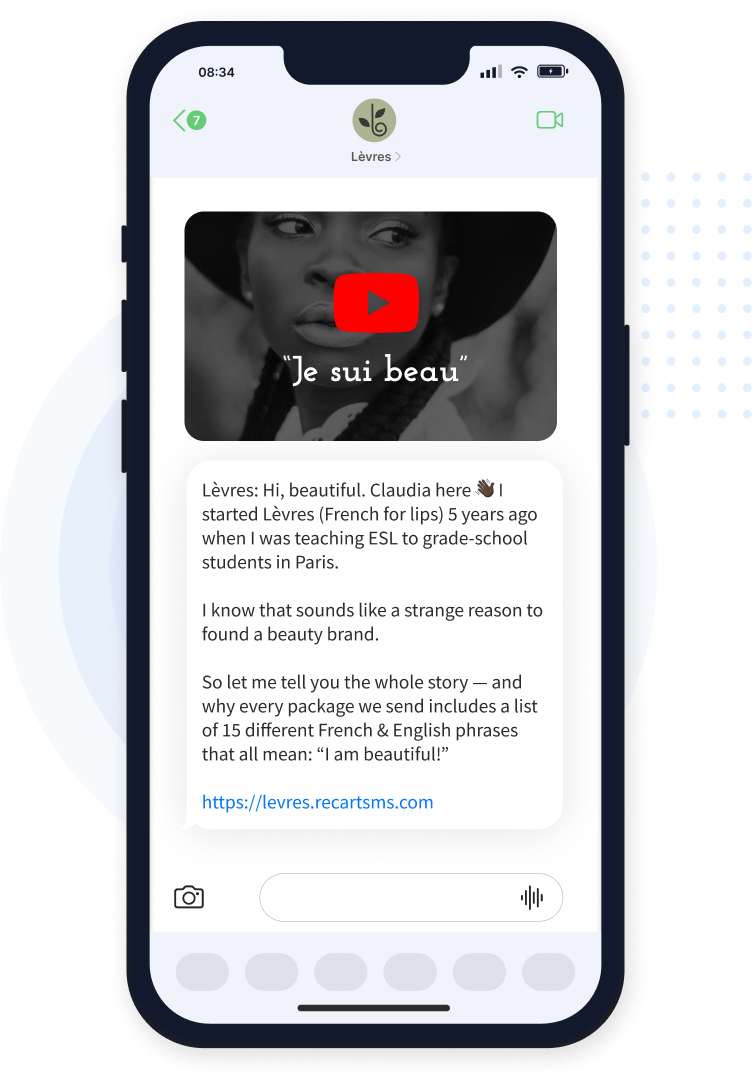 Delay duration: 7 days (as needed)
Address a common objection of non-converters or answer a top FAQ. Include the original discount one last time. Or, if your margins can afford it, add a new incentive to close the deal for those still unsure.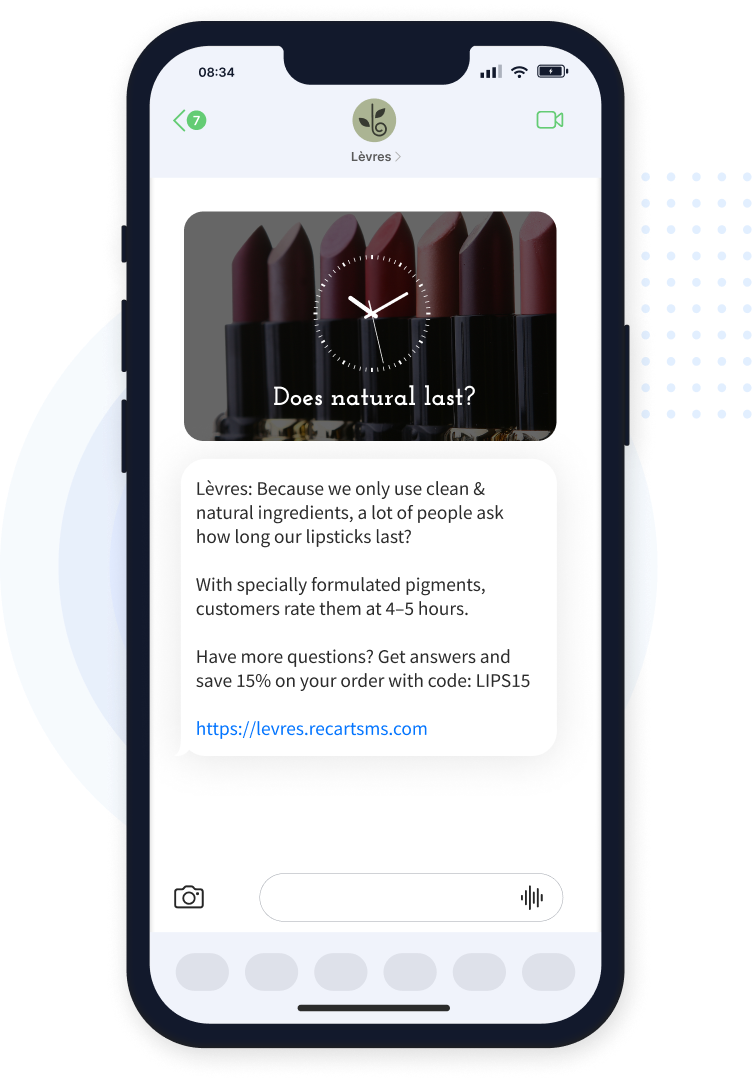 When setting up your Welcome Flow, make sure to exclude purchasers. Subscribers with items in their cart should likewise be split off and funneled into the next of our foundational automations.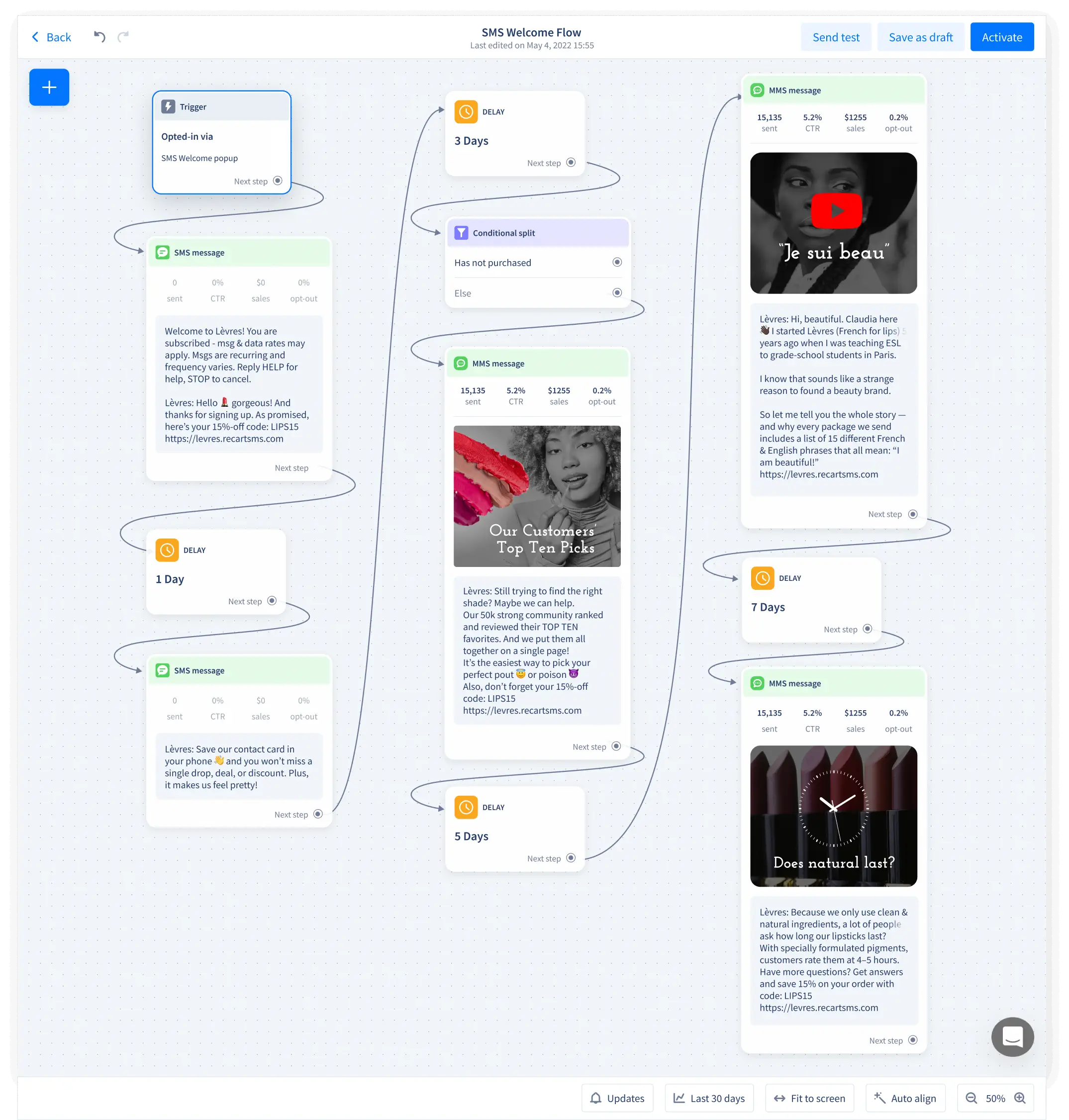 2. Cart Abandonment & Browse Recovery
Ecommerce businesses lose untold sales from high-intent shoppers … who didn't make it all the way through checkout. Some estimates put
ecommerce cart abandonment rates as high as 80%
. Whatever the reason, a timely nudge can often seal the deal. Whether the shopper left an item in their cart or had just been browsing, a simple reminder delayed by one hour should be your first line of defense.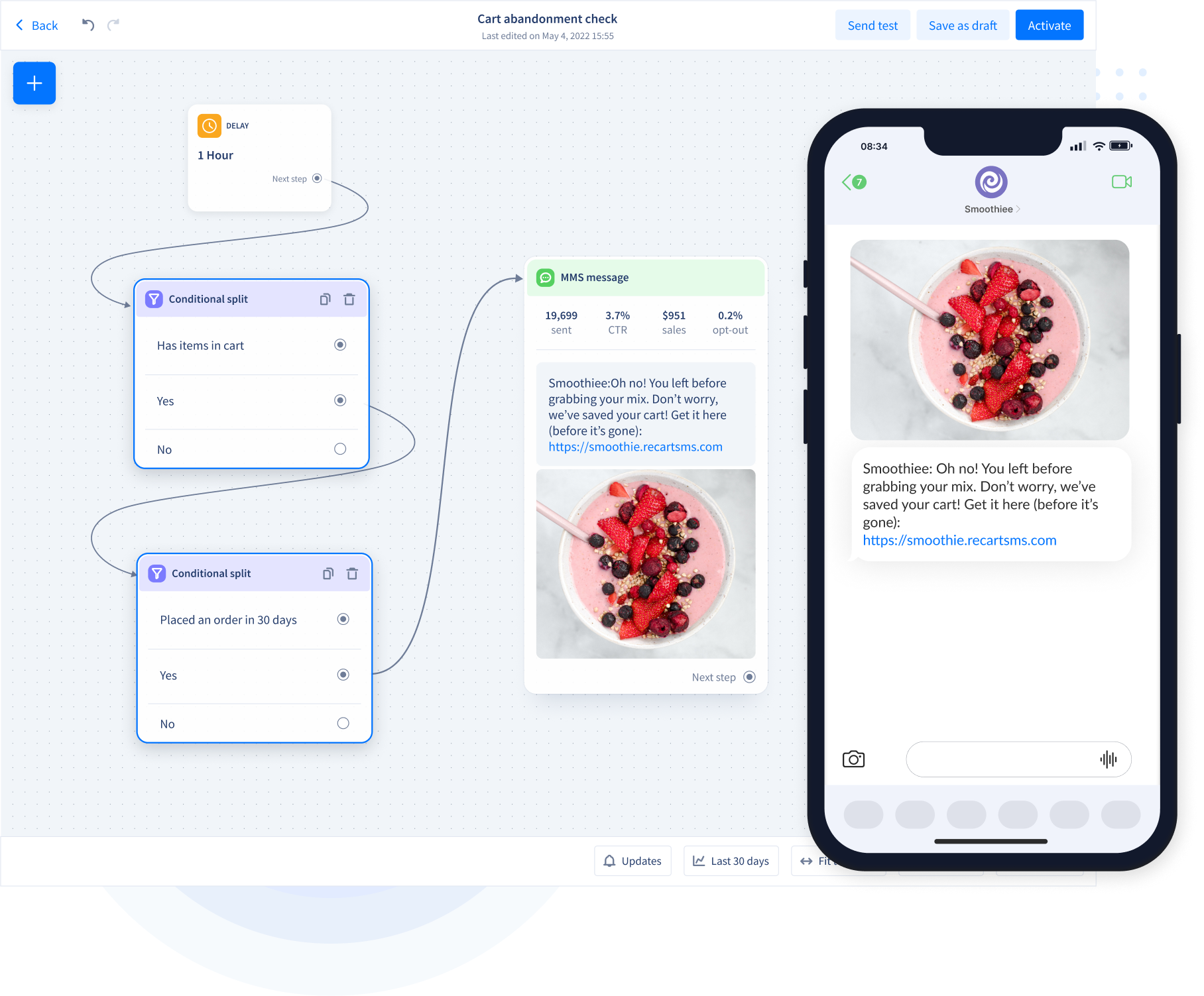 Then, experiment with sending unused discount codes or a new discount. You can also test alternative incentives — such as free shipping, gift with purchase, or BOGO (buy one, get one) — to see what will motivate a purchase while still protecting your bottom line.
3. Personalized Receipt & Fulfillment
Transactional texts not only keep shoppers in the know – they reduce the kinds of customer support requests that can overwhelm businesses of all sizes. 
Send transactional texts such as:
Order confirmations and tracking

Shipping and delay updates

Fulfillment notifications
Make your first informational messages in these automations friendly but straightforward. 
You can also power-combo your software by utilizing SMS automation tools with apps like
Wonderment
for real-time logistical messages.
Then, set delays within both flows to …
Solicit reviews

Provide how-to tips

Recommend related products

Or, simply build excitement and anticipation
Avoid inviting questions unless you have an autoresponder set up or have integrated SMS into a customer service platform like
Gorgias
.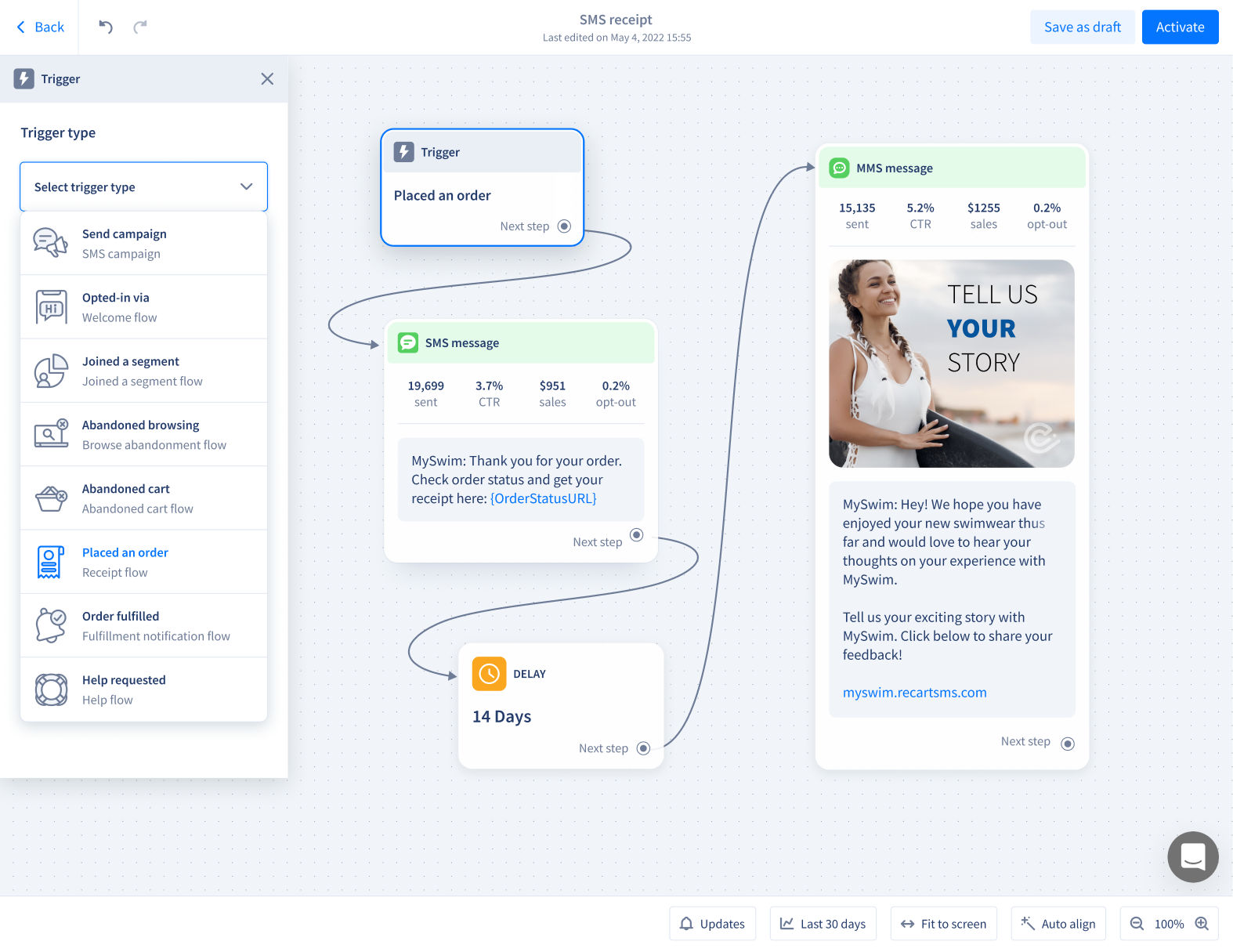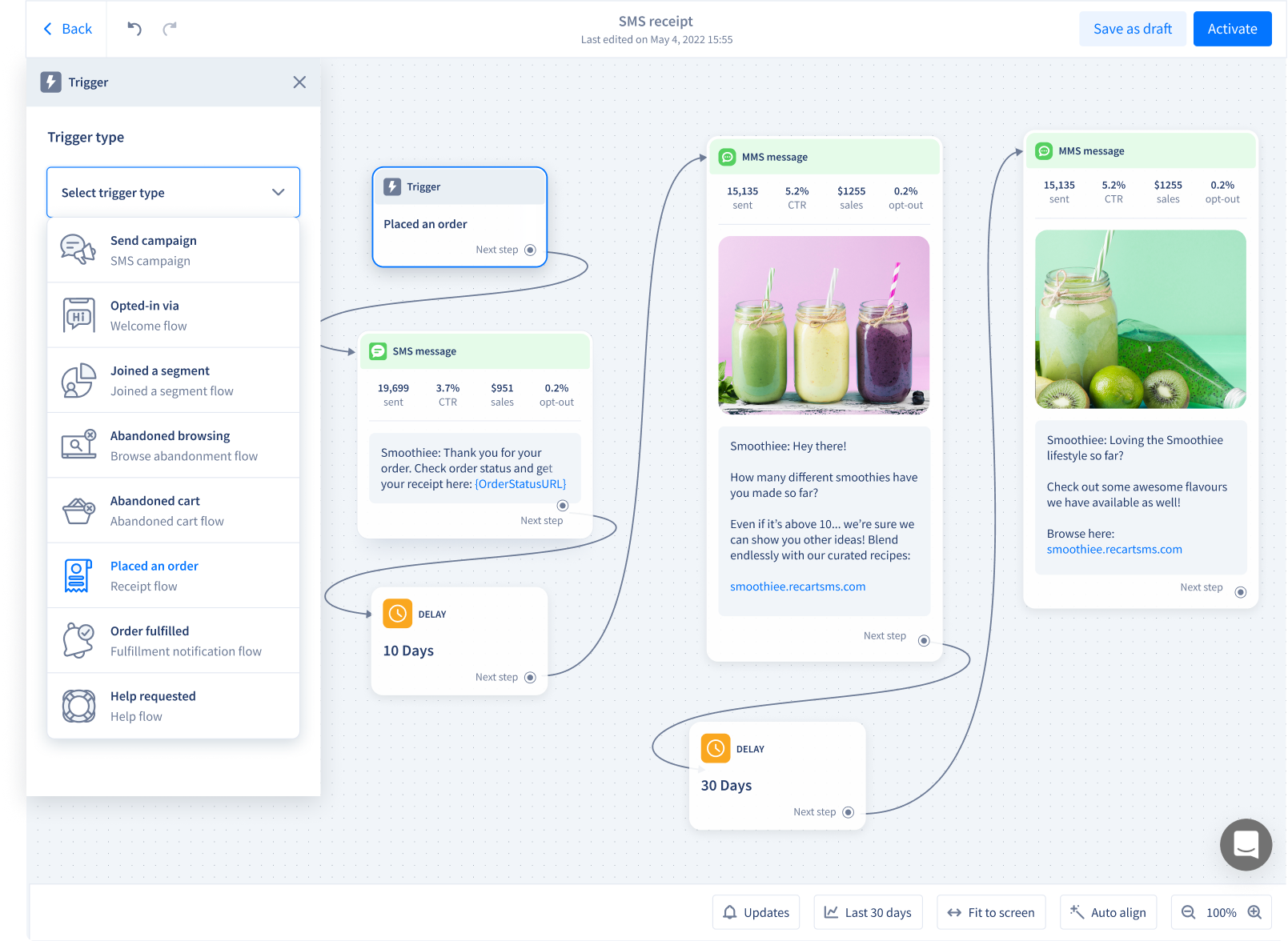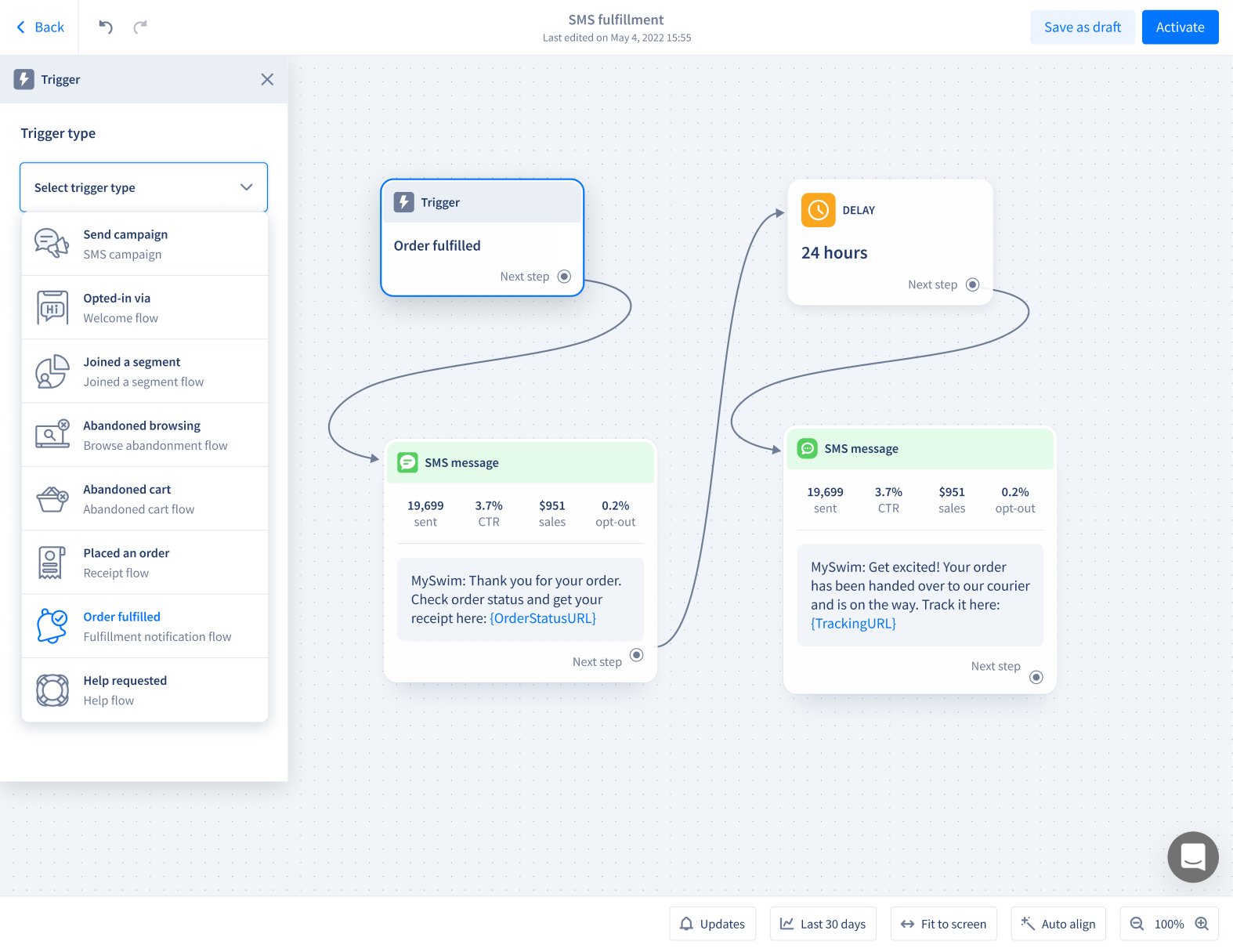 4. Post-Purchase for Additional Products
All the work required to get a first order truly pays off when the customer starts generating further sales. Automations are an excellent retention tool that can spur loyalty by suggesting relevant products. Use order history data to craft offers for similar items (a new raspberry smoothie mix for fans of the strawberry flavor) as well as complementary ones (a matching pool towel for buyers of a swimsuit).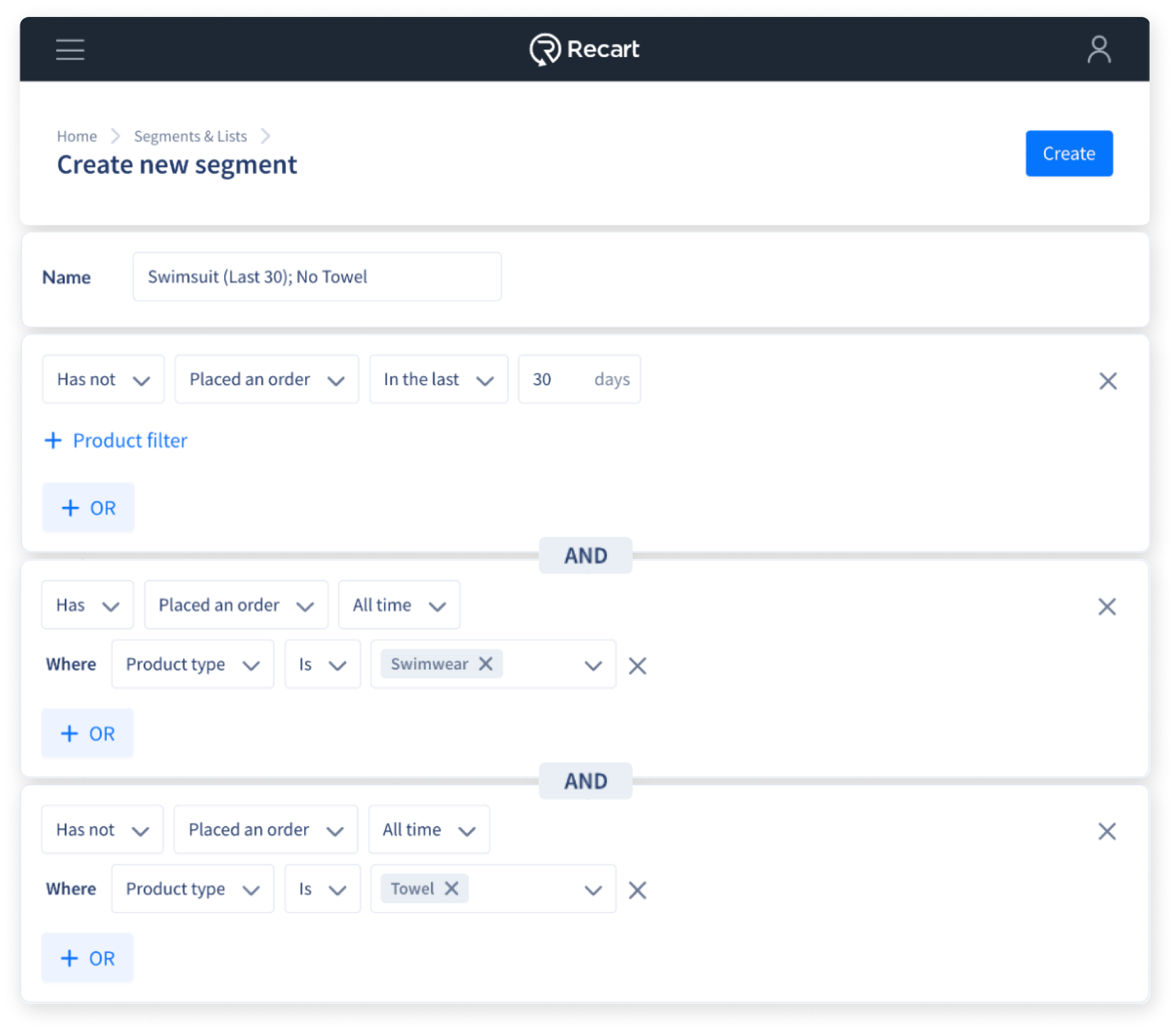 Program a time delay sufficiently long enough that the customer will have received their original shipment. Hopefully, they're enjoying their purchase and will be delighted at the opportunity to buy more from your business.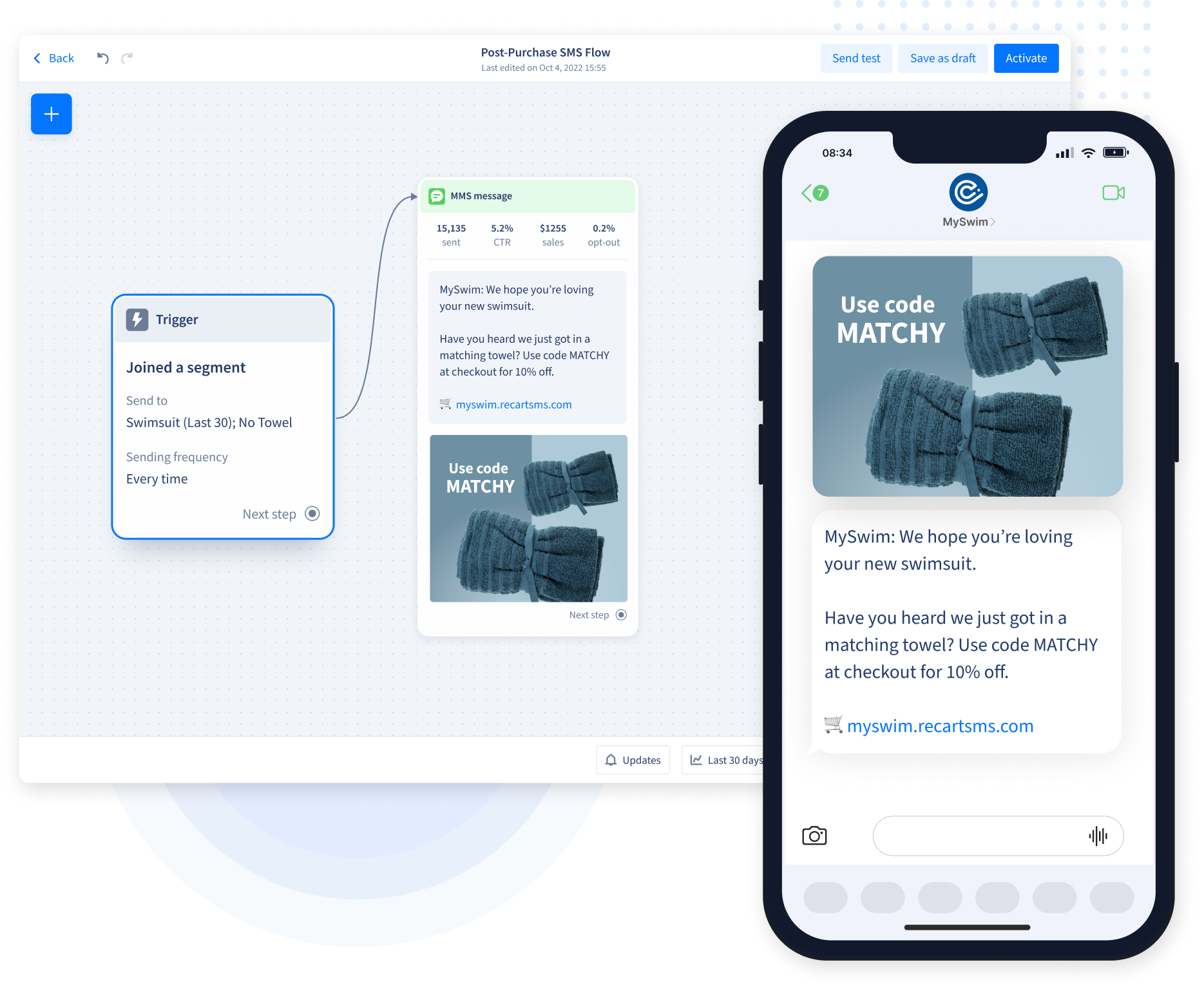 5. Time-Delayed Replenishment or Reorders
Perhaps the easiest orders to capture are repeat purchases for expendable items like food and cosmetics. The best part is that this replenishment flow can continue indefinitely.
Incentives are always an option, but if the customer was happy with the original product, a simple reminder can entice a re-order. In that case, consider playing up scarcity or another motivation to act quickly.
Since individuals might consume your goods at varying rates, you may need to do some testing to find the ideal time delay.
For subscription-first brands, this happens on a regular basis. That's why they would like to provide the best order management experience to their customers so that customers can skip, delay or order again at their convenience.
The best way to achieve this is by integrating your subscription tool with your SMS app. That way your triggers will be accurate and your messages will be delivered in the moment most likely to prompt action.
Loop Subscriptions for the best subscription management experience that seamlessly integrates with Recart SMS. It's a Shopify subscription app built on a modern tech stack that's 100% customizable, mobile-friendly, and completely self-serve for all types of audiences.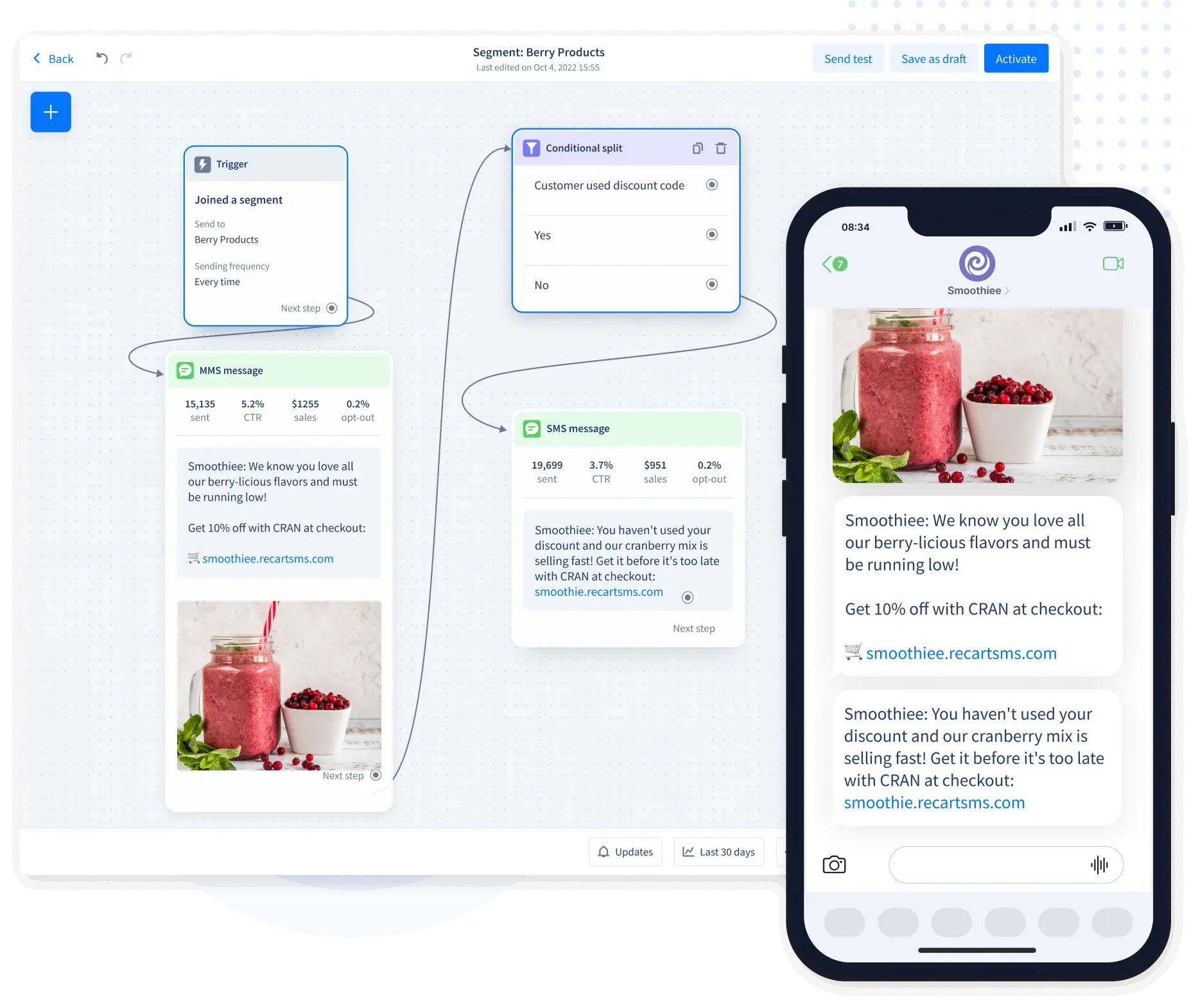 More automated flows to consider …
While the five flows above are foundational for every business, there are almost no limits to the kinds of SMS automations you can deploy.
Depending on the nature of your products and services, examine use cases such as:
Appointment reminders
Follow-up messages
Scheduling texts
Drip campaigns
Flash sales
With any of the above, your messages must be valuable to customers. Otherwise, you'll end up on the wrong side of the spam divide.
How do keep your automations from being (well) robotic?
That's exactly what we'll unpack next.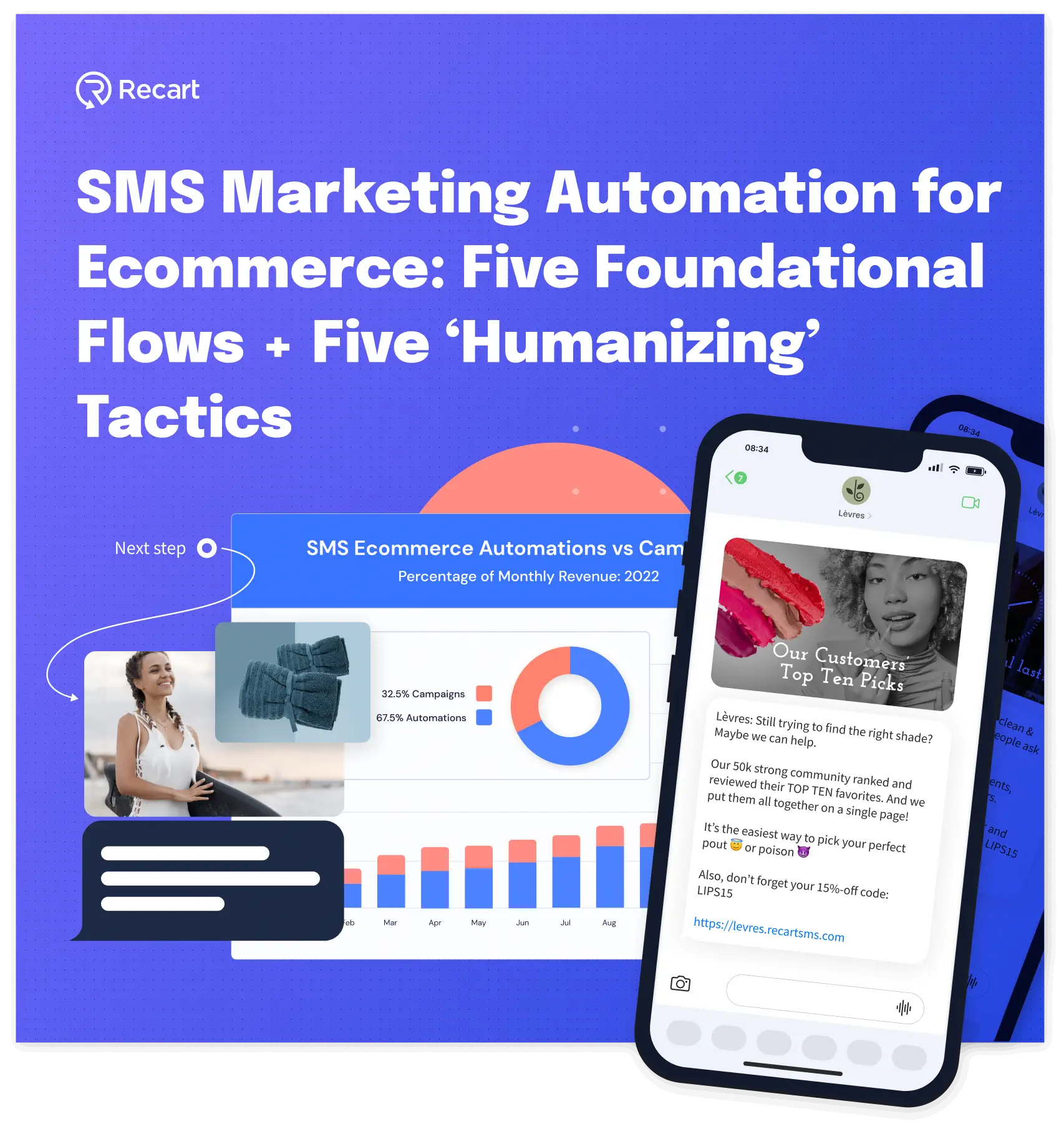 Five Tactics for Creating 'Human' SMS Automations
1. Support Customers With Real Humans
We've all been on the receiving end of poor, robotic, and inhuman customer support. Down an endless string of just-vague-enough keyword prompts to get your request in front of an actual human … hopefully anyway.
While automated texts can be tailored-made for promotions, you'll want real people at the other end of the "phone" to ensure your customers get the help they deserve.
A dynamic SMS platform should have both a two-way inbox of its own and support functionality built-in. It should also offer integrations for top customer service tools in the ecosystem.
Features and integrations like these will help you create a seamless, instant support setup that fosters love, loyalty, and retention.
Looking for a customer service app that's better than the rest?
There's one name we always suggest: Gorgias.
Why? It's an exceptional ecommerce helpdesk that turns your customer service into a profit center. It also boasts a long list of integrations — including Recart — and a centralized ticketing system. Easy 360 customer service at your fingertips.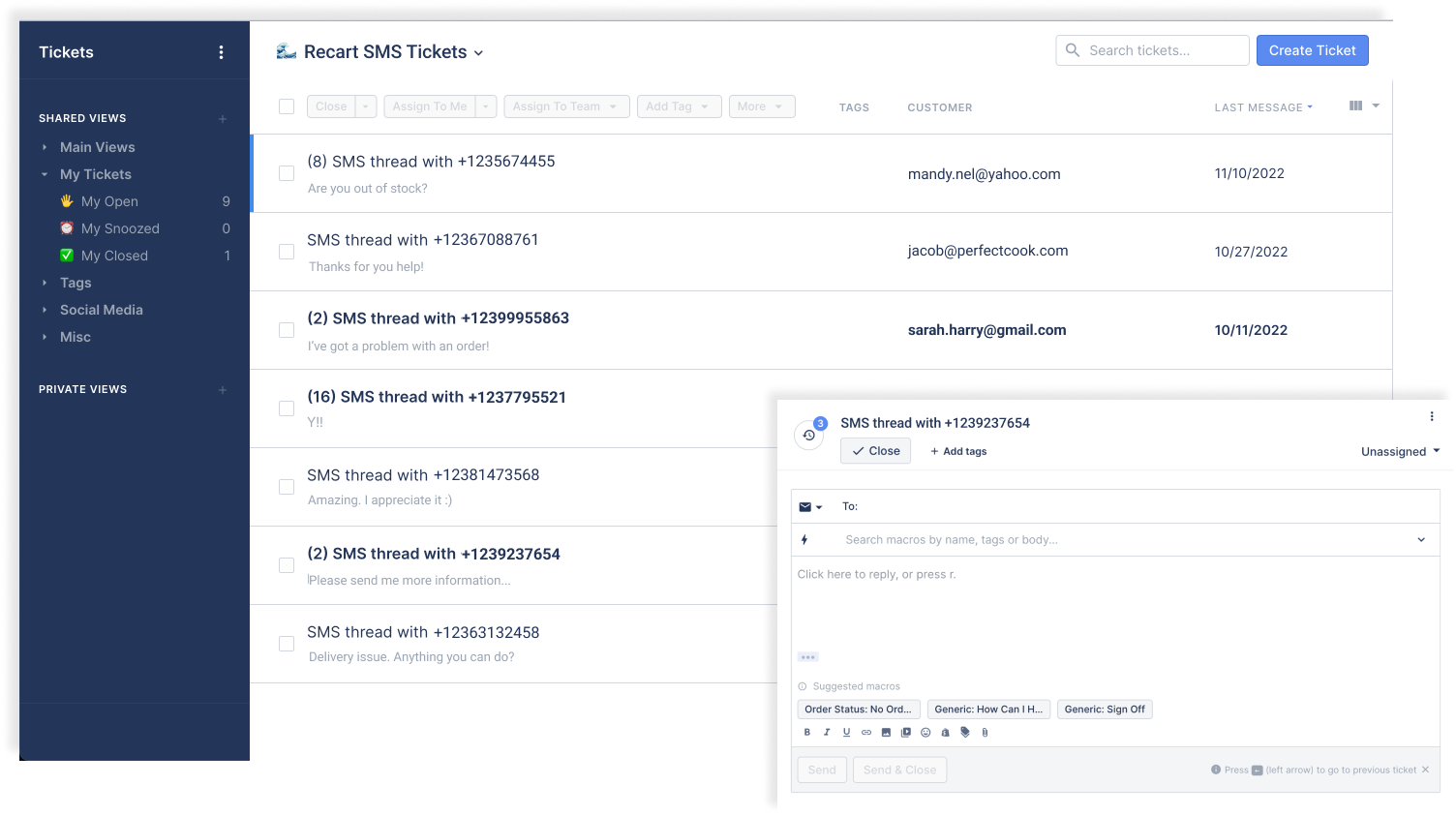 2. Personalize With Conditional Splits
Contrary to the fears of spam-phobic marketers, automated texts can actually be remarkably personal.
Strategically including or excluding certain segments of your contact list ensures that those messages will be relevant to the recipient's unique customer journey.
You can create conditional splits by combining subscriber data and actions such as:
New opt-ins
First purchases
Abandoned carts
Total dollars spent
Specific item orders
As an example, a new subscriber who has not yet added anything to their cart might be looking for additional information. A message spotlighting top products can be sent after a three-day time delay as part of a Welcome Flow.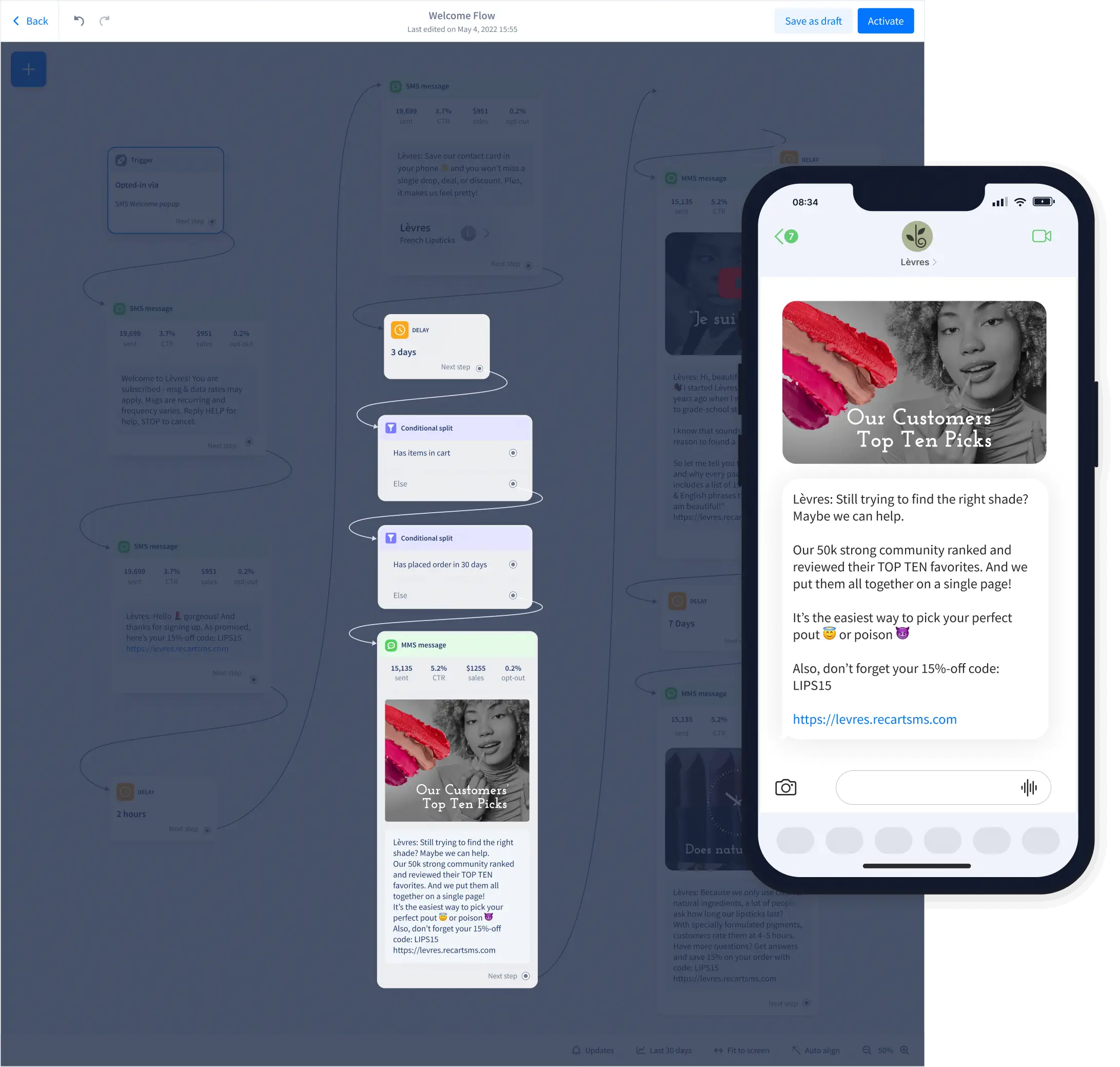 In contrast, a potential buyer who left items in their cart should be split off into a different flow. Send this highly motivated lead a reminder about their abandoned cart with an incentive to seal the deal.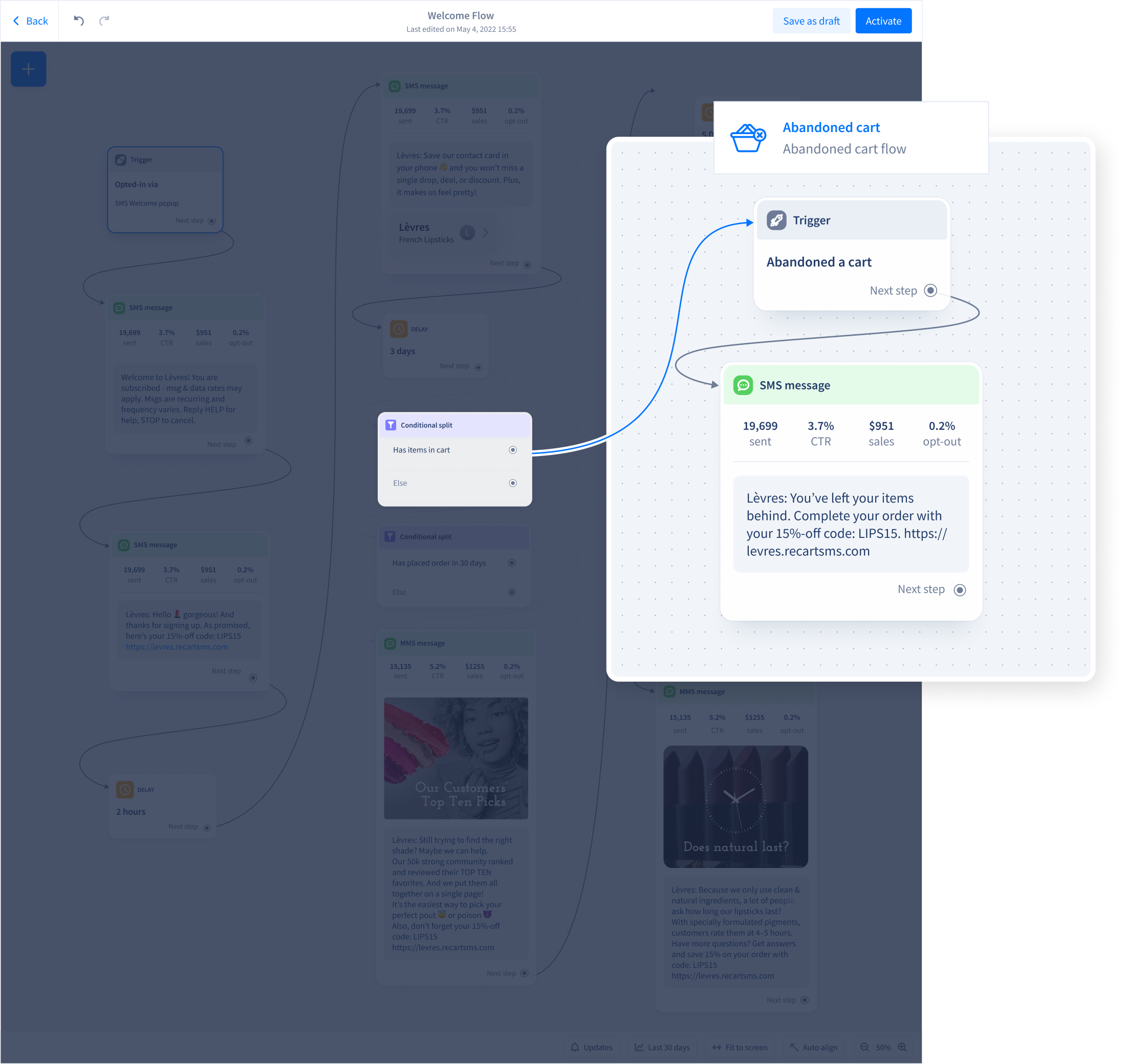 Likewise, the moment someone makes a purchase, they should be excluded from receiving any additional Welcome Flow texts … and moved into your transactional flows then on into post-purchase or re-order automation.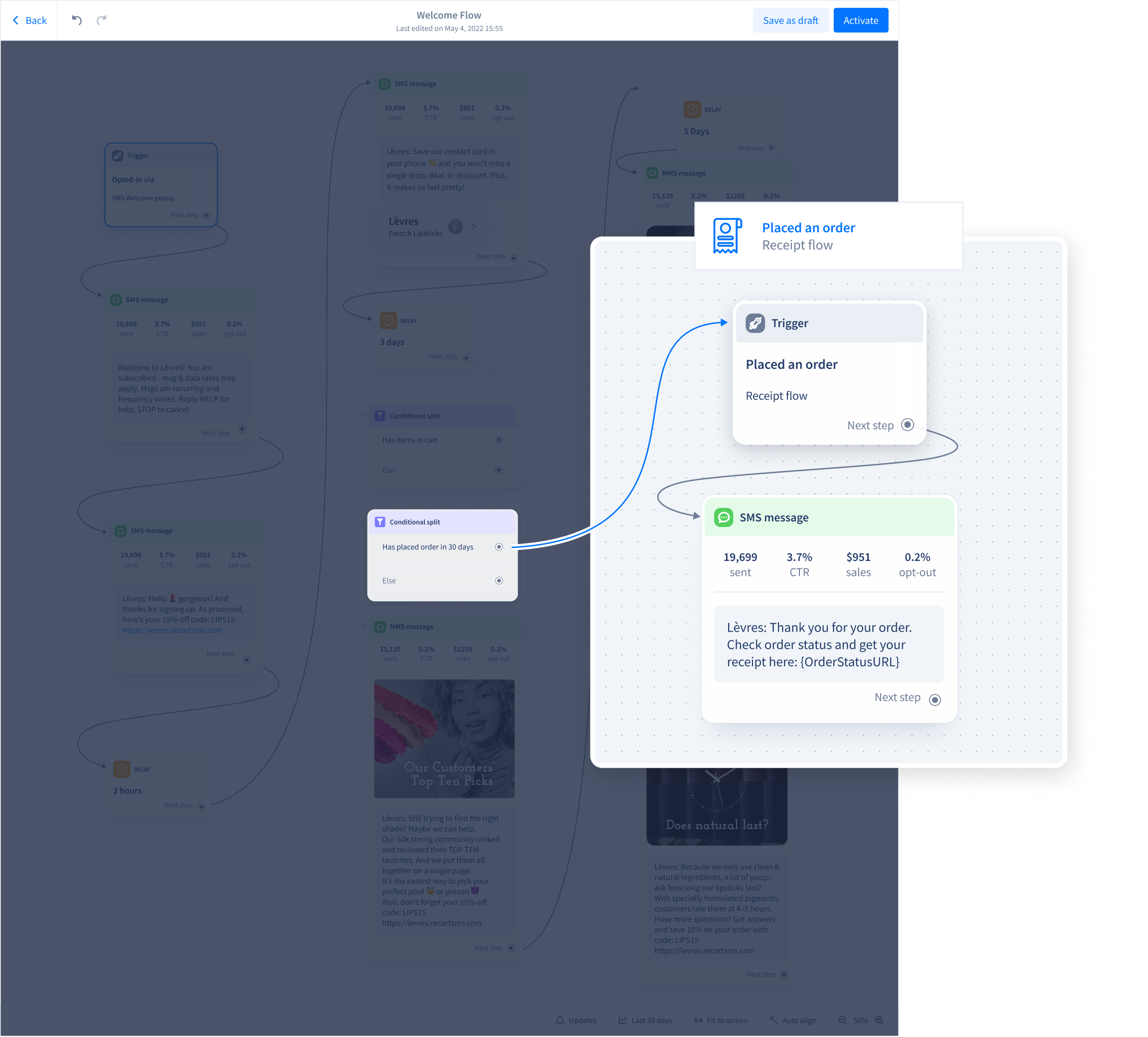 Conditional splits don't merely allow you to send relevant messages. They ensure that you avoid texts that would ruin the customer experience.
For instance, a "first purchase" discount code sent to someone who already checked out would make your brand look a bit clueless. It would also be a waste of money.
All these automation workflows may sound a bit complicated, but they are essential for good CRM. The good news is that once you program conditional splits for your various standard flows, you can sit back and let the "robots" work their magic.
3. Pay Attention to Timing & Frequency
Even if the "what" of your message is compelling, the "when" can make or break its success. As you set up your automations, be mindful of these considerations:
Many consumers are glued to their mobile devices, opening SMS messages nearly immediately. If your text is read at an inconvenient time to take action, it might be forgotten after newer alerts come in.
Testing can help you determine which messages get the highest customer engagement at what hours of the day.
Note: Texting promotional messages between 9:00 pm and 8:00 am violates SMS compliance laws. A platform like Recart has workflows that prevent sending text message marketing outside of "quiet hours" in the subscriber's time zone.
Not all timing is anchored to your other text messages. Automated flows based on subscriber actions should be programmed with appropriate delays.
Customers expect personalized receipts and fulfillment messages in real time. Offers for related products ought to be delayed until after fulfillment And, replenishment reminders must be timed to the ideal re-order window.
Lastly, a shorter cadence between sends during high-volume periods creates urgency — especially when your automated texts are touting limited-time offers.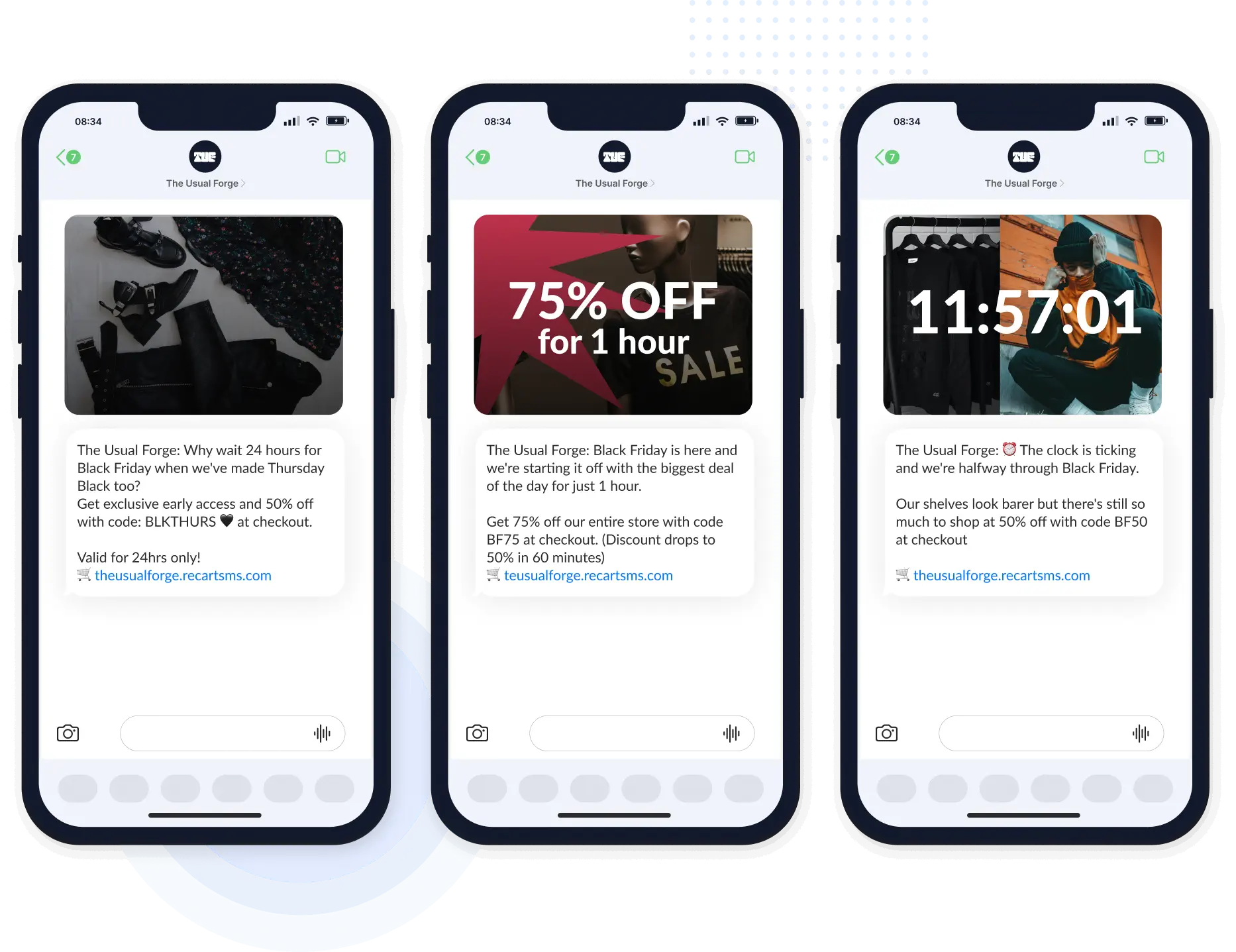 4. Get Conversational with Content
As with promotional SMS campaigns, automated flows should follow content-marketing best practices. Use a friendly tone, include an obvious call to action, and keep things straightforward.
However, none of that means you need to be boring.
Think beyond basic templates.
Product showcases in your Welcome Flow can take the form of a "did you know" snippet or a link to an instructional video. Short quizzes in the style of Buzzfeed can serve as recommendation engines. If it fits your brand image, a funny meme can be the launchpad for a cart abandonment reminder.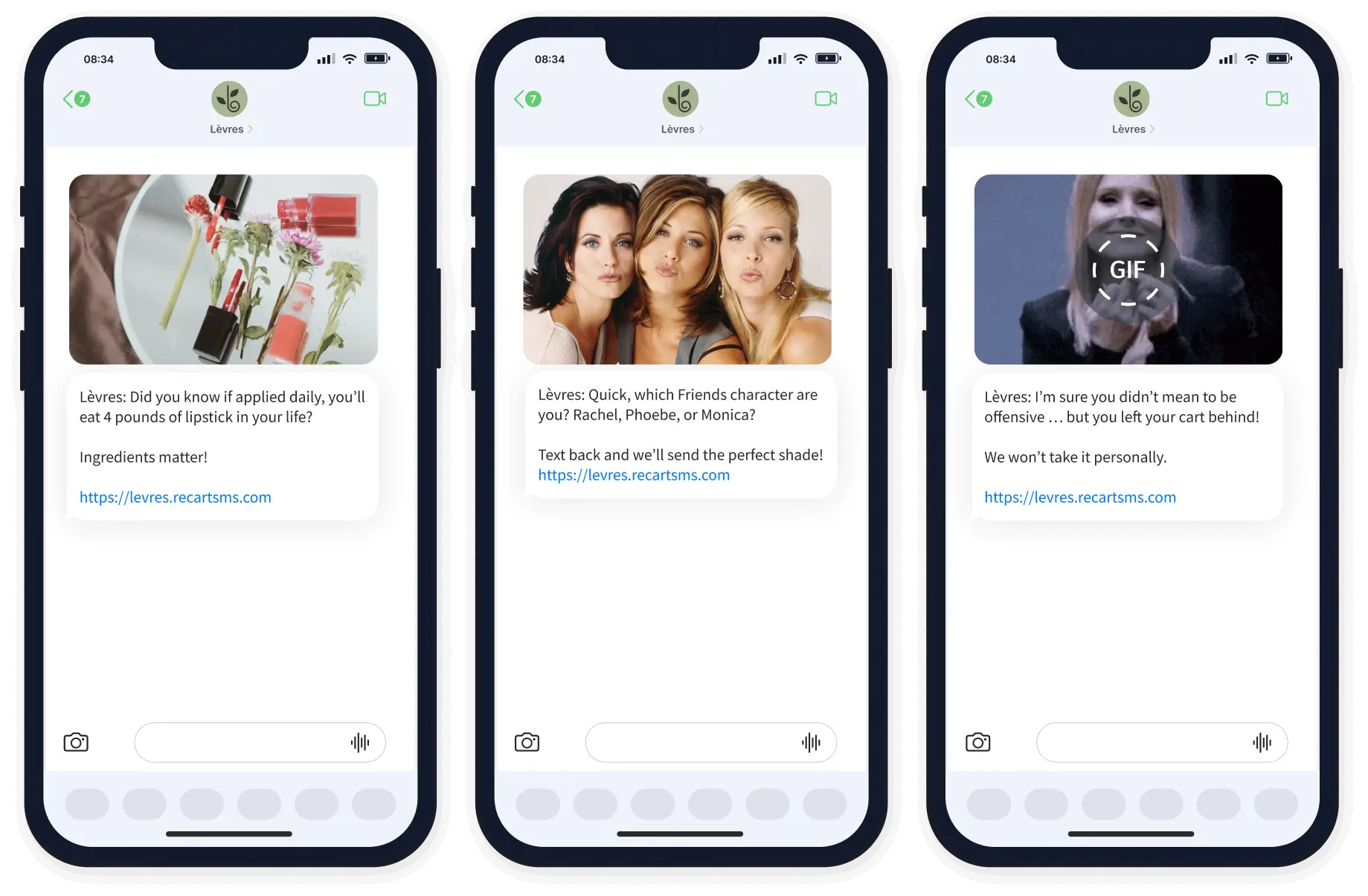 As an intimate channel, SMS should feel conversational, especially if you're equipped to engage in two-way messaging.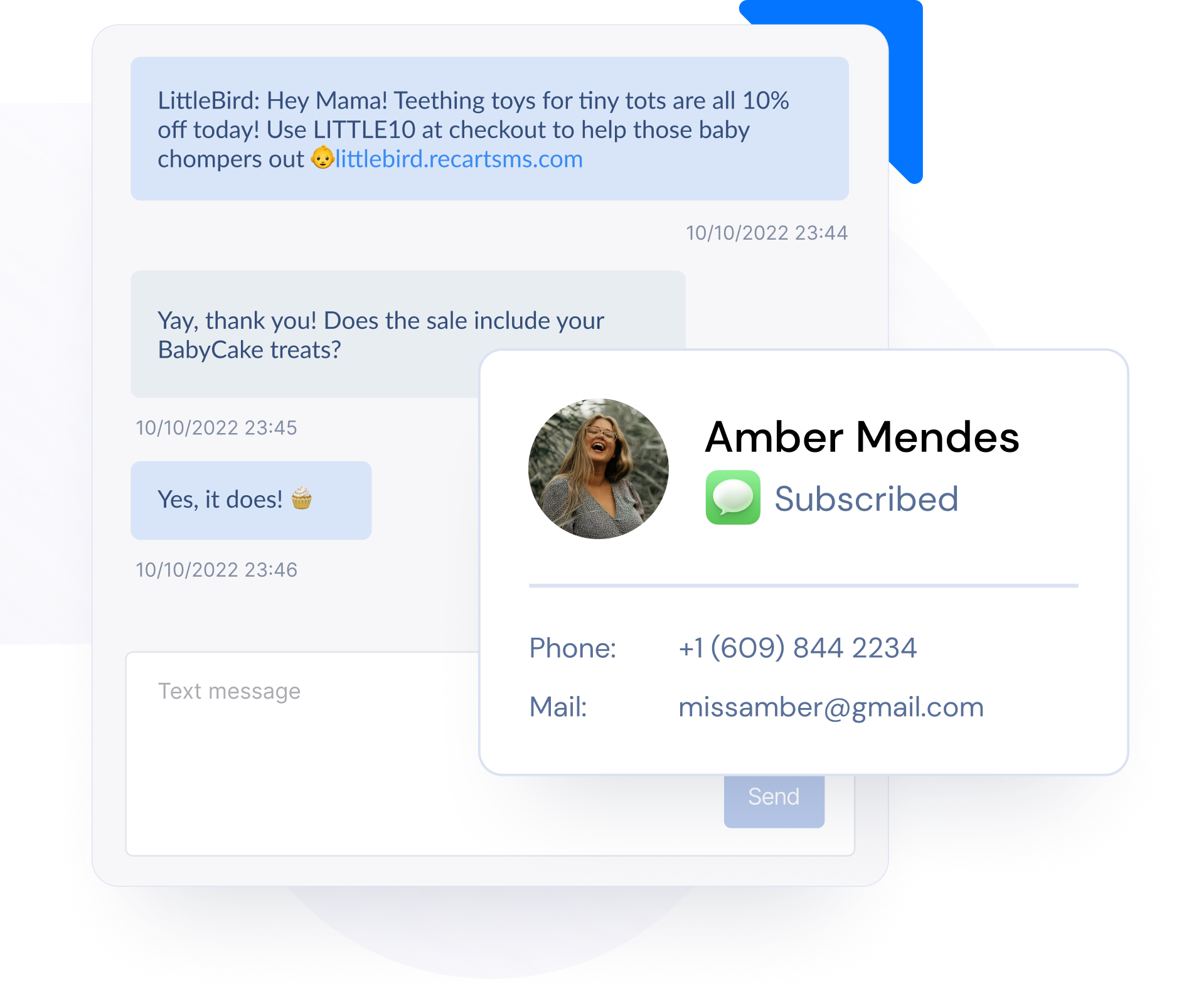 5. Use MMS Messages Strategically
MMS allows you to include images or GIFs plus longer character counts than SMS. In most cases, these visually engaging messages will produce higher conversion rates than text-only.
Of course, the cost per send is higher. Evaluate your ROI to see where an upgrade to MMS makes sense.
Transactional automations may not be the place to splurge. On the other hand, including a compelling image in a Welcome Flow product showcase might be worthwhile.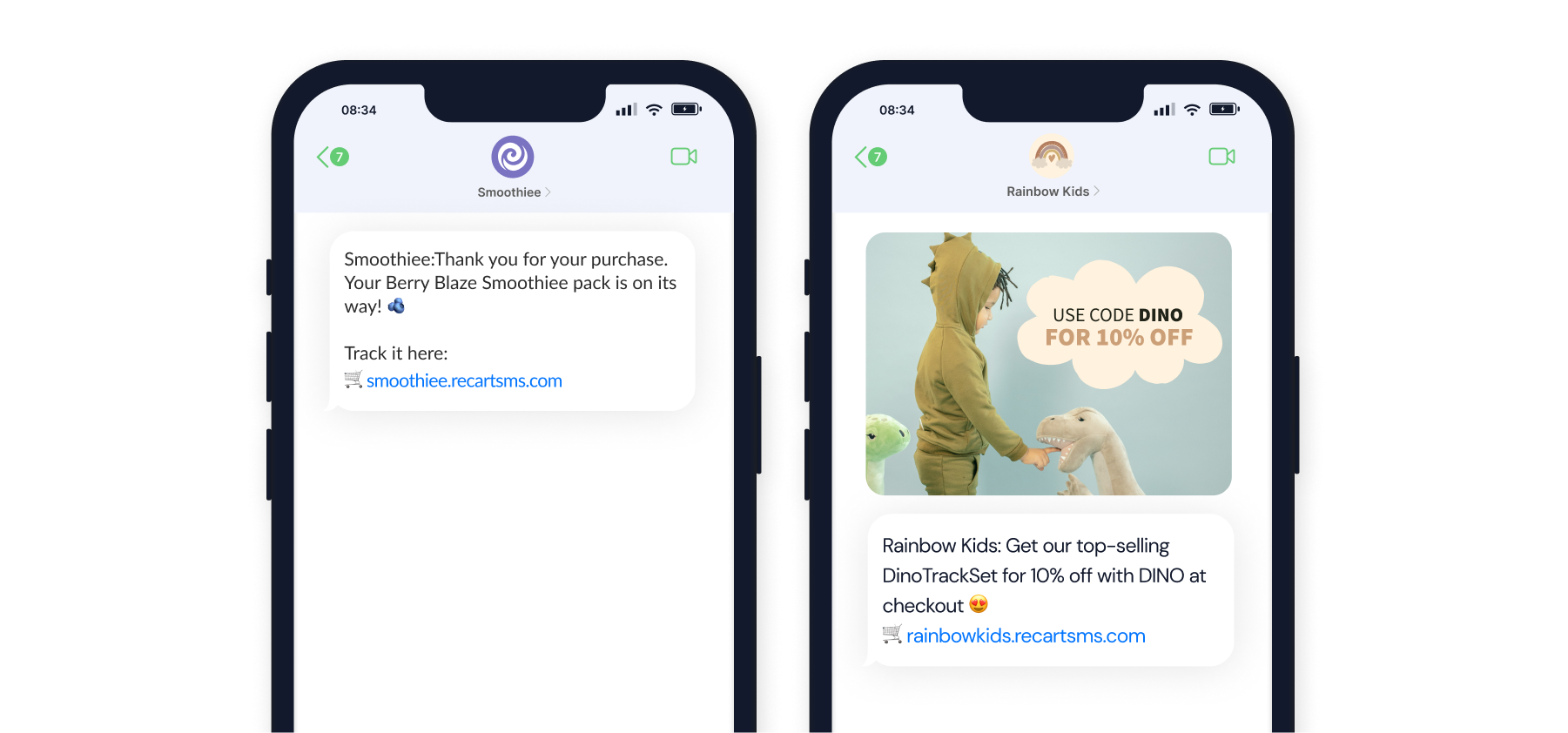 When you do spend extra for MMS, make sure to get bang for your buck. Feature your own imagery, not generic stock photography. Where possible, reinforce your CTA with text overlays on images. And, even though MMS allows for extra characters, keep your copy streamlined.
Start Generating Effortless Revenue With SMS Automations
By now you should be convinced that automated SMS marketing doesn't have to be spammy. In fact, when you follow our five best practices, these timely text messages can be among the most personal and relevant for your customers.
Setting up the five fundamental automated flows is a proven way to immediately start generating incremental sales for your Shopify store.
Make sure you have the right SMS marketing tool to easily capitalize on automation. If you want an all-inclusive solution, Recart is your marketing software hero. Schedule a 30-minute demo of our SMS platform and get started within 48 hours.