Last week we wrote about our new and unique Messenger Add to Cart Popup. It is an indispensable subscription tool that appears at a perfectly calculated moment. However, it is essential to add an effective text to make the most out of it: a little copy can go a long way. In this post, you will find out how you can make a popup become not only a subscription tool but also a marketing tool.
Our messenger Add to Cart Popup comes with three different headers to choose from, and the images can serve different purposes: you can urge the customers to subscribe by offering them to stay in touch, to have a discount or to have free shipping.
Below you can find nine ideas for titles and copy that can go in the popup – but remember that a text well-customized for your brand is the best way to go.
Join the club on Messenger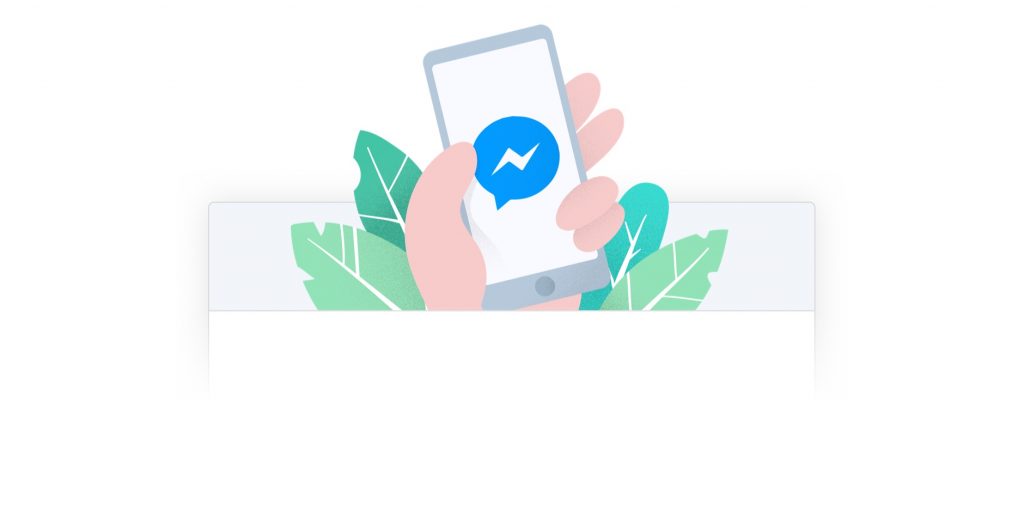 The phone-in-hand header obviously symbolizes staying in touch, being able to receive news and updates. ????
Title: "Want to stay in touch?"
Without being too pushy, you can grab the customer's attention with a question mark. Let them know that by subscribing they can hear something useful from you. Tips and tricks, for example.
Copy: "Subscribe and get useful tips, news, and updates from us right in your Messenger inbox. Plus, you will always be the first to know when we have hot deals."

Title: "Can we text you some time..?"
A playful, yet light tone will entertain the customer and help you build your brand image. If you're brave and know your audience well, apply it not only in the title but in the copy too.
Copy: "Subscribe now and stay in touch – it would mean a lot to us. We will notify you about our updates and send you helpful tips. Only useful stuff! Promise."

Title: "Quick question?"
The wording of this one points at urgency, it is the "ain't nobody got time for that" kind of world after all. So why not keep it short but efficient? You can promise something of value in the copy and set up your Messenger Welcome campaign's Discount Widget (you can remove the discount button if you wish) to offer the customers something valuable right away.
Copy: "Would you like to get our best 7 practices? Subscribe on Messenger and we'll make sure to send it to you right away. And there is much more where this comes from. Stay tuned!"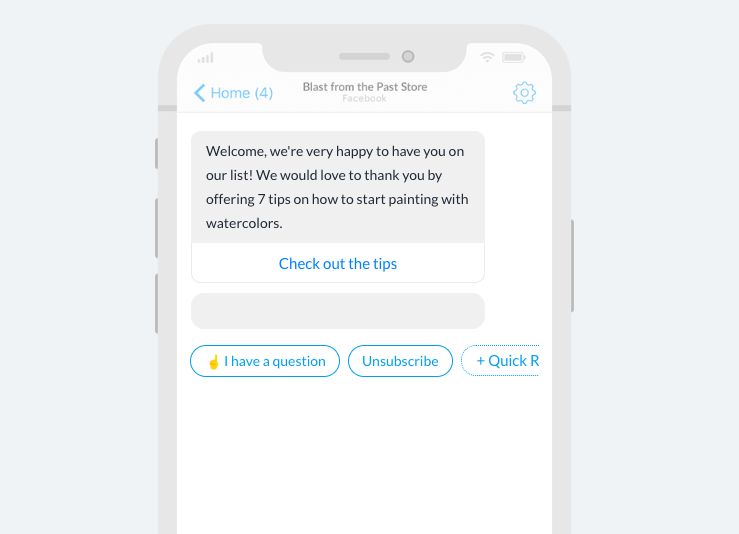 Get a discount for subscribing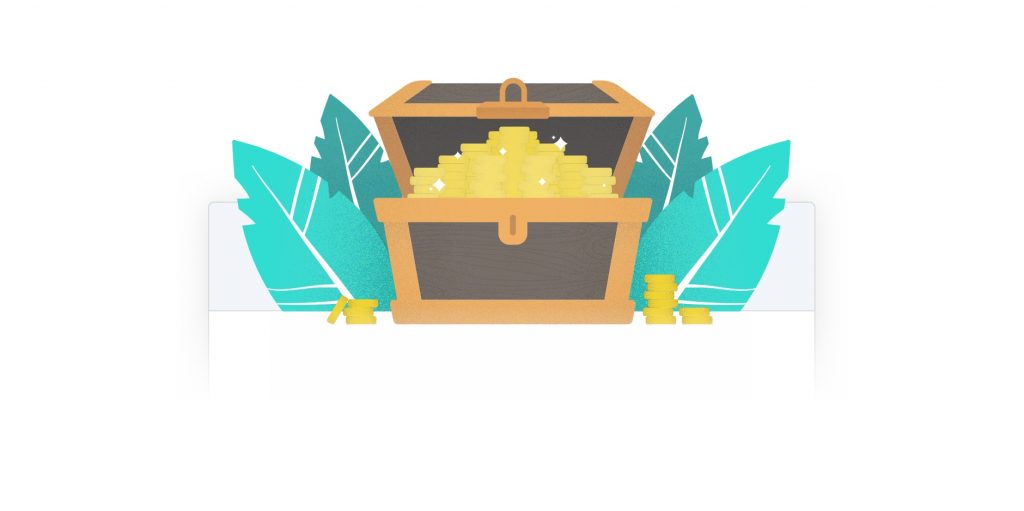 Golden coins speak for themselves.???? Offer an attractive discount in return for the customers' subscription.
Title: "Hold on! We have something special for you."
Clear and effective communication is something you want to use in a small text box. Let the customers know what is about to come and present it.
Copy: "Subscribe to us on Messenger, get a 15% discount now and more useful news and updates later."

Title: "Can you hold this for us?"
Humor is a popular move in marketing, and it should not be overlooked: it is linked to higher recall and brand differentiation. Note: always be careful and never cross a line by making a joke that could be potentially offensive. Let's stay away from anything risqué.
Copy: "We really want you to have this 15% discount. Subscribe below to get the discount and other useful stuff like tips and tricks, news and…more discounts."

Title: "We really like you. So here's a little present."
Discounts come handy for building a customer base. To the point that "91 % of redeemers said they'd revisit a retailer after being offered a coupon". By offering a discount in the subscription flow, you simply make it easier for the customers – their re-visit is just one Messenger conversation away.
Copy: "Please use our 15% discount by subscribing on Messenger. Then we could send you even more good stuff in the future. We did say we really like you, didn't we?"
Get free shipping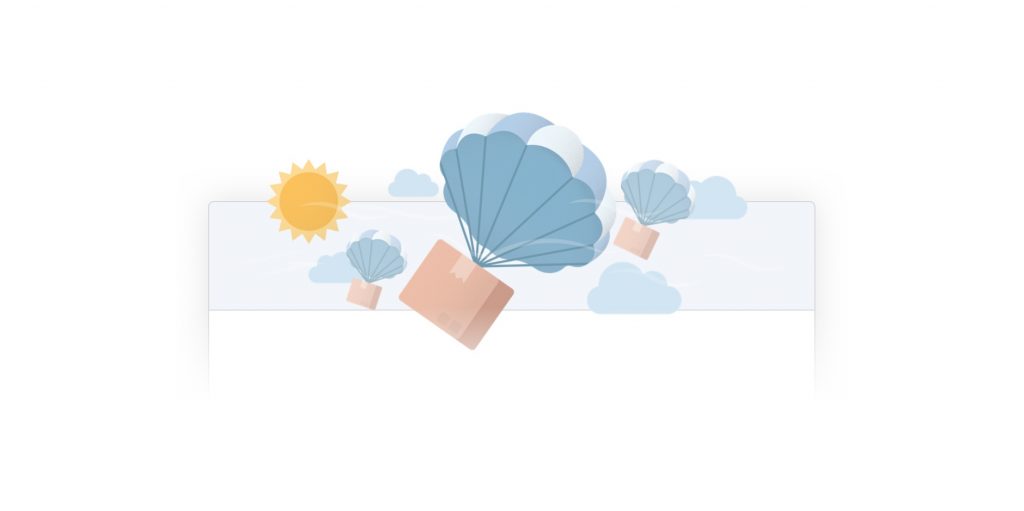 Free delivery is a nice final touch on a purchase. Apply the value of free to attract more customers to the Messenger subscription list. ????
Title: "You enjoy your purchase, and we take care of free shipping."
A customer can easily rationalize an online purchase if shipping is free – no additional cost feel like as if they went to a store themselves. Very helpful as "unexpected costs" is one of the main reasons for abandoned carts.
Copy: "Simply subscribe to us on Messenger to receive free shipping. No stupid stuff there, we only make offers as good as this one."

Title: "We really want you to have this, so shipping is on the house."
Inviting customers to subscribe on Messenger is an invitation to establish a relationship. And like with any other relationship, you want to create a sense of trust and show them you care. Mind you, emotionally intelligent brands do tend to have a better conversion.
Copy: "Go ahead and subscribe on Messenger and we'll cover the shipping. Now you can always easily reach out to us and get our tips, latest news, and discounts in your inbox."

Title: "Interested in free delivery? More info below!"
Keeping it short and going for minimalism in your copy is definitely an approach to consider: just be brief and precise.
Copy: "Subscribe to us on Messenger and get a free delivery now and even more benefits – later."
Have a question or want to share a piece of copy that worked for you? Reach out to us on the Recart Dashboard or on our Facebook Page.
We'd love to chat!