89.09% of your site visitors won't even add an item to their cart.
78.65% of those who did will abandon their cart before purchasing.
88.5% of those you target with abandoned cart emails won't even open them.
That's huge right. At every step of the traditional ecommerce funnel you're losing a huge majority of your potential sales.
It's why there are so many articles on things like improving email open rates, driving more traffic, and increasing the conversion at every stage.
But even with those increases, you're still losing more than 50% of your customers at every stage.
Now, I've seen the incredible potential of Messenger marketing. Conversational commerce is the future of ecommerce, and brings far higher engagement rates than email.
But it's still not perfect. There are still improvements that can be made to your Messenger marketing campaigns. And I'm going to run through a couple of smart tactics to help you improve user engagement through your Messenger campaigns.
What Should You Be Aiming for?
Email has a tonne of stats that outline the industry average so you can easily understand what to aim for.
Messenger, on the other hand, is a brand new channel. There is, as of right now, very little in terms of best practices or industry averages.
And honestly, here at Recart we see stats all over the place. However, if there's one thing we can say it's that Messenger consistently drives more engagement than email.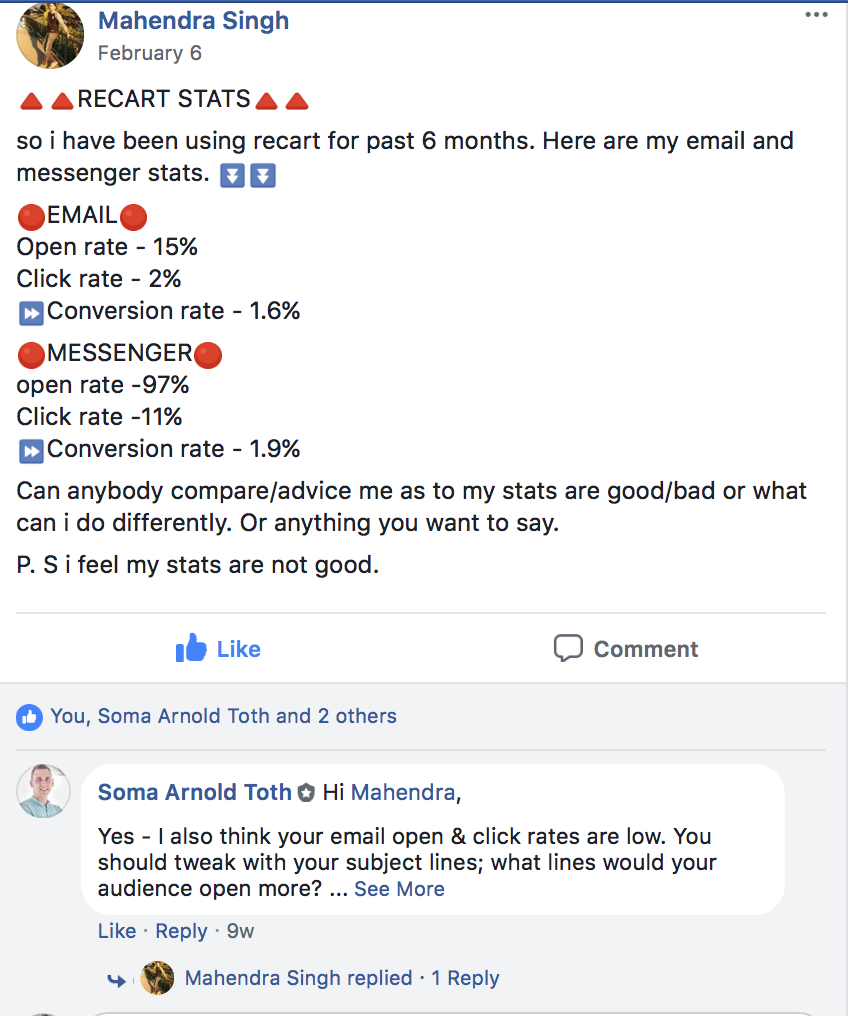 From the Recart Shopify Success Group (Join here!)
Messenger blows email out of the water when it comes to engagement. But even with vastly higher opens, clicks, and conversions, you should never take a break from improving your current levels.
Below, I'm going to outline a couple of key elements you should be testing and implementing with your Messenger marketing to continually increase engagement and conversions.
KISS (Keep it Simple, Stupid!)
I'm a member of various chatbot groups on Facebook and I see people brag about 2 major things:
The amount of revenue they're driving and how amazing their bot is
The complexity of their automated sequences, message flows, and bots
The first is something you should be bragging about. The second, less so.
There's a tonne of folk out there who think that having multiple triggers, complex flows, and dozens of messages all stringed together is something to aim for right off the bat.
But it's not.
I mean, let's imagine you're running a flow like the below.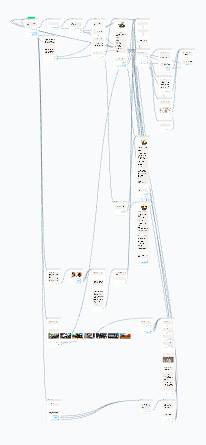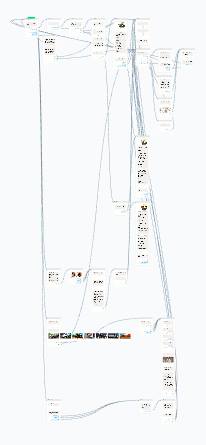 Now, imagine there's a problem with that sequence.
Maybe some of the messages don't fire, there's a glitch sending the wrong message at the wrong time, or even that your sequence just suddenly dies.
How are you going to find that issue? How long will it take you to pick apart the sequence and figure out where the problem is?
Long time, right? And every hour you spend trying to figure out the fix is an hour not converting subscribers into customers.
I'm not saying complex sequences are bad, just that you should build up to them.
In fact, if you've not yet started with Messenger then you should really be focusing on individual key actions like recovering lost carts with between 1-3 messages.
That should be your focus. Find one metric you want to increase and test a small number of messages to see what has the most drastic effect.
Don't get drawn into the complex sequences other marketers love to gloat about online. They may look impressive, but they can become a nightmare to manage when you need to go in and change things.
KISS for Copy As well
Email marketing is the medium that's most often compared to Messenger marketing, and with good reason.
They're both direct lines to your ideal customers. Both allow you to converse with a user on an individual level, right?
But that's kind of where the similarity stops.
There are three huge differences between email and Messenger which are the primary reason Messenger is so much more effective at driving engagement.
With email, you can send messages that are hundreds or even thousands of words long. That requires a massive time investment from the recipient, a time investment which is becoming more and more difficult thanks to diminishing attention spans.
With email, you have to be careful not to fall into the user's spam folder, something that you'll often not even know about.
With email, you're talking AT your audience. With Messenger, you're talking with them. This conversational approach to commerce is the future for online store as it provides immediate, more relatable messages.
And it's that last point you need to remember when you're writing your messages.
If you want the highest engagement rates, remember that with Messenger you're looking to establish a conversation with the user. You're not talking at them, but conversing with them.
To get even higher engagement rates you need to remember the below golden rules:
Keep your copy short and to the point
Ask questions to elicit action and give the feeling of a dialogue
Use images or gifs to grab user attention
Below I've dropped a great example of this in action from Ezra Firestone. Whilst the message itself isn't ecommerce related, it's a great example of how to write killer messages.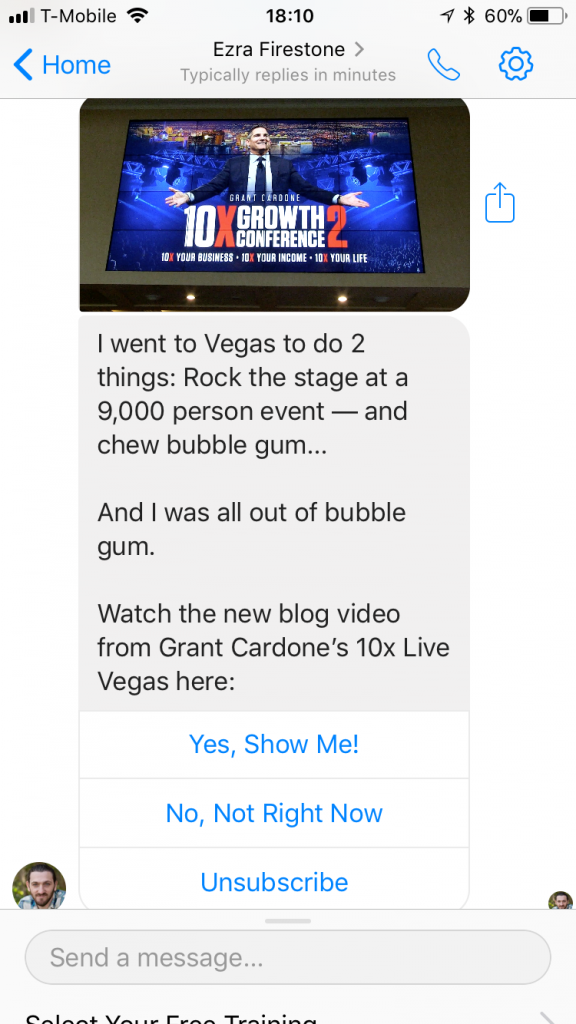 If you're ever stuck when drafting your next Messenger message, I've got a little tip for you.
Think back to the last time you were in a store and bought something whilst being advised by a sales rep. Think back to the way they convinced you and you'll likely remember that they weren't overly pushy or didn't simply talk at you.
No.
The most successful salespeople, and Messenger marketing approaches, engage the customer and let them lead the conversation.
Think about what questions you can ask to help understand the user's pain points and needs. The kind of questions that lead to live chat conversations that allow you to genuinely help the user.
Through those live chat conversations you'll better understand your ideal user and the language that best resonates with them. Then, you can leverage that knowledge to increase the effectiveness of your simple Messenger campaigns.
Directional Cues
Before I move on, I want to briefly touch on another element that should be considered when writing messages for higher engagement.
You have to think about more than simple words. In other articles, I've detailed how the inclusion of the below elements can increase conversions.
1 – Gifs
2 – Emojis
3 – Images
It's generally because modern message chats with friends make use of all three. Including them in your promotional material makes the chat feel more authentic and of course, there's the added benefit of breaking up large chunks of text.
But there's something else that these elements help with.
If you've been a fan of copywriting or CRO for a while you've likely seen the long form landing pages that implement big ol' arrows to direct your attention.
Here's a heatmap from the ConversionXL team showing how directional cues, like arrows, effectively direct the user's attention.


That arrow is one of the major points of interest on the page for users, right? There's a tonne of attention afforded to it and it's directing user attention to the form they want people to fill in.
You can leverage a similar approach in your Messenger messages.
Here's an example from eBay's chatbot and their effective use of an emoji to direct attention to an action.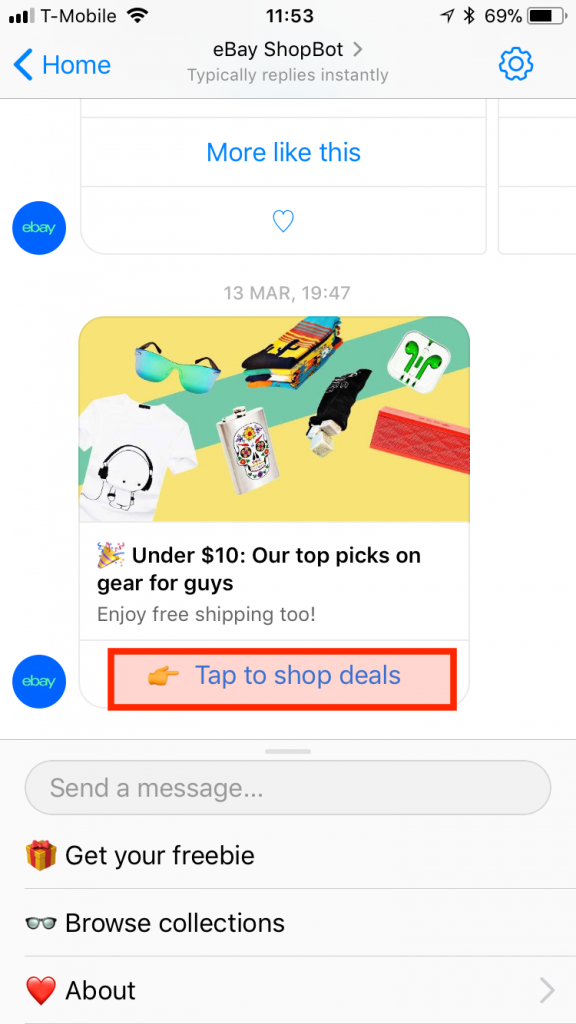 The little pointing hand directs user attention to the button. You could also use a gif like the below to draw the user's eye to things like: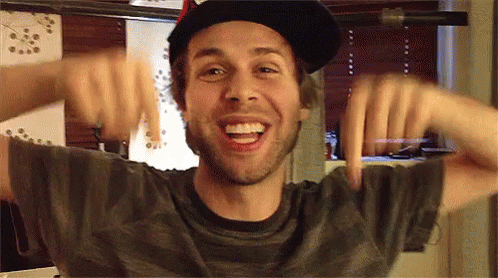 Killer deals
Next steps
Purchase options
Or important elements of your messages
There's a lot of advice on using more visual elements to help your messages stand out. But don't just slap any old gif or emoji into your messages for the sake of it.
Think about user attention and where it should be, then use those visual elements to direct their attention to the most important elements of your message.
Send Messages Immediately After They Opt-In
If someone gets in touch with your store or opts-in to receive updates via Messenger, it's a pretty good indication they want some support or their incentive right now.
Don't just collect the user's details so you can spam them with your next offer, get in touch right then and there.
Set the expectation that you will be communicating via the channel, and offer something right off the bat to get them involved with your brand.
When running tests on this with email, Lumosity discovered that emails sent the same day as a user subscribed achieved "significantly higher" conversions and a massive jump (81%) in web traffic.
It's the same with Messenger.
When a user subscribed to your Messenger list, their intent is peaking. They've just basically told you that they are willing and open to hearing more about your offers and products.
It's an opportunity you don't want to miss and here's how easy it is to set up within Recart's Dashboard.
So be sure to have a welcome sequence set up that sets the expectation of the user and takes advantage of that incredibly high intent with a financial incentive.
Personalization
Relevancy is key to successful marketing.
The days of sending one generic email to hundreds or thousands of people are long gone.
People want personalized shopping experiences. They want to feel like the brand knows and values them as an individual. According to Shopify:
75% of consumers like when brands personalize their messaging and offers
74% of consumers become frustrated when content is not relevant to them
Personalized experiences can increase conversions by 8%
Thing is, sending personalized messages to each consumer is, as of right now, beyond martech's capabilities. You can, however, group people into groups and send the most relevant messages for that specific group.
Let's look at a few examples.
On the most basic level, follow-ups Messenger personalization is triggered by an on-site event. Most commonly with Messenger, you're looking at a user who adds an item to their cart and then abandons.
You follow up with a message that reminds them of that specific product in an attempt to get them to convert.
But you have to go beyond those basic follow-ups.
For the most effective personalization, you've got to send messages based on triggered actions. The below are just a few automatic campaigns you should be thinking about setting up with a few tips on how we'd recommend you follow up.
1 – Targeting Big Spenders
People who spend over a particular threshold are perfect for future marketing efforts. These people are obviously in love with your brand and products, so why not offer them a small incentive to come back to the store? Say, 10% off their next purchase. If they've already spent hundreds or thousands, you can easily eat that 10% and will probably come out with far more money.
2 – Repeat Purchase Incentives
The only thing that makes a new purchase better, is a secondary purchase that adds even more value and use to the original purchase.
Like a killer tripod for that DSLR, awesome laces for your brand new sneakers, or a special case for your new smartphone.
Not only are these cross-sells going to increase your AoV, but they add to the shopper's experience. They make the product they purchased feel even more special.
We've found the best way to facilitate these through Messenger is with the Messenger Receipt Campaign. When you send a user a receipt for a product, you can incentivize that next purchase.
3 – Recent Engagers (and Those Who Haven't)
One of the rules of Messenger is that you're only allowed to send promotional materials to those who have engaged with your store's Messenger within the last 24 hours.
Recart automatically filters these recent engagers from those who haven't to stop you getting hit with a ban. However, if you're not yet using Recart, here's how you should message each group.
For recent engagers, we recommend following up with a relevant message to their last action. That could be asking a question, abandoning a cart, or simply letting you know what kind of products they're interested in.
Within that 24 hour period, we recommend following up with a sales related message.
If, however, someone is on your list and hasn't engaged within 24 hours, you need to tempt that engagement out of them. We recommend keeping in touch with these users regularly with non-promotional news updates about your store/the industry.
This is going to keep your brand top of mind bringing them back to you when they are ready to purchase.
Of course, the easiest way is to implement Recart's built-in solution which will have this campaign up and running in minutes.
Facebook's 24+1 Rule
Before moving on, want to quickly explain a little more about Facebook's 24+1 rule.
This is the rule mentioned above, the rule that prevents you from spamming users with promotional content if they've not engaged within 24 hours.
If you're caught breaking this rule, Facebook can revoke your Messenger privileges. They can, in extreme cases, even ban your page – so you've got to know how to play by the rules.
If you do have a brand new flash sale coming up that you want to send to everyone on your list regardless of their last engagement, Recart has you covered.
We developed a specific campaign that plays by Facebook's rules but also resets that 24-hour window so you're able to send your promotional message.
Here's a quick image of the dashboard view. You can see that you send a message that falls under a news message, but that is then automatically followed up with a promotion as soon as the user responds.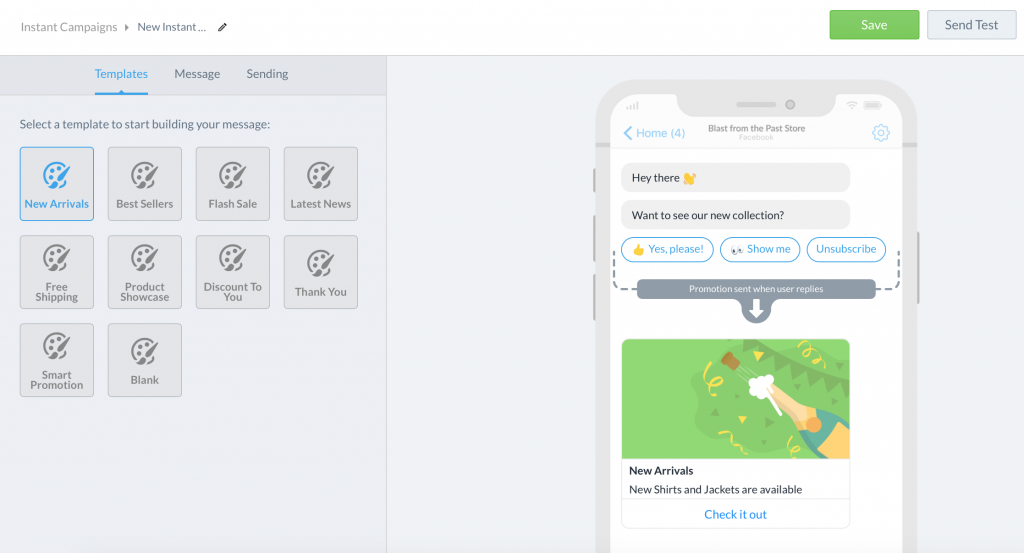 In short, you send a nonpromotional message that gets the user to engage. Then the automatic follow up is the promotional message.
This will allow you to continue marketing to your whole list and thus crease overall Messenger engagement.
Continually Optimize
As with any marketing, there's no such thing as set it and forget it.
We've put a lot of time and effort into building push-button solutions for you and your store, however, they're intended to get your Messenger marketing off to a good start. They are not perfectly suited to your audience.
If you want to continually improve the effectiveness of your marketing through Messenger, you have to continually test different elements. This is by no means an exhaustive list, but we'd recommend experimenting with the below to start out:
Message tone / Copywriting – this will include the use of emojis, gifs, images etc
Frequency and Timing – Should you send 3 cart abandonments equally spaced over 24 hours? 2 within 5 hours, then 2 more over the remaining 19?
Complexity of sequences – although we recommend starting simple and building from there
The list goes on. You'll find more test ideas as you experiment more with conversational commerce and the capabilities of Messenger.
If you've got any questions or want to add something to this piece, feel free to reach out to our customer success guys or drop a comment below.