The (Google) Gods have spoken.
And, not so different to the tales of old, their proclamations were met with panic, frenzy, and disappointment.
If you keep up to date with Google's algorithm changes then this won't be a surprise. Every time they mix things up, webmasters across the globe panic.
Everyone thinks the changes are going to cause their business to lose the majority of traffic and take a huge hit in revenue.
And sometimes, that can happen.
In recent months, Google's rolled out an update nicknamed Fred. According to Barry Schwartz, the update has caused some sites to lose up to 90% of their traffic.


And so, as is always the case with algorithm changes, there's been a slew of articles detailing what the update is and how it's going to affect your traffic.
So why after more than a few months are we rolling out an article which once again touches on just another Google update?
Well, the reason is simple. Interest around the Google updates often peaks around the time of implementation, but quickly drops off to nearly nothing.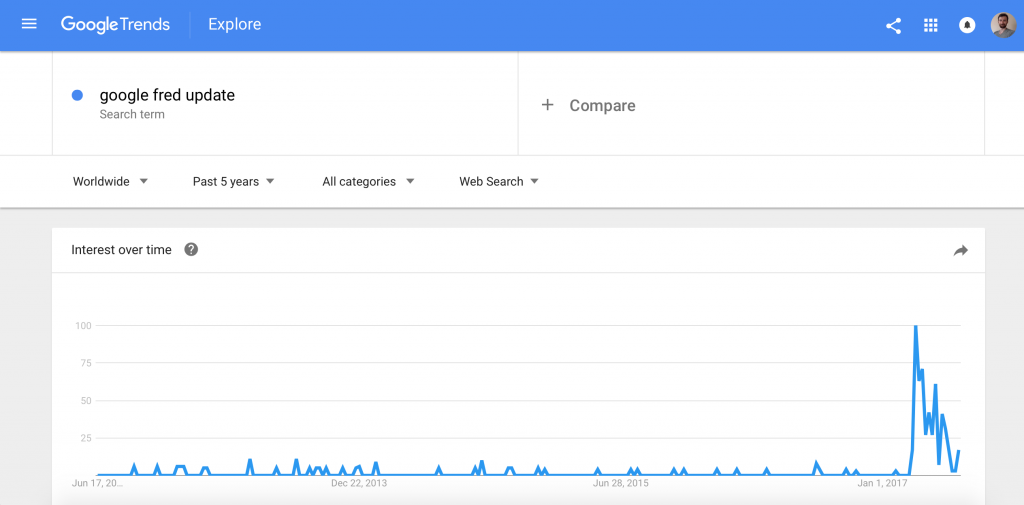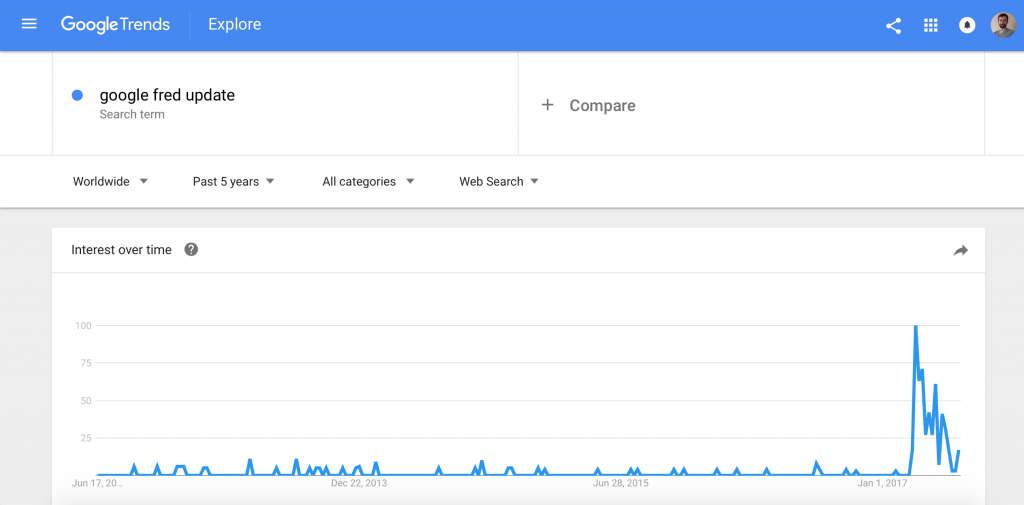 That doesn't mean the problem goes away though. In fact, many algorithm updates are precursors for future updates and amendments. Algorithm changes today set the direction and path for future updates.
Just because the initial buzz has passed doesn't mean your interest should wane.
Today I'm going to address a few processes which detail how to not only recover, but also future proof your business from the Google update announced in August 2016.
Yup, that's right. I'm going back nearly a full year and covering the update that is a key step in how Google ranks your mobile site.
Why? Because more and more people are using mobile in their eCommerce purchase journeys, and it seems like Google is going to continue on their path of mobile optimization.
So let's break it down.
What are Google Penalizing Now?
The algorithm change implemented at the end of 2016 penalizes those who use intrusive overlays on their sites. Google's dubbed them intrusive interstitials, but all they're basically penalizing are popups that obscure information or make the browsing experience a pain in the ass.
Here's what they list as an intrusive interstitial.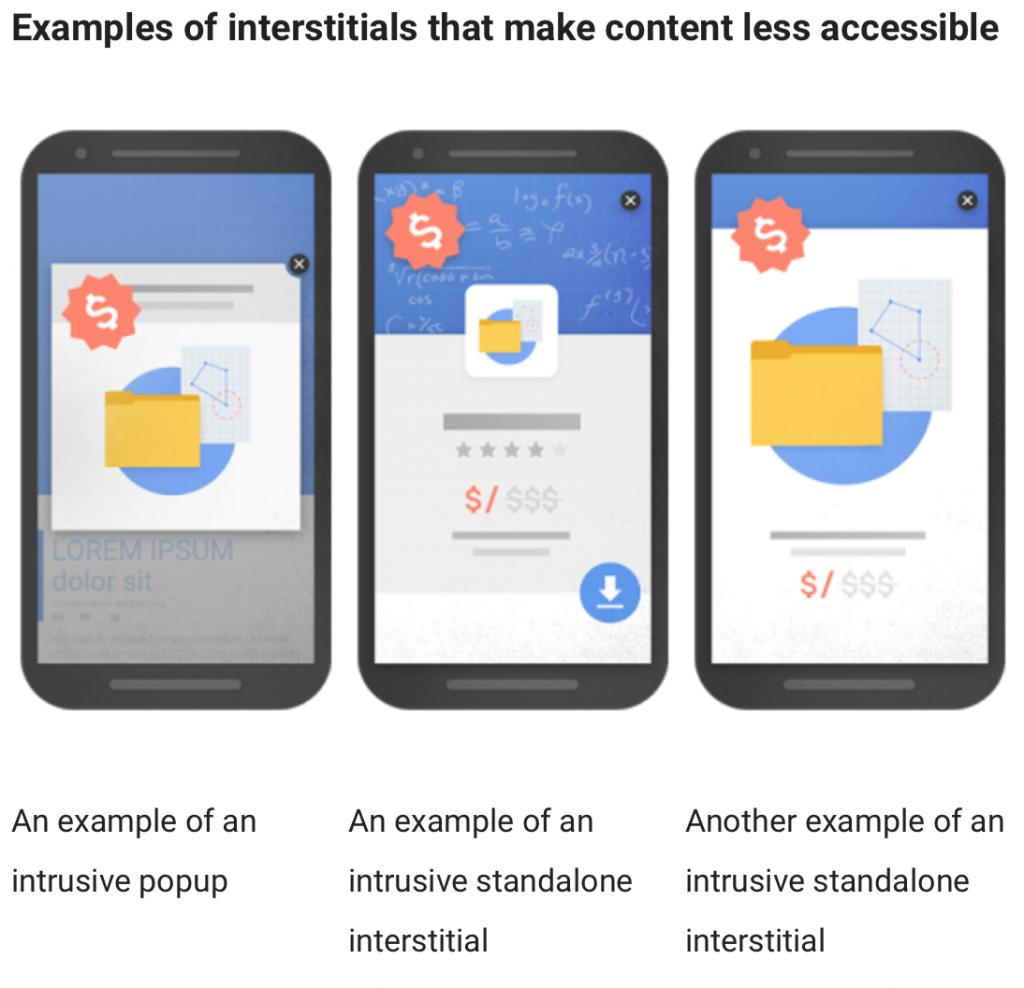 With mobile users starting to outnumber those on desktop, it's no surprise that Google is pushing a more intuitive mobile experience.
And with the various ongoing studies and statistics, it seems like mobile use is only going to continue to grow. That means Google is going to continually optimize the mobile experience and penalize those who offer crappy experiences.
The question is, if you've been running interstitials Google is now penalizing, what can you do?
All is Not Yet Lost
The first thing to understand is that this is (not yet) the end of the road for you.
Whether you stopped your interstitials or are still running them, the penalty from Google seems to be small. Glenn Gabe noted in an article on Search Engine Land that, as yet, there's been little impact on overall traffic and rankings despite the continued use of interstitials Google wants to penalize.
This is backed up by a Search Engine Journal survey which noted 94% of people are either seeing no impact or can't yet clearly say (which is pretty much the same as not seeing any noticeable impact).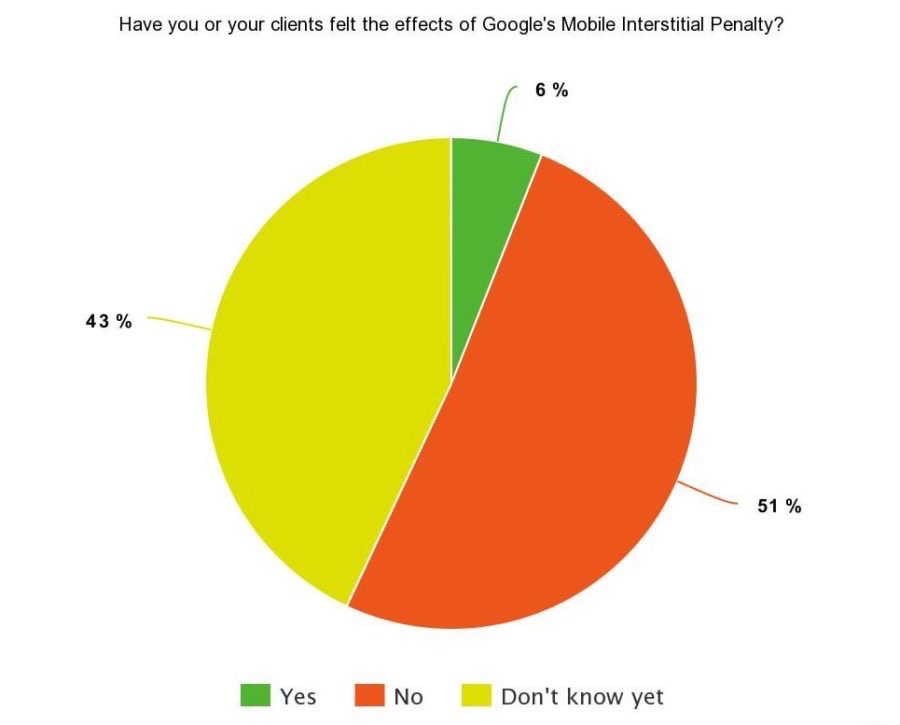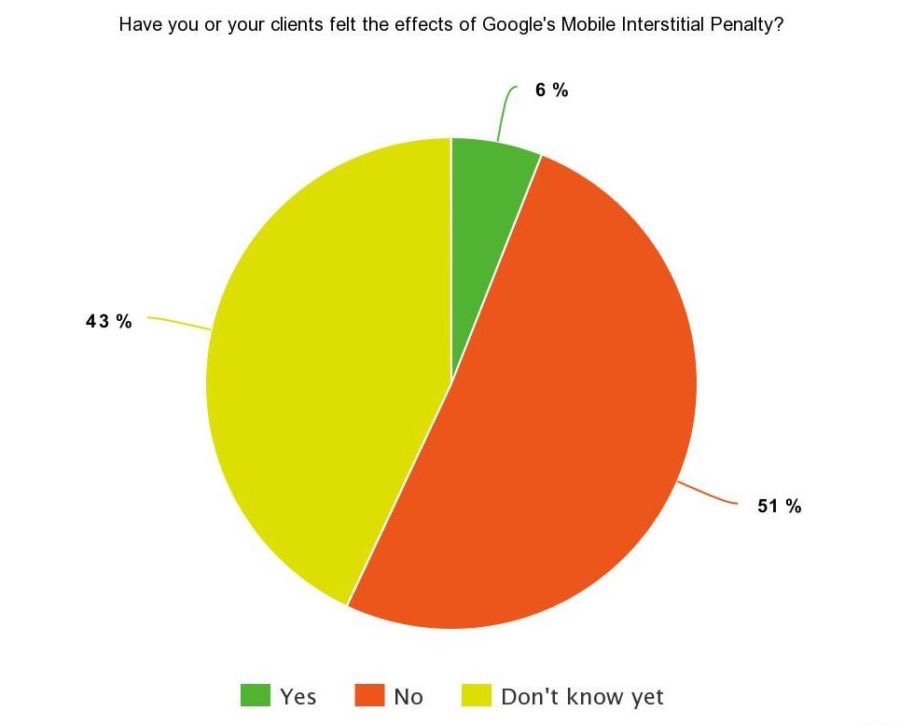 At the time of writing it seems like the penalty Google is proposing isn't yet a big deal. However, that's not to say Google won't ramp things up in the near future.
With the growing number of mobile users, it's safe to assume that Google will continue to roll out more stringent measures and increase the effect of those already in place.
It's going to pay for you to get your online store in line and set up to Google's best practices.
Steps for Future-Proofing Your Online Store
Mobile is the future of eCommerce. Optimizing the experience for mobile users isn't just good practice to keep the Google Gods appeased, it's going to help streamline the path to purchase and increase sales for those on mobile devices.
The below are a few steps you should be looking at undertaking now to ensure that you're in Google's good books when they decide to turn up the dial and roll out even more mobile experience penalties.
1 – Transform any intrusive interstitials into Google's approved overlays.
If you're wondering what that looks like, the below image is taken from the same aforementioned Google piece and outlines what they deem OK.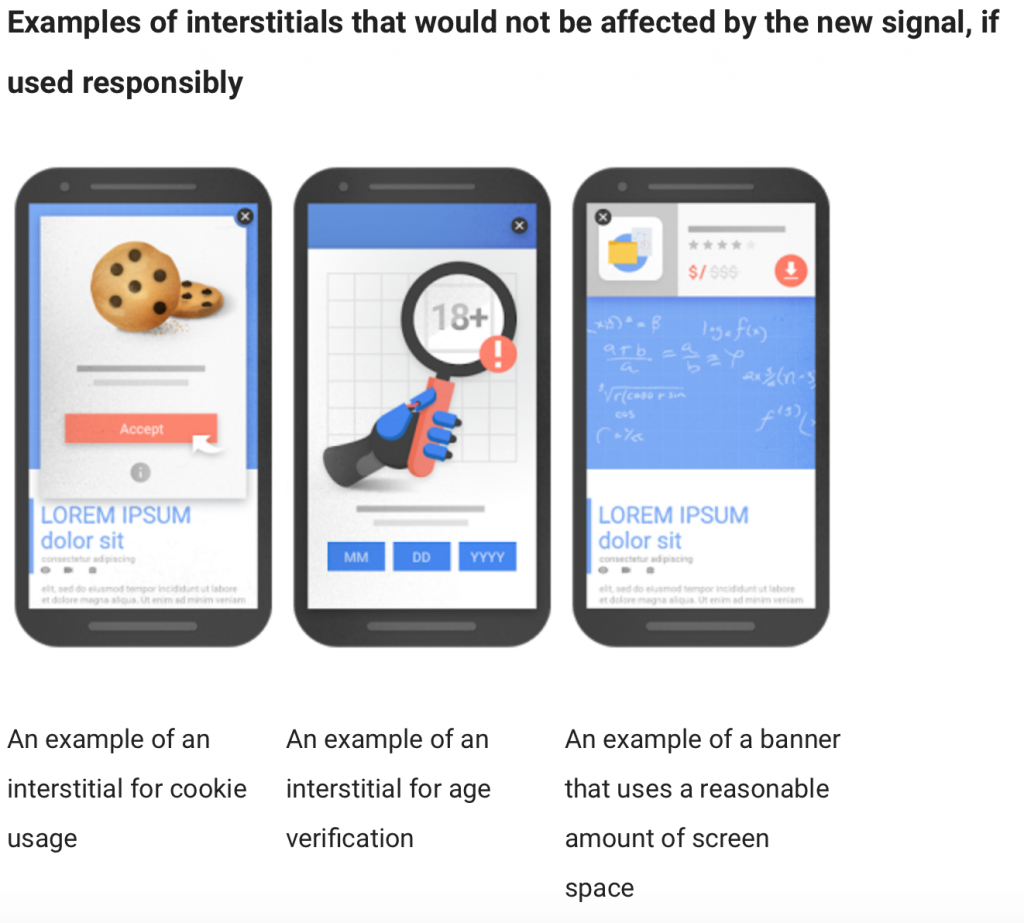 2 – Keep an eye on exit-intent changes
In a video with Google's Webmaster team it was stated that, as of right now, exit intent overlays are exempt from the penalty. However, there's nothing to say Google will continue to allow exit-intent on mobile as it is. Be sure to keep an eye on your exit-intent strategy and how Google views them
3 – Set up a mobile specific site
Responsive sites are great. Automatically refitting content to the size of the display is a great way to quickly make your content accessible to users on different devices.
However, Google seems to be cracking down on user experience, and the best user experience comes for device specific displays. Start looking into what it will take to set up a dedicated mobile site.
4 – Carefully optimize your ads
This is going to hurt many sites, but you might have to cut some of the ads you're currently running. You'll be able to amend many to be less obtrusive, but some are just going to have to go.
5 – Replace mobile overlays with something more user-friendly
Recapturing abandoners is always going to be a huge part of improving eCommerce sales.
And sure, Google might be making it difficult to run the tried and true methods, but that's not to say there's no alternative.
Here at Recart we recently rolled out push notifications (you can read more about them here) allowing you to send nmobile notifications reminding users of things like abandoned carts or to notify them of flash sales.
They require a simple opt-in and don't hinder the browsing experience so you shouldn't get penalized by Google.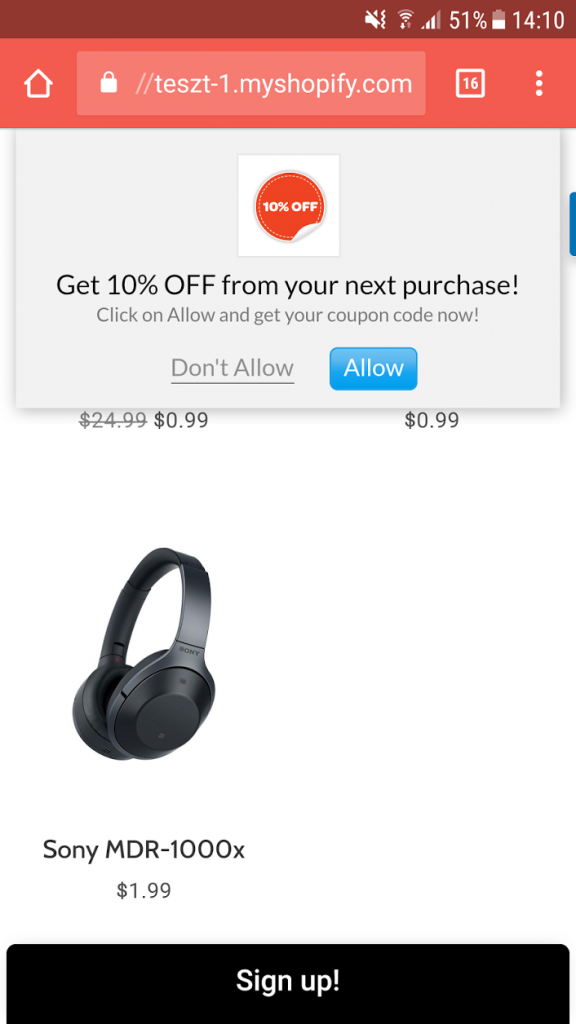 If you're relying on overlays to recapture potential cart abandoners, this could be the perfect solution to bring people back on site without risking a Google penalty.
6 – Experiment
This is just good practice for any optimization effort. Be certain you're tracking any changes you make with your site. If you're seeing negative effects from the algorithm change, remove and replace interstitials and resubmit to Google for reconsideration.
Keep a track of what changes you make and how they affect your ranking for ongoing improvement.
Playing by Google's Rules
Google is the major player in driving traffic. What they say, goes. And as a digital business owner, you need to keep on top of everything they're doing and play by their rules.
It's a pain in the ass for sure. Especially with how effective overlays are at securing abandoners and driving revenue, but if it comes at the cost of a Google penalty and lower traffic, what's the point?
You might reduce your abandonment percentage, but if the Google penalty results in lower traffic then that percentage is useless and will lead to a lower revenue gain.
You shouldn't stop pursuing cart abandoners, but you've got to play by the rules. And the notification update we've implemented means you can still continue to drive revenue without worrying about seeing Google lower your traffic.
If you've not yet seen the incredible results from our notifications, sign up for a free account today and see how they can increase your online store's revenue.