As you scale your business and your revenue grows, your needs grow too. If you have a Shopify store, you've likely heard of Shopify Plus, or perhaps you've already signed up. Shopify Plus is a unique package designed specifically for fast scaling businesses. It's also clear that it works and is well worth the cost with a whopping 86% of the top 1000 Shopify stores already upgraded to Shopify Plus.
Brands Grow Faster With Text Marketing
Schedule a free demo of Recart and get your SMS marketing up and running in 3 days.
While the package offers fantastic benefits like extra eCommerce features and payment fee reductions to help you scale, using Shopify Plus puts you in a new league – a heavyweight one. While we're sure it's the right move, it's important to keep up with the tops players. The best way to do this is to understand how they achieve their success and compare your strategy and tools. (We have a nifty tool to help you see where your store ranks). 
A clear stand-out tool is an SMS, with 630 of the top 1000 Shopify stores using text messages to communicate with their prospective and current customers. If you're not using SMS marketing with your Shopify Plus account, you're missing out on an easy-to-implement channel that will get you one step closer to the huge success our customers and the top stores' experience.
Turning visitors into loyal SMS subscribers
If you've already upgraded your store, or you're even thinking about it, it's likely your customer base is pretty substantial. This poses the challenge of converting your customers into compliant subscribers – right? Right! But it's actually quite easy to convert up to 15% of your website visitors. This will help you combat rising advertising costs with quick and easy pop-up subscription solutions.
Recart client, The Boss Palace, achieved a 14.79% opt-in rate and 20.20% engagement rate by using our tried and tested discount-driven, website subscription pop-ups, followed by an easy-to-setup Welcome SMS flow.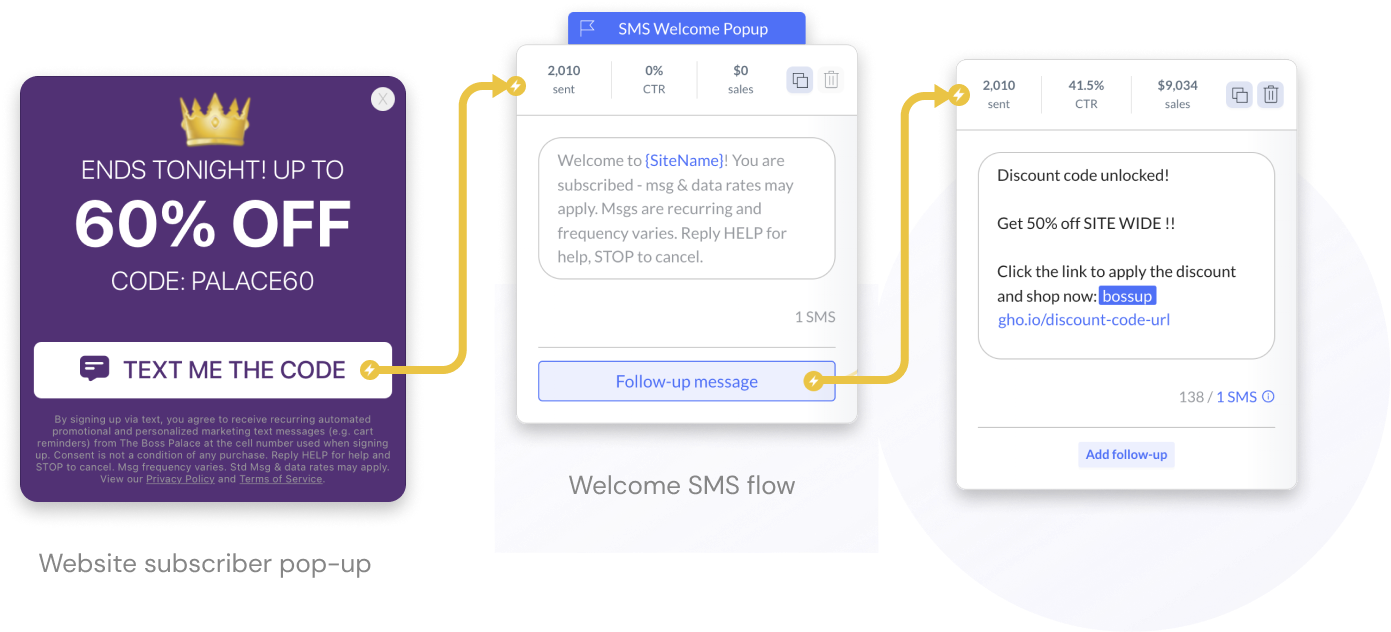 Robust automation to keep up with your growth
Automated flows make your life easier and ensure your SMSs are being sent and received at exactly the right moment to exactly the right customer – all at scale. 
Your Shopify Plus customer data allows you to set up a profile or behavior-based, highly engaging, personalized automated SMS flows. These flows are proven to engage shoppers and motivate them to spend more – with almost 100% open rate and 30% click rates.
Sleep Wrld made almost 30% of its total revenue in just 30 days using a visually-rich automated flow that focused on abandoned carts and relevant discounts.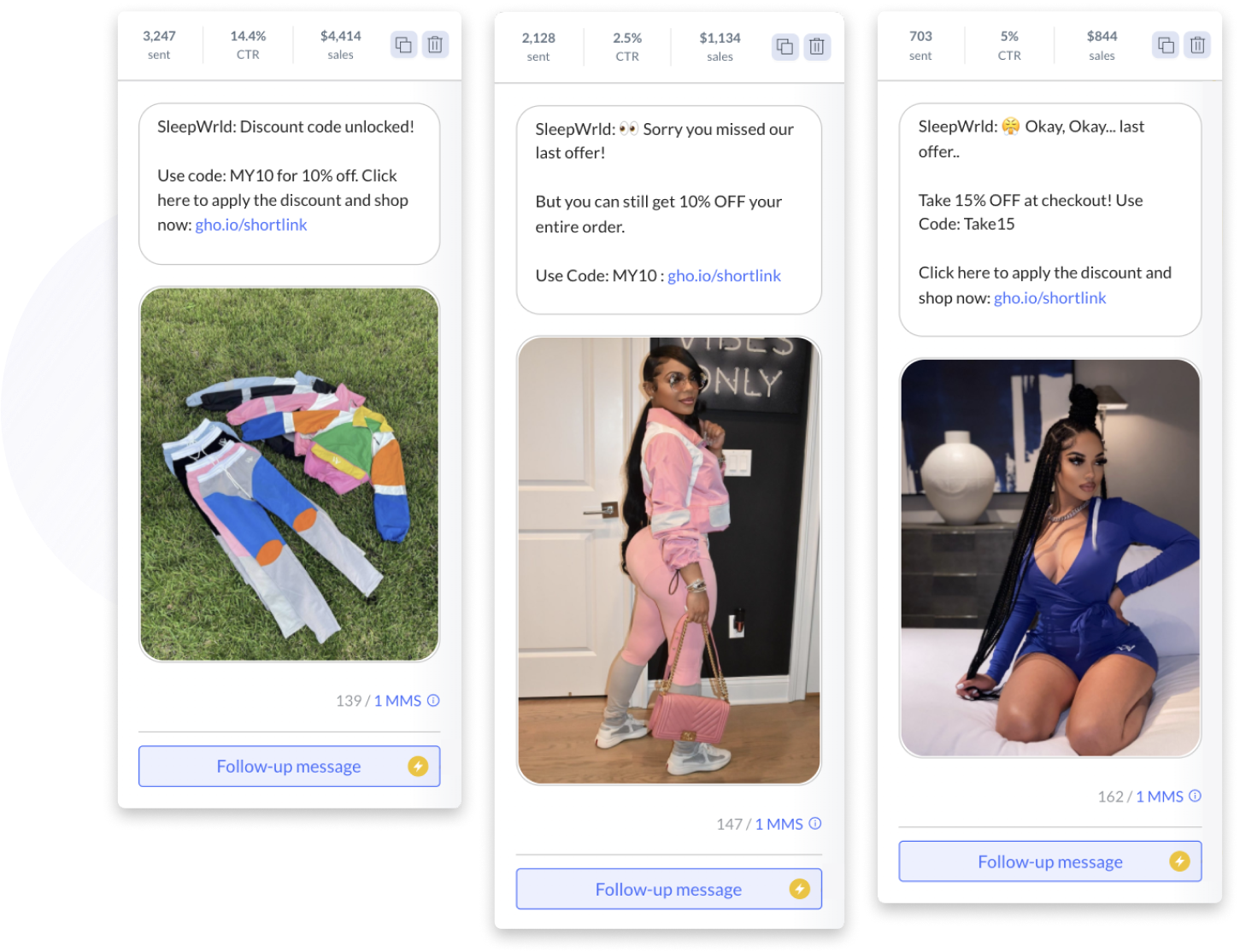 Segmentation and personalization
With more than half of customers agreeing that personalized digital experiences improve satisfaction, this once-marketing trend has fast become a must-have. Using text messages, you can provide a highly personalized promotional experience, at the right time to maximize return on SMS spend.
There are a few ways to personalize your SMS campaign using your Shopify Plus customer data. Thus, the quickest wins are segmentation based on engagement or purchase status and personalized tags. In short, you can address your customer by their name, remind them of the product they left in their cart and offer a suitable discount. This also shows them that you understand them and their needs.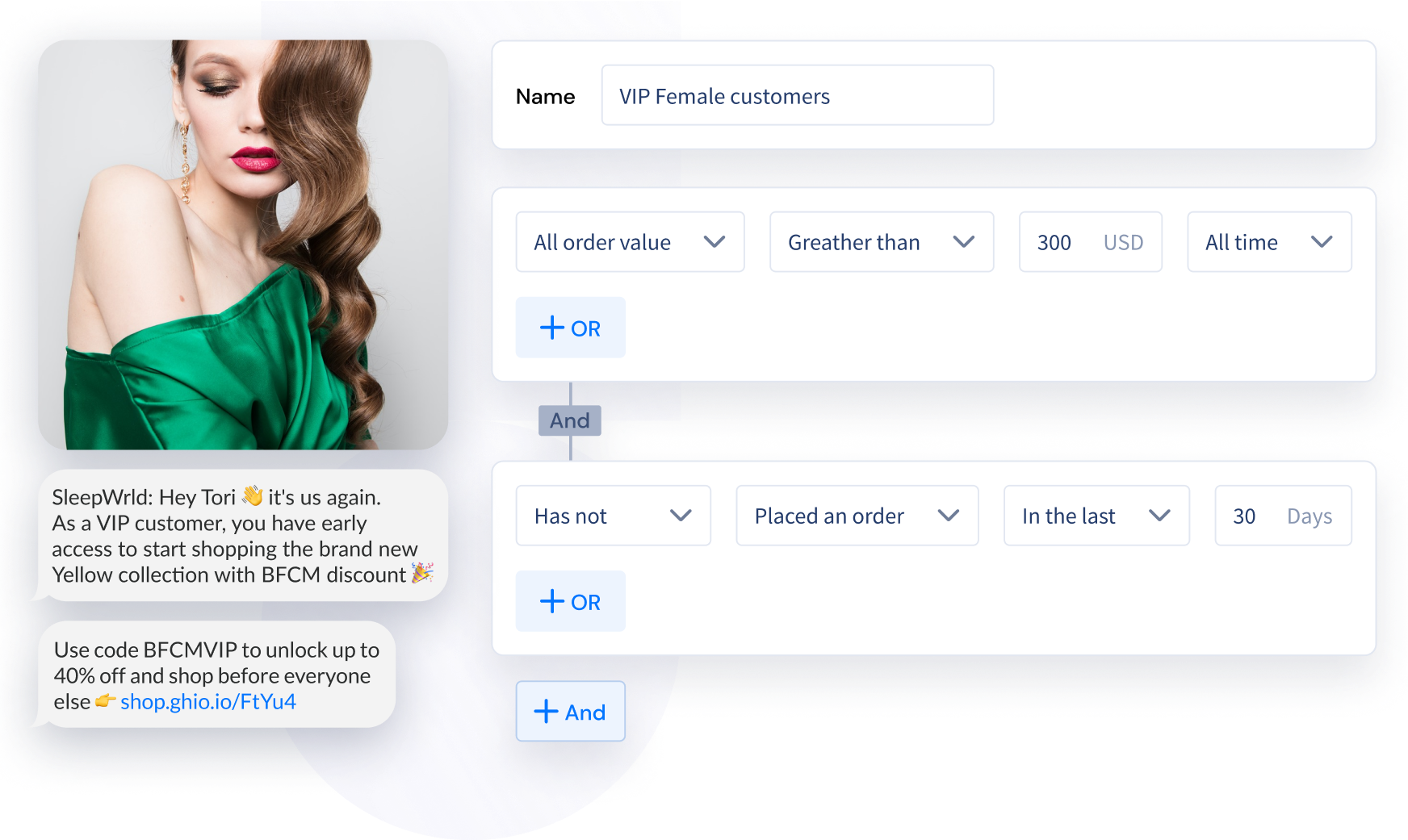 Watch your success soar with SMS and Shopify Plus
Your SMS results will speak for themselves, just like they did for our very own client, MamaSezz, who achieves 100x-150x ROI on the majority of their Recart SMS campaigns
In summary, the sooner you start, the more data you capture to create tailored and meaningful campaigns, the more success you'll see. Chat to a Recart expert, obligation-free, to find out exactly how SMS marketing works hand-in-hand with your Shopify Plus store. Book a live demo today!
Brands Grow Faster With Text Marketing
Schedule a free demo of Recart and get your SMS marketing up and running in 3 days.