I warn you, I'm not a content marketer fresh out of college who just did some quick research on the topic. And I've actually lost hundreds of thousands of dollars due to conversion rate issues. (Possibly millions). I'm here writing this post so you can learn from my mistakes, and so you're less likely to lose your money like I lost mine.
Your conversion rate is everything. It can lift up or destroy your WooCommerce business. I'll show you how.
Since you have your shop, you have your theme, your products, and your traffic, the one and only thing standing between you and your success is your conversion rate.
What is conversion rate?
In my terms, it is the following:
The percentage of visitors who take a desired action.
A conversion can be a subscription, a purchase, a contact, literally anything that is a desired action. And you can have multiple conversions on your site. For example, you can collect subscribers while selling pillows.
Measuring conversion rate on WooCommerce
On WooCommerce all you need is a Google Analytics and your WooCommerce Reports to calculate this.
How many visitors did you have yesterday? It's important to measure the unique visitors (called Users in Google Analytics), not visits or sessions. You can find this data in the Audience menu.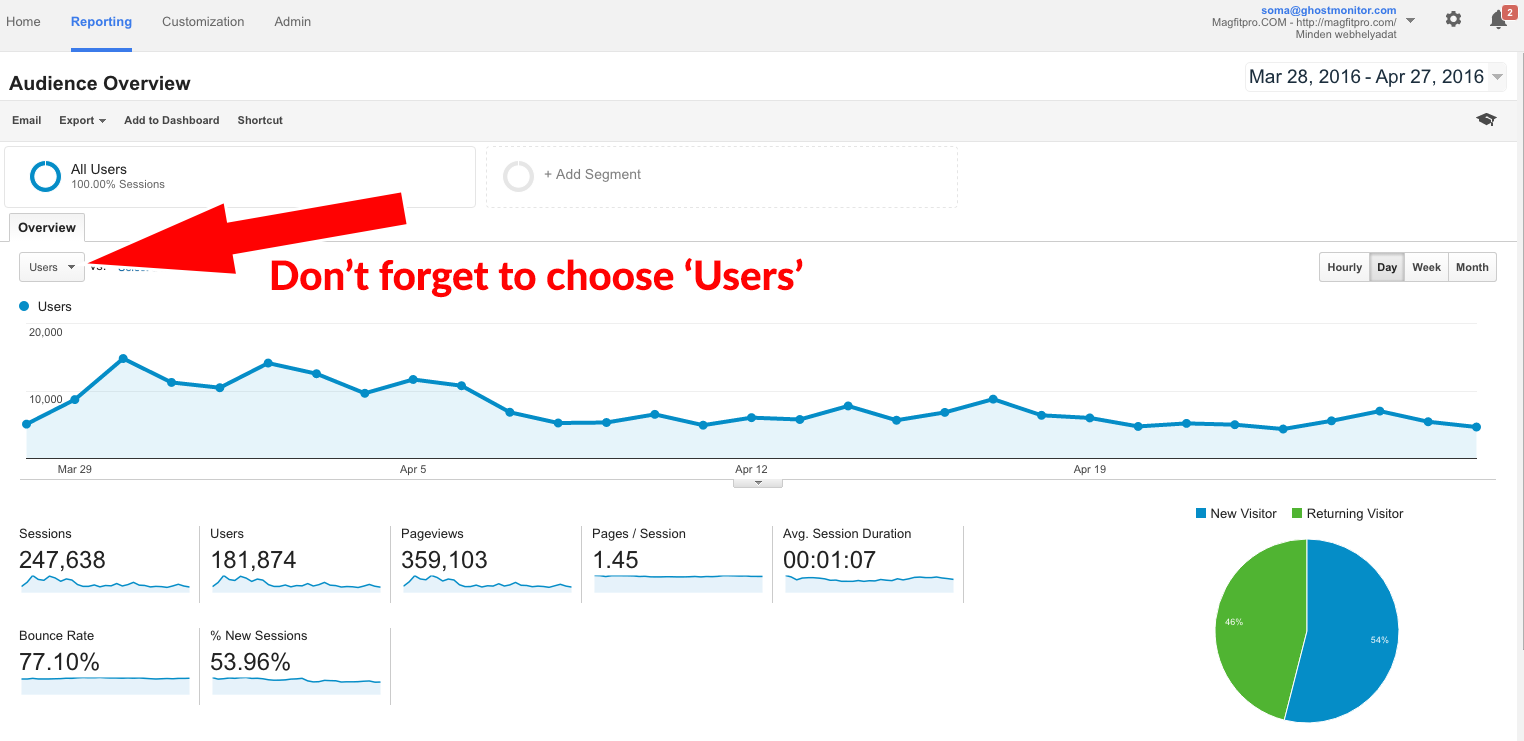 Calculating your conversion rate is easy as pie:
Conversions / Users * 100 = Conversion Rate
Let's see an example of one of our shops. On April 26, we had 68 orders from 7,021 users:
68 / 7,021 * 100 = 0.97% Conversion Rate
Is that 0.97% good or bad? It depends.
Please check your yesterday's conversion rate, you'll need that later in this post.
PRO Tip: You can automate checking your conversion rate with Enhanced Ecommerce in GA. I use a great plugin which connects my Google Analytics and my WooCommerce data:
This plugin will connect your Woo analytics with Google Analytics, so you'll see this in GA: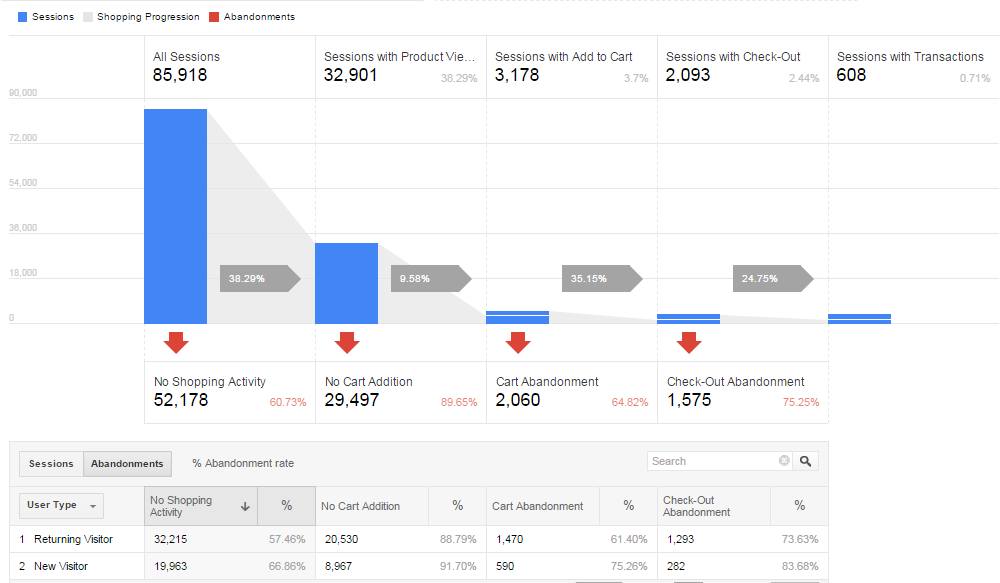 Here is some useful info about Enhanced Ecommerce.
What's a good conversion rate?
The average conversion rate is typically between 2-3%.
But!
Until you have decent ROI, it's pointless talking about what a good or bad conversion rate is.
Every business is different. For us, a 1% conversion rate is enough for a good ROI. And there is a reason why it is low, but we still make a positive ROI.
We run the pixel rush advertising strategy for selling more products.
It means we buy tons of traffic with native ads for a low price, then we re-market with Facebook Pixels. (You should read this article about native advertising if you haven't met it yet.)
With this strategy, 0.97% is great, we have a decent ROI.
But if you mostly receive SEO and direct traffic, the 0.97% won't be enough for your happiness.
So did you check your yesterday's conversion rate?
Let's see where you are on the map:
0-1%: Something is really broken, you must check your traffic and your site for problems. Probably seek help from an expert.
1-2%: Below average. You need to check your incoming traffic and your site to find the weak points.
2-3%: You have an average conversion rate. You still need to look into your numbers.
3-5%: Your site performs really well. Continue the good work and try to stabilize the conversion rate here.
Above 5%: Your site is a superstar. Work on keeping it above 5% and you'll never need another cent.
Increasing your WooCommerce conversion rate
Don't forget:
Improving your conversion rate by a few percent can mean a lot of extra $$$.
Improving it through conversion rate optimization (CRO) techniques is essential for every online business, WooCommerce isn't an exception. It's true – Woo gives you a really great user experience by default, but there are always places to improve.
Over the last 2 years I've figured out some essential numbers to watch on my WooCommerce store:
Bounce Rate
If it's above 75% then I usually look for a better traffic source. I'm also looking for periodic differences – like terrible bounce rate on just a few days, so I can check those days' traffic and sales.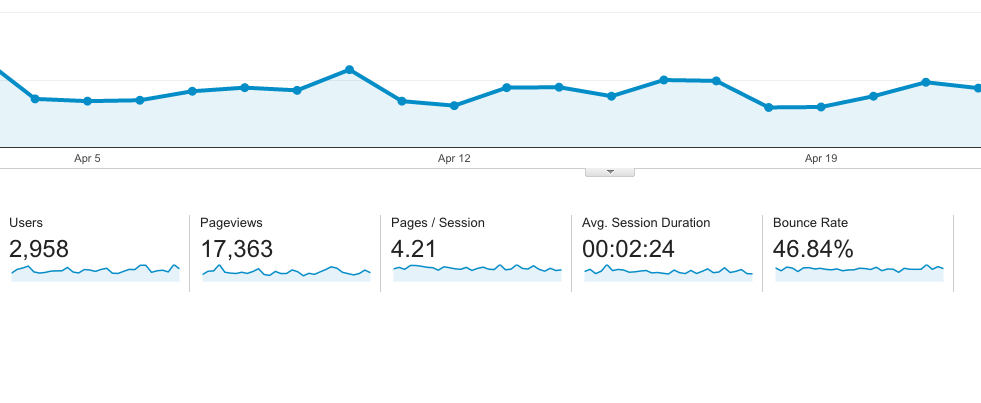 Product Conversion Rate
Should be higher than 5%.
Which product converts the best? I give that one a traffic boost.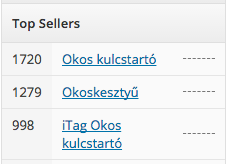 Normally, I check our top sellers.
I check their product page traffic as well: upon picking the winner, I give its corresponding ads a higher budget. Our product page conversion rate is between 7-9%.
Cart Abandonment Rate
Should be under 70%.
Cart abandonment needs to be dealt with.
Basically, you can do 2 things to fight cart abandonment:
a) prevent it
b) bring back abandoned carts
Preventing cart abandonment: I'm still working on my big cart abandonment checklist. It will contain more than 40 errors you can fix to prevent and fix cart abandonment. So stay tuned!
Bring back abandoned carts: I've already covered this topic in another post, you can read it here.

Since WooCommerce doesn't show it, you can use GhostMonitor to see your cart abandonment stats.
Checkout Abandonment Rate
Must be under 75%.
The same as cart abandonment, you must take action.
I tackle it with Mousestats Form Analytics and GhostMonitor. Mousestats will tell you which field is hard to fill for your buyers. GhostMonitor will automatically bring them back to complete the purchase.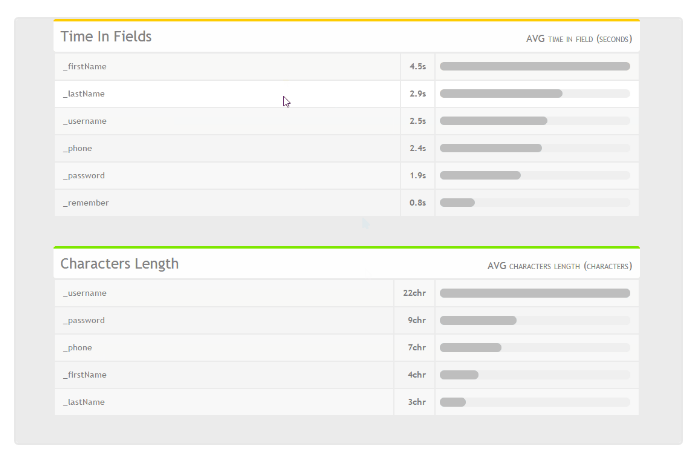 There was an equivocal field on our checkout page. It was the "Message field".
People spent an average of 93 seconds on it. We split that into 'message customer service' and 'message carrier' and it dropped to 43 seconds.
I'd never have noticed that without the form analytics tool.
Time spent on product pages
I also look for time spent on each product page.
If more time is spent on a specific product page it generally means there is more interest in that product, so I work on that specific product page.
(However, it could also mean uncertainty.)
I add more pictures, videos and I try to answer more questions and address more uncertainties using the product description.

You can check your most time spent on product pages in GA – Behavior – Overview.
We had decent traffic last December, didn't we? 🙂
Demographic conversion rate
No kidding, I used to check it.
You probably know your niche very well, but this data always surprises me, so give it a shot.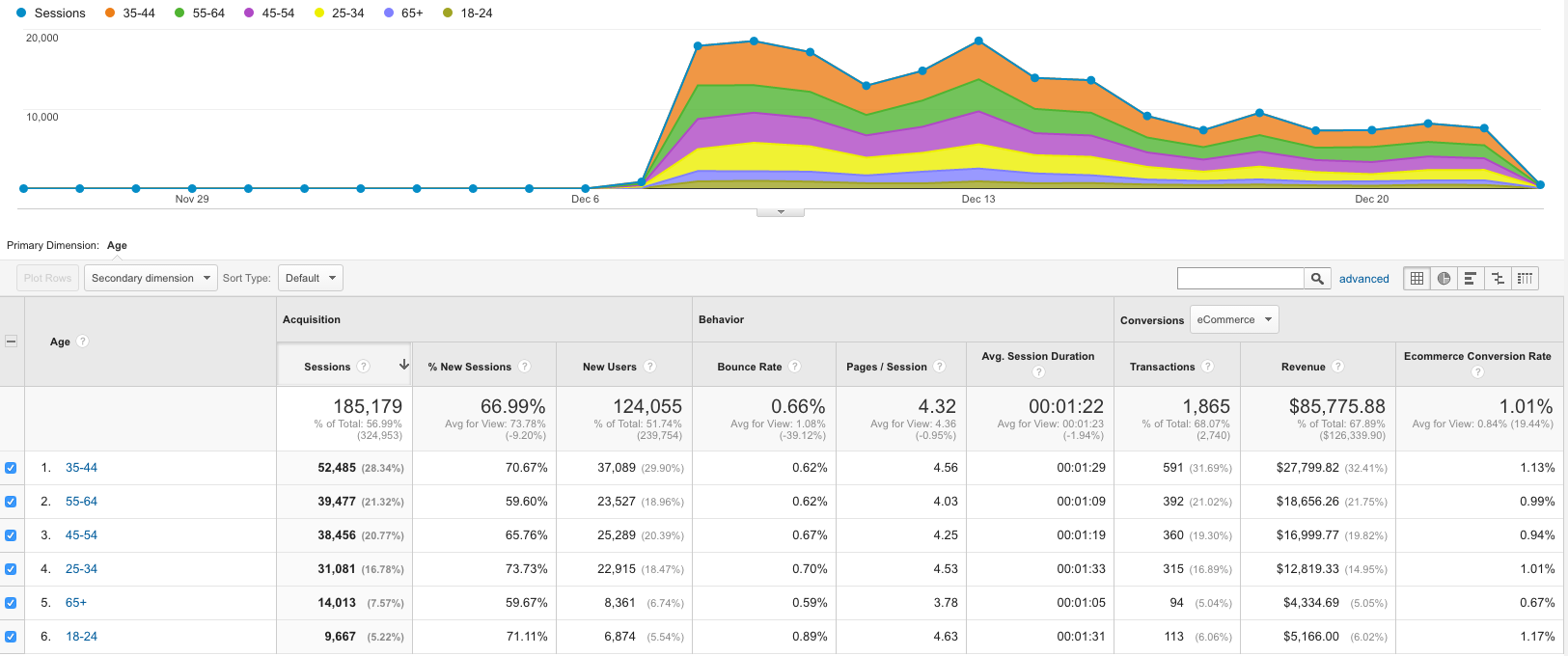 GA – Audience – Demographics. It helps you customize your ads, since you know which groups are the most interested.
Mobile Conversion Rate
Should be more than your 1/2 overall conversion rate.
This metric is really important. It shows you if something is broken on mobile. It helped me to fix a bunch of things (responsive problems), so now I earn much more money from mobile traffic.

GA – Audience – Mobile – Overview.
Summary
Determining and improving your conversion rate is essential for your business. You can investigate a lot of numbers, and don't forget, even a 1% lift in conversion rate can result in a lot more revenue.
1% lift from 2% to 3% means 50% more revenue from the same amount of traffic! I believe that's something you should look into. I did it in the last 2 years, and I do it regularly to this day. After seeing the above, I'm sure you've realized that this approach has made me a lot of money, I hope it will make a lot for you as well. 🙂
Please check your numbers, and send your questions my way. I'm happy to help you with your specific problems!