The summer months have people ready for seaside strolls, poolside drinks, and some fun in the sun. But if you're an eCommerce retailer, you may not be quite as prepared for the season change. Interestingly, good weather can have an
adverse effect
on your sales. The reason is simple, people are out and about and busy with activities that, well, aren't shopping online.
So we have a potential problem, what's the solution? To make sure you keep that revenue coming in and customers buying, you need to keep them engaged. 
Brands Grow Faster With Text Marketing
Schedule a free demo of Recart and get your SMS marketing up and running in 3 days.
The solution is two-fold.
Offer your customers products they actually want, and discounts or deals that actually mean something to them. Simply put, personalize!

Get your campaigns to your customers quickly and directly in order to cut through the summer sales and seasonal marketing clutter.
Personalized SMS marketing can help you achieve both. Here's why:
SMS is direct with great open, read and click rates (far surpassing those of email)

It's easier to personalize and segment your audiences with text messages

You can send one-off campaigns and automate them, so you know your customer journey is both engaging and consistent
Let's take a look at 5 ways to boost your summer sales using personalized SMS marketing:
1.
Make subscribing worth it
Simply put, you can't speak to your online browsers if they are subscribed. Building up your opted-in list is vitally important in an eCommerce environment, so you'll need a good tactic to get them on board.
Offering a discount in exchange for a subscription is a tried and tested method that really works. It may seem like a lot, to give away discounts to that many people. But the return on your investment is worth it and we've seen businesses of all sizes experience amazing success by growing and marketing to these lists.
Let's talk about the "how". Website pop-ups are one of the quickest ways to convert up to 15% of your visitors into subscribers (we've seen up to 50% in some cases). Book a quick demo to see how easy it is to set these up.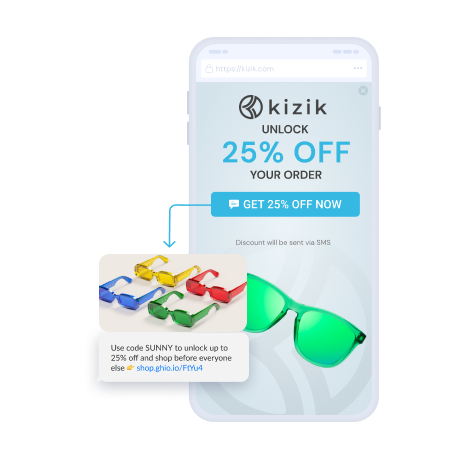 2. Use tactical days
While some SMS campaigns are automated, like welcome messages or abandon cart flows, others are one-off, hyper-relevant campaigns to advertise a particular item, highlight new summer sales, or celebrate a specific day.
Tactical holidays are a great opportunity for these campaigns and can get subscribers excited while offering something unique. Whether it's a widely celebrated holiday like the 4th of July or National Flip Flop day in June, these days usually result in higher revenue and are also a great opportunity to create some fun content.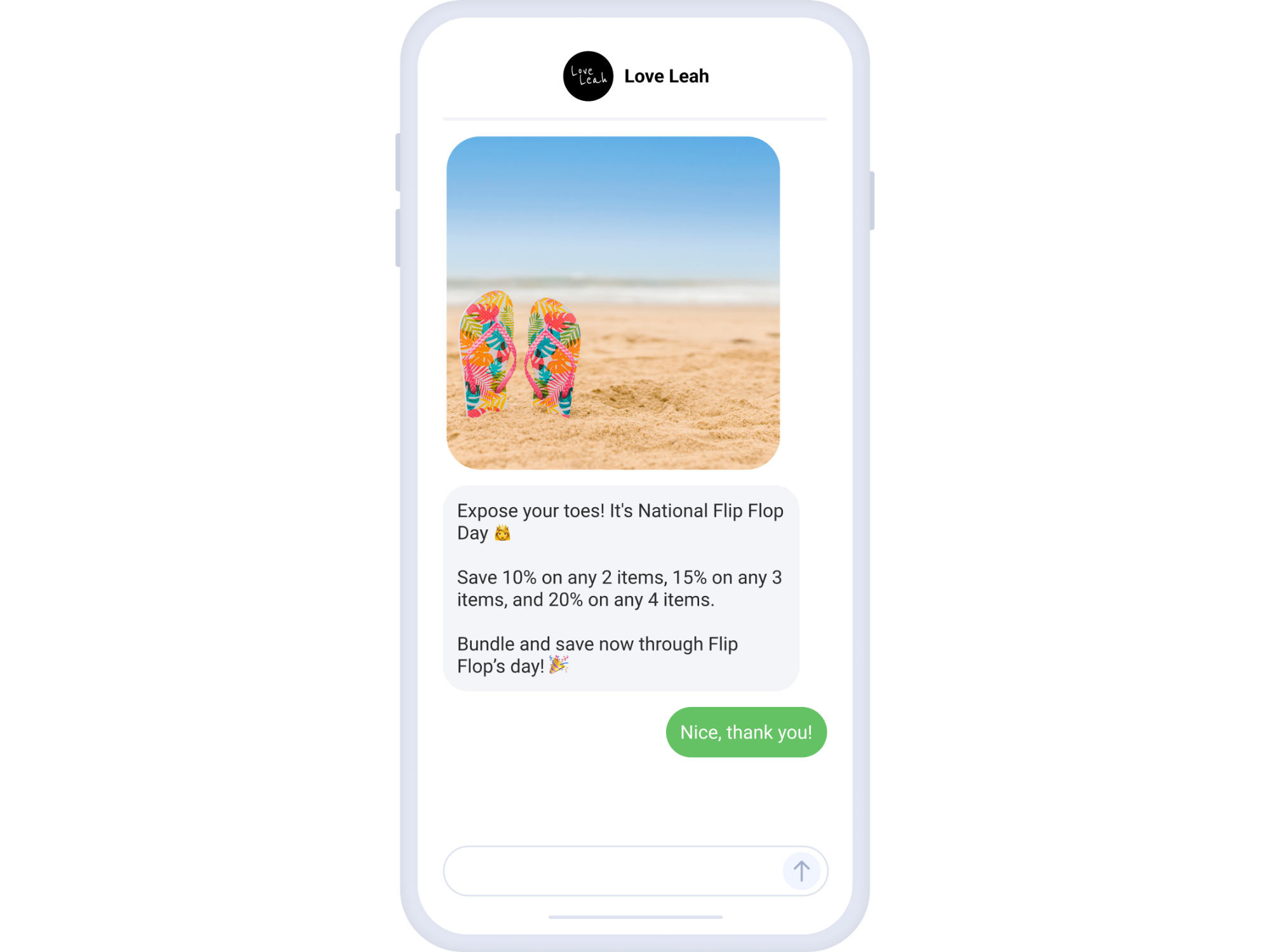 3. Offer tailored summer discounts
While any discount is enticing to your customers, a product-specific, or even customer-specific discount will let your customers how important they are to your business. With the right SMS tool, this level of customer segmentation is easy. 

Practically, this means that you could send all customers who clicked on the link in your National Flip Flop day SMS but didn't purchase anything a follow-up SMS offering a discount off, you guessed it, flip flops! Or you could send all customers who purchased flip flops an early access discount to the exciting new range of sunglasses – ensuring they aren't sent repeat offers for products they've already purchased.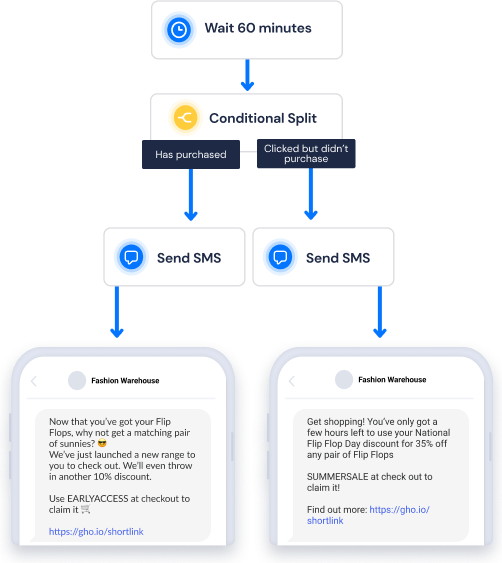 4. Create time limited summer sales
The scarcity tactic is a well-studied and proven marketing strategy. Offering a product with limited stock or a promotional deal only valid for a short period of time encourages action. This tactic also works well in combination with some of the others we've discussed, like personalized discounts and tactical campaigns.

The most important rule to follow when setting up one of these SMS campaigns is to be strategic with your offer. Offering a discount on your top-selling product may not be necessary, but offering a discount on your worst-selling product may yield poor results. 
5. Always follow up
Follow-up campaigns are where automation meets preparation. Setting up campaigns with time delays after certain actions are taken can prompt re-engagement and give you amazing results. Our favorite, and one of the top-performing automated campaigns, are abandoned cart campaigns.

The best part? You set it and forget it. So the work is being done for you. The only effort you'll need to put in is to check out the results and optimize your campaigns to improve your results even further.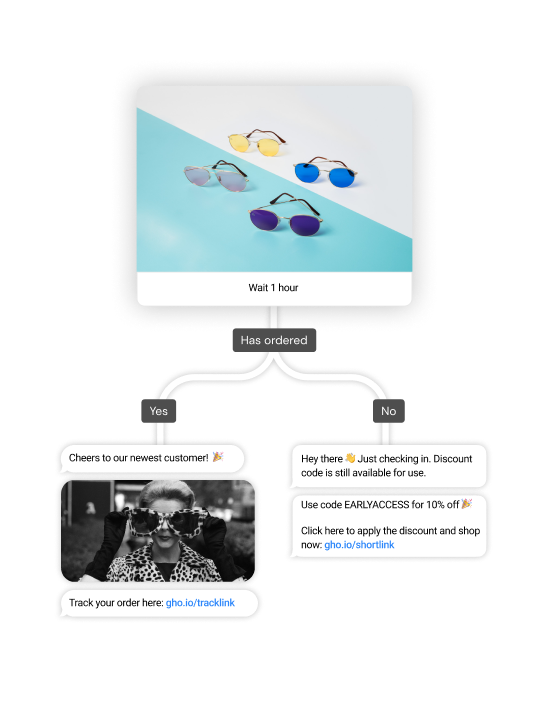 It may sound complicated to achieve all of this before the summer season really hits, but we promise it's not. At Recart, we do it differently and offer fully managed campaign services as part of the deal. This means we'll strategize with you to ensure we understand your goals, then we'll set it up for you. We'll also keep an eye on and optimize your campaigns to help you get the most out of SMS marketing.
Sounds great? Book an obligation-free call with a Recart SMS specialist to find out how we can help you!
Brands Grow Faster With Text Marketing
Schedule a free demo of Recart and get your SMS marketing up and running in 3 days.