Running an ecommerce business is complex.
One day you're happy. You're plodding along nicely, working on your daily tasks and seeing great sales. All is well in the world. But the next day everything changes. You take one look at your reports and think: "What the hell just happened?"
Sounds strangely familiar, right? That's because we've all been there.
When someone from the Recart family started a live chat last month, I asked him: "How's the business going?" He replied: "It's complicated. Been hard times figuring out why my store doesn't convert as it should."
Even last week I talked to a friend who was going through the same situation. The truth is: Every ecommerce business owner faces similar challenges.
I've been there many times as well over the years. More times than I'd hope to have been…
It's okay to be confused. Let's face it, there are millions of tweaks you can apply to your Shopify store. Figuring out where to start can be an absolute nightmare.
What action should you take first? Which new app should you install? Which tweak should you make next?
Alone, finding the best approach for your store is no easy feat. That's exactly why we started Recart two years ago.
We take away the headache and give you a jump-start in your store marketing with our tried and tested, pre-built campaigns. With a few clicks, your campaigns are enabled, and you take care of cart abandonment and other common ecommerce issues from the get-go. It's as simple as that.
I'm proud of what we achieved so far. We've already helped 5,000 merchants grow their businesses, and we're well on our way to helping even more.
Our goal is always to help you make more money from your traffic. So we continue to build awesome features that help you do just that.
Today, I'm thrilled to announce our latest feature:
Recart is about to take your store marketing to the next level with Facebook Messenger Campaigns.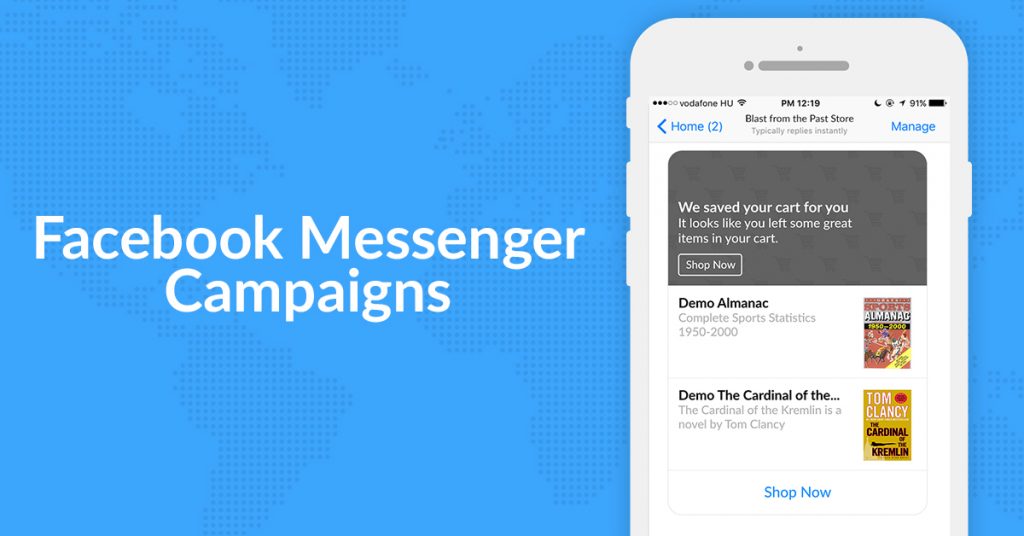 Get excited. We've just launched the world's first Messenger ecommerce marketing app for your online store.
Now, you're able to subscribe Facebook users to your list and send them automated and instant Facebook Messenger campaigns right from your Recart Dashboard!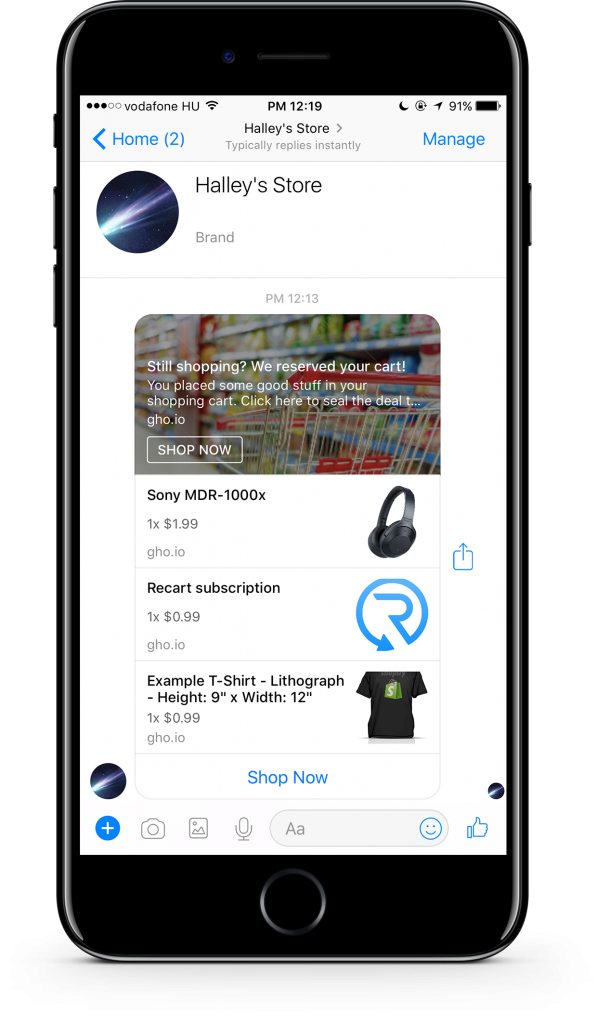 But first things first:
Why Facebook Messenger?
At Recart, we believe in early adoption and innovation.
In 2016, when Facebook announced the Messenger bots at F8, we immediately knew that we had to build something cool on top of their Messenger platform.
With 2 billion active users, Facebook Messenger Campaigns seemed like the smartest new move for your ecommerce store.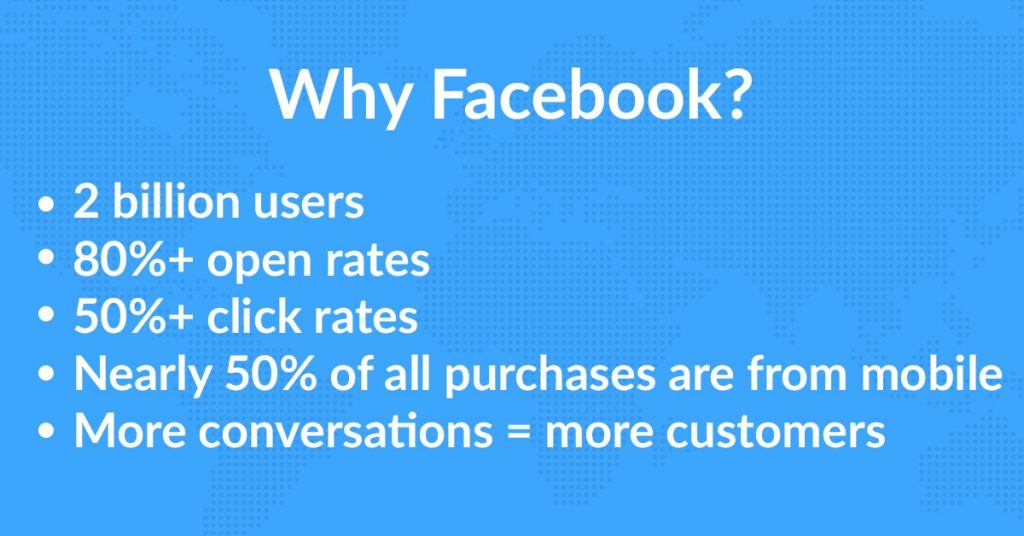 It keeps your customers close
I've found Messenger to be the most powerful tool ever created for my store. Our first Abandoned Cart Messenger Reminder brought a whopping 34% response rate.
Imagine that: About one-third messages got answered. We actually talked with our abandoners, answered their questions, talked about their concerns. As you can imagine, we immediately boosted our conversion rates.
The simple truth is this: A conversation is a huge step towards converting your potential customers. And our Facebook Messenger Campaigns give you a foot in the door to get those conversations flowing.
4x higher open rates
We've tested different Messenger campaigns with thousands of messages, and the results so far have been nothing short of astonishing. We saw 85%+ open rates and 50%+ click rates on our automated messages – like Abandoned Cart Reminder, Order Receipt, and Instant Campaigns.


Just imagine what would happen if your newsletter was opened by almost everyone from your list as opposed to 20%! That's the reality of the new feature.
Mobile commerce is rising
Mobile commerce has grown exponentially over the last few years. A prime example: Last year, mobile purchases took nearly half of all ecommerce transactions and 20% of American online shoppers purchased from the bathroom or while in the car.
There's no doubt that our marketing tools must go more mobile friendly. With Facebook Messenger Campaigns, you're a step ahead of the game.
No solution yet
Until today, there was literally zero working solution for automated Messenger campaigns on the market. No apps, no software, nothing for your store. The largest chatbot solutions don't even integrate with Shopify (not to mention the fact that they can't send ecommerce triggered messages).
Recart is the very first Messenger marketing app for Shopify and WooCommerce. And it's all yours.
How does it work?
Step #1: Subscription
Just like with email, you need a permission to send messages in your customers' Messenger inbox. Recart offers two different subscription tools right now:
Recart Messenger Widget: A simple 'Send to Messenger' widget under your add to cart button: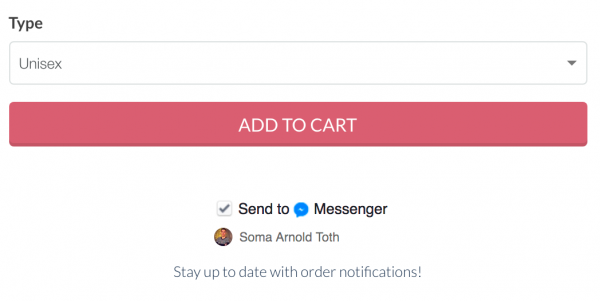 Add to Cart Popup with Messenger: Our famous ATC Popup, which asks for Messenger subscription alongside email.
Step#2: Auto Campaigns
We took the best automated emails and brought them directly to Messenger.
You'll find these Auto Messenger Campaigns on your Dashboard:
Abandoned Cart Reminder (live)
Order Receipt with Discount (live)
Shipping Notifications (in 3-4 weeks)
Purchase Follow-up (in 3-4 weeks)
Unused Coupon Code Reminder (in 2 weeks)
Welcome Message (in 2 weeks)
Best Customers Campaign (in 4-5 weeks)
More powerful campaigns are on their way.
Just like with every other feature, let us know if you'd love to see a different campaign and we'll get to work. Most of the ideas came from our community, so go ahead and shoot us a message!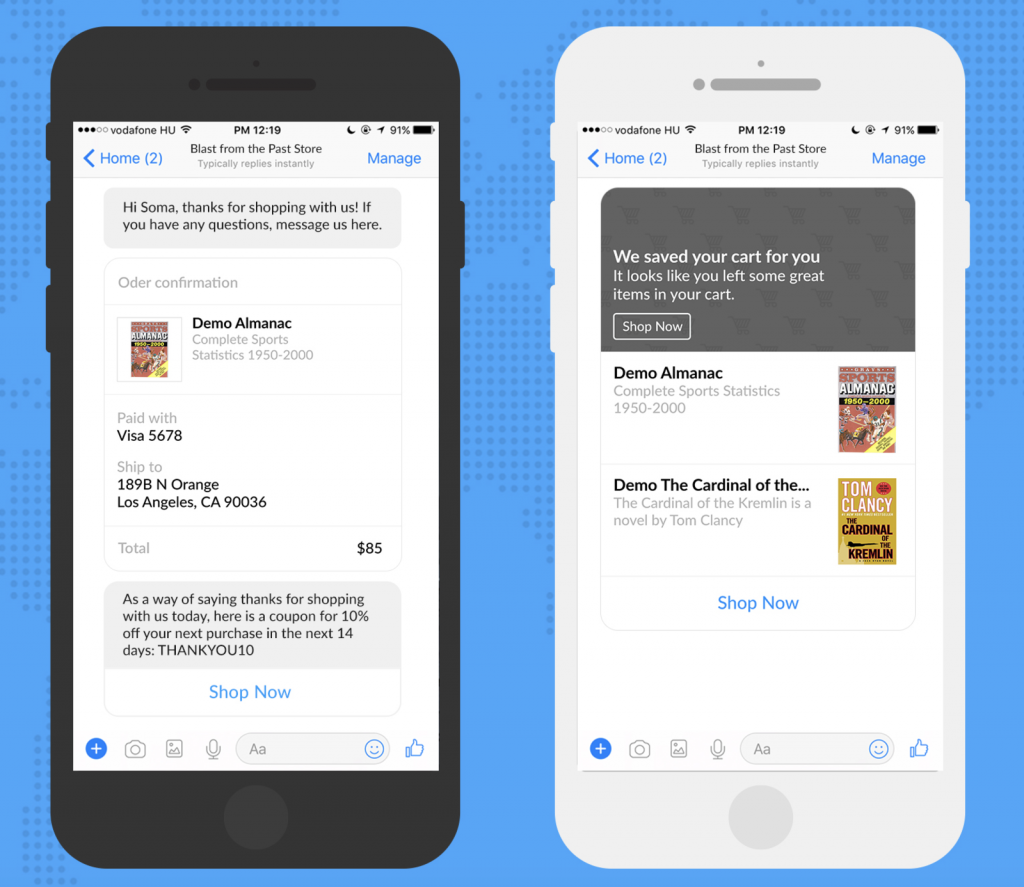 Step #3: Instant Campaigns
Newsletters are often a part of the weekly ecommerce workflow.
At Recart, we're about to bring the power of the email newsletters to Messenger.
With Instant Campaigns (coming in 2-3 weeks), you can send notifications about your latest sales and news directly to your Messenger subscribers.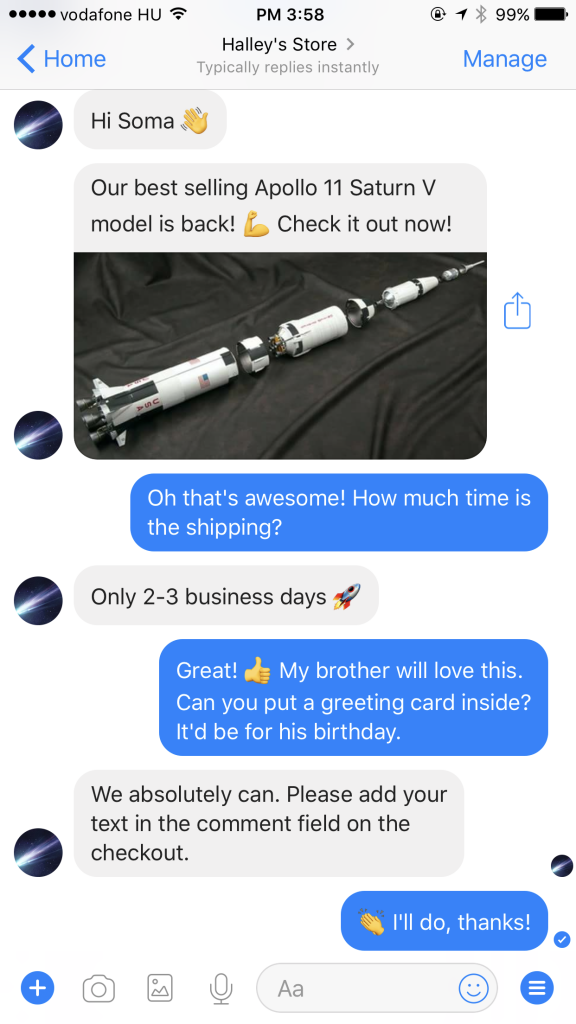 Of course, it's a little different to email. Average newsletters tend to be quite promotional in nature, whereas we've found the messenger newsletter typically works better with a more personal tone. Think about sharing news and updates, as opposed to pushing sales.
Confused?
Don't worry. When we roll it out, I'll make sure to publish a complete guide to sending Instant Messenger Campaigns to help you get the most out of your messages 🙂
Your biggest hit, ever
Like every new feature here at Recart, we rigorously tested the Facebook Messenger Campaigns on our own stores first. After the first day, we saw ridiculous results. Since then, we opened the private beta and saw the same, insane results on our merchants' stores as well.
However, your biggest win isn't the 85% open rate. It's not even the 50%+ click rate.
It's the conversation.
People are crazy responsive to Facebook messages, and that's where the biggest value lays. Usually, I see this flow of the Abandoned Cart Messenger Reminder: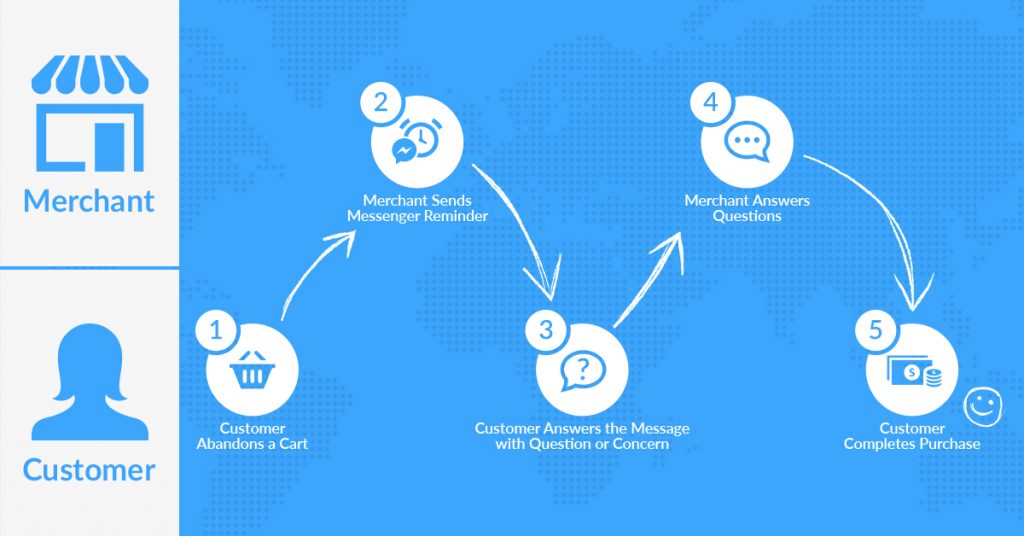 After implementing the Abandoned Cart Messenger Campaign, you will have a conversation with 35% of your cart abandoners. That's something we've never seen before. It's gonna be a game-changer.
I bet you're chomping at the bit to start implementing the campaign in your own store. You'll be glad to hear that Abandoned Cart Reminder and Order Receipt with Discount campaigns are already available in Recart!
All you need to do is navigate to your Messenger menu, connect your page, install a Subscription tool and enable your campaigns! Here's a handy guide for getting started.
If you don't have a Recart account, you can open one here.
Any questions about the campaigns? Feel free to shoot them below or contact us directly!