If you've been shopping in a mall in the United States recently, the chances are high that you've encountered some innovative SMS marketing. You may also have noticed that some big names like Calvin Klein, Tommy Hilfiger, and Ralph Lauren are using text messaging to drive sales both in-store and through eCommerce.
While many brands are reluctant to adopt SMS marketing because they fear the channel is intrusive, costs too much, and isn't a good user experience. The truth is, when used well, SMS is one of the top 3 marketing channels for online brands. 
Although SMS as a direct marketing channel for eCommerce is relatively new with only 16% of the top 150k Shopify stores using SMS marketing. More growing brands are implementing and including SMS in their omni-channel strategies and seeing fantastic results.
Nothing confirms this more than brands adopting SMS in brick-and-mortar stores; creating seamless experiences between online and offline shopping.
A few weeks ago I went shopping in a few malls in New Jersey. I was genuinely surprised by how many top brands offer discounts for customers to opt into their SMS list. So, of course, I took photos so I could share them with you. Let's dive in.
Tommy Hilfiger: An SMS subscriber is worth its weight in gold
At the counter, once my products are all rung up and about to swipe my credit card… the cashier asks me: "Would you like an additional 10% off by subscribing to our SMS list?". My reaction? WOW.
At this stage of the customer journey, I'm already a customer, they don't need to incentivize me to make that purchase. But an SMS subscription is so valuable they're willing to exchange 10% off of their precious margins for my opt-in. 

They may be reducing this cart total by 10%, but they'll make up for it when they send me texts about their exclusive promotions.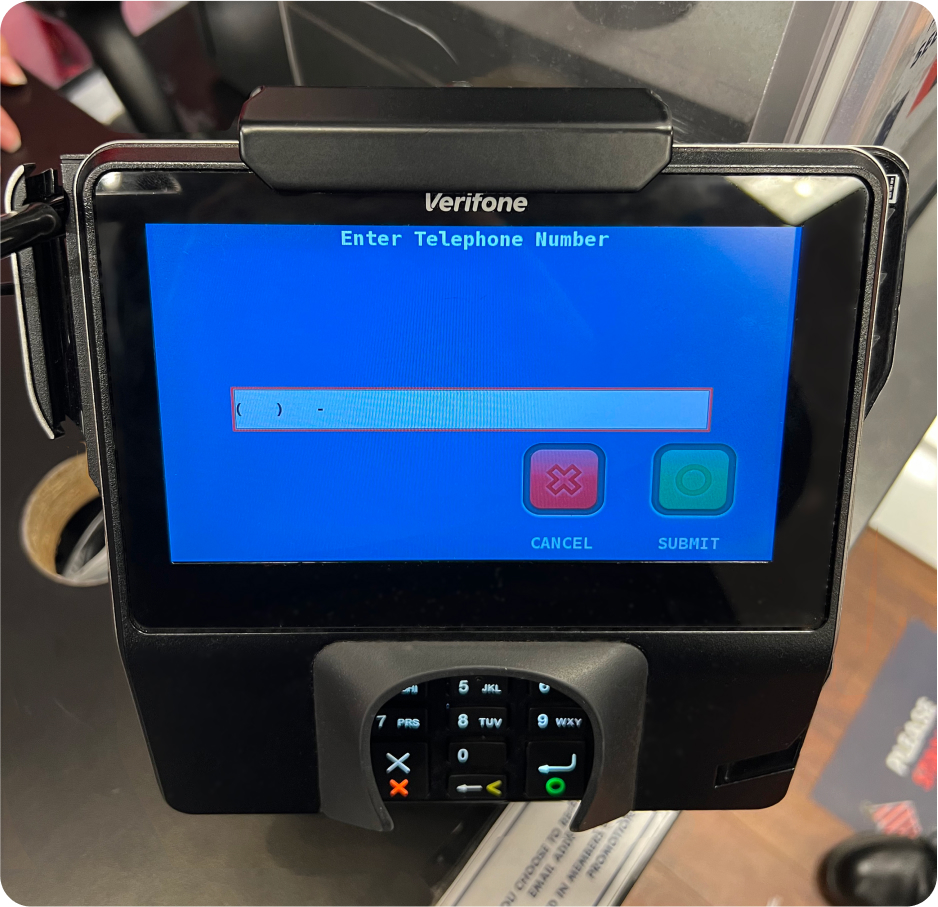 Calvin Klein: SMS first opt-in
Calvin Klein displays its SMS op-in promotion clearly in store but what's interesting about this one is the SMS flow and opt-in sequence. We often see brands asking for email first and then mobile numbers but it's great to see this the other way around. I was already interested and wanted my discount, and because the text message was instant and didn't get lost in my inbox, it was a no-brainer for me to seal the deal with my email address.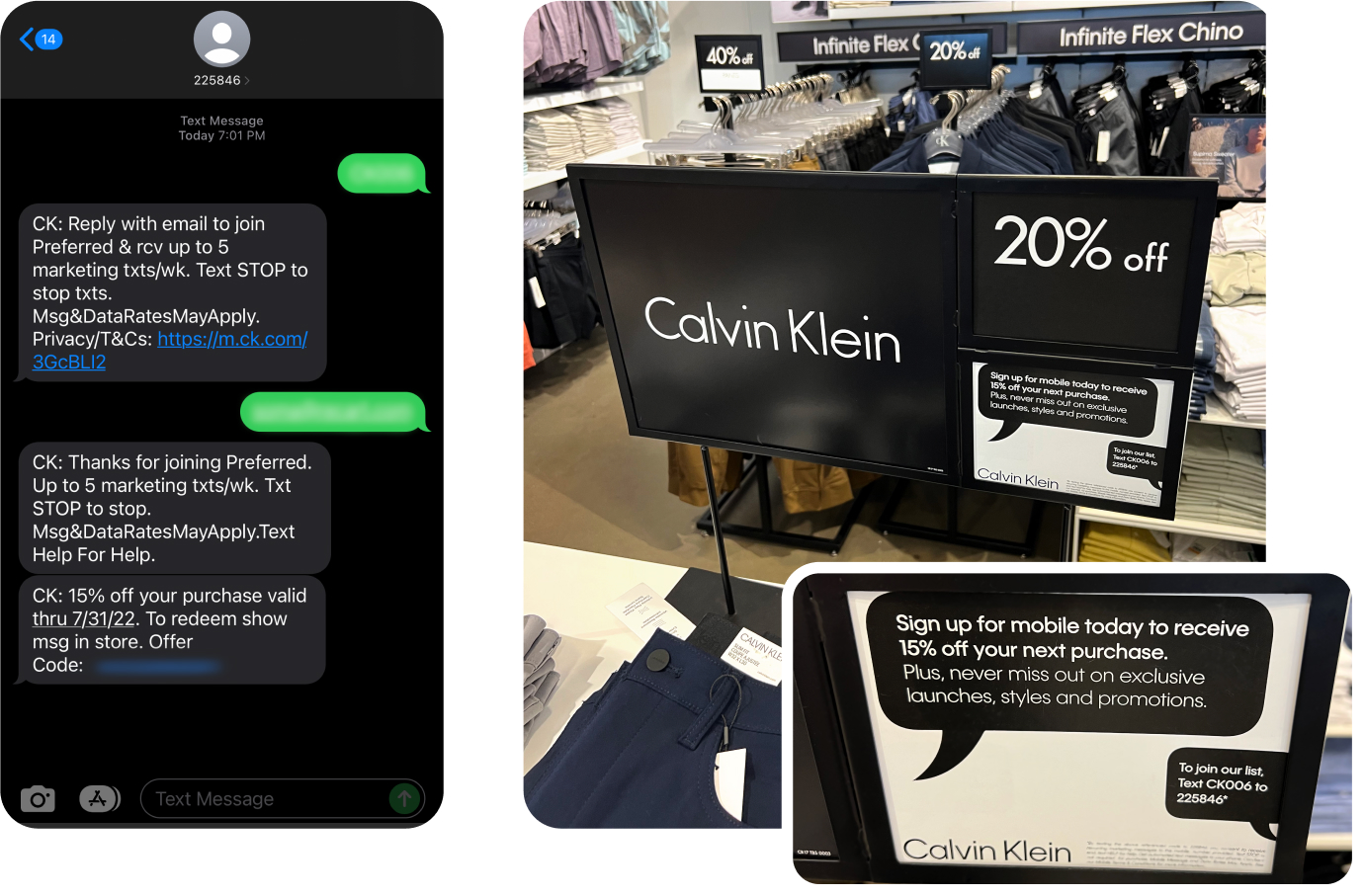 Banana Republic: SMS for email opt-in
Banana Republic uses an unusual subscription method – they asked for email opt-ins via SMS. Why not ask people to opt-in to email VIA email? I think this is a pretty clear indicator of the engagement difference between text and email. While capturing emails is valuable for ongoing promotions, the opt-in experience is so much more effective via text. 
An additional benefit is that this method allows for a quick and easy follow-up to opt-in to SMS too. While this isn't something we see often, it must be working if a brand this big is pushing significant discounts as an incentive.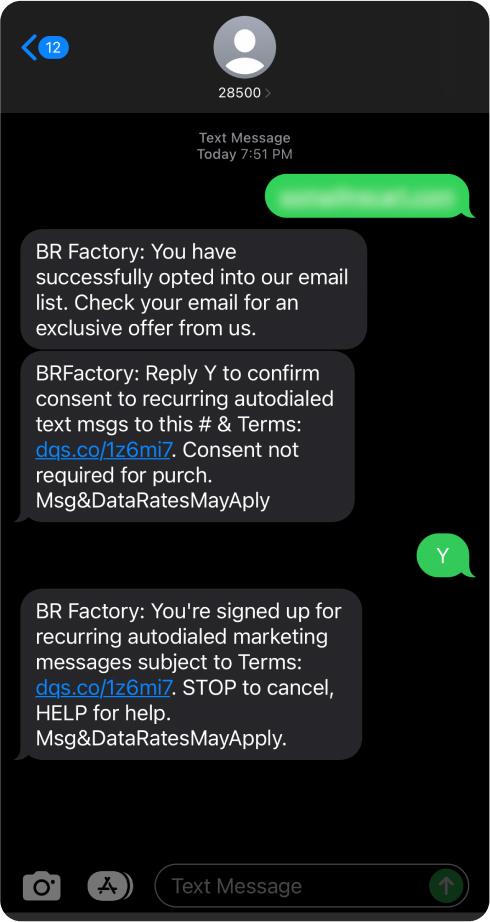 Polo Ralph Lauren: All in for opt-in
When walking into Ralph Lauren, you can't miss their SMS promotions. They've set up multiple signs and posters advertising an additional 15% off all in-store promotions when you subscribe to their SMS list. They even promote it on the window at the store entrance.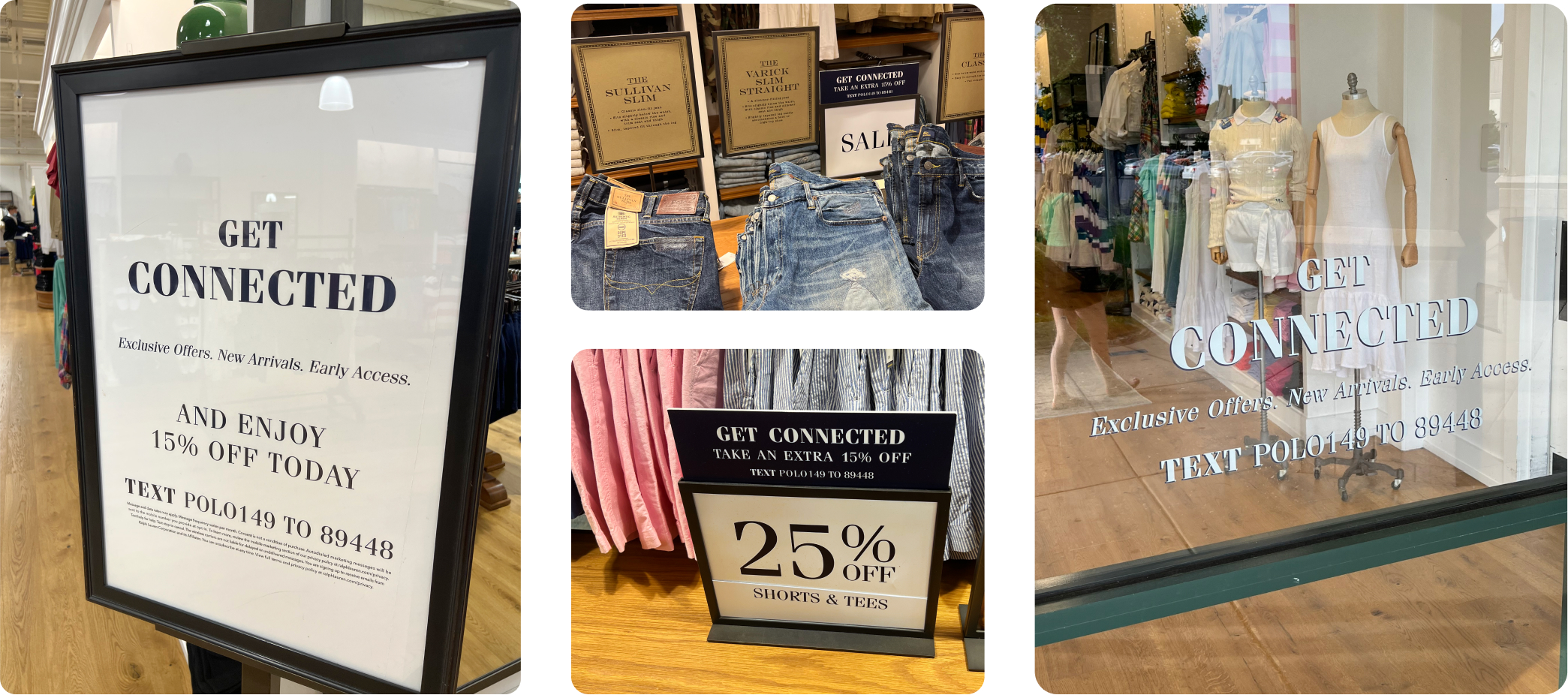 The subscription has multiple steps. 
1. You send the keyword to their number 
2. You're directed to a site where you submit additional details about yourself (hello personalization data)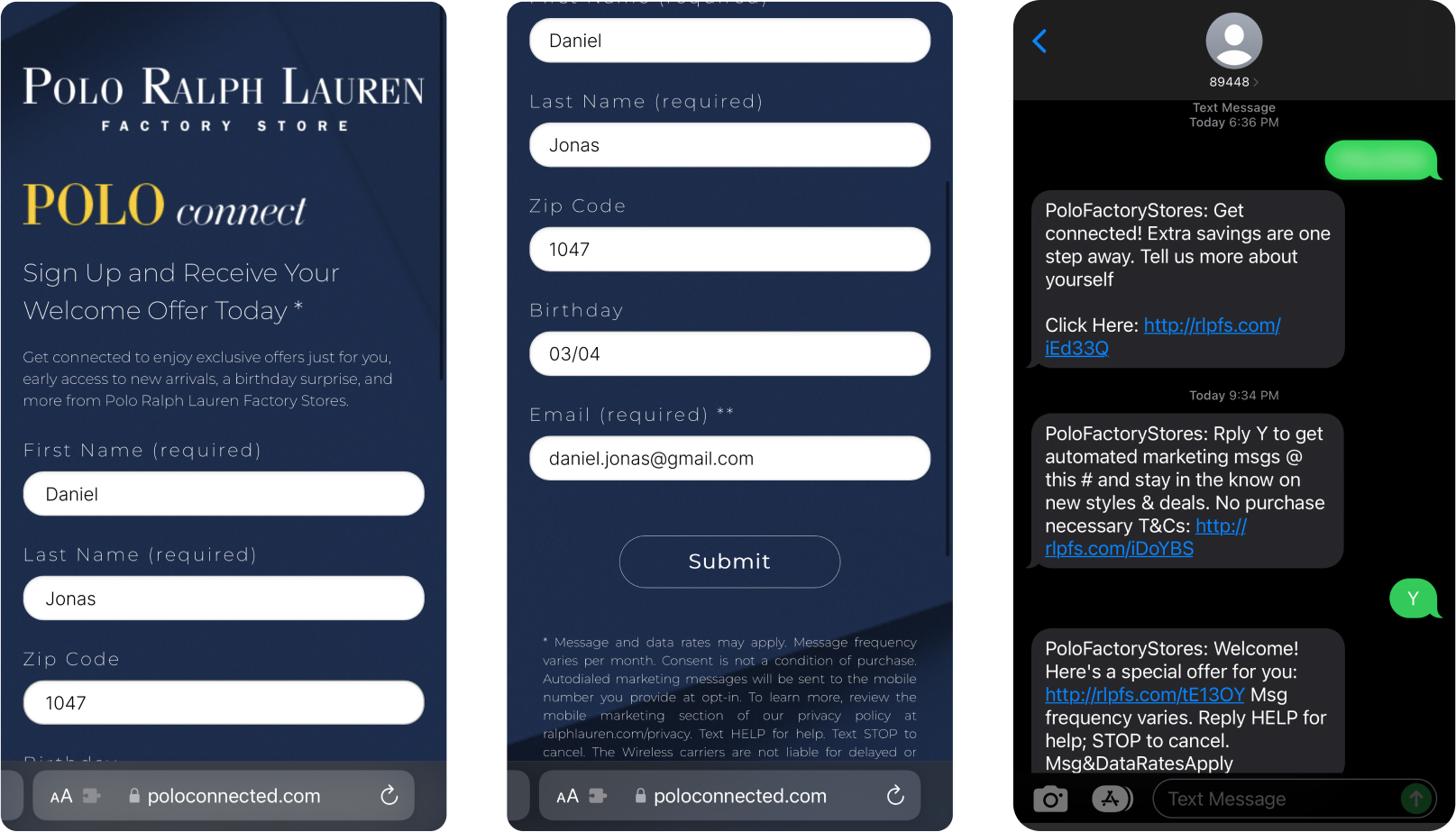 3. You receive an opt-in confirmation SMS and then your coupon is issued to you. (Bonus points that they offer the discount as an Apple Wallet Offer)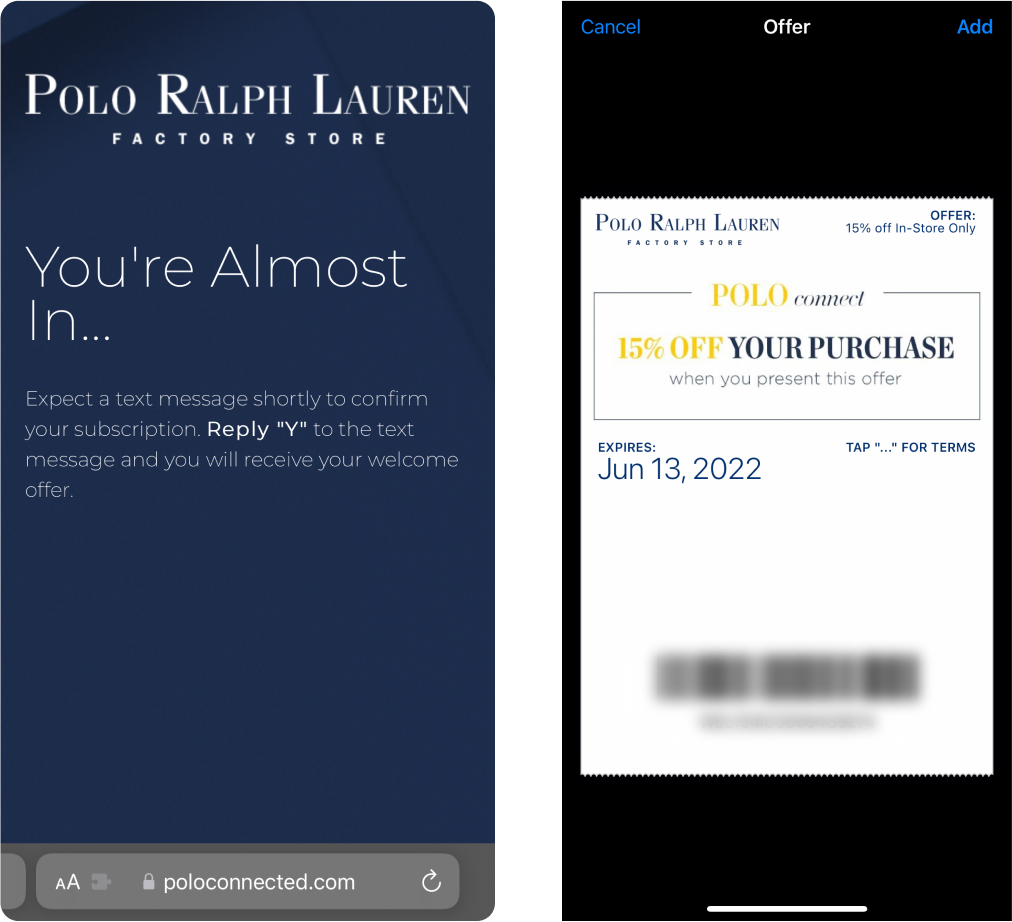 By the end of this journey, you've opted into SMS and email, provided additional details about yourself, claimed your discount, and likely purchased. It's a great flow and didn't take too much time at all.
Gloucester Premium Outlets: Simple yet effective
The premium outlet of Gloucester Township, New Jersey isn't shy with its SMS promotions and has large signs offering VIP Shopper Club when signing up for SMS alerts. All you have to do is text a keyword to their number and they reveal their best deal. Plus you're now opted in so despite this being a simple journey, it works!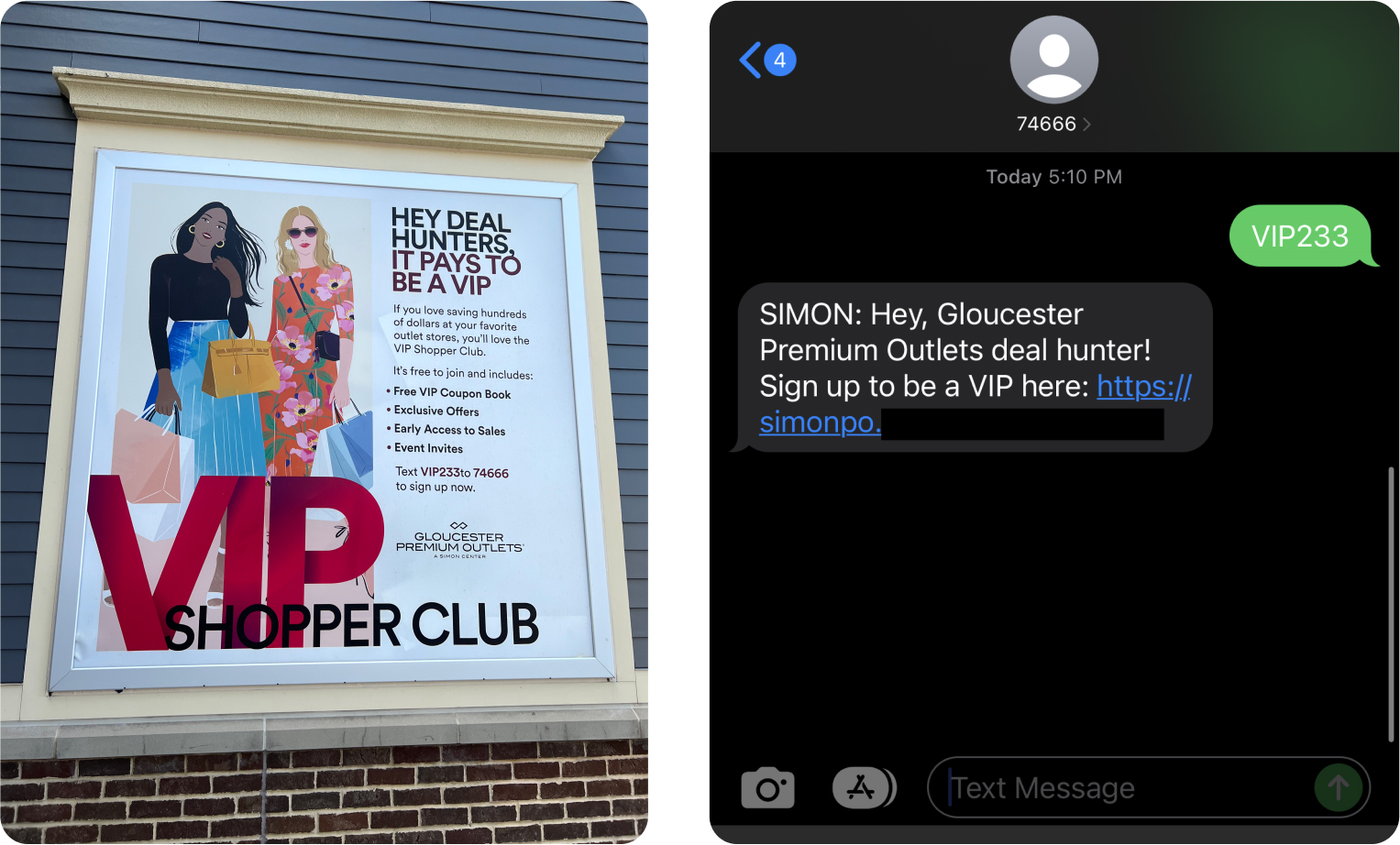 SMS is everywhere
I also snapped a few pictures of some fun and interesting examples to show just how adaptable SMS marketing can be.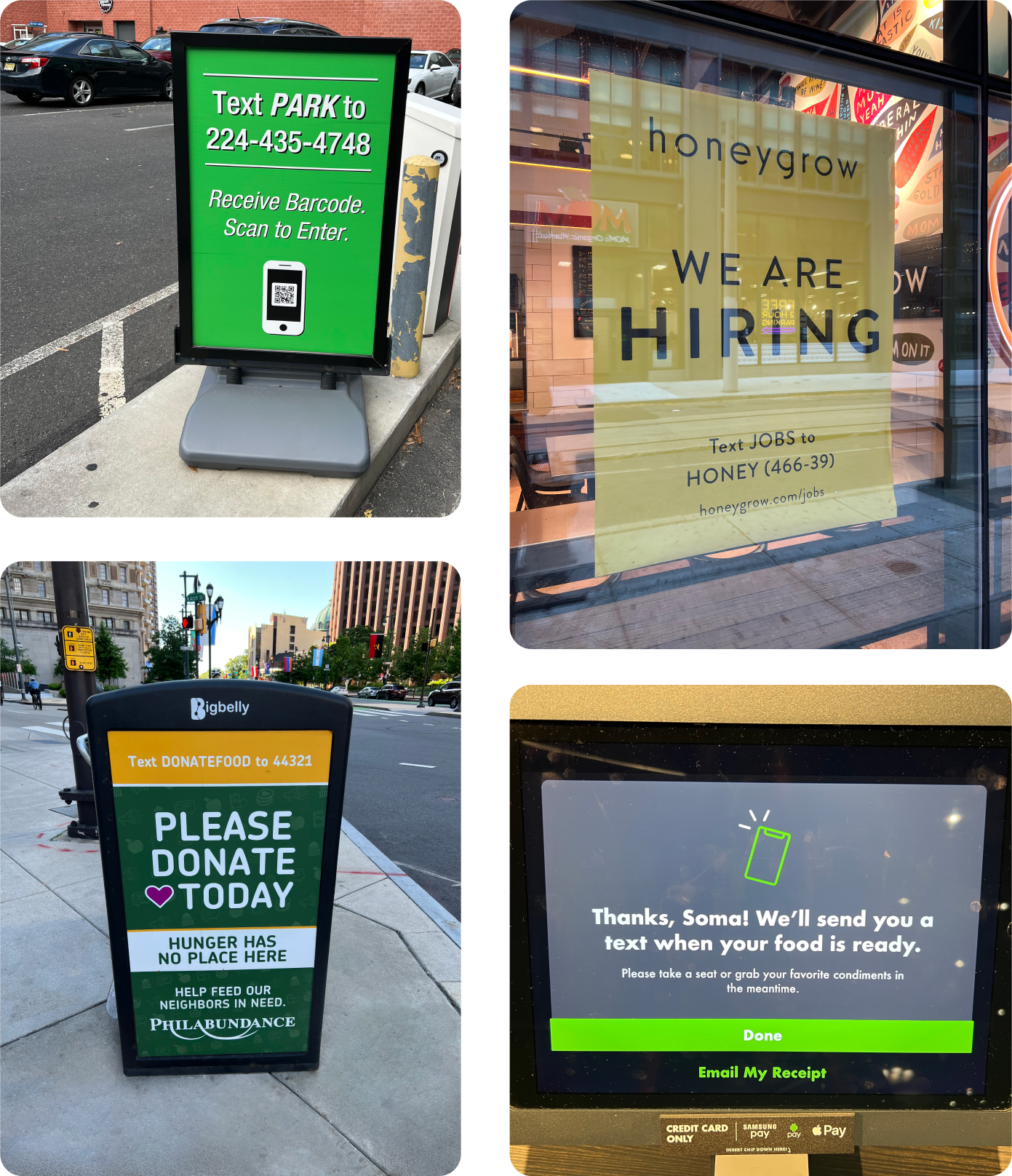 There's no bad time to start SMS marketing
Collecting SMS subscribers is the first and most important step to building your mobile marketing strategy. While these big stores do it well, these tactics aren't only successful for larger brands, and the strategies can be applied to any size store.
If you're interested in learning more, I've got a great resource for you. Or if you'd like to get started, Recart SMS client accounts are fully managed so the expert team can implement these and other tactics to ensure SMS marketing is a success for your unique business
Brands Grow Faster With Text Marketing
Schedule a free demo of Recart and get your SMS marketing up and running in 3 days.