For almost all merchants, there's no Black Friday without scheduled email and/or Messenger campaigns letting your customers know that the sale has started.
However, when it comes to Messenger promotion strategy, many merchants simply take what works on email and implement the same on Messenger. That move can get their Facebook page restricted instead of earning tens of thousands of dollars in revenue.
Instead of copy-pasting of what you do with email, I prepared you this short, but useful article on how to generate more sales while complying with all Facebook Messenger rules during this Black Friday weekend.
Here are my advices on sending Messenger promotions on Black Friday:
Don't send too many messages
Customers actually read Messenger messages. Instead of the average 12% email open rate on email newsletters, Messenger Instant Campaigns have about 80% open rates. You probably need to send multiple emails to get your message in front of customers, but this is completely different on Messenger: One single campaign is read by almost all your subscribers.

Since you can get your message in front of almost all customers with a single campaign, I recommend not to send more than one or two campaigns during the weekend. Imagine it: every time you send them an Instant Messenger Campaign, their phone will flash and vibrate. When you do it twice every day during the weekend, it can easily annoy them and you can destroy your conversion rates.
Comply with the 24+1 Facebook rule
There are strict rules regarding when you can send promotions on Messenger. If you don't follow these rules, you might get your Facebook page restricted from sending messages in the future.
The 24+1 rule means that every interaction your Messenger subscriber make opens a 24-hour window for sending promotional content. When the 24-hour window expires, you have one opportunity to follow up on the conversation later. That's why we call it the 24+1 rule.
You can send promotions to your subscribers when the time window is open. All Messenger interactions open this window: subscriptions, responses, quick replies, or Customer Chat messages.
I see many brands sending promotions outside the 24+1 window, but don't fool yourself: if you do the same, you're risking the reputation of your Facebook page.
The 24+1 rule basically means that you can only send promotional messages to subscribers who recently interacted with you. But don't worry, Recart got you covered.
How to send promotional campaigns that comply with the rules
You can do two different things based on your goals:
Send a Smart Promotion Instant Campaign from Recart
Use Facebook's Sponsored Messages Ad feature
Send Smart Promotions from Recart
In order to comply with the 24+1 rule, you need an interaction with your subscribers before you can send them promotional content. That's why we introduced the Smart Promotion Instant Campaign: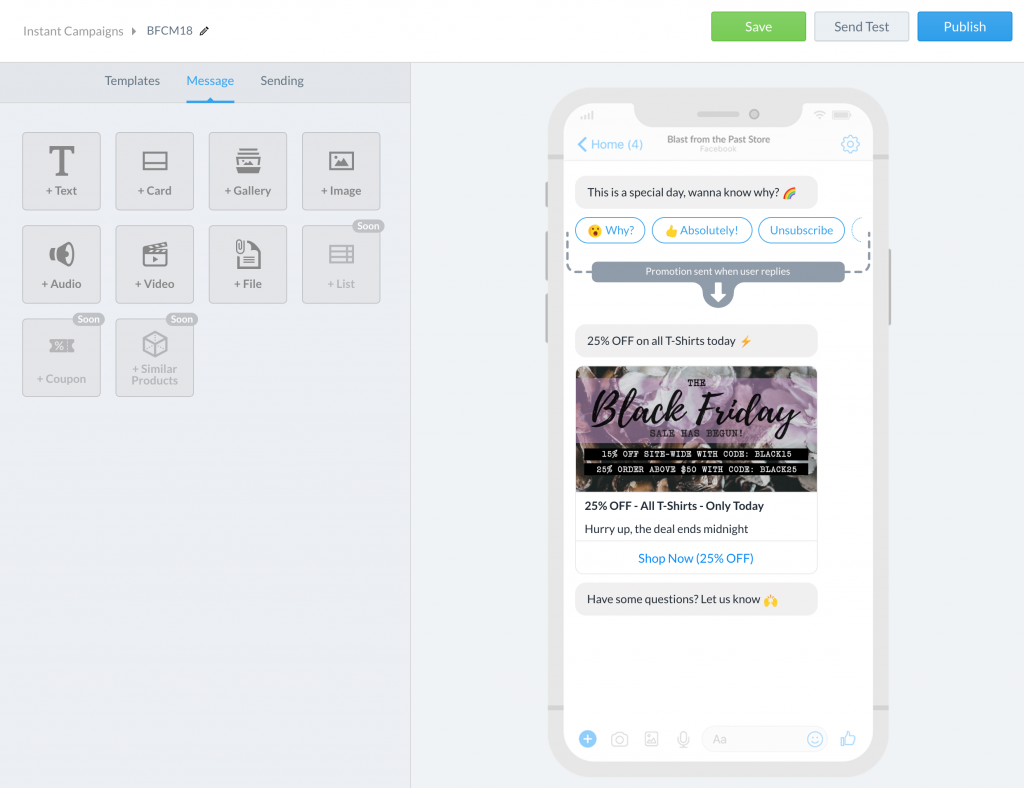 With Smart Promotions, you can send a non-promotional news or ping message to your subscribers and offer a couple of quick replies. When your subscribers hit one of the replies (except for 'unsubscribe'), they immediately receive the promotional content.
This solution is not simply compliant with the rules but can provide a better user experience for your customers. Instead of forcing the promotion into their inbox, you ask for permission and provide a clear way to unsubscribe. This will lead you to a more relevant, healthier Messenger list as well.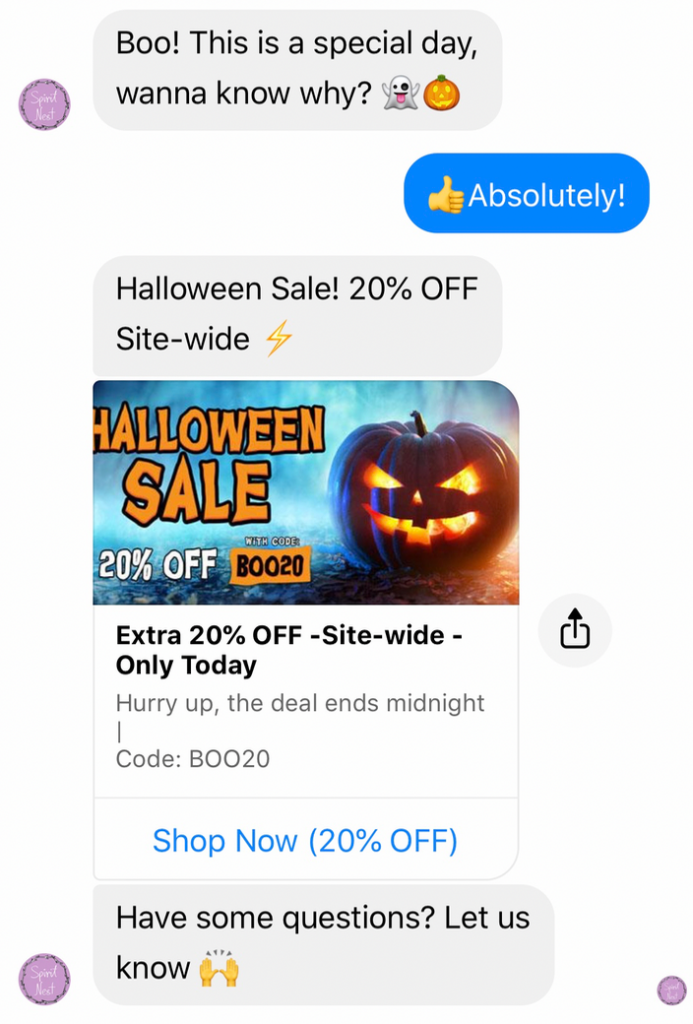 Please make sure you don't send any promotional content in the first message. You can't say: "Want to see our Black Friday offers?". You can deliver news, but do not include anything that can be categorized as promo.
Get started with Smart Promotions on your Recart Dashboard — Messenger — Instant Messages — Create Instant Campaign.
Get even better conversions
Use Recart's Auto-Applying Discount Codes for better conversions in your Smart Promotion Campaigns: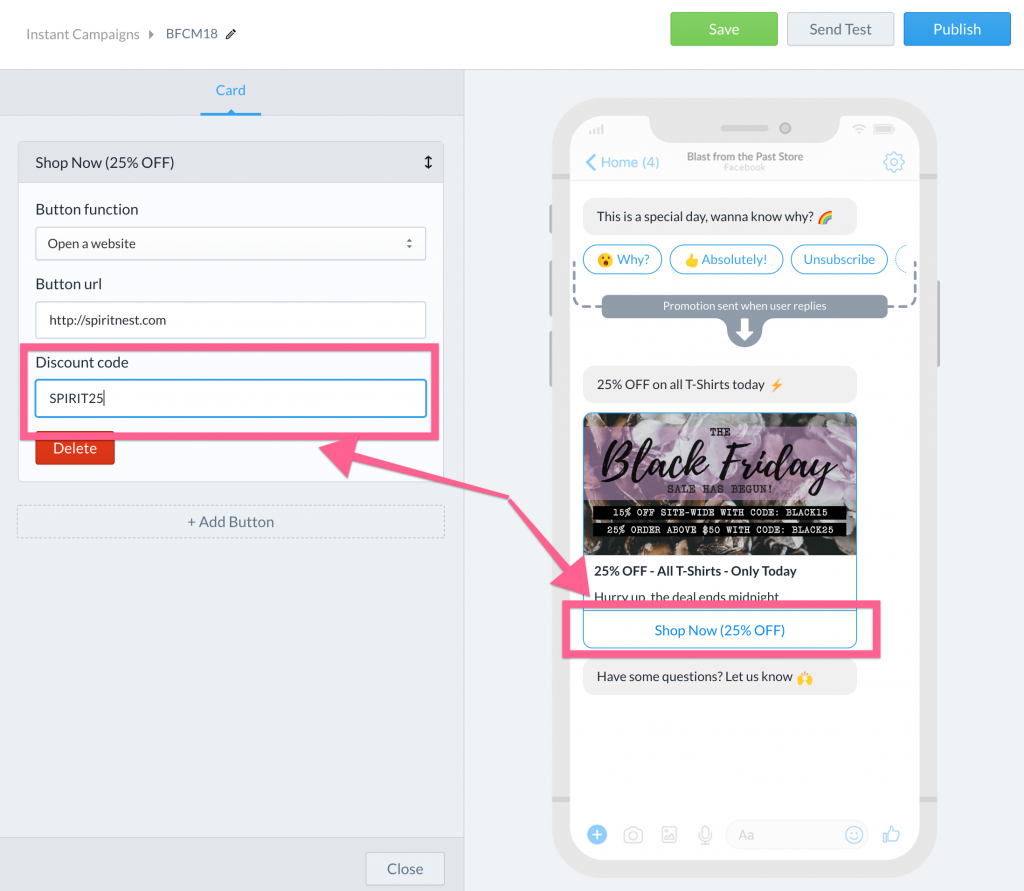 The feature will auto-apply the given discount code at checkout for your customers. They no longer need to type it in, the discount will automatically appear in their cart: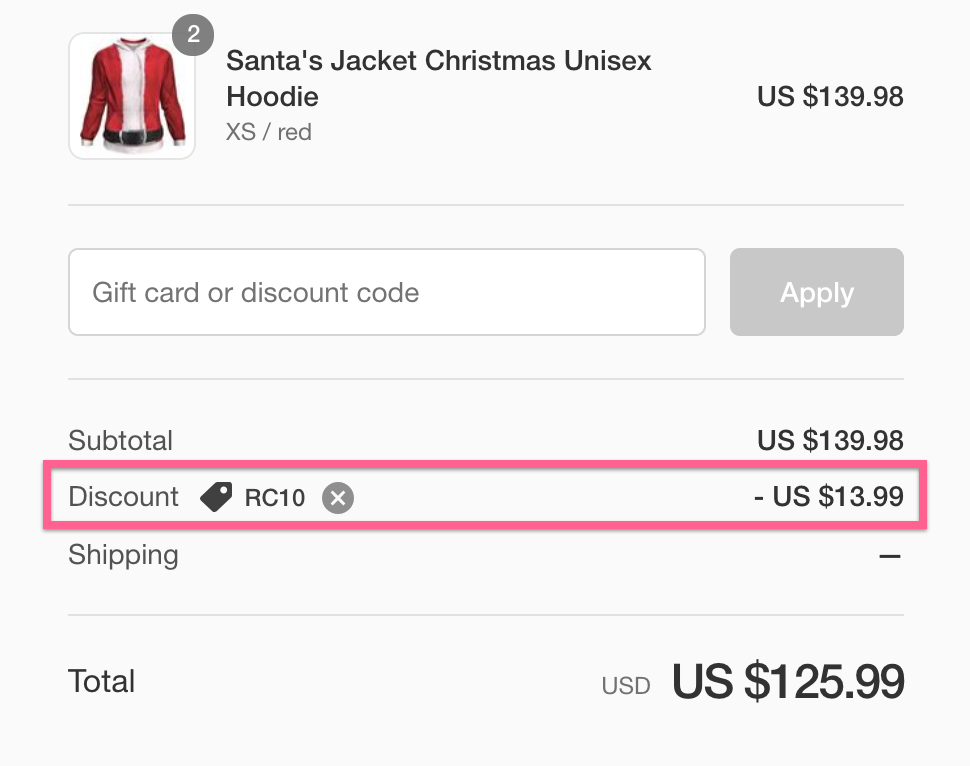 Learn more about the Auto-Applying Discount Codes here.
2. Use the Sponsored Messages Facebook Ad
If you want to send promotions right in your subscribers' inbox without sending a Smart Promotions campaign, the Sponsored Messages Ad is your tool. You can find it in Facebook Ad Manager as an ad type. It delivers a simple, promotional message to your entire Messenger audience.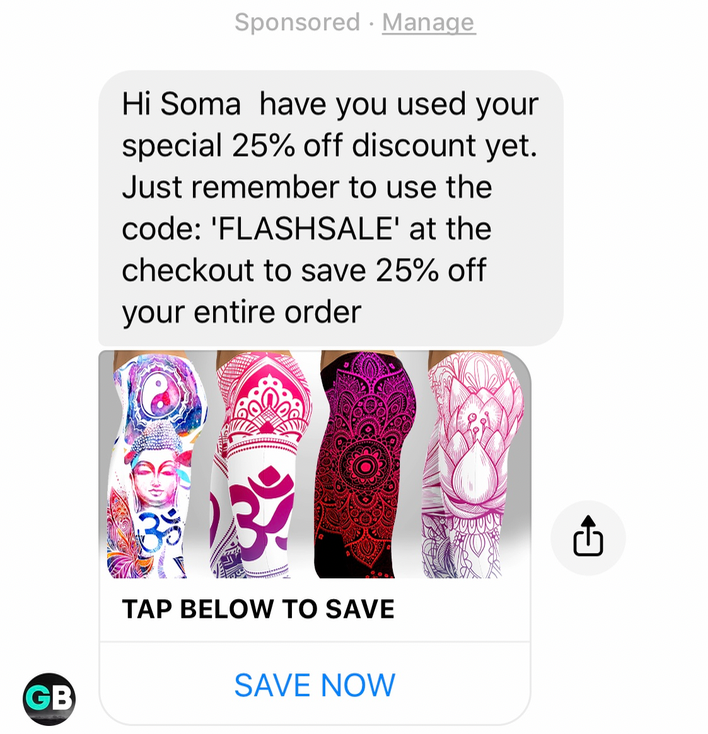 To get started, go to Ads Manager — Create a Campaign — Select Guided Creation — Select Messages as your marketing objective — Click on Continue — Select Sponsored Message instead of Click to Messenger — Set Your Audience — Set Budget — Setup Your Message. In a few minutes, you'll see the message composer: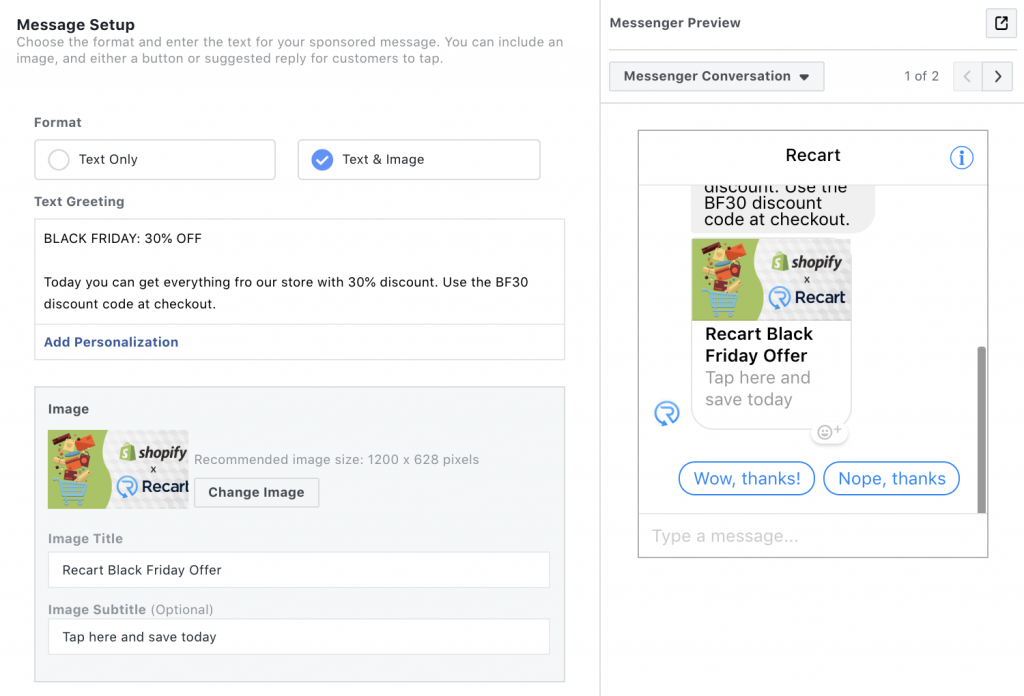 Now that's left to do is launching your campaign from the Ads Manager.
If you comply with Facebook's rules and follow these tips, you can surely expect your highest ROI Black Friday campaign ever!