It's that time of year again – holiday marketing season! Between Halloween and the end of the year, merchants will bombard their customers with their deals and offers. To make sure you stand out from the crowd and reach your customers send your promotions on Facebook Messenger.
Instead of getting your messages lost in customers' promotions and spam folder, use Messenger as a marketing channel which provides an average 90% open rate on your promotional messages.
And it's not just the open rates that make your Messenger promotions extremely powerful… It's also the automated Recart Flows that you connect to them.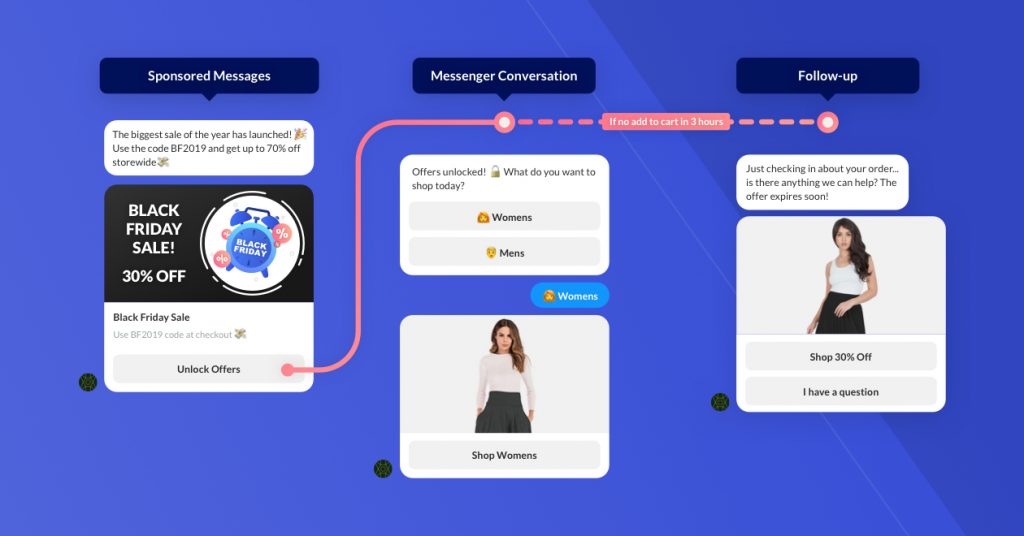 How to send Messenger promotional messages
To reach as many customers as possible, instead of Instant Campaigns we recommend using Facebook's native Ad tool for Messenger promotions: Sponsored Messages.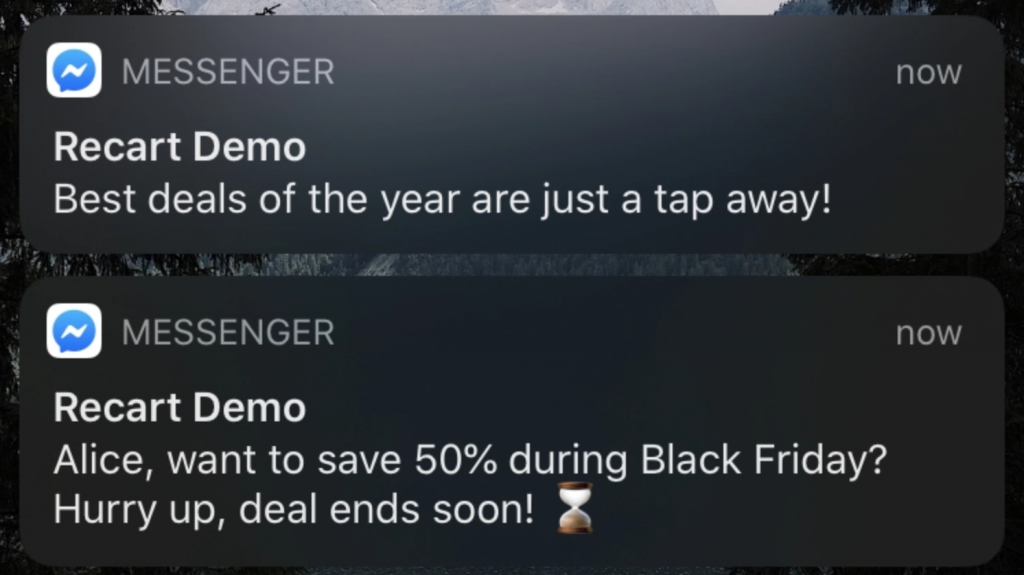 Sponsored Message is an ad format that lives in your Facebook Ad Manager. It sends a single Messenger message to everyone who you have an open conversation with.
Open conversations are Messenger threads where customers sent at least one message to you or interacted with your Recart Messenger bot without deleting or blocking the conversation.
Using Sponsored Messages, you can send messages to everyone who contacted your page or engaged with one of the Recart messages before.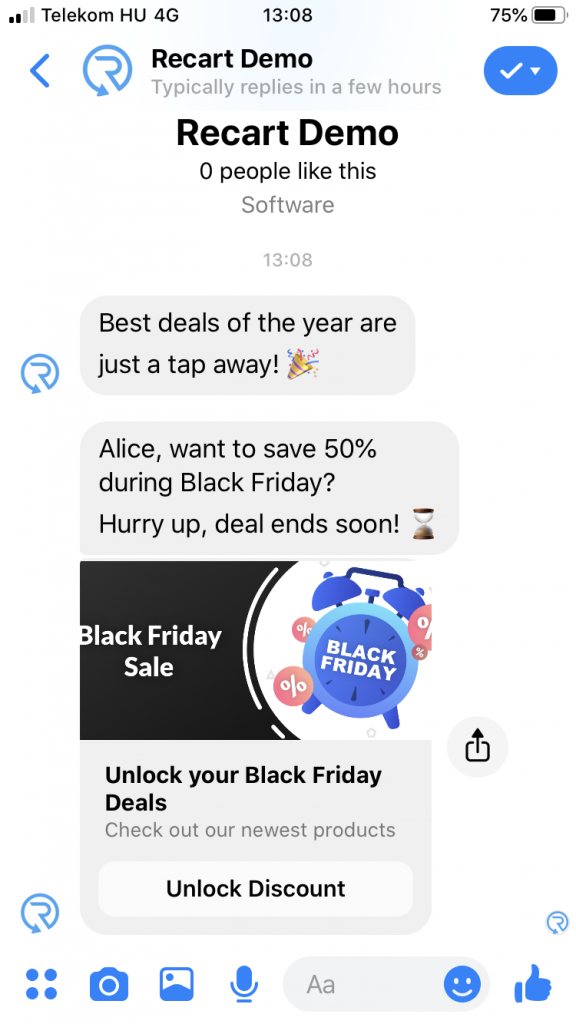 Send Sponsored Messages and connect them with a Recart Custom Flow
Setting up Sponsored Messages takes only a few minutes. You can start crafting it in your Ad Manager. Go to Create New Campaign → Switch to Quick Creation → Name your Campaign, Ad Set, and Ad → Switch the Campaign Objective to Messages → Click on Save to Draft.
On the Campaign level, set your budget and bid. In the US, the recommended bid is $30 per 1,000 impressions. However, we see much better delivery when merchants set the bid to $300 and the budget to $3,000. Higher bids didn't seem to affect the price per message sent.
Now you can create the message and connect the Recart Flow. In case you haven't created the Recart Messenger Flow yet, you can follow these instructions.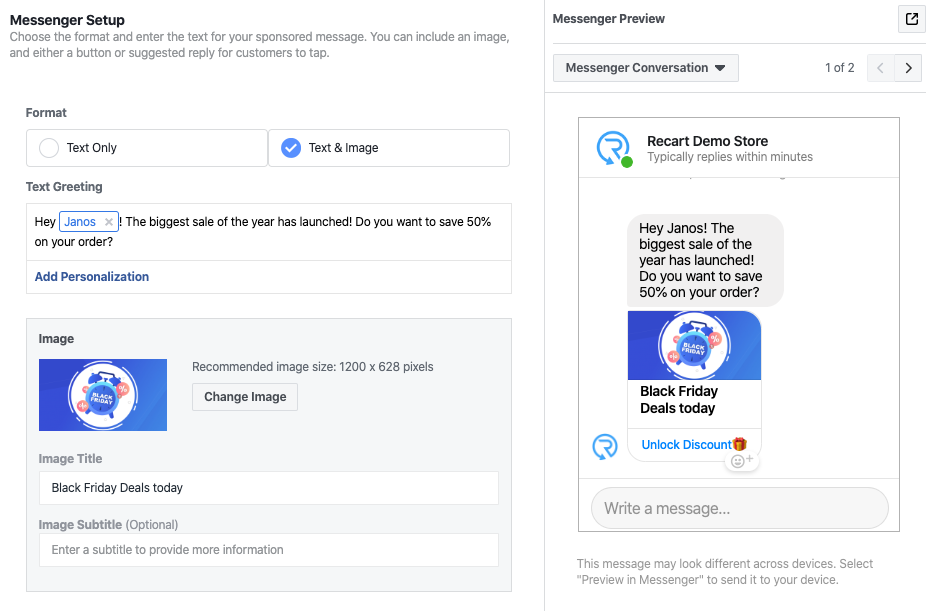 Choose Buttons – Send a postback as Customer Actions and copy the Recart Flow Bot Payload in the field: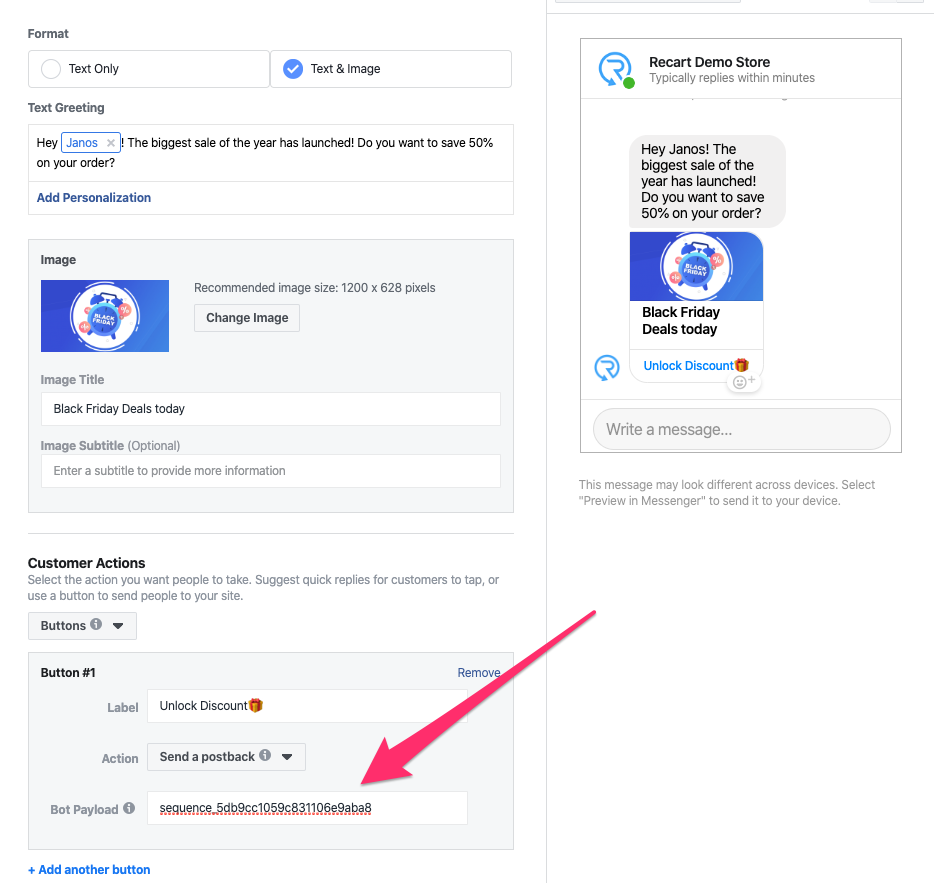 The button will trigger the flow and will let you automate follow-ups to customers who haven't added anything to the cart. We recommend using flows like the Halloween Sale Flow from our Template Library: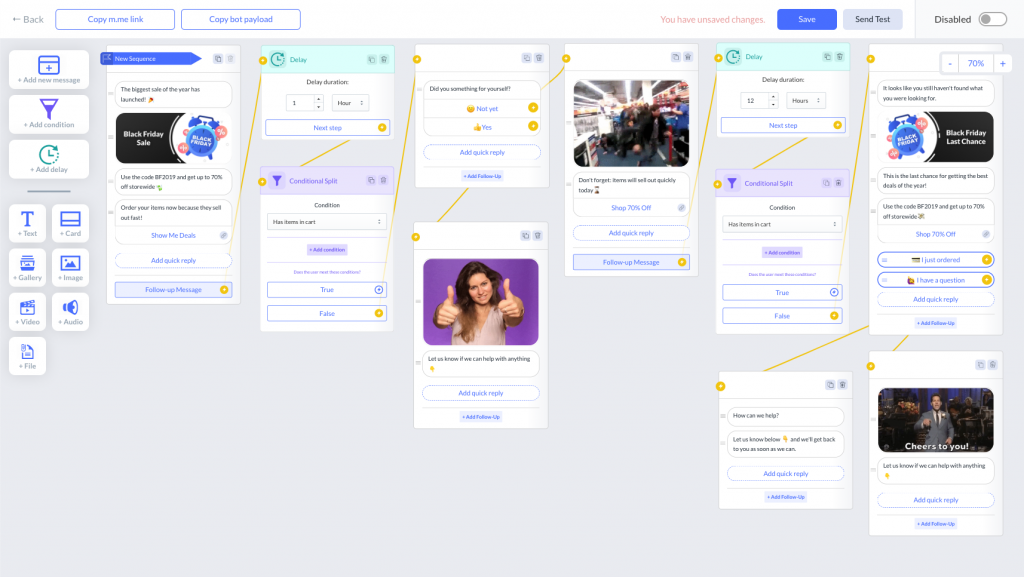 You can also send your customers to your store right away from the Sponsored Message itself. We call this a "non-gated" approach. The downside is that you won't be able to send follow-ups if the customers don't trigger the Recart Flow.
People are busy. Always follow up.
In your Recart Flow, we recommend setting one or two follow-ups. You can check-in in 60 minutes and 23 hours after customers activated their discount codes.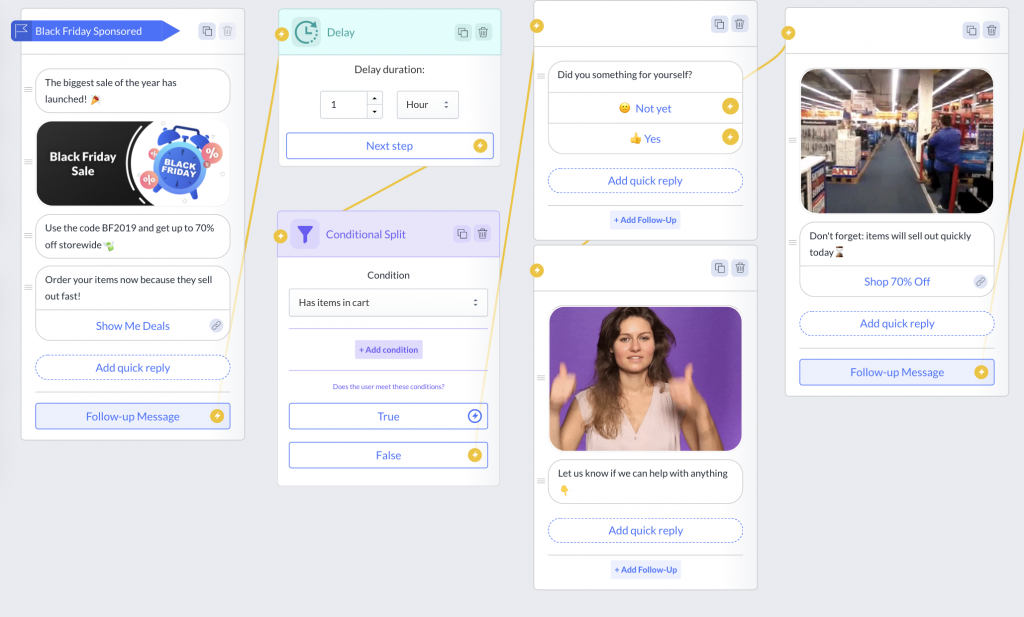 Once you're ready with the flow, you can test the entire experience using the Share → Preview in Messenger button:

Please make sure you go through the entire flow and click on all links – you don't want to launch this without making sure it works!
If it's good to go, you can enable the publish & enable the ad.
Key elements of a successful Sponsored Message campaign:
Use Sponsored Messages instead of Instant Campaigns to comply with all Facebook policies and reach more customers

Usual performance: 80-90% open rate, 15-20% click rate, 10-30 ROAS.

Usual price: $0.01-0.015 per message sent – being charged to your Ad Account, just like any other ad.

Use "gated" message for getting more engagement and send follow-ups. Use "non-gated" promotion for delivering the discount code to as many people as possible.

Sponsored Messages will be sent to all people who have an open conversation with your Page in Messenger. This means a bigger reach for you compared to the Instant Campaigns that are being sent to Recart subscribers only.

Sponsored Messages have to go through the same review process as your regular ads. Make sure you upload the Messages for review a day before its launch date.

The ad delivery is always accelerated, however, it can take 3-5 days to reach everyone. Promoting 1-day flash sales with Sponsored Messages is not ideal.

People are busy. Always follow up. Use the conditional splits to determine if the customer has added something to cart after the first message.

One person can receive one Sponsored Messages a day. In case two businesses try to reach the same person, the message with the lower bid will most likely to be postponed to the next day.
Get Started
Go to Recart – Messenger Dashboard and click on Create Custom Flow in the Custom Flows section.
Once again, you can find our detailed, step-by-step guide on how to create and use your Custom Conversation Flows here.
Are you in rush and need help with the setup? Feel free to reach out to our Success Heroes using the chat on the bottom right.