7

min read
I'll start this article with a warning: this article is a step-by-step guide on how to send emails to ALL cart abandoners on WooCommerce.
I really mean it. By the end of this article, you'll be able to send emails to every single one of your abandoners.
Also, as a side note, if you're not familiar with cart abandonment or cart recovery emails, I strongly recommend to start with this article, then come back.
You drive your traffic to your site. And I assume you pay for that. You likely pay Facebook or Google or you pay with your time by creating content for your blog. This paid traffic visitors arrive on your site and some of them are in the mood for buying but most of them are leaving without buying anything from you. If you're close to the average, only 2% of your traffic buys something, and the other 98% leaves your site without giving you a penny. But that's not news for you.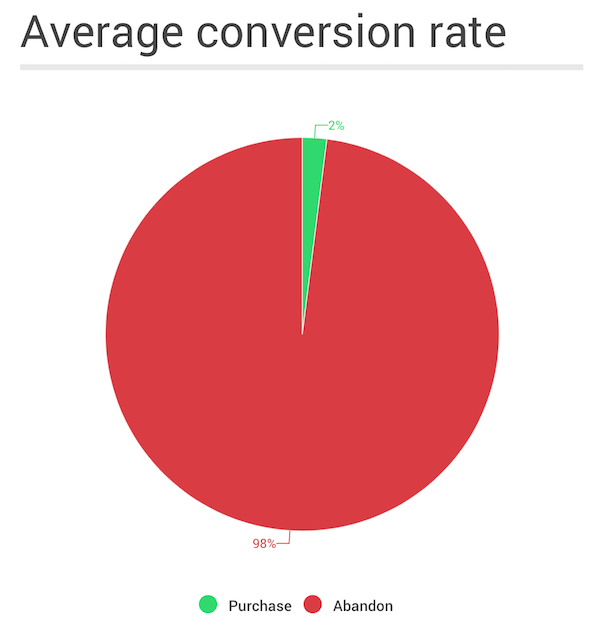 Thing is, your site abandonment is not the real problem. What is the problem is your cart abandonment. The average cart abandonment rate is 71%. Imagine this: 100 people put something in their cart, but only 29 finalize their purchase. 71 of them leave without making a purchase, just like that. You don't know them, you don't know why they abandoned their cart. And of course, you don't know their name or their email address. There is no chance to re-engage them. That's your real problem.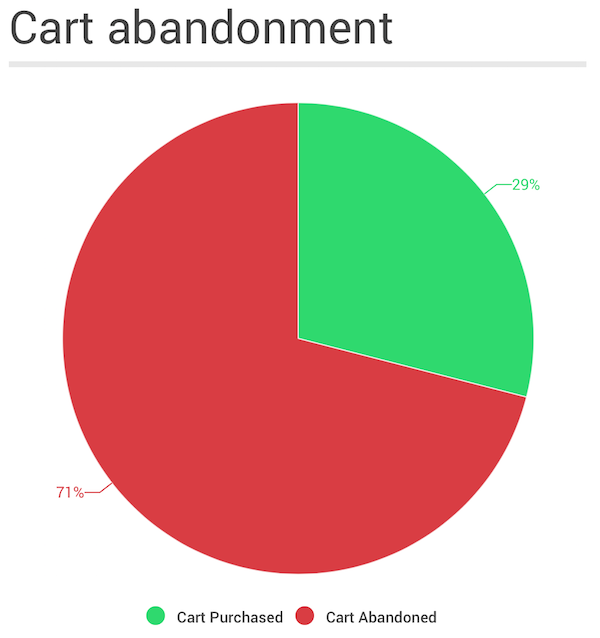 It's considered 'normal'. Yet, it shouldn't be considered normal that the vast majority of your visitors leave without making a purchase.
The good news is, this can change.
I just recently posted about how I dramatically reduced our cart abandonment rate and made more than $103,000 in 2015. Now it's 2016, and I've been thinking about how can we can reduce the cart abandonment rate further and recover more sales.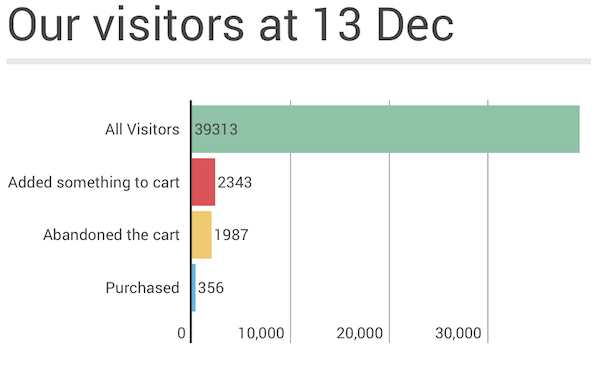 Meet your cart abandoners
The problem is that you can't identify cart abandoners. You don't know their email address or their phone number. Basically, you don't know anything about them. They're essentially ghosts to you. Thankfully, all is not lost, you can use tools like GhostMonitor to identify cart abandoners and, more importantly, bring them back by carefully crafted automated emails which compel them to complete the checkout process and make a purchase.
There are a bunch of recovery tools out there, but the most important thing for recovering cart abandoners is to identify them. If you don't have an email address, you can't send an email, right?
Cart abandonment tools basically identify your cart abandoners with these 2 methods:
They fetch the login data
So if a user is logged in, cart abandonment software can extract the user's email address.
They capture email addresses as they're typed in on your checkout page
While someone starts the checkout process on you're checkout page, and fills out the forms, it's captured real time by a cart abandonment solution.


These solutions are great, they allow you to know your cart abandoners' email, but only a few of them: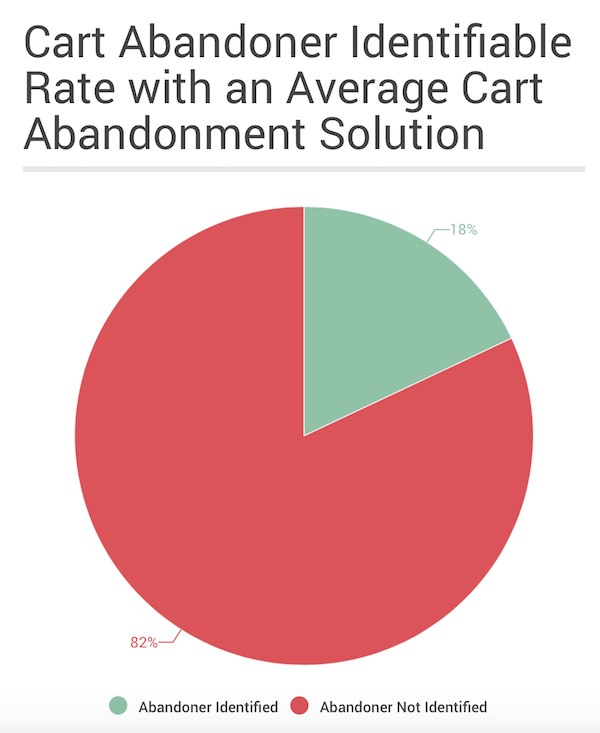 We also worked with a 15-25% identifiable rate so we started to work on how can we recover a much higher percentage. Email addresses are the key to recovering more abandoned carts and thus making more sales.
It's quite simple.
If you want to recover more abandoned carts, you need to send more emails.
And if you want to send more emails, you need more email addresses, right?
So you need to boost the identifiable rate.
Identify all your cart abandoners
An 18% identifiable rate means that out of 100 abandoners you can send emails to 18 of them. So a 100% identifiable rate means that you know everybody who abandoned their cart, and you can send an email to all of them. Now, let's see how we can grab the email addresses of all cart abandoners.
Our CTO, Gergo had a crazy idea last summer:
"What if we create a popup which is activated when a user clicks on the Add To Cart button asking for an email address?"
The idea wasn't considered as serious until last November. But then, I realized this is a great opportunity to cut cart abandonment. Forcing your prospective buyers to give you their email addresses might seem a bold idea, and believe me, it is bold. That's why I fell in love with it.
This is what the method looks like.

We started our first test last December. We applied our very first 'AddToCart Popup' on our Hungarian Christmas theme ecommerce store, the boldogkaracsonyt.hu. It's a very popular store, we receive hundreds of orders a day during the season.
This is what you see after you click on 'Add To Cart':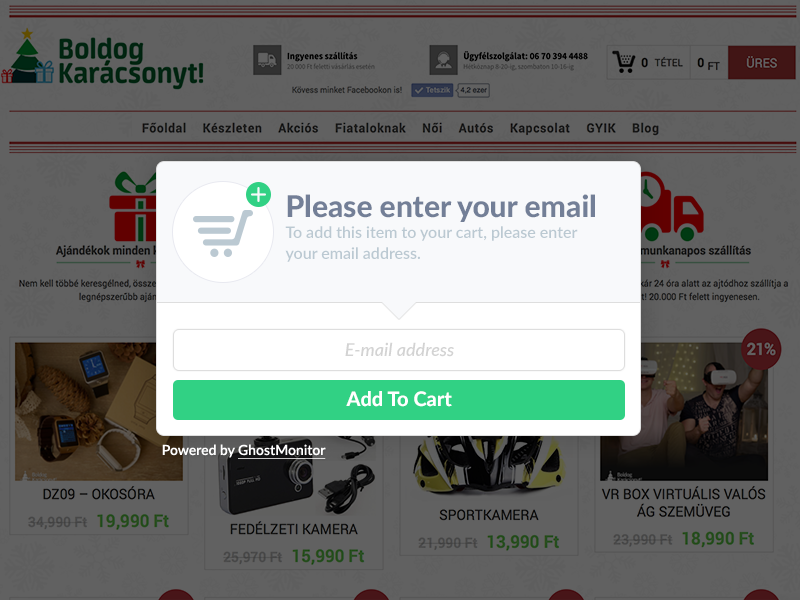 It's simple: if you want to put something in your cart, please provide us with your email address.
Does it hurt conversion rates?
I was afraid it would hurt our conversion rate as we require an email address if a visitor would like to put anything into their cart. It could be reasonable for the visitor to say 'Go to hell!' when they are met with this popup after adding an item to their cart. Here at GhostMonitor, we've also been afraid of the consequences of using a solution like this. But let's see our conversion rate before and after the Add To Cart Popup: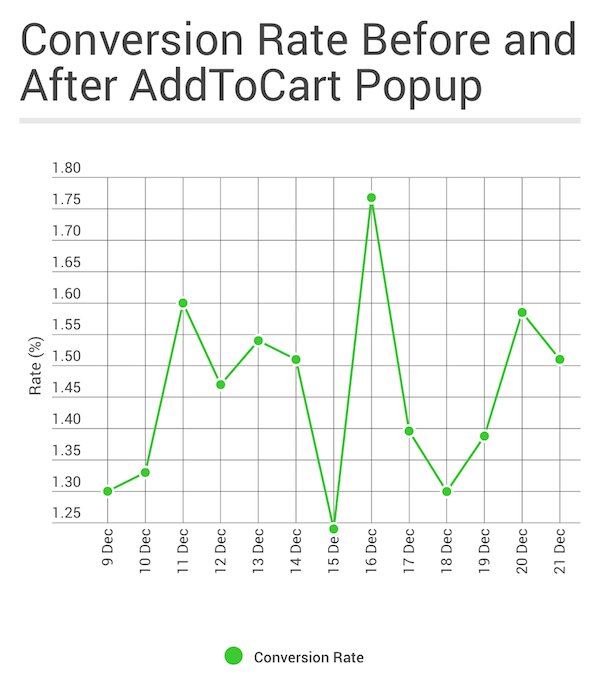 Nothing bad happened. Our conversion rate didn't drop. If you're afraid that your buyers won't like this method you can relax and in the worst case, the decision is always reversible.
Your hot leads should give their email addresses. Those who don't weren't likely hot enough to begin with.
It turned out that forcing your visitors to provide their email address before they can add anything to their card doesn't hurt the bottom line. Quite the opposite actually, as it can actually increase your sales if you know what to do with those emails.
In fact, our test proved that we made more sales as a result of implementing the above-mentioned technique of obtaining email addresses. More email addresses = more money.
How to send emails to ALL cart abandoners
Basically, there are two ways to do this. If you're using WooCommerce you're already winning as you can implement our solution in a matter of few seconds.
Send emails to all cart abandoners on WooCommerce:
Our Add To Cart Popup is available in GhostMonitor, so you can start using it right now. GhostMonitor is an automated cart recovery plugin for WooCommerce, which collects and sends emails to cart abandoners. There are plenty of great features inside to enable you to recover sales from abandoned carts. Here's how to get started:
Create a free account here
Install GhostMonitor on your WooCommerce store.
Setup your AddToCart Popup. (On Email acquisition menu)
Send email series to cart abandoners – it's turned on by default.
Enjoy your extra revenue from recovered carts!
Send emails to all cart abandoners on other platforms
We're working our asses off to make GhostMonitor available on other platforms as well. Until then, you can create your own. I recommend you to contact your developer to implement a solution like this. But remember, it's not enough to just acquire the email address, you need to bring them back to your site to complete the purchase via a persuasive, targeted email.
What do you think about this method? Would you use a solution like this to maximize your profit from abandoned carts? Or you think it's too pushy? Tell me what you think about it!