Opening your Shopify store is easy. Making it profitable is hard. We all know that.
It's because opening a Shopify store is so easy that scaling it has become so difficult. That increased competition provides increased variety to your users. They have dozens of stores all trying to capture their attention.
And it leads to online merchants' biggest headache. Cart abandonment.
Few customers feel the pressure to purchase right now. They want to shop around, check out different stores, and research heavily before making a decision.
Their lack of commitment leads to costing the industry trillions of dollars every year.
Here at Recart, we've spent the last three years taking a deep dive into solving cart abandonment. We've seen stores large and small, new and old and analyzed their processes.
The one thing all successful stores have in common? They all send some form of cart abandonment message.
It's not surprising: people abandon more and more carts, so merchants must keep up. Merchants have to do something to bring the increasing number of abandoners back on site to complete their purchases.
There are tons of reasons why customers ditch their carts. However, I'm not here to talk about pre-abandonment solutions. I'm here to help with post-abandonment campaigns.
To be more exact, I'm about to take your ecommerce marketing to the next level today.
We sent millions of abandoned cart emails in 2016 and you know what we found? That even with extensive testing and a team of skilled copywriters, designers and strategists there's a hard cap on how effective your campaigns can be.
Even with the best team and iterative testing, only 40% of cart abandoners will open those emails. Only 4-5% will follow your prompts and come back on site to convert.
Around 60% of your abandoners won't even open your emails and there's no real way to improve the open rates. Rather than trying to optimize a channel which has seen a little improvement, we need to look for something new.
When Facebook announced the Messenger bots back in 2016, we were excited. We immediately knew this was a huge opportunity. We knew this could be the next big thing in ecommerce.
What if customers could receive automated messages right in their Messenger inbox?
So we started executing. The idea was simple: take our best-performing abandoned cart emails and transform it into Facebook messages.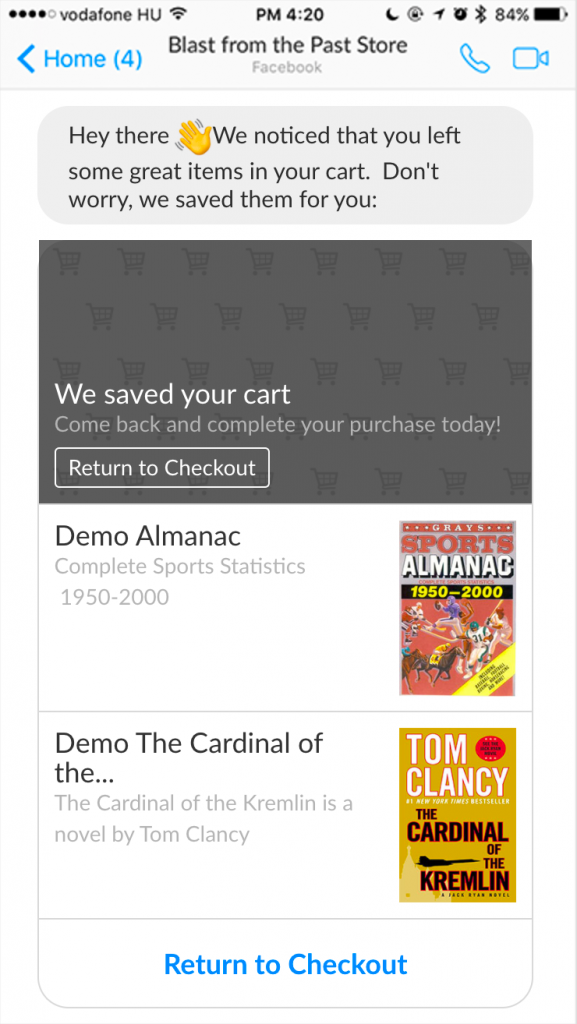 As soon as the initial tests were done, we realized we were on to something special. We'd found the game changer.
Email vs. Messenger
The fundamental differences between email and Messenger:
2-4X higher open rates
The average open rate of my Abandoned Messenger Reminder is 91.26%. My most highly optimized email only achieved 45%. When your business model is free+shipping or your traffic colder than the usual, your abandoned cart email open rate will be around 25%. Fact: On Messenger, nearly all your messages are opened.

4X higher click rates
That's a more important metric for generating sales in your store. If they don't click, they don't buy. Thankfully, Messenger is the perfect platform for sending your automated messages.
5-10x higher response rates
Messenger is a much more personal way for communication. You'll receive more answers and feedback than ever before. A lot more customers will say hi and ask questions to you which is great for ongoing development and relationship building.
Everything goes to the inbox
There's no spam, promotional or updates folder. No need to worry about the deliverability. You can rest easy knowing you have 100% deliverability and visibility. This is one more key difference which helps Messenger to kick the email in the ass. In 18 days, Recart built a larger Messenger list than email and of course, made plus $5,314 for the store.
It takes half the time
Talking with customers is much easier on Facebook than via email. No need to craft long emails and the response time on Messenger is half that of email.
Conversion rates are significantly higher
In our tests, we've found conversion rates to be just over one third higher than email. That's an extra 33%!
How to Send Abandoned Cart Reminders on Messenger
Step #1 Install Recart
Recart is the world's first and only complete Messenger marketing tool created specifically for Shopify & WooCommerce stores like yours. The first thing you need is the Recart app working in your store.
Grab it for Shopify or WooCommerce here. It offers 7 + 21 days free trial, so you'll have time to test everything.
Step #2 Install the Recart Messenger Widget
Before you can send messages to Facebook users, you need to get them to subscribe to your Messenger list.
Recart uses the 'Send to Messenger' widget to subscribe customers to your Messenger list.
It takes just a few seconds to install and then appears under your Add to Cart button. Here's a guide for installing the widget.
The widget will subscribe customers when they click on the Add to Cart button:
Once they're subscribed to your Messenger list, you can message them in the future through your Recart Dashboard.
With the addition of automated and instant campaigns, it's the same as building an email list. Only one which opens more of your emails and clicks on the links you send through!
Just imagine: Your next sales newsletter brings a 90% open rate…
Step #3 Enable the Abandoned Cart Messenger Campaign
Simply go to Recart Home > Messenger > Auto Campaigns. Find Abandoned Cart Messenger Campaign and click on Edit.
Shape the message to retain your voice and offer an incentive for completing the purchase. Then it's just a case of clicking enable.
Boom! You've now got an automated cart abandonment Messenger campaign!
We've created a number of pre-built campaigns within Recart allowing you to start enjoying the high open, engagement, and conversion rates at the click of a button.
The content has already been A/B tested giving a jump-start for your marketing if you're unsure what to write in your abandoned campaigns.
That's it!
You're now sending abandoned cart reminders right to your customers' Messenger inbox. Enjoy the 4x better results and insanely high engagement. But more importantly, enjoy all that extra money you're going to be making!
Oh, and keep your eyes on your Facebook page's inbox. People are crazy responsive to Messenger messages. We usually see a 30% response rate to our automated messages.
PRO TIP: Take a look at the different campaigns Recart offers. I strongly suggest you turn on the Messenger Order Receipt campaign right away. To convert one-time purchases into returning customers, include a coupon code in the receipt.
PS: Yes, you will be able to send newsletter-like Instant Campaigns to all your subscribers you collect. Instant campaigns will arrive in 2-3 weeks, so keep growing your Messenger list!
Any questions? Feel free to comment below or contact us!