Before we dive into what actually works when it comes to increasing ecommerce conversion rates, let's figure out what makes an ecommerce store succesful.
Is it making enough to cover the bills? Pulling in enough cash to keep the store running? Maybe it is hitting the point where your side hustle store transforms into your full-time career?
Or is it something with a specific monetary value? Your first five figure month? Six figure year? Or, dare I say it, the first time you break the million dollar barrier.
There is no right answer. It's subjective. And it's going to be individual to you, your situation, and your store.
The real question is, why stop at that milestone? Why not grow beyond your initial goal?
Cause honestly, once you hit that first milestone, nothing special happens. There's no parade, no bottle of champagne that magically finds its way to you, and no-one outside your immediate circle who even gives a crap.
I know that once you've hit that milestone, you'll set the next. You'll want to grow a five figure business to a six. Then a seven, then eight. 
It never ends.
You're always going to want more. And don't let anyone tell you that's a bad thing. It's how incredible businesses are made.
Problem is, hitting your current milestone is a pain in the ass itself. How on earth are you going to manage to grow to the level beyond your current goal?
Why your store isn't growing as fast as it could should
Because it's leaking money.
It could be that your value prop isn't as compelling as it could be. Perhaps your CTAs are failing to give your customers that "can't wait to buy" feeling. Or maybe your product images just aren't cutting it.
So, what can you do?
First of all, optimize the hell out of your store. Change as much as you can for the better. Tweak your site to meet and then beat the average ecommerce conversion rate of around 4%.


You've got to consistently look at your customer interaction data and optimize your site accordingly.
And if you're not sure what I mean when I say accordingly, don't worry. I've put together a few of the most effective optimization methods for you.
On-site copy
As a copywriter, this seems like the best place for me to start.
There's a reason copywriters can charge a premium when updating or creating content. It's because good copy, and I'm talking about the real awesome stuff that goes beyond simply saying what the product is, makes money.
It reminds users of that itch they have, describes how your product can scratch it, and does it all whilst being enjoyable and entertaining.
I might be biased, but I really think content is king. Trust me, I've seen poorly designed sites convert well simply because their copywriting was on point.
And there's plenty of studies which show how focusing on the written word can greatly increase conversions, two notable examples are:
FreckleTime 2.4X'd their conversion simply by improving their copywriting.
Invesp increased conversions by 90% after improving their value prop.
You've got to provide enough copy so the user is in no question that this is the right product for them. Moreover, if you cover all the right points in the right detail, the customer will pretty much convince themselves to purchase.
I can't go into full detail on how to improve your copy right here, but I can offer a few guidelines.
Focus on keeping your message clear
Don't just focus on benefits, bolster your benefits with the features that offer them
Make use of bullet points to highlight key benefits
Get a little creative, show your brand's voice and personality
Remember, this is about how it can help the customer
One of the best examples I've seen is in an article on econsultancy examining the about page of OneFineStay, an online private holiday booking service.
Below you can see their old about page which shows some incredible examples of evocative copy that builds a relationship with users.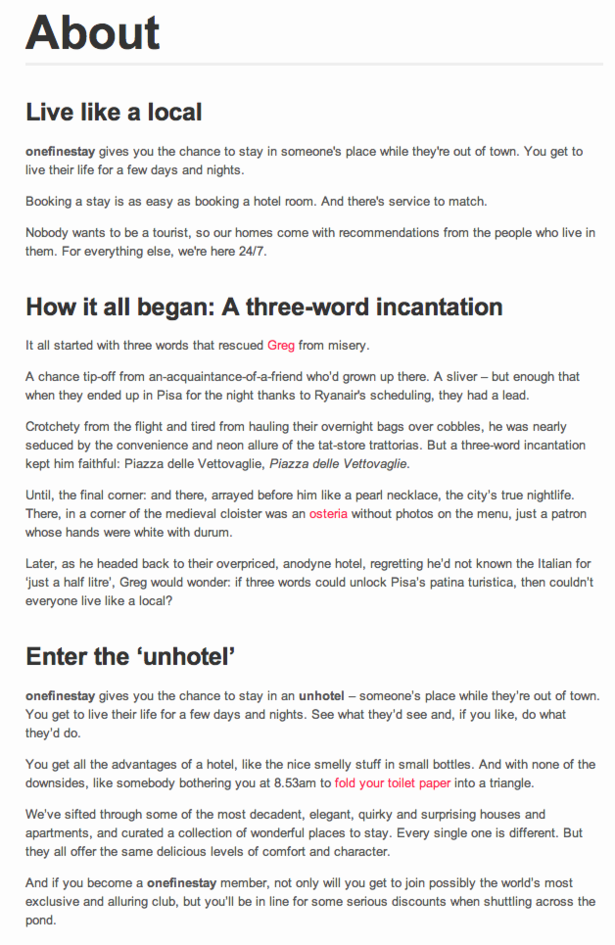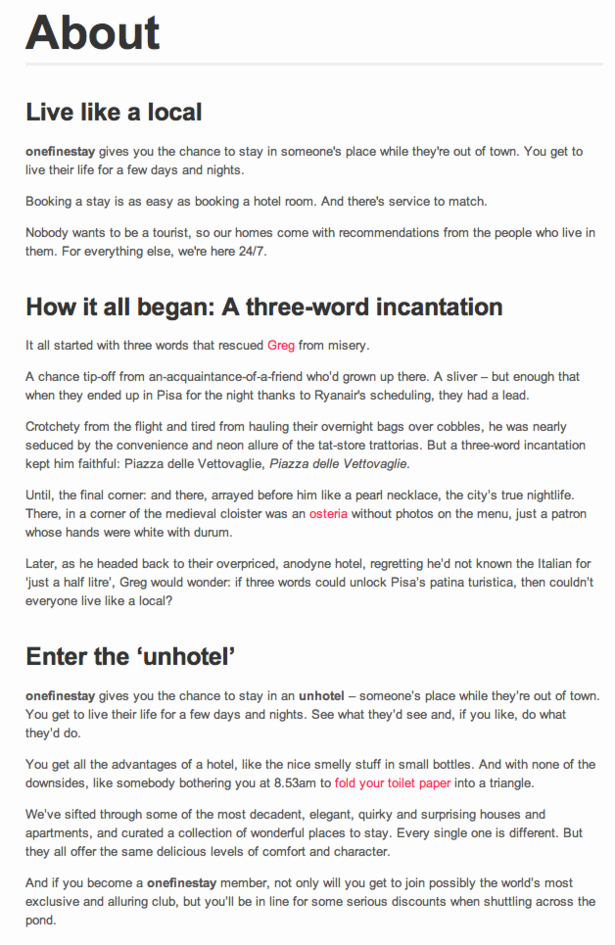 Optimize on-site search
Search is a frequently overlooked part of an ecommerce store, but it can make a big difference in conversion rates.
Shoppers who use the search on your site are looking for a specific product to buy – if they can't find it, they can't buy it.
Imagine someone comes looking for a specific Nike shoe on your site and you sell it, but your prospective customer misspells the name and ends up on a 0-results page. They'll assume you don't sell it, look for it elsewhere, and you end up missing out on business.
Optimizing your on-site search is one of the easiest ways to increase your conversion rates because it directly solves this problem.
Here are a few ideas to get started, but here's a full list of on-site search optimization best practices.
Make the search box easy to spot
Create a big-enough search box for typical queries
Make sure you have Autocomplete and your solution is typo-tolerant
Personalize the search suggestions with the use of machine learning
Implement analytics to assess which queries lead to 0-results so you can change them
Provide suggestions on 0-results pages, so shoppers can easily navigate to other products
Set up synonym management
These small changes make a big difference in your webshop's performance because they positively impact your customers' shopping journey.
Simplifying the buying journey and quickly directing shoppers to the products they want to buy increases conversion rates, revenue, and search usage on your site.
A relevant PPC customer journey
You know what I see a lot of?
Crappy PPC customer journeys. I'm no PPC expert, but I know a campaign with poor planning when I see it.
I've recently been talking to a business who pay a lot of money for AdWords and remarketing display ads. All of which redirect the user back to the main site homepage.
There's no consideration on the stage of awareness, products they've viewed, or the page most relevant to the user's search term. And their overall conversion rate from their PPC reflects this.
To clarify, if I'm online and search for MacBook Pro wireless keyboard I don't want to be redirected to a landing page displaying general keyboards or mac accessories.
If I'm doing a general search for "best wireless keyboards" then I'm not looking for a product, but for information.
All in all, not understanding customer intent and what customers are looking for through different search terms and campaign interactions is a great way to quickly lose a ton of cash.
KlientBoost have put together the below awesome infographic which gives a great overview of the PPC customer journey with some tips on how best to use the various campaigns.

Mobile optimisation
Google is heavily pushing for amendments to accommodate mobile users.
For a couple of years now they've been using mobile friendliness as a ranking factor. If your site isn't mobile-friendly, then you're going to see a heavy drop in your mobile SERPs placement and thus traffic.
But you shouldn't just be optimizing your site for our Google overlords. There's plenty of data demonstrating how your users will abandon your site with a poorly optimized mobile experience.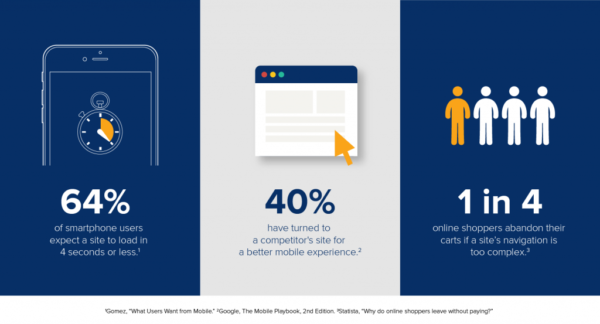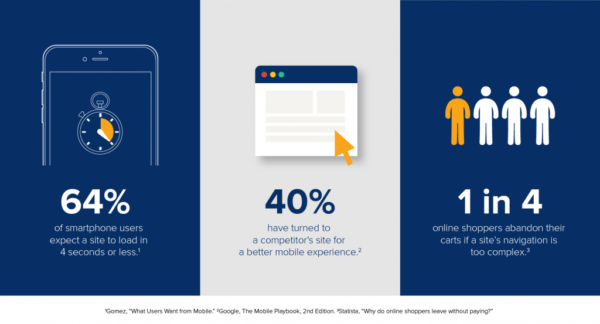 And with mobile searches now trumping desktop, mobile optimization is something you can't afford to ignore.
Google offers a great insight into some awesome action points for businesses looking to improve their mobile experience which you can check out here. But if you're looking for the CliffNotes version, I've included the two primary points below.
Create mobile first. That's where most of your users are, it pays to optimize for the primary segment of your audience first.
Create mobile experiences that answer the specific needs of mobile users. Local search is a huge driving factor for mobile users.
Also, if you're not sure if your site is mobile friendly, you can get a quick Google report that looks like the below by going to this page.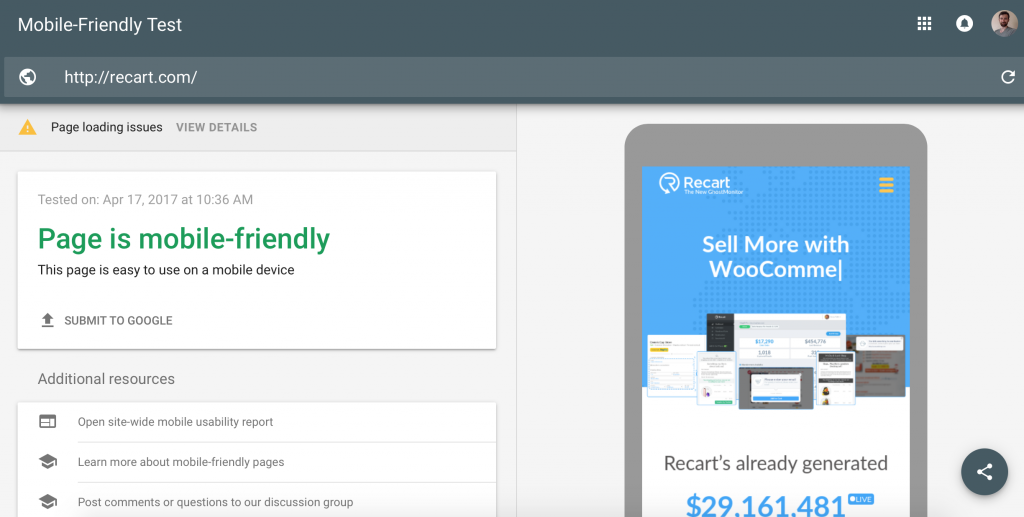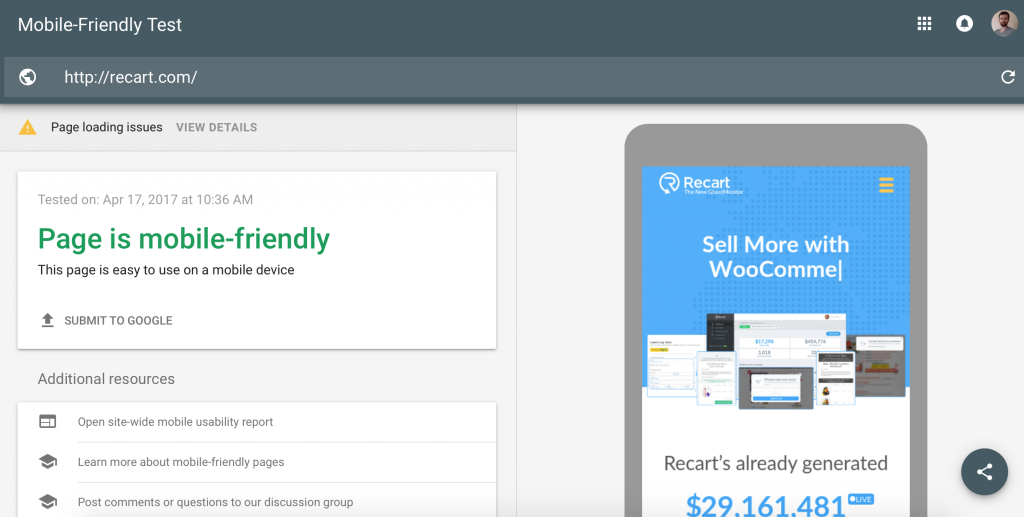 If you're looking for some more actionable tips and general best practices on how to optimise your site's mobile experience, I'd recommend taking two key steps.
Read this beginner's guide by First Site Guide
Test everything you think might work. Experiment a little to see what brings your store the greatest gains.
Use carefully selected popups
This carries on from the above.
Google first talked about mobile optimization and their related penalties in April 2015. They've built on that initial direction to try and coax site owners to create the most optimised mobile experience for users.
Moreover, Google is penalizing sites who make use of intrusive popups for mobile users.
Not to say popups are now a no go, but you have to be careful in what sort of popups you use. The below is a sample from the Google blog post that explains what they deem intrusive.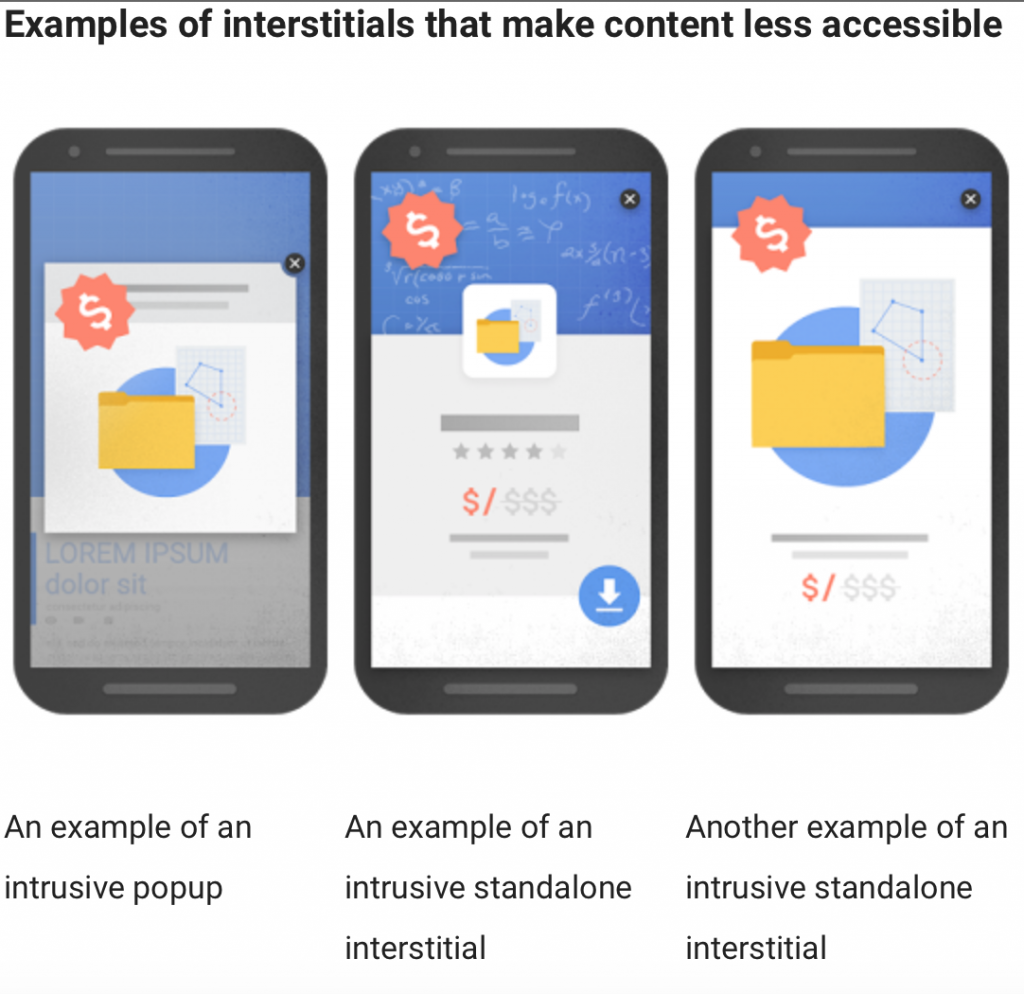 And, in contrast, here are the popups Google says won't cause issues.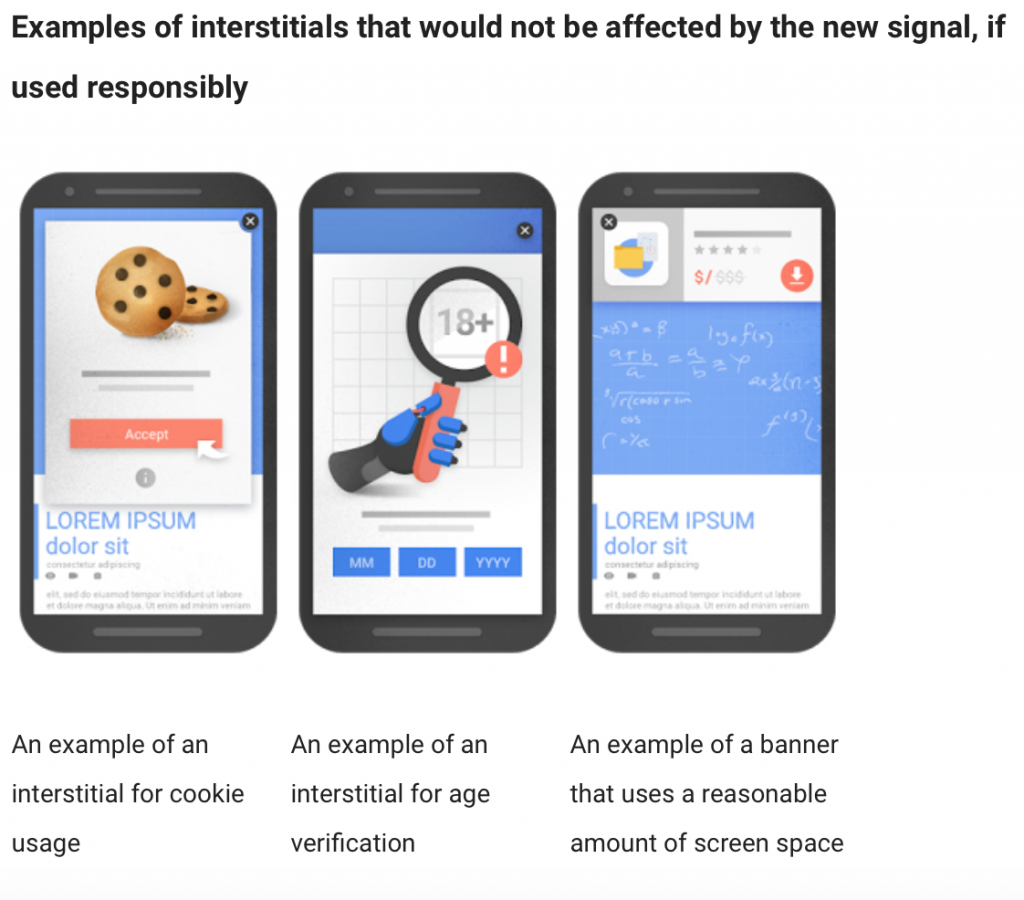 The article these come from is pretty enlightening. Google is penalizing any popups that are not directly related to the legal issues of the site (cookie policy, age restriction etc). They do say that smaller banners that are easily dismissed are OK, but we'll have to wait and see how this plays out.
For the minute, it seems there are few who are noticing large drops in rankings. Glenn Gabe on SearchEngineLand has this to say. "As of today, I'm still not seeing widespread impact. Again, many of the URLs across the domains I'm tracking are ranking exactly where they did prior to the rollout of the mobile popup algorithm."
Whilst there may not be great losses right now, it seems as though Google is pushing a more mobile friendly experience. It would benefit you, in the long run, to start replacing intrusive popups with those Google deems more friendly.
Furthermore, it's highly recommended to create a unique user experience for your visitors by using personalized variations of content. It will not only boost your conversion rates, but your visitors will feel special when they feel your personal approach towards them.
High-quality product images
Let's put the whole "a picture is worth 1000 words" in the online shopping perspective. Ever been to an "offline" clothing store that didn't have changing rooms? Of course not.
You know why? Because people want to inspect the product. They want to try it on, see what it looks like, and understand if it flatters their body type. All so they can make the most informed decision.
You can't offer that through an ecommerce site. But you can give the customer the best possible chance of understanding the product with incredible product images.
High-quality product images have proven to increase conversions:
VWO increased conversions with an A/B test that saw the variant place more focus on the images (Source)
Skinner Auctions increased their conversion rate by 63% by optimizing their images (Source)
Zagg increased total revenue by 40% by placing their high-quality 360º images front and center. (Source)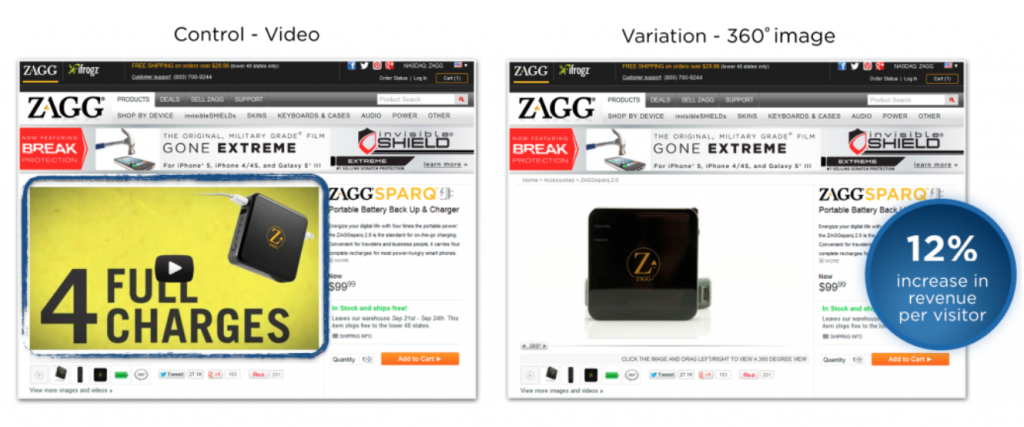 You can't offer the level of detail and experience users want through digital channels. There's no way they can test the product, see what it looks like, or feel the weight in their hand.
High-quality product images bridge that gap. They allow your users to have a better understanding and feel for the product which is key in increasing conversions.
A few image improvement tips:
High quality and resolution. If needed, hire a pro photographer to really highlight them in the best light
Show the product in use to give a better idea of its usage and size
Use real people, not stock images. Stock images have proven to lower trust and conversions.
Put high-quality product images front and center. Bring people's attention to your awesome images
Keep the design of images uniform across your site. Uniform design builds your brand and has also helped increase conversions.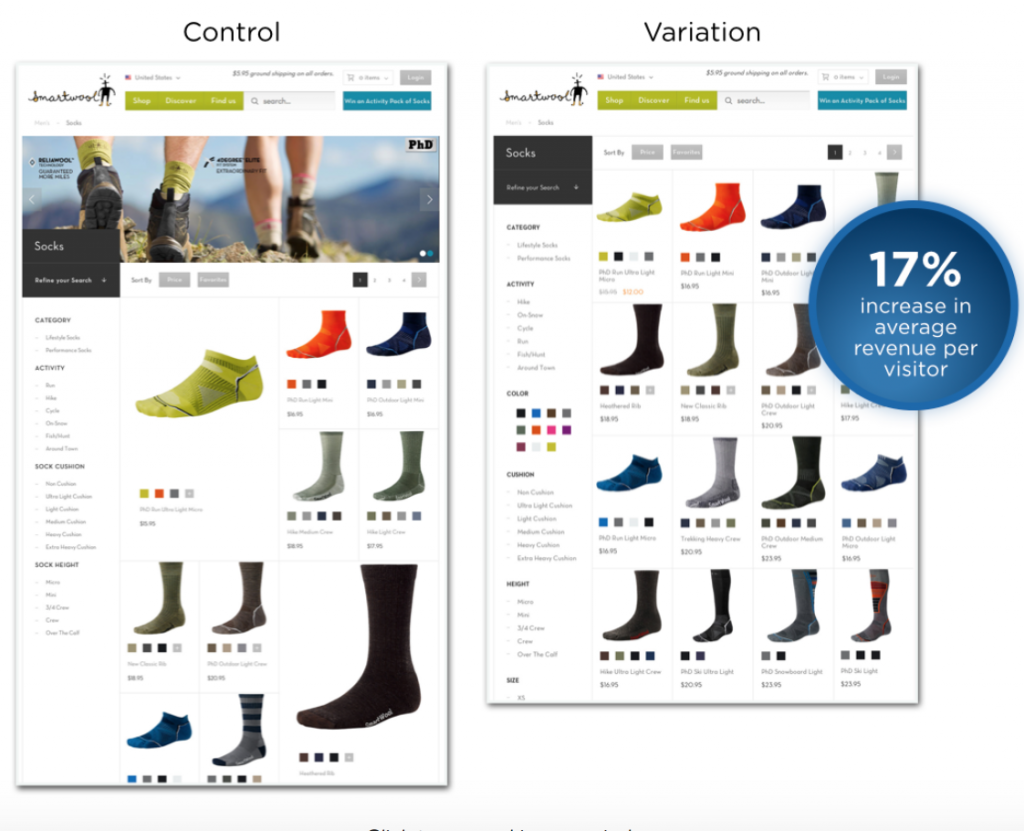 Video
This builds on from high-quality product images.
Your users want to have the best idea of the product they're potentially purchasing. And if an image is worth a thousand words, then a video has to be worth millions.
Video marketing is becoming the go-to solution for online marketers, and with good reason: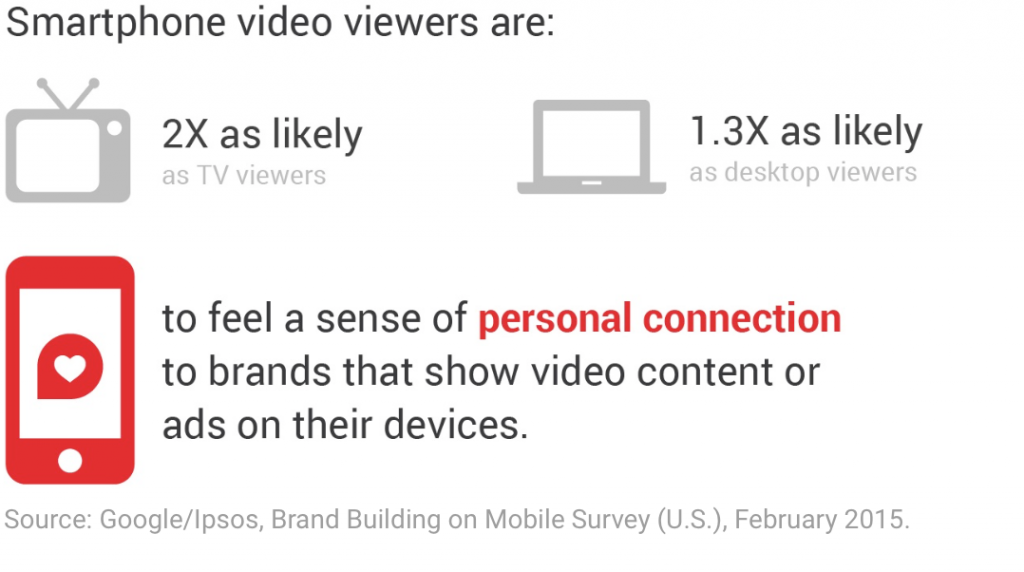 Video is fast becoming the golden child of digital marketing, and it can greatly help increase your store's conversion rate.
The best product and brand videos are all:
Short. Video might be more engaging but don't bore your users. Keep it to around 30-45 seconds if you can.
Tell an interesting story. Stories have long proven to drastically increase conversions as they're more relatable. Don't just say "this is my product", sell it with a real life story and show the product in use if possible.
Are personable. You're looking to build a connection, so be the friendly, personable person the user wants you to be.
There are tons of great examples out there (and we even have a post about video marketing). But I'm going to fall back on the gold standard of video marketing for an online store.
This video was so successful it took Dollar Shave Club from relative unknown to a brand that was acquired by Unilever for $1 billion dollars.
It's short, tells a short story about the product, and does so in one of the most engaging fun ways.
Trust seals
Last minute resistance.
We've all experienced it.
You're drawn in by the awesome video, beautiful product images, and compelling copy.
But when it comes time to click that big ol' buy now button we start questioning everything.
Will my payment details be secure? What are they going to do with my email? Will my inbox be spammed into oblivion after this?
These are the kind of friction causing stats that greatly contribute to the huge cart abandonment rate of 77%.
Your job as the store owner is not just to provide the product and instill desire, but to allay many fears. You've got to obliterate any doubts that cause abandonment.
And one of the most successful ways to do this is through trust seals and guarantees.
Trust seals are those little rosettes that tell the user your payment system is secured by Paypal, the checkout is Shopify secured, or that you're a Google trusted store.
They basically allow you to borrow the authority and trust from a large, established and trusted brand to alleviate fears and questions.
ConversionXL performed an incredibly enlightening study to understand which trust seals are the most recognized and most trusted. They discovered that "Familiar brands like Visa-Mastercard, PayPal, Norton, and Google were also the most trusted when paying online."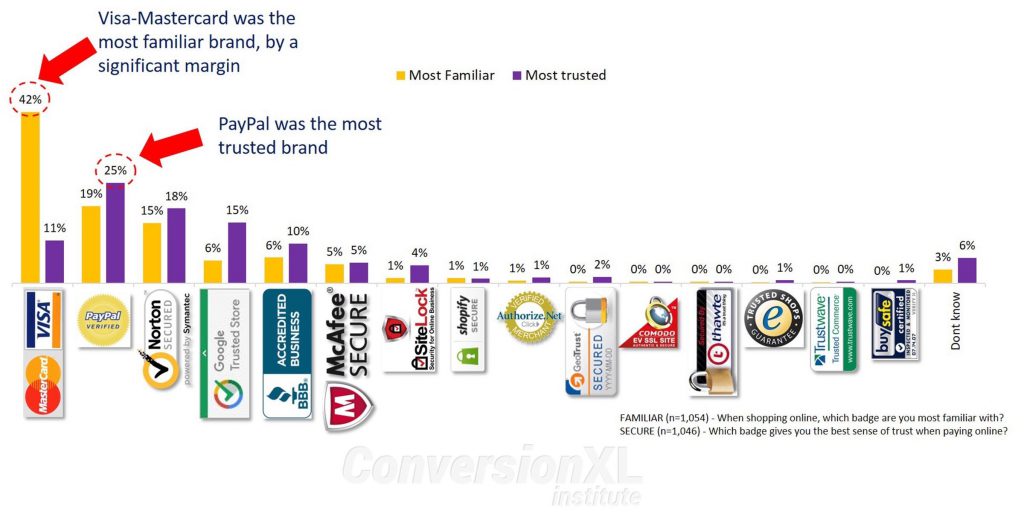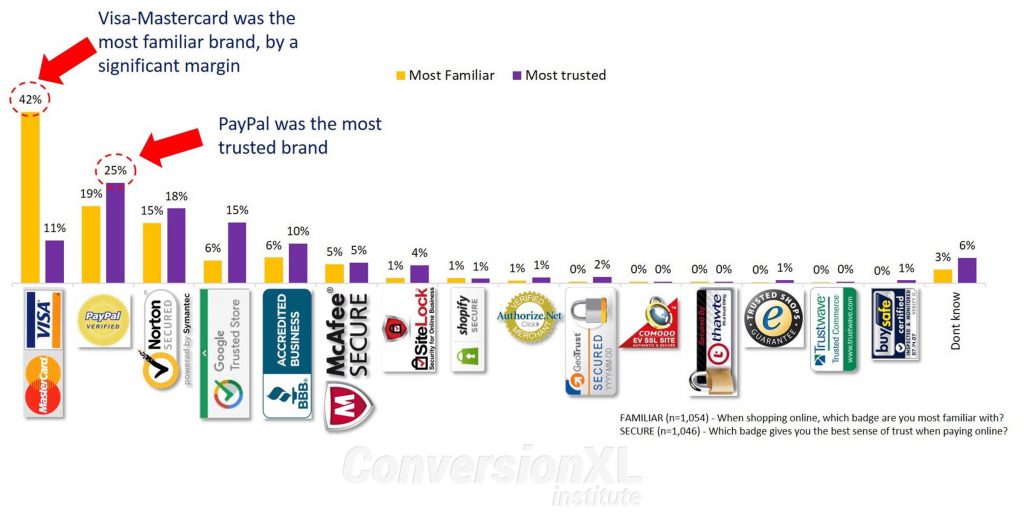 Trust seals are key to establishing trust. Modern users are very skeptical of online stores and will abandon if they think something isn't right.

Prominently display trust seals on site to increase trust and reduce abandonment.
Social proof
Your word is not to be trusted. You could tell me that your product is the best on the market and will solve all my problems, but I'm never going to trust you.
You know why?
Because you directly benefit from every purchase. Every single sale is money in your bank, so of course you're going to talk your product up.
Every single time I'm going to trust the word of my friends and contemporaries over you. They have nothing to gain by giving a glittering review.
Potential customers are smarter than ever before. They're going to scour the web for any bad press about you. Putting favorable customer reviews in key positions is key to increasing conversions:
You've got to actively collect reviews from your users and put them in the most visible areas of your site.  
Guarantees
This fills out the trio of trust building elements.
Guarantees are the final stage to blast last minute resistance.
Buying online is always a risk. There's a chance the product could differ from a customer's expectations. They could have bought it in the wrong size. Or it could break unexpectedly.
Everyone has had at least one bad online purchasing experience, and it's made us all a little wary.
To bolster the effect of your social proof and trust seals, make sure any guarantees you have are clearly displayed. It'll put the customer's mind at ease and reduce any last minute friction they might experience.
Neil Patel saw a 21% increase in conversions after adding a 30-day money back guarantee (Source)
Oriental Furniture increased conversions by 7.6% after offering a delivery and security guarantee (Source)
A lot of the time CRO is about alleviating fears. A guarantee of some sort can go a long way in showing your customers they have nothing to fear in purchasing from you.
Benefits and features
There's a lot of advice in CRO and ecommerce circles of benefits over features. Which I think is wrong.
I've seen far better results by combining the two. Let's look at a real life example.
I'm currently shopping for some new football boots (soccer cleats if you're US based). I prefer Adidas boots to any other so I'll check out their store.
The below is an image from an ostentatiously colored pair of boots I'm considering.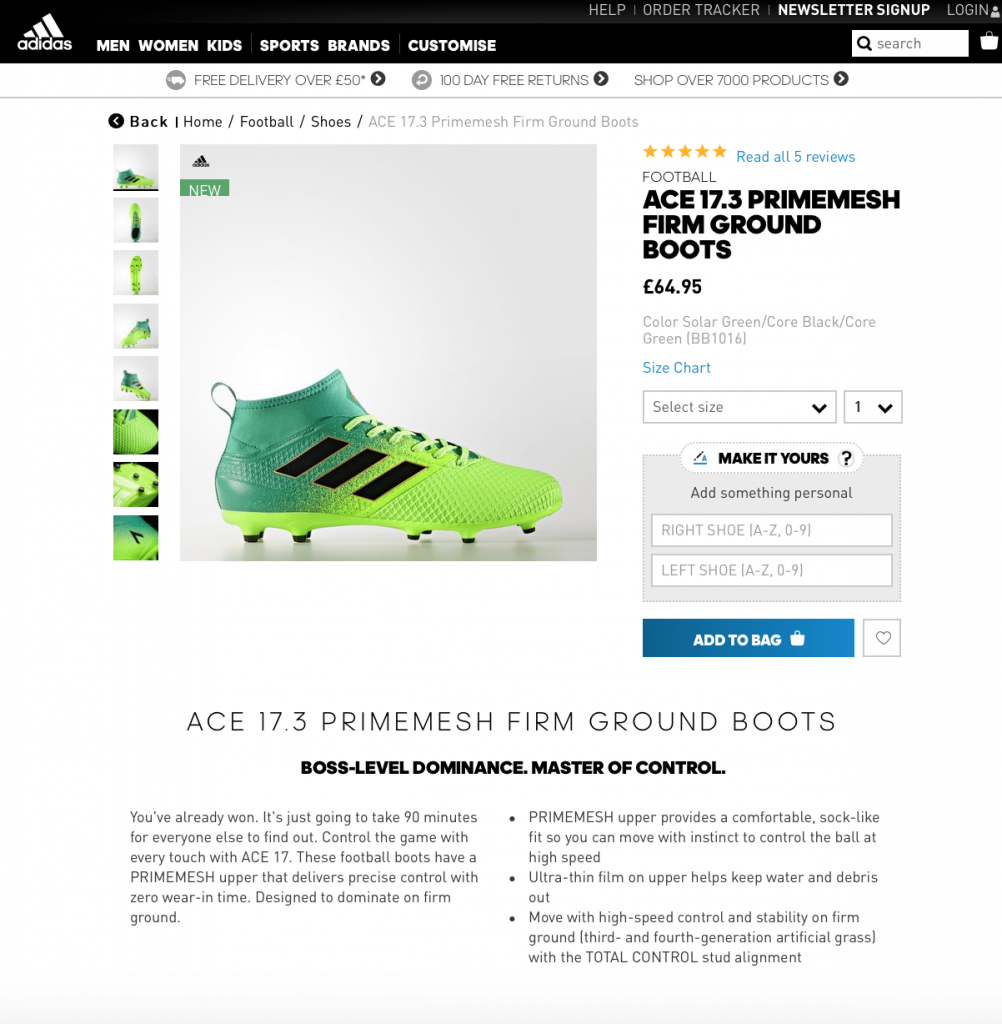 Notice how they use both features and benefits to paint a picture.
The new Total Control stud alignment sounds cool, but what does that mean for me?
If you simply told me they help me move with high-speed control and stability, I'd ask why? What makes these boots so special? Why are they different?
Combine the two and it paints the full picture. I understand that there's a new feature and I understand the benefit that feature adds.
Combining benefits and features paints a full picture for your users. It's far more compelling than just one.
Offer free shipping
Cart abandonment costs the ecommerce industry trillions of dollars every year.
The reasons for abandonment are varied, but the top reason is unexpected shipping costs.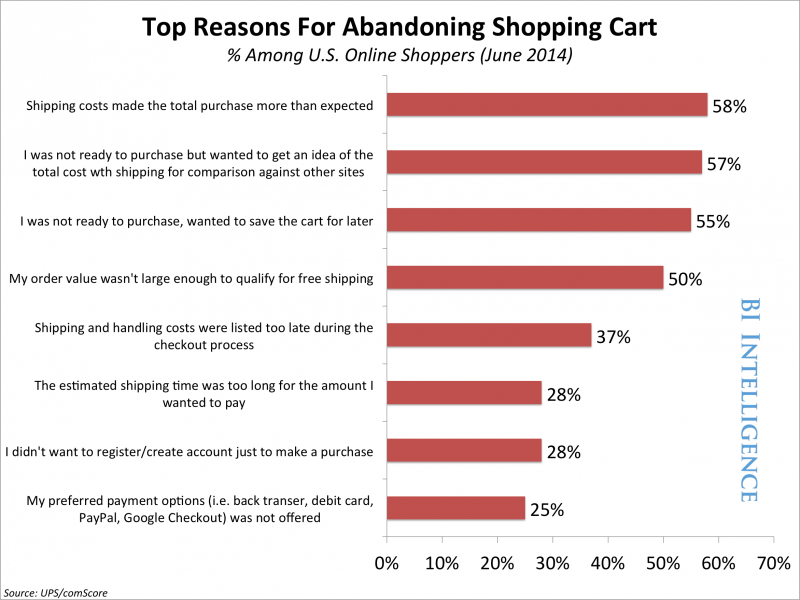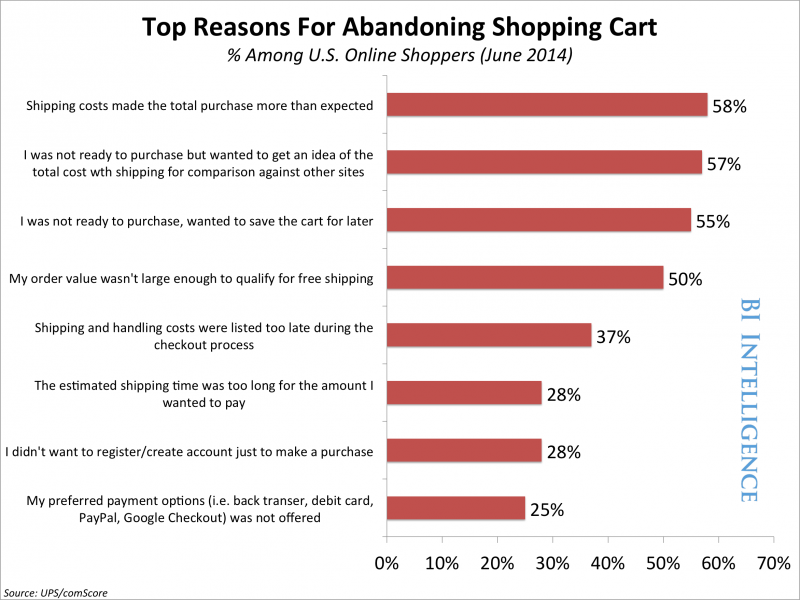 As the biggest reason of lost sales, it's something that needs to be addressed. Fortunately, the fix is simple.
Offer free shipping.
If your users aren't surprised by an extra shipping cost at the final stage of their checkout, they're more likely to complete their purchase.
Always display cart costs
Building on costs, we'd also recommend displaying the total cost of the user's cart at all stages of the customer journey.
Why?
Because it reduces the chance of the user adding too much to their cart and becoming shocked once they hit the checkout stage.
Asos offer a good example of this. After you've added an item to your cart, the total cart value is displayed in the top right on every page of the site.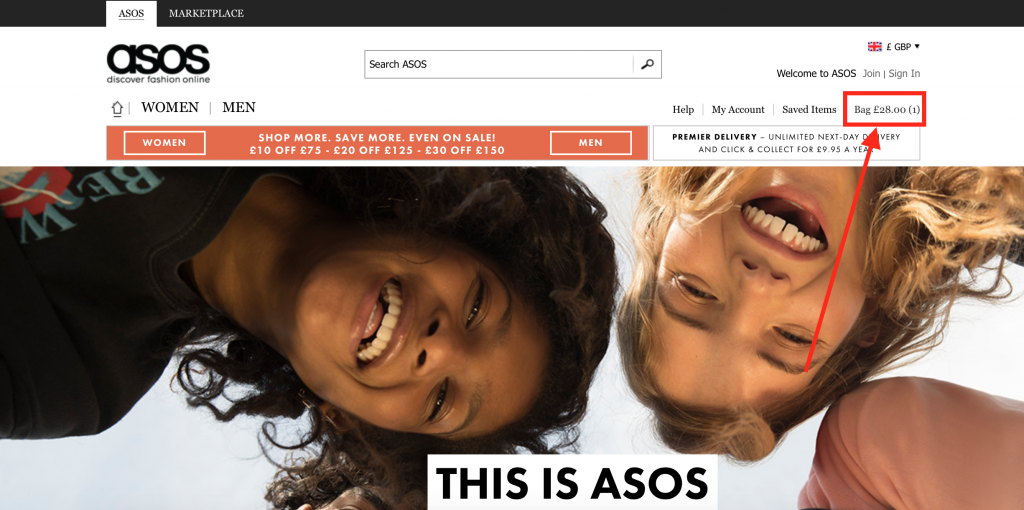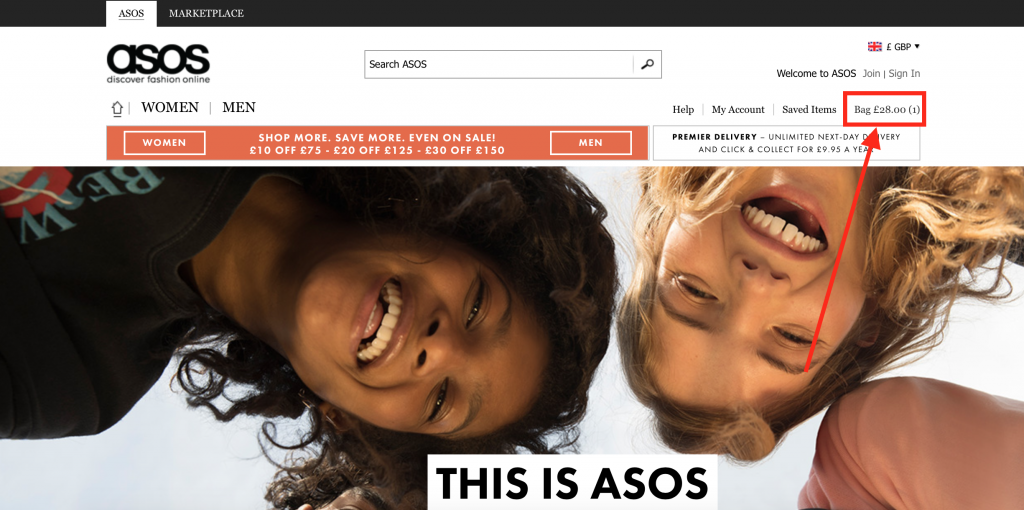 If a shopper only has a budget of £30, then that little reminder up there will stop them from adding more and shocking themes out of the purchase.
Urgency and scarcity elements
"Sale Ending Soon!" ,"Only 12 left!" "2 days left of our incredible sale!"
The above claims often seem aggressive and perhaps slightly dubious. But they're great at increasing sales.
They cause your users to take action by playing on FOMO (the fear of missing out). If you offer something the user wants but put a hard time or quantity limit, they'll be jumping out of their seats to purchase.
According to the University of Kentucky, such elements are proven to suspend logical thought processes in favor of taking immediate action.
Your customers won't stop to consider whether this product is right for them because they'll be so distracted with grabbing the deal while they can.
Urgency and scarcity elements are incredibly powerful at driving conversions. Marcus Taylor saw a simple urgency element increase his sales by 332%.
Sites like Groupon use scarcity well. Check out the below and you'll notice a red highlighted phrase telling the user there's limited availability.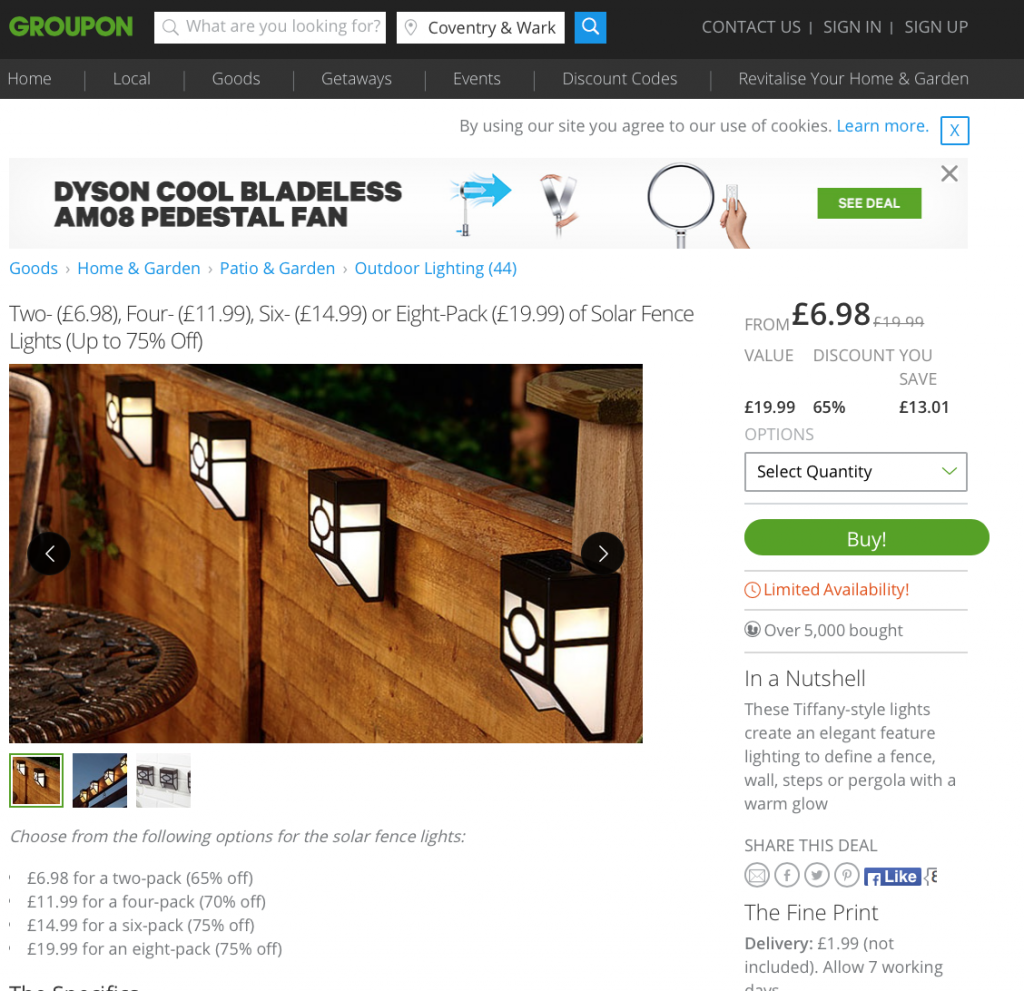 The above is a good example, but if you want to take it to the next level, get specific. Tell the user exactly how long they have left to act to really install a sense of FOMO.
For example:
Only 12 left.
Sale ends in 4 hours 42 minutes (with an active countdown timer)
But also remain honest. Seriously, if you have a limited time sale that never ends, you're going to get called out on it.
Don't give up without a fight
You already know it – cart abandonment is a killer.
77% of carts are abandoned. Trillions in lost revenue.
For a long time, ecommerce pros kind of let abandoners leave. They'd focus on streamlining the customer journey and driving more traffic to the top of their funnel.
People have become savvier and are now addressing the problem, but, it's still a huge issue.
It's the issue we're primarily combatting here at Recart. We've helped users reclaim nearly $30,000,000 in lost sales. But that's a drop in the ocean.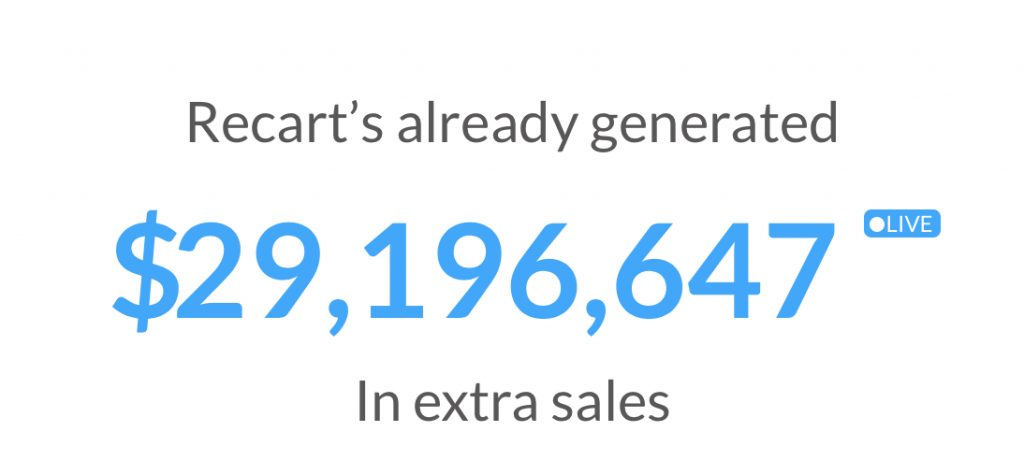 In our search to reduce cart abandonment-induced revenue losses, we've found three actions to be particularly useful in  bringing people back to your store to complete their purchase.
 Capture the user's details when their intent is highest. By not relying on exit intent (which triggers when the desire to leave outweighs that of purchasing) we secured 62% of abandoners details.
Serve those abandoners with a cart abandonment email series which reminds them of their purchase and brings them back on site (which is responsible for much of the $30 million we've recaptured).
Use of notifications for the same purpose as a cart abandonment series. It's another way to re-engage the user, remind them of their cart and bring them back on site.
It works so well because it operates within the "golden window" of cart abandonment. Most retailers see the best results after waiting one hour to send the abandonment email with four hours giving the highest gains.
What I'm saying is you shouldn't give up too early. You should always chase abandoners with abandonment solutions as its one of the most effective methods of recapturing lost revenue and increasing conversions.
Segmentation
Choosing anything at all for us, humans, can be difficult. And s a store owner, you should know that reducing the items you present is a conversion booster.
Analysis paralysis is a real thing. The Jam Study has shown that a selection too vast causes indecision, lower sales, and lower satisfaction.
You've got reduce the number of items your users see.
I'm not advocating reducing your product offering, merely guiding the user to the most relevant items through some smart segmentation.
Sites like Asos will ask a couple of questions when you land on their site. The first of which splits their audience in half by asking if you're shopping men or women's wear.
You're then asked what sort of clothing you're looking for. Denim, holiday wear, hats, shoes, etc. This reduces the selection to the most relevant items which is key in increasing conversions.
Ted Baker offers a very similar solution. Here's their main landing page.

They have a number of categories displayed on the homepage to take you exactly where you need to go. That's what you need to do, but don't offer segmentation options based on your gut feeling or instinct alone.
Use the data you have access to (but carefully)
In conversion optimization, and ecommerce in general, there's an extremely heavy focus on data. You need to collect and analyze all the data before taking any next steps.
But I have to warn you! Data alone, especially the big picture data of conversions by channel and the like, is too broad and offers little actionable insights.
One of my favorite quotes on this is from Giles Thomas of AcquireConvert who offers the below CRO tip in this comprehensive guide to increasing ecommerce conversion rates:
CRO TIP: Data lies, dig deeper into your analytics and segment!
Segmentation can be as simple as separating by key demographic differences like age or gender. But for the best results, dig into your data.
Find the different segments within your data and how they interact with your store. Doing this will help you find the best products that most appeal to different segments, which will increase your conversion rates and revenue.
Benefit-focused CTAs
You know what no-one likes doing?
Spending money.
Losses loom larger than gains (great quote from Kahneman & Tversky, 1979). People are more afraid of losing something (money) than they are excited at the prospect of gaining something of equal value (your product).
So, you've got to remind them whenever you can of the benefits. You've got to minimize the thought of loss and focus on the gain.
Here are a few examples of this working and the results from Michael Aagard who made some simple changes to CTAs to make them more benefit focused:
1 – Order – Get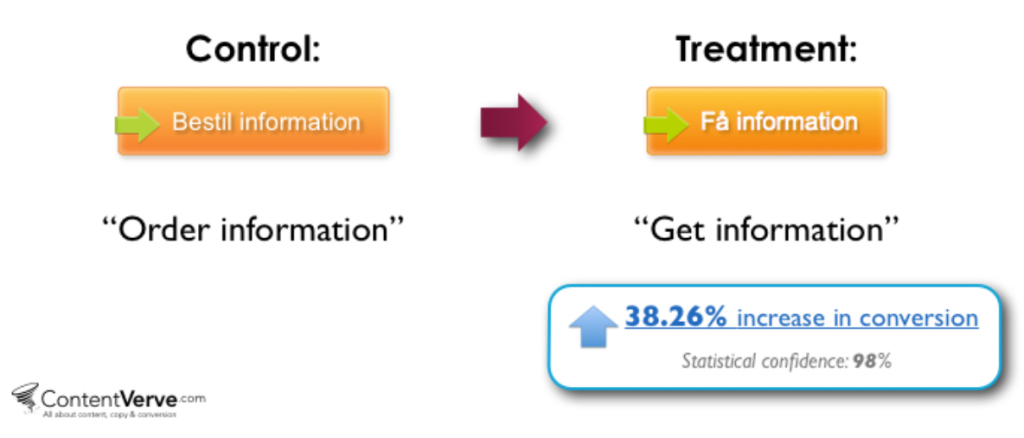 2 – Your – My (they're reading it, remind them they're getting something)

3 – Add a specific benefit and capitalize on the desire to begin right now.

CTAs are the last element of your conversion. Make sure they're actually going to cause conversions.
Experiment with funnel length
We've all had to deal with overly long, confusing, and downright frustrating checkout processes. And we all know it's a great way to frustrate users and lower conversions.
Overly complicated anything has been the target of CROs and marketers for a long time. It's caused a proliferation of advice that simplicity always wins.
These marketers will quote studies like Neil Patel's simplification of form fields or the single page checkout that converted way higher than a multi-stage checkout.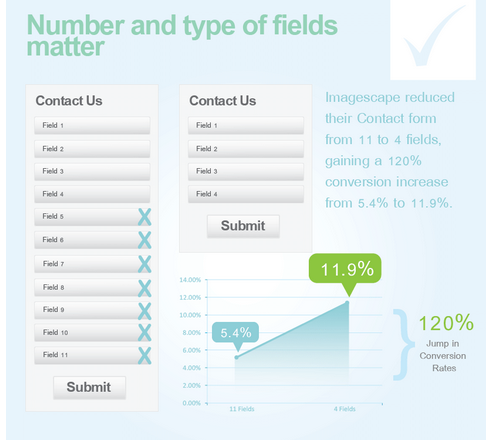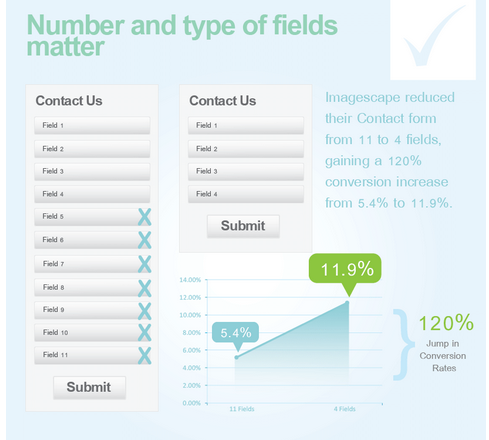 To increase conversions all you need to do is simplify, right?
Not necessarily.
Imagine you sell a very complicated product. Let's say camera equipment.
Camera's come in all shapes and sizes. They're used for portraits, landscapes, still life, action shots, some need to be waterproof, others need to be shock resistant.
They are an incredibly complicated product. And buying the wrong one can lead to a huge financial cost for users.
A simple description and checkout page simply won't cut it with the pros who need to know all the technical and usage stats. These high-value users need a longer funnel and more information to make the right decision.
It goes against the common advice of trimming everything to the bare minimum, but it can work. Invesp increased conversions by 38% for an ecommerce store selling products over $2k by implementing a multi-stage checkout.
Your funnel should still be as simple as possible, but it's not possible for every product or service to have a single page landing page and checkout.
If you sell a similarly complicated product, I'd recommend looking into guided selling solutions. SMARTASSISTANT offers a good service which can reduce the product range and offer only the most relevant products based on the user's needs.
Here's an example of their guided selling solution in action.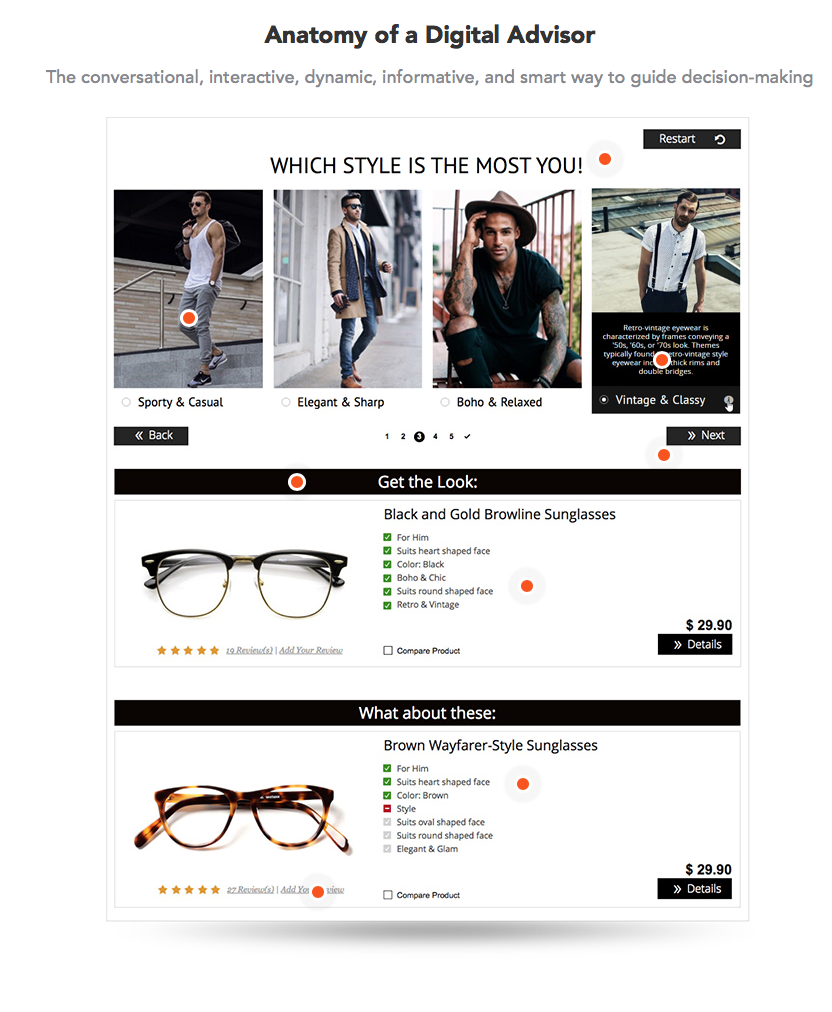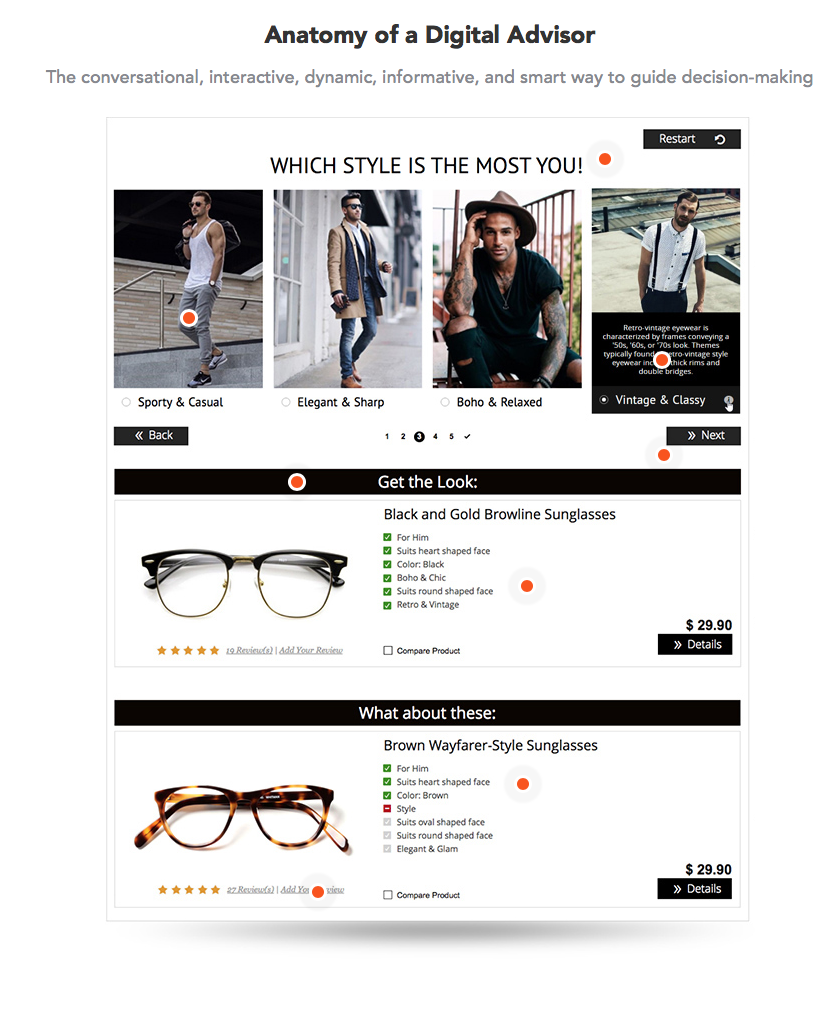 Always keep an eye on UX
This follows on from the above.
Yes, you're trying to increase conversions and that may mean radically changing the design of your site and customer journey.
But conversions, whilst a key goal, shouldn't be your sole metric to track.
Conversions are a byproduct of effective user experience. If you can provide a high value, intuitive, and logical user experience then people will purchase from you.
All of the above tips will help you display value in a more cohesive journey. They'll help you create a store that not only offers value but does so in an enjoyable way.
People won't just shop with you because you know how to sell, they'll do it because it's fun and hassle free.
Always perform UX testing on your site and iron out any kinks. It's key to providing a better service and gaining those valuable customer referrals.
What have we missed? 
That's our look at the key actions you should be taking to increase the conversion rate of your store.
But I want to hear from you. What tests have you run that have increased conversions? What little, or big, changes have driven an increase in revenue?
At the same time, what tests did you run that lowered revenue and conversions?
Leave a comment below and let us know how you've tested your store.