5

min read
As the pre-checked Messenger widget has been discontinued on 9 April, many Shopify stores saw a huge drop in the number of Messenger subscribers. As a result, their extra sales from Recart decreased sharply as well.
It took several weeks of hard work to find the perfect Messenger subscription tool that performs well enough to make up for the lost revenue. We worked on the solution with one of best partners, Wheelio and I'm thrilled to announce the world's very first Messenger & email hybrid subscription tool: the Wheelio Smart Messenger popup.
This short article will guide you through how to get 20-35% of your traffic subscribed to Messenger or email lists and how to generate 7-15% extra sales from Messenger campaigns.
The idea was simple: build the most profitable Messenger popup for e-commerce. After taking a deep dive in tens of thousands of merchants' results with Recart, we saw the following:
Messenger subscribers are worth 2-5x than email subscribers.
35-55% of your traffic is logged into Facebook, one-click Messenger subscription is available for them.
One-click Messenger subscription has a 15-50% better subscription rate than typing an email or phone number.
For those who are logged out, the Messenger experience should be hidden – Facebook opt-in would break the customer flow
This led us to the idea that we need to build smart automation that detects Facebook login and shows or hides the Messenger experience on the popup. We built all this on top of the Wheelio email experience. This means that the Messenger subscription tool is replaced by the email form when your visitor isn't logged into Facebook.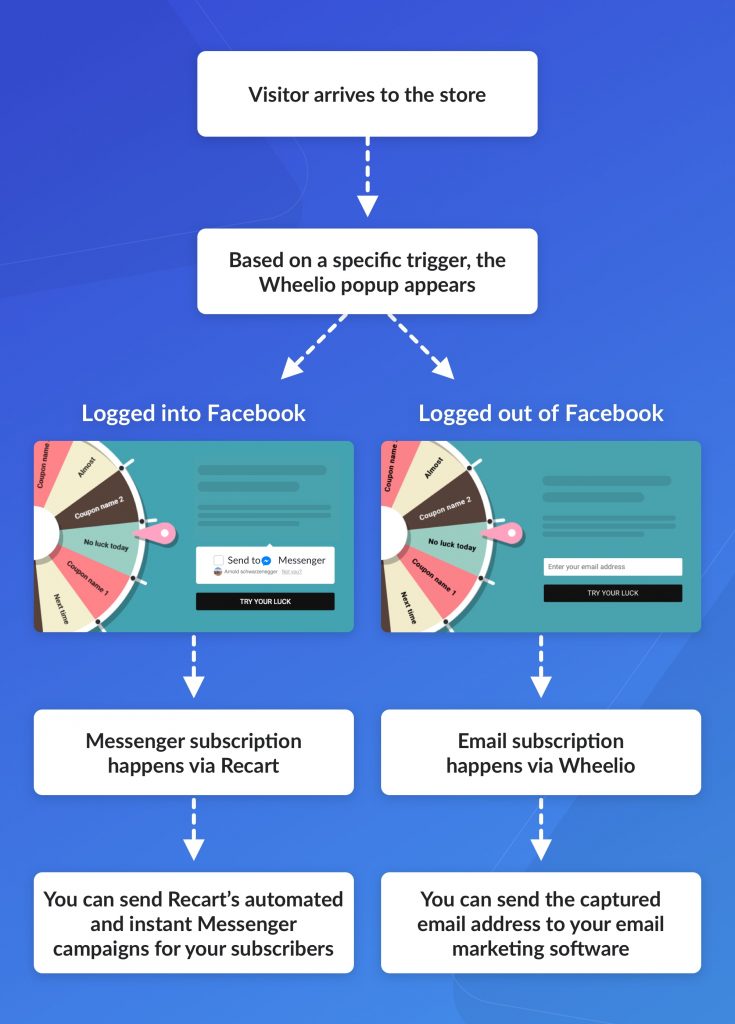 After the first tests, we even thought something is wrong – the numbers were insanely strong. It turned out it's not an error: we built one of the most profitable e-commerce lead capture tools. Here are some subscription results:
The Messenger subscription experience seriously improved the Wheelio subscription rate as your customers don't have to type in an email, they can opt-in with a single tap. Many merchants using the Wheelio – Recart Smart Messenger Popup see 25-35% conversion rates from all their traffic, which is probably one of the best performances in the world.
Combine Messenger & Email
In the last few years, merchants were collecting mostly emails and grew their Facebook pixels. Currently, about 80% of the Shopify stores use at least one popup app to capture emails.
However, email performance sharply decreased in the past few years as Gmail and other providers tightened their rules for getting into the inbox. That's where Messenger marketing comes in: now, with a 3-min setup, you can diversify your marketing investment and push half of your traffic to the Messenger channel.
Don't get me wrong: email should be a base of your marketing. But Messenger campaigns bring a staggering 80% open rate on average. The average email open rate is 11% in e-commerce. Additionally, Messenger brings 4x more revenue per message sent. That's a difference you can't ignore.

This is the trend of the past couple of years. To maximize revenue, merchants take the omnichannel approach and move where their customers are: to email, Facebook, Messenger, WhatsApp, Instagram…
Recart's new Smart Messenger integration with Wheelio delivers the strongest ROI of any popup by growing your Messenger and email list at the same time.
This is one of the reasons why Messenger marketing is the future. See a demo of how seamlessly visitors can subscribe via Facebook or email with Wheelio:
Set up Recart – Wheelio Smart Messenger (and get 7-12% extra sales from it)
1) Install both Wheelio and Recart apps on your Shopify store.
2) Enter the Wheelio app (Shopify Admin – Apps – Wheelio), scroll down to find the 'Messenger ONLY Subscription' section. Enable all three Messenger Subscription options.
3) IMPORTANT: You'll see 3 options to work with. You can customize your subscription experience, but the most effective way is to enable the Smart Messenger Mode – you only have to use that one switch and it will automatically turn on the other necessary features.
As a result, logged in visitors will see the Messenger experience, while your logged out visitors will see the email experience.
3) The connection is live! After Wheelio subscribes Facebook users to your Recart Messenger list, you can send them automated and instant campaigns from Recart.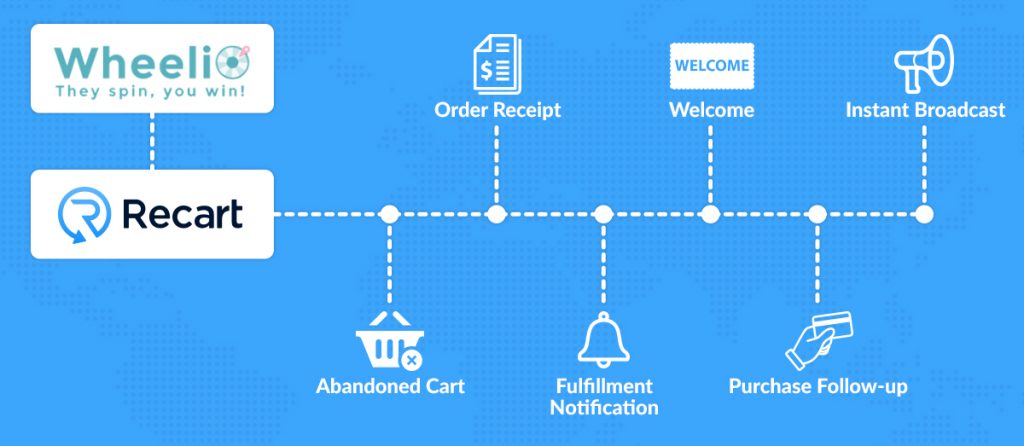 Recart's Messenger Marketing is built for e-commerce so you can send various automated conversations to your customers on Messenger:
Abandoned Cart
Order Receipt
Shipping Notification
Welcome
Purchase Follow-up
Photo Reviews by Loox
Enable them once, count the sales forever.
And what about newsletters? You can send newsletter-like messages to your Messenger subscribers as well. We call them Instant Campaigns, merchants use them like they used the email newsletters: they announce new arrivals, fresh content, sales, and other promotions.
The most popular campaigns are the Abandoned Cart and the Order Receipt campaigns, generating $1.5-$3 revenue per message sent. Learn more about the Recart Automated Messenger Campaigns here.
4) Follow your list growth on Recart's Messenger Dashboard. (It refreshes every 15 minutes.)

Wait at least for the first 100 subscribers before you send your first instant campaign. Learn how to send Instant Campaigns here.
5) You're all set! Now you grow your email and Messenger list simultaneously.
Any questions? Feel free to reach out to our team!