"How can I get people subscribing to my Messenger list?" This is one of the most frequent questions we hear from merchants using Recart. While there are many ways how you can convert your on-site traffic to subscribers, there's one method that trumps all the others: popups. We're thrilled to announce the world's most powerful on-site Messenger subscription tool, the Recart <> Wheelio integration! Using this integration, you'll be able to convert 10-15% of your traffic into Messenger subscribers while still capturing 20-30% of your visitors' email addresses. Sounds exciting, right?
Before we dive in, let me get this straight: what you're about to learn is even more effective than the pre-checked widget was! Yes, you read that right. So whether you're new to running your Shopify store or have decades of years experience under your belt, you can use the strategies below to boost sales rapidly.
Step #1: Install both Recart and Wheelio
Step #2: Decide on your subscription strategy
There are three setups you can use to maximize the value, depending on your marketing strategy:
Email + Messenger: Collect Messenger and email subscribers at the same time. Recommended for those who generate significant revenue from email marketing.
Smart Messenger: Collect email OR Messenger subscribers: best for those who want to maximize the number of Wheelio subscribers, regardless of the channel (Messenger or email)
Messenger Only: If you don't invest heavily in email marketing, you can collect Messenger subscriptions only.

Let's cover the differences in a bit more detail:
1. Email + Messenger:
It's hard to find a truly successful ecommerce store owner who doesn't have a well-structured email marketing strategy. While email marketing effectiveness will gradually decrease over time, it's still a massively profitable channel that most Shopify entrepreneurs use with great success. If you're already making money with your emails, why would you ditch it? Our Email + Messeger setup will let you collect email and Messenger subscribers at the same time, making it ideal for merchants who prioritize collecting email subscribers. This is why this setup is the most popular setup for Messenger subscription with the Recart – Wheelio integration.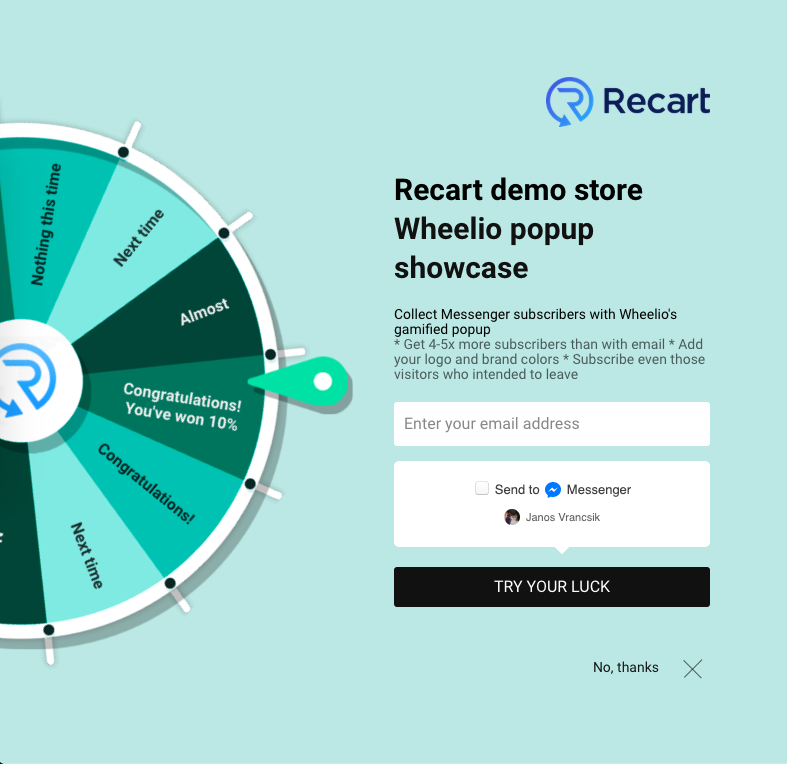 If the visitor is logged in Facebook, the Messenger subscription appears under the email field and becomes required to be checked in. This means you always collect email address but you also get Messenger subscribers from about 40% of your subscribers.
Open conversations are Messenger threads where customers sent at least one message to you or interacted with your Recart Messenger bot without deleting or blocking the conversation.
2. Smart Messenger
This setup also utilizes Recart's ability to identify if your visitors' Facebook login state. The Messenger subscription experience seriously improves your subscription rate as shoppers don't have to type in an email address, they can opt-in with a single tap. Many merchants using the Wheelio – Recart Smart Messenger Popup see 25-35% conversion rates from all their traffic, which is probably one of the best performances in the world. See the flowchart to see learn how it works in action: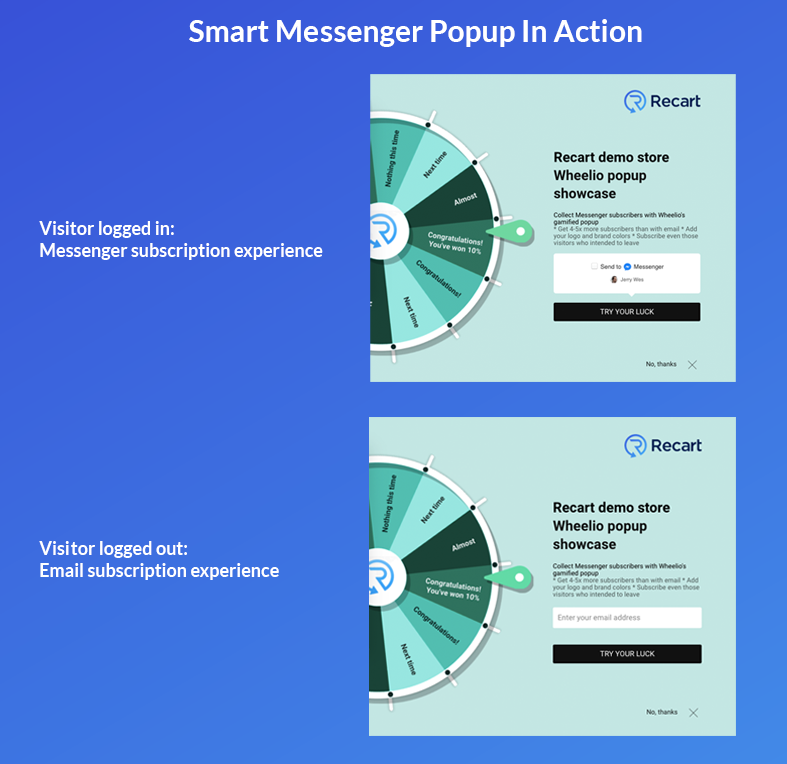 3. Messenger only
Now, if you want to go all-in on Messenger marketing, this one's for you. It's recommended if you drive most of your traffic from Facebook, and you don't invest heavily in email.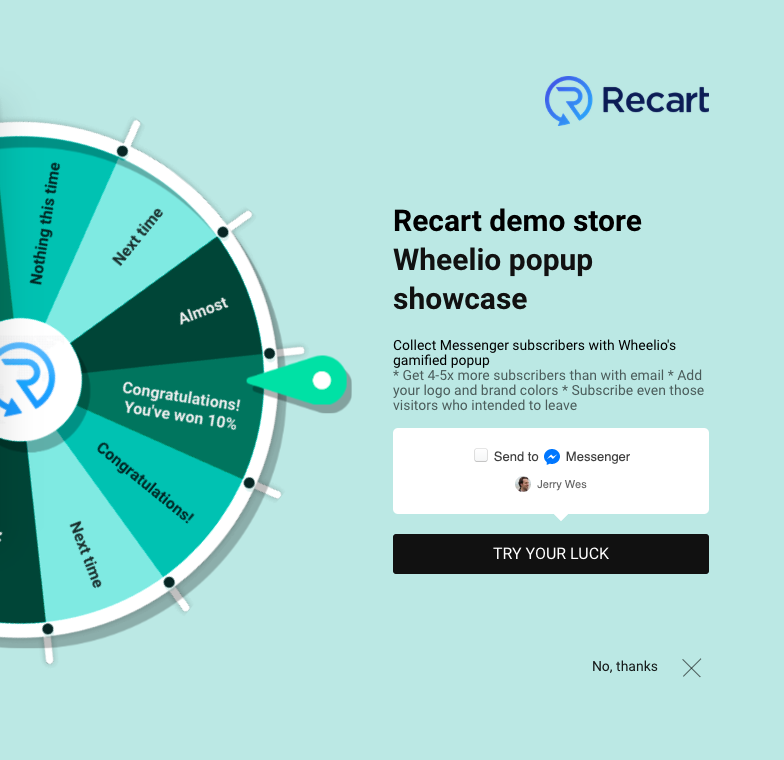 When your visitors are not logged into their Facebook account, the popup will prompt them to log in so they can subscribe. But since you're driving traffic to your store from Facebook, the vast majority of your users will be logged in. None of your visitors need to type in their email address, so you can expect high growth in your opt-in rates.
Step #3: Set up the Recart – Wheelio integration
After making sure that you have both of the apps installed, it's time to customize it to suit your needs. To turn on the Wheelio – Recart integration, go to your Wheelio dashboard, enable one Messenger subscription mode, and save the changes.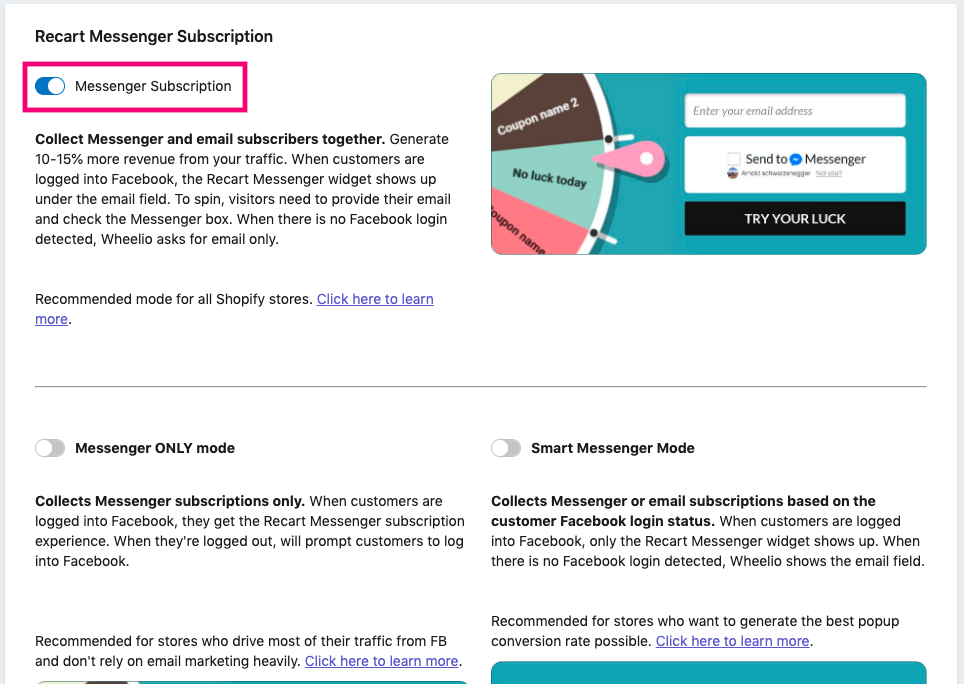 After you've made sure that the Messenger subscription experience is visible on your page, you can fine tune your Wheelio popup according to your marketing strategy.
Step #4: Set up your Welcome campaign
Setting up your Welcome campaign is the most crucial part of this journey. This sends out an automated message to your new subscribers, providing them with a warm welcome experience. This way, they get more familiar with the Messenger channel and they'll know what they can expect from you later on.
Messenger being a personal communication channel, you have to make sure that your customer experience is top-notch. Don't you worry, we'll help you to automate your Messenger conversations. When you create a Welcome campaign within Recart's Conversation Flow Editor, you can easily put your conversation together with Recart's intuitive drag and drop editor.
Your main goal here is to engage subscribers in the conversation, because when they reply to your messages, they will turn to permanent subscribers, and you'll be able to send out follow-up messages later. Ask an engaging question, and make it easy for your visitors to reply!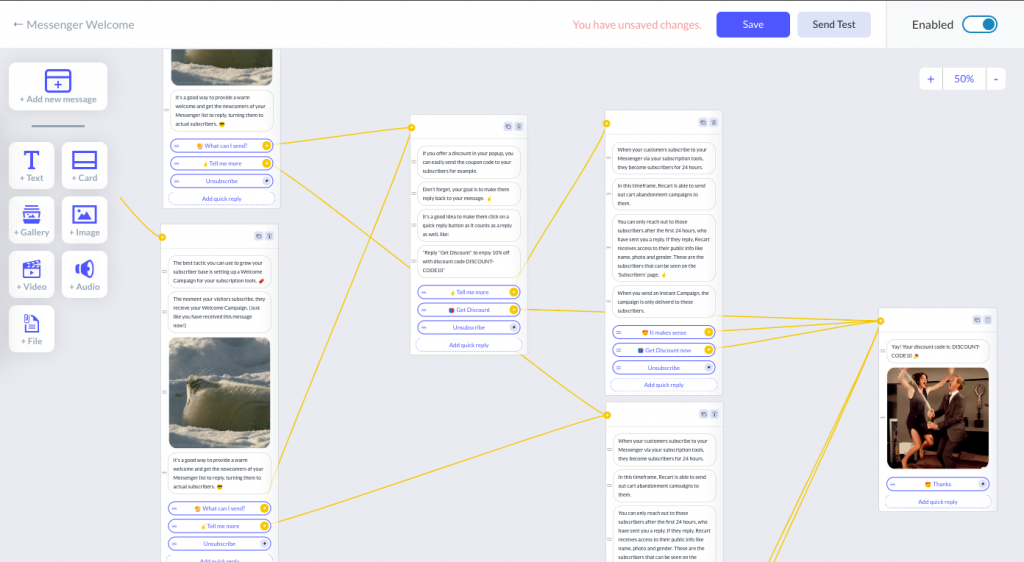 Sum it up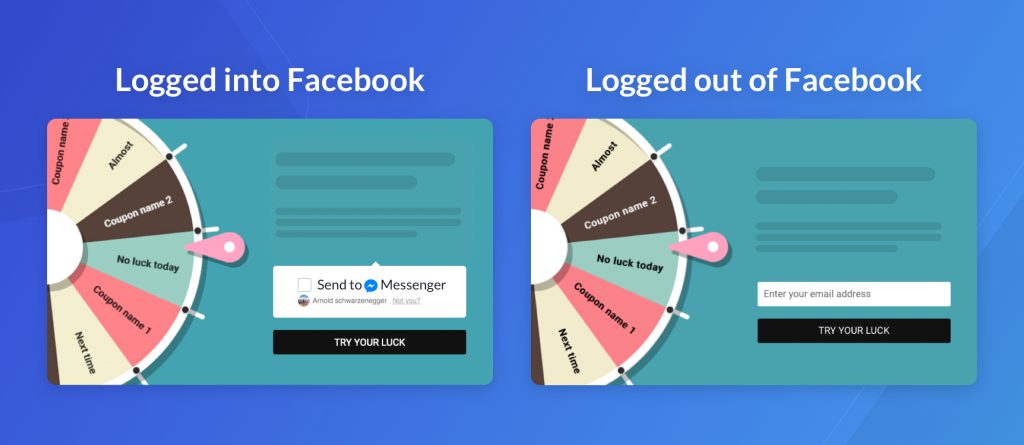 There's no denial: email marketing should be a strong foundation of your marketing strategy. But Messenger open and click-through rates can't be neglected. While the average email open rate is 11%, Messenger brings an outstanding 80% open rate to the table.
Additionally, Messenger brings 4x more revenue per message sent. That's a difference you can't ignore.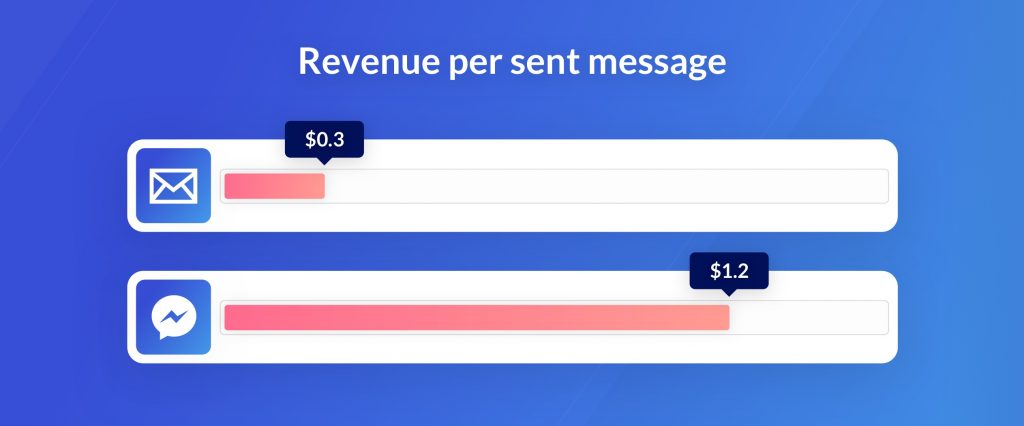 What are you waiting for?
See a demo of how seamlessly visitors can subscribe via Facebook or email with Wheelio Smart Messenger mode:
When your customers are signed in Facebook, all they have to do is tick in the Messenger box and spin the wheel. In case they don't have an active login in their browser, they will meet the regular email experience.
Back in 2017-2018, Shopify merchants generated fortunes through the pre-checked Messenger widget under their Add to Cart button. It took a lot of time and energy to figure out how merchants can generate the same level of revenue from Messenger after the pre-check is gone. However, the solution is here, the Wheelio – Recart integration is proven to be more powerful than the pre-checked widget was and it's waiting for you to give it a spin! Hundreds of brands are already using it, including the best Shopify brands: Yes We Vibe, Sashka, Your Super – so what are you waiting for?
Now, do you feel ready to take your ecommerce business to the next level?
Got any questions? Ask away via the customer chat!