In Q1 2022 Recart's main focus was to build new opt-in tools, improve the SMS campaign sending, and to introduce the very first SMS integration. We are thrilled to announce that in the first three months of the year- two new opt-in tools were launched to help grow your text list, plenty of Segmentation and SMS campaign upgrades were developed to make campaign sending easier and more efficient, additionally, the Gorgias SMS integration was introduced to help improve your customer service.
Check them out and learn how these features can grow your subscriber list and increase your revenue!
Summary of Q1 2022 new features
Opt-in Tools
Desktop Popup
Keyword opt-in
Segmentation and Targeting update
Include and exclude multiple segments while targeting
Segment conditions update
Phone number list import
SMS Campaign improvements
Unique discount code
Branded links
GIF sending
Summary popup
Default opt-out language in campaign templates
Easy access to sent campaign data
Integrations
Opt-in Tools
Desktop Popup
👋 Say Hello to Recart's Desktop Popups.
From now on you can easily turn your desktop visitors into SMS subscribers. Create different popups for desktop and mobile, use the URL targeting feature for different landing pages, and convert your visitors from any devices and subdomains.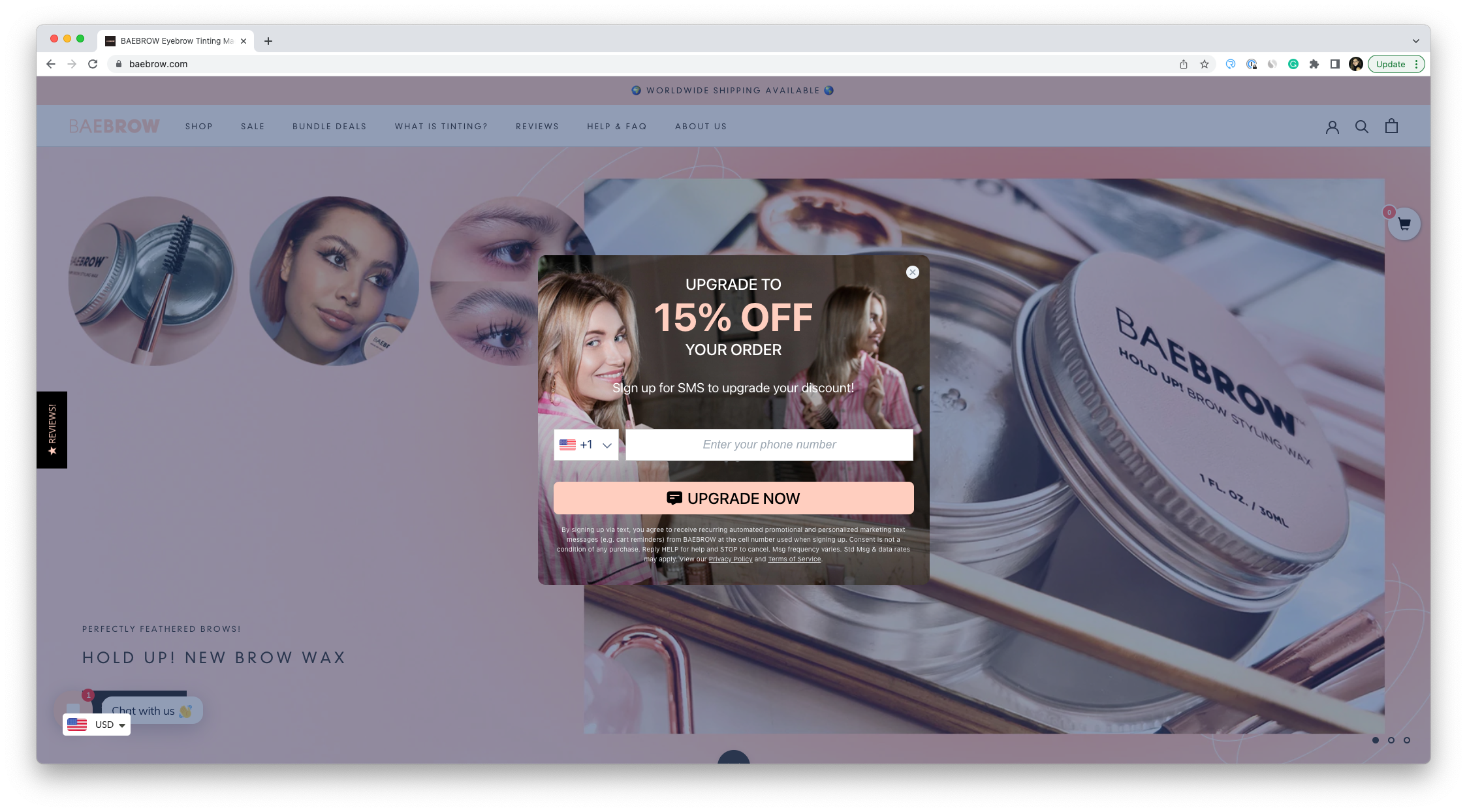 Learn more about Popup best practices here. 
Keyword Opt-in
🔑 The Keyword Opt-in has arrived and is ready to populate your text list.
Advertise your keywords online and offline, reach new audiences, and turn more subscribers into shoppers to increase your sales. Unlimited keywords are included in your plan, it is only up to your creativity how to leverage them.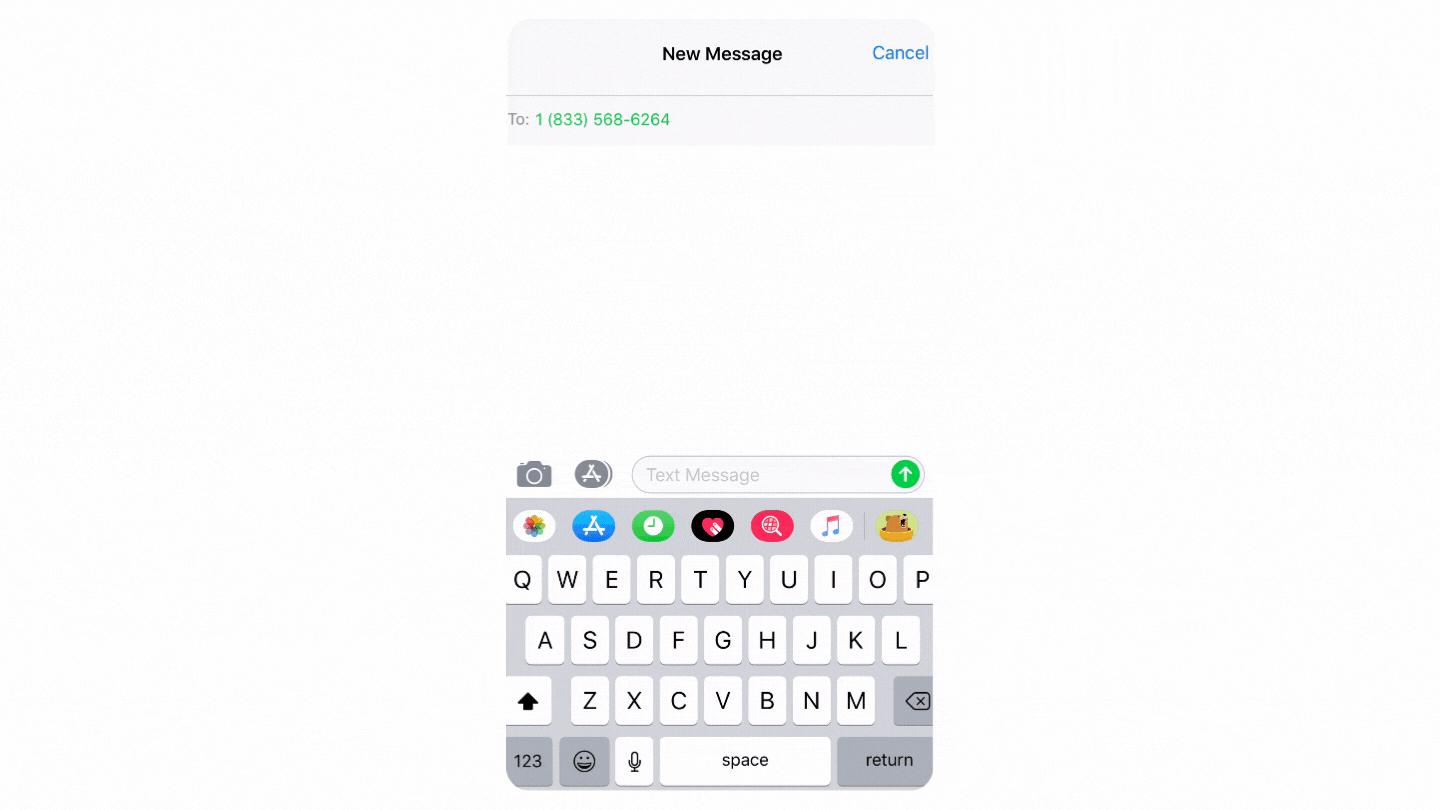 Check how to activate the Keyword Opt-in Tool here. 
Segmentation & Targeting updates
Include and exclude multiple segments while targeting
🎯 Aiming at the right audience with the right message is crucial.
Narrowing down your audience is a key step to making sure your message is relevant to the recipient. The more targeted messages you are sending, the higher the conversation rate you can expect. With the upgraded targeting feature you can now include or exclude multiple segments and lists from your campaigns' audiences.
Learn more about creating segments and lists in this article. 
Segment conditions update
🪄 Utilize the improvements around segmentation conditions.
Merge contacts from separate lists or segments by using the new Member of a segment condition. Choose the new keyword opt-in at the source filter to target the audience who opted-in to your list via keyword. Specify your targeting and exclude users of your segment simply by using the new negation feature with any preferred conditions.
Find out more about the condition and filter settings in this article.
Phone number list import
📲 Import your existing SMS subscribers.
You can now import your existing subscribers to your account and target them with campaigns immediately. You can create separate lists of your imports and easily include or exclude them from your messages.
Review the steps of importing subscribers in this article. 
SMS Campaign improvements
Unique discount code
🎁  Use unique codes to avoid misuse of discounts.
With this update, each discount code you send can be unique to one user, they can be used only once, and they can not be shared with others. Sending unique discount codes to each recipient will help with tracking sales accurately.
Use unique discount codes by following the steps in this article. 
Branded links

🕖  It's increase your click-through rate o'clock.
Add your brand's name to all kinds of shortened links included in your text messages!
Grow your brand awareness
Improve the trust of your customers
Increase click-through-rate
Reach a higher ROI with campaigns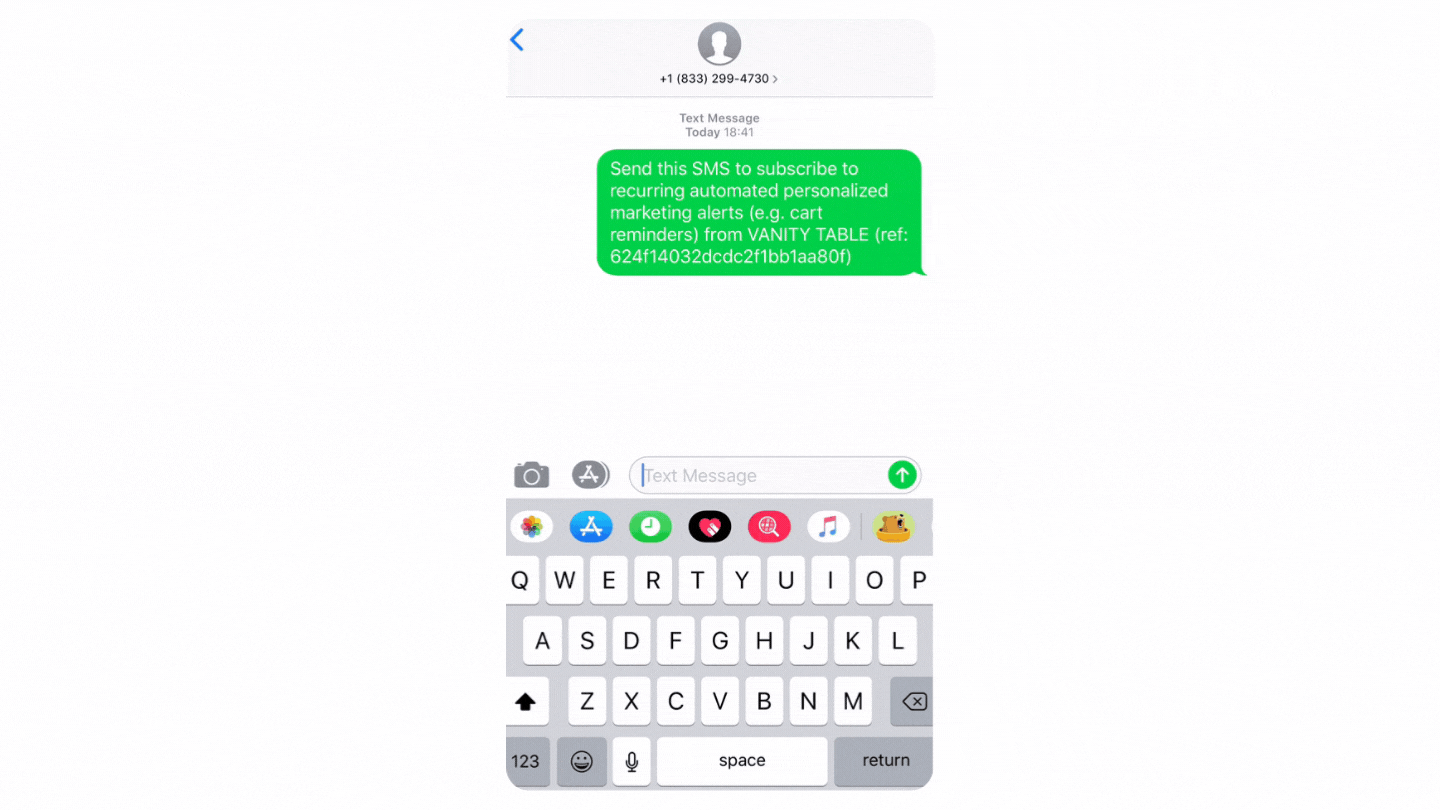 Learn more about creating your Branded link here. 
GIF sending
🖼  MMS is now upgraded.
Include product GIFs or any type of branded animations in your text messages. Align the content with your style and with your marketing communication strategy to build your brand and engage more subscribers.
Check this article for more information about MMS sending.
Summary popup
✅ Reviewing your campaign setup has never been easier.
Everyone makes mistakes sometimes but we got you covered to minimize this possibility: With the enhanced summary popup, you can make sure you added a discount code and its link, you can double-check the targeted audience and the schedule, and you can take a look at the cost estimation in advance to plan your budget accordingly.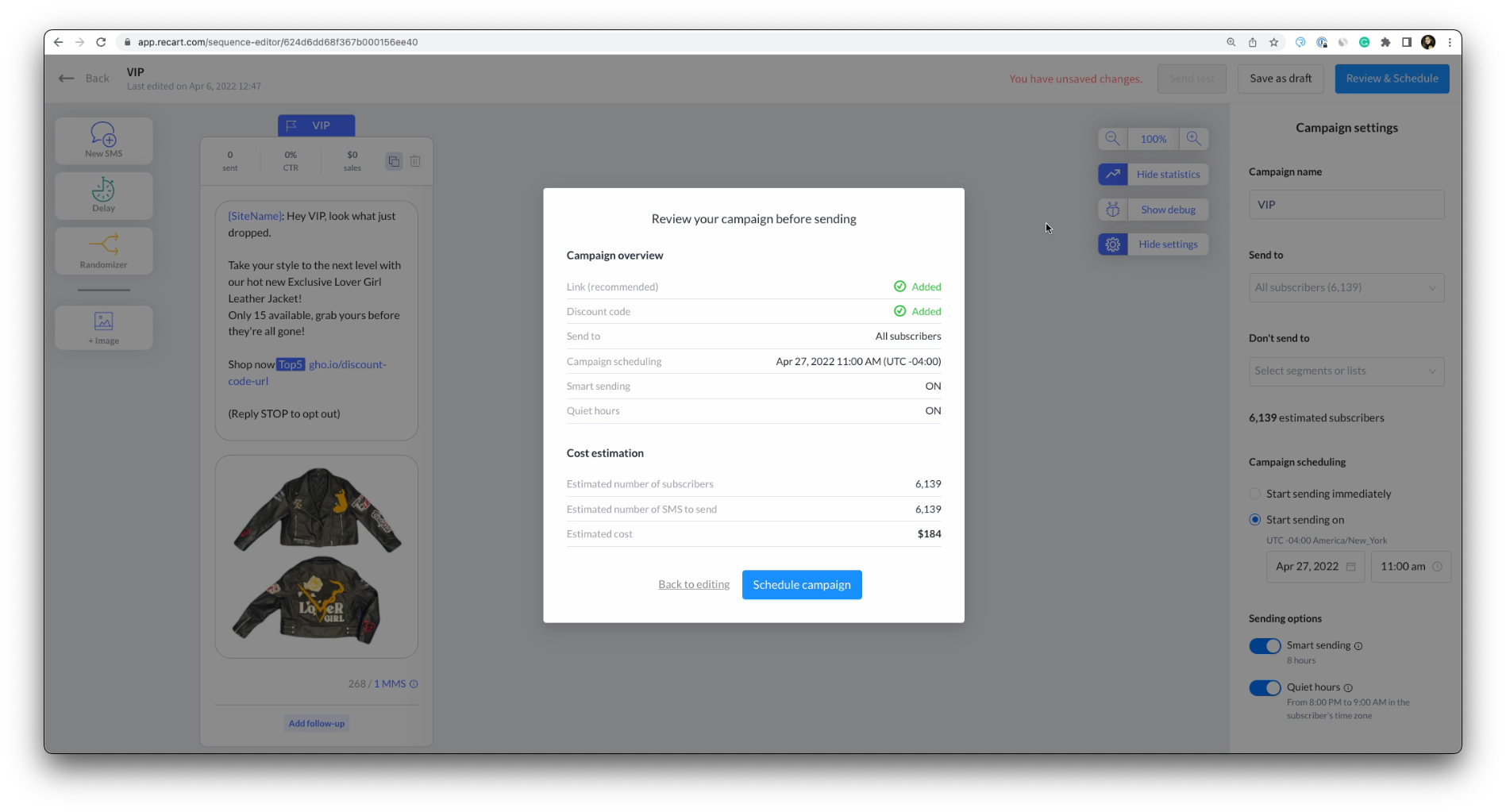 Get tips and tricks to launch successful SMS Campaigns here. 
Default opt-out language in campaign templates
📌 Never fail to stay compliant with text marketing regulations.
Text marketing compliance consists of multiple elements and we work hard to help your way of meeting the necessary requirements. From now on anytime you create a new campaign, the Reply STOP to opt-out language will be automatically added at the end of the message. With this improvement, we ensure you do not forget to add the opt-out language and your messages do not get flagged as spam.
Read this article to have a good understanding of SMS Compliance.
Easy access to sent campaign data
📊 Check back on sent campaigns' data for accurate reporting.
Have you ever wanted to check what discount code you had sent out in a campaign? From now on we've got your back! Within the updated view-only mode of sent campaigns, you can easily recall what discount code was added to your previously sent messages.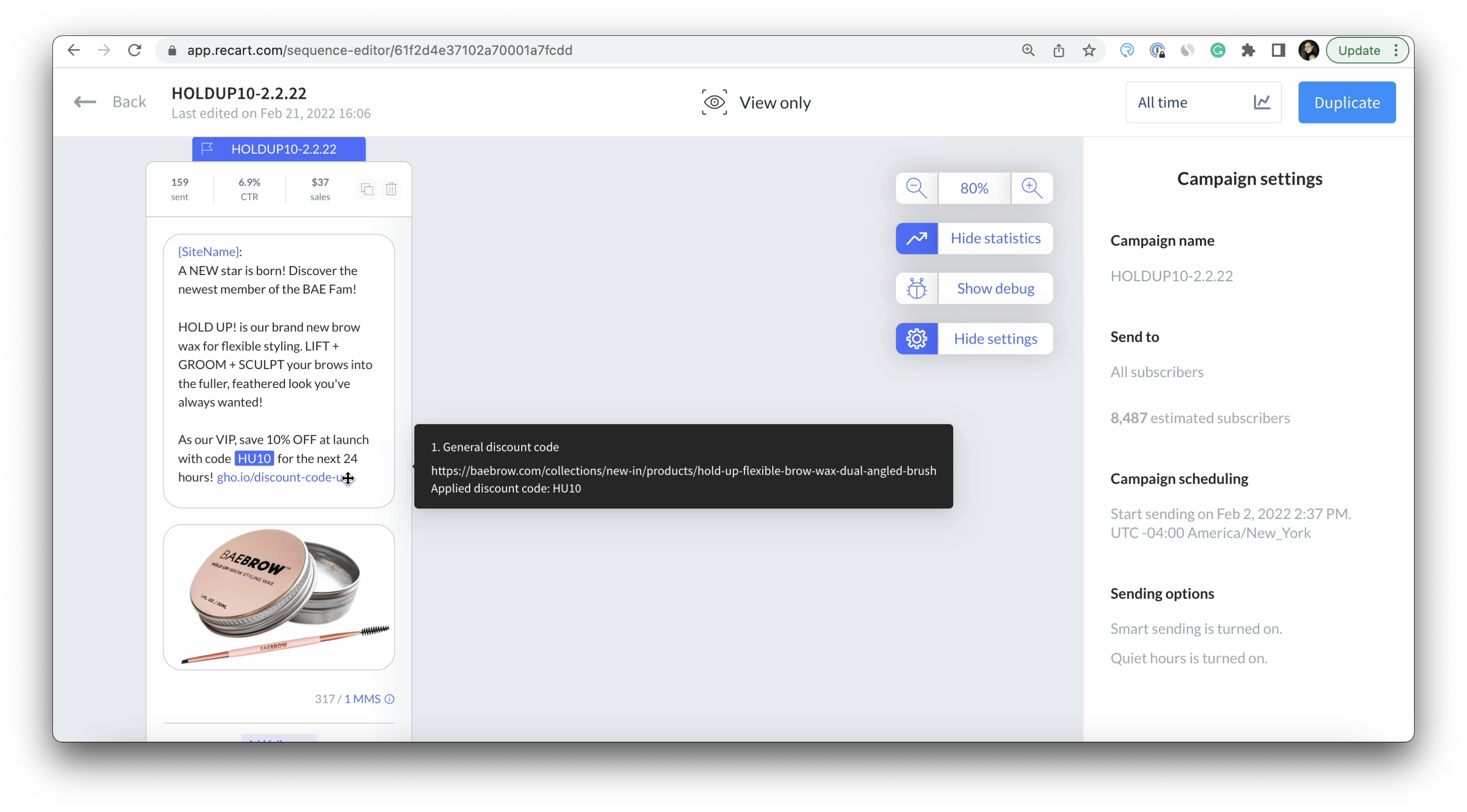 Integrations
Gorgias integration
📈 Increase the efficiency of your Customer Service
Integrate Recart and Gorgias and reply to your incoming SMS messages directly from your Gorgias account. With this integration, you can channel all your customer replies into one platform. Save time and extra efforts to provide world-class Customer Service.
Follow this step-by-step guide to set up your own integration.