7

min read
At Recart, we unstoppably work on new features what make you more sales. This June, we released our best Push Notifications campaigns for you. In our ecommerce stores, we started using pushes six months ago – and I can tell you, it became one of our best ecommerce tools, ever. Today, I'm writing this post to help you implement the same success we made a few months ago.
But first things first:
What are web push notifications?
Simply put, push notifications are clickable messages that pop up on your desktop or mobile device. Despite being small in stature, they carry immense power…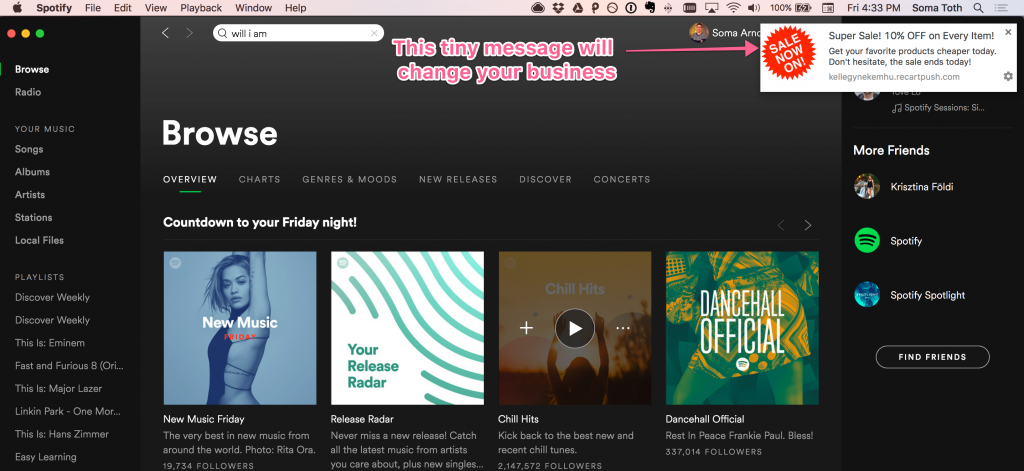 How do push notifications work?
Just like for an email newsletter, visitors need to subscribe for push notifications. The difference here is that you don't ask for sensitive information like name, email or phone.
All you need is a click. Nothing more.
That's what makes web push so powerful.

After your customers click on "Allow", you're all ready to send them automated and instant push notifications. Just like an email subscription, but this time, it's supercharged.
Does it work in my browser?
Most of your visitors are covered.
Recart's web push notifications work in Chrome, Firefox on desktop and Android browser on mobile.

The subscription popup will only jump up in these browsers.
Should I use web push notifications?
If you want to make more money from your existing traffic, the simple answer is:
Hell yes!
Web push notifications may not be a complete substitution for email, but they're definitely a powerful tool you can use to drive engagement with your customers.
Goedle.io wrapped up perfectly:
"Unlike emails, a push notification immediately engages a user, as the interaction is delivered to a user's personal device, be that their mobile phone or their tablet. As a push notification is delivered instantly to your users, the timing of your interaction matters much more."
Email vs Web Push: The Lowdown
If you're running an online business, I'll assume you're already using some sort of email marketing.
Let's take a quick look at how push notifications stack up against email and how you can leverage these differences.
Opt-in rate
Pushwoosh got it:
"Opt-in rate is one of the most important marketing metrics. It represents the percentage of users, who interact with your product and subscribe to receive push notifications or emails".
In this race, push notifications have an average 11% opt-in rate, while the average email opt-in rate is only 1.95%.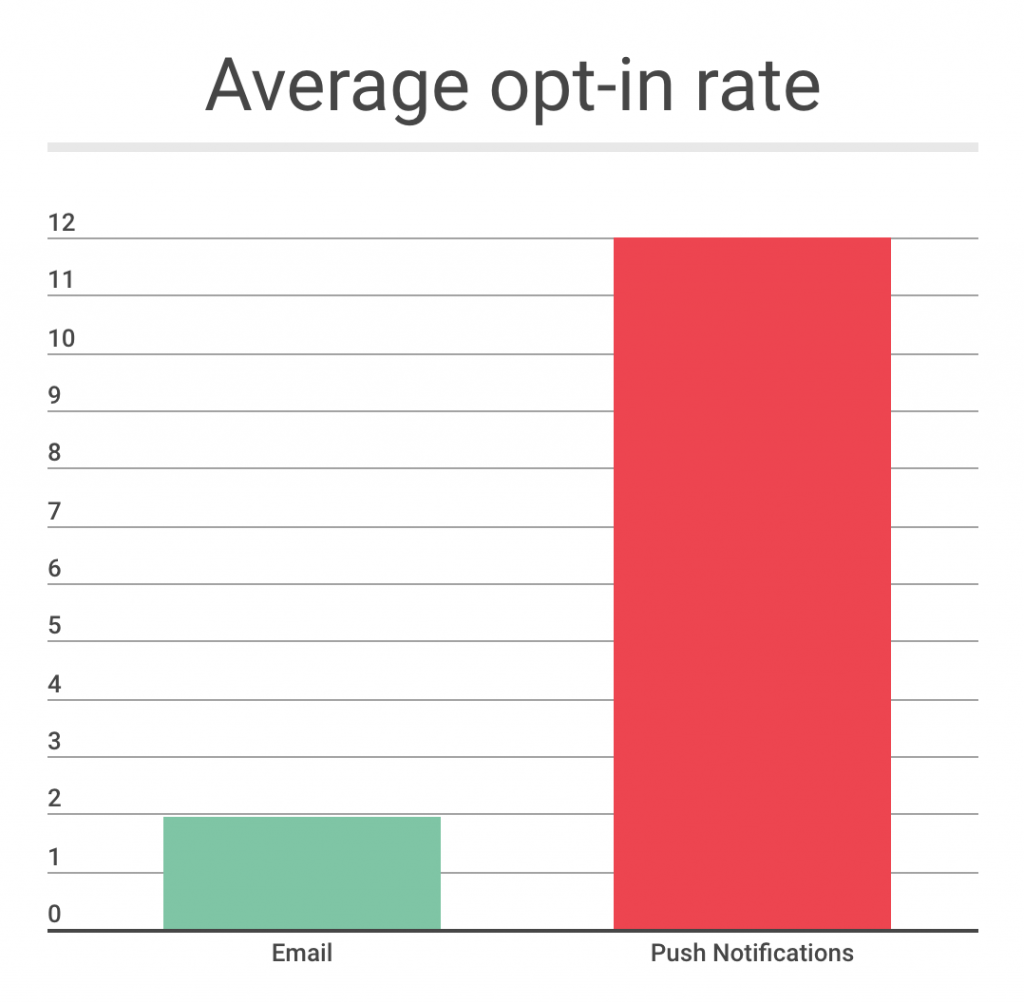 This 5.6x difference is pretty darned reasonable.
It all goes back to simplicity:
For email, you have to ask for a personal information, while for push notifications, you only ask for a click.

Click rate
We can't really compare open rate since there is no open per se, in push notifications. You see them and you can click.
Mailchimp says the average email click rate is 2.62%. In contrast, push notifications deliver 9% click rate in average.
Another landslide victory.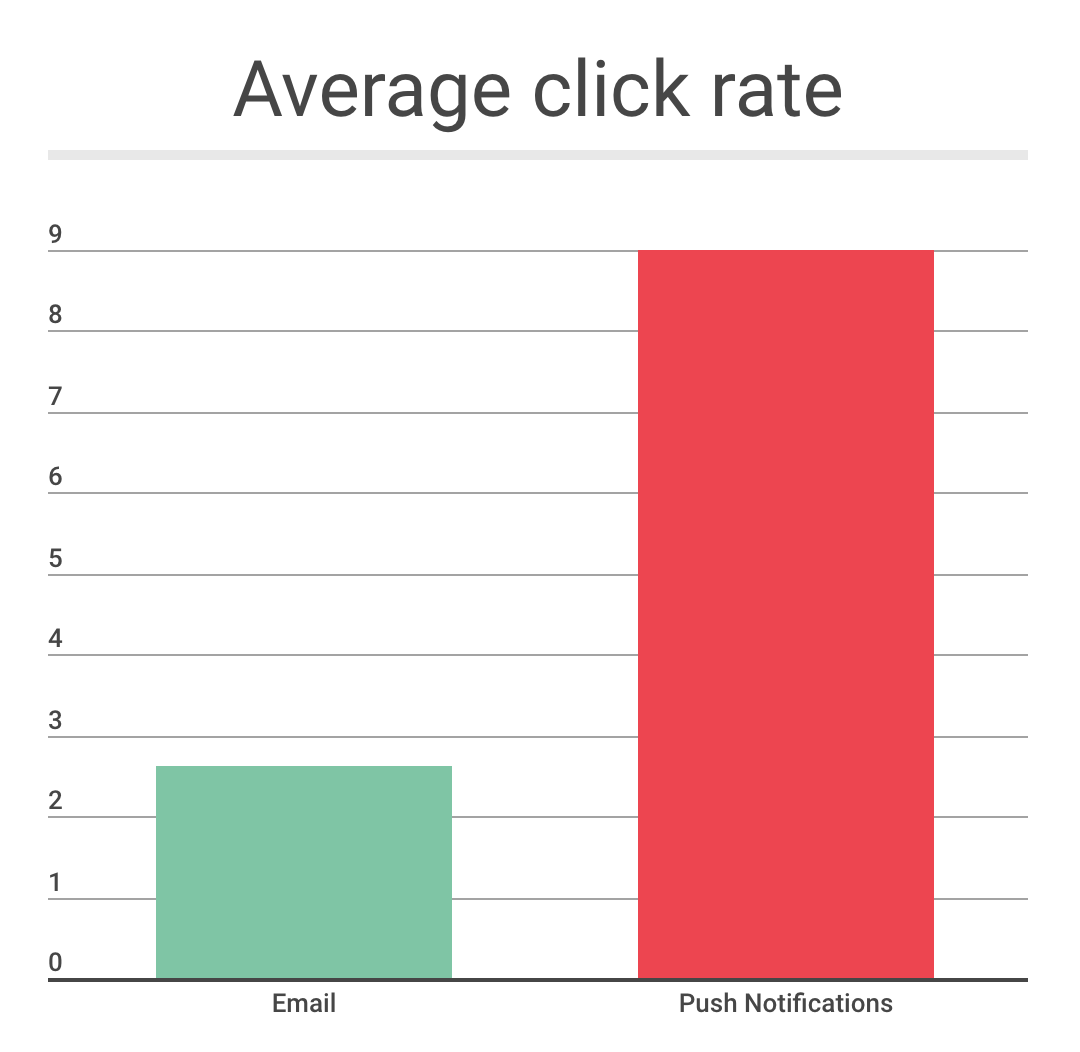 Response time
Push notifications are not simply outperforming emails in terms of clicks. They even have shorter response times as well.
Pushwoosh says about 30% of push subscribers interact with messages immediately. For emails, the average open comes after 6.5 hours.
Why is this important?
Whenever you promote a flash sale or any other message where the response time matters, it makes sense that push notifications will deliver you far better results.
Boost your sales with these 3 Recart push campaigns
We recently released 3 brand new push notification campaigns you can start using today in Recart:
Welcome Push
Abandoned Cart Push
Instant Push
Why these three?
You might have missed this info, but two of the Recart co-founders, Peter and I, currently run several e-commerce stores using the Recart platform. We test the shit out of our stores & campaigns night and day, and when we tested push notifications, these 3 campaigns brought us the most sales.
That's exactly why we're giving it to you.
Let's see how these 3 campaigns will make you a ton of money:
Welcome Push
The Welcome Push is sent right after a user subscribed to your push notification list. If you use it the right way, this message can skyrocket your opt-in rate.
In most cases, we promote a 10% off discount on our subscription popup, then we include the coupon code in the Welcome Push. Here's what it looks like:

This is the Welcome Push we send right after the subscription:

With this campaign, we usually see 12-15% opt-in rate, and +7-10% overall conversion rate. Opt-in rate: (Push Subscribers / All Visitors x 100). Overall conversion rate: (Orders / All Visitors x 100).
And the discount isn't necessarily required if that's not your preferred model. We simply use it for a better opt-in and conversion rate. If you don't wish to give a discount right away, don't worry. Just include a basic welcome message in your Welcome Push – something like this:

What are you waiting for? Turn on your Welcome Push here!
Abandoned Cart Push
Hope you haven't forgotten:
79% of all carts are abandoned.
The good news is that the more abandonment campaigns you use, the more abandoned cart you'll recover. If you're worried that your customers will get too many messages, don't sweat it. We send abandoned cart emails on three channels:
Email, Push & Messenger.
To be exact, we send 3 emails, 3 pushes, and 1 Messenger reminder after every abandoned cart. The result?
Nobody is freaked out or overwhelmed (and we recover a load of lost revenue). On top of that, I see some merchants sending upwards of 9 abandoned cart emails. If you build up your copy well, 6-7 messages shouldn't be an issue.
Just like our pre-built email campaign, the Recart Abandoned Cart Push Campaign brings three powerful, tried and tested pushes to your store.

If you're looking to make the most out of your existing traffic, I strongly suggest you turn the Abandoned Cart Push Campaign on.
Instant Push
I saved the best 'til last…
Recart's Instant Push campaign is very similar to a newsletter you send to your email subscribers. With Instant Push, you can message all your push subscribers in one campaign. This message is the best for promoting new products, announce sales and specific discounts.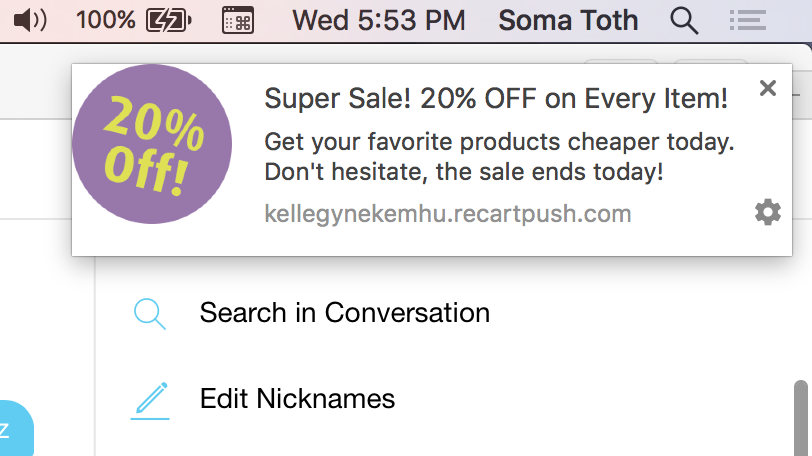 Why should you announce sales here when you can do it in email?
Here's the answer: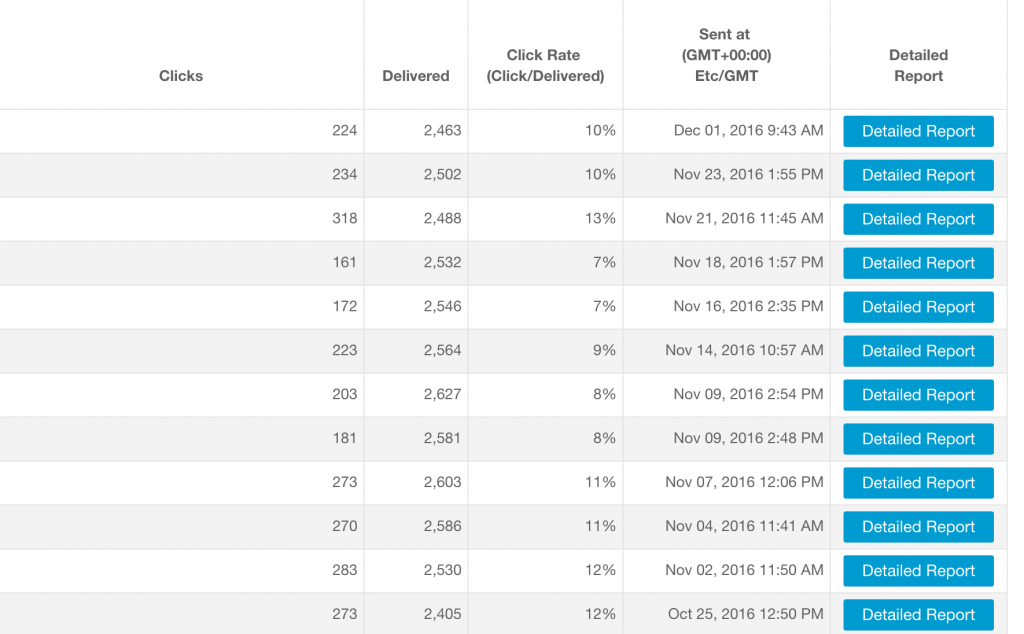 I usually see 11-12% click rate after sending an Instant Push to my subscribers. When was the last time your email list brought you a 12% click rate after a newsletter? ?
That's exactly why I use Instant Push, and you should too.
Sending your first Instant Push is easy as pie. Go to your Recart Dashboard – Push Notifications – Instant Campaigns. Simply click on 'Create New' or edit a draft we provide you.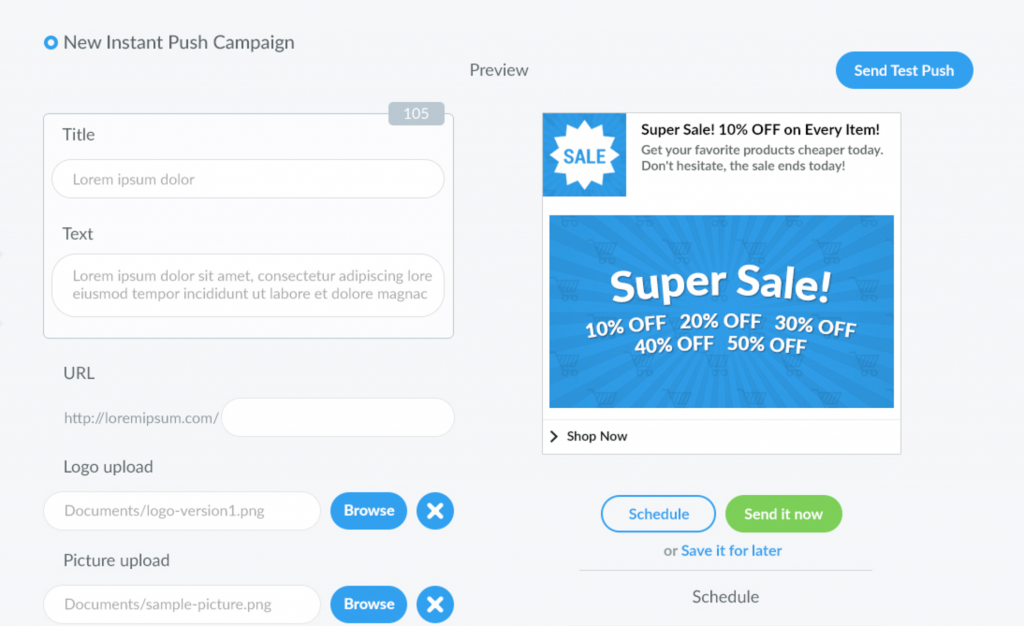 When you're ready with your message, simply hit Send Now and tada! All your subscribers get your message, and you're one step closer to conquering the world! ?
So there you have it:
Your complete guide to using push notifications to take your engagement (and sales) to the next level.
All three campaigns are available on your Recart Dashboard starting today! (Shopify users: Don't forget, your login is from Shopify Admin – Apps – Recart)
If you're not a Recart user yet, sign up free here.
As always, any questions, don't hesitate to get in touch and we'll get right back to you asap!