You can now sync email and SMS subscribers from Recart to Omnisend. This new integration between Recart and Omnisend will help you grow your subscriber lists faster, with a higher conversion rate and extra personal information captured for all new subscribers.
Recart and Omnisend compliment each other very well: Recart offers extremely engaging Conversation Flows with one-tap email and SMS subscriptions, while Omnisend helps you set up and co-ordinate SMS and email automations.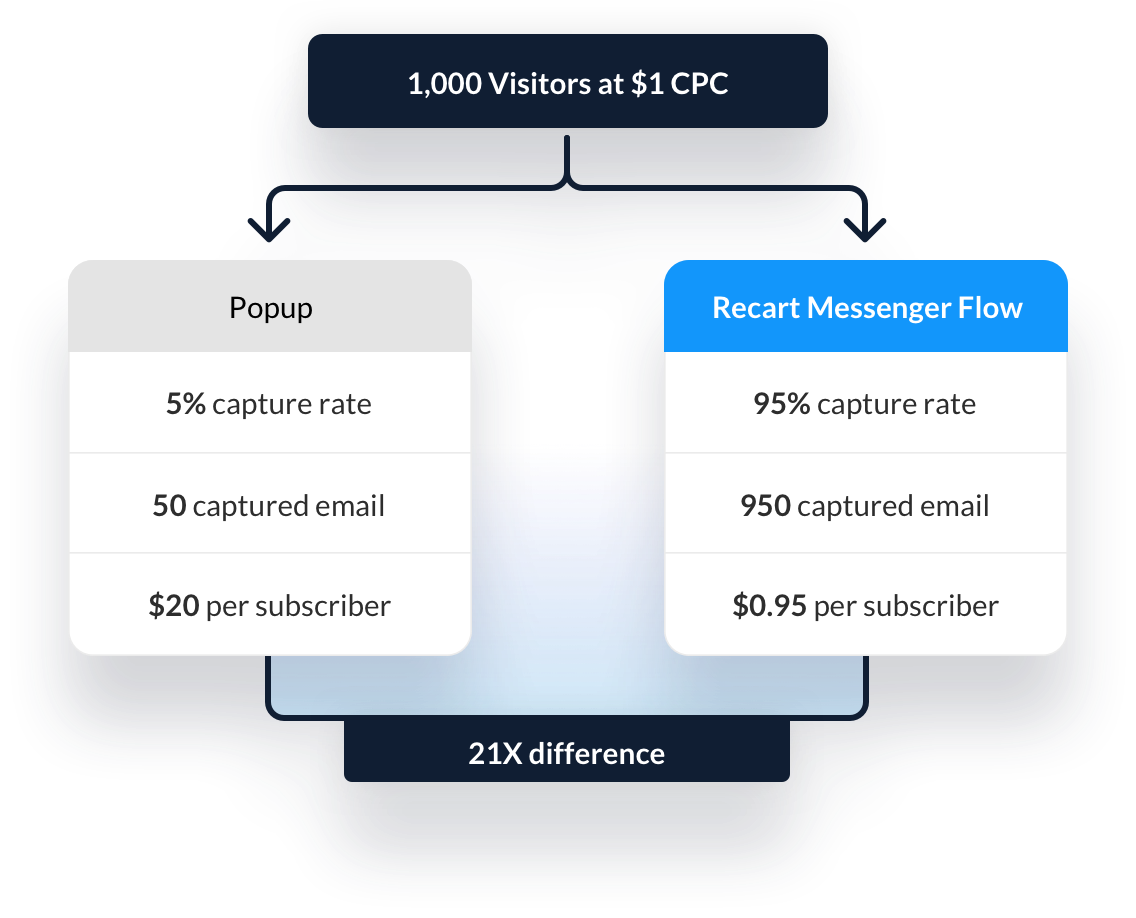 By allowing Recart and Omnisend to join forces, you can run best-in-class multichannel marketing campaigns and maximize your revenue.
Sync Recart subscribers to Omnisend
When the integration is enabled, all email addresses and phone numbers captured within your Recart Conversation Flows will be automatically synced to Omnisend.
This feature allows you to capture Omnisend contacts within your Facebook Comments flows, sponsored message campaigns, click-to-messenger ads, and most importantly, your Welcome Popup Conversation Flow.
To get started, visit the Recart Integrations page and select the Omnisend integration. For step-by-step instructions, please check our integration guide in the Recart help center.
When asking for a customers email or phone number in a Conversation Flow, Recart will automatically add quick replies that include the customer's email address or phone number that they use with their Facebook account.
These quick replies allow them to submit their contact info without touching the keyboard, removing a serious obstacle for mobile visitors.
Tapping into the powers of Recart for email and SMS subscriptions gives you even more benefits:
Recart will capture the first and last name, gender, timezone and preferred language of all new subscribers. You can then use this data to personalize and segment your Omnisend marketing campaigns.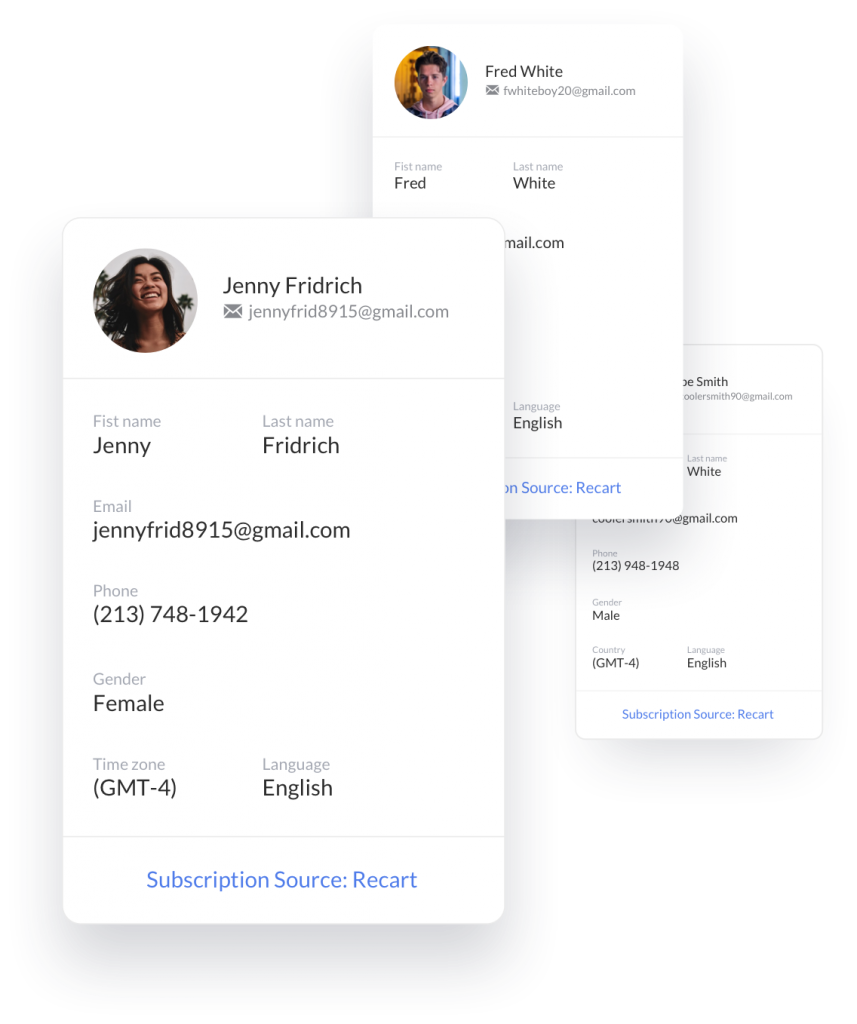 Optimize your subscription funnel with Recart
The most effective, battle-tested method for quickly boosting your email and SMS lists is by enabling the Recart Welcome Popup on your store.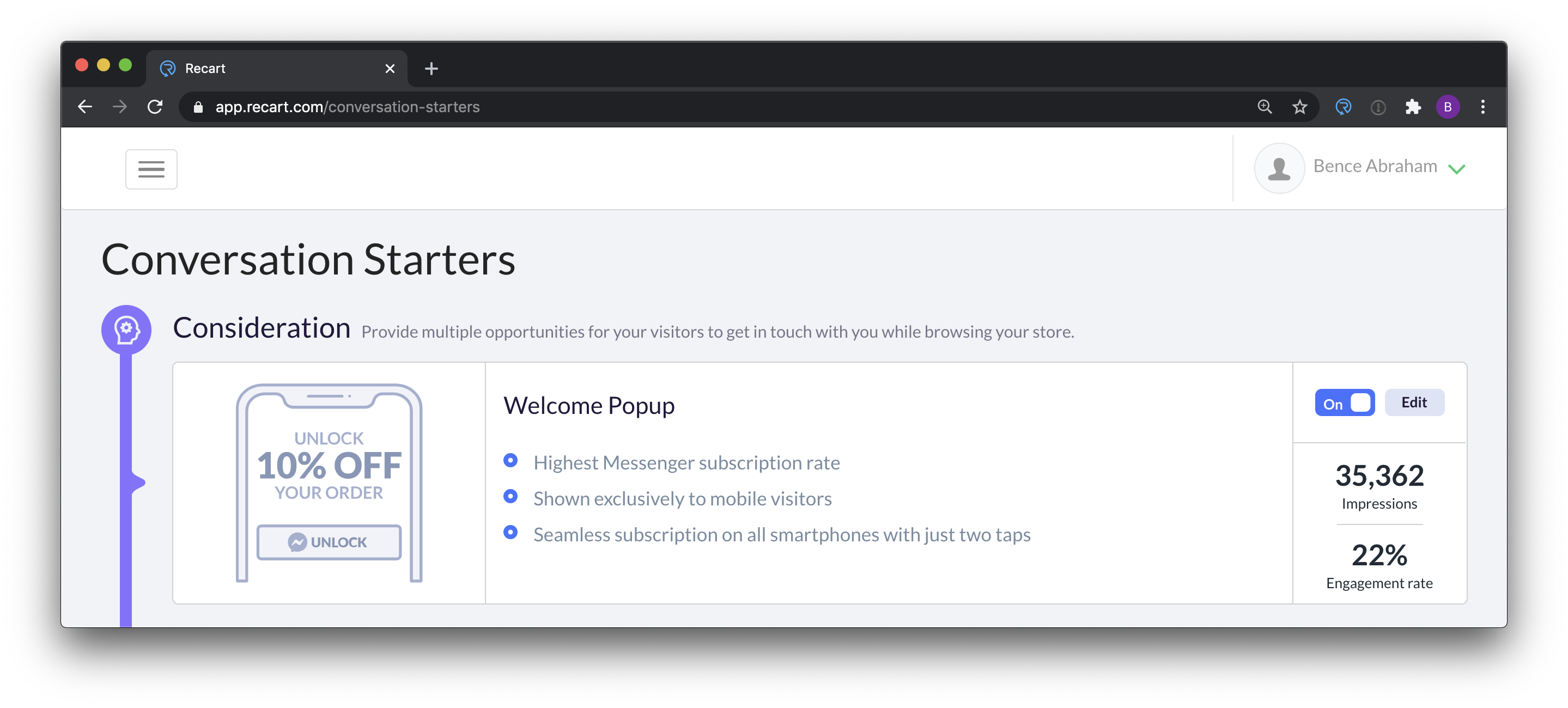 The Recart Welcome Popup is a simple but extremely effective popup that is only displayed for smartphone visitors. It was designed specifically to give you the best subscription rate for customers who are browsing on their phone.
Traditionally, smartphone users are less likely to opt-in for marketing emails and text messages, simply because typing in their phone number and email address is cumbersome. The Welcome Popup solves this problem by removing the need to type anything at all.
Customers can now simply tap to subscribe for your Facebook Messenger, email and SMS campaigns, all at once.
If you want to learn more about converting mobile visitors using the Welcome Popup, I recommend viewing our new Welcome Popup Introduction video series.
Try Recart and Omnisend now
To get started, simply head over to the Recart Dashboard and set up the Recart – Omnisend integration for free.