No matter who I talk to in the ecommerce community, one thing always comes up: The COVID-19 crisis caught most businesses unprepared. There is a general lack of confidence in how businesses can market their products right now. I agree, it's tough, but there are good solutions. This is why we created 5 ready-to-use sponsored message templates for COVID-19 conversation flows.
You can start using any or all of them with Recart right now. It only takes a few clicks.
If you want to cut to the chase, go check out the COVID-19 category in the Recart Template Library.
Otherwise, continue reading for a short introduction of the 5 new Recart conversation flow templates.
Cheer Up a Loved One!
We are all worried about the well-being of people we love. Acts of kindness are especially important in times of social distancing. With this template, you can make it easy for your audience to go to your store, pick a gift and ship it to that special someone.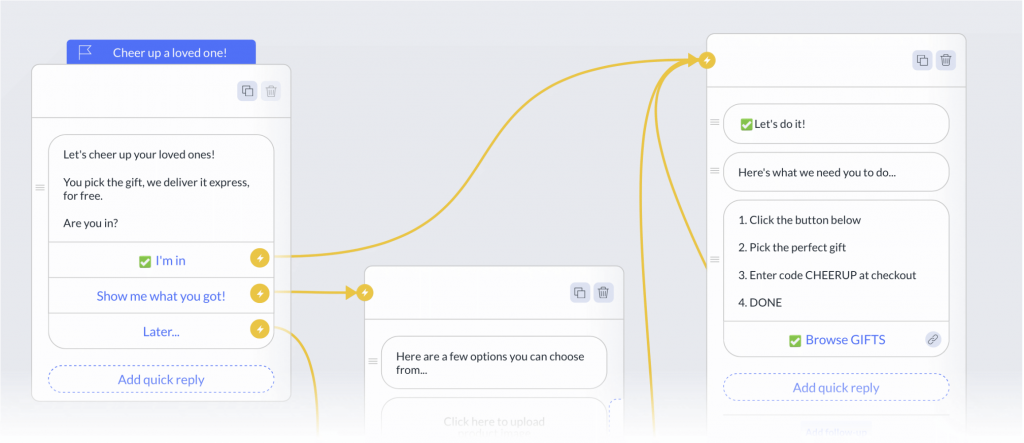 Pick a Charity, We Donate 10%
We know it's tough to keep a business going during the COVID-19 crisis, but we are not the only ones facing challenges. Donating a share of your sales to a charity fighting the coronavirus in the right thing
to do and will give you a unique opportunity to engage your customers.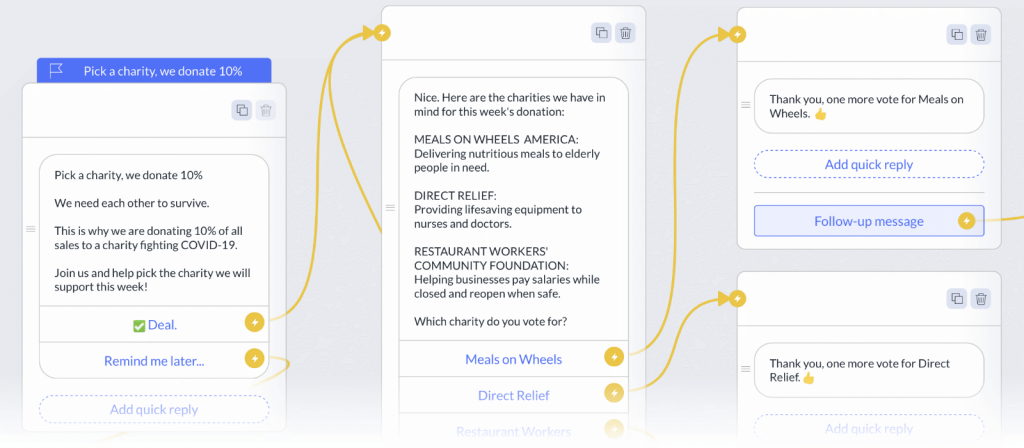 We included 3 charities that we know deserve every cent. But, if you have other charities in mind, you should customize the message to include the charities you want to support.
No Delays, 20% Off
As we all know, several stores have difficulties with their supply chain. If you are in the lucky group with sufficient items in stock, this is the time to advertise your on-time delivery.
We created 2 variations for this conversation flow: One very short, one standard.
In our experience, short conversation flows will give you slightly more visits on your store. Longer conversation flows will result in more positive engagement and brand awareness.
We recommend experimenting with both short and long conversation flows. Depending on your audience, one or the other might give you considerably more return on ad spend.
Gift Cards 20% Off
Small businesses are in an especially tough spot right now. Luckily, public discussion does focus on how people can support their favorite small businesses. It is understandable that many of them might be unable to pay their employees.
If you are in this situation, you don't need to be ashamed. Instead, you should be open and frank about it and ask for support. Appropriate audience targeting is key for this conversation flow: You should only send it to returning customers.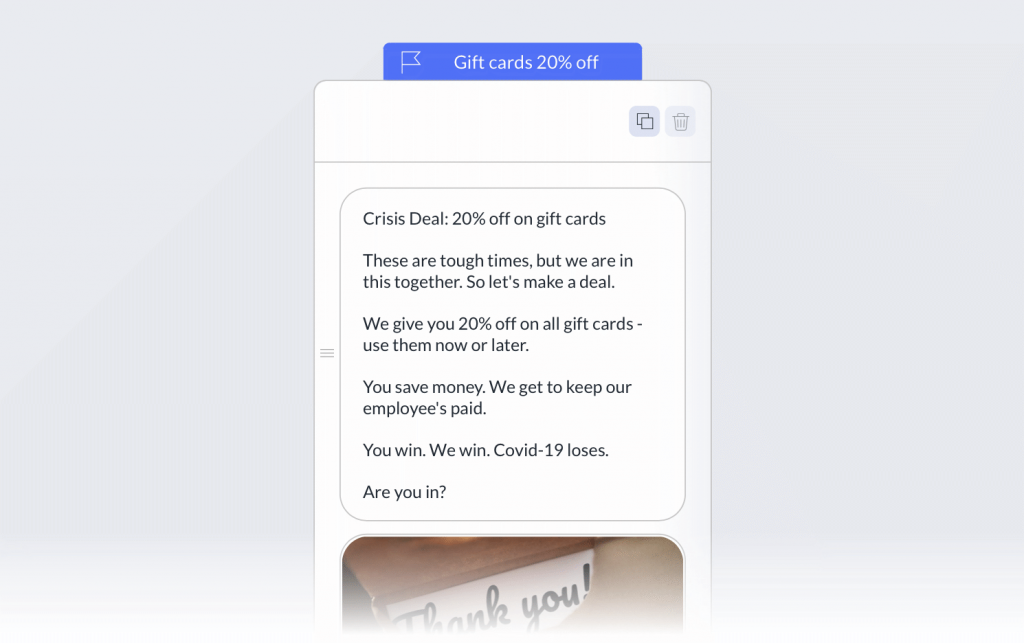 Let's continue the COVID-19 conversation!
We are not stopping here, as each new day brings new challenges for ecommerce businesses. We are working on new features and conversation flows for Recart to help you tackle whatever may arise.
But we need your help, too. Let us know what your specific needs are – All we care about now is how we can work together with you and make the best of the situation.
Do you like these templates? Are they useless to you? Do you have other problems that you think we could solve for you? Whatever you are thinking, do let me know.

Send an email to ben@recart.com or post your question in our Facebook group and let's talk!