Remember how before WhatsApp, Telegram and other instant messaging apps, you'd have to press a number four times to get a single letter out on the screen?
Brands Grow Faster With Text Marketing
Schedule a free demo of Recart and get your SMS marketing up and running in 3 days.
Those days may be gone but SMS is still here, alive and well.
In fact, more than 5 billion people in the world use it, and you'd be hard-pressed to find a phone that doesn't support it. Texting is kind of what phones are for, right?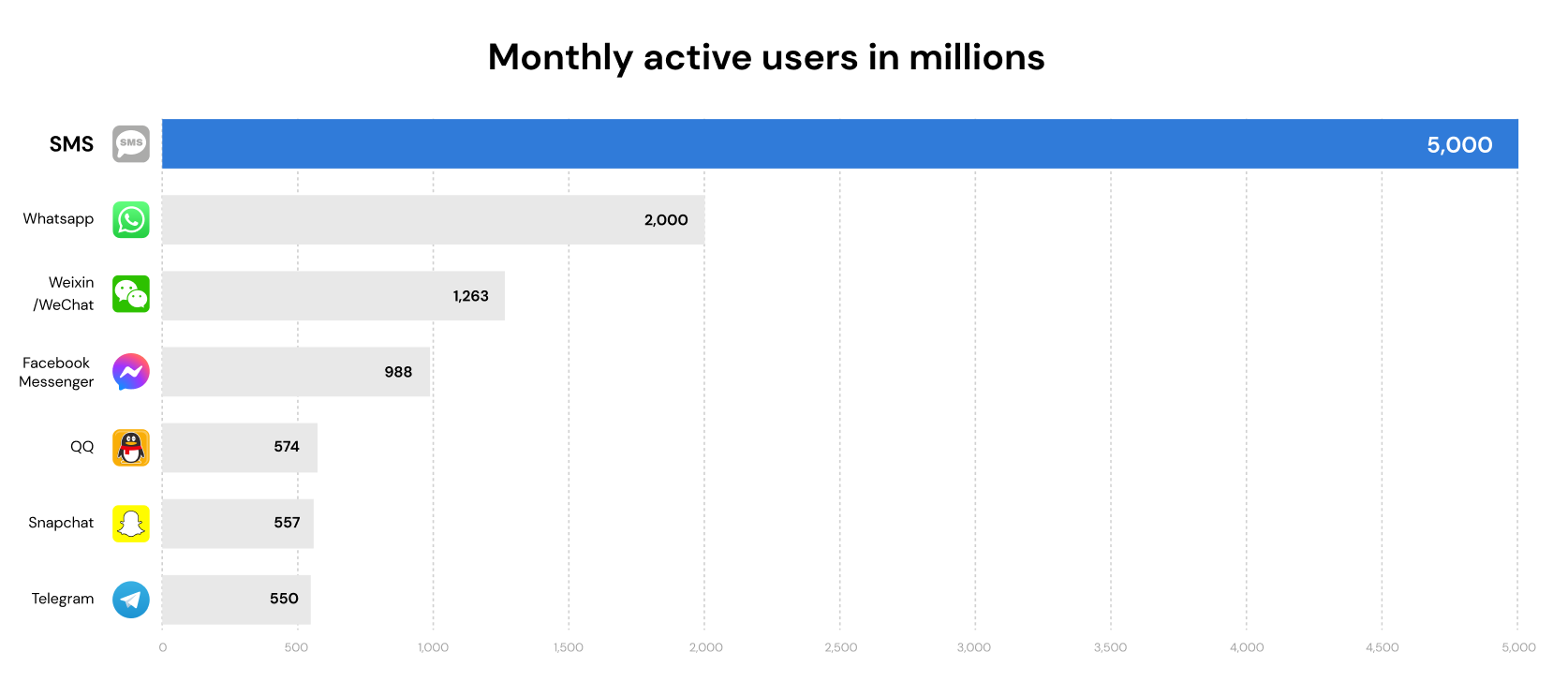 As a Shopify Plus merchant, SMS should be top of your mind whether you're running a new sale, giving customers an update on their order or simply welcoming them to your store. That's because:
SMS is rarely ignored. Studies have shown SMS open rates can be as high as 98% (1)
It's right there. Most phones have push notifications for text messages enabled by default
It's two-way. People are much more likely to reply to an SMS than they are to an email
Done right, SMS marketing can help you drive sales, build better products and keep customers happy. Let's take a look at some of the best practices for cutting through the noise this way.
Remember that less is more
Subscribers who've given you permission to text them actually want to hear from you. Make sure you know how often they want you to message them to avoid bombarding their phone with too many messages. This is the number one reason why people unsubscribe from SMS alerts. (2)
Give subscribers an easy way out
Opting out of your SMS list should be as easy as opting in. Most brands let people unsubscribe by replying to messages with a keyword such as ''STOP'' or ''CANCEL''. There's no point sending messages to a list of subscribers who are there just because it's too difficult to opt out.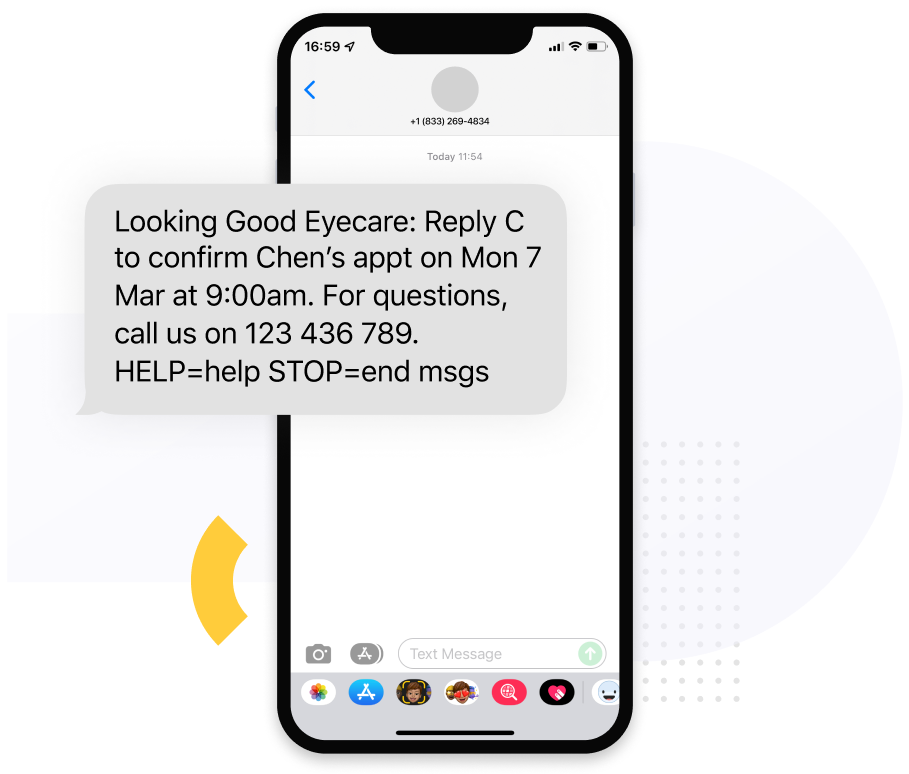 Keep it meaningful
Be considerate of your subscriber expectations — and inboxes. SMS is much more conversational than other marketing channels and you should keep it that way by encouraging dialogue with your audience. Ask them for feedback on their shopping experience, see what they think about an upcoming product line and give them order status updates. Keep the promo messages few and far between.
Here are a few examples of brands that are crushing their SMS marketing.
Her Juice Bar
Her Juice Bar sells intimate feminine health products. The company uses SMS to keep in touch with their customers in a discreet and personal way. As soon as a visitor agrees to receive texts from the store, they're taken to the Messages app where the only thing they need to do to confirm their subscription is hit send.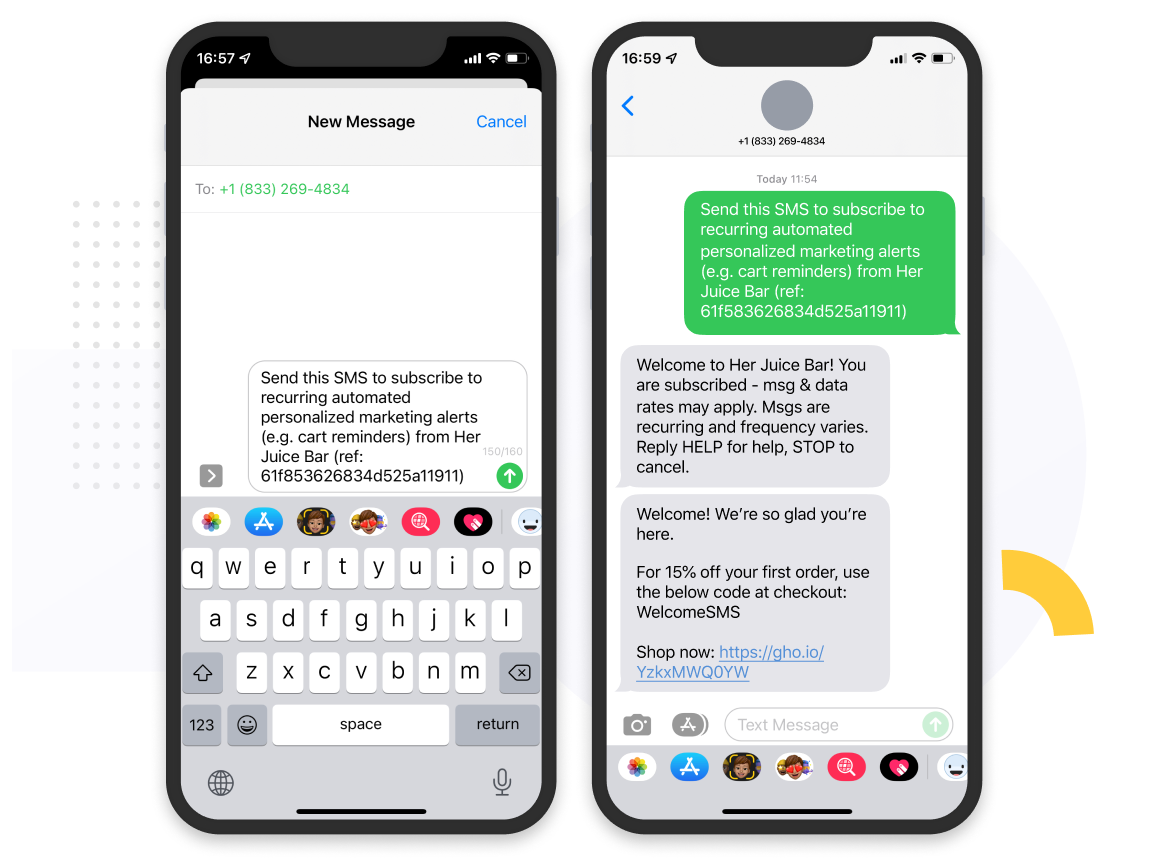 Her Juice Bar also makes it easy to opt out of their flow. The subscriber simply needs to text STOP back to the store and they'll be taken off the list.
Vanity Table
This Korea-based beauty store is a great example of a brand that doesn't go heavy on promotional messages and is still getting great results. Vanity Table knows the majority of their sales comes from its mobile app, and it uses SMS marketing to prompt subscribers to download it.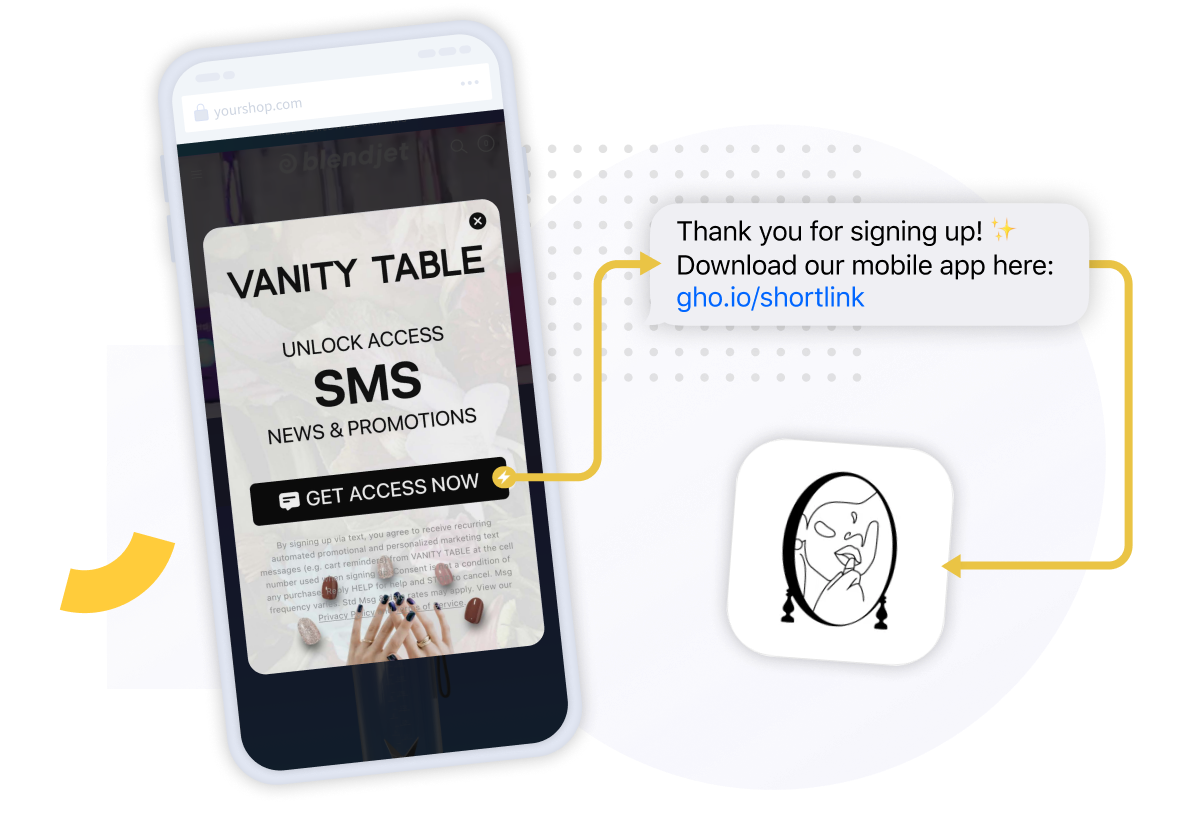 Occasionally, Vanity Table will run one-off campaigns, offering discounts to customers at key retail dates. Their Black Friday campaign achieved a 31x ROI and a 15.7% CTR, and this is largely due to SMS being able to cut through the noise in a very noisy period of time.
BulkSupplements
BulkSupplements is a textbook example of how to grow your Shopify store and boost revenue effectively using SMS marketing. The store brought in more than 85,000 SMS subscribers in four months by simply offering a small discount on their next order. They then set up a series of flows for new and existing customers, making hundreds of thousands of dollars on welcome campaigns and recovered carts.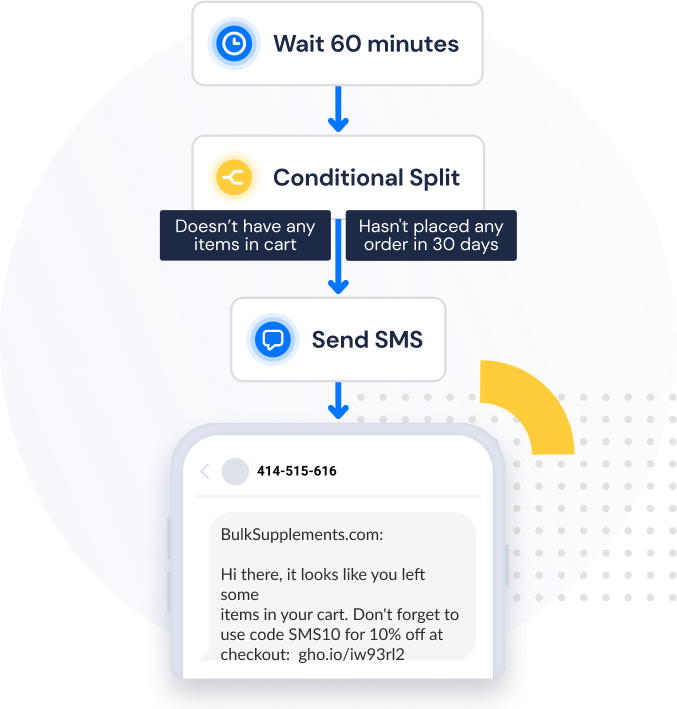 The store's texts are more sales-focused but BulkSupplements still offers customers an easy way out. And because SMS is quick to consume and gets more engagement than an email, BulkSupplements has been able to see fantastic ROI.
Grow your Shopify store with SMS marketing 
Before you can kick off your SMS marketing strategy, you need to build a list of subscribers who have given you consent to text them.
A lot of store owners offer a 10% discount on their website in exchange for a phone number. You can choose another way to nudge users to opt-in but make sure prospects can understand immediately what they're signing up for and what they're getting in return.
As for the implementation, you can add a checkbox for SMS opt-in at checkout through Shopify Plus natively, or use a number of apps to capture phone numbers earlier in the customer journey.

At Recart, we've built a number of tools for Shopify Plus merchants looking to turn mobile and web visitors into subscribers. Website pop-ups with incentives have proven to be especially useful, and typically convert 10-15% of browsers to subscribers.
You can read more of our case studies to see how we help brands grow their Shopify stores through SMS marketing.
Getting SMS marketing right
SMS is a great way of driving revenue and building loyalty with your audience but remember to send messages that are relevant and timely.
Running a flash sale every other day may feel tempting, but putting your customers first will always be a better long-term strategy. We recommend using SMS to send things like:
Feedback requests
Tips and advice on using your products
Abandoned cart reminders (in moderation)
Promotional offers (in moderation)
As a rule of thumb, as long as your audience has agreed to receive texts from you, and you are sending them meaningful stuff, you're in the clear. Trust us, it won't be long before you go all-in on text messages to grow your Shopify store and boost revenue.
Brands Grow Faster With Text Marketing
Schedule a free demo of Recart and get your SMS marketing up and running in 3 days.