By 2025, 7.49 billion people are expected to have mobile phones and 72% of all internet users will solely use smartphones to access the web. And in 2021, $3.56 Trillion in retail eCommerce sales were made from mobile users.
Mobile use and mobile commerce are no longer just trends, they are a way of life, and businesses must keep up with the mobile-first mindset.
We asked 100 consumers a few key questions to better understand the fast-paced, rapidly expanding landscape of mobile marketing. We've gathered the responses into 4 key insights that motivate investment into SMS marketing for your business.
Brands Grow Faster With Text Marketing
Schedule a free demo of Recart and get your SMS marketing up and running in 3 days.
Insight 1: 76% are already subscribed to receive SMS marketing from brands they like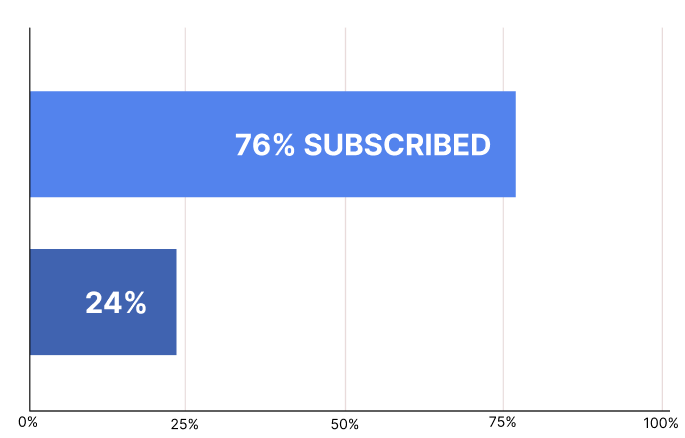 With the average US smartphone user getting 65 and 80 notifications per day, people are becoming more selective about who they give their data. Considering this, it's quite astounding that 76% of consumers subscribe to receive SMS from brands they love. The direct and personal nature of SMS means that these notifications are prioritized by consumers and while they hit "unsubscribe" to emails daily, SMS is on the rise. 
Insight 2: 81% click on links found in SMS marketing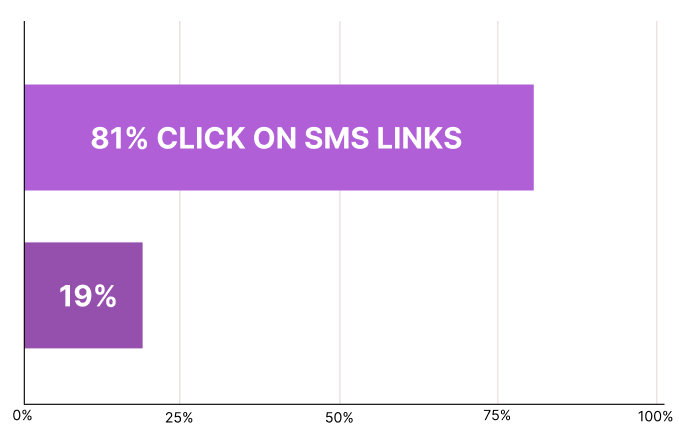 Many brands consider SMS and mobile marketing as spam and avoid setting up the channel. However, this result really blows that concern out of the water. Not only do we see more than 98% open rates but also an 81% SMS click rate. What this tells us two things. One, consumers are willing to open and read an SMS. And two, they feel that links (often the most spam or phishing risk part of any marketing effort) are safe to click on.
Insight 3: 70% are comfortable sharing their mobile numbers with businesses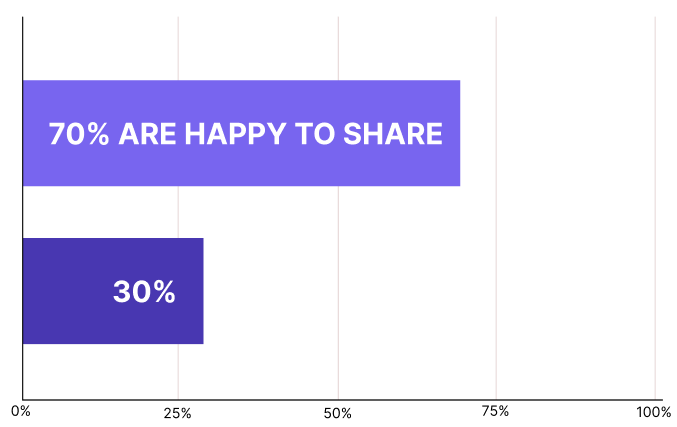 How many email addresses do you have? A few we're sure! Perhaps you have an old one made back in the 2000s you use for spam, a personal one, and a work or a business one? While we know there are at least a few, your personal mobile number is most likely the only one you have. This shows us that the eagerness of 70% of consumers to give out their only, personal, mobile number is a statistic to be excited about. The SMS channel offers a direct, two-way, and personalized experience that consumers are ready to receive.
Insight 4: 64% receive less than 20 promotional texts per month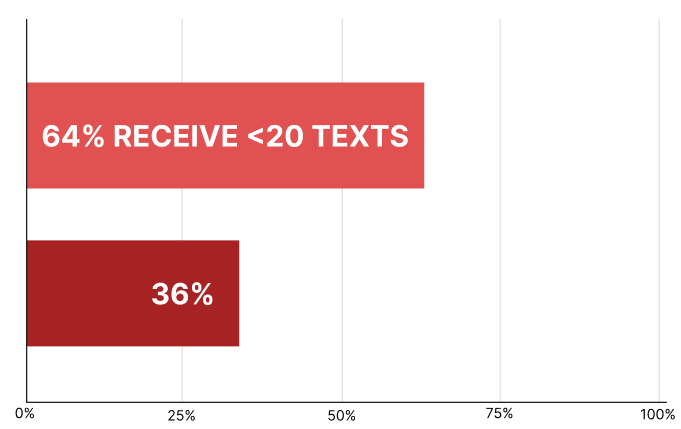 For a channel unfairly aligned with spam, this is a surprising and great number to see and it tells us important two things. Firstly, marketing spam is coming from other channels. Secondly, the channel is undersaturated and there's a fantastic opportunity for brands to start with SMS and mobile marketing as soon as possible. 
A question about mobile marketing
Something we didn't ask consumers but are asking you – Do you know how to get started with SMS?. There are many tools out there, but most of them are do-it-yourself-focused and don't offer support. At Recart, we offer a fully managed service. Think app meets agency. Our SMS experts strategize, set up, and optimize your campaigns for you (or with you) to get the best outcome. 
Book a chat with us to learn more about how SMS can grow your business. It's totally free with no strings attached. And we'll guarantee you'll learn something new, and we'll also guarantee results if you sign up.
Brands Grow Faster With Text Marketing
Schedule a free demo of Recart and get your SMS marketing up and running in 3 days.