Black Friday. The annual opportunity for e-commerce store owners to bring out the best of their businesses. But what does it mean exactly for your online stores and how should you prepare? Read below to learn the must have-tools and outstanding tips and tricks to stay up to date.
How to prepare your store for Black Friday?
According to the 2018 Shopify Plus survey the largest seasonal spike in sales by quarter is Q4 which covers Black Friday, Cyber Monday and the holidays. 80.4 % of 51 Shopify Plus businesses had their sales peak in this time frame.
That is a huge deal, and something to consider.
Even if you don't do anything special for this occasion your income is likely to grow, however, you need to consider the fact that your buyers are counting on your brand. It's not just you or your store, but your customers, too. Black Friday and Cyber Monday is the perfect time for them to spend their money in a reasonable way, only buying discounted items. They will spend much more money, much more willingly than usual. Give them what they want, it's a win win situation.
Oh and don't forget your competitors! You'll need to keep up with them otherwise they will lure your customers away and give them a better deal than what you can offer.
How to do all of the mentioned above?
Preparation is key.
Why do you have to start early?
Because people start their search for deals as early as October.
Naturally, you'll have a considerable amount of visitors, customers, orders and cart abandoners. Here is your chance to build trust and connect with your audience. Your team needs to get ready for that and provide a high quality of support.
Pay attention and time to properly measure the advertising budget. Advertising your deals before Black Friday can increase your traffic and your revenue. Make sure to come up with competitive offers. If you think about it, 5% discount may not be that tempting, but 30%-40% may do the trick.
In order to bring back your cart abandoners your Facebook page will need to have a nice amount of subscribers. Building your Messenger subscriber base will allow you to send out Sponsored Messages, Abandoned Cart Messenger Campaigns and other notifications. The most effective channel to do that is Messenger Marketing.
Why Messenger Marketing?
Messenger Marketing is cheap, effective and easy to use, for you and for your customers. This is the easiest and fastest way to increase your ROI.
Customers actually read Messenger messages. Instead of the average 12% email open rate on email newsletters, Messenger messages have about 80% open rates. You probably need to send multiple emails to get your message in front of your cart abandoners, nonetheless, this is completely different with Messenger: one single campaign is read by almost all of your subscribers.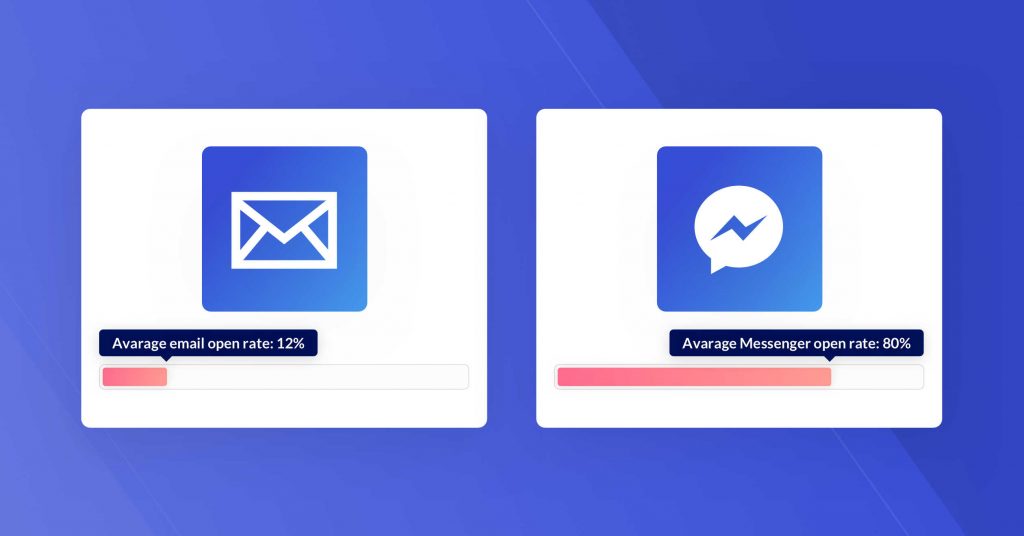 What is more, there are so many options to choose from, several subscribing tools and conversation starters such as popups, Messenger widgets, Customer Chat and tools to offer discounts. Even more campaigns: Messenger Welcome, Abandoned Cart Messenger Campaigns, Messenger Receipt and Fulfillment Notification.
Now, all you need to do is to find out what are the most powerful Messenger subscription tools which will bring the most out of your store and increase your sales. We took the tools and categorized them into two groups:
On-site tools
Off-site tools
On-site tools
Pop-ups, pop-ups, pop-ups!
You yourself may not be a fan of them. But as an online store owner, you have to make data-driven decisions when it comes to your marketing. And as an online marketer, I strongly suggest to consider using popups. Why is that? Because they are incredibly efficient.

Recart launched powerful pop-up integrations that will seamlessly integrate with your current marketing tools. Merchants using our popup integrations see 25-35% conversion rates from all their traffic, which is probably one of the best performances in the world.
In addition, our Smart Messenger Mode option is available on our popup integrations. It allows you to automatically show Messenger experience when your customers are logged into Facebook and show the email experience otherwise.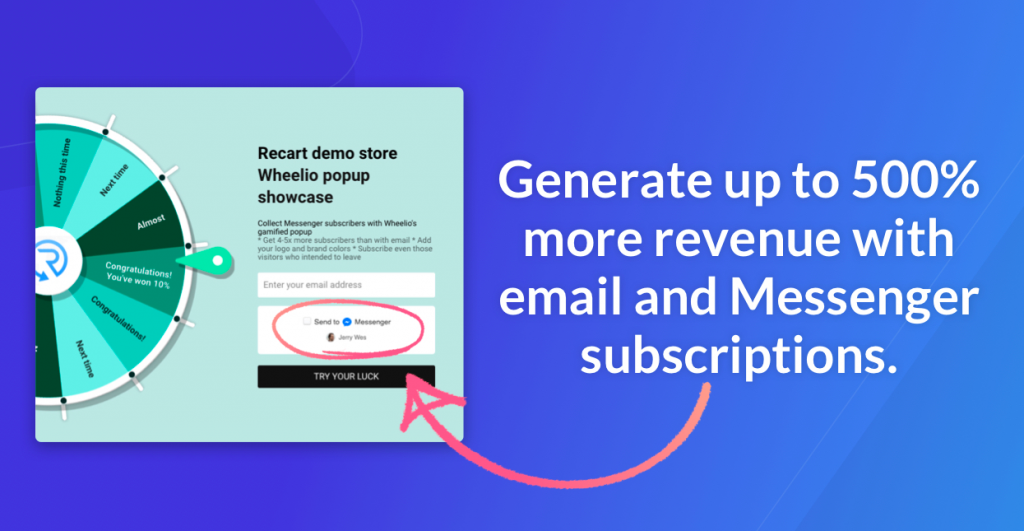 You'll have logged in customers to opt-in to your Messenger list with one single click, increasing your visitor to subscribe conversion rate by 20-50%. This is currently one of the best ways to build a list and connect with your customer on Messenger.
The numbers speak for themselves!
We offer native Messenger integration with major pop-up apps, including Wheelio, Optimonk and WooHoo. Few clicks and you're all set.
If you use Privy, Justuno, Klaviyo or any other pop-up apps, just message our Customer Success them, we can implement the Smart Messenger Mode for you in 30 minutes.
Messenger Welcome with a twist
First impression is crucial during shopping, not just for actual real store owners but for online business owners. Customers pay attention to every little detail, thus you should pay a huge amount of energy and time to welcome them once they enter your website or when they subscribe to your Facebook page.
Just think about this:
Walking into your favourite clothing store without receiving something like this: 'Hi, welcome back, let us know if you need any help'. Wouldn't that be rude? Your visitor can feel the same way online. Set up welcome messages for every subscription tool you use in your Messenger Auto Campaign's page.
What's so special about this welcome campaign? You can build up a chatbot inside the editor, so you don't have to actually answer your customers' questions, your chatbot will do that for you.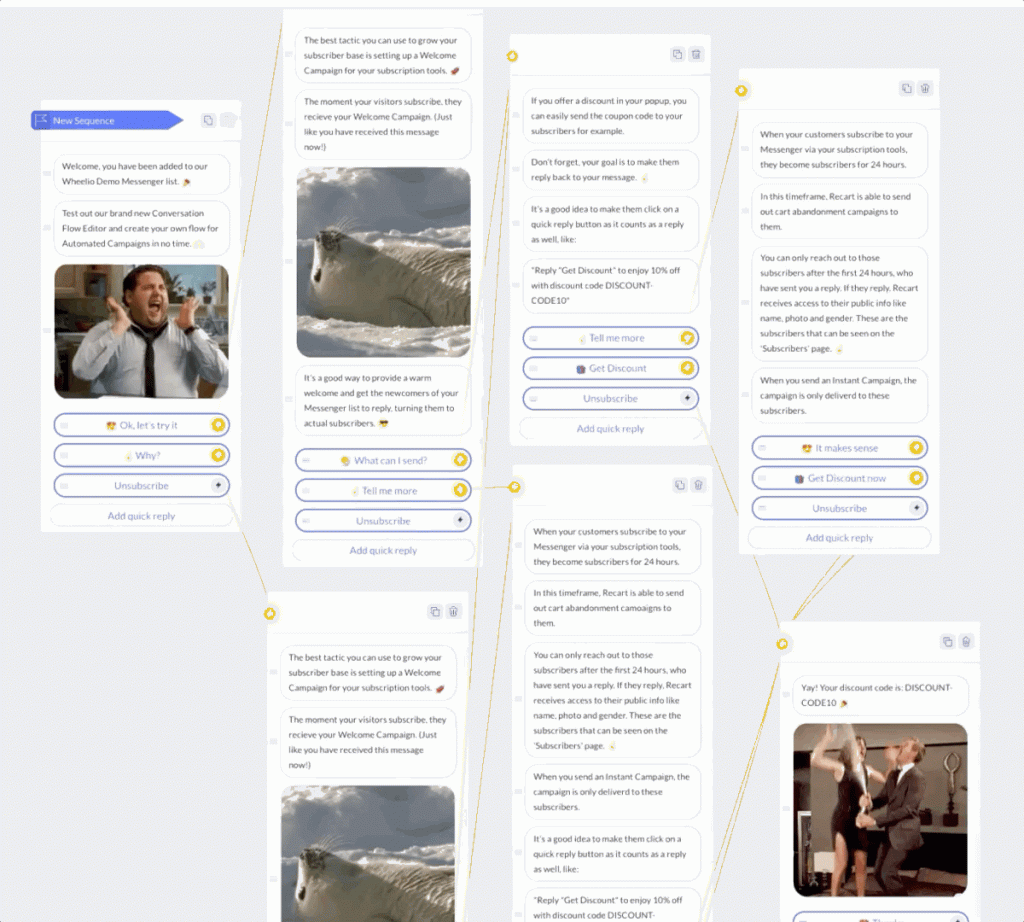 You can add quick replies, so your audience doesn't have to write a single letter, just click on one of the options given to them. Add pictures, gifs, videos and buttons linked to your store!
Off-site tools
Click to Messenger Ads
Ads that click to Messenger are Facebook, Instagram, or Messenger Inbox ads that send people into a conversation with your business in Messenger.
You can use ads that click to Messenger to start conversations with them. Whether the goal is to generate leads, raise awareness of brands or products, or drive sales, you'll be able to tailor conversations in Messenger to meet their specific needs – driving business outcomes one conversation at a time.
What is more, now you can link your Click to Messenger Ads to Recart. After every click your Messenger conversation will be connected to your auto-campaigns in your Recart account. Your Messenger welcome chatbot will do the work for you. Drop a message to our support team to learn more.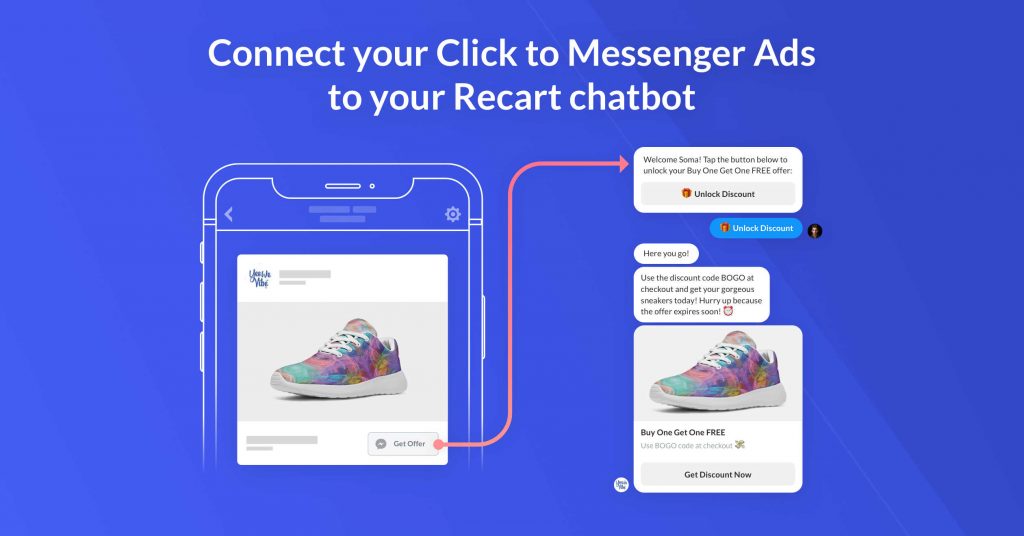 Sponsored Messaging
Sponsored Message is an ad format Facebook provides businesses to initiate conversations with customers on Facebook Messenger. It's one of the most effective promotions in the marketing world: consistently delivers 10-50x ROAS.
With Sponsored Messages you can send promotional messages to all your subscribers (everyone who has an open conversation with your page). It allows you to segment your audience using Facebook's audience tools.
And of course, the Recart flow can take over the conversation once the customer interacts with the message. Our support team is eager to help you out! Create your Sponsored Message at least a day before your send date. Just like other ads, Sponsored Messages go through Facebook's review process which can take up to 24 hours.
m.me link
M.me link is a shortened URL service operated by Facebook which redirects your customers to a person, Page or a bot in Messenger. In Recart's case, the link will redirect your audience to the bot you built up in your Messenger welcome campaigns. M.me links are the most popular and compelling way to drive a significant amount of traffic to your store via Recart's chatbot which will do the work for you.
Learn how to trigger Recart Custom flows, include the links in email newsletters, SMS campaigns, and social media such as Instagram to grow your audience and grow your sales.
In case of questions, hit us up via the customer chat!
Sit back and relax
The busiest time of the year is just around the corner so you as an e-commerce business owner must be ready. Make sure that everything is set up the way you want them to be: subscription tools on your website as well as your Facebook ad strategy. Once you have a decent amount of audience, your campaigns will fire out and all you need to do at the end is sit back and watch your numbers go up.