Today, let's talk about popups, they're a hot topic, right? But let's talk about the add-to-cart popup in particular.
First of all, let me tell you this: I talk to hundreds of Shopify merchants every week.
They all say it:
"I hate pop-ups. They're incredibly annoying."
Let's be completely straight with each other for a second:
We all hate pop-ups. There's simply no denying it.
To be completely honest with you, I have a passionate dislike for those jumping little bastards too. As a visitor, I don't know if there's anything I find more disturbing than a pop-up. As a visitor…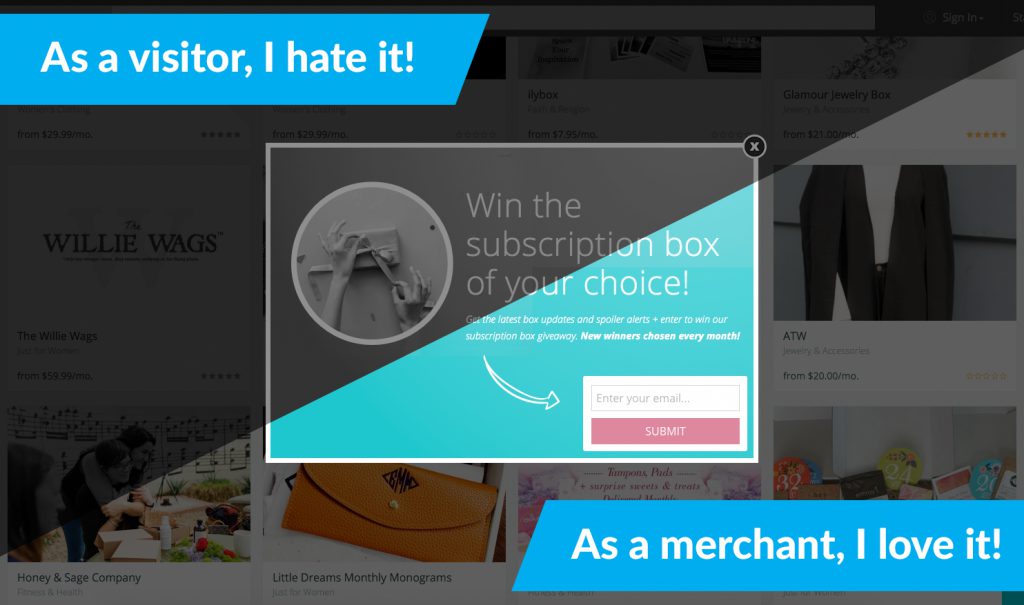 But from a Shopify merchant's perspective, I love pop-ups! These tiny windows have completely changed my businesses. They helped me grow my online stores from zero to $2,000,000 revenue a year, and they built several lists for me with a total of 450,000 emails.
Just to clarify something:
Most of my email lists weren't built by exit-intent or welcome offer pop-ups. I know that these are the most popular today, but 12 months ago, my dev team and I had a different idea:
An Add to Cart Popup.
At that time, our CTO started raising questions:
"Why do we annoy people with welcome and exit popups? Customers just want to check a product, and we blast a window into their face? Are we really asking for emails after they decided to leave? It sounds absurd. We need a natural email capture inside the journey."
We decided to do an experiment. So we asked for email address right after our customers clicked on add to cart.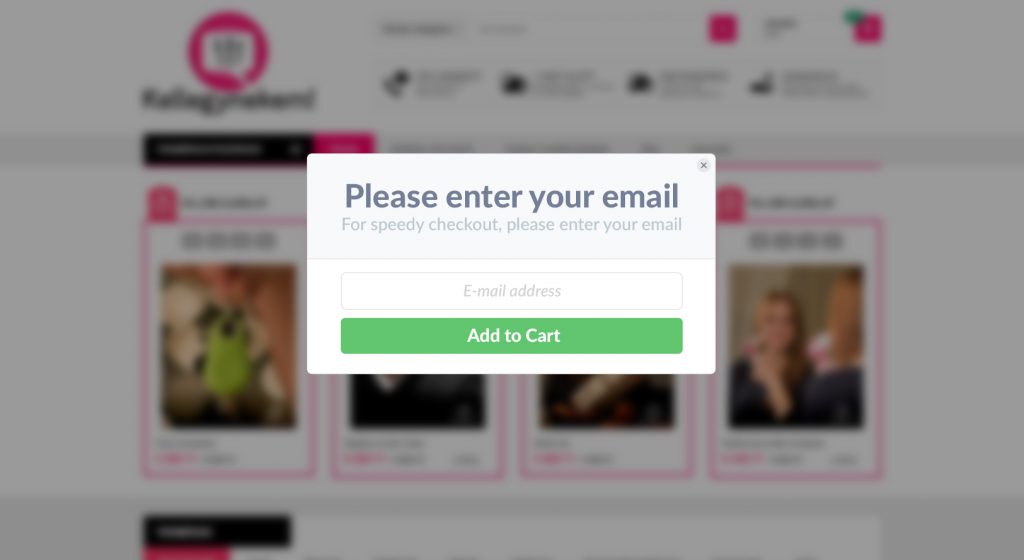 Yes, exactly. We asked for an email from everybody who added something to cart.
Lo and behold:
The popup became an overnight success. On the first day, it captured 168 emails from 272 add to carts clicks.
That's higher than a 62% conversion rate!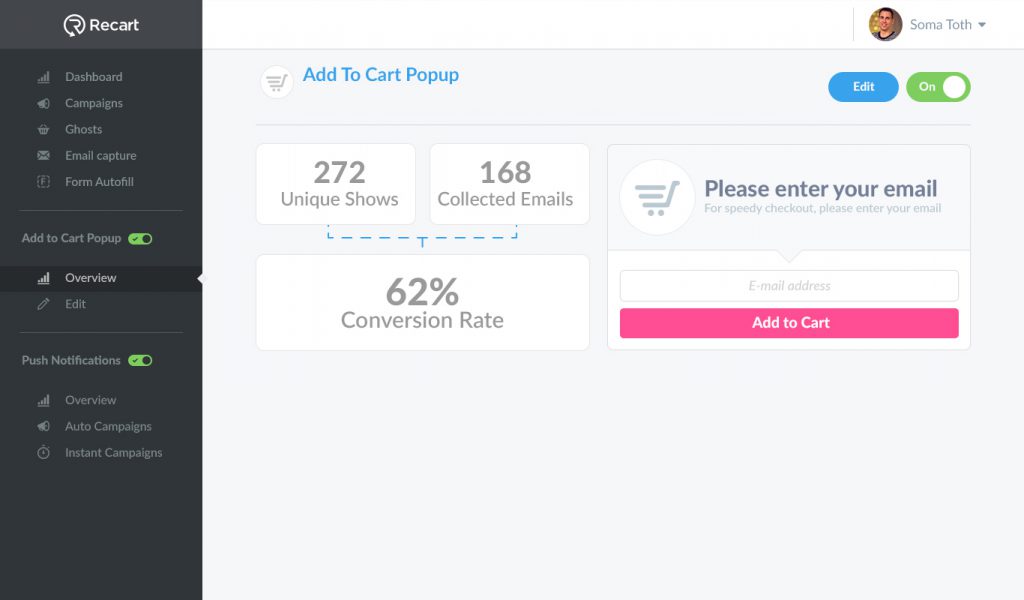 I quickly realized that it's going to be one of the best ecommerce tools the world has ever seen.
How is the Add to Cart Popup so successful?
For the first glance, you might think:
"It's irritating. I would leave the site immediately if I met something like this."
I hear you – that was my thought when I initially caught the idea. But strangely enough, the Add to Cart Popup doesn't seem to annoy the customers one bit.
It doesn't annoy anybody since this pop-up is inside the client's flow.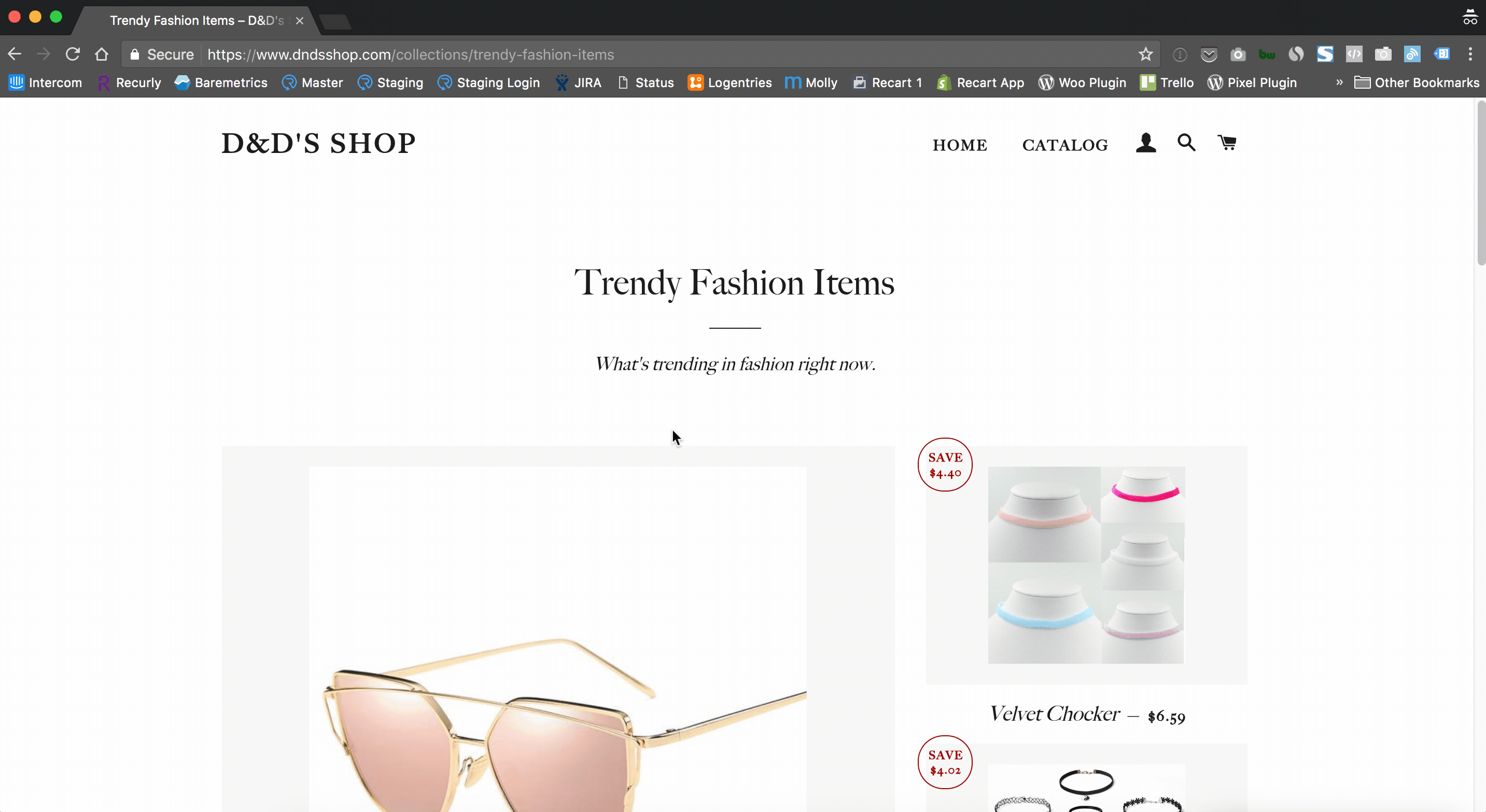 In this case, you're not the one who wants something. The customers want something from you. They want to add something to cart, and you ask for emails right after they click on the button.
All these welcome, exit intent, time or scroll triggered popups are outside of the customer flow.
It's successful because why would they back off?
If they have real intention to buy your stuff, they'll gladly add their emails. If they're only window-shopping, they'll close the popup anyway.
No harm done.
The most powerful popup known to man
After the grand experiment, we started to make a few improvements.
And here's the best part:
Capturing hundreds of thousands of emails isn't even the strongest feature of the Add to Cart Popup…
We realized that we needed to segment our email list. Initially, we didn't know if the new subscribers had completed their purchase or not. But we'd built a cart abandonment tool called Recart before, and decided to connect the two software so we could determine if the customers actually abandoned their carts or they checked out after the popup.
The result?
The best popup. Ever.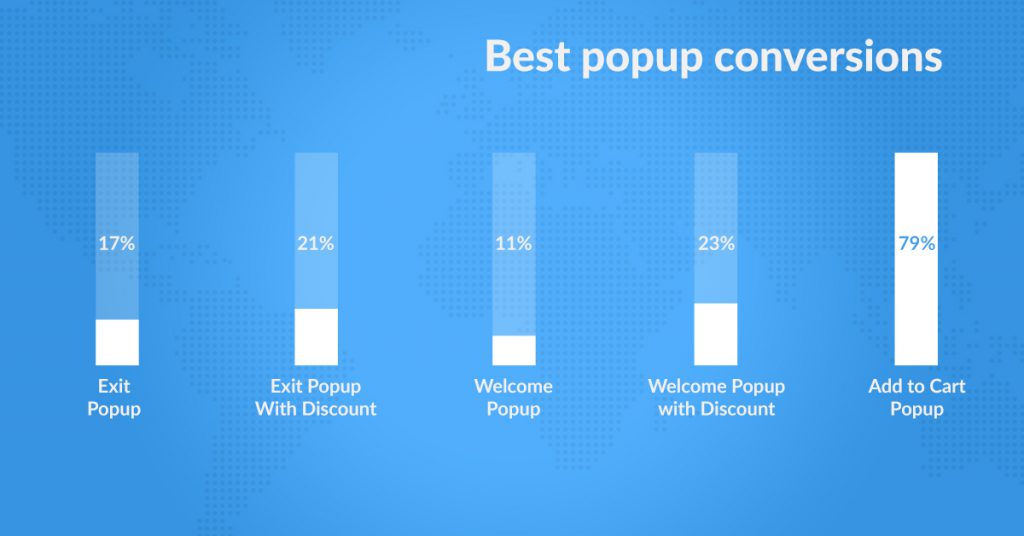 No exaggeration – this moment was historical in my life.
We had not just built one of the highest converting popups, but we had simultaneously created the most powerful cart abandonment tool ever seen.
Moreover, we're now converting more of visitors than ever before which means any and all traffic acquisition methods we use offer a greater ROI. We're happy to pay more cash to acquire visitors because we know we have more than three times the likelihood of converting them into paying customers.
A few questions for you…
What's the #1 issue of every Shopify store?
Cart abandonment.
What's the best way to tackle cart abandonment?
Automated abandoned cart emails.
What's the largest problem of sending cart abandonment emails?
You don't capture enough emails.
Shopify only captures checkout abandoners, who made at least to the second page of your checkout.
Checkout abandoners are only 10% of all your cart abandoners!
To top that off, most of the abandonment apps out there just pull those checkout abandoners from your Shopify admin, so they don't help you at all.
You see where this leads, right?
Skyrocket your sales!
Add to Cart Popup has changed the game.
It captures more than 70% of all cart abandoners and has an average conversion rate of 74%. This truly is unprecedented.
We make 5x more money from the lost sales than without the popup. Additionally, we've been able to build our largest, most valuable email list to date.
It's simple:
When you capture customers who have strong intention to buy from your store, it grows a much better quality list than if you were to capture those who want to leave your site.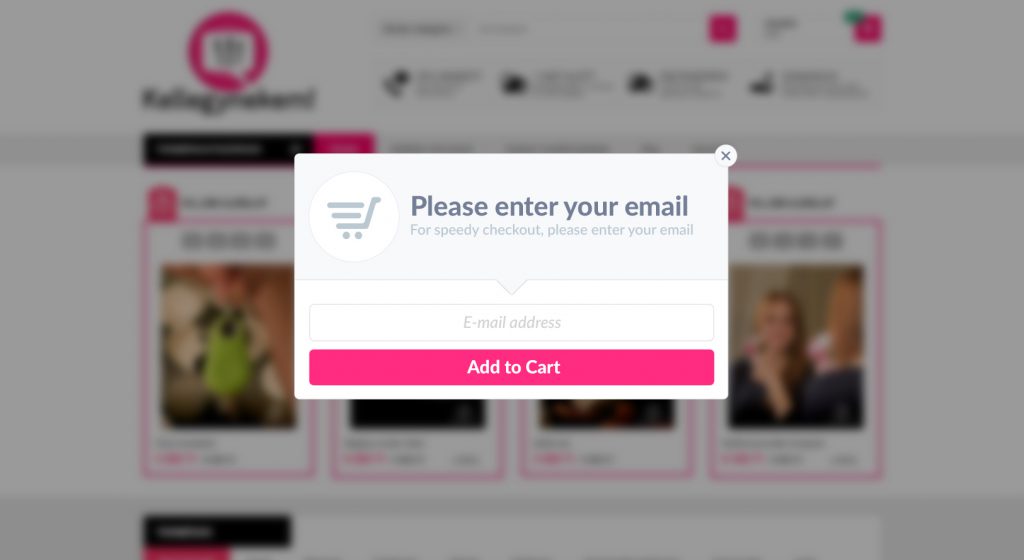 So that's where this unusual idea has come so far!
It literally became the easiest trick to boost your sales from your existing traffic. Installing an Add to Cart Popup takes a few minutes and allows you to:
Immediately capture almost everybody who wants to add something to cart
Start building your hottest and largest email list ever
Reach at least 5x more cart abandoners
Export your segmented list and send them newsletters
A few minutes, a few bucks and anybody can implement an Add to Cart Popup.
I hope the idea of the ATC Popup will help you move forward with your Shopify store. It doesn't matter if you use Recart or implement the popup with your developer, the results will astonish you, I guarantee 🙂
You can set up your Add to Cart Popup in 2 minutes with Recart here. It's free for 28 days, so you have more than enough time to test it out.
Questions? Doubts? Comments? Just leave them below, I'll answer them as soon as I can.
P.S. Also, check out our post on how to write the best copy for your Add-to-Cart popup.