4

min read
Welcome back to our Recart monthly update!
First of all, let me congratulate the Recart team for their performance last month. We crossed 1,500 paying customers, $78k MRR and we rolled out some significant updates this October. Recart also became the most reviewed paid-only Shopify app on the App Store – congrats guys, you are fantastic!
October in numbers:
– New Merchants Signed Up: 3,651 (Total: 15,381)
– Users Visited our Shopify App Page: 13,757 (Visitor to free trial conversion rate: 26%)
– Monthly Recurring Revenue (MRR): $78,088 (+41% compared to September)
– Total Paying Customers: 1615
– Subscription Cancellations: 210 (Churn Rate: 13%)
– Crossed 1400 Shopify reviews – gained 500 in October
– New Support Conversations: 2,446
– Messenger Subscriptions: 3,800,000 (2.2m in October)
– Messenger Messages Sent: 6,900,000 (5m in October)
– Team Size: 13. (+1 compared to September)
Things we planned to achieve in October:
Reacting to the recent Messenger subscription change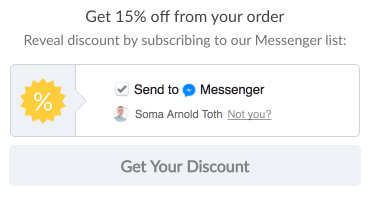 But the cherry on top of all this is how quickly the Recart team adapted and implemented our solution. Here's the timeline:
– Facebook made the change on Oct 6th.
– We confirmed it on the 9th. That's when we realized; we need to build something new.
– Thanks to our product team, the first design plans arrived on 10 Oct.
– We picked the winner on the 11th and started building it right away.
– The beta version came on 14 October.
– We released the Discount Widget to production on 16 October.
We pivoted one of our most essential features in 7 days. That's something I'm proud of, and I'm confident that this ability will bring us success in the future.
Black Friday Preparation – Performance and Uptime Improvements
Rescheduled to November. The Facebook feature pivot took to much time; we had to postpone the BF-CM preparation to November.
Widget Auto-Install
Done. Recart users don't need to copy and paste code snippets into their themes anymore. We successfully released the Recart Messenger auto-placement. Merchants only need to enable the widget with a single click, and it will appear on their product page.
New Wheelio Integration
We've been working out an integration with the great guys over at Wheelio to give you more options to build your list.
Unfortunately, the Facebook change solution delayed things a little. We were planning to roll this out in Oct but both the Recart and Wheelio teams were a little snowed under.
The good news is, we're rolling this integration out right now.Here's how the new integration will work:
Pretty sweet, right? A Messenger Subscription with two clicks? Thank you Wheelio!
Merchants can subscribe their customers with Wheelio and engage them with Recart. An absolutely top-notch feature which is going to help you explode your Messenger list.
Messenger is the future of eCommerce. In a few years, most merchants will ask for Messenger subscriptions over email opt-ins.
Recruit new Customer Success Heroes
This is a lot harder than we thought and we're only half-way there.
After dozens of applications, countless hours of interviews, and days of trials we struggled to find the perfect candidates. We have one new teammate on board who's cruising through their 30-day trial, but we're still on the hunt for one more Success hero.
If you know anyone who might be perfect for the role, send them our way.
We also:
– Rolled out a seamless unsubscription feature for Messenger
– Applied numerous bugfixes
– Improved the system speed & stability
What are our plans for November?
– Continue to grow as we become one of the biggest ecommerce apps in the world
– Prepare Recart for the Black Friday – Cyber Monday rush. Uptime is our priority right now
– Onboard one or two new Customer Success Heroes
– Open new positions in the dev team (after Black Friday)
Recart is still on the right track. Our user feedback is amazing; people love how easy it is to make money with us.
We also continue to see the tremendous potential of Messenger every, single day. We collected some solid ideas for building extraordinary customer experiences on ecommerce via Messenger. We can't wait for the rush to be settled in January so we can focus on innovative features again.
Want to join this madness?
We're currently looking for Customer Success Heroes and Senior Developers. Drop us a line if you're interested: career@recart.com