It's a question that's plagued merchants from time immemorial.
A single question which – regardless of industry, product, platform, or process – causes more stress to store owners than any other.
"How can I increase revenue."
The simple answer is to sell more products. However, as time has passed and technology progressed, the methods to increase sales have become more complex and difficult to leverage.
We leverage email marketing, social media networks, paid advertisements, and good old fashioned referral programs.
The tried and true tactics outlined above are still viable – and profitable – possibilities. However, the biggest stores out there have turned their attention to a new channel.
One with vastly higher engagement, that drives more interest and has the potential to shatter prior revenue goals.
It's the service over 1 billion people are signed up to, and it looks set to be your next best opportunity.
I'm talking, of course, about Facebook Messenger and the astronomic growth of Messenger Marketing. 
Table of Contents
The Changing Paradigm of User Behaviour
The marketing world and the way users interact with brands is changing.
The one way, mass-produced, generic messages of yesteryear don't build relationships, establish trust, or drive sales anymore.
Modern consumers want to feel they're valued by the brands they frequent. They want interaction and conversations with brands.
Over the last decade or so, smart eCommerce businesses have adopted this more conversational approach to marketing. They've moved to leverage channels that are a direct line to individual users and allow for some level of interaction.  
Favored among these more interactive channels is the revenue-driving king, email.
Email offers the highest ROI. It's been the favored channel of all digital entrepreneurs because, on average, every $1 spent brings a $38 return.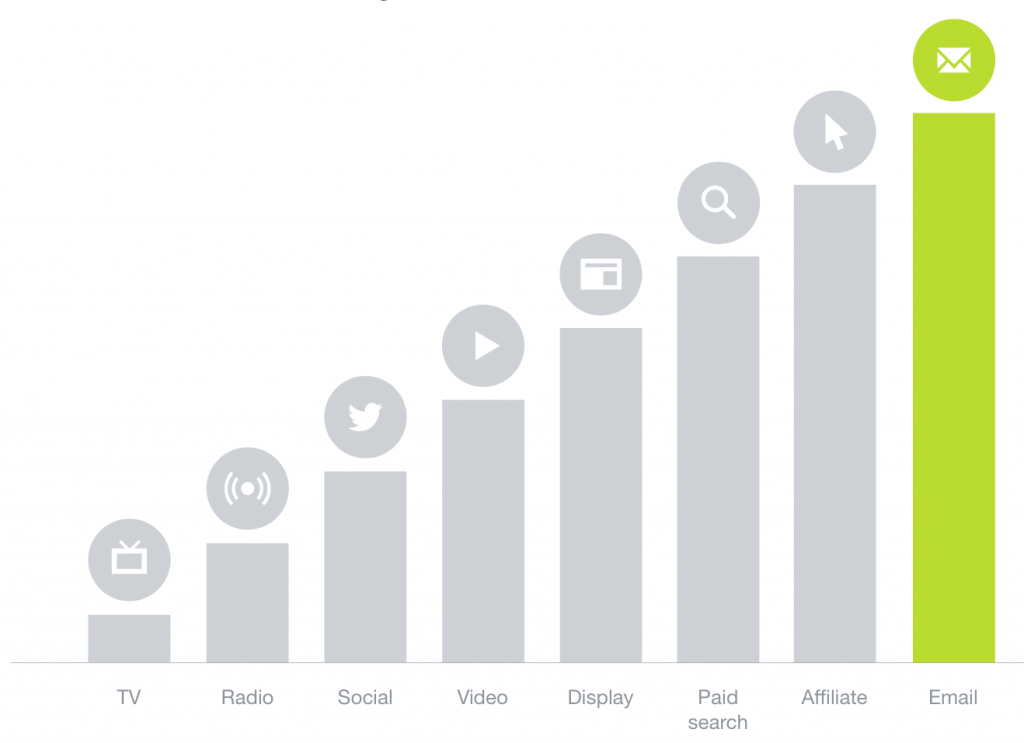 Marketers love talking about that potential ROI and the fact that there are an average 1.8 email accounts for every person on the planet.  
What they always fail to examine are the areas in which email falls flat.
I absolutely adore email marketing. I use it to nurture leads, establish relationships, and sell products. I work with email every single day.
And there are some areas which thoroughly annoy me. In particular, the low open and click-through rates.
The benchmark statistics for the eCommerce industry for opens and clicks are 16.75% and 2.32% respectively.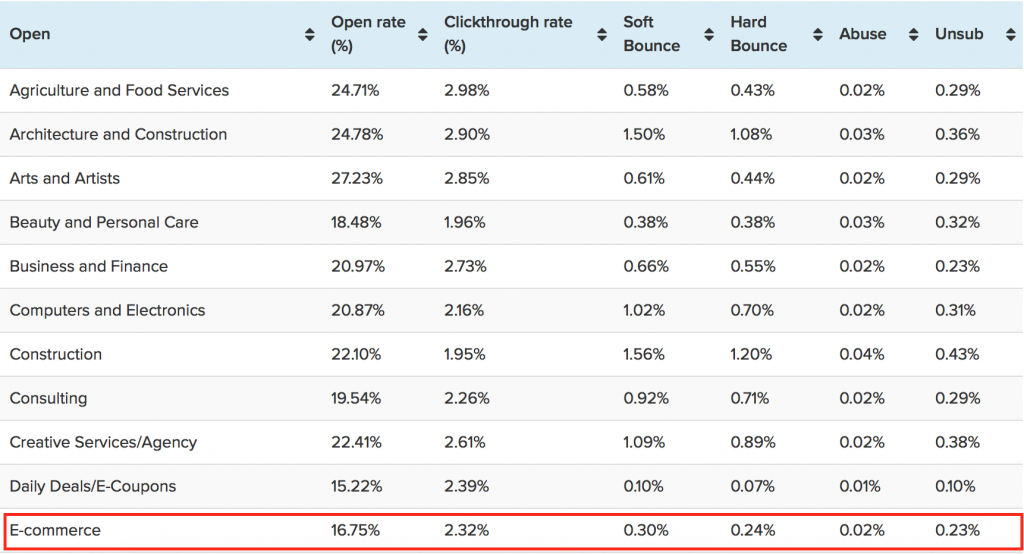 That means for every 100 people on your email list, an average of 17 people are seeing your message, and only 2 are clicking the links you're providing.
It might offer the highest ROI, but the engagement is pitifully low.
And marketers have picked up on this. Rather than continue to spend time leveraging a channel that's slowly losing its efficacy, they're turning elsewhere and experimenting with new channels.
They're asking what's out there that can beat email? What channel is going to become the new king of ROI and form the base of everyone's next most profitable campaign?
Generally speaking, all the data is pointing to one solution. Facebook Messenger and Messenger Marketing.
So now, rather than seeing articles on how to improve email open rates, you'll find dozens, or even hundreds, of pieces that look at email vs messenger engagement and conversion rates.
And with good cause. Even a cursory glance into the effectiveness of Facebook Messenger Marketing will tell you all you need to know.
Facebook's one of the biggest websites in the world with 2 billion monthly active users.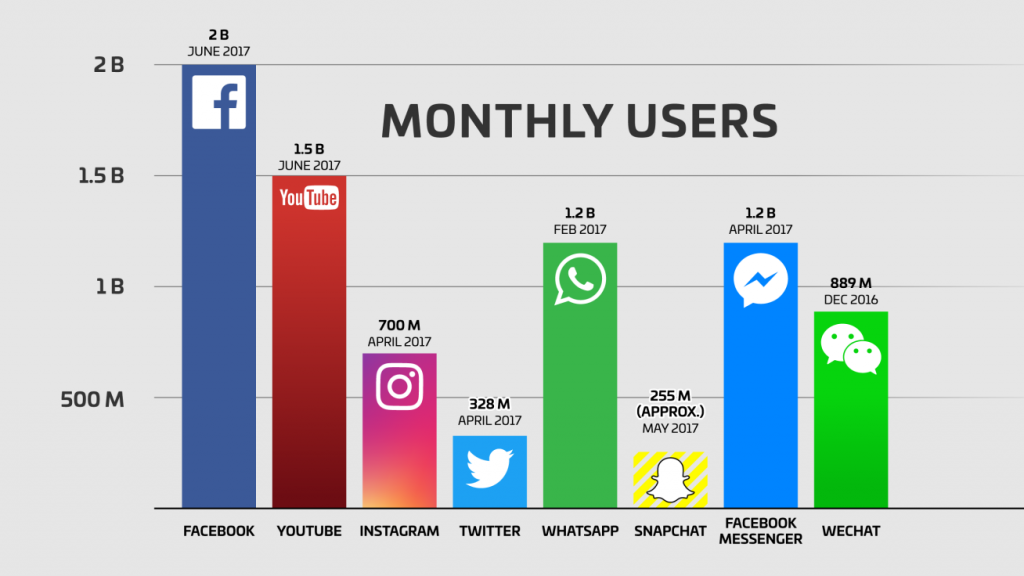 And those users spend an average 13 minutes on site every single day.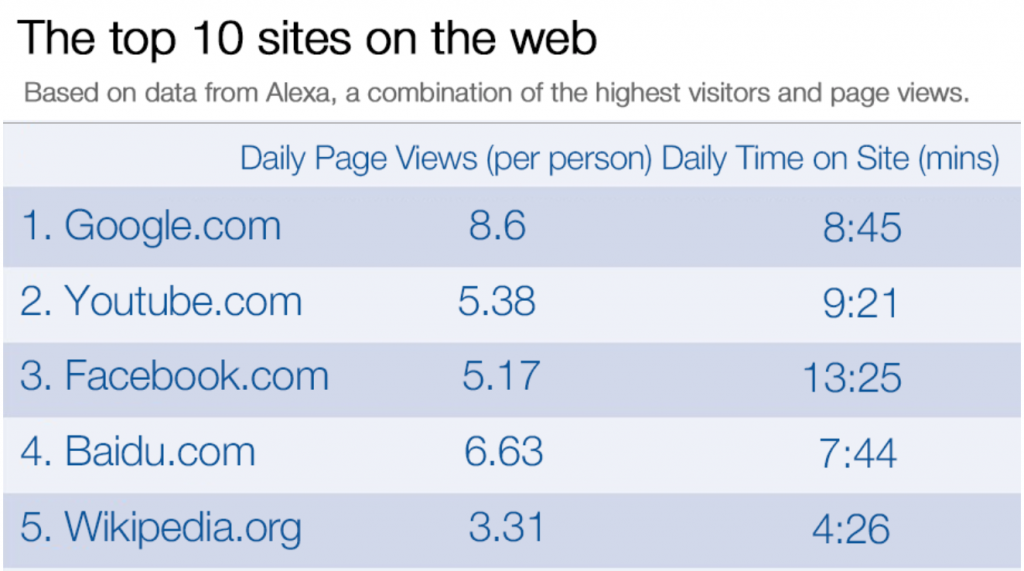 These numbers are why so many small and growing brands rely on Facebook to drive their revenue. Most of the stores we speak to use Facebook Ads as the center of their wider marketing campaigns.
But here's the thing, most stores don't see the returns they'd like. In fact, according to Glew, only 24% of eCommerce stores see a positive return from their Facebook Ads.

According to Business Insider, there are more users on messaging apps than on traditional social media. Crazy right? We're all so focused on paying for ads through different network swhen there's an abundance of people on Messenger apps just waiting to interact with you.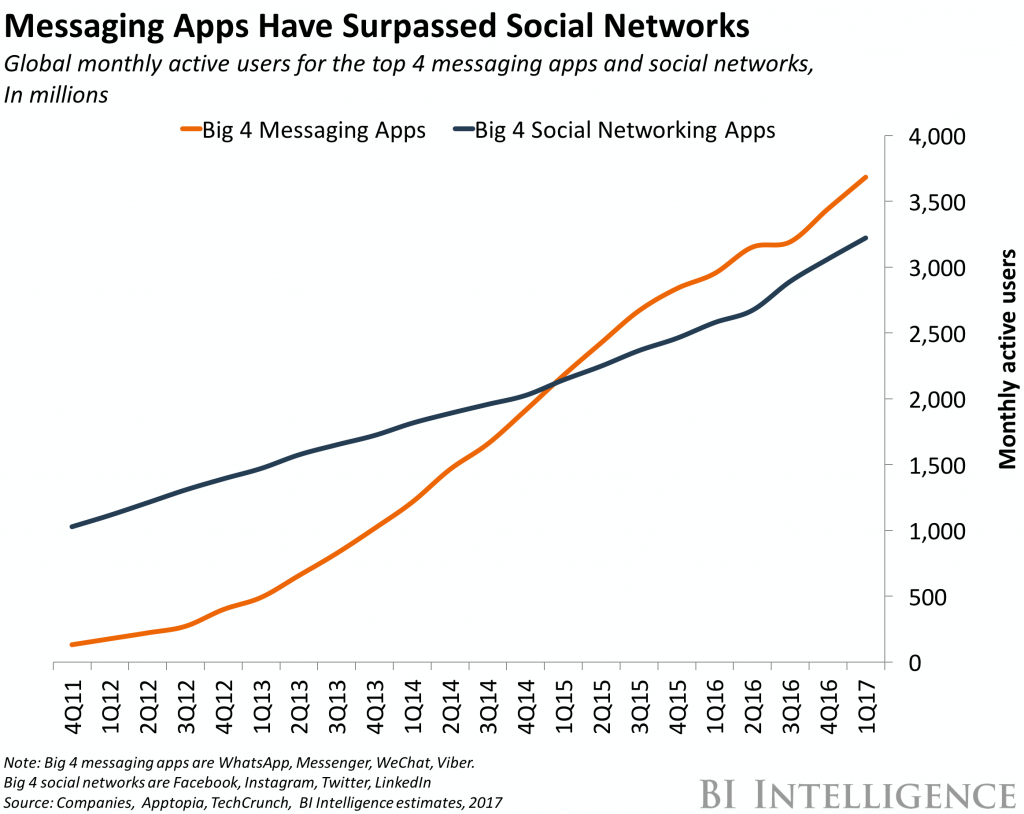 You'd be forgiven for at first thinking this sucks. I mean, most marketers only consider Facebook marketing as paid ads (which are making their way to Messenger), but that's missing out on a huge opportunity.
Effective marketing always leverages the channel where your users spend the majority of their time. And right now, that's Facebook Messenger.
But don't fall into the trap so many others do and think that establishing a Messenger "bot" is a bad thing. Mikael Yang, founder of ManyChat, believes;
"bots are simply business accounts inside Messenger."
They're the same as having an email sequence set up. Sure, some things can be automated, but you can also have a real person responding to requests. And just like email, Messenger allows for some pretty awesome campaigns including:
Newsletters

Instant campaigns

Abandoned cart campaigns

Purchase receipts

Welcome sequences/messages

Shipping notifications
Messenger is growing far faster than anyone anticipated. The question on everyone's lips right now is whether Messenger will finally make the often touted statement of"email is dead" a reality.
We called Mikael from ManyChat to get his thoughts on the future of Messenger had some interesting thoughts: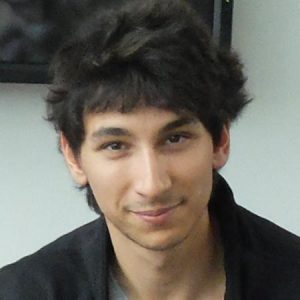 "Email is kind of like paper. It's durable, it lasts, and it will always have a place. But it's too inflexible and feels too much like work.
Messenger is a more fluid form of communication. It's user-friendly and helps customers find the answers they need in seconds.
I think Messenger could replace 80-90% of the communication currently being handled through email. You'll still need to send important docs like receipts and purchase orders through email, but for everything else Messenger is a free channel which is more engaging and easier to use."
How Messenger gets 90%+ Open Rates
People buy from brands they trust.
Trust is worth its weight in gold in eCommerce. Especially with the ever-increasing competition.
It's also something that's hard to foster and easily broken. Head to any brand's social media account – or a third party review site – and you'll find a huge amount of negativity aimed at the brand, their service, and the product.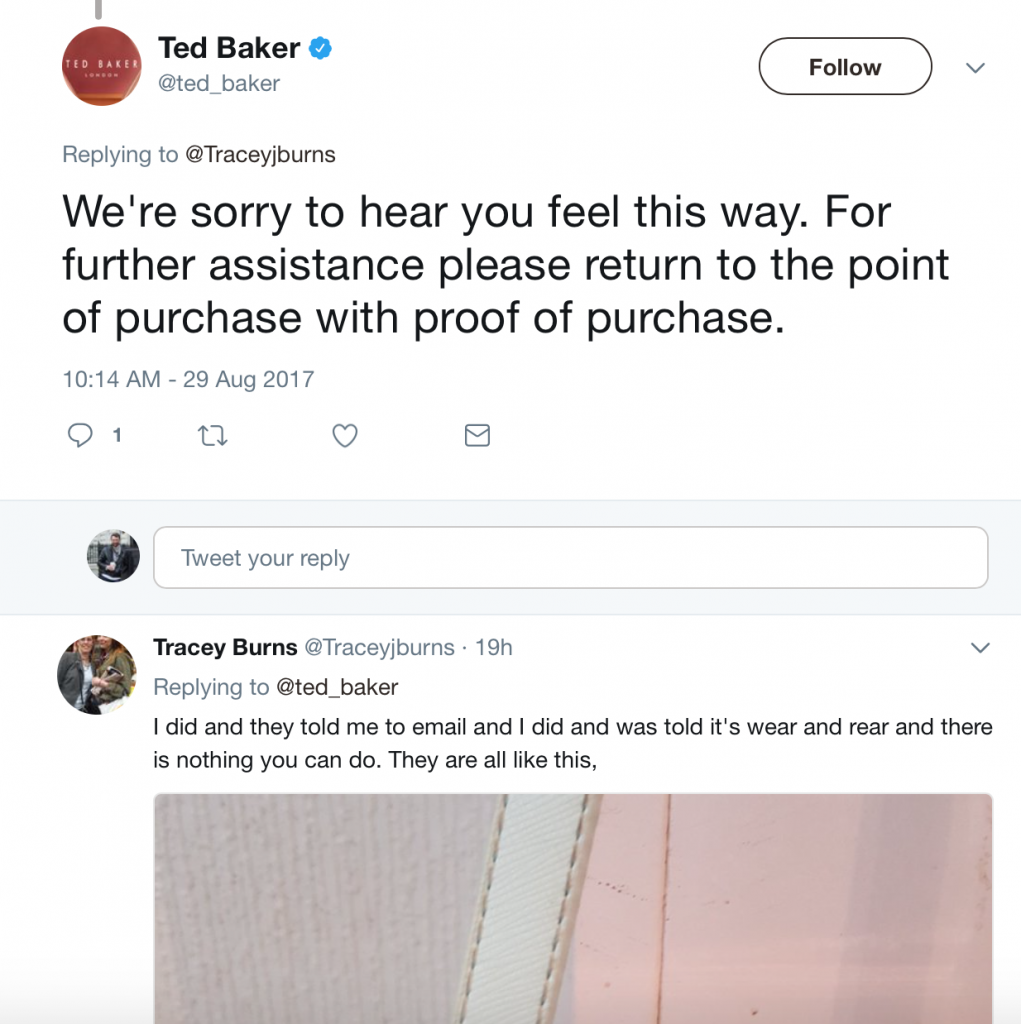 As you can see above, a lot of the time these complaints focus on how difficult it is to engage with brands. How answers and solutions require long wait times, multiple touch points, and confusing processes.
Your customers want communication to be as simple as possible.
They want to talk to a real person, not receive an automated response that says "we'll get back to you shortly", and they want constant updates on their issue or order's progression.
But most importantly, they want it in a fashion that's convenient for them. 
A couple of years ago the idea of conversational commerce was floated by Uber's Chris Messina. In short, conversational commerce is the idea that users will be able to not just message brands, but interact with them in real time.
At Recart, we couldn't agree more.
Modern users are impatient. They have attention spans of less than 10 seconds. They don't want to spend hours or even minutes looking through your site for an answer. They want to ask a direct question and receive a direct answer. 
Technology has made people lazy.
Messenger marketing and conversational commerce meet these demands. They facilitate immediate, natural conversations appeasing a user's desire to speak to a "real person" in real time. They're more effective at keeping people up to date as, unlike emails which are checked periodically, messages are often checked as soon as they come through.
Immediate correspondence leads to far higher levels of engagement. Bots for business lists the engagement rates at 80%+ for opens and at least 7X more click-throughs than email.

That means for every 1 customer you direct to your store through email, there's the potential to send 7 through Messenger.
When discussing the future of Messenger with Mikael Yang, he outlined some really interesting statistics to corroborate these claims: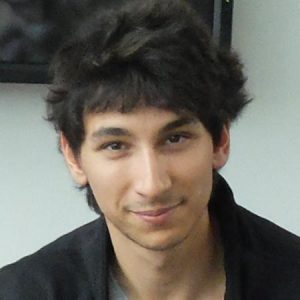 "Average open rates are between 80-90%. Click rates are can be anything from 15% – 30%. But you know, I've seen interactive sequences that require button clicks to continue the conversation create click rates of 95-97% which is insane!"
We've tested our own Facebook Messenger capabilities and seen some similarly awesome results.  
Not only have we seen higher engagement levels, but Messenger is also the clear winner in key growth areas.
Users can subscribe to your messenger in a single click (no cumbersome opt-in required)

You'll not see your messages fall into the user's spam/promotion folder

We've recorded a $0.9 revenue gain on every Messenger message sent

Faster responses for users through Messenger
Facebook messenger and Messenger Marketing is the future, not only for eCommerce but for digital marketing as a whole. It's a new channel which, whilst still in its relative infancy, holds great promise for the future of your store.
If you've not yet looked into using Facebook Messenger to drive more sales, you need to change that, and quickly. The below steps will run you through everything you need to know about Facebook Messenger.
The Very Basics
Before we talk about the sexy campaigns you can run, the incredible revenue you can secure, or the general tactics for optimization, we've got to cover the basics.
The boring but necessary rules and regulations that'll prevent your Messenger account getting banned and preventing you from leveraging the next big thing.
The below are short summaries of the basic rules taken from Facebook's own rules and regulations. I've also added in some of the discoveries we've made here at Recart.
Permission
Gaining permission is par for the course with any digital direct marketing channel. And messenger is no exception.
However, what's great about messenger is the ease with which you can gain a user's permission to contact them.
Unlike email, which requires a user's full opt-in and for them to be heavily invested in what you're doing, Messenger permission can be gained with two easy processes.
The user reaches out to you via Messenger (which gives you a 24-hour window to send any relevant follow-ups)

Adding a simple "Send to Messenger" button to your add to cart and email opt-ins like below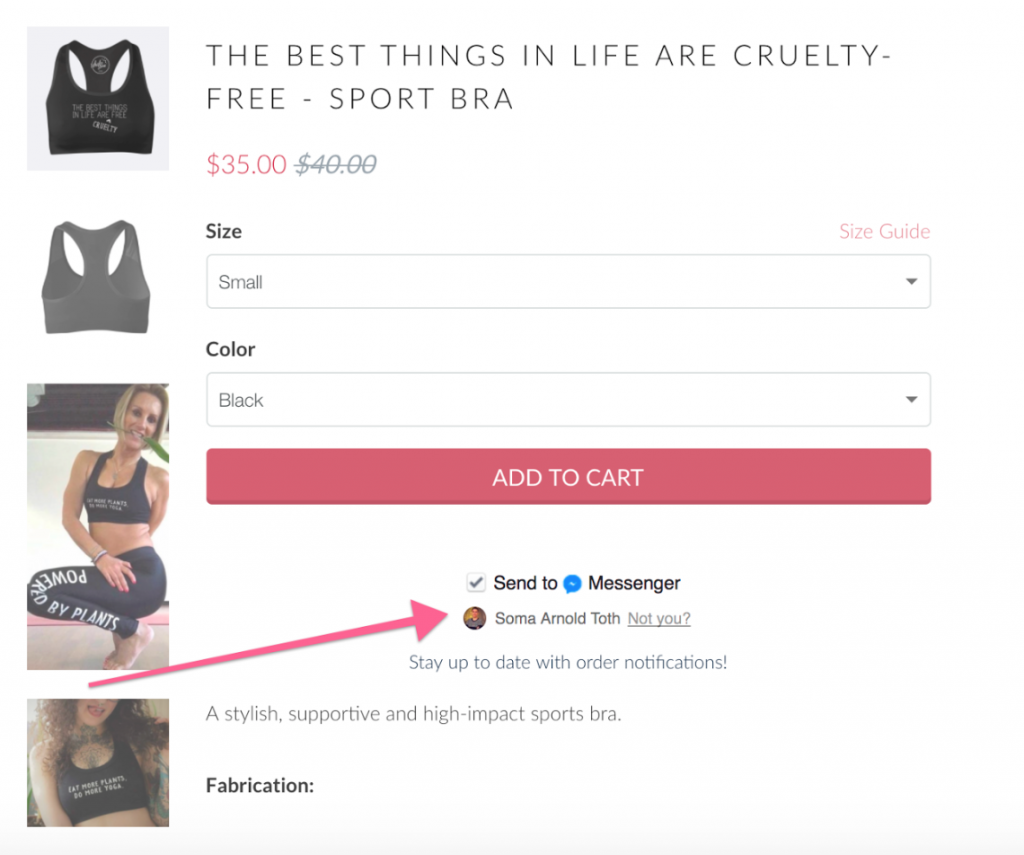 Permission is a must for any direct line to your users, thankfully with Messenger, it's incredibly easy to gain that permission.
By adding the "Send to Messenger" widget, you not only gain their permission but also give yourself a chance to chase up countless abandoned carts.
Unsubscribe
If you're gaining permission, you also need to allow users to opt-out.
When adding people to your messenger list you have to make that opt-out option apparent and easy. Most brands either allow you to unsubscribe within Messenger's options or by sending a trigger phrase like "stop".
Know Facebook Rules
Facebook has their own ideas about who should be able to advertise through their platforms, forbidding certain industries from advertising at all.
With Messenger, there are comparatively few industries and outlawed uses compared to ads. As a brief overview the terms of service forbids:
Using message information for anything other than supporting your message's development

Not facilitating direct contact between healthcare providers and people, nor use it to send/collect any personal information
There's nothing to say Facebook won't change this to be more in line with their advertising policies, thus forbidding adult, gambling, tobacco, and weaponry brands for using it.
We've reached out to Messenger's PR team for clarification on this so watch this space for updates.
Growing Your Messenger List
Setting up a killer automation, amazing messaging, and brilliant targeting is not a recipe for success.
Just like everything else in marketing and sales, a well-defined process is a framework. To achieve amazing results, people need to be able to find, interact, and engage with your new campaign.
Facebook Messenger is no different. To drive revenue through Messenger, you need to get your messages into people's message inboxes.
And that all starts with growing your messenger list.
This is not an easy task. It's very similar to growing an email list and there are various tactics which can be employed.
We're going to run through some of the more common tactics below, starting with what we consider to be the most useful for eCommerce stores.
1 – Include a Prominent Messenger Opt-In on Your Store
This is the method we've found most effective in our stores.
Those already shopping for your products are going to be more interested than those gained from other, colder channels.
We find the highest success comes from positioning your Messenger subscription at a point associated with a high purchase intent.
The best position we've found is right under your Add to Cart button. People adding items to their cart have a high purchase intent and are going to be more receptive to further action. Allowing them to subscribe at a click of a button is the most logical thing to do.
We built a feature into the Recart platform so you can add a small send to messenger button underneath your Add to Cart button along with a couple of other awesome growth tools:
Recart Add to Cart Popup

Recart Messenger Widget  (placed under the Add to Cart button)

Wheelio popup (to help offer an incentive for users to opt-in)
2 – Offer Messenger Only Incentives
Incentives have long been a tried and true method for increasing sign-ups.
Content producers create content upgrades to collect email addresses, eCommerce stores have always pushed money off incentives to recapture abandoned carts and prompt immediate purchases.
There's nothing to stop you from adopting a similar process to get people to interact and subscribe to your messenger.
With Recart, you're able to offer a money off coupon in your messenger welcome sequence through our integration with Wheelio.
It's a fun little way to offer an incentive that should help secure extra sales.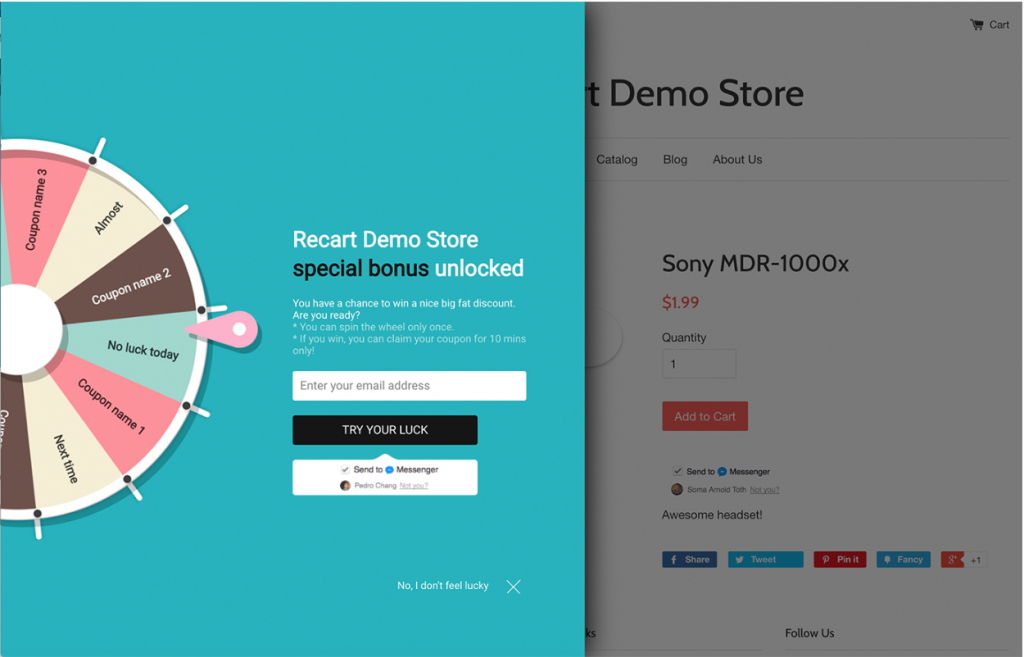 3 – Paid Channels
Paid traffic is one of the staples of eCommerce sales.
However, you can't run paid ads which say "sign up to our messenger" because there's no benefit there.
The best methods for using paid ads to make use of Messenger fall into two categories.
1 – Linking Facebook Ads
You can link Facebook ads directly to Facebook Messenger providing a great method for starting a conversation and getting people to interact, rather than simply look at product descriptions.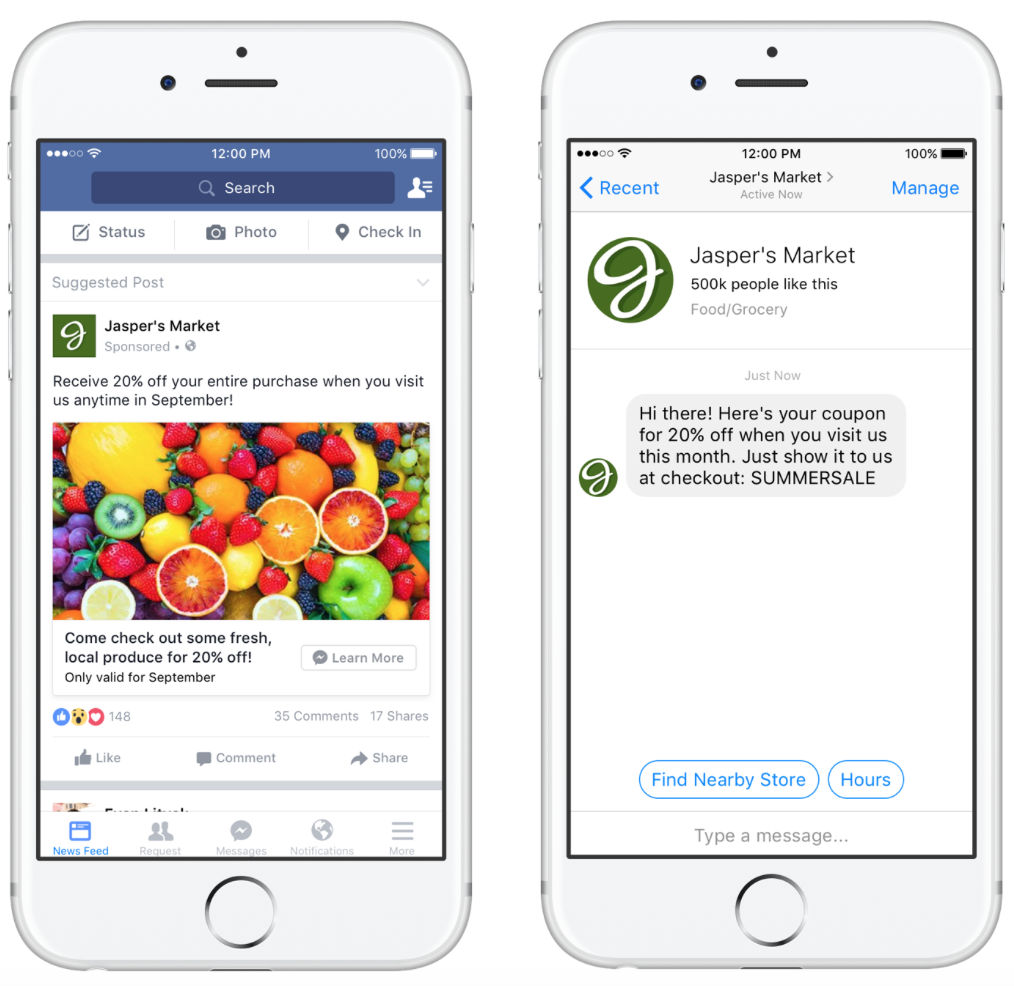 2 – Targeting BoFu On Site PPC Traffic
Users searching for bottom of funnel terms like "buy [brand name] jeans now" have a high purchase intent and are far more likely to interact with a messenger than those just browsing.
Optimise your highest BoFu PPC traffic pages to include prominent messenger elements like incentives and the add-to-cart widget.
4 – From existing email audience
If you've already built an email audience, let them know you now offer Messenger functionality.
Some will sign up because it's a simpler method for their next purchase, some might even purchase something small just to see how it all works.
You should be pursuing this option as it's another avenue to build a better relationship with your audience.
We spoke with Katya Sarmiento, CEO of Bots for Business, who believes Messenger is key in current relationship, she says: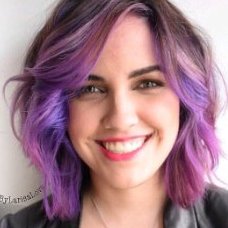 "There's a lot of opportunity within the email list stores already have. We can use Facebook Messenger to re-engage, re-connect, and re-establish stronger relationships with people that are already shopping on your store.
Messenger has some great functions to help build those relationships within eCommerce. Abandoned cart messages with multiple carousel images, product category promos, and social proof can all help build relationships without having to worry about falling into the spam or promotions folder."
General Campaigns Every Shopify Store Should Employ
The crux of any communication with customers is the value it provides.
Does what you're saying actually help users? Does it allay fear? Does it answer key questions?
If it doesn't, there's no point in sending it.  
Facebook Messenger has insanely high engagement rates which means you have to make sure that what you're sending is useful and valuable.
The below are what we consider to be the most important Messenger sequences to include in your strategy. These are the sequences and campaigns which not only provide value but also help drive more revenue.
Cart Abandonment
For every $100 you make, $400 walks right out the door.
Terrifying thought, right? With 8 out of 10 of carts being abandoned, stores are hemorrhaging cash.
Most eCommerce stores rely on email to reserve abandoned carts. It's a great method which has helped countless brands recapture tens of thousands (and more) in potentially lost revenue.
However, after testing millions of cart abandonment emails we've found they top out at a ~40% open rate and a 4-5% CTR.
Compare that to Messenger's 90%+ open rates and 50%+ click rates, and the benefit of focusing on Messenger is clear.
Before anything else, you should be looking at implementing a cart abandonment campaign. Nothing fancy, a simple notification of the product they left behind should be enough like the below.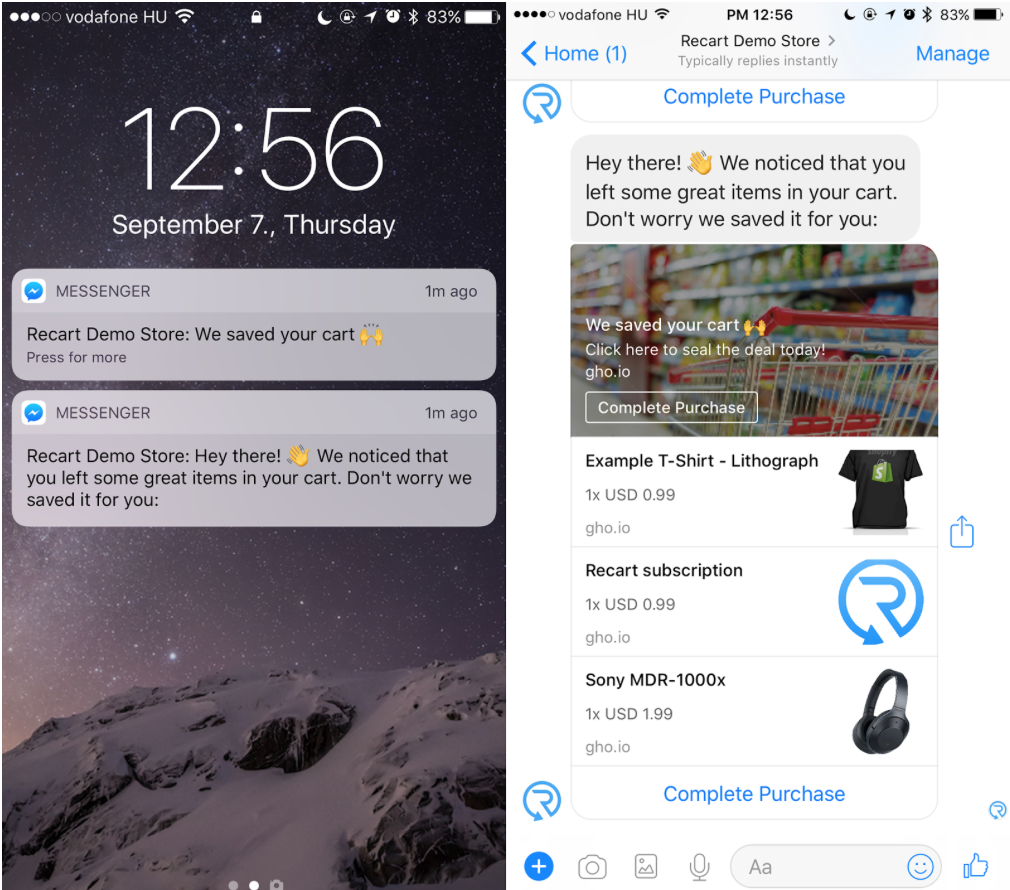 If you're implementing an abandoned cart sequence, don't get cocky and complicated. Follow the same rules you would for an email sequence and tailor your messages for Messenger to see far higher success rates.
We recommend following the below process, it's not flash, but it works.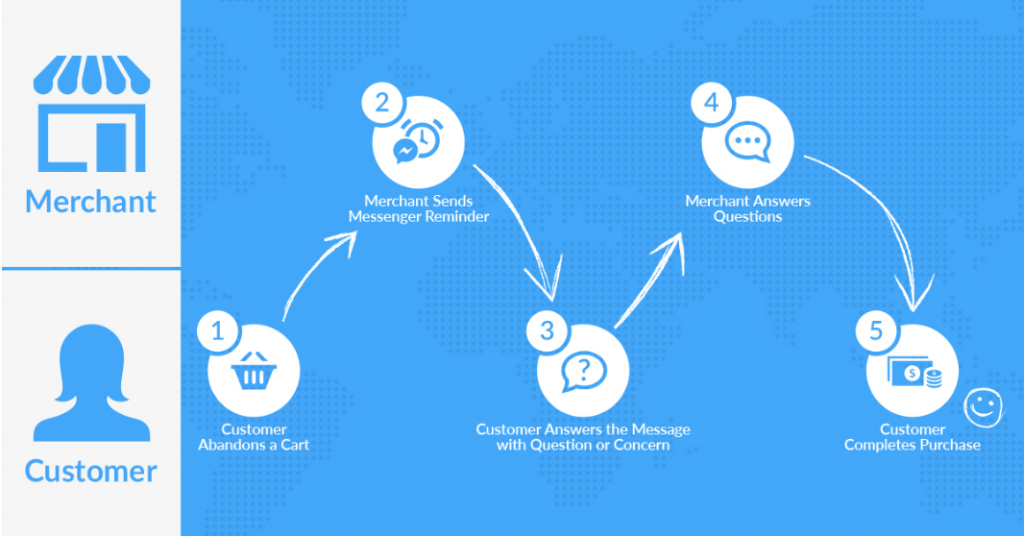 Offering Discounts
Offering an incentive is one of the best strategies to recover abandoned carts. Recart helps you to offer and auto-complete discount codes for cart abandoners to bring them back on site.
In the tests we've run, we've discovered that offering discounts of 15% or higher boosts the cart recovery rate by 50%.  

Order Updates
If you buy something, you want to know where it is, right? You want to know when it's dispatched, when it's in transit, and when it's been delivered.
Being left in the dark with purchase deliveries is enough to drive anyone insane.
eCommerce companies have taken efforts to keep you updated of deliveries. Often it takes the form of emails like the below.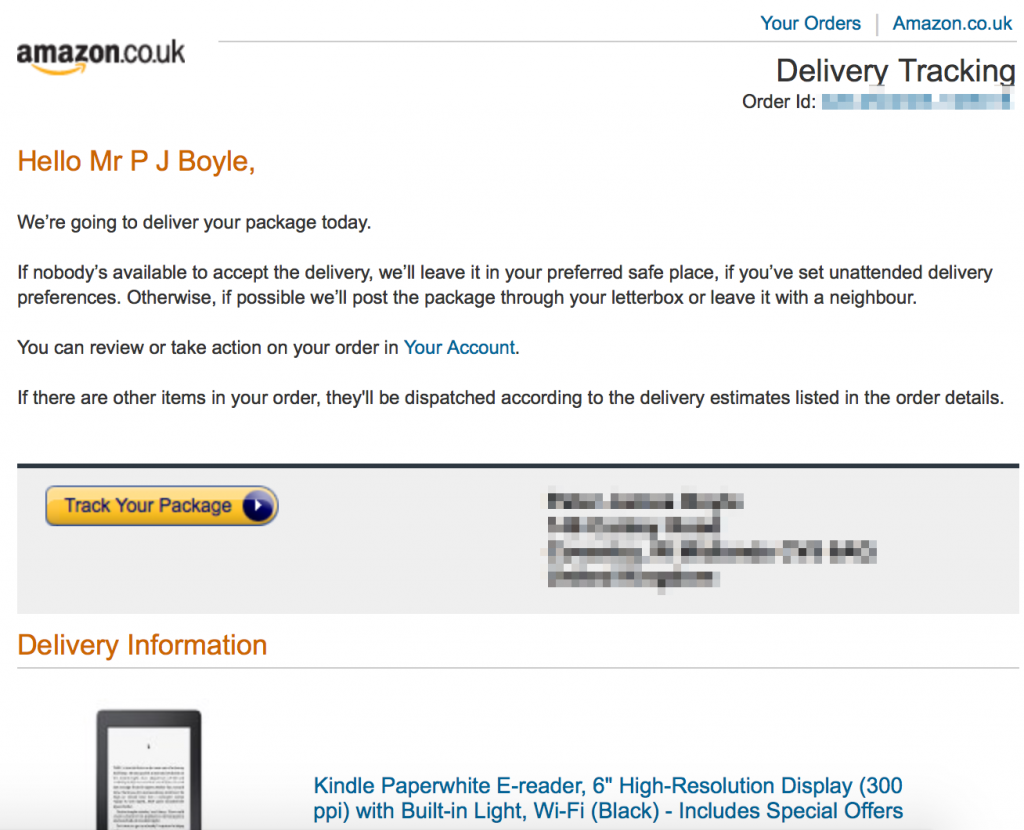 These emails are a step in the right direction, but they're not enough. They don't offer enough specificity or keep the user updated of delivery steps.
They also could easily fall into the spam or promotional folders, not to mention they're too lengthy for an email whose message is "we're delivering today".
Messenger solves all of these problems. You can keep the user updated with the specifics of a delivery such as order accepted, product dispatched, and expected delivery time in a handful of words. You also don't have to worry about it hitting the spam filter.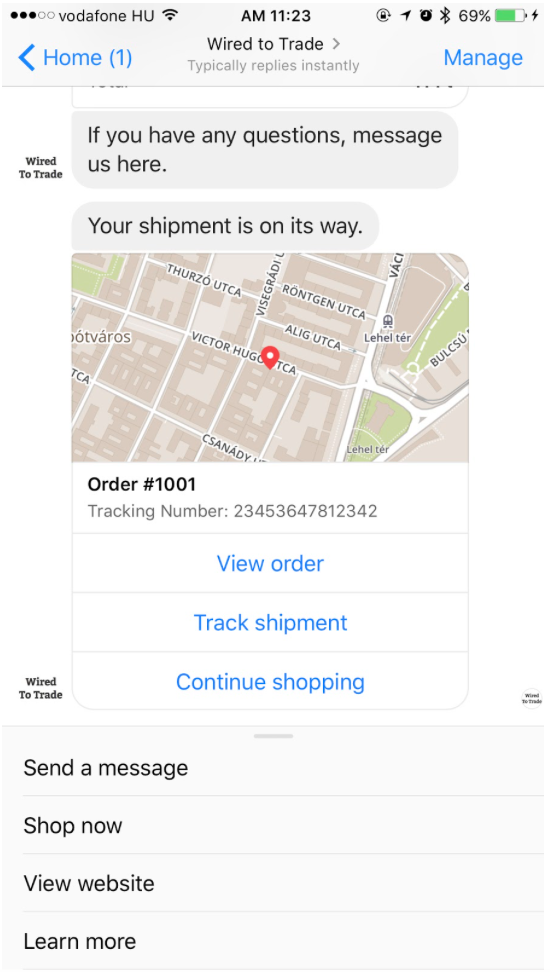 Receipts
I remember the days of having a wallet full of old receipts. Every few weeks I'd empty them all onto a table and sort those of no value from those I should really hold on to.
Nowadays, people want to reduce their carbon footprint, and retailers have been quick to adopt digital measures of receipt delivery.
Email has long been the digital channel of choice for receipt delivery, but as mentioned in this Ernst & Young report,
"If any new solution is not quicker or easier than the current systems it won't work with shoppers – they're not engaged enough."
Messenger is the natural progression from email. It's simpler, quicker, and easier than email. It makes sense to move your receipt delivery over to that channel.
Automated Welcome Messages
Welcome sequences are one of the truly exciting aspects of Messenger.
Email has long been the saving grace of many eCommerce brands. I've written extensively on how you can set-up automated welcome sequences, upsell, cross-sell, and even referral emails sequences.
But it's Messenger that has me excited.
I'm not going to once again reiterate the engagement statistics, but it's that engagement that could be a game changer.
Even a simple onboarding sequence could drastically increase sales. With email there's a delay between when it's sent, when it's read, if/when they reply, and your subsequent response.
But with Messenger, you can establish a conversation helping the customer within seconds. If they're engaging with your messages then they're interested in what you're selling. Striking whilst the iron is hot is more than half the battle here.
Check out this short sequence from 1800-flowers to get an idea of the possibilities.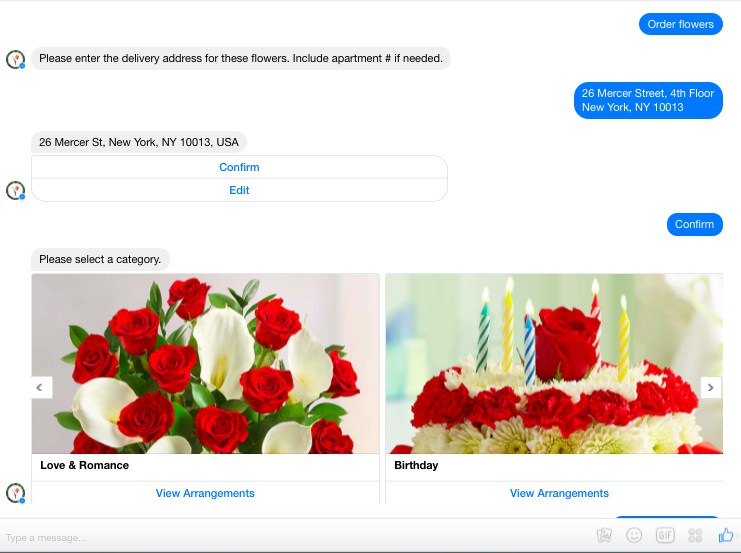 Instant Campaigns
Got a flash sale you want to promote? How are you going to do it?
Most in the eCommerce world add a banner to their site, share on social media, and promote to your email list. It's OK, but not great.
People react to messages almost instantly. If you're promoting a flash or limited time sale then messenger should be your first stop.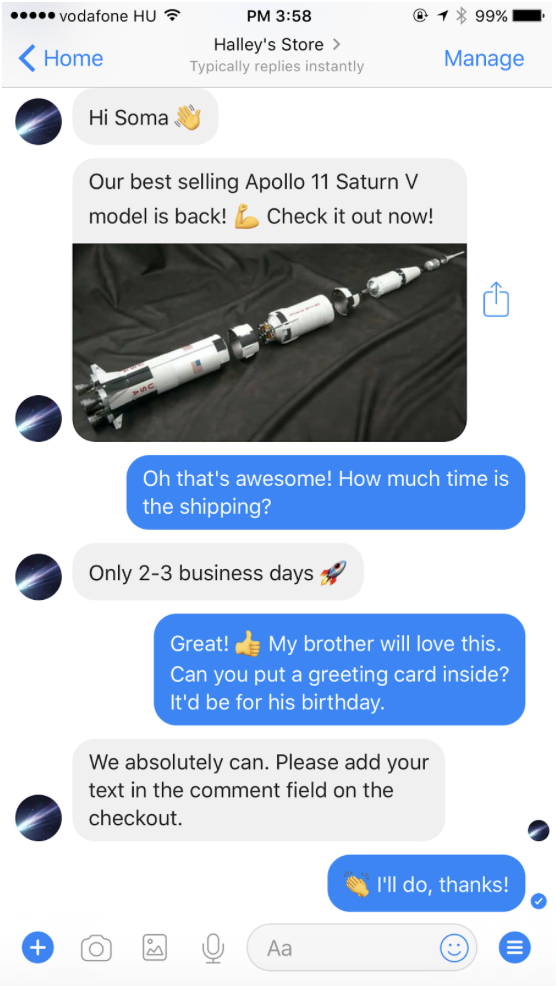 However, you have to ensure the messages you send are in line with Facebook's rules. You can only send relevant messages to those who have engaged with you.
For example, an electronics store couldn't send a message promoting their new range of PlayStation games to someone who has bought speakers from them in the past.
There's a very small overlap of interest, but not enough to say you're not simply spamming people.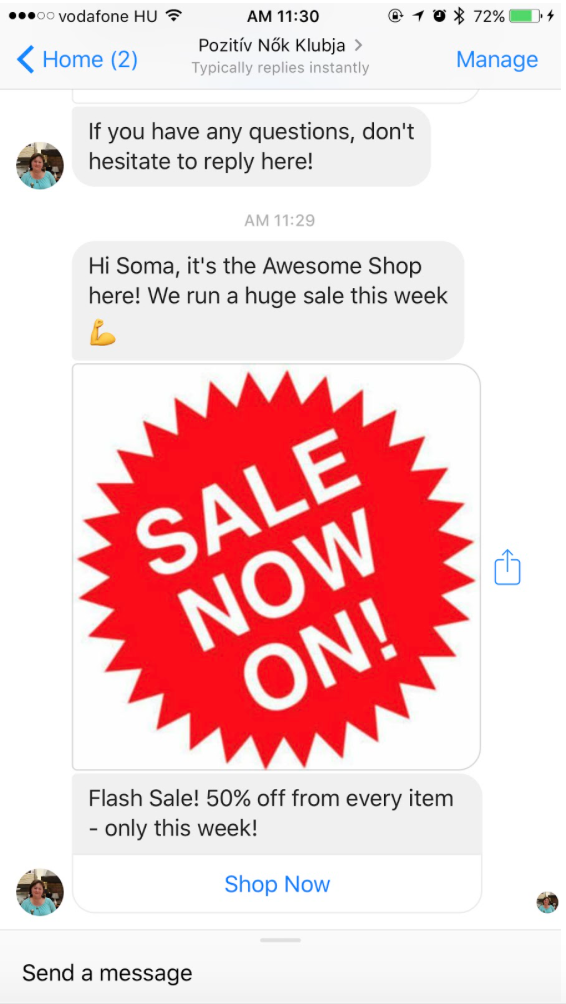 The thing with instant campaigns/broadcasts is that they're no different to the email newsletters your brand is already sending.
The content will be adapted to be shorter (which is less work for you) but the message is by and large the same. The only difference is that when you send these newsletters and updates through Messenger you get a 4x – 11x open rate.
Win-win.
Customer Follow-up
Following up with existing customers is of paramount importance. Not only is selling more products to existing customers far easier (and often has a higher AoV), but you need their feedback to amend processes, products, and gain valuable social proof.
When speaking with Katya from of Bots for Business she gave some killer advice on follow-ups in Messenger with this incredible summation: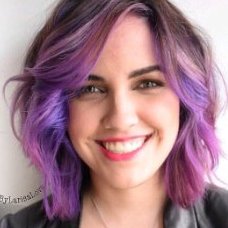 "When somebody has purchased something, it is so easy to up-sell people from that initial purchase. I'm surprised people don't do it because somebody has already put money into your company, made a small commitment, and will be receptive to other relevant offers."
The key is relevancy. A good follow-up campaign will send relevant messages to users at the right time.
Katya went on to explain an instance in which she noticed an ideal opportunity for a follow-up Message the brand wasn't leveraging:
"I bought a mattress online and the store connected after the order was confirmed. I was able to click on Messenger and it would send me delivery updates. But they also could have sent me upsells like 'hey you bought the mattress, why not check out our pillow and sheets'. I saw the ads, I read the emails, but they never showed up in Facebook Messenger where I was tracking the delivery."
You need to be attentive, and as a base we'd recommend setting up the below messages to foster trust and build a better relationship:
Checking in to see if the delivery arrived OK

Request for feedback on the product

A cross-sell of complementary products

Discount code for their next purchase
The above are just examples but demonstrate how easy it could be to send a message which, to you, may not seem like much, but could make all the difference to your customers.
Tips for Effective Messages and Sequences
With Recart's own Shopify Facebook Messenger services, we've tried to make them as easy to implement as possible.
We've pretty much set up push-button solutions to get you off to a good start. But that's all they are. A start.
If you want to continually get the best results out of your messages, then you've got to put in the effort to optimise and improve them.
Below are some of the key differences between the humdrum messages users will ignore, and the killer content customers crave.
The big appeal of Messenger is that it creates a more fluid, personalized conversation. The way you write your messages needs to reflect this.
You can't take the approach many have adopted in email. Using hundreds or thousands of words to deliver a message isn't going to cut it. You've got to tailor your copy to the medium.
Email is talking at your users, Messenger is about conversing with them. It's not about sending an aggressive message like "hey, you abandoned your cart, buy this!", you want to be engaging with your customers.
There's not yet been any extensive studies on the best kind of messenger copy, we've found the below basic rules have helped us create more sales and better interactions.
Keep it short. Mobile devices have small screens and so the message shouldn't be a retelling of War and Peace. Get to the point.

Keep it conversational. Imagine you're writing to a friend instead of a customer. Use some slang, emojis, common phrases, and relatable language for the best effects.

Forget about the sale. It's a messenger, not a sales pitch. Aim to be friendly, helpful, and informative. If you can do this you'll build trust which ultimately leads to sales.  

Imagine you're messaging a friend. Would you send your friend a message saying "hey, buy this"? No. Ask how you'd promote the product to a friend or colleague through an SMS and you should be on the right path.
Transactional Content
Segmentation allows you to send the most relevant message to the right customer at just the right time.
You've got to ensure the messages you send are relevant to your users. That for each major action there's a personalized message follow-up that not only engages but ushers the user to their next purchase.
With eCommerce, we'd say the biggest transactional messages you should be focusing on are:
A welcome message for new subscribers

Welcome for new customers

Cart abandonment

Relevant follow-ups including receipts, delivery updates, and specific up and cross-sells.
Each of these sequences needs to be different and tailored to that specific audience. If you have a service like Recart in your corner you can take the hassle out of the targeting, but you need to craft the specific messages to ensure they're relevant and will drive more sales.
Images and Gifs
Take a look through most people's message history and you'll see a couple of trends.
First, you'll notice that the messages themselves are all short, sweet, and colloquial. Second is the increase in images and gifs.
If a picture's worth 1000 words, then a gif has to be worth 10,000.
And the big messengers like iMessage, WhatsApp, and Facebook Messenger have all caught on to this. They provide inbuilt methods of adding popular images and gifs to your messages.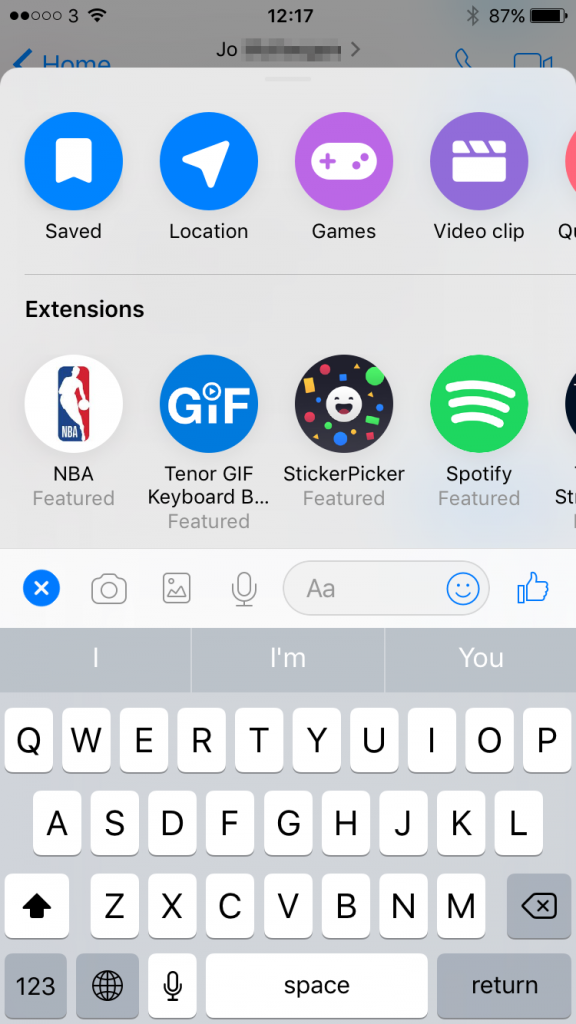 The result of these services has made most modern conversations look something like the below: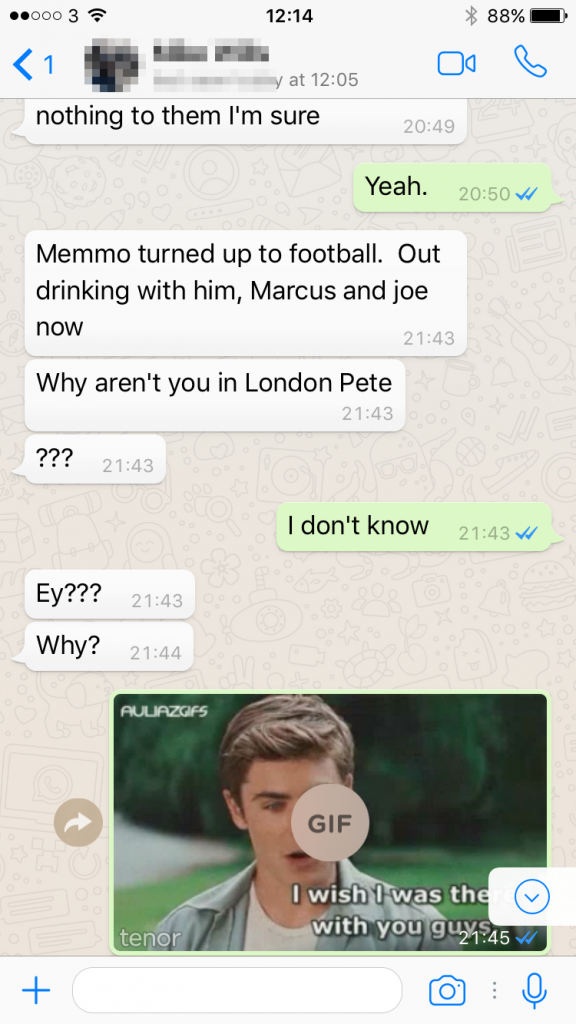 When communicating with users including Gifs and images can provide a much-needed lighter element. Something to keep the user engaged and attentive.
If, however, you're looking at promoting a product then the generic but fun gifs aren't going to be your best choice.
You should still use images and gifs but in a different capacity.
High-quality product images have long been known to improve on-site conversions. There's nothing to stop you from repurposing those same images, and even creating gifs of the product in use, for use in your messenger sequences.
When buying products customers want to see what it looks like. The 1800-flowers example above is a good example of using product images wisely.
The below is yet another example of how to use product images, this time it's from our Recart test store and is used for a cart abandonment campaign.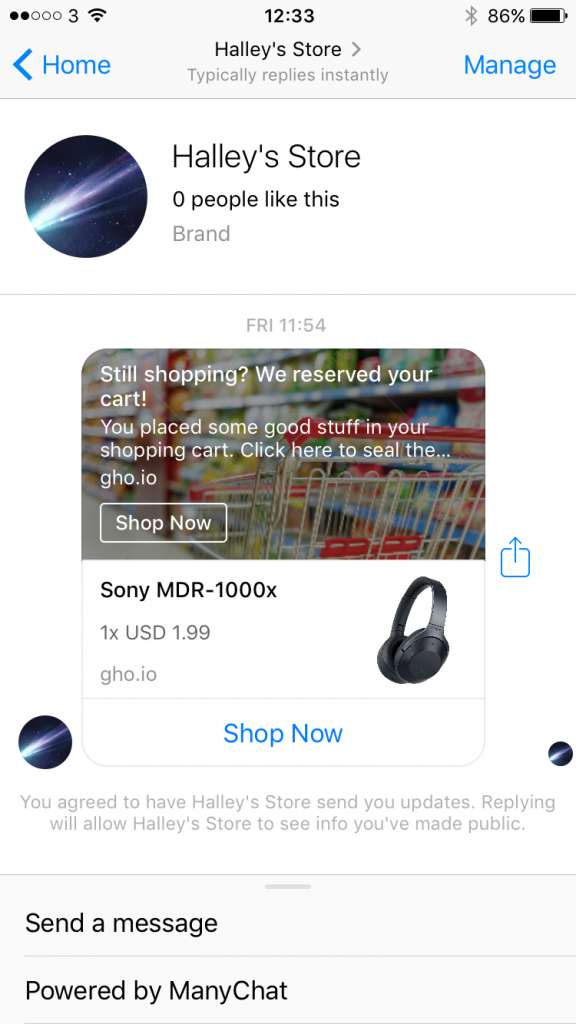 Images and gifs aren't just a great way to promote and display your products, they're par for the course in modern communication.
If you want your automated campaigns to sound less robotic, adopt the processes people use when actually talking.
Emojis
Talking in a more relatable manner carries over in all aspects.
Images and gifs are great at breaking up what could otherwise be a boring conversation, but they also take up a ton of space.
If you want to make your messages a little more visually appealing without taking up a good deal of screen space, experiment with emojis.
They're used by virtually everyone and can add a much-needed tone of voice to what could otherwise be a relatively boring message.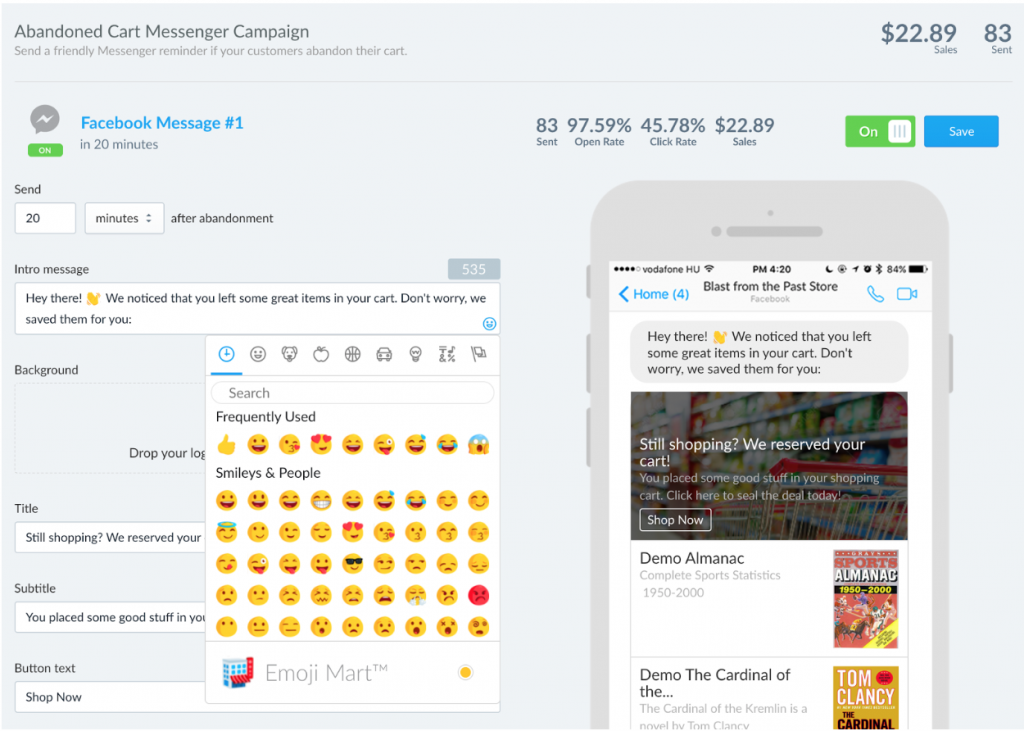 Between gifs, images, and emojis, you'll be able to transform what could otherwise be a rather boring, obviously automated message into something people want to engage with.
Showcase your Brand's Personality
One of the things we discussed at length with the botsfor.business team was how to write killer messages.
And they had an interesting insight which is rarely covered.
Embrace your brand's personality.
If your brand is young, peculiar, and a little irrelevant then your users aren't going to want to receive a message that appears to have been written by an office working desk jockey.
Katya pointed in particular to Purple Mattresses. You can see from their landing page below that they have a fun brand image.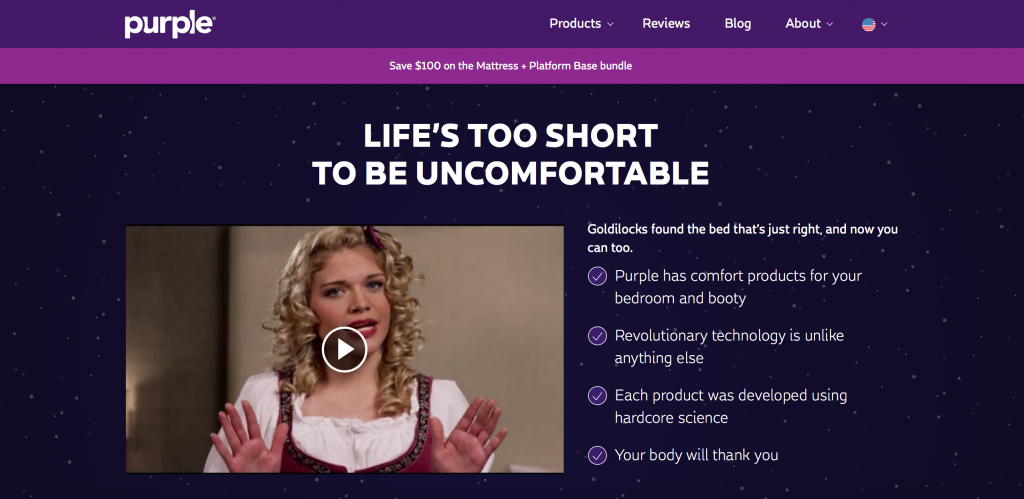 Katya mentioned that a corporate, boring message from these guys simply wouldn't fit the brand image. It would break that level of familiarity users would have established.
Instead, Katya recommends they stick with their irreverent tone and have something like a gif of Goldilocks and the bears waving or fighting over the pillow she left in her abandoned cart.
Messenger might have insane open and click rates, but it still needs to fit with your brand.
Look at your current marketing efforts and make sure your messages fit with the narrative you've created. If you haven't yet established that tone of voice, then Messenger could be the ideal starting place.
Only as Good as Your Last Campaign
Facebook Messengers, be they for Shopify stores, large publications, small growing sites, or simply for fun are not yet an exact science.
It's a new medium, one which has no substantial testing of best practices and which is still going through a huge growth spurt.
That's not a bad thing. Far from it. It means there's endless opportunities for you, your store, and the services like Recart who are hoping to refine Messenger processes.
Don't fall into the trap of doing what everyone else is doing.
There's no rulebook as yet which means you have to continually experiment to find the most effective method of engaging with your audience.
Recart's service is the starting point, but you can take it to until heights.
Facebook Messenger is Not a Replacement for Email
There's so many articles at the minute playing off the idea that there's some sort of deathmatch between Messenger and email.
A quick google will turn up countless articles titled things like "Messenger vs email, what's better for your store?",  "Why Messenger is going to kill email marketing", or something similar.
These writers present the issue as if the two channels are gladiators in a battle to the death, a battle from which only one will emerge victorious.
It's all complete bullshit. These two channels are far from competing with one another. You'll benefit more from using them together as complementary campaigns.
As time goes by Messenger will gradually take over more and more tasks currently handled by email. However, it's not a full replacement. 
The two are a team. Think of them as the Bonnie and Clyde, Batman and Robin, or Tom and Jerry of your eCommerce toolbox.
Facebook Messenger is proving to be a more versatile tool than email, but you're still going to want to run campaigns for both, side-by-side, for the best gains.
Now is the perfect time to start experimenting with Messenger. To iron out all the kinks and position yourself to take advantage of new features and abilities rolled out in the future.
If you're already a Recart user then make use of our add-to-cart widgets to grow both your email and messenger list side by side. If you're not, join now to get this benefit and take the first steps to skyrocketing your conversions with Facebook Messenger.