4

min read
Dear teammates, advisors, and investors,
With December now behind us I can reveal that we closed a truly unbelievable year at Recart. Before I summarize our December, I'd love to highlight what we achieved in 2017. In the last year, we:
welcomed 18,859 new users on board and 73,040 visitors on our app page
sent more than 12 million emails and 32 million Messenger messages
captured approximately 20 million abandoned carts
grew Recart from $1,480 to $118,720 MRR – that's a whopping 8,021% growth
achieved $356,368 total revenue
received over 1,700 Shopify reviews and became the most reviewed paid-only Shopify app
closed 12,576 support conversations and sent 31,986 replies
served our homepage 1.2 million times
brought the power of Messenger marketing to 10,000 ecommerce businesses
pushed 3658 commits to our Github repositories
What a year… We grew from nothing to $120k MRR.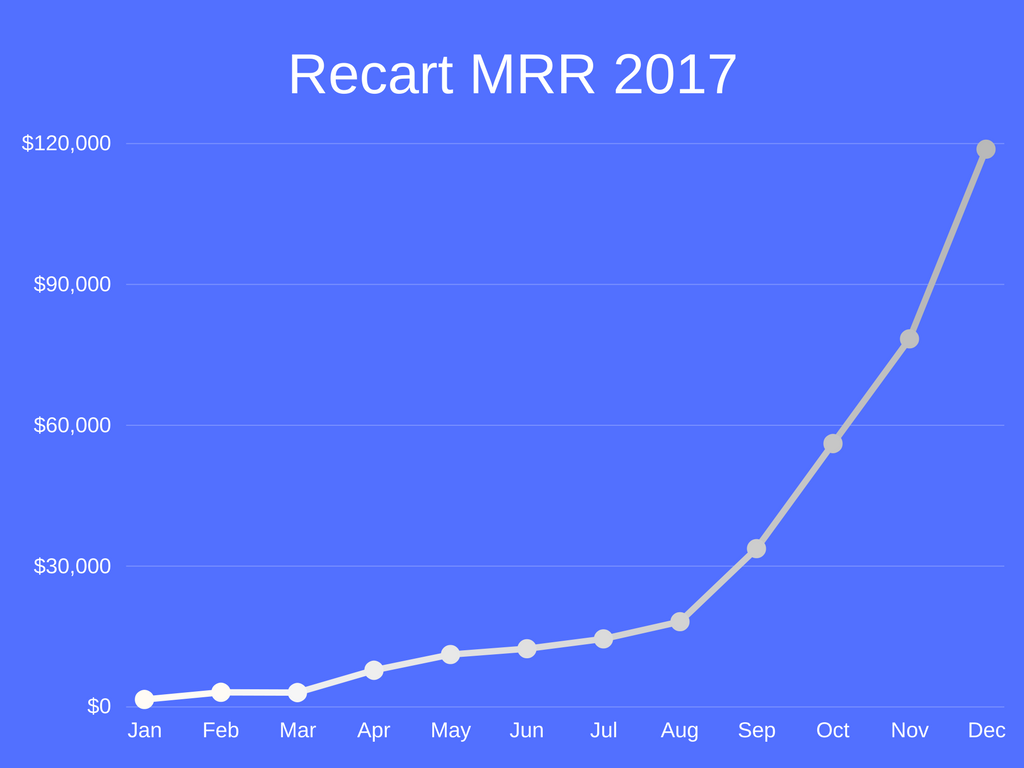 It's been over six months since we introduced our first Messenger campaign; we've been blown away by the response we've seen. It's incredible to see how many businesses have adopted our campaigns, and it's a privilege to be a part of this exciting ecommerce marketing revolution.
We can't wait to roll out even more useful features in 2018 and become the first complete conversational commerce tool in the world.
December in numbers:
New Merchants Signed Up: 3,444 (Total: 21,527)
Users Visited our Shopify App Page: 10,727 (Visitor to free trial conversion rate: 32% – that's the best we've ever had)
Monthly Recurring Revenue (MRR): $118,720 (+16% compared to November)
Total Paying Customers: 2,420 (+373 compared to October)
Subscription Cancellations: 322 (Churn Rate: 13%)
Crossed 1920 Shopify reviews – gained 220 in December
New Support Conversations: 1,555
Messenger Subscriptions: 13,500,000 (+4.4m in December)
Messenger Messages Sent: 32,400,000 (+9.6m in December)
Team Size: 14 (No change in December but we're hiring)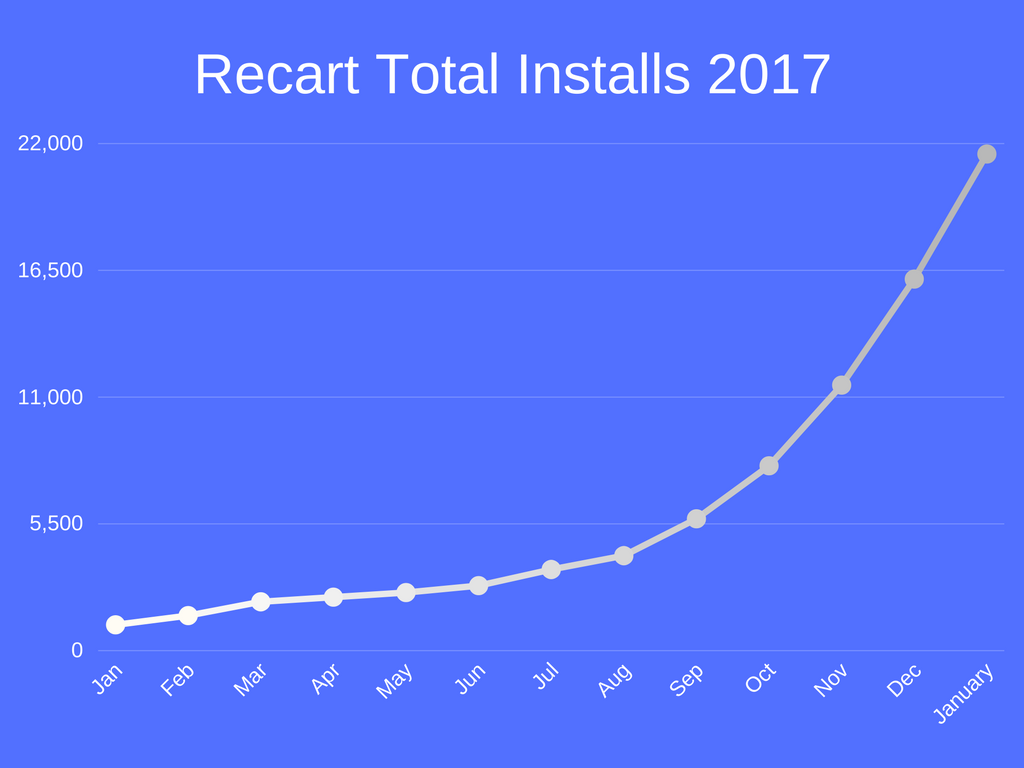 Things we planned to achieve in December:
Opening new positions in the dev and customer success team
We opened positions including Senior Dev, Front-end Dev, and a Customer Success Hero. We didn't have much time to work on it, but in January, we'll push the pedal to the metal.
Roll out the Messenger Customer Chat feature
Postponed to January. We found several technical issues while pairing customers with Messenger subscribers. Since this is the base of Recart's business logic, we couldn't roll the feature out.
Improving the merchant onboarding & education process
We made progress by fixing our Intercom sync so Recart merchants finally got back their complete onboarding campaign.
Handle the extraordinary load due to the Christmas season
In ecommerce, the last three months of the year usually brings 35% of total annual sales. This traffic spike puts a huge load on our servers along with our dev team. Handling this pressure was our top priority in November & December, and we did pretty well. We minimized downtime and made sure that all 15 million marketing messages were sent without any problems.
What's to come in January?
Roll out the Customer Chat for all Recart users
We're quite close to giving this new subscription tool to our users. We predict to have an immediate positive impact on merchants by providing accessible, on-site live chat and subscribing all customers who contact the store.
Introduce the first version of the new Messenger editor
We've been working on a brand-new Messenger editor for the last two months. We're about to release it at the end of January and introduce it in the Instant Messenger Campaigns.
We'll tear down the current creative boundaries and allow our users to craft the exact message they want to send.
This editor is our top priority right now. All Recart campaigns will build on top of this and will unlock the user creativity. I can't wait to see what our users will craft with this limitless editor.
However, this editor is extremely complex so it might get delayed until the first week of February.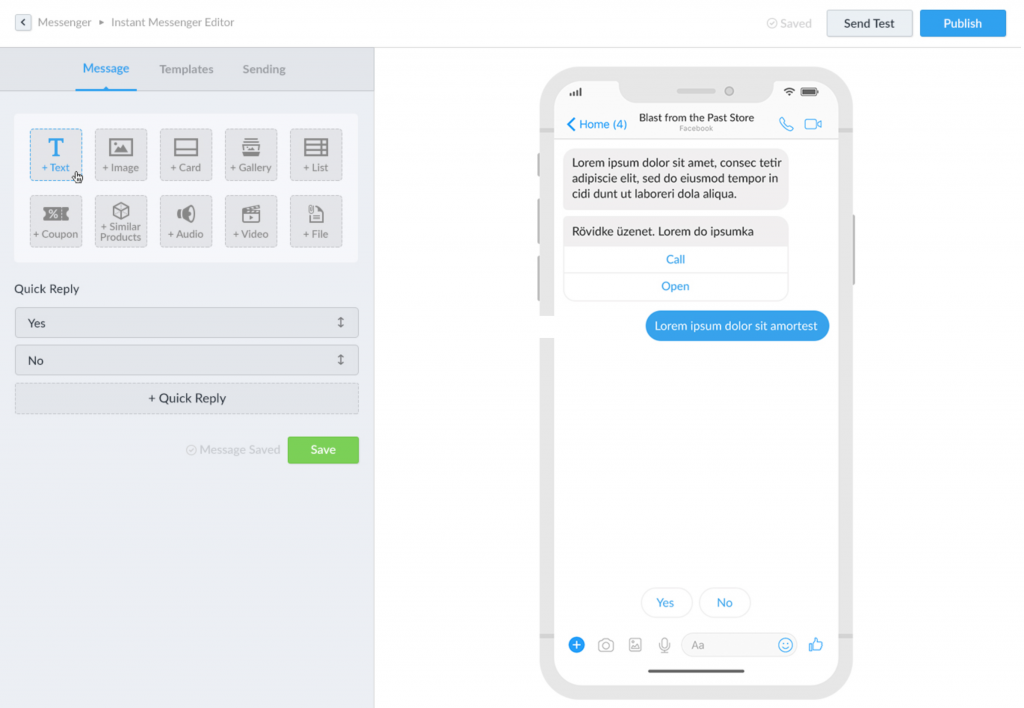 Hiring, hiring, hiring
We opened Senior Dev, Front-end Dev, and Customer Success Hero positions. If you know anyone who'd love to join the Recart journey, please send them our way: career@recart.com.
Summary
We aimed for 10k installs in 2017, and that seemed quite unreachable last April. Thanks to our innovative Messenger features, we made a huge run in Q2 and Q3 and trumped the initial goal by 215% as we reached 21,527 total installs.
What's next?
We strongly believe in the power of conversational marketing and the Messenger platform. We'll continue using our competitive advantage to innovate in ecommerce marketing and finally create the first complete conversational commerce tool for merchants so Recart merchants can provide a world-class service to their customers.