We're thrilled to announce one of the most important updates in the history of Recart. We shipped two brand-new features today:
Messenger Add to Cart Popup
Auto-Applied Discount Codes
Messenger Add to Cart Popup
In early October, the Messenger Platform decided to discontinue allowing new merchants with pre-checked widgets on their site. It meant that our popular subscription tool, the Add to Cart Widget remained unchecked by default for merchants who signed up from October.

The change reduced Messenger opt-in rates for merchants who can't apply for being pre-checked anymore. Therefore, some of our new users' didn't get the full benefits Recart has to offer.
Our merchants need a better Messenger subscription tool
We immediately started thinking about how to increase the opt-in rate and restore the missing revenue uplift.
The idea was simple: get as many customers on your Messenger list as possible without breaking the customer flow or decreasing conversion rates.
After long weeks of testing and developing the best tool for this purpose, we're excited to announce the Messenger Add to Cart Popup in Recart.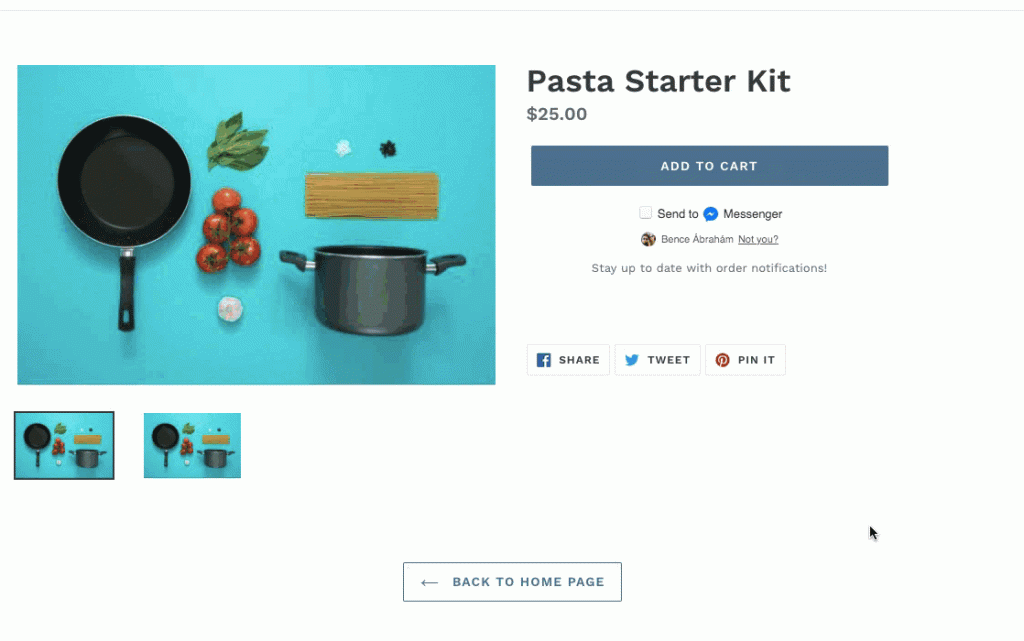 The Messenger ATC Popup shows up when your customers click on an add to cart button on your store. It offers order updates in Messenger so your customers can subscribe to your list.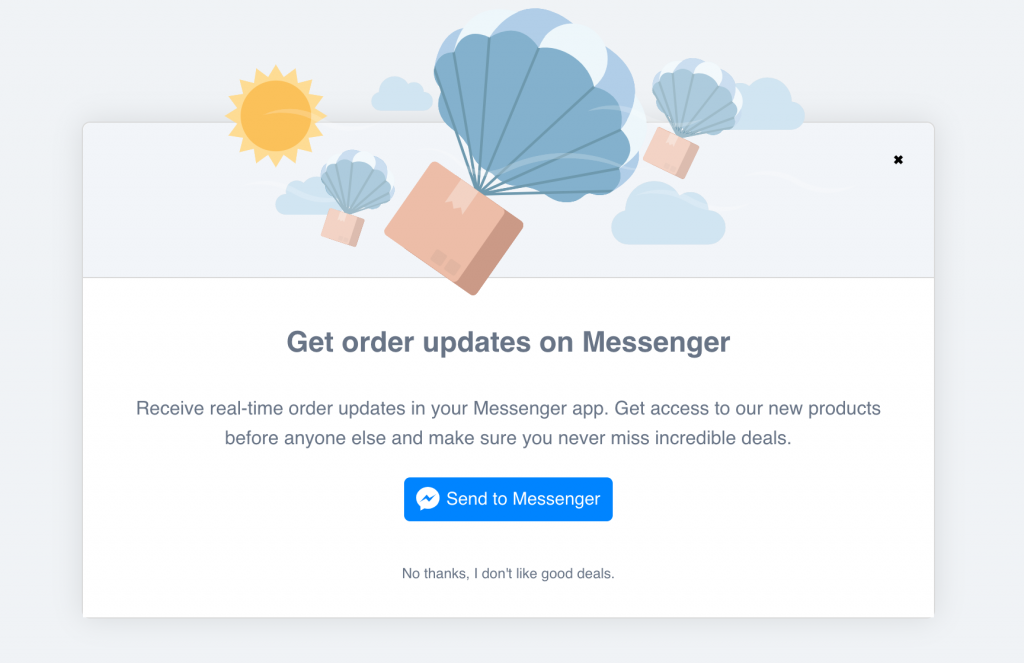 What are the results?
Unlike a typical popup solution that distracts your customers and requires typing their email, we catch their attention when they are most interested in doing business with you. This will generate you incredibly valuable Messenger subscribers that you can later retarget with Automated or Instant Messenger Campaigns.
After the popup showed up, your customers can do two things:
Subscribe to the Messenger list with one click, or
Close the popup with one click.
This makes the Messenger Add to Cart Popup a single-click popup which is one of the best-converting growth tools on the market: you can expect 70-90% opt-in rates. Yes, you read it right, it subscribes seventy to ninety out of a hundred customers.
Who should use it?
The popup is essential for all merchants who don't have the pre-checked option from the Facebook Messenger Platform.
How to use it?
Our VP of Product, Ben wrote a great article on how to set up your Messenger Add to Cart Popup. Read it here.
Auto-Applied Discount Codes in All Messenger Campaigns
Most of the merchants using Recart offer some kind of discount in their second or third abandoned cart messages. This is a proven, smart strategy to convert customers who are slipping away: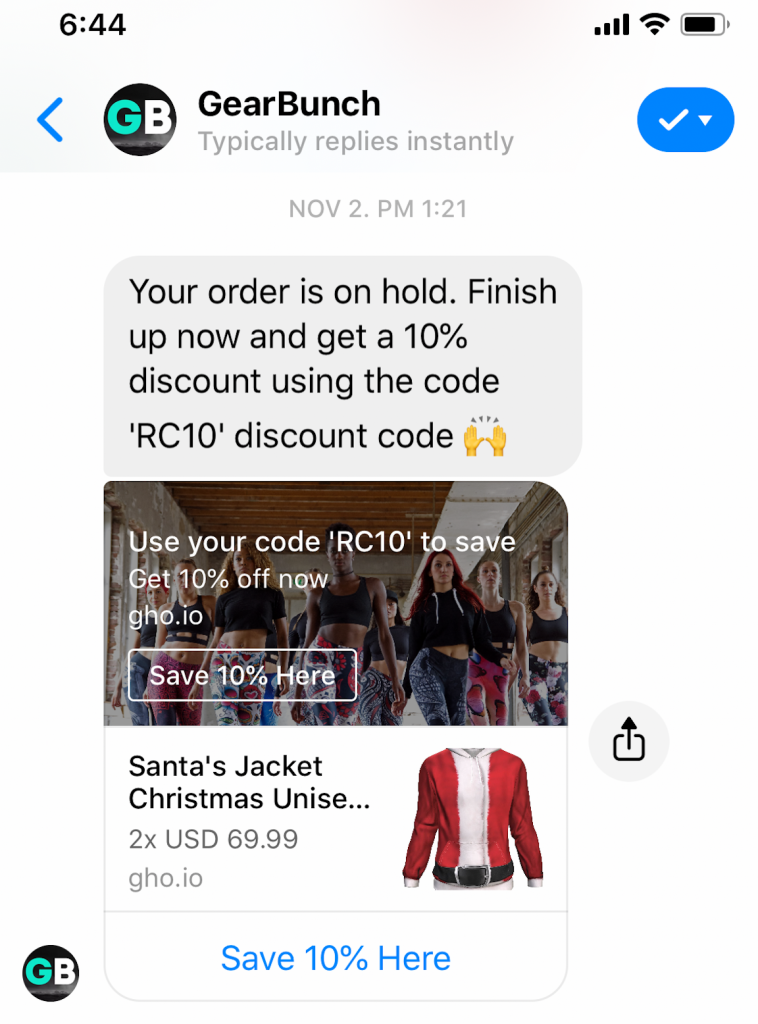 Until today, these customers had to type their discount code manually at checkout.
To save time and effort for your customers, thus increase conversion rates, Recart applies the discount code you offer automatically at checkout: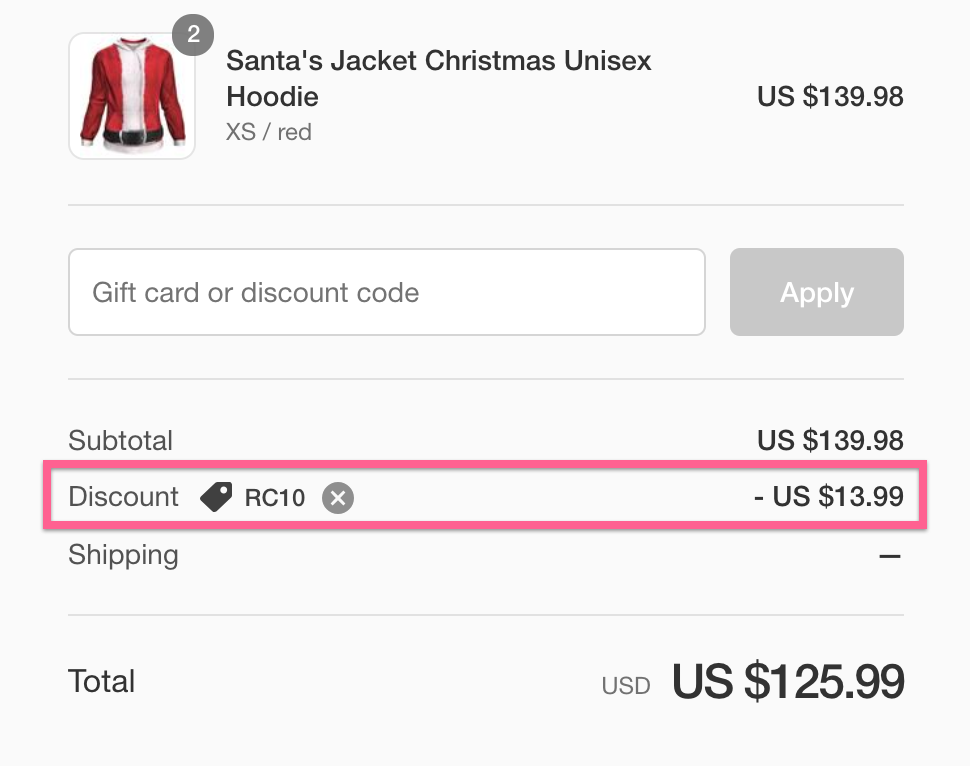 It works on autopilot. When your customers click on any link in your Recart Messenger campaigns, Recart applies the discount to their cart.
No need to type in any info. Zero chance of typos, no frustration. Just conversions.
How to set it up?
Here's Ben's article on how to use our Auto-Applied Discount Codes.