There are few more controversial marketing methods than popups.
Most people would argue they're annoying.
That they destroy the user experience and make sites an absolute mess to navigate.
That the benefit of using them is outweighed by the frustration they caused.
I once had a consultant tell me to drop them because I was pissing more people off in the long term than I converted in the short term.
And yet, they work.
Sure they might be annoying, but I'll stop using them once they stop being effective at driving leads and sales my way.
But what if popups didn't have to be annoying?
What if they could be interesting, fun experiences that didn't destroy the user experience but added a new element to it?
Imagine what you could achieve with a popup that made your site more fun to visit?
Well, thanks to WooHoo this is no longer the stuff of imagination.
Why Use WooHoo?
Competition is fiercer than ever before.
As competition increases, the chances of you converting a visitor into a subscriber becomes ever slimmer.
One of the ways to tip the scales back in your favor is by ramifying the opt-in process. To make it more than a simple submission of email details or the click of a box and instead make it fun for the user.
Which is exactly what WooHoo does. Check it out below.
If you want to quickly grow your Messenger list, you need this. And this is how you make it work with Recart to both capture and sell to an even larger list.
How to Set Up Recart and WooHoo
Enter the Recart app
(Shopify Admin – Apps – Recart), go to your Messenger menu and connect your primary business Facebook Page.
This is going to be the page users will subscribe to and messages are sent from. So make sure it's for the correct business.
(If you're already using Recart, you can skip this step.)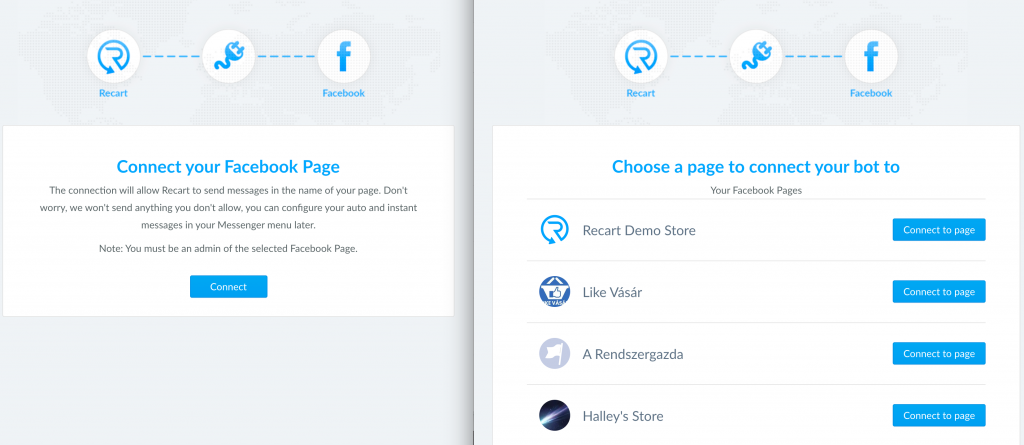 Once that's done, you'll need to set up WooHoo.
Go to your Settings, and you'll see the below page.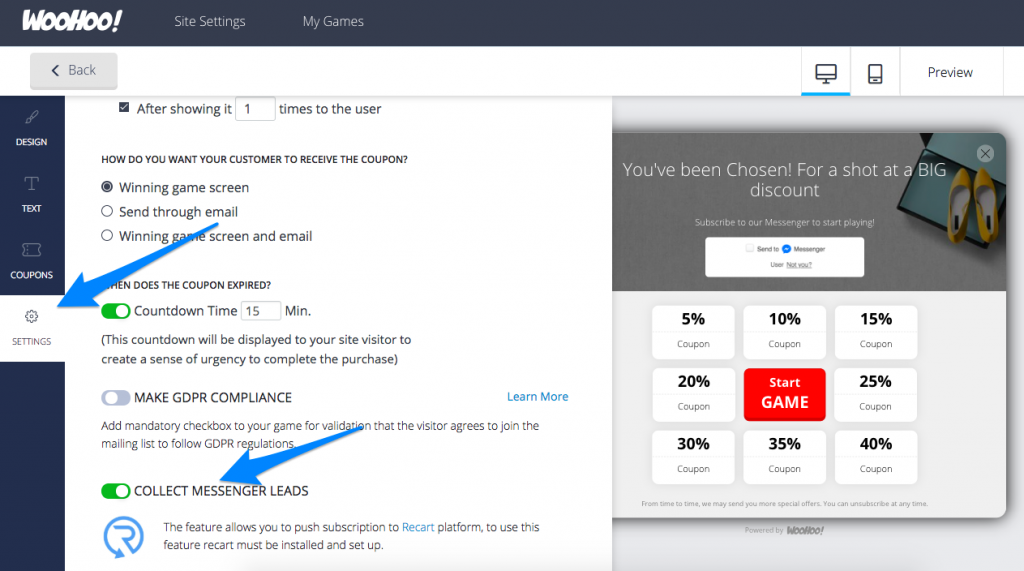 You can use WooHoo as an email collection tool, but we all know Messenger has much better engagement rates.
So scroll down and activate the collect Messenger leads.
This will replace the email opt-in with the Messenger checkbox in the video above.
As a result, your visitors can play the game without having to type anything in which, again, will increase the overall conversion rate.
That's it!
????
If you head back to the WooHoo popup on your store you'll see that it now includes the Send to Messenger widget.
And from now on, everyone who clicks that box and plays the game will automatically be added to your Recart Messenger list
P.S. Don't forget that this isn't a one and done process.
As with any marketing effort, you're going to have to continually optimize your popup to get the best results.
We'd recommend testing the below to find the best combinations.
What game users will most enjoy
When to display the popup
The rewards you want to offer to users
But for now, get this setup and start growing your Messenger list like crazy!