I can call myself one of the luckiest marketers in the Shopify space. I'm fortunate enough to have seen 200k+ merchants grow using all types of retention and paid marketing and, at present, to support 13k brands with SMS and Messenger marketing.
After participating in countless growth projects with our merchants, such as detailed A/B testing aimed at identifying revenue differences from small popup changes, I found a specific but very simple formula. For about 90% of merchants, this formula results in success with any retention marketing (email, SMS, Messenger).

Brands Grow Faster With Text Marketing
Schedule a free demo of Recart and get your SMS marketing up and running in 3 days.
Brands that use this simple rule generate 3X more revenue compared to the ones that ignore it.
The formula has three main pillars:
Subscription (adding people to your SMS/email lists)
Automation (engaging them in an automated way)
Retention (re-engaging them with news, offers, updates)
We'll talk about the whole formula in another post. Today, I'm going to focus on the Subscription pillar and what makes it the most crucial part of your marketing performance: the 10% rule.
What is the 10% rule?
It's quite simple but still one of the most overlooked metrics in eCommerce marketing despite it being able to make or break SMS and email marketing efforts. When brands hit or exceed this 10% subscription mark, their success with retention marketing is almost inevitable.
The rule itself is straightforward, subscribe at least 10% of your store visitors to your SMS list. Achieving it, however, is something only very few brands can.
If you think about it, a typical customer journey can look like this:
Reached → Visitor → Subscriber → Customer → Returning Customer → Advocate
Usually, brands want to get from Reached to Customer the fastest way possible, so they deploy ads and invest 30-60% of their total revenue on Facebook, Instagram, Google, and TikTok.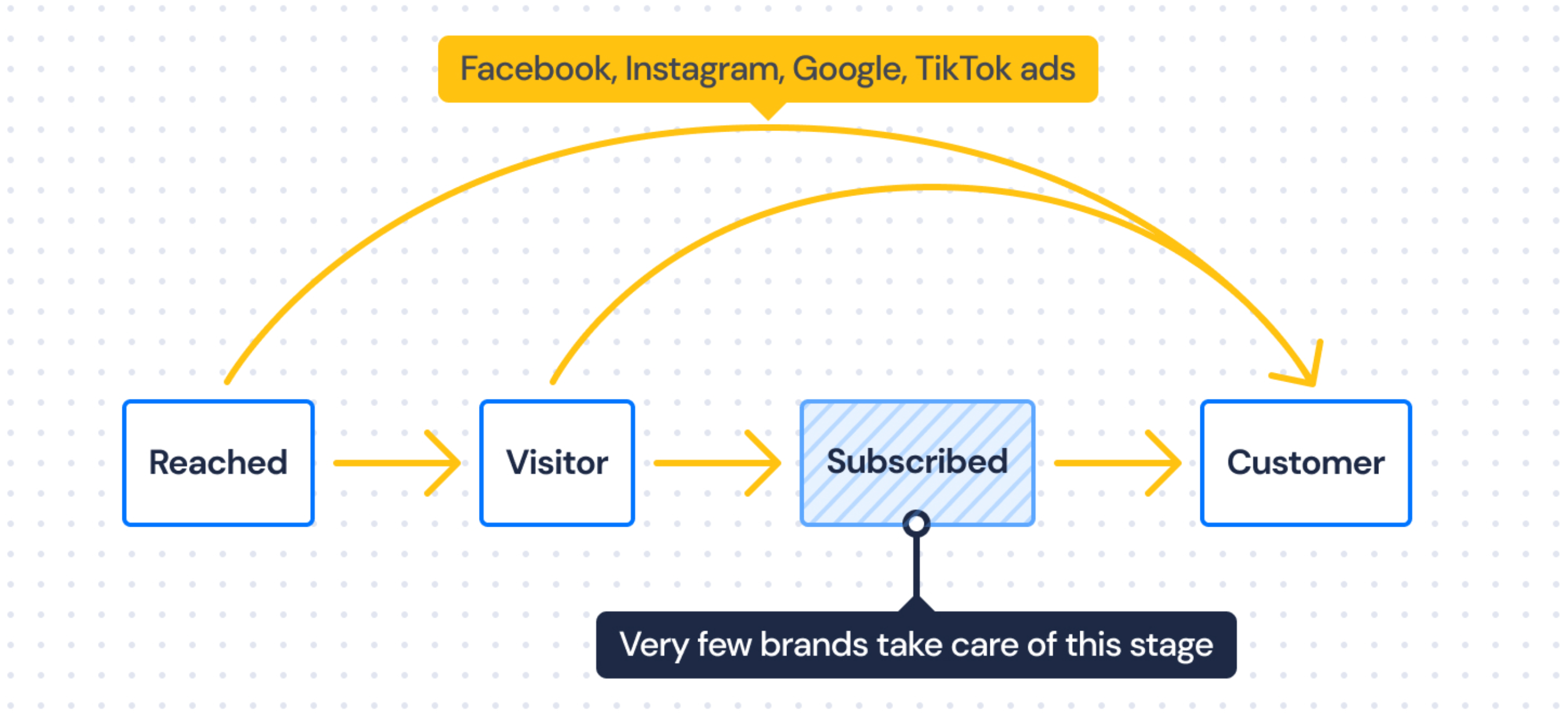 Why is this rule so important?
In short, if you don't have enough people on your lists to message, you won't make much money from SMS marketing. The visitor to subscriber rate is one of the most overlooked metrics in eCommerce marketing today. Most brands settle on very basic ways of growth tools that yield below-average results, which has a bigger impact on their bottom lines than most can imagine.
The deeper explanation of why having 10% of your visitors in your SMS list is crucial is threefold:
Getting the attention of customers is cheaper with SMS: The rising advertising costs of Facebook and Instagram make SMS the most effective re-marketing tool with SMS, CPCs are way lower ($0.2) compared to the big social platforms ($1.1 and up).
Direct connection: Customers within a brand's SMS lists are directly connected and can be sent updates or engaged in a conversation without relying on the big social networks.
Immediacy: Brand email updates get lost in the updates folder. They need a channel that is more immediate and intimate that drives higher open and click rates.
You must do it right if you want to scale your store, not many brands become successful without strong retention marketing. Hitting the 10% rule sets you up for success and I've rarely seen any brands fail beyond it. Here's why.
In most cases, they take good care of the Visitor stage by building a good-looking Shopify store and paying attention to the UX and the speed. However, they usually ignore the Subscriber stage after setting up a newsletter box or an email popup, thinking "the popup is live so the job is done".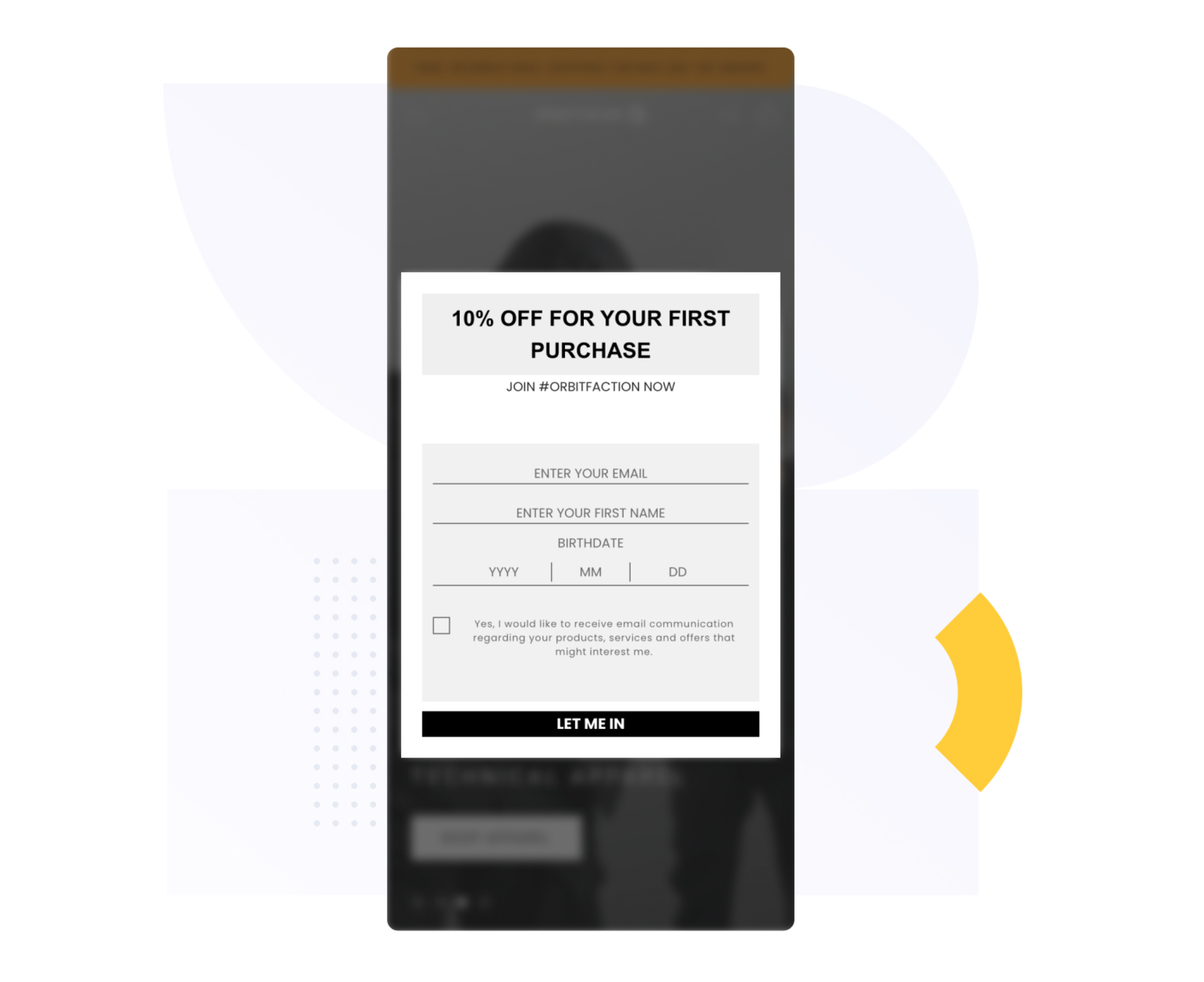 This way of thinking couldn't be further from the truth. Firstly, the conversion rate of that popup impacts revenue a lot more than brands think. Secondly, they simply don't explore other options for growing their subscriber lists.
It's a major yet understandable and common mistake most brands make. Why? Brands don't have easy ways to figure out what's the impact on their SMS/email marketing when they convert 3% or 10% of visitors into subscribers.
What happens when you achieve the 10% rule?
Here's simple math to explain the difference. Let's bring a few assumptions to the table using average results from brands using Recart SMS. In the first 30 days in the SMS list, a new subscriber:
Receives an average of 8 SMS/MMS messages
Spends $0.47 per SMS message sent
Spend $3.76 total
Let's assume that your brand has 100,000 unique visitors a month. A different visitor to subscriber rate brings you different results: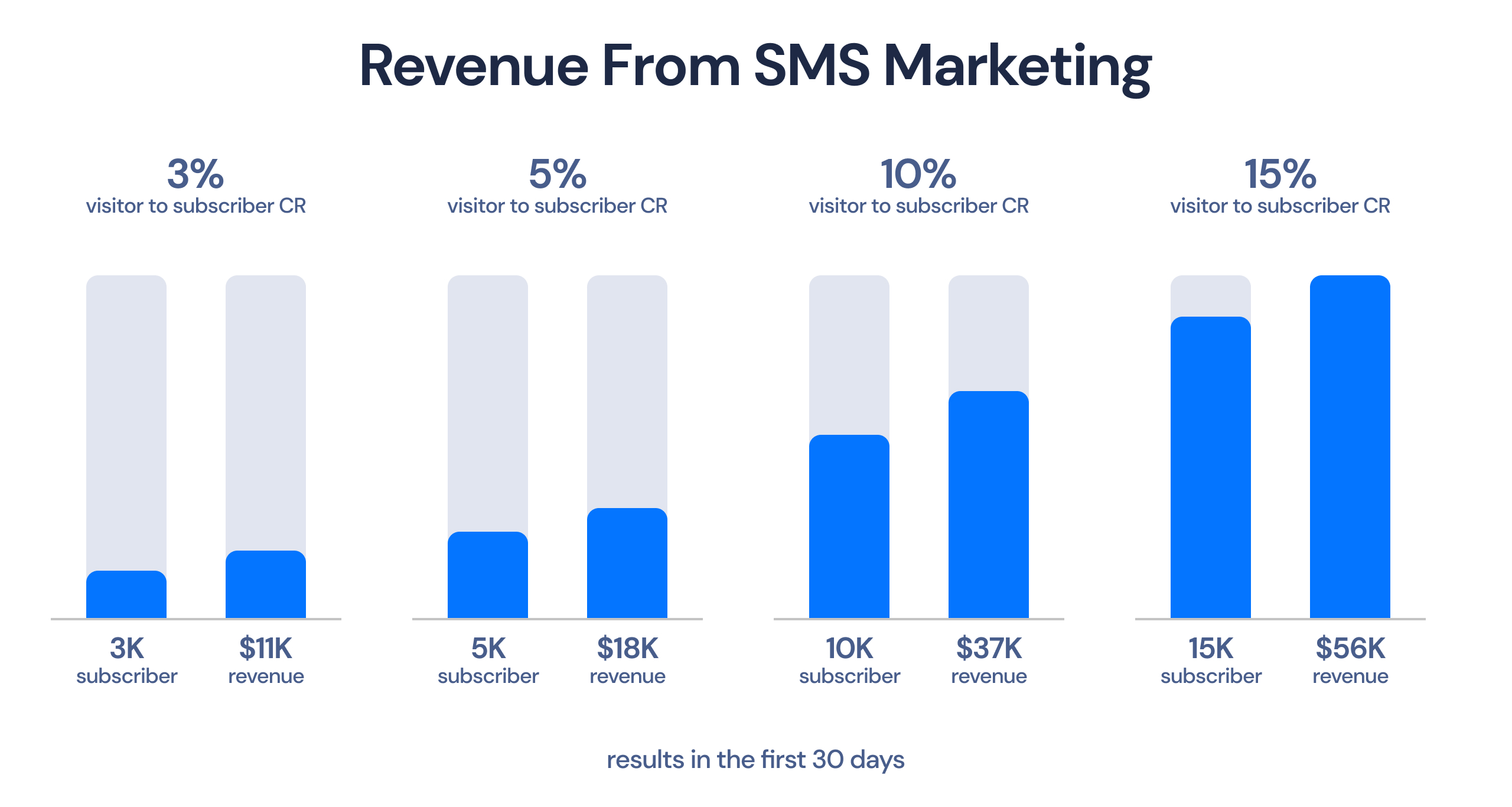 A brand with an average 3% visitor to subscriber rate generates about $11k incremental revenue from SMS marketing in the first month. When you improve your rate to 5%, the revenue jumps to $19k, at 10% to $38k, and at 15% to $56k. In the first month only.
However, benefits are cumulative here. Whoever is on your list already will keep receiving your SMS updates and, with a lower revenue per message rate, will keep buying from you.
Here's a cumulative view of the performance difference between 3% and 10% visitor to subscriber rates: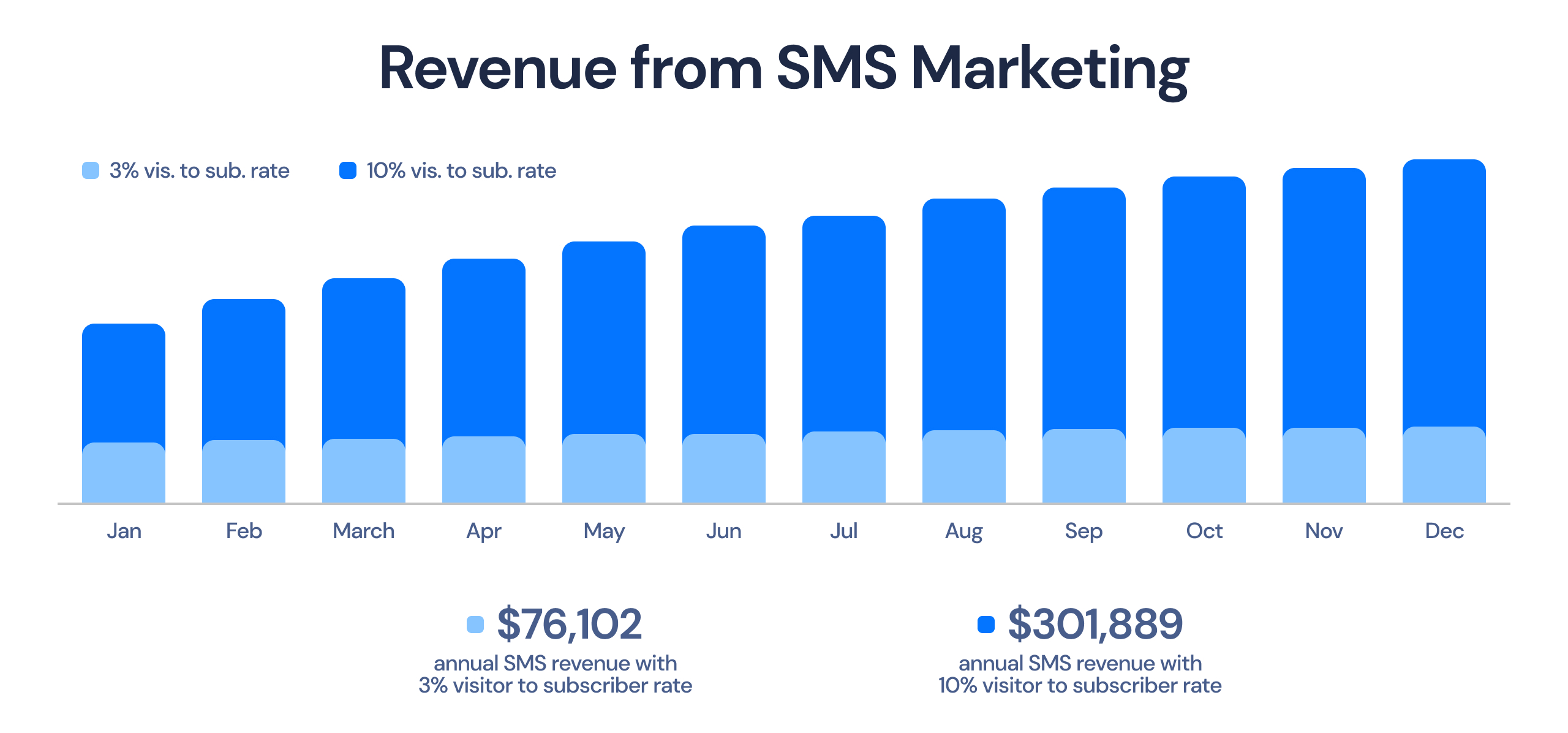 The revenue difference between the average (3%) and acceptable (10%) subscription rates is tens of thousands of dollars in revenue for the average brand. Exceptional strategies (15%) simply 5X your first-month results which accumulate into an 8x difference in six months.
Best ways to achieve the 10% rule with SMS
Brands have many ways to subscribe their customers to their SMS lists, they are usually grouped into two categories: on-site and off-site opt-in tools. Since most brands buy traffic to their storefront, on-site subscription tools are usually the strongest ways to grow SMS lists.
On Site: Welcome Popup
Inside the on-site category, the Welcome Popup is the king. It collects the most subscribers by far. Since the Welcome Popup is being seen by most of your new visitors, its conversion rate has the biggest impact on your visitor to subscriber rate.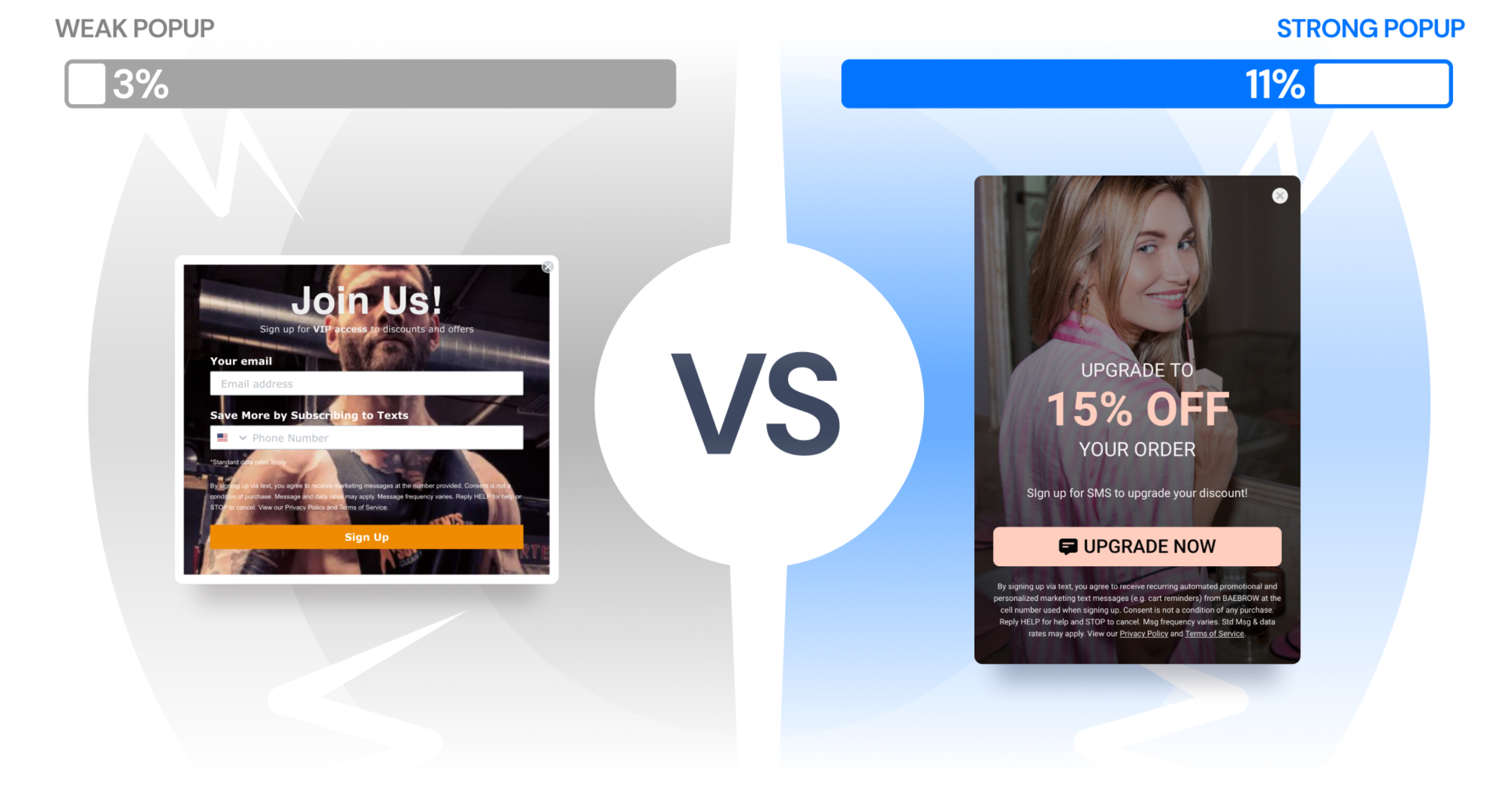 The difference between a weak and a strong popup usually determines if you're able to hit the 10% rule.
A strong welcome (or any other) popup has three main rules:
Offer something that resonates well with your audience

It's usually a discount but it can be anything else your prospective customers get excited about.

Make everything clear and mobile-optimized

Make it easy to understand the offer via using big fonts, big input fields and buttons.

Make it easy to subscribe

Asking for email, phone number, and birth date will drastically lower your subscription rate. Don't forget, you can ask for additional data later on.
When you follow these points, you'll start to see 2-3x more subscribers than before.
On-Site: Checkout Subscription
Another low-hanging fruit for hitting the 10% rule is enabling SMS subscription on your Shopify checkout. Luckily, it's natively available on your Shopify Checkout: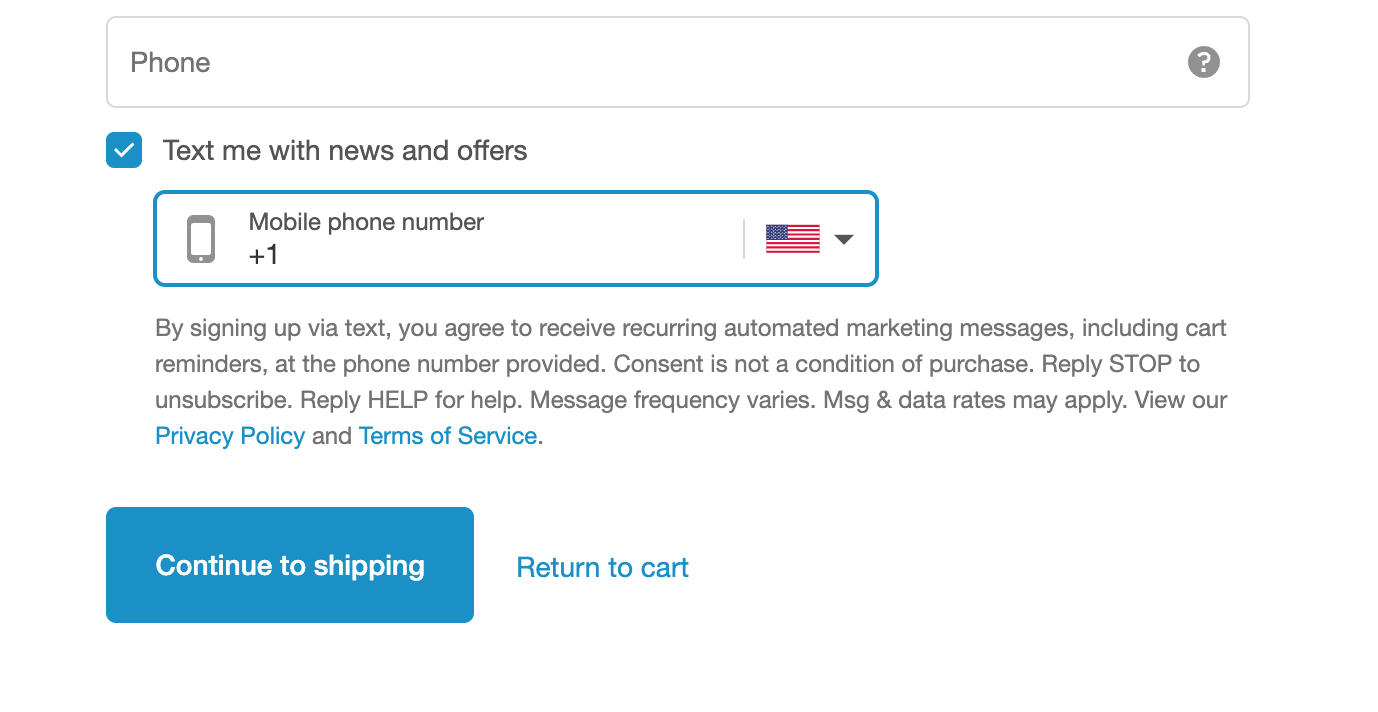 Enabling it takes about two minutes, check out our step-by-step guide here.
Activating a Welcome Popup and the Checkout Subscription will usually put you 7-9% towards your 10% goal.
Off-Site: Instagram Story to SMS Subscription
If you have an active social follower base, this method is for you. You can convert your organic Instagram/Facebook/TikTok traffic into SMS subscribers using an SMS signup link in your stories and posts. These stories usually lead with an offer: a discount or exclusive content to incentivize followers to signup.

SMS subscription from Instagram stories takes only two actions:
When customers see your story they can simply tap the link which takes them to the SMS app on their mobile with a pre-filled text message they will send to your number.
The second tap is when they hit send message button.
Here's an example of Bella All Natural offering 15% off to subscribers from their Instagram posts: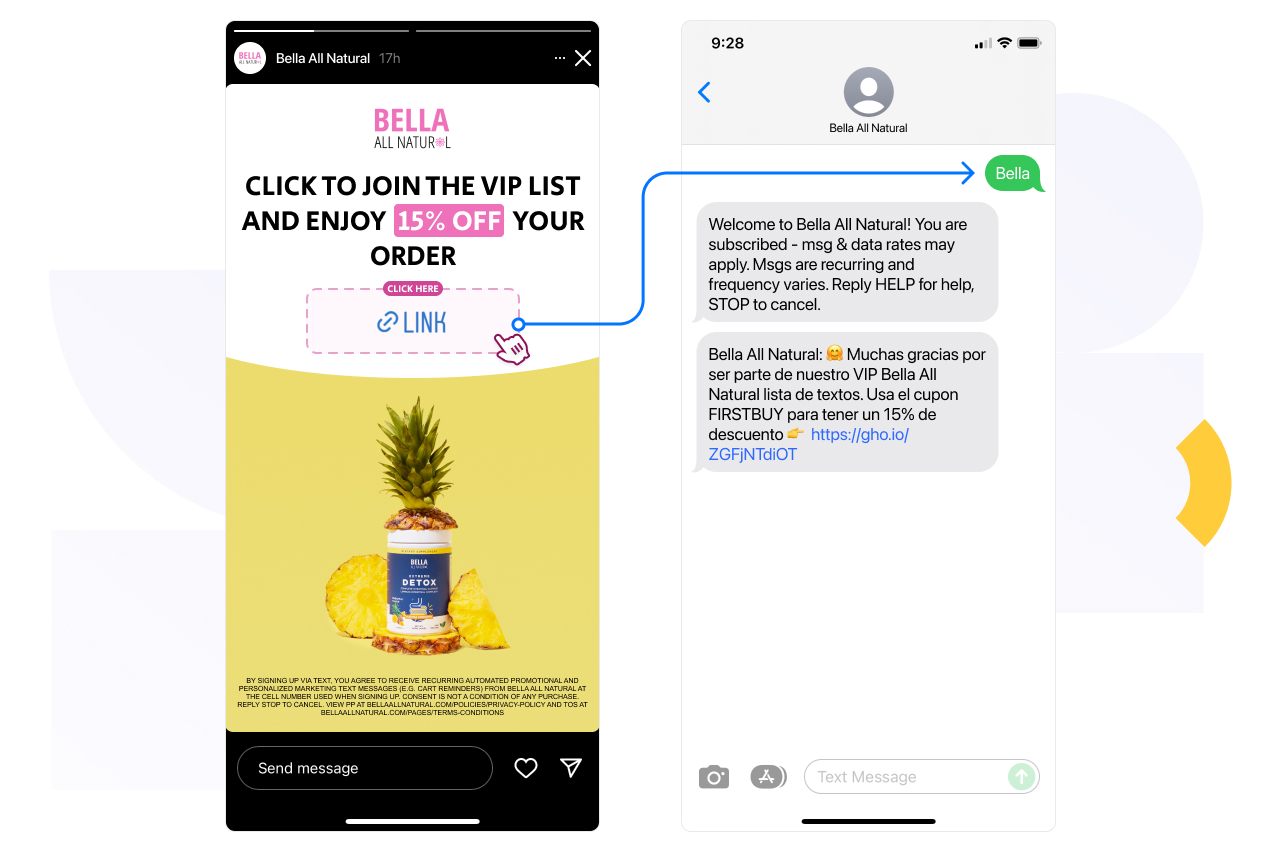 Off-Site:

Text SMS Keyword to Number

The other impactful way to grow your SMS list off-site is by sharing SMS keywords in your posts. Here's a great example from Her Juice Bar. They share the keyword HJB and their phone number followers can text.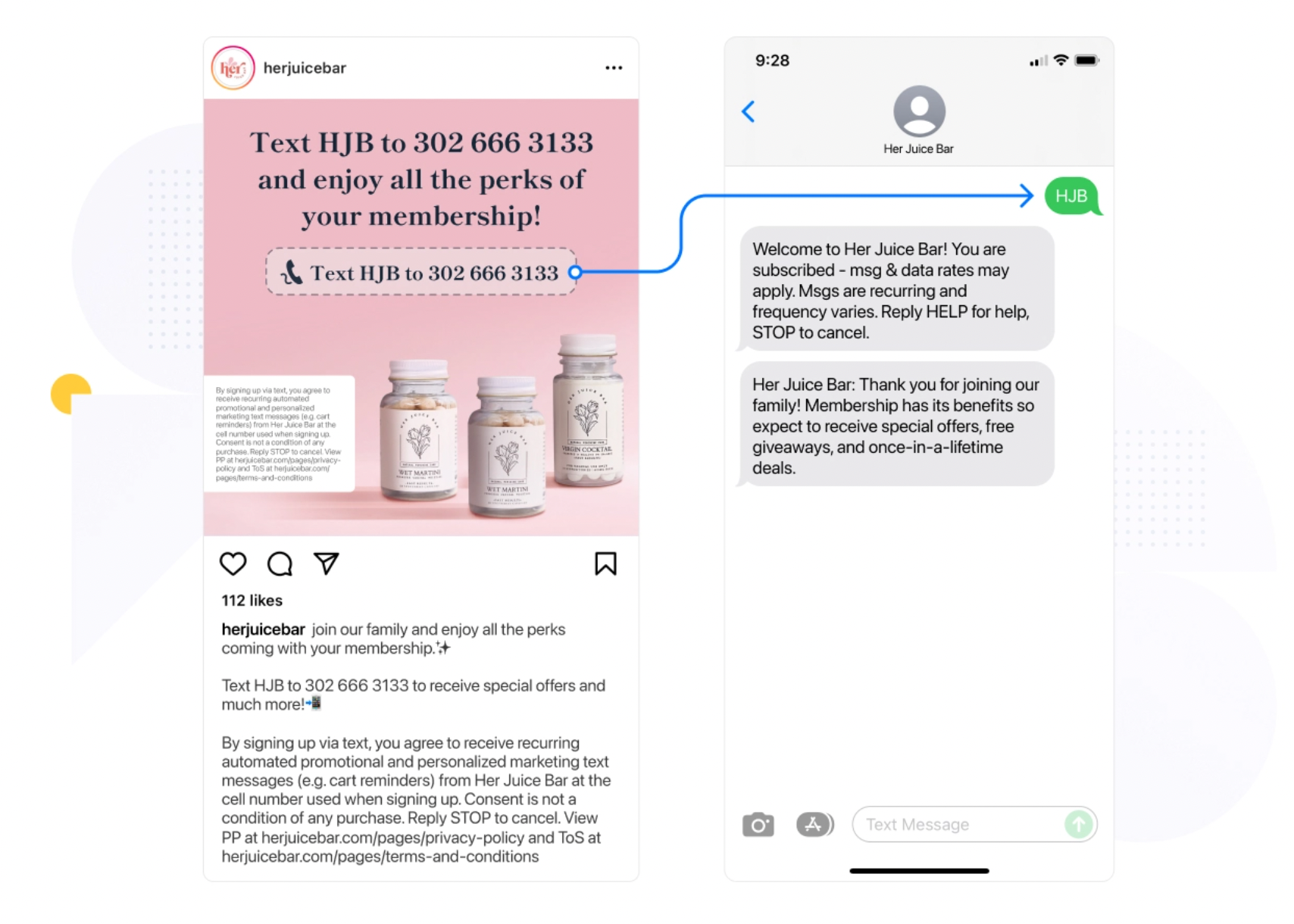 Anyone who wants to opt-in to your SMS list can simply text a keyword to your number subscribing to your list immediately.
How to Get to 10% Today
The number of reaches and visitors you can turn into SMS or email subscribers matters a lot to your bottom line.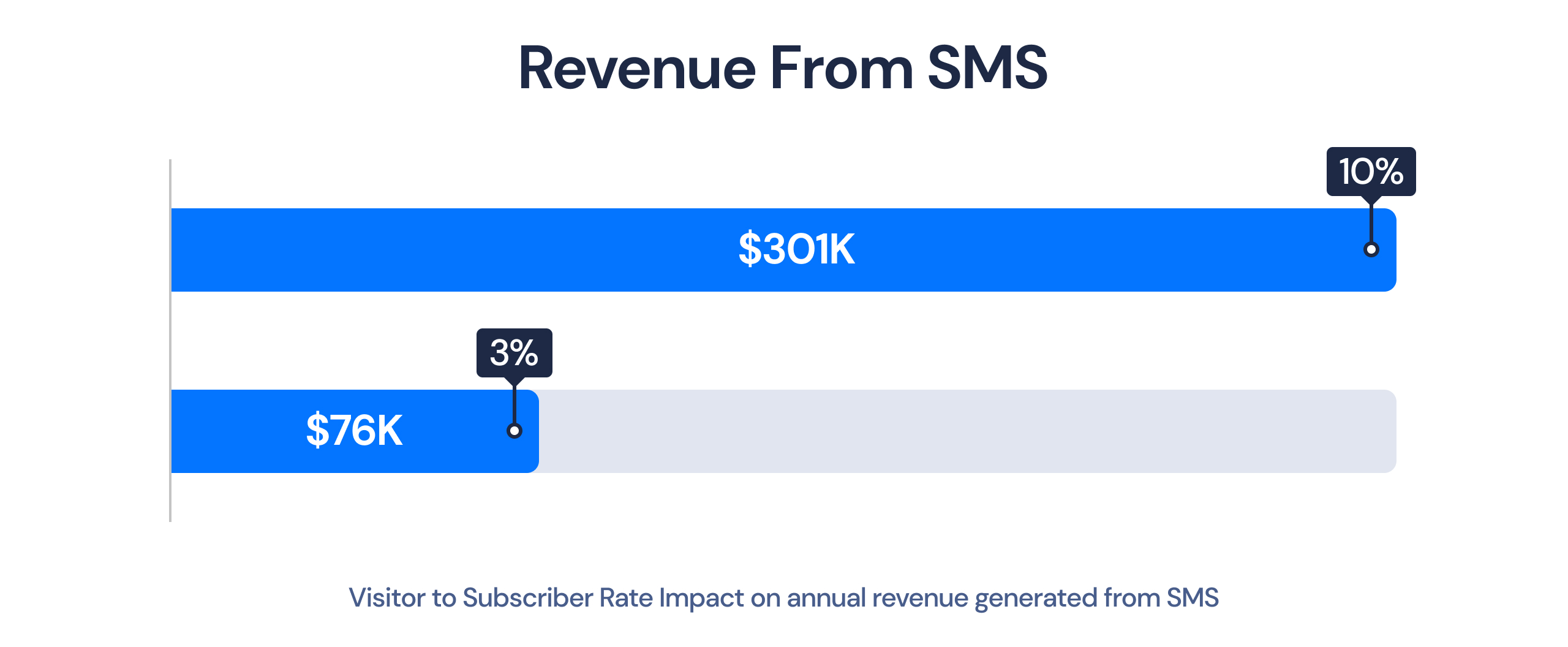 Using average results from our clients, a 3.3x (average → good) conversion rate difference cumulatively adds up to a 4.1x revenue difference in a year.
To recap, here's the fastest way to hit the 10% rule in SMS marketing:
Get a high-performing popup (follow these 3 steps here)
Active SMS subscription on Shopify checkout (find the guide here)
Promote Click to SMS Subscription and Text SMS Keyword tools on social (replicate these tactics)
Don't have the time to do it all? Our expert team is more than happy to help you – completely free. Book a time with us in our calendar here.
Brands Grow Faster With Text Marketing
Schedule a free demo of Recart and get your SMS marketing up and running in 3 days.