Our team at Recart is always busy developing and testing new subscription tools. Our mission is to help businesses connect to customers on Facebook Messenger, and we believe that having access to the best Messenger subscription tools is key to providing a fun and engaging experience for a massive audience.
Even until now, Recart users had several options to choose from: Sticky Discount Box, Popup integrations, Customer Chat and more. Nevertheless, we were definitely missing one thing: a truly mobile-optimized popup that's easy to use effectively and works well with email capture popups.
That changes today, as we are releasing the Welcome Popup for all Recart users.

The Welcome Popup might seem simple, but it has all the features you need to take your lead generation strategy to the next level.
A simple design optimized for conversion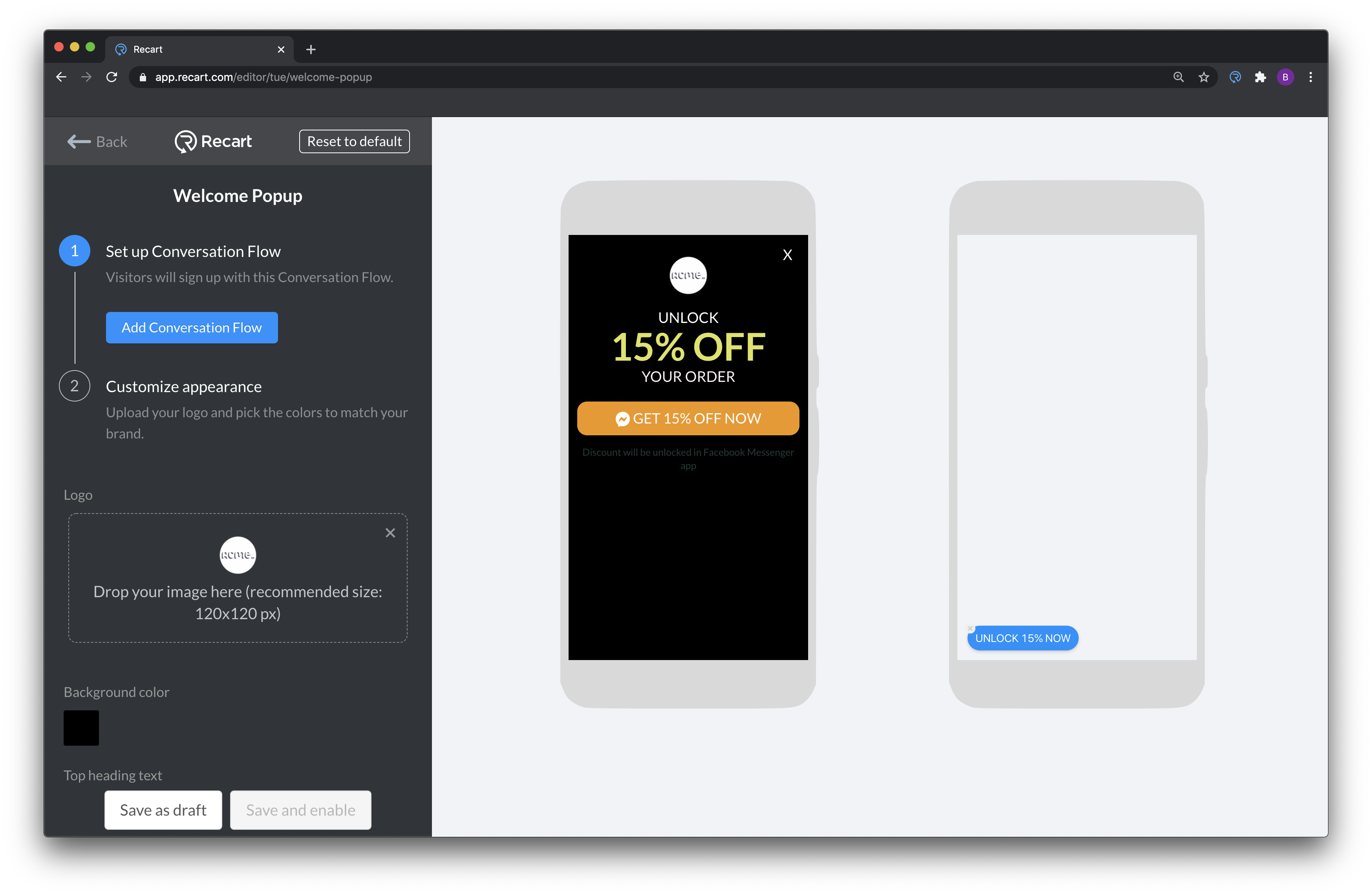 To get the best conversion rates, your popup should have a simple design with a clearly visible call-to-action button. When designing the layout for the Recart Welcome Popup, we made sure that your offer will stand out and your message gets across at a glance.
The colors, fonts, and the content can be customized to perfectly match your brand image. You can also add your logo.
Displayed exclusively for mobile visitors
To avoid any clashes with your email marketing popups, the Recart Welcome Popup will only be displayed for visitors using a mobile device.
Since email popups have lower conversion rate on mobile devices, it is best to keep the email popup enabled for desktop visitors and use the Welcome Popup for subscribing visitors on mobile devices.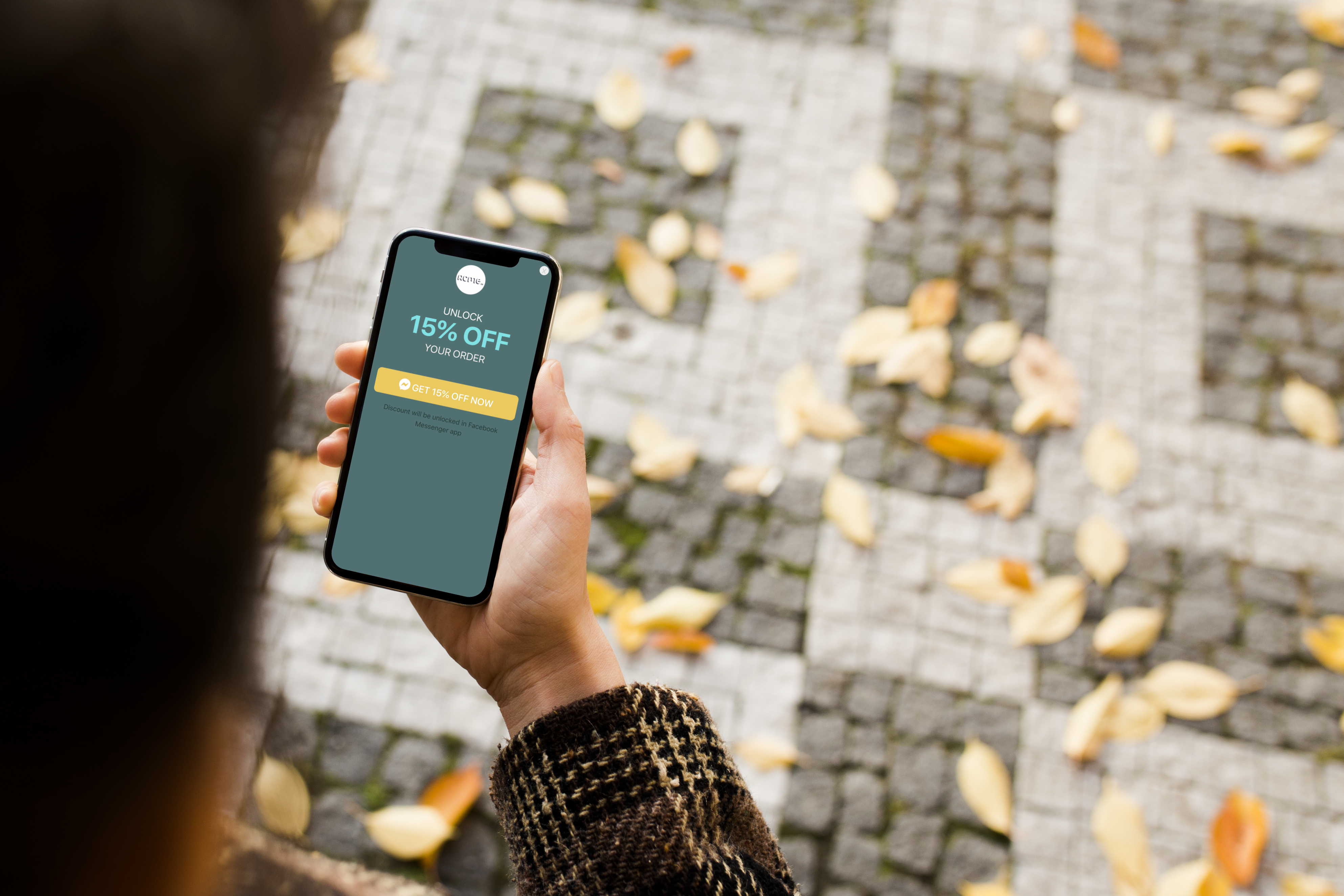 Guaranteed seamless Messenger experience on all devices
With previous subscription tools, some mobile devices introduced undesired friction. The Welcome Popup will open the set conversation flow on all devices immediately.
Therefore, you can be sure that your Recart Welcome Popup will provide the best possible user experience for your customers and the highest subscription rate for your business. Win-win!
Multiply your return with a Conversation Flow
Ideally, all your Recart subscription tools will have a Conversation Flow attached to them that will be sent to all new subscribers. Within this flow, you can collect for subscribers email addresses or phone numbers, offer discount codes, or even provide a fun, unique experience like a quiz.
You can create the Conversation Flow for you Welcome Popup right within the Welcome Popup Editor. Just click on Add Conversation Flow, and the Conversation Flow Editor will open where you can customize the flow to your liking.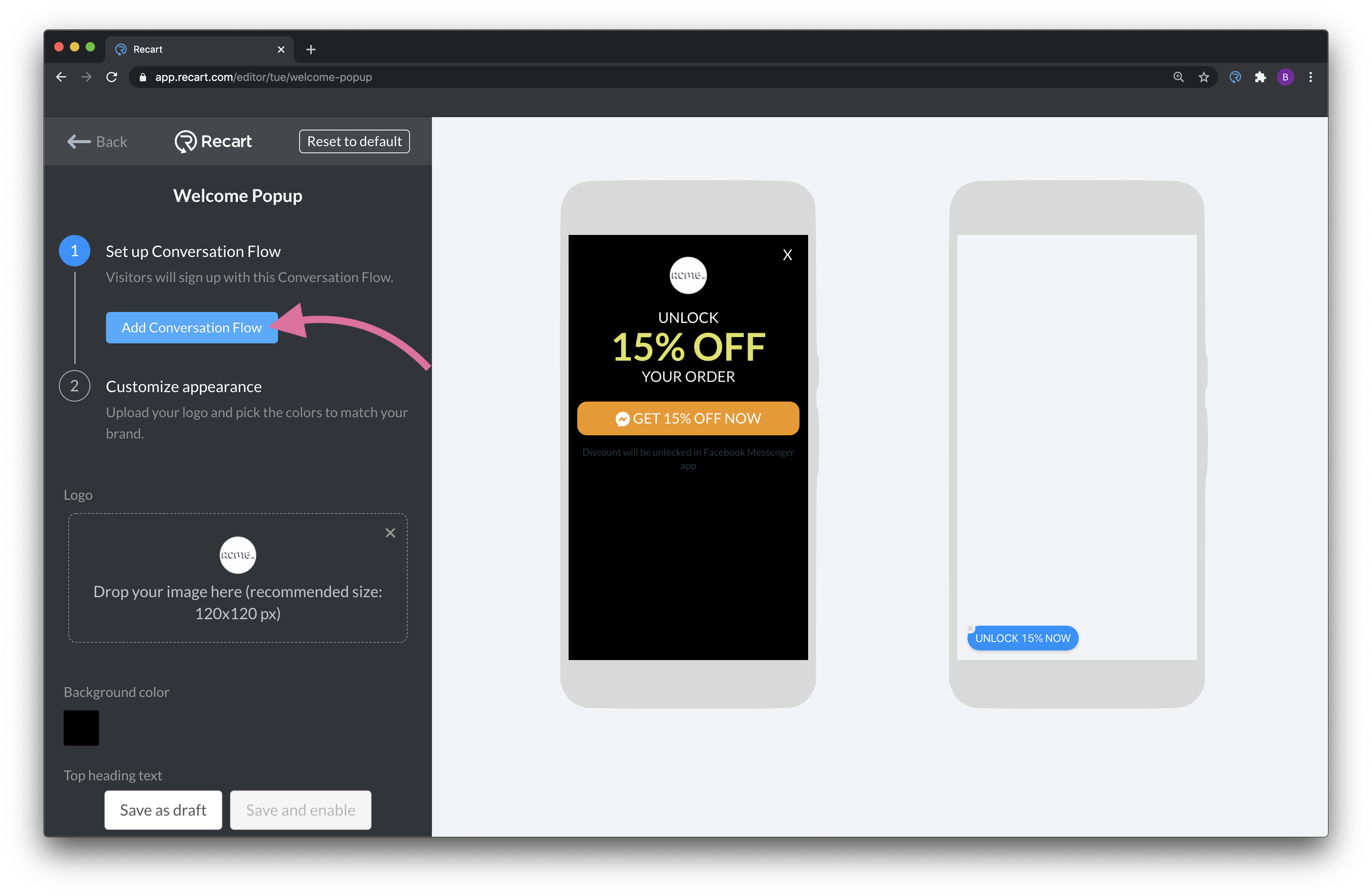 In the Recart Conversation Flow Editor, you can see all messages in one view, so you never get lost between messages while making edits or revisions.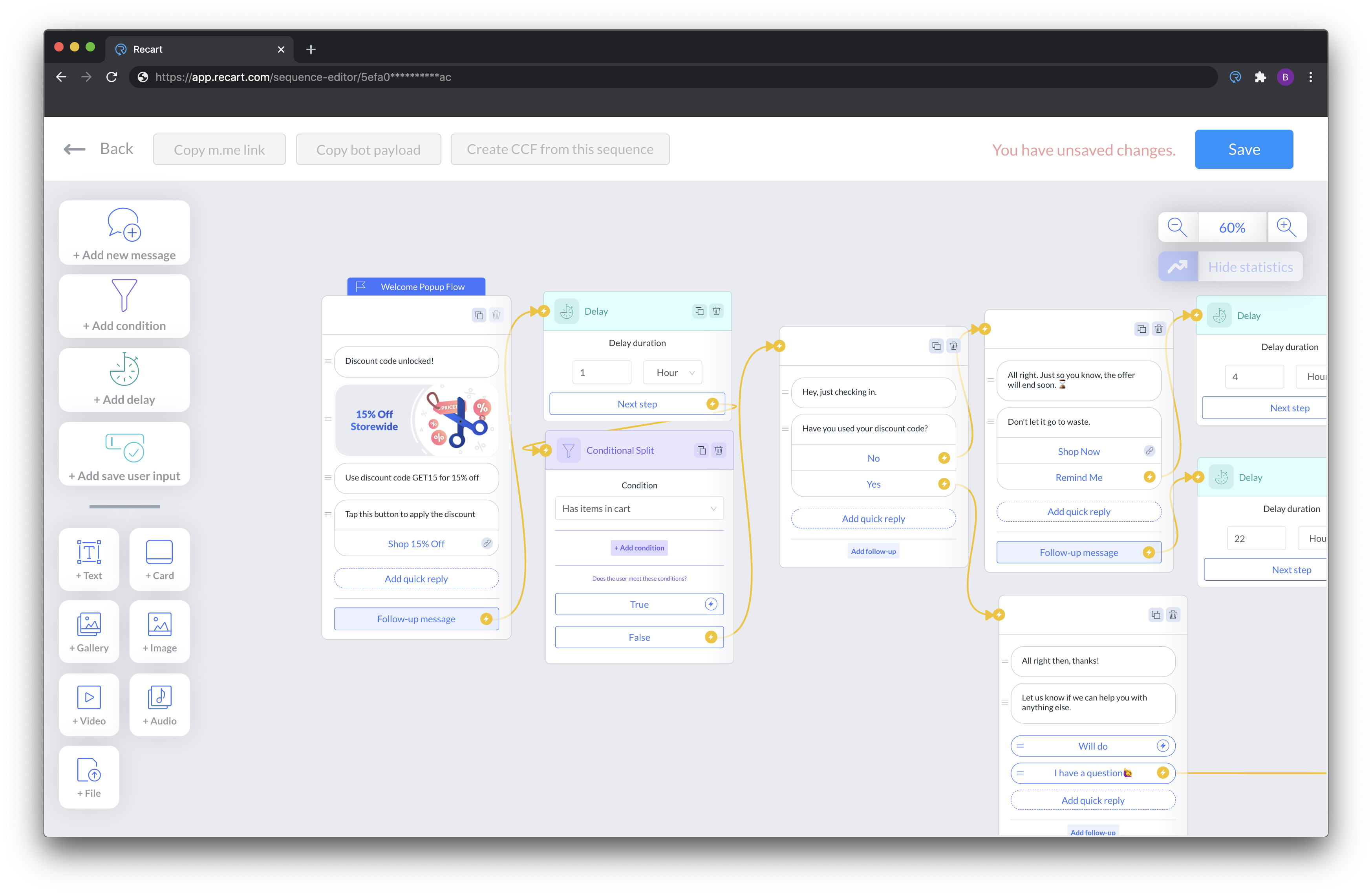 Highest conversion rate for Messenger
During the development of Welcome Popup, we ran extensive tests on multiple real-life stores and saw an immediate increase in subscription and conversion rates, without exception.
We expect all stores to collect significantly more leads, subscribers and sales after enabling the Welcome Popup.
Free addition to all Recart subscriptions
Instead of paying extra for a standalone popup app, you can simply enable the Recart Welcome Popup, available in your Recart account, at no extra charge.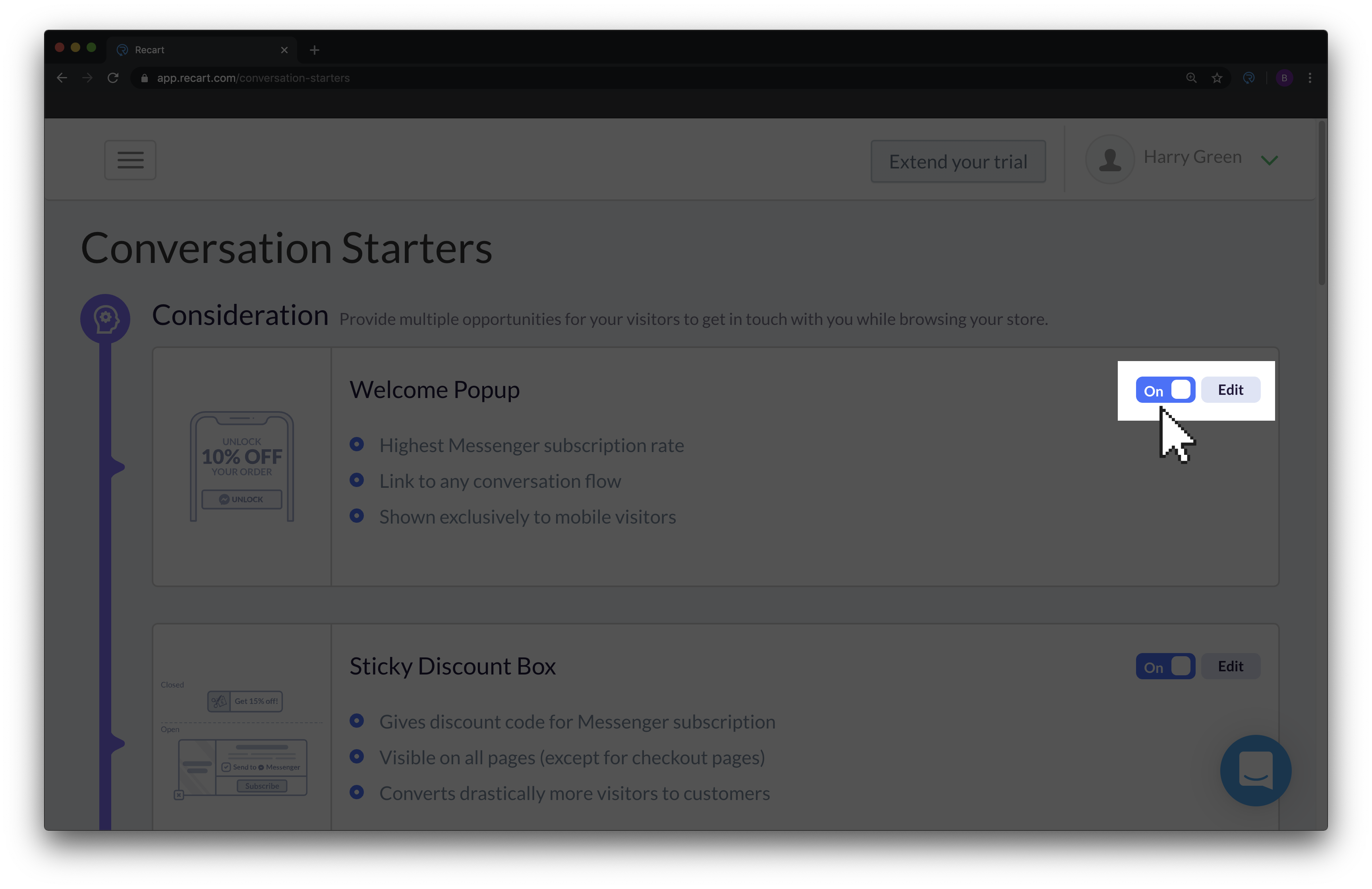 You can also use the Welcome Popup alongside other popups, just make sure that they are set to display for desktop visitors only. This way, your mobile visitors will see the Welcome Popup, while your desktop visitors will see the other popup.
To start using the Recart Welcome Popup, simply visit the Conversation Starters page and enable the popup by clicking on the switch.