Setting up the new Facebook Pixel for WooCommerce is easy as pie.
Download and install our forever free plugin
Add your Facebook Pixel ID
You're all set!
See? It really
is
easy. However, we also struggled setting up the new Facebook Pixels on our WooCommerce sites. Moreover, we had to build our own solution, so we decided to make it available to everyone for free. This is how
Facebook Pixel for WooCommerce
was born. In addition, you won't come across any hidden fees, any monthly fees, this plugin is forever free, all features included.
Important: in 2016, Facebook retired the old Facebook pixel, so it is hard to avoid this free plugin!
Click on Facebook Pixel in the left menu
Add your Pixel ID How to find my pixel ID
Check Events you want to track
Save, and you're all set!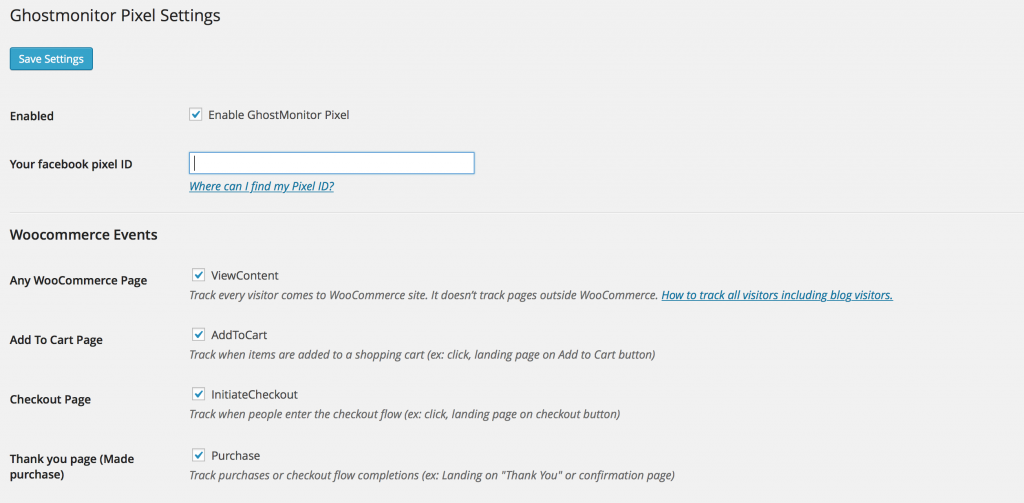 How WooCommerce Facebook Pixel works by default
ViewContent will be triggered on every product page
AddToCart standard event will be triggered on the Cart page
AddToCart dynamic event will be enabled (it will trigger any time the add to cart button is clicked)
InitiateCheckout standard event will be added on the checkout page
Purchase standard event will be added on the thank you page (Please make sure that your PayPal is set to Auto-Return.)
You are now ready to create audiences optimized for each of these events.
How to track all your visitors

Advanced Events Setup
You can create Standard Events for unique URLs:
Set the page URL
Select the Standard Event you'd like to trigger on that URL
Create as much trigger as you need
Save it, and you're all set!
Our WooCommerce Facebook Pixel is not compatible with Facebook Dynamic ads. Yet.
Which event triggers what exactly? Here's some help:
ViewContent: Track key page views (ex: product page, landing page or article)
Purchase: Track purchases or checkout flow completions (ex. landing on "Thank You" or confirmation page)
AddToCart: Track when customers add items to a shopping cart (ex. click/landing page on Add to Cart button)
Search: Track searches on your website (ex. product searches)
InitiateCheckout: Track when people enter the checkout flow (ex. click/landing page on checkout button)
AddPaymentInfo: Track when payment information is added in the checkout flow (ex. click/landing page on billing info)
Lead: Track when a user expresses interest in your offering (ex. form submission, sign up for trial, landing on pricing page)
CompleteRegistration: Track when a customer completes a registration form (ex. complete subscription, sign up for a service)
AddToWishlist: Track when items are added to a wishlist (ex. click/landing page on Add to Wishlist button)
Support
If you have any questions, please shoot them below in the comments section! 🙂