Launching an e-commerce store has never been easier, but scaling one has never been harder. Facebook ad costs grow rapidly (45% YoY), making much more difficult to scale a Shopify store while maintaining a healthy profit margin.
In 2016, marketers could buy a store visitor from Facebook for $0.34. In 2019, the price for the same store visit is $1.72. And the trend won't stop: 1 million new advertisers are expected to start running ads on Facebook in 2019. Additionally, due the upcoming rush season, ad prices are expected to jump 30% from Q3 to Q4 this year.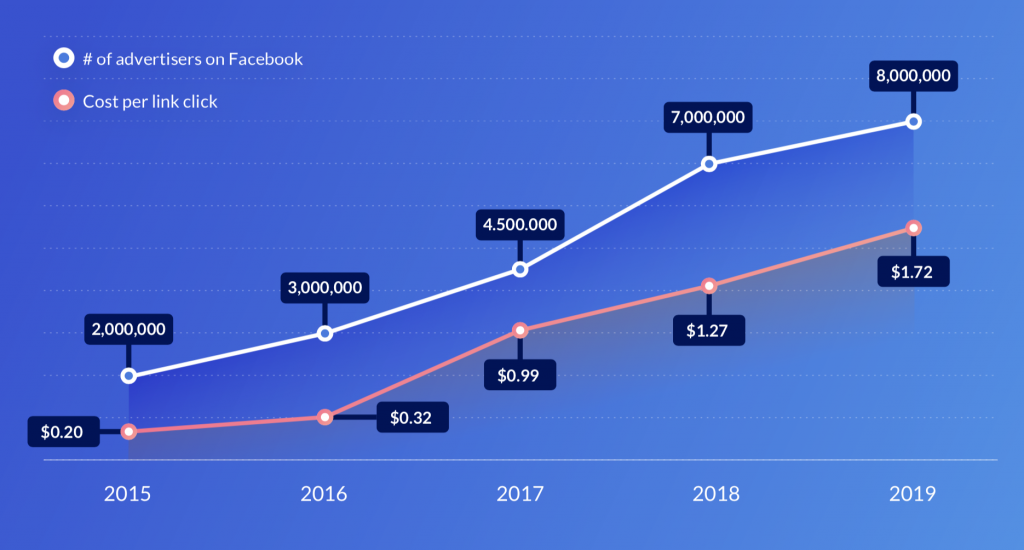 Shopify brands that want to maintain their profit margin during scaling, need to adapt to this change. But how can you adapt to the rapidly rising prices?
To lower your CAC in the world of rapidly growing CPCs, you need to communicate with your customers more effectively. To help merchants increase their conversion rate and significantly reduce their CAC, we introduced Messenger Ad Flows earlier this month in closed beta.
Think about the last time you built a Facebook ad funnel. Most likely, you created an audience, and targeted them with multiple Facebook ads to drive visitors to your store. However, 95% of this traffic didn't purchase, so you created new audiences based on the actions your visitors took on your site (buyers, cart abandoners, browse abandoners) and targeted them with retargeting ads, trying to drive them back to your store. This is how regular Facebook ad funnels work; pay for every single visit and forced into the bid war to be able to pop up in the feed of your customers.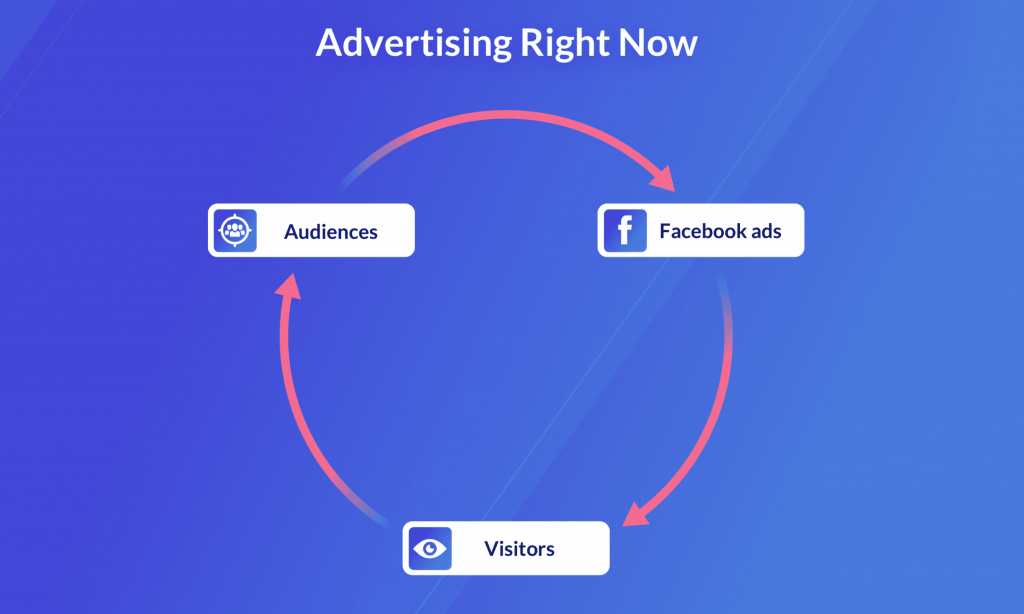 You can do much better with Messenger Ad Flows. Instead of driving customers directly to your website, you can use Facebook & Instagram ads to start a conversation with them on Facebook Messenger. Unlike the regular ad funnel you're using, this method will drive more value to your business and to your customers, too.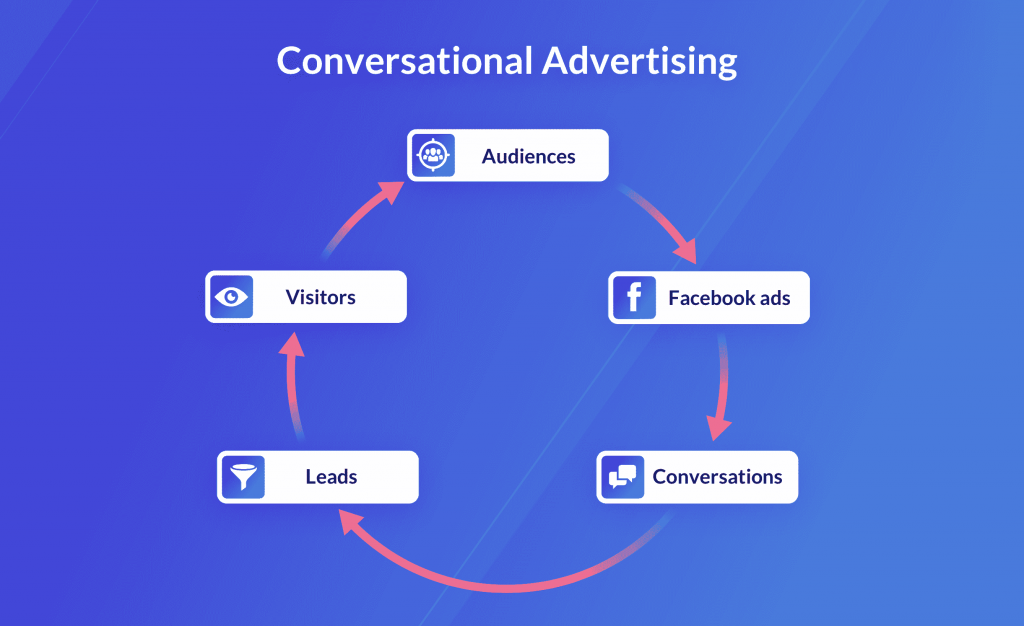 How do Messenger Ad Flows work?
Let's take a common use case: your store offers 20% off during the holiday season. To promote this offer, you create a Facebook ad, however, instead of a regular ad, you create a Click-to-Messenger Ad.
This ad takes your customers to an automated Messenger conversation where they can unlock their discount code. Before you reveal the discount code, you can get your customers' email and/or phone number as well.
Now that they unlocked the 20% discount code, you can drive them to the product/offer page or continue the conversation with a product recommendation, a quiz, or answers to frequently asked questions.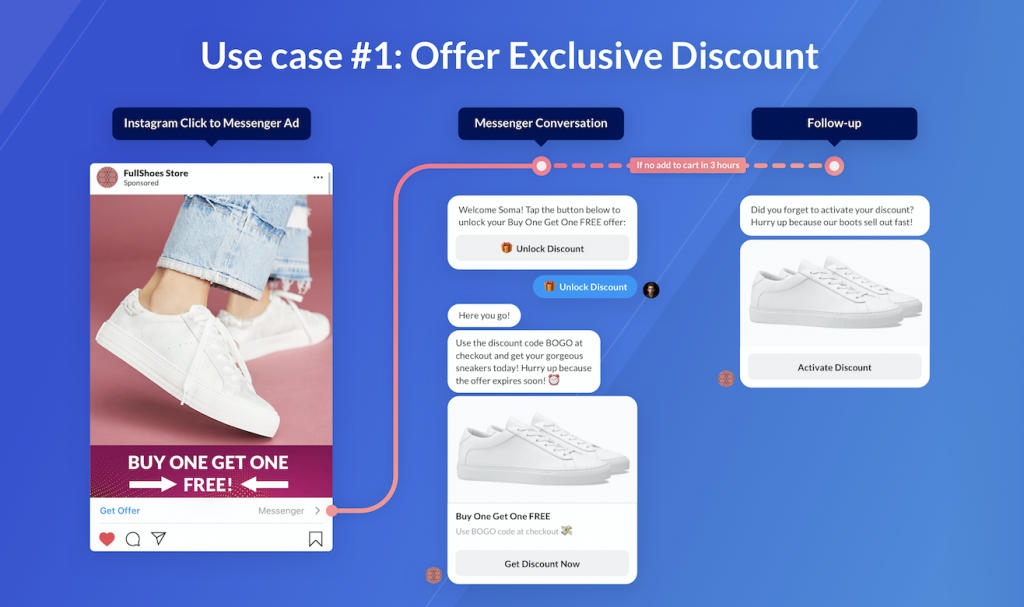 At this point, your customers are in a highly-engaging conversation with your brand that has already generated 1) a Messenger subscriber 2) Email and/or phone number 3) a store visitor. And the best is just to come.
Despite the high engagement, many people in the conversation won't purchase from your store. And that's when the power of Messenger Ad Flows kicks in.
You already have direct access to your customers' Messenger inbox, so it's time to use the power of chat marketing and check-in with those people who didn't activate their discount. Recart's Flow Builder allows you to automatically follow up the slipping away audience on Facebook Messenger.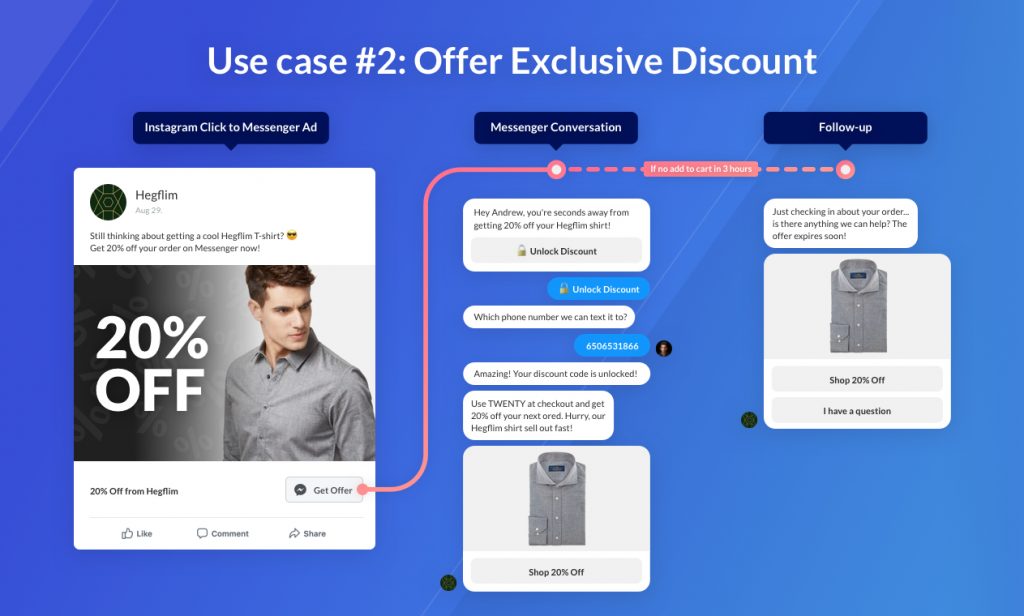 Instead of relying only on retargeting ads and re-entering the bid-war to capture their attention, you can send a free direct message that will shake their phone and drive their attention back to the conversation. No spam or promotional folders here, almost all message you send will be read.
And that's why you need to make sure that this funnel doesn't become a pushy, aggressive experience in the eyes of your customer.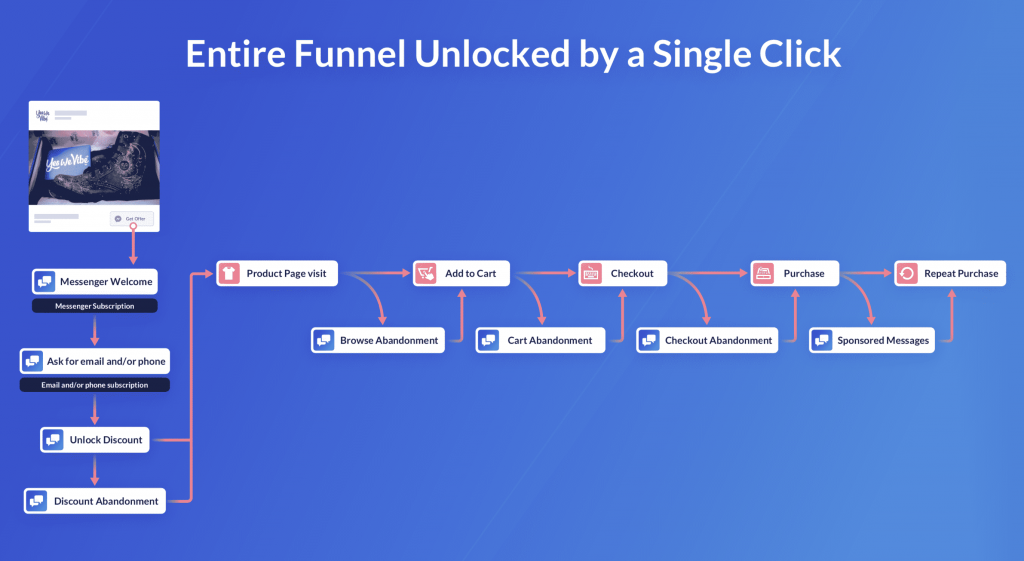 We recommend sending two Messenger follow-ups: one in 30 minutes and another one 23 hours later. While 30 minutes can seem aggressive, we saw the best results with short notices. Don't forget that your customers' average attention span is only a few seconds – they get distracted very easily.
Recart's Flow Editor makes this automation easy as pie. It automatically detects if your customers added anything to cart (if yes, Abandoned Cart or Receipt messages will be triggered) and if not, it fires the follow-up messages.

What are the results?
This is how Recart Messenger Ad Flows compare to a regular funnel: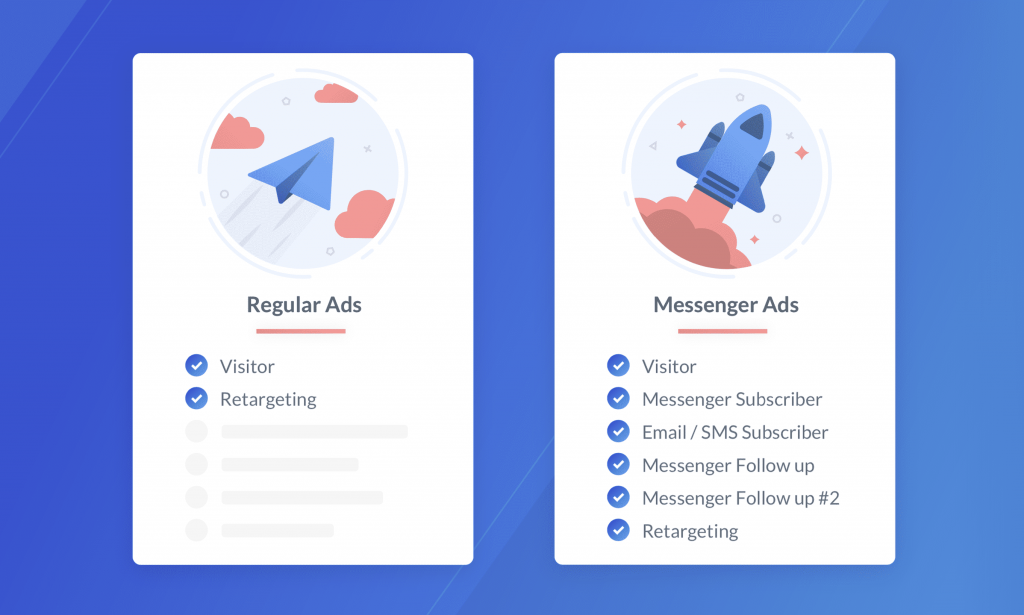 Regular ads gets you a store visitor and the ability to retarget her, but after she leaves your site, you have to pay to reach her again.
Messenger Flows gets much more value from the same click you purchased from Facebook. Here's an example of a simple flow:
Messenger subscriber – upon interaction, she becomes a Messenger subscriber and can be messaged anytime in the future
Email and/or phone number – diversify your marketing
Highly-engaging conversation with your customer
Store visit
Messenger follow up 30 minutes after the conversation
Messenger follow up 23 hours after the conversation
Ability to retarget the customer
Instead of a website visit, you bought six different engagements, including 1-3 subscriptions to your marketing stack. That's how Messenger Ad Flows drive 2-5x better ROI compared to regular ads.
Do you need some help with setting up your Click-to-Messenger Ads and connecting them to the Recart conversation?
First, read our how-to guide on how to set it up. It will help you get up to speed with Messenger ads. Still need some assistance? Just shoot us a message on the live chat and we'll help you with the setup!