3

min read
Running an online store is a serious business. And there are a lot of things to keep in mind and under control. Is the traffic good? Does the product page look appealing? Do I get good reviews from my customers? Can customers reach out easily? And, of course, how is the conversion doing? Lots of questions, lots of concerns for a store owner.
Let me help you with at least one of these worries. In this post, I'll show you how you can significantly boost your conversion combining the power of Facebook Messenger marketing and social proof – with the help of Recart and Loox. Read on and find out how you can achieve impressive numbers with the integration.
Social proof to your advantage
When used in the right way, social proof can increase your conversion rates drastically. But how does it work? From a psychological standpoint, social proof is something that we all need as social beings. It is a way for us to decide what is correct through reference to what other people think is correct. Applied to online shopping, it means that you are more likely to have more sales on your store if your visitors can see that other people have already had a positive experience with your goods.
Loox can help you with that exactly: it helps you to request and gather positive reviews from your happy customers.*
(True to the power of social proof, they, of course, have their own gallery with positive feedback and testimonials from satisfied customers.)
*You might be wondering "What if I get a Loox review from a customer who is actually not so happy?" Don't worry, that review does not need to go on your "wall of fame" – you can control which reviews get displayed. So you can get back to the not-so-happy customer, resolve the issue, and make sure that the next time they give you 5 stars.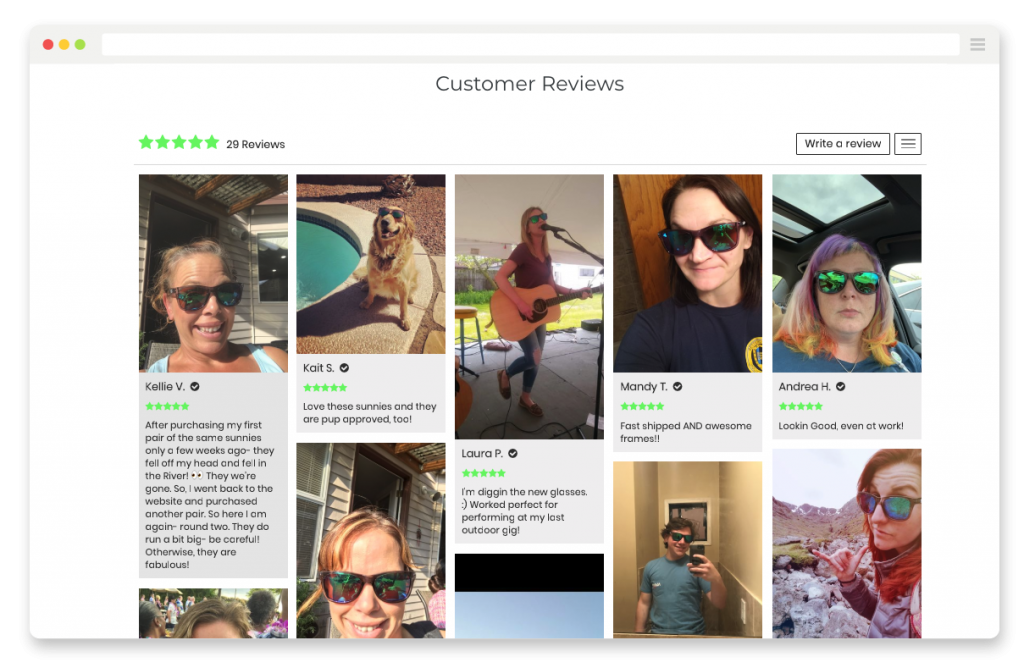 Using Messenger to collect reviews
The second component of the winning combo that can help you increase your conversion up to 91% is Facebook Messenger. Actively using Messenger in your communication with your customers is not only the way to go according to Forbes, but it is also a great source of obtaining the above-mentioned social proof. Using Recart's photo review-collecting Auto Campaign, you can simply send a Facebook message to your customers and request a photo review that they can make without leaving the app with a snap of their smartphone camera and a couple of clicks.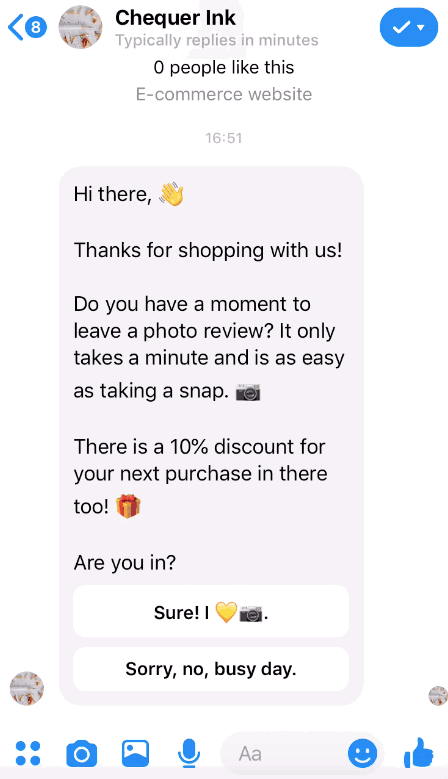 While being on the subject of Facebook Messenger, I also want to stress the importance of making sure your store can subscribe visitors. Without well-adjusted subscription tools (or as we call them, Conversations Starters) it is hard to grow your subscription list so that you can later, for example, reach out to your happy customers and request a photo review. Therefore, we strongly recommend that you use the best tools there are, such as our integration with Wheelio, for example, which can convert up to 15-25% of your visitors to subscribers.
Even better together
Facebook Messenger marketing and social proof are strong conversion mechanisms by themselves. But combined together, they simply make wonders.
After the Recart+Loox integration went live and a sufficient amount of time has passed to draw conclusions, we have analyzed several stores. We did that to see how the integration has been performing. Based on our gathered data, in a month time, an online store can generate 25% more photo reviews with Messenger marketing. On top of that, you can expect click-through rates as high as 10-15%.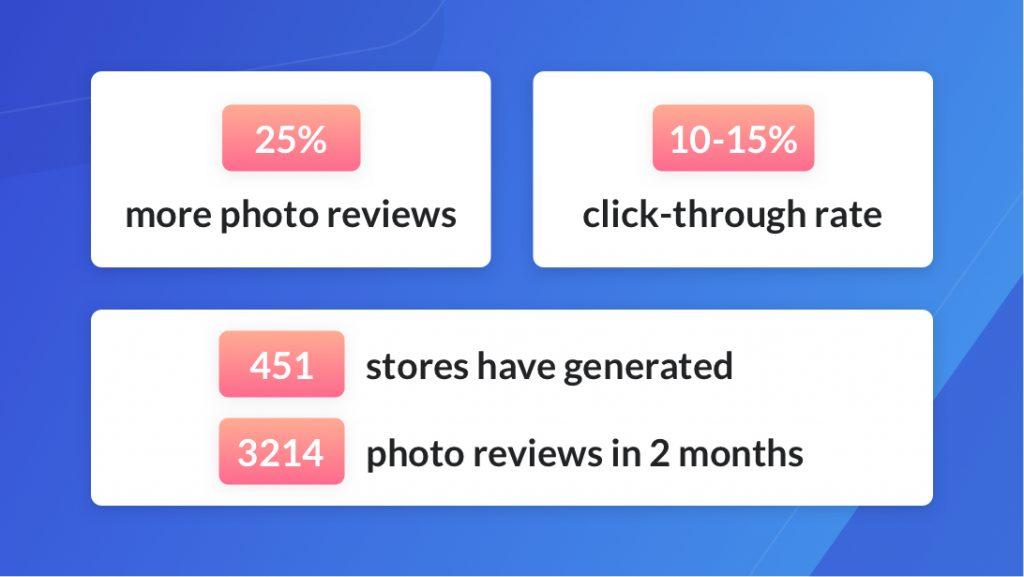 Start using it today
If after seeing these numbers above, you are wondering where to get Loox and Recart, look no further: you can get Recart here and Loox here.
And if you want to see a step-by-step guide on how to start gathering photo reviews on Messenger, simply click here.
And don't forget to enable the Conversation Starters! It will help you to make sure you actually have an audience that will provide you with the reviews.