6

min read
Messenger marketing is unarguably one of the most effective marketing channels today, so Messenger list-building is a hot topic. Conversational commerce is on the rise (many brands' 5-10% revenue come from Messenger channel only), and if you are not utilizing it now, you might be losing out on the trend that's shaping the future of e-commerce.
To help build up your subscription list, we've built an integration between Wheelio and Recart that will subscribe 15-25% of your visitors. This new Smart Messenger integration builds your Messenger and email list at the same time as it automatically shows the best channel for the subscription.

Welcome to the Messenger game
In the last few years, businesses were collecting mostly emails and grew their Facebook pixels. For example, Shopify stores typically use Privy or Wheelio for email collection.
But what about collecting Messenger subscribers? Now, we offer you one of the most effective ways to build your Messenger list – with an integration with Recart's Messenger Widget.
I'm thrilled to announce that Wheelio and Recart now work together even better to grow your Messenger list!
We established that 35-55% of your visitors are already logged into Facebook and can be subscribed with a click for that seamless experience mentioned above. But we also have a way to subscribe those not logged in without offering login forms that can disrupt the experience and negatively affect your conversion.
Our new Smart Messenger feature recognizes whether your visitor is logged into Facebook while they're browsing your store and subscribes them accordingly. If they are logged into Facebook, they are offered the Messenger subscription form and if they are logged out, they see the email subscription option. This way your visitors are offered the subscription option that suits them best, they get an uninterrupted shopping experience and you get subscribers regardless of whether they are logged in or not.
Why should you use the Wheelio Messenger-only Popup?
1. No more typing
Your visitors don't need to manually type in their email address in order to subscribe. It's a one or two click subscription: they tick the box (if it's unchecked), and tap on the CTA button. This gives a seamless subscription experience for customers – especially for mobile users. Once your customers tick the box and click on the button, Wheelio sends them to your Recart Messenger list so you can message them right away.
It's quite possibly the best subscription experience I've ever seen. This is one of the reasons why Messenger marketing is the future. See how easy the subscription is:
2. Get 85% open rates instead of 12%
Most of you still trust email as your primary marketing channel, and that's okay. All I say is that as soon as you see how your first Messenger campaigns perform, you'll switch immediately to Messenger. Don't trust my word, trust the numbers.
The average email open rate is about 12% in e-commerce. The same messages sent via Messenger bring an 85% open rate on average. That's a difference you can't ignore.
Also, Messenger generates a lot more revenue for merchants than email does.

3. Send all kinds of automated and instant messages
After Wheelio subscribed Facebook users to your Recart Messenger list, you can send them automated and instant campaigns from Recart: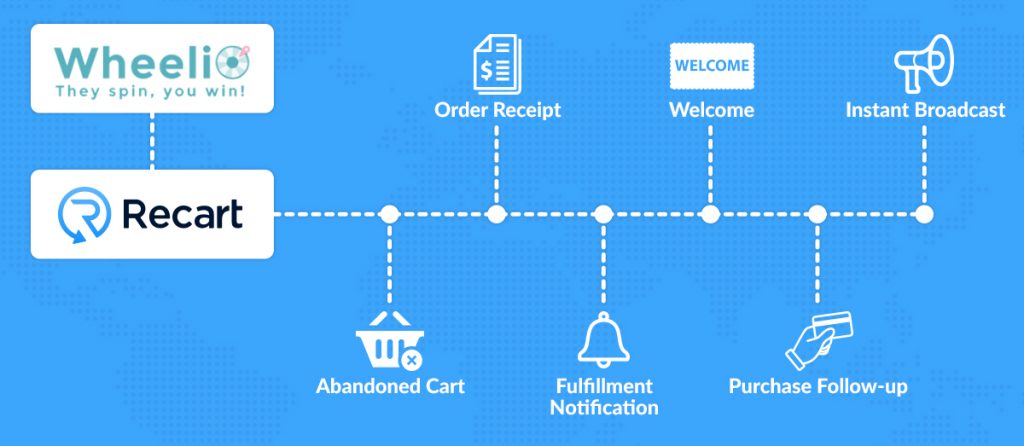 Yep, to their smartphones, right away. Since Recart is built for e-commerce, you can send the following automated campaigns to your customers:
Abandoned Cart
Order Receipt
Shipping Notification
Welcome
Purchase Follow-up
Photo Reviews by Loox
Enable them once, count the sales forever.
And what about newsletters? You can send newsletter-like messages to your Messenger subscribers as well. We call it Instant Campaigns, merchants use it like they used the email newsletters: they announce new arrivals, fresh content, sales, and other promotions.
4. Your customers are on Facebook
After analyzing 15k Shopify stores using Recart, we found that most of the stores rely on Facebook or Instagram traffic. This means that most of your traffic can subscribe to your list seamlessly and have a better experience than ever.
How to Grow Your Messenger List with Wheelio and Recart
1) Install both Wheelio and Recart apps on your Shopify store. Get Wheelio from here and Recart from here.
2) Enter the Recart app (Shopify Admin – Apps – Recart), go to your Messenger menu and connect a Facebook page you'd love to use for message sending.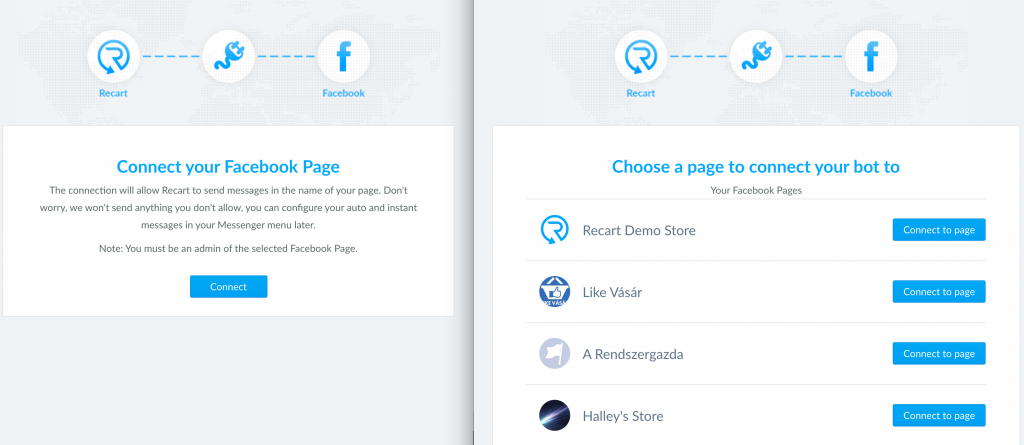 3) Enter the Wheelio app (Shopify Admin – Apps – Wheelio), scroll down to find the 'Messenger ONLY Subscription' section. Enable the Messenger Subscription.
IMPORTANT: Enable all 3 options the Messenger Subscription, Messenger Only mode and Fallback Feature.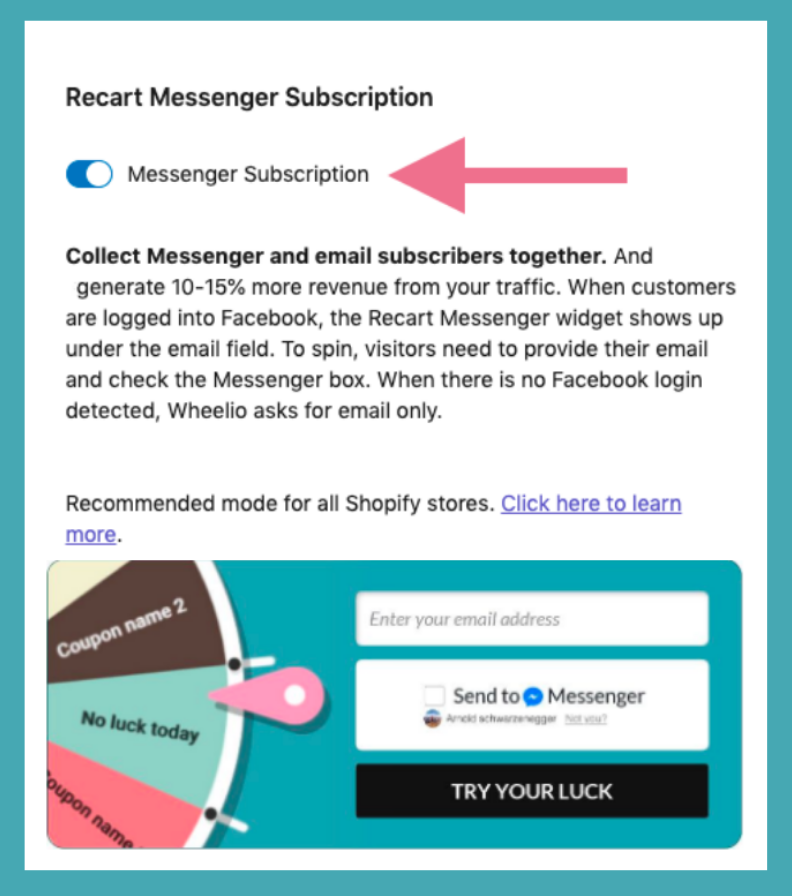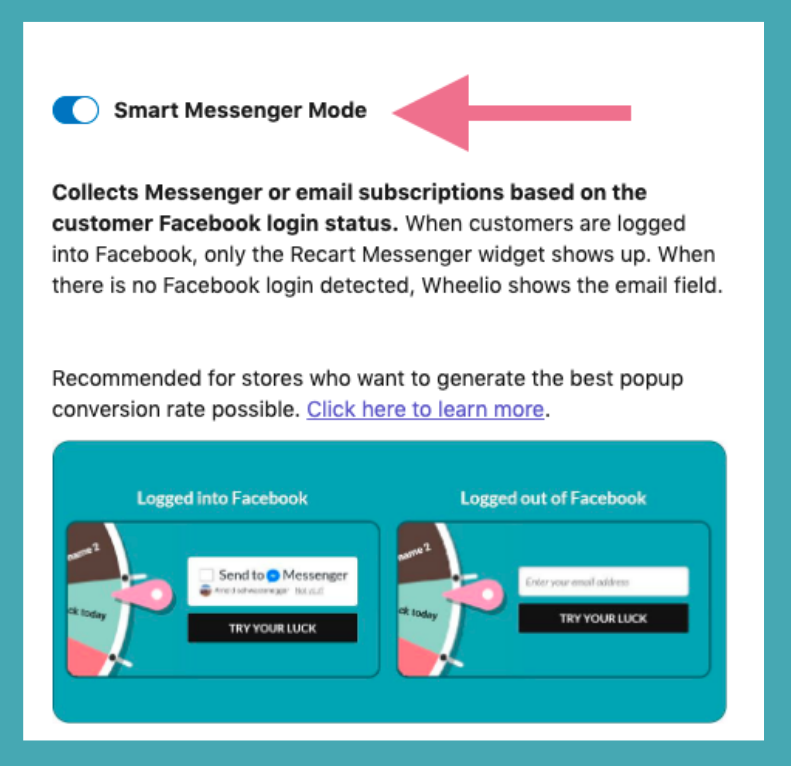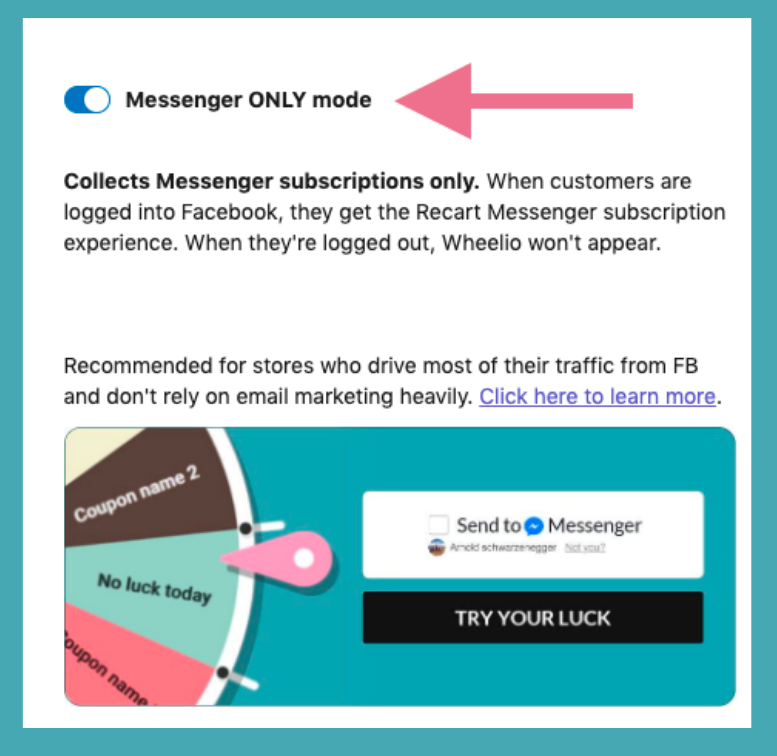 4) The connection is live! Check out your Wheelio popup, you should see the Recart Messenger widget under your CTA button. From now, your players will also subscribe to your Recart Messenger list.
5) Head back to the Recart app and set up your automated campaigns. Go to Recart – Messenger – Automated Campaigns to customize and enable the campaigns you'd love to run on autopilot.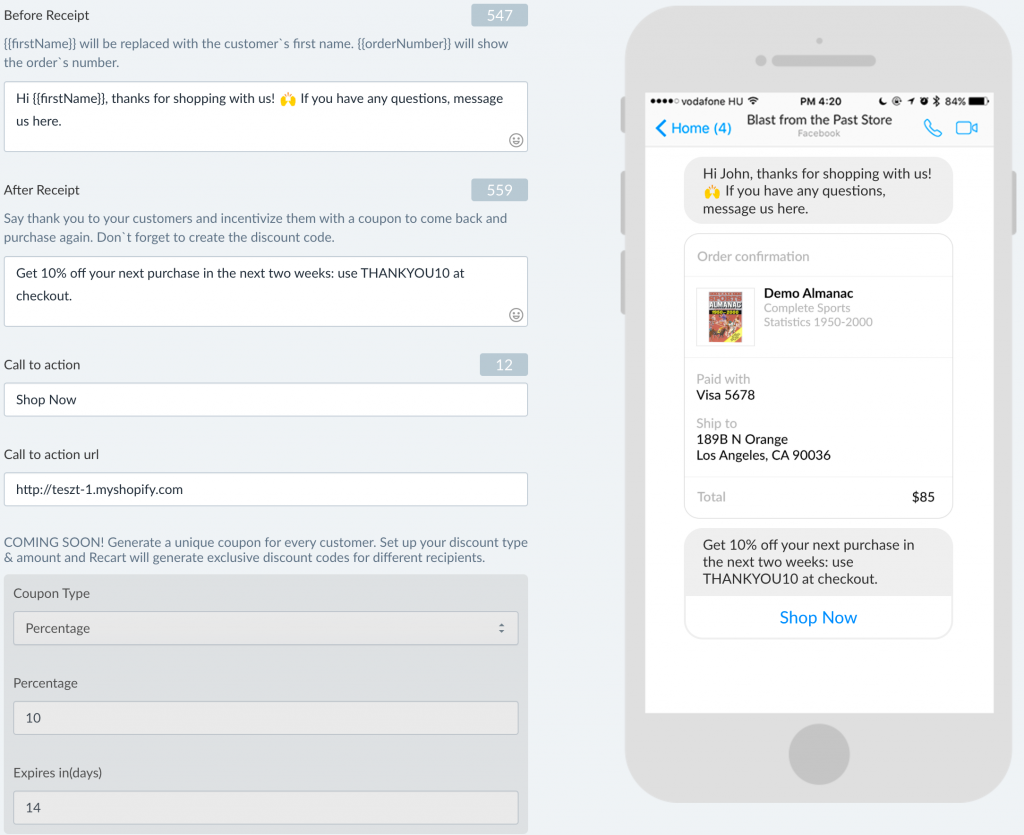 The most popular campaigns are the Abandoned Cart and the Order Receipt campaigns. They will make a lot of $$$ for you. Learn more about the Recart Automated Messenger Campaigns here.
7) Make sure you subscribe as many customers as you can. We recommend you to enable the Sticky Discount Box. For instructions, click here.

8) Follow your list growth on Recart – Messenger Dashboard. (It refreshes every 15 minutes.)

Wait at least for the first 100 subscribers before you send your first instant campaign. Learn how to send Instant Campaigns here.
9) You're all set! Now you grow your email and Messenger list simultaneously. Don't forget to customize and enable your Messenger Auto Campaigns.
---
Enjoy the most powerful e-commerce marketing tool; now it's all yours!
I bet you have a bunch of questions about Messenger Marketing and the new Recart x Wheelio integration. I prepared a small FAQ for you.
Will the Messenger widget appear 'pre-checked'? Since 9 April 2019, all Messenger widgets will appear with an unchecked state by default. Read more about it here.
Can I subscribe Facebook users? Or just Messenger users? The 'Messenger Marketing' term can be misleading because your target audience is all Facebook users. All Facebook users can subscribe to your Recart Messenger list. That's a potential 2b+ Facebook users vs. the 1.2b Messenger users.
Does Wheelio subscribe the Facebook users? Or Recart does that? Wheelio displays Recart's widget. The actual subscription is made by Recart.
Where can I see my Messenger subscribers? You can follow your list growth in your Recart Messenger Dashboard.
Do I pay based on subscribers? Nope, Recart is not that company. We only charge you for the real performance, the extra sales we make for you. Starting from $29 a month. Learn more about our fair pricing here.
I can't see my widget on the Wheelio popup, what can I do? Please double-check that you followed all steps from #1 to #8 and check it from an incognito window. If the widget still doesn't appear, please contact the Recart support.
Will Recart send Abandoned Cart Messenger automatically? If you enable that campaign on Recart – Messenger – Auto Campaigns: Yes! 🙂 Learn more about our automated campaigns here.