In the highly competitive world of retail, you need every advantage you can get. There are endless great products and services out there. Therefore, to succeed, you need to distinguish yourself from the pack.
Savvy ecommerce sellers must do whatever they can to attract and delight customers, to keep them coming back for more.
One way to gain an advantage over your competitors (if you don't want to slash your prices and dip into your profits) is by utilizing fast shipping programs like Walmart Free 2-Day Shipping and eBay Guaranteed Delivery to raise your visibility.
What is Walmart Free 2-Day Shipping?
Walmart Free 2-Day Shipping ensures shoppers get their items within 2 days, with no shipping charge. This program launched for Walmart listings with a $35 minimum charge, but there's no such requirement for marketplace listings (3rd party sellers). That means shoppers enjoy free 2-day shipping on items without any membership needed.
There are two ways to get on the Walmart Free 2-Day Shipping program.
1 – Self-fulfilled
You can request access to the program within your seller central, and the Walmart team will let you know within 48 hours whether you've been approved. However, if you cannot ensure nationwide 2-day delivery, you can opt to only show those fast shipping tags to shoppers in specific regions.
To be eligible for Walmart Free 2-Day Shipping, sellers must meet and maintain the following requirements:
On-time shipping & delivery: >95%
Valid Tracking Rate: >95%
Cancellation Rate: <1.5%
Favorable returns policy
Must have been on the Walmart Marketplace for > 90 days
Has fulfilled a minimum of 100 orders in the past 30 days
2 – Deliverr-fulfilled
All Deliverr sellers are pre-approved for the Walmart Free 2-Day Shipping program. And Deliverr handles meeting all service level agreements for you. Just go to your Deliverr dashboard, navigate to Fast Tags, and click a button enabling this program.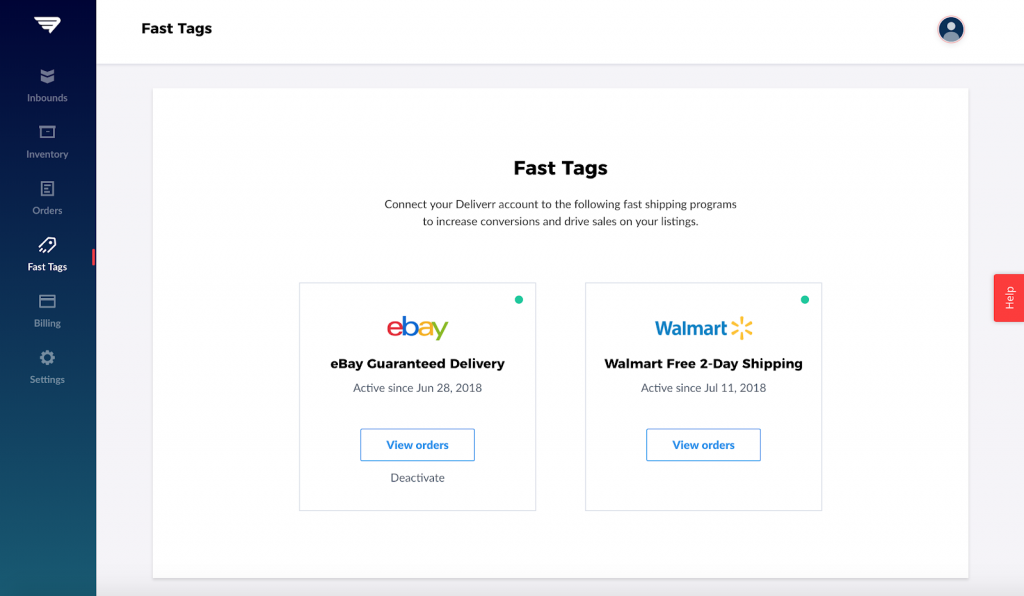 Deliverr also guarantees nationwide 2-day shipping. It means shoppers across America will see those Free 2-day shipping tags on your activated listings.
What is eBay Guaranteed Delivery (eGD)?
eBay Guaranteed Delivery is eBay's fast shipping program and their answer to Amazon Prime. It ensures delivery within a set period of time from 1 to 4 days, and buyers can filter product search results by 3-day delivery or less. This setup also gives eBay sellers the opportunity to boost their listing visibility.
To be eligible for eBay Guaranteed Delivery, you need to:
Maintain a high-performance score
Use an eligible delivery service (or 3PL that does),
Accept returns
Require immediate payment
Have a minimum of 100 annual transactions
Have a late shipment rate of 5% or below
There are two ways to get your products on eBay Guaranteed Delivery.
Handling time option
In this option, eBay calculates the delivery time, and the seller handles the shipping. The seller must prepare the item and ship within eBay's time requirements. They usually have one working day to get the items ready.
With Handling Time Delivery, eBay takes responsibility if the delivery arrives late, and handles all returns. Due to that, this is a good option for small sellers who have stock on hand that can be shipped quickly. But the downside is that you're limited to eBay's carriers and capabilities.
Door-to-door option
When using this option, the seller is responsible for calculating delivery time and ensuring that items reach customers in the agreed timeframe. In this case, if any delivery is delayed, the customer can either choose to keep the product and get a refund on the shipping or return the product for a full refund from the seller.
This option works for bigger sellers with multiple distribution centers or warehouses. It means you can set your own rates and offer faster delivery times than eBay's Handling Time Delivery option.
Note: Deliverr integrates directly with eBay Guaranteed Delivery so you can activate fast shipping tags on eBay through the door-to-door option. Deliverr will handle meeting service level requirements.
Why fast shipping tags get conversions
Seeing the 'Free 2-day shipping' tag or the 'Guaranteed delivery' badge offers buyers peace of mind and a better, more convenient, shopping experience. With marketplaces backing up delivery dates, buyers know they can shop with confidence.
Fast shipping tags ultimately help you increase your sales by increasing your visibility, gaining trust, and improving your conversion rates. So here's how they give you a competitive edge.
1 – Outrank your competition
Your listing's rank in search results plays a vital part in being seen by shoppers, with many marketplaces compressing similar listings under one buy-box-style overview.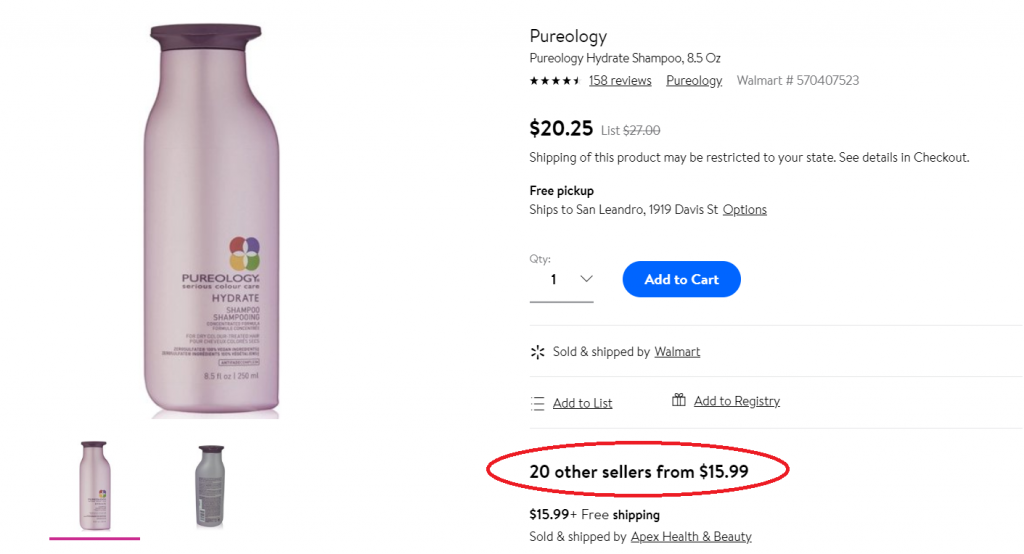 This not only lowers the visibility of all the other sellers who didn't land the buy box, it also makes it incredibly hard to compete unless you own that top listing.
One of the best ways to outrank your competition is to enroll in fast shipping programs, since many marketplace algorithms prioritize the customer experience. You'll show up higher in search results, especially when shoppers filter for fast delivery dates.
2 – Capture the last-minute market
Last-minute buyers are nothing new. But many of them still shop in conventional stores because they are concerned about delivery times on online purchases. This makes fast shipping tags the perfect way for you to capture a share of the last-minute market.
With fast shipping and guaranteed delivery, you ensure that last-minute buyers get their products on time, which increases conversion rates.
3 – Protect your prices
By guaranteeing delivery date, you appeal to customers who are prepared to pay more for reliability and convenience. Marketplace search engines focus a few key factors when determining which listings shoppers see, including shipping method and reliability.
Getting on fast shipping programs will help you increase convenience, trust, and customer satisfaction, which can, in turn, encourage positive review and customer loyalty. These all contribute to healthy margins and happy shoppers.
In a highly competitive market, Walmart Free 2-Day Shipping and eBay Guaranteed Delivery provides the edge you need to beat the competition. It enables you to increase conversions and grab your share of buyers by promising fast shipping and including your listings among the most trusted on the platform.