I'd just dropped over $300 on a single pair of boots – ~4X more than I'd usually spend.
And you know what? I had ZERO thoughts of taking them back – strange as I usually suffer from terrible buyer's remorse
I was convinced these were the right boots for me (despite the massive price tag).
But why?
Because the sales assistant had asked questions to understand my needs for a personalised recommendation.
Conversations = trust. Trust = sales.
I was so confident these were the right choice I paid ~4X more than I normally would.
Good story right? But it's not exactly applicable to ecommerce… or is it?
Conversations are at the heart of successful sales efforts. And thanks to Messenger you can leverage trust building conversations in your digital marketing.
Today, I'm going to explain how our customers have achieved 4X the sales, reduced abandonment by 70%, and increased revenue an average of 300% after little more than a 60-minute setup.
The Key to Selling 10X More on Black Friday
Black Friday weekend is one of the biggest sales weekends of the year.
I've known people who can double the amount of revenue they make for the rest of the year in this single weekend.
Of course, this is common knowledge, right?
We've all seen the stats like the below where stores see massive increases over their regular sales numbers.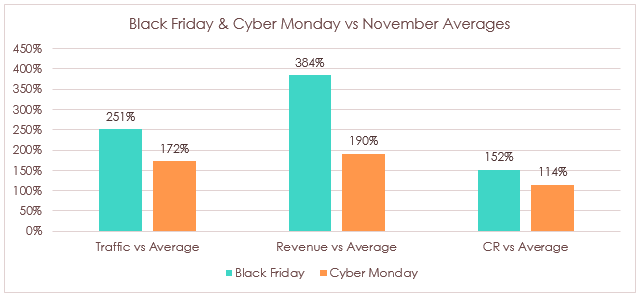 And so we all do whatever everyone else is doing. We:
Set up extra email marketing campaigns in the run-up

Implement specific ad retargeting campaigns for this weekend alone

Create dozens of vouchers, deals, and ads to get people to our site
And what's the result?
Often, it's an overwhelming bombardment of correspondence our users have no chance of fully appreciating.
Especially when you realize it's not just you who's kicking their marketing into overdrive for the weekend, but every other direct and indirect competitor out there.
The result is oversaturated channels with messages that are mostly ignored.  
Fortunately, there's an easy way to stand out from the crowd and massively increase, perhaps even 10X your sales through the Black Friday weekend.
Messenger marketing.
It's on the rise and is the key to massively increasing your sales. Don't believe me, then check out these stats.
Messenger usage has seen year on year increases and is predicted to be used by more than 58% of internet users within 4 years.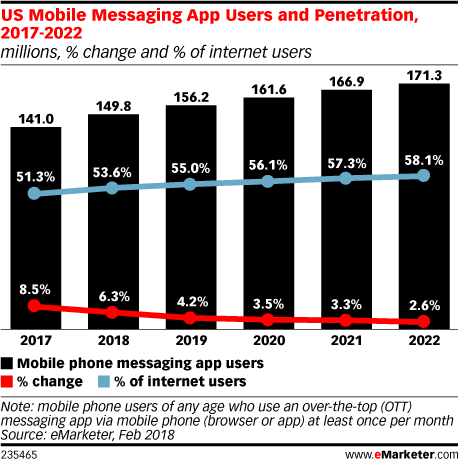 So message app usage is on the rise.
We also know that Messenger massively outperforms email when it comes to conversions. In our own research, we found that Messenger outperforms email in every key metric for transactional messages.    
Ok, so an increasingly large audience, and much better add-to-cart rates.
But what about sales?
Well, according to a ChatBotsLife example of 10,000 users, the sales conversion for a chatbot through Messenger is 35X higher than your regular website funnel.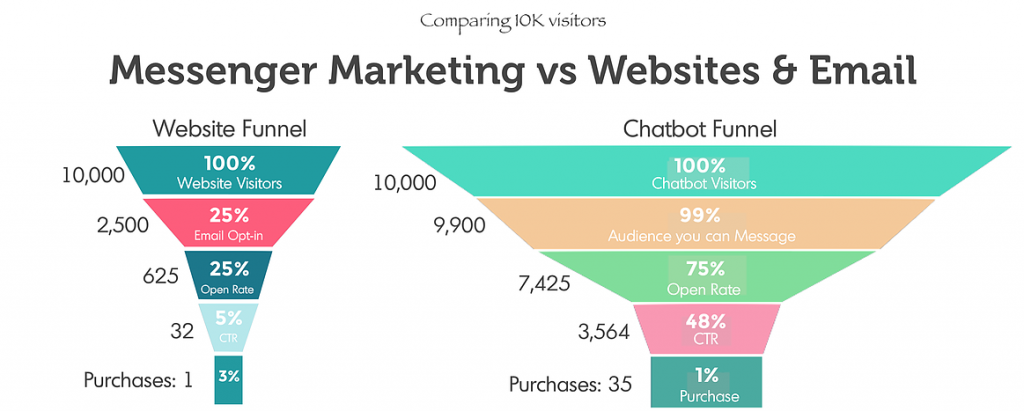 35X more.
Kind of makes the headline promise of 10X seem super irrelevant, right?
Messenger marketing is the key to absolutely smashing your Black Friday weekend sales projections.
Cause here's the thing.
Communication between customers and your brand is changing. People want the instant, conversation-based communication that can only be supplied through Messenger.
As you can see from above, more people are using the tools and it's already driving the highest amount of sales.
If you want to experience 10X (or even 35X) the sales you could this Black Friday weekend, you've got to have a Messenger campaign inboxed place.
The real question is, how can you leverage Messenger marketing this year to get the most from your store's sales?
Don't worry. After years of practice and millions of message sends, we know a thing or two about Messenger campaigns, and we're sharing them with you right here.
How to Leverage This 10X Marketing Channel this Year
OK, so, Messenger marketing is the new golden child for ecommerce marketers.
That's great, but what exactly does it mean?
How on earth are you going to turn "high engagement" into actual sales?
There's a lot of info about why this is the next best thing in marketing, but very little in terms of actionable advice on how to use Messenger to increase sales.
So let's get into that actionable advice.
New conversations (for nurture)
One of the biggest mistakes I see merchants make is with their new user welcomes.
Too often brands do little more than send the customary "Welcome to [Brand Name]" email or message after a user opts in to hear more.
And that's a huge missed opportunity.
It's a missed opportunity because a welcome message is one of the most anticipated and highly engaging messages in any sequence.
The below stats might be for email, but the point stands that users will engage with a great welcome message.

To send nothing but a simple "hey, how ya doing" here is a waste.
People are opening and reading these messages at a much higher rate than any other. If you're approaching your campaigns with any degree of strategy, then you'll know this is one of the key areas to optimize.
How to Create Great Messenger Marketing Welcomes
When you couple the crazy engagement of welcome messages with the massive opens of Messenger, you've a recipe for success.
Here's how you can set up a welcome message that works to build trust and drive sales with Recart.
Step 1 – Sign into Recart and navigate to Welcome Messages.
When you've signed up and logged into recast you'll need to click on Messenger, then scroll down until you see the Messenger Welcome option.

Step 2 – Pick what kind of Opt-In Source you're Writing a Welcome For
As standard, Recart comes with a number of integrations to help you grow your Messenger list.
Each one needs its own individual welcome message to ensure the user gets the most relevant experience for them.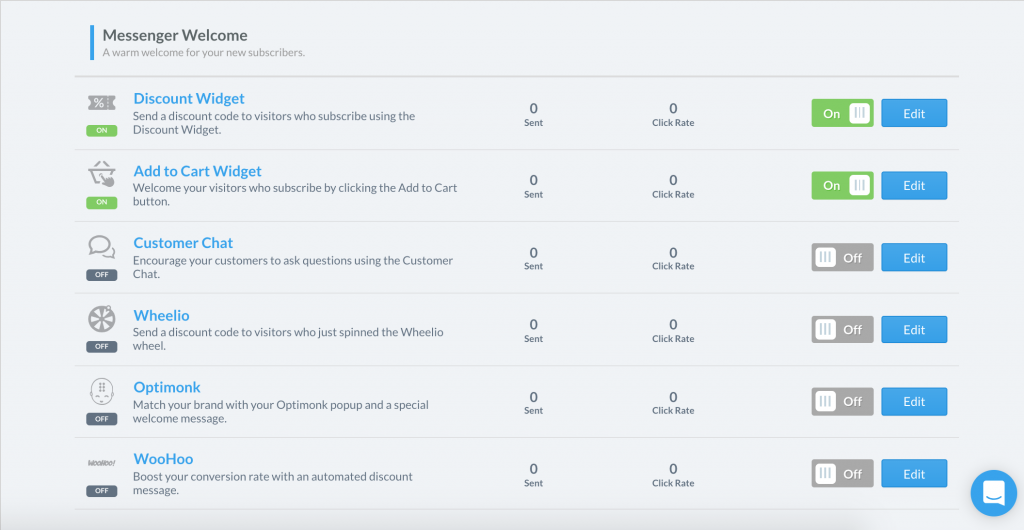 The opt-in sources can generally be broken down into 2 fields.
1 – Discounts
2 – General chat welcomes
Let's look at how to set one of them up (I'll get into more detail on the best welcome messages for each group shortly).
Step 3 – Choosing your Message Template
In the below, I've clicked through to edit the Discount Widget message.
You can see that there's a number of different templates to choose from. These templates are a great starting point for all the different forms of automated messages you're able to send with Recart.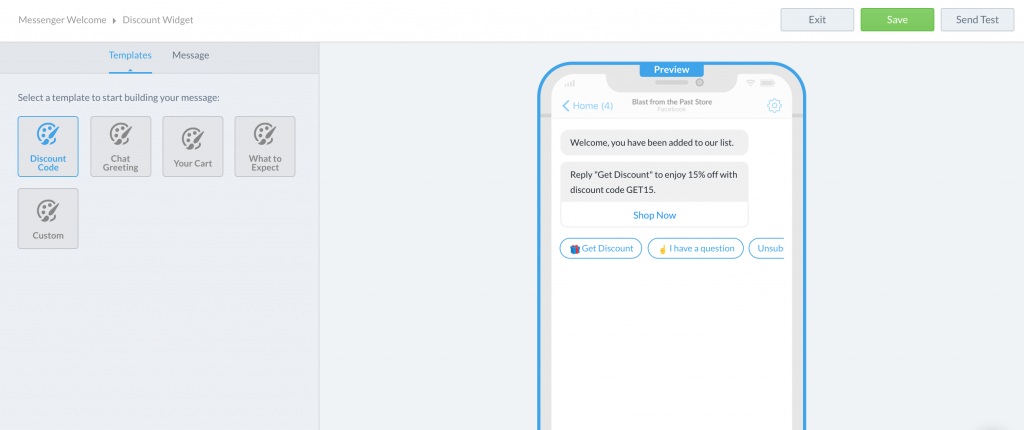 As I was editing the discount widget, I've chosen the Discount Code template.
You can see that, off the bat, it's got everything you'd need to get this up and running with a simple click.
However, we always recommend a little personalization.
Step 4 – Personalise your Message
So the templates are there to give you a starting point.
After extensive testing we know that these messages will work to help you drive more engagement and sales, however, we also know the best results come from personalization.
Here are a few general rules for personalizing the templates.
Make sure to leverage your brand tone of voice

Keep it short and sweet – this is Messenger, not email

Get to the point and make sure the message is relevant
It's that last one I want to expand on a little here.
A welcome message that's following on from now of our integrations like Wheelio, WooHoo, or the Discount widget are self-explanatory.
You lead with the discount they've requested/won.
However, for things like chat welcomes you've got to open a dialogue. So make sure you ask a question that gets them to answer and helps you best route the question for a relevant answer.
The welcome message you send sets the tone for the user's relationship with your brand. Make sure it's friendly, but more importantly, useful.
This step is key in securing trust and the sale.
Cart Abandonment Messages
Cart abandonment is one of the most damaging problems in ecommerce.
Just under 80% of carts were abandoned during the 2017 Black Friday weekend.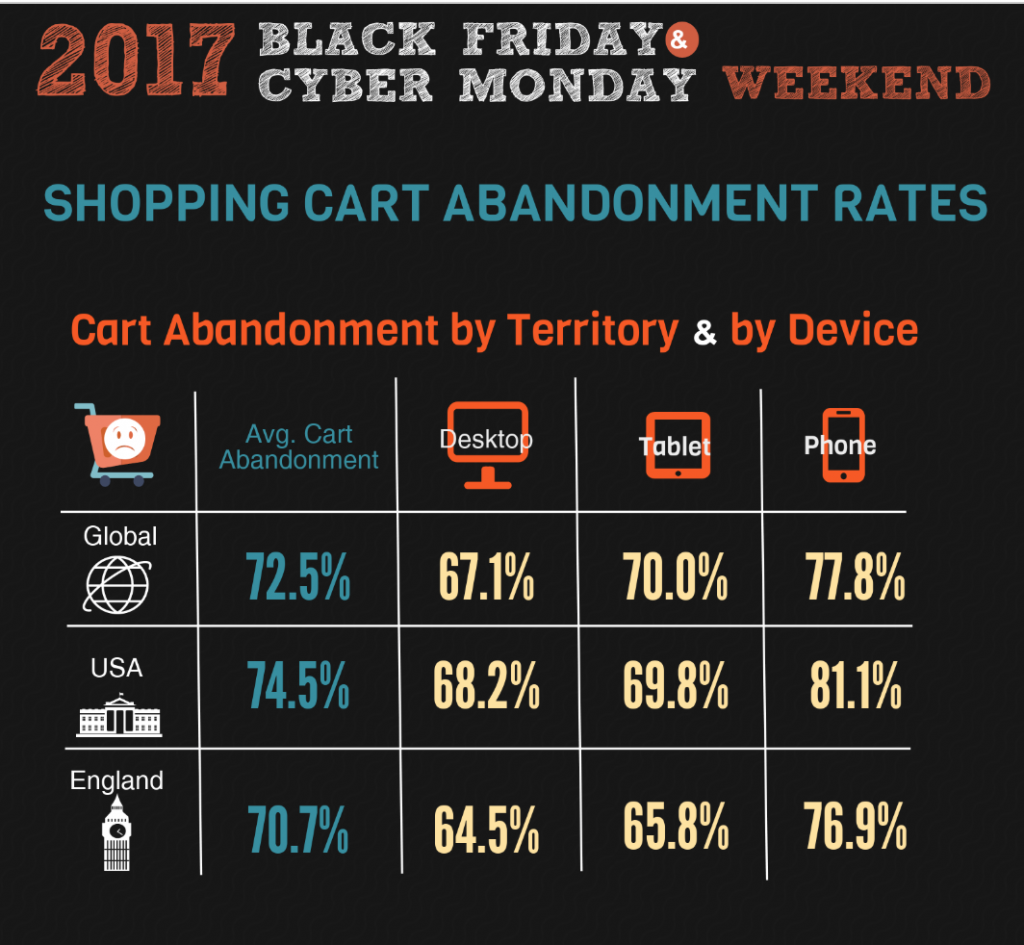 Putting a dent in this massive abandonment rate is one of the easiest methods for you to quickly and easily hit that 10X sales increase you want.
And of course, with Messenger's massive engagement rate, it's the perfect vehicle to achieve it.
So how can you set it up?
How to Set-Up Abandonment Campaigns for Messenger
Step 1
–
Go to the Dashboard
Head to Messages > Auto Campaigns then click on the edit button next to Abandoned Cart Messenger Campaign
When you click through, you'll see three message options. These are the three follow up messages that will automatically send.

Let's take a look at the first one.
Step 2 – Edit the Messages
OK, so there are three messages, right?
Each one lists its own sales and engagement stats for easier optimization.
If you click edit, you'll be able to customize every element of the message as shown below.  
Here's a couple of points for great cart abandonment messages.
Focus on clarity over a hard sell message

Make use of the background image

Both that background image and copy should reinforce your brand's identity

Play around with messaging and run some tests to find what works best
Generally speaking, message 1 will get the highest number of sales and activity, followed by message 3. You've got to start and end strongly.
Which brings me to my next point
Step 3 – Set up the Timing of Messages
By default, the message timeline is set to 1, 2, and 3 hours.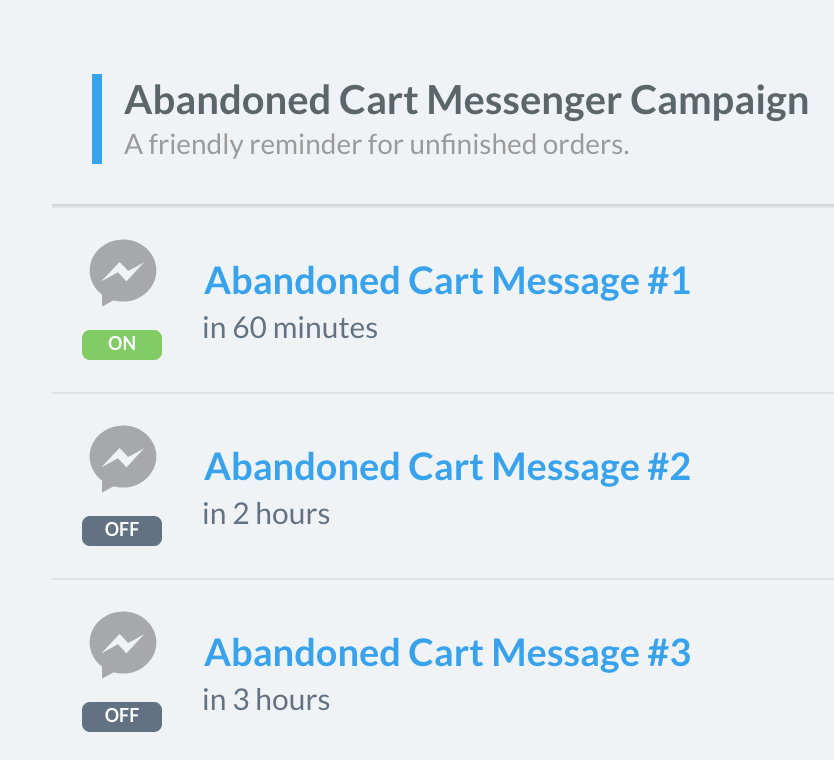 You should not leave it like this.
You have 24 hours after engagement to send promotional messages (if you want to read ore on Facebook's 24+1 rule, click here).
Make use of that time difference. I'd recommend one of two approaches here.  
The first is to spread them out over the 24 hour period.
So message one goes out after 1 hour. Message 2 after 12, and message 3 at 23 hours.
The second method is to leverage the +1 within Facebook's rules.
So you send the first one out between 1 and 3 hours after engagement. Message 2 between 12-16 hours, and message 3 at 22 – 28 hours.
This way you stay top of mine without breaking any rules.
Step 4 – Adding a Black Friday Twist
Ok, so timing the messages as above is a great way to spread them out and stay top of mind during this crazy sales period.
However, I would also remind people within those messages that the sales will expire shortly.
Don't use a generic abandonment message during the BFCM weekend.
We all know FOMO is a huge action driver so make sure you're using it through the weekend.
Remind users that yes, there are times in their cart. And yes, if they don't purchase before XX:00 on Monday evening that they stand to lose access to a X% saving.
It might seem like a hard sell, but you're really doing them a favor.
How to Make Sales withMessenger Receipt Notifications
We've all received an email receipt, right?
Those generic, bland emails we get through after tapping in our card information.
Here's one I recently got after purchasing a birthday gift for the missus.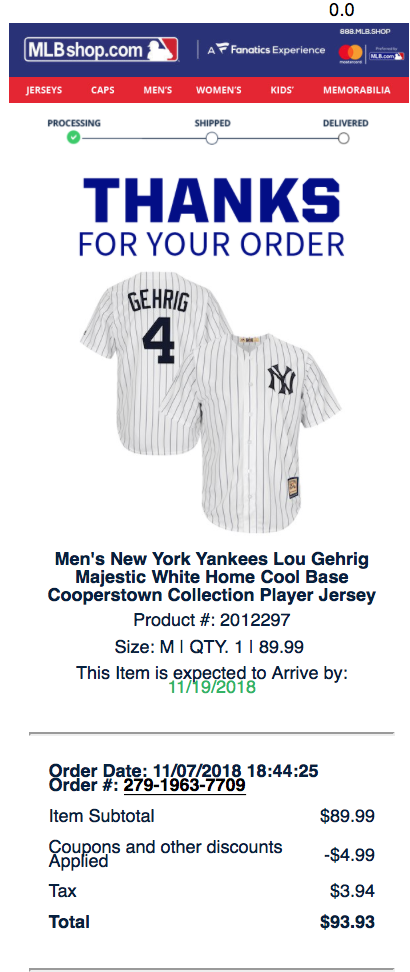 I appreciate the notice that everything went through fine.
I also appreciate the tracker at the top (which only updates through subsequent emails)
However, they're really missing a trick here.
The MLB shop is still running a huge sale, something I'll only find out if I go back to their store.

If this was listed within the receipt, I'd be far more likely to head back to the store and maybe pick up something else.
It's no secret that repeat customers are far more profitable than new customers as they're easier to sell to and spend more.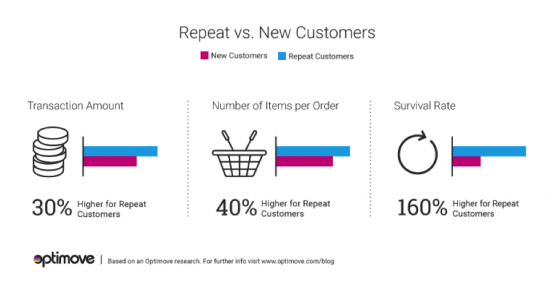 Reminding your customers there's a sale on isn't too pushy.
It is, in fact, a huge favor to your customers. I mean, if you told me that I could still save myself a few hundred bucks (or even a few dozen) I'd thank you for the reminder.
Using the receipt to remind people that there's still a sale on is a great way of increasing sales through this super busy period.
And here's how you can set them up.
Step 1 – Dashboard
Ok, so once again we're going to head to the Messenger > Auto Campaign dashboard then on the receipts option.
When you're in there, click on edit to once again see the editable information.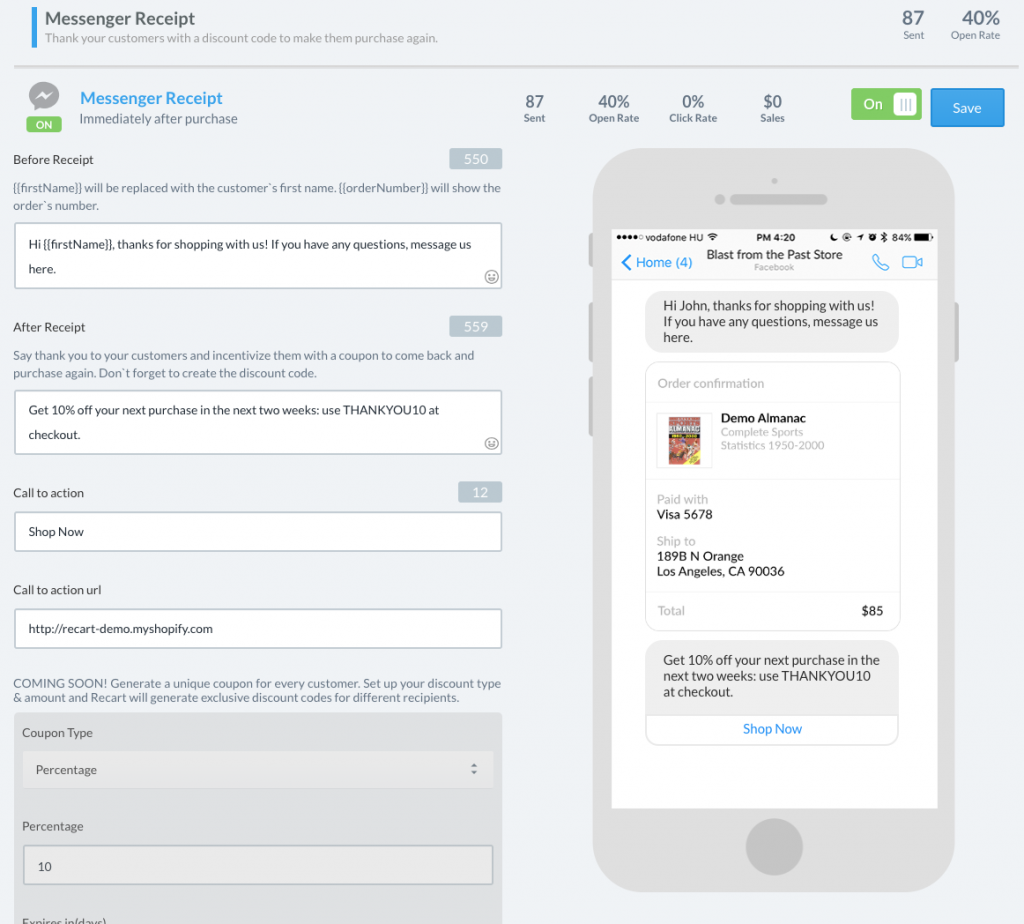 Step 2 – Customise the Message
As is always the case, you're going to want to customize the message included in this to better speak to your brand's identity.
However, don't just stop at the customizing of messages.
Step 3 – Include a Reason to Head Back to Your Store
So, in the MLB example above there was nothing to make me want to go back to the MLB store and take advantage of the 65% off.
In fact, there wasn't even a reminder there was a sale going on.
In the above, you can see that the copy includes a relevant message about a ThankYou coupon code.
For the BFCM weekend, turn it to something that reminds people of the great sales they could still take advantage of.
I'd recommend including the below elements:
A reminder of the % of $ saving they could make

When the sales end

And perhaps a specific secondary discount just for returning customers
Do that, and you should see more people returning to your store for secondary sales over the weekend.
Selling with Promotional Message Campaigns
So the BFCM weekend offers a 4-day window for potential sales, right?
That's a pretty short time.
For you to make the most of it, you've really got to be on top of your promotions.
And one of the most profitable methods of driving sales is not through the acquisition of new customers, but in selling to those already on your list.
This is how you can send promotional messages to those who have bought from you in the past or have opted in to hear from you via Messenger.
Step 1 – Dashboard
Head back to the main dashboard. Underneath the Auto Campaigns option you'll see Instant Campaigns.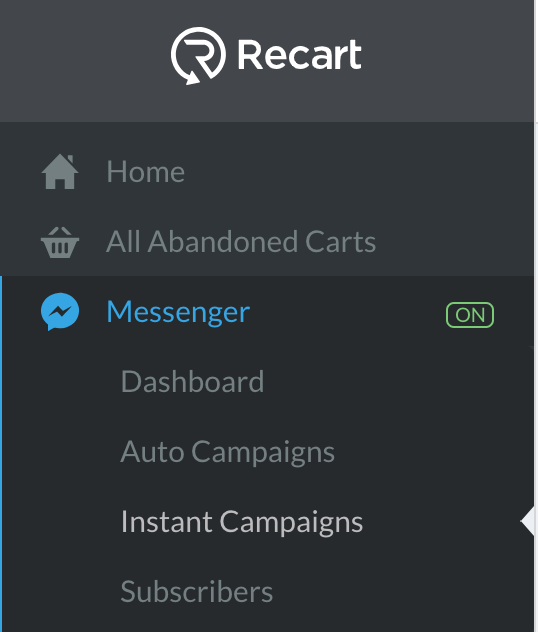 Click there and you'll be taken to the Instant Campaigns screen. When there, click on Create Instant Campaign.

This will bring you to the editing screen and the next step.
Step 2 – Choose the Right Template
When you're on the next screen you'll see a number of different templates to choose from.
These are all slightly different but generally follow the same principle.
You get the user to respond to reset the 24-hour promotional window, and then send them the notification of the sale.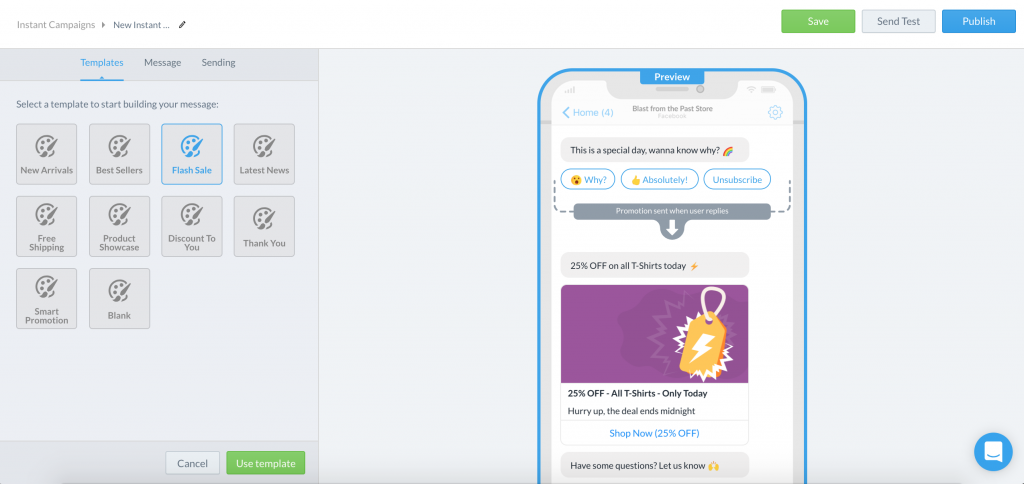 This helps you get around the 24+1 rule (Read more about the 24+1 rule here).
Choose the template you want and you're onto the penultimate stage.
Step 3 – Customize that Template
Again, you want your brand tone of voice to come through in the message so be sure to amend it.
I'd also recommend changing up the CTA button copy so people are more likely to click it.
Again, make sure to use a highly engaging image if you can and remind people the deal is time sensitive.
Step 4 – Send!
That's it for this one. Click publish and the message will go out to your subscriber list.
However, there's one last thing I need to mention.
Be careful about spamming people.
Facebook is tightening the rules around promotional messages. If you get too many complaints of spam, you run the risk of getting your account banned.
So be careful with how many messages you send. I know it's a big sales weekend, but it's not worth getting your Messenger privileges revoked.
Sponsored Messages
If you don't want to try resetting the 24 hour promo period and would instead want to do something that's 100% in line with Facebook's rules, this is what you need to do.
The below is a walkthrough on how to create promotional messages. Sure, you'll have to pay for these, however, there's no risk of breaking any rules and you should still see a decent return from them,
To set these up, you'll need a Facebook business account.
Head to your ad campaigns and follow the below steps.
Step 1 – Guided vs Shell Campaigns
When you're in the ad account you'll see the below options. For this, we're going to run you through a guided campaign so choose that.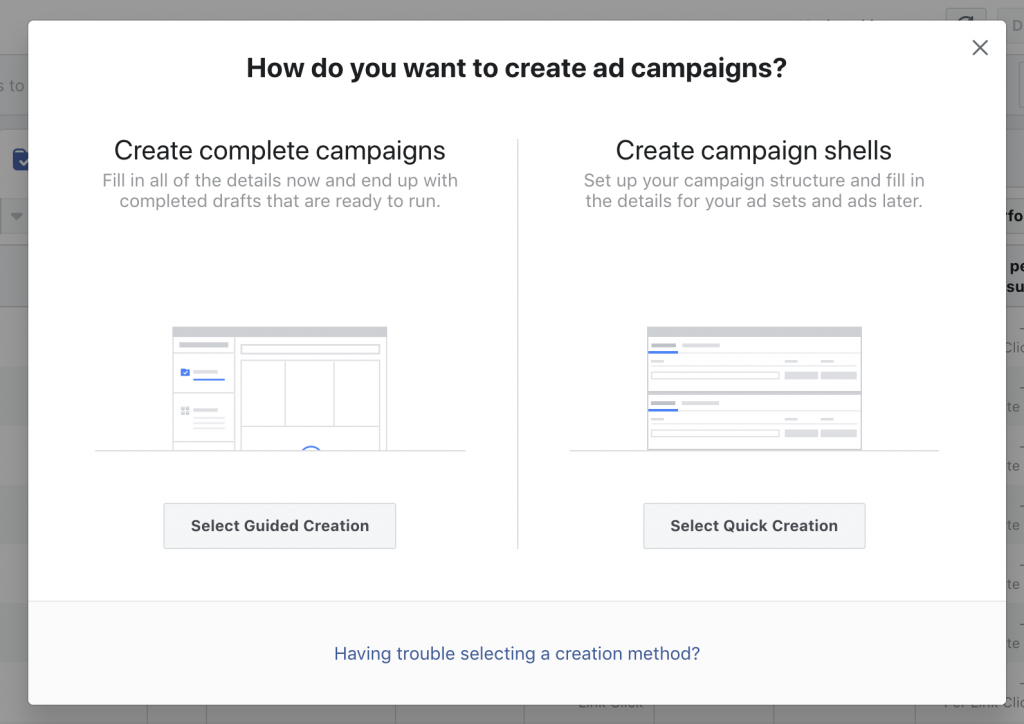 Step 2 – Choose your Objective
If you've ever run a Facebook ad before you'll be familiar with the campaign screen.
We're obviously looking to generate Messenger conversions, so choose the bottom goal in the middle column.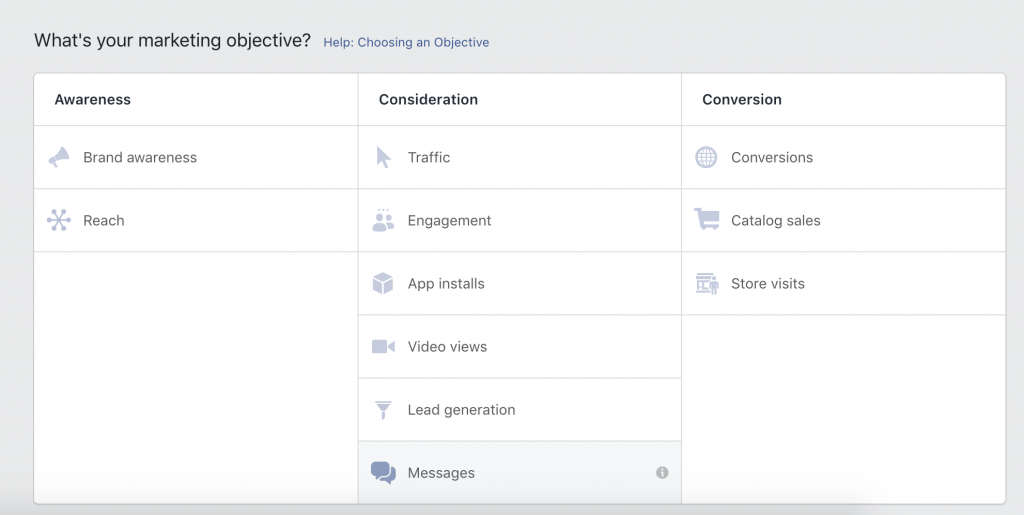 Step 3 – Ad Setup
Once you click Messenger you'll have the option to name your campaign. In this case, keep it simple and go for something like BF Sale Campaign.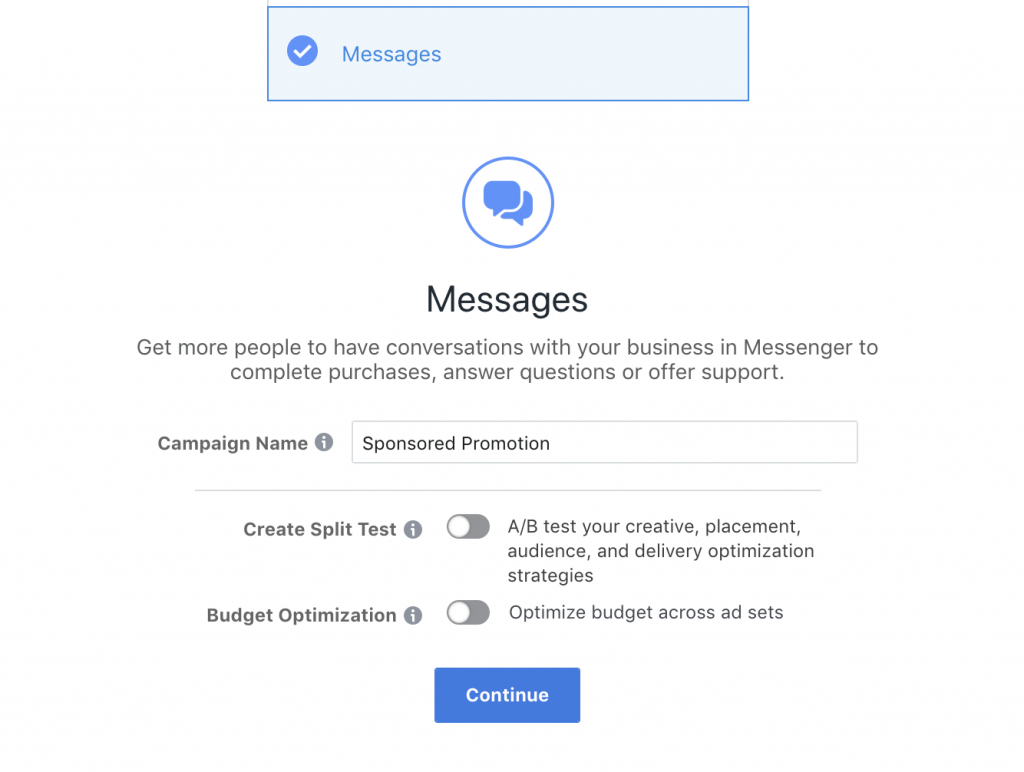 Once you've done that, you'll go through to the ad set creation.
This is the important bit.
If you've run ads before you're now probably thinking you'll need to select an audience. Not the case here.
At the top of the page you'll see the below options.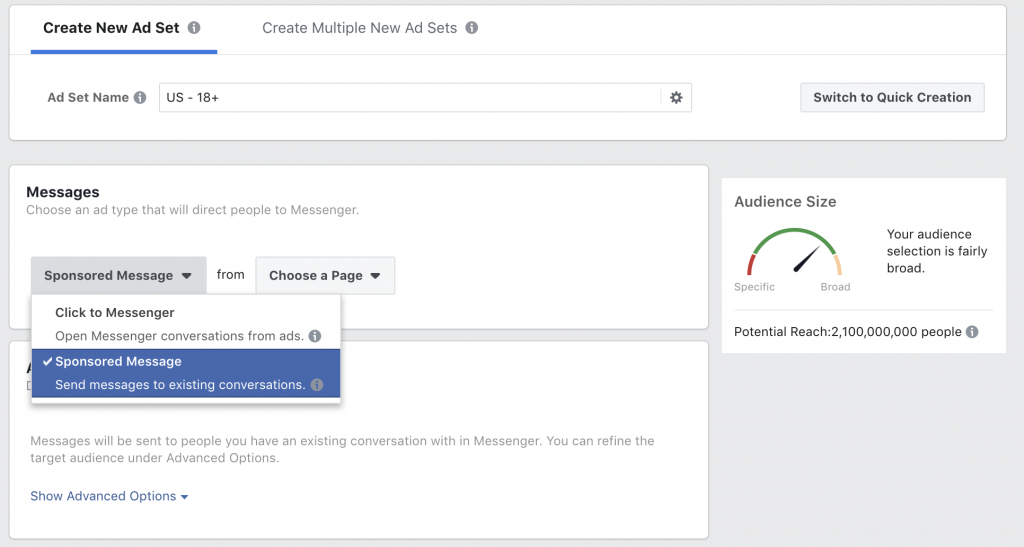 You want to switch it from the default of "Click to Messenger" ads, to "Sponsored Messages".
This switches the subsequent steps from setting up an ad that opens Messenger to one that is sent via Messenger.
An important distinction here.
You'll also need to choose the page. This will dictate the audience size as it sends only to people you have an existing conversation with.
Step 4 – Budget and Timing
At the bottom of the page you'll see the options for budget and when the campaign should run.
You'll obviously want to work out your own budget, however, as this is a weekend specific campaign make sure you amend the dates to expire after Cyber Monday.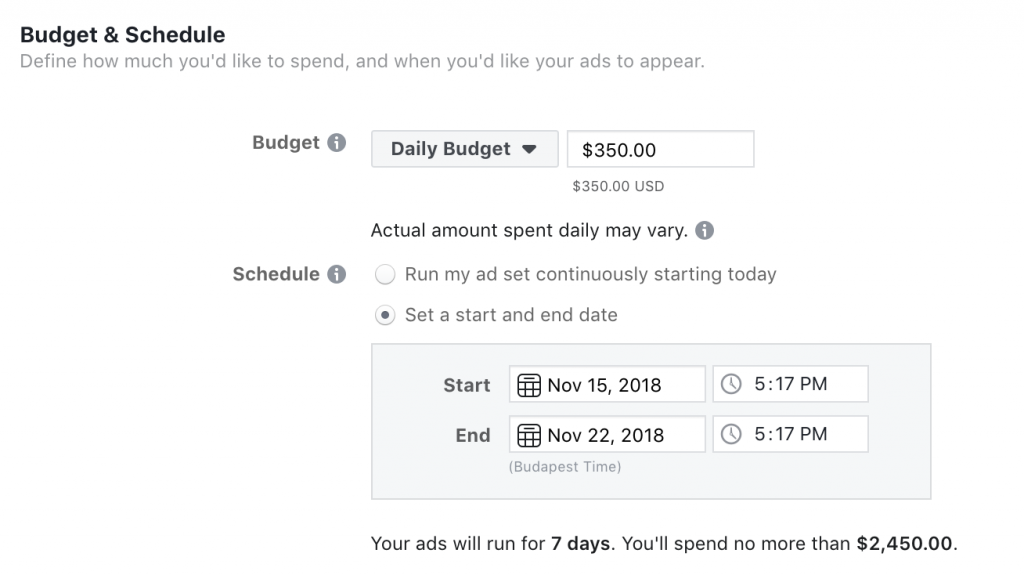 Step 5 – Ad Creation
On the next page you'll see a screen you might not be familiar with.
This is a mockup of the Message that will be sent to users.
Make sure you make the offer compelling and be sure to use a relevant image.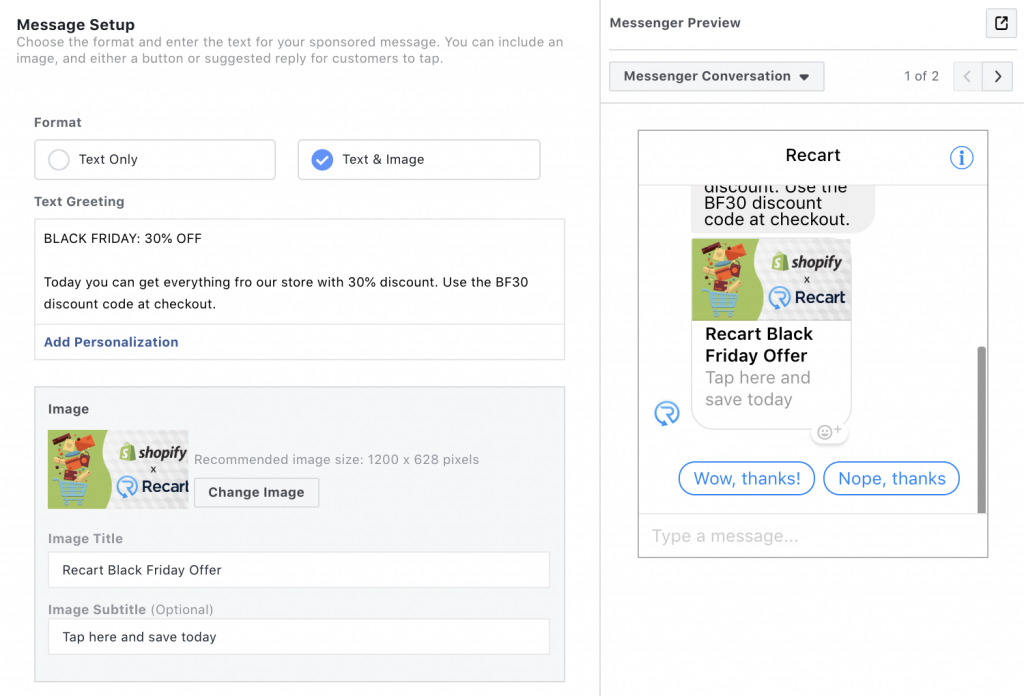 For this initial message I'd recommend going with something that focuses on the sale as a whole. Something that gets people back on to your store to check out the deals.
Later, you can leverage things like the automated abandoned checkouts and retargeting to sell to those who abandoned.
And that's it!
This shouldn't take you more than 15 minutes to set up.
10Xing Sales is About Reminding People What They're Missing Out On
The problem with the Black Friday weekend is that your consumer's attention is being pulled in 100 different directions.
You might have the best product, or the greatest sale, or some killer marketing.
But when it's so difficult to stand out, it doesn't mean you're going to succeed.
The key to 10X your BFCM sales isn't some cheap marketing tactic that gets you ahead of all the rest.
It's about providing legitimate value to your users through a channel they engage with.
Right now, that channel is Messenger. And for Black Friday, those messages should be focused on helping your customers save money and reminding them how long they have left to do so.
These Recart campaigns above should take no more than an hour to set up, but could drive thousands in extra revenue over the four day sales period. Get started today if you want to have a breakthrough Back Friday weekend this year.