Looking at the shopping trends of the recent years, it seems that Halloween is becoming more important every year. It is the first of many shopping-centered holidays at the end of the year, and also one of the most beloved and characteristic holidays.
No wonder that merchants in all verticals are looking for ways to capture the shopping momentum and make more sales during Halloween. One of the most effective marketing tools, however, is often overlooked: Facebook Messenger.
In this post, I will show you step-by-step how you can stop wasting money and leads by setting up Messenger marketing.
I will also introduce you to the built-in templates in Recart. These are real time savers and allow you to set up fully fledged Messenger marketing campaigns in minutes.
Sponsored messages
First and foremost, I recommend that you set up a thematic sponsored message campaign for Halloween.
With Recart, sponsored messages are simple to create and manage, and they will help you reach the widest possible audience. Best of all, it's one of the most effective marketing tools to engage your audience and promote your sales.
Especially during the holidays, when people enjoy browsing social media and tend to check their Messenger inbox more frequently.
Since sponsored messages will be placed right in the Messenger inboxes of your targeted audience, whoever opens the Messenger app is guaranteed to see it.
Sponsored messages generate about 9 times as much revenue as marketing emails, so missing out on them is pretty much a wasted opportunity.

Easy campaigns with Recart
To help you set up your Halloween sponsored message campaign quickly, we created two brand new templates for the 2020 Halloween.
By visiting the Recart Template Library, you can create a sponsored message based on these templates in just a few clicks.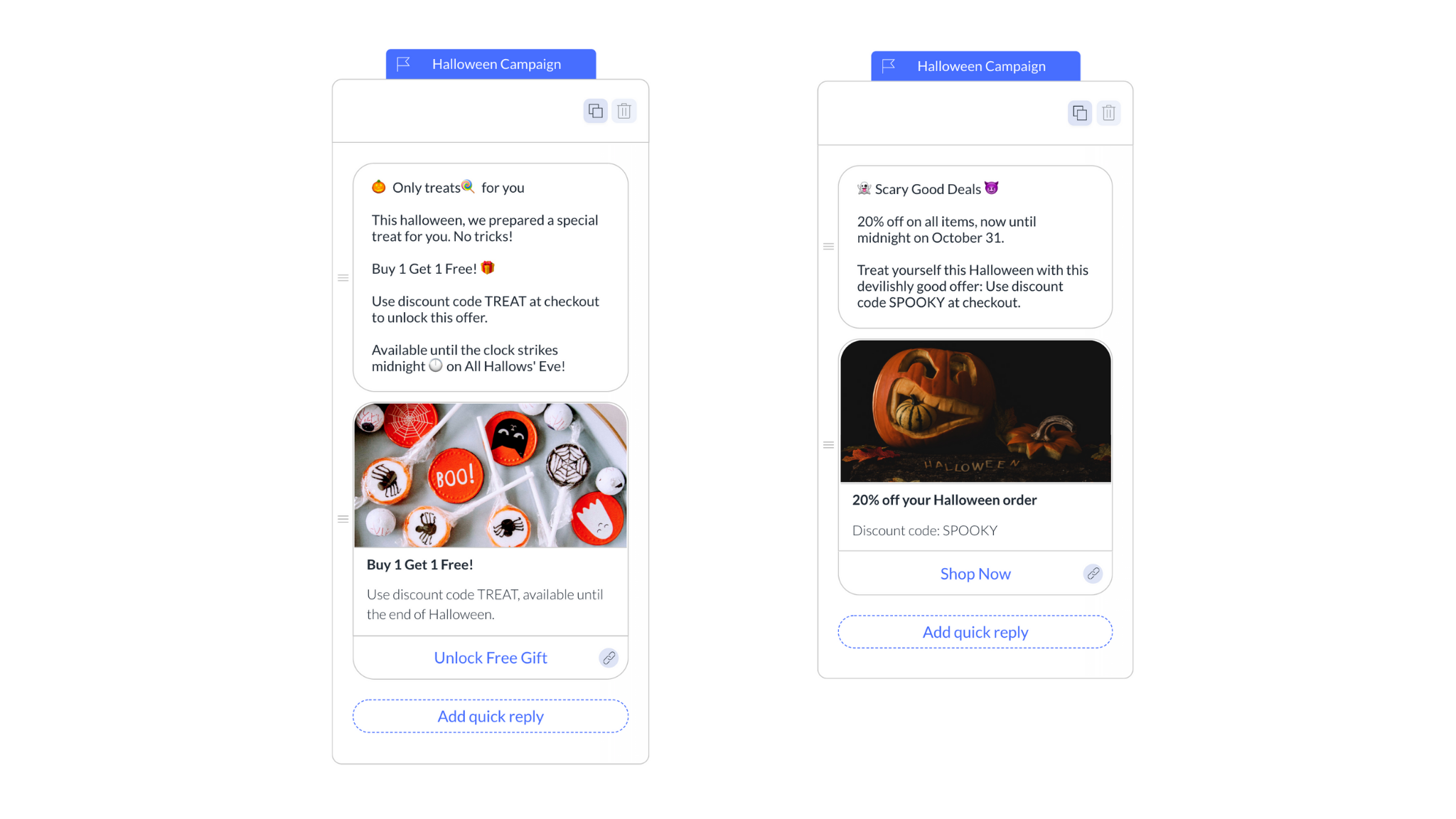 Of course, if you want to, you can go one step further and set up fully automated Conversation Flows connected to the sponsored message, complete with delayed follow-ups and conditional splits.
For some inspiration, here's last year's Halloween Conversation Flow for Blendjet.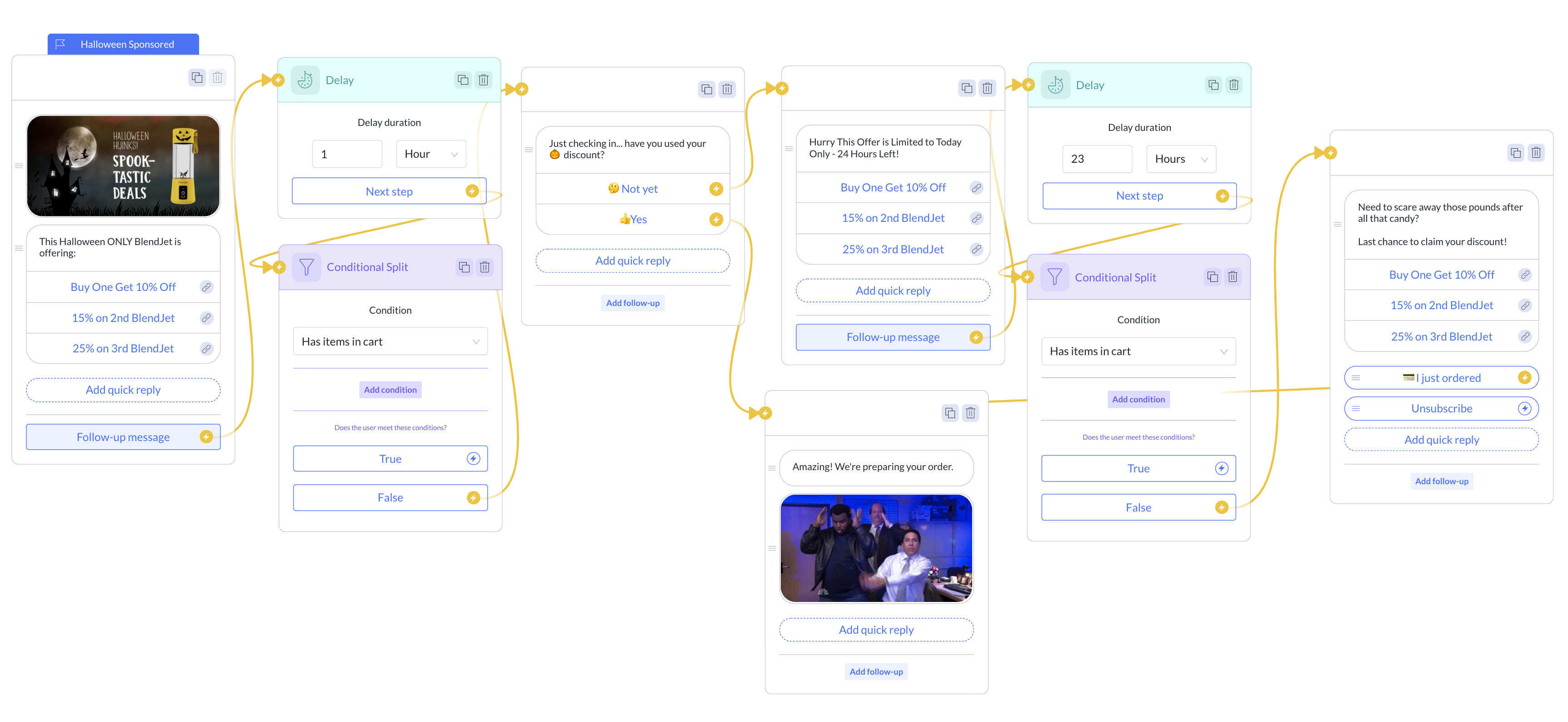 Facebook Comments Giveaway
Running giveaways on Facebook is an amazing method for engaging your fans and reaching new customers. You couldn't wish for a better opportunity than Halloween to announce your spooky giveaway.
Recart helps you manage all aspects of the giveaway, including drawing winners and sending consolation discount codes to losers.
We even created a template for you that will reduce the set up time to mere minutes.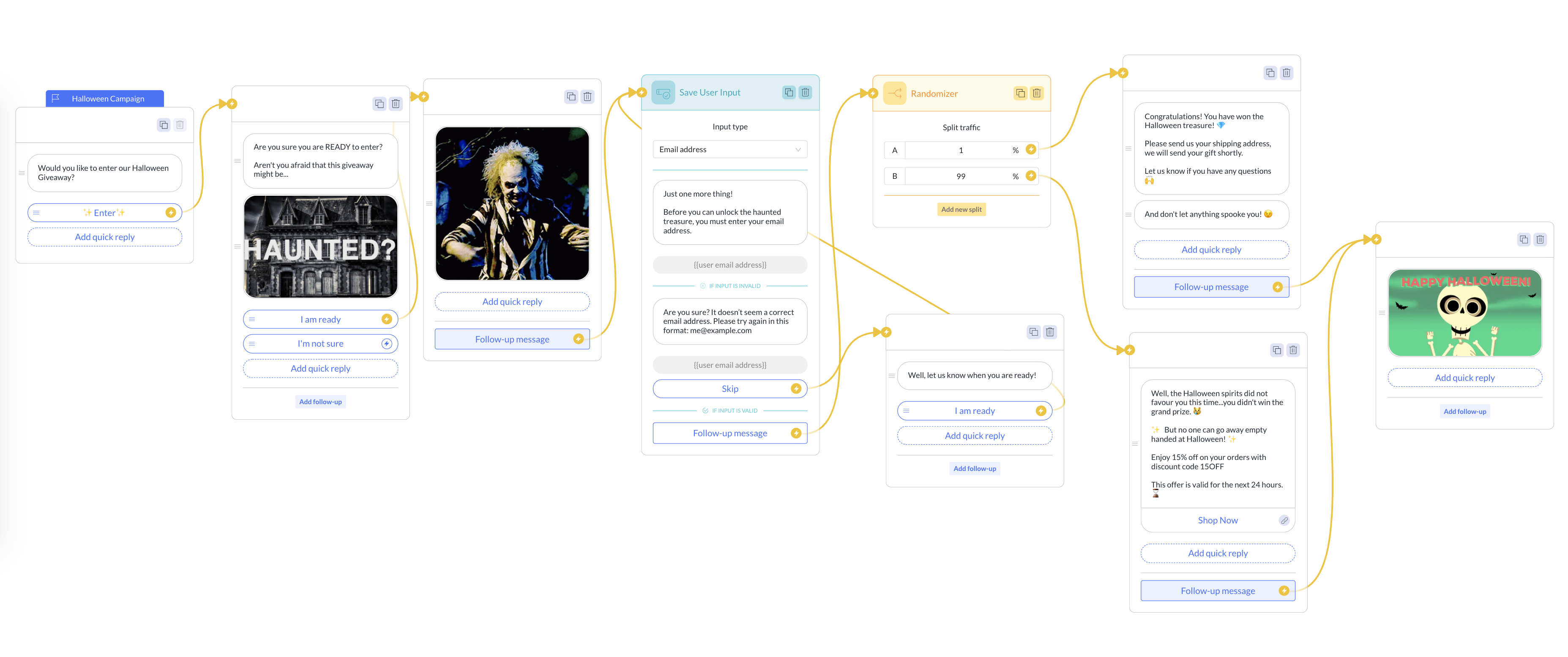 You can find the Halloween Facebook Comments Giveaway template in the Recart Template Library.
To learn more about Facebook giveaways, check our guide on setting up the ultimate giveaway Conversation Flow with Recart.
Further steps
If you set up a sponsored message campaign and start a giveaway during Halloween, you are already ahead in the game and will likely see your revenue go up compared to last year.
Of course, there's a lot more benefits available with Recart that you can unlock, if you have just a little bit more time to prepare for Halloween.
Here are the further steps we recommend for all businesses to maximize their profit:
New to Recart? Get started for free by installing Recart or schedule your free, live demo.