What's the most important metric for your ecommerce store?
This is a question I've long wrestled with. A question that has plagued me for years because the majority of advice out there goes against my own beliefs.
If you spend even a small amount of time on ecommerce advice sites, you'll find countless articles explaining how to improve SEO, drive traffic through social media, and establish effective AdWords and Facebook campaigns.
Sometimes you'll find killer articles on how to increase up-sells, cross-sells, or improve mobile usage, but the fact is a lot of ecommerce content revolves around traffic.
And it's always irked me.
My background is in conversion rate optimization. I want to look at a store that converts 100 visitors into two customers and turn it into 3 customers without having to pay for more traffic.
To me, it makes more sense. CRO is the smarter investment as there's no ad spend and a lower ongoing cost. But I also know optimization of your site alone isn't enough to turn a good business into a great business.
You're never going to achieve a 100% conversion rate. You're never going to be able to drastically increase revenue through turning a 1% conversion rate into 1.25%.
It might frustrate me that most store owners focus on traffic generation over all else, but I also have to acknowledge that in ecommerce (and other digital business), conversion optimization and traffic generation are two sides of the same coin.
Great Optimization Relies on Traffic
To have anything close to real confidence in the optimization tests you run, you've got to ensure they're representative of your wider audience.
Stores often run tests for a small segment of their audience over a couple of weeks. If the results are positive, they'll roll those tests out for all visitors and leave them running for months, or even years.
To have that much faith in your results, you have to be certain the results from that limited time test are representative of the audience that will be subjected to it for months to come.
Ton Wesseling offers good reasoning for this in an article for ConversionXL;
You want to test as long as possible – at least 1 purchase cycle – the more data, the higher the Statistical Power of your test! More traffic means you have a higher chance of recognizing your winner on the significance level your testing on! Because … small changes can make a big impact, but big impacts don't happen too often – most of the times, your variation is slightly better – so you need much data too be able too notice a significant winner.
You can run all the tests you want, but if you're not hitting statistical significance or running tests for long enough, then those results are all wasted.
So today, I'm going to break from my usual CRO habits and look at how to drive awesome, targeted traffic to your store for better conversions and higher traffic through a comprehensive AdWords PPC setup.
Why AdWords?
There seems to be an ever-increasing number of paid advertising networks to leverage in growing your store. However, AdWords is the definitive starting point.
Few other networks offer the potential reach of AdWords and, in my experience, it's the network that brings the fastest results. Here's why:
Where they show ads!
What's the most visited website in the world?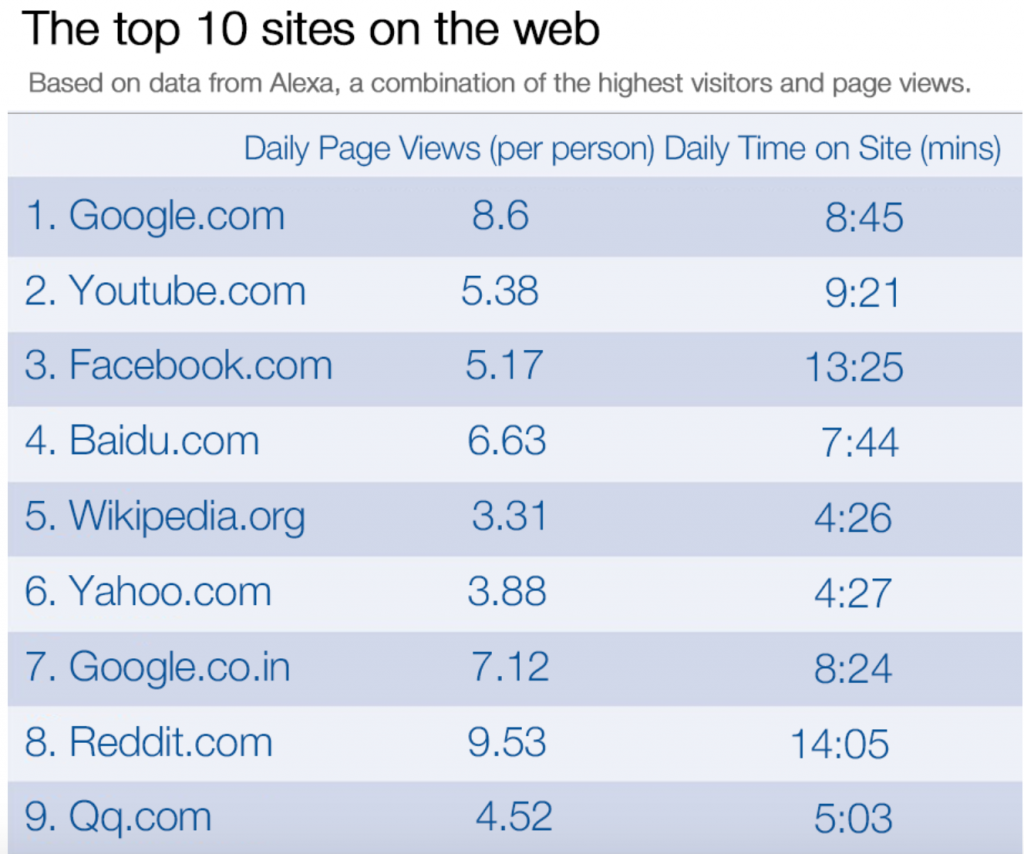 According to Alexa it's Google, closely followed by Youtube. If you're using AdWords, guess where your ads will show?
That's right, Google and Youtube (amongst a tonne of others).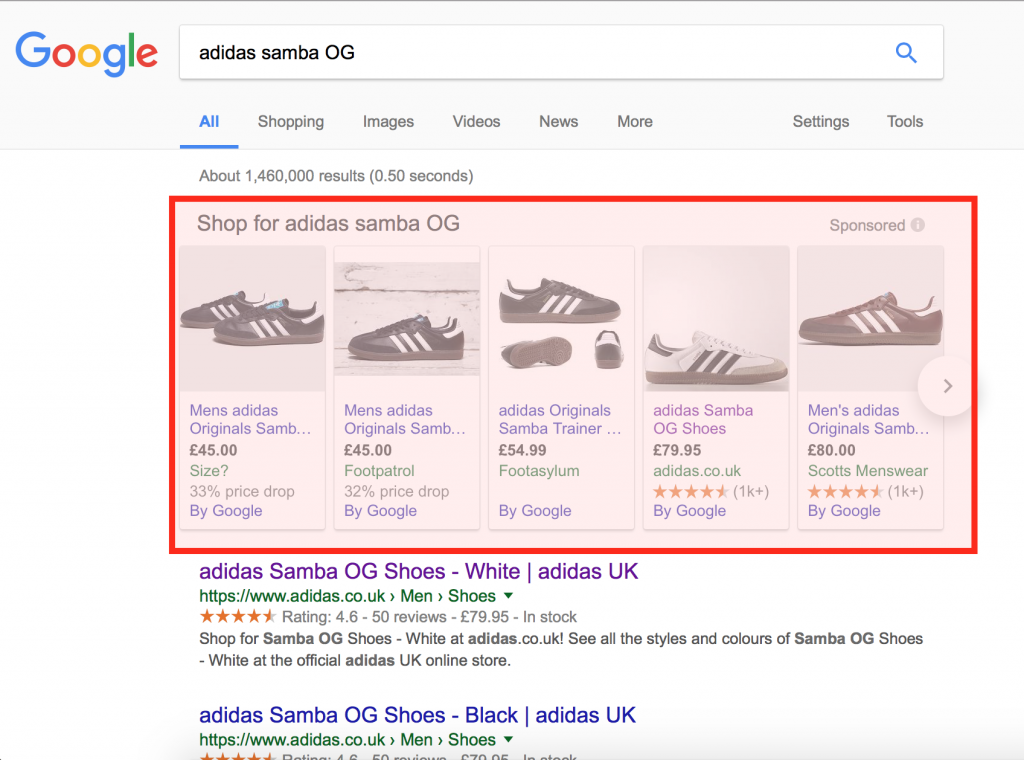 Your ads can also be pushed out through the Google partnership network. All this really means is after someone has expressed an interest in your product, they'll get hit with more ads across various websites.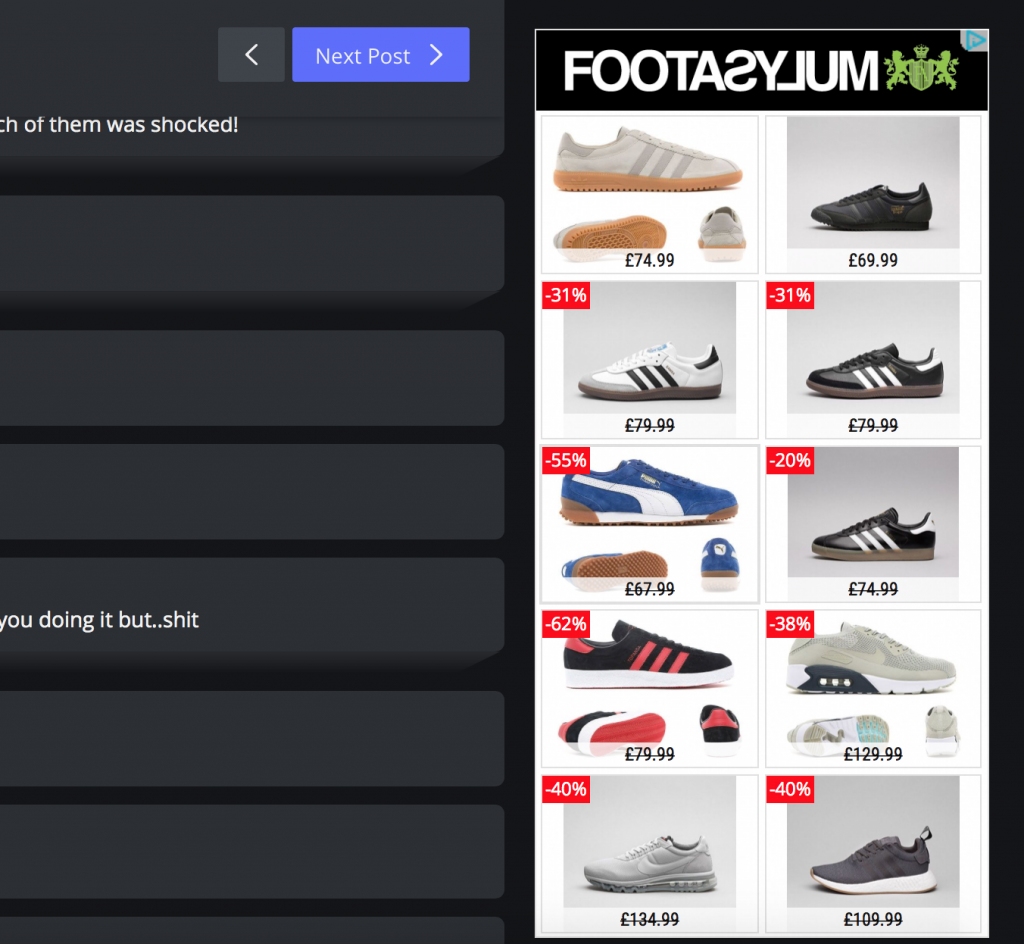 But the most awesome thing about using AdWords is, you can use its targeting to focus on different levels of intent. Which means you can target your ads to people who are ready to purchase.
Thanks to Google's keyword targeting the purchase intent of those who view your ads is high. Like, really high.
If you get your targeting right, the above ads are only going to show when people search for terms like:
"Buy Adidas shoes"
"Adidas Samba OGs"
Or something similar.
Facebook, on the other hand, displays ads to users regardless of their purchase intent. You can get people who are interested in the topic, but who aren't necessarily ready to purchase. Being interested in something and being ready, willing, and able to buy are two different things.
Couple Google's huge amount of traffic, extensive partnership reach, and the intent of the users and you've got a recipe for a massive audience who are ready to purchase from you.
It's where you need to start your paid marketing, and here's how you're going to do it.
What are Google Shopping Ads?
Google shopping ads are like rocket fuel for your ecommerce business. They display the product right in the user's search results giving them a direct line from their query to your product page (see the above images for an example).
Here's the lowdown on who can use them and why they're so awesome.
Google Shopping Ads are available in the majority of countries, if you want a breakdown though, be sure to check out this article.
They're awesome because they show not only the product, but also the price in the search results. That's going to scare off people who are going to abandon at the last stage because of price, which in turn will keep your ad budget costs down.
Because the ads are targeted by product they should only show for people who are searching for that particular product type or something very similar.
Basically, the clicks shopping ads bring are super qualified traffic.
They're so effective that, if you look over the spending data for the last few years you'll see that Google Shopping Ads are seeing far greater year on year growth than regular text or display ads.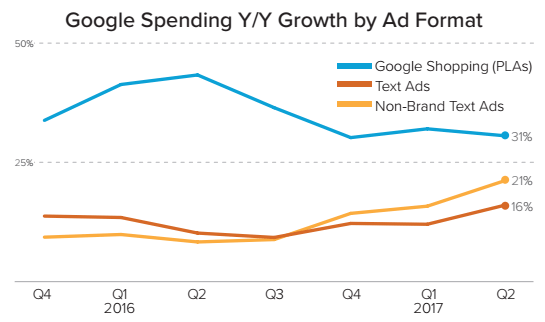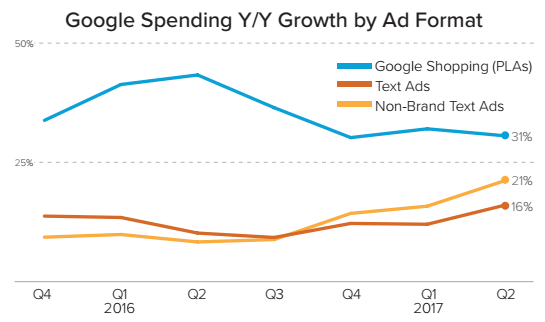 The entirety of your Google Shopping Ads campaigns are driven by your product directory. That means no keyword targeting or anything like that (but don't worry, I'll go over how to optimize your ads for keywords later).
So without keywords, how do you set up and optimize your ads?
Step 1 – Google Merchant Centre Account
Setting up a Shopping Ads campaign is a completely different beast to setting up regular text ads in Google. There's no campaigns, ad groups, or ads that you might be familiar with.
And whilst you'll use Adwords to manage bids and optimize your strategy, the nerve center of these campaigns is Google's Merchant Centre.
If you're not familiar, the Merchant Centre is where your product feed is and you'll need to link it with your Adwords and Analytics accounts for this to work.
To get started, head to merchants.google.com and follow the sign-up process that looks like the below.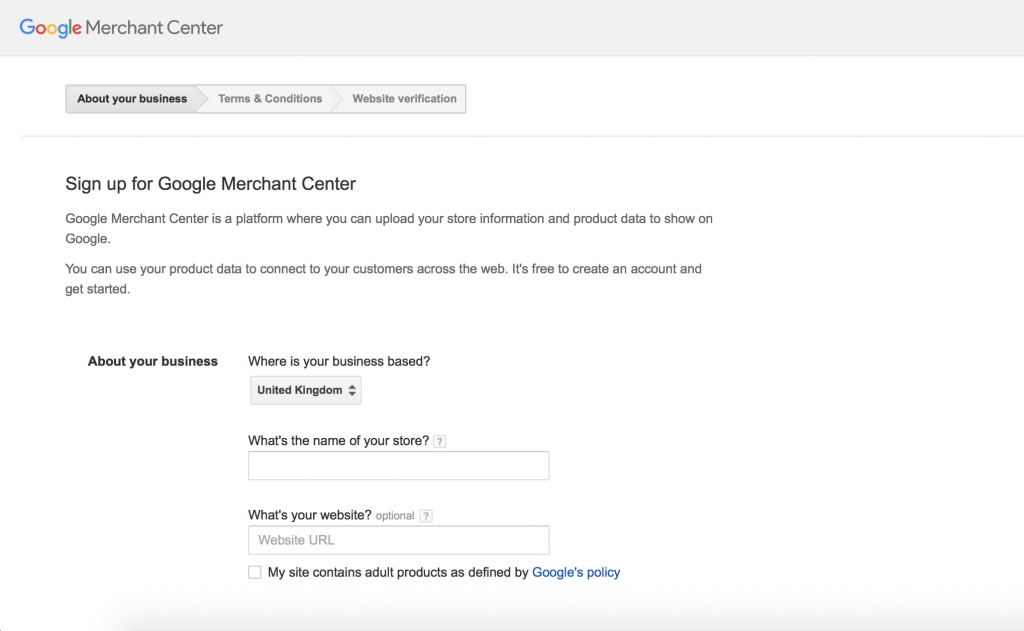 This first area has three steps. The first two are super straight forward and are basically just your general business info and an agreement to sign.
However, the third step requires you to verify your ownership of your store.
By default Google will have expanded the HTML option. I'd recommend ignoring it and scrolling down to three further options. Once there, look for the Google Tag Manager options. It's easier, and offers better options later down the line.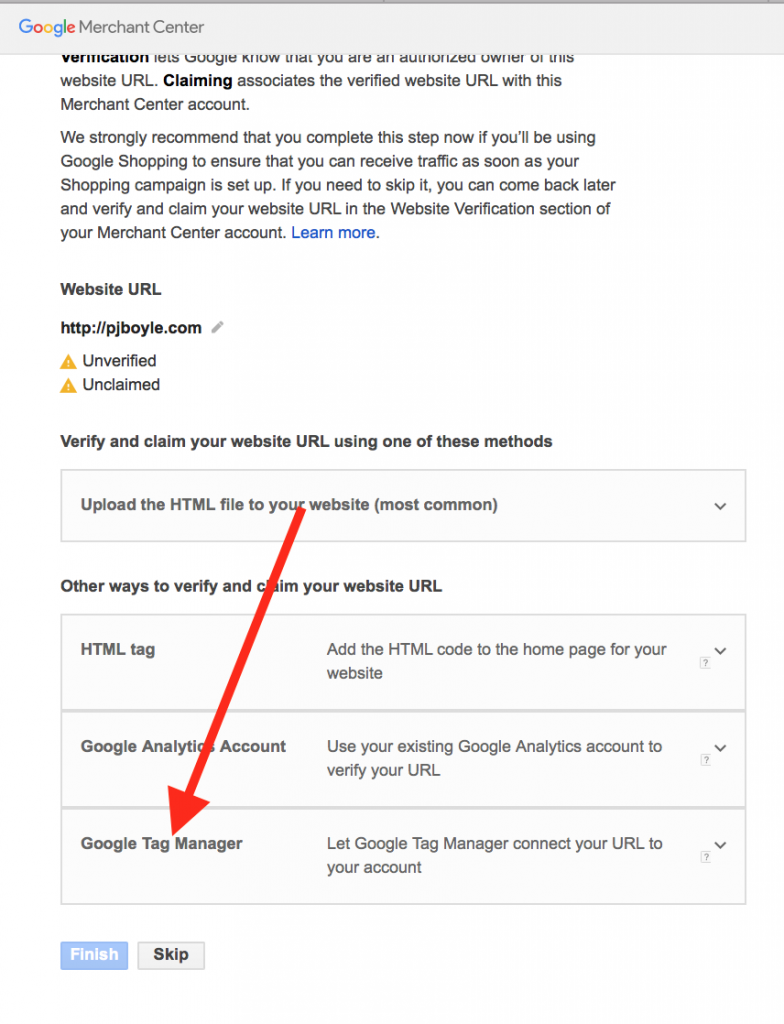 To set this up, you'll have to have tag manager enabled. If you haven't already simply head to tagmanager.google.com and follow the sign up instructions.
Once signed up you'll be presented with the below two codes to install on your site.


Follow the installation options and you're ready to move on.
Tax and Shipping Setup
The next step is to set up your tax and shipping details. In your merchant centre you'll see the relevant items in the left hand nav column.


With tax options you're able to set up the different tax rates for different countries or states that you sell to. Be sure to get this right up front.
For shipping, you're able to set up more complex rules like minimum order value, free shipping thresholds etc. Go through and set up the most important shipping rules and timelines for your audience.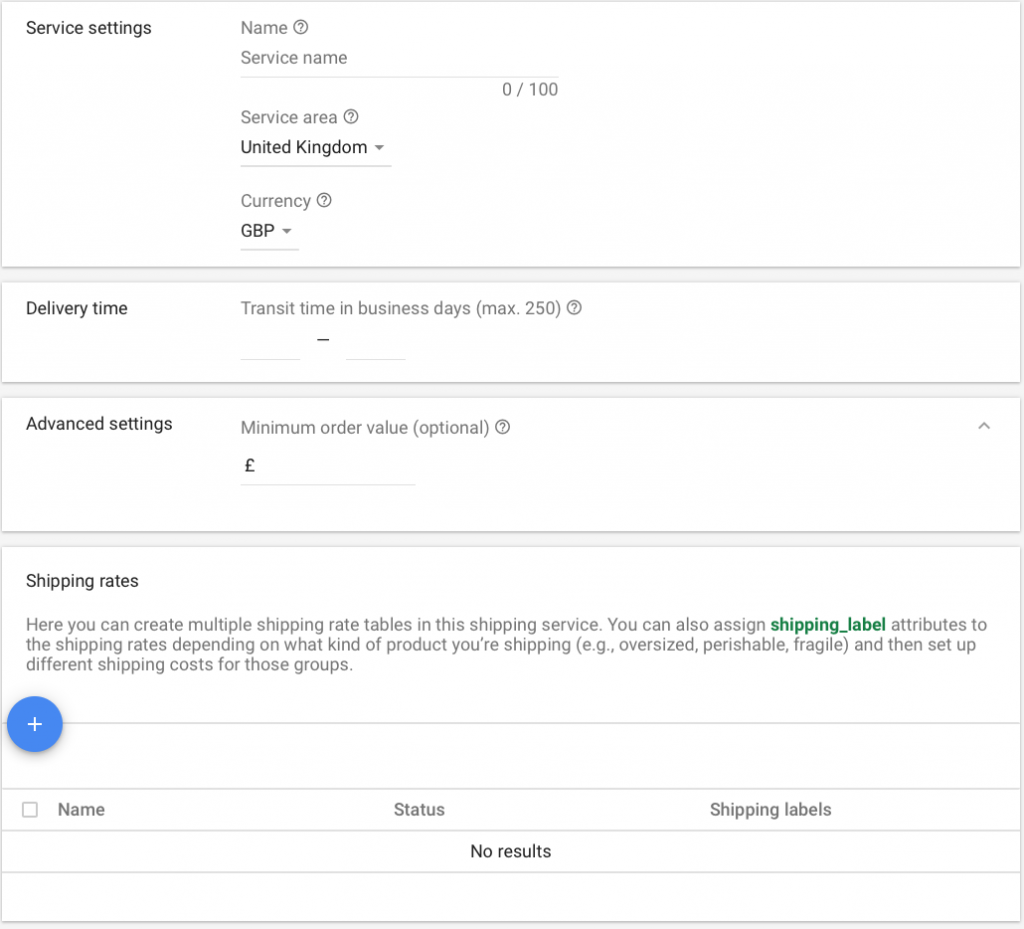 Creating your Product Feed
With your website verified and tax and shipping rules input, it's time to create a product feed that lists all your products.
The product feed is, undoubtedly, the most important stage of setting up a shopping campaign. Google uses the information in your product feed to understand your products and ensure they show for the right searches.
Google requires a bunch of information for every product, information which can differ based on product type and your store's operating location.
If you want to check out the full list, here's Google's official document. For the purposes of this article, I've pulled out the bare essentials that are required regardless of location and product type.
ID – Your product's unique identifier
Title – Your product's name
Description – Your product's description
Link – Your product's landing page
Image Link – The URL of your product's main image
Availability – Your product's availability
Price – Your product's price
Shipping cost – Your product's delivery cost
Tax (for the US) – Your product's sales tax rate in percent
Condition – Your product's condition (new, used, refurb)
Adult – Indicate that a product includes sexually suggestive content
However, if you sell certain items including clothing, you're going to need to provide even more information such as gender, size, age group and the like. Be sure to check Google's full list of needs before proceeding.
To establish your feed head to the "Products" tab in your Merchant dashboard. When there, click on the plus sign and you'll be taken to the next stage.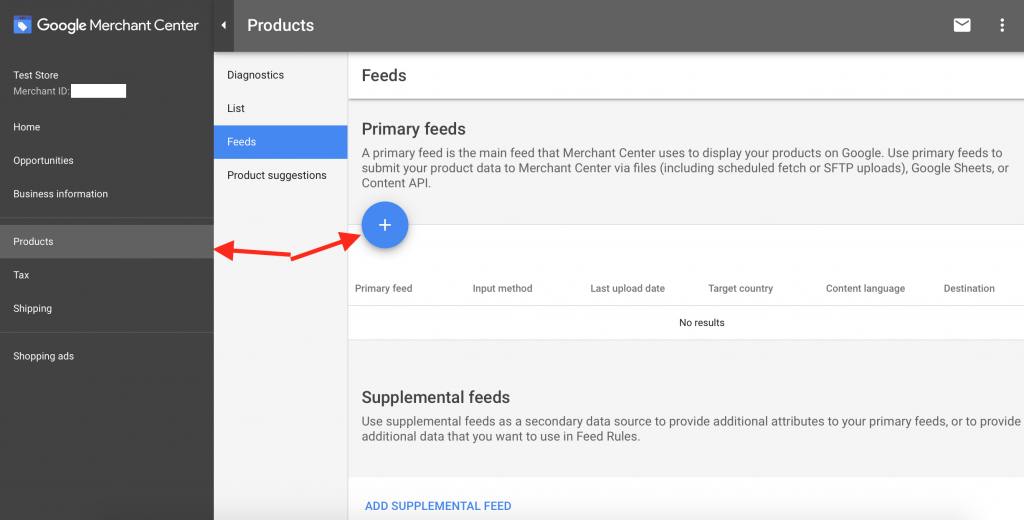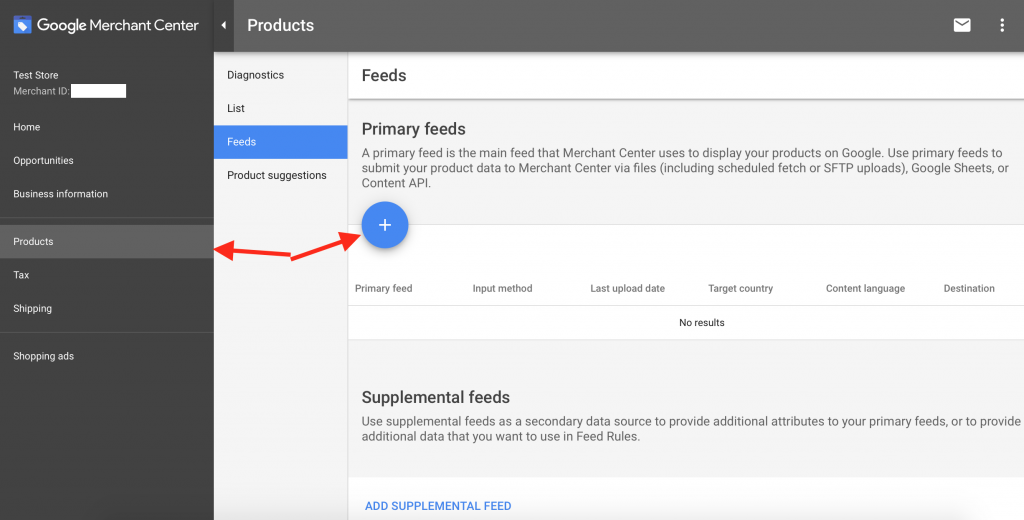 I'd recommend the first option of setting up a Google Sheet.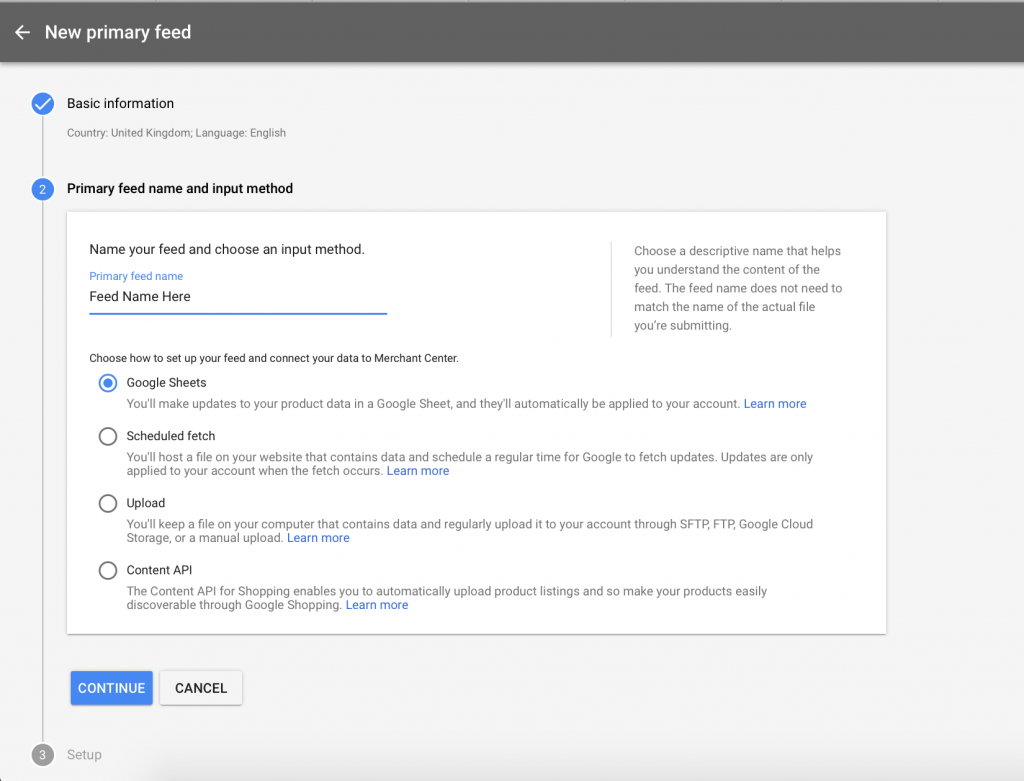 Choose Google sheets and continue. In the final stage you'll be given the option to create an upload schedule. Which I'd definitely recommend.
You have to update the information in your feed at least every 30 days, even if there are no changes. Setting a schedule takes the hassle out of remembering (just remember to keep your sheet updated with the latest product info).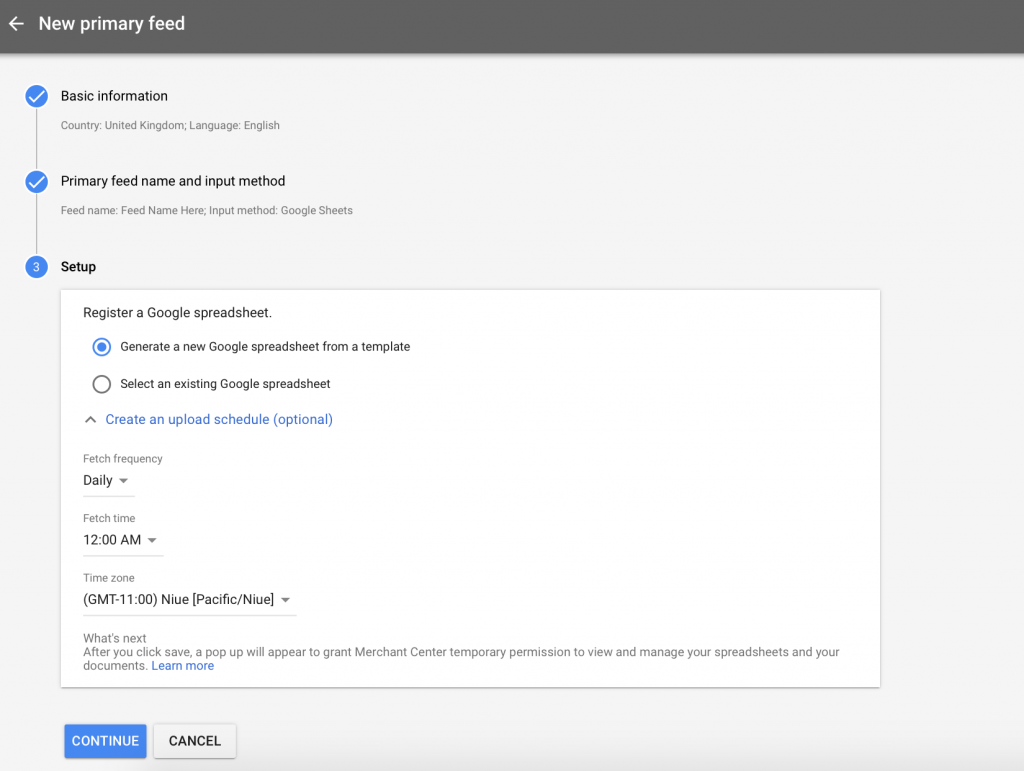 Generate a new Google spreadsheet from their template and you're now ready to fill in all of the details.
This bit can be a bitch to follow through on. However, you can make it a little easier by exporting the key data from your store into a CSV.
If you'd rather skip all this and go the automatic route, then look into using an app like Google Shopping Feed to help keep your product sheet updated.
The automatic route can save you some time in setting things up, but once you have got the sheet established I'd recommend keeping some manual control over it.
Doing so just gives you more optimization options later on, making improvements far easier to come by.
Setting Up Your First Campaign
When all of the product feed actions are done with head over to AdWords. Click on the big plus in the Campaigns tab and be sure you next select "Shopping" campaigns.


You'll then be asked the basic information including the merchant account you just set up, location of ads, and all that jazz.
As soon as that's out of the way you'll have the regular options of setting up a campaign including budget, maxCPCs etc. As soon as that's done, your campaigns are ready to run!
Getting Your Google Shopping Campaign Off to an Amazing Start
With the technical stuff out of the way, I just want to go over a couple of basic elements that some people tend to get wrong with new Shopping Campaigns.
1 – Play with Your CPCs
By default, all of your CPCs are going to be the same. That means the $20 product is going to have the same CPC as the $500.
Doesn't make sense right? I mean, the potential profit for the $500 is far larger, not to mention that a bigger purchase price is likely going to need more touch points to convince users.
Jump into your CPCs and amend them based on the cost of the product and overall profitability of the traffic.
What I like to do is separate products by sales performance. The high performing products get higher CPCs and a greater share of the budget.
2 – Check back every 24 hours
This kind of depends on your budget, but you should be checking in on your account at least every 24 hours, especially just after setting it up.
That 24 hours is enough time to gather some data, but at the same time helps you stay agile with your amendments.
Any shorter and the data you're collecting might not be as accurate as you need it to be to make informed decisions.
3 – Consider User Intent
All shoppers are different. Some are ready to purchase right now, others are simply window shopping and doing a little research.
You want to weight your campaigns to put more focus on those that are closer to making a purchase. With Shopping ads, that's kind of taken care of for you. But if you're also running search ads to bring people in at earlier stages of the funnel, make sure that Shopping ads are getting more of your attention.
The guys at WordStream put a good little image together to help highlight this.

4 – Use Benchmark Data as an Overall Indicator
I'm a firm believer that your focus should be on increasing your own conversion rate. You should be looking to increase today's 1% to 1.1% tomorrow, then 1.2% the day after and so on.
But you also have to keep an eye on the industry averages. That 1% increase might be a huge achievement for you, but if even after the increase you're still a few percentage points behind the competition then you've got to keep on optimizing.
One of the best rundowns of the industry averages in ecommerce I've found is from the guys at Compass.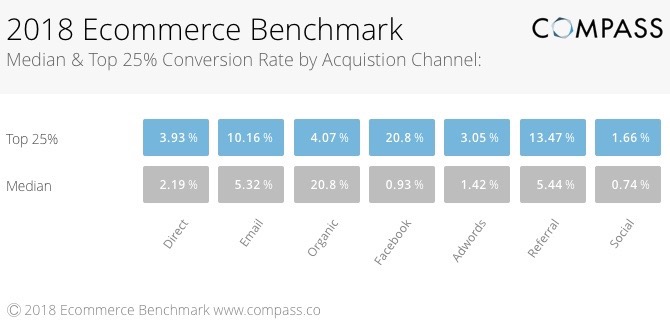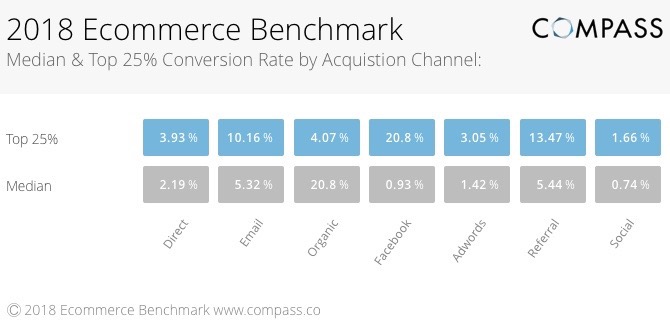 Always try to make your store better tomorrow than it is today, however, never take your eyes off the competition.
5 – Remarketing
Remarketing is going to be bigger in 2018 than ever before. It is one of the highest ROI potentials out there.
You have to be tracking your users and their actions on site to serve them the most relevant remarking ads. But don't just follow the tried and true method of serving the same ad to the same person if they didn't convert.
Also think about how you could use paid channels to help push:
– Relevant cross-sells
– Abandoned carts
– Referrals
– Repeat purchases
Remarketing is a huge opportunity you have to be taking advantage of. And if you really want to kick your remarking into the next level, utilize video. It's the highest ROI potential for your store.
So that's it the quick and dirty guide to setting up your Google Shopping campaigns. Let me know in the comments if there's anything else you think we're missing or if there's something you'd like to add.