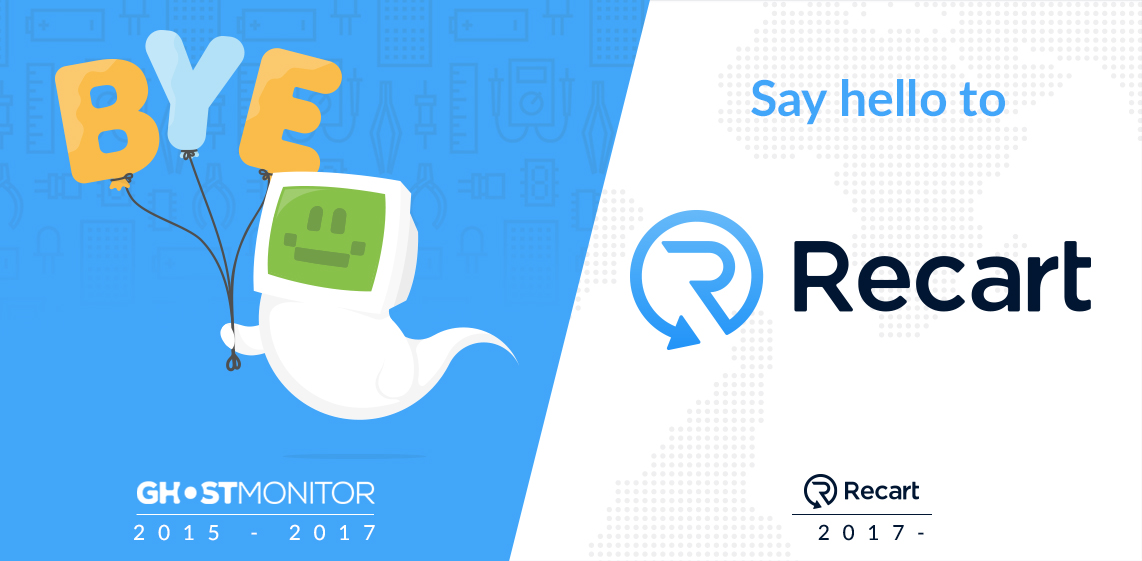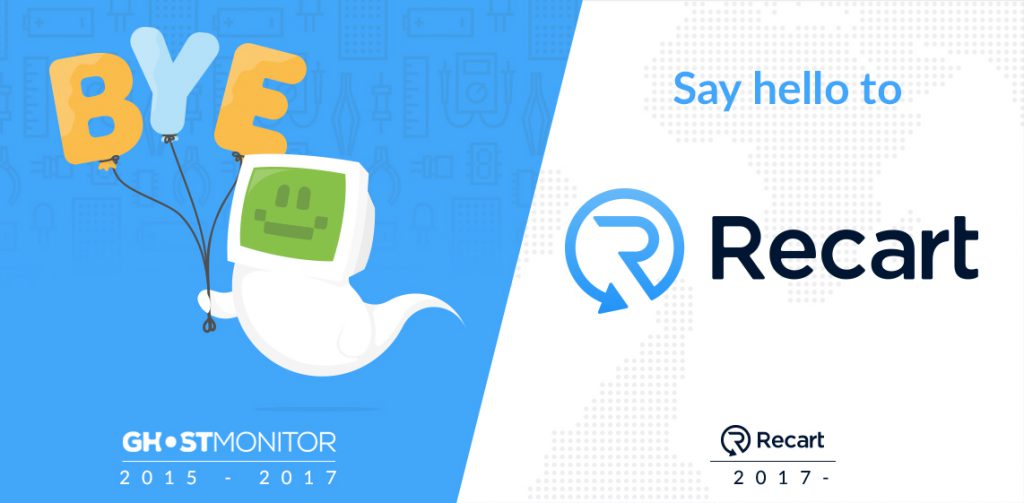 Today, we say goodbye to GhostMonitor and hello to Recart.
Many things have changed:
Our features, name, design and pricing.
But one key thing remains the same:
Our goal of helping your business reach more customers and make more money.
And before we discuss our most up to date tactics for doing just that, let's circle back a few months…
The GhostMonitor Story
Once upon a time (10 months ago) we launched GhostMonitor with one purpose:
To make extra sales from your abandoned carts.
Plain and simple.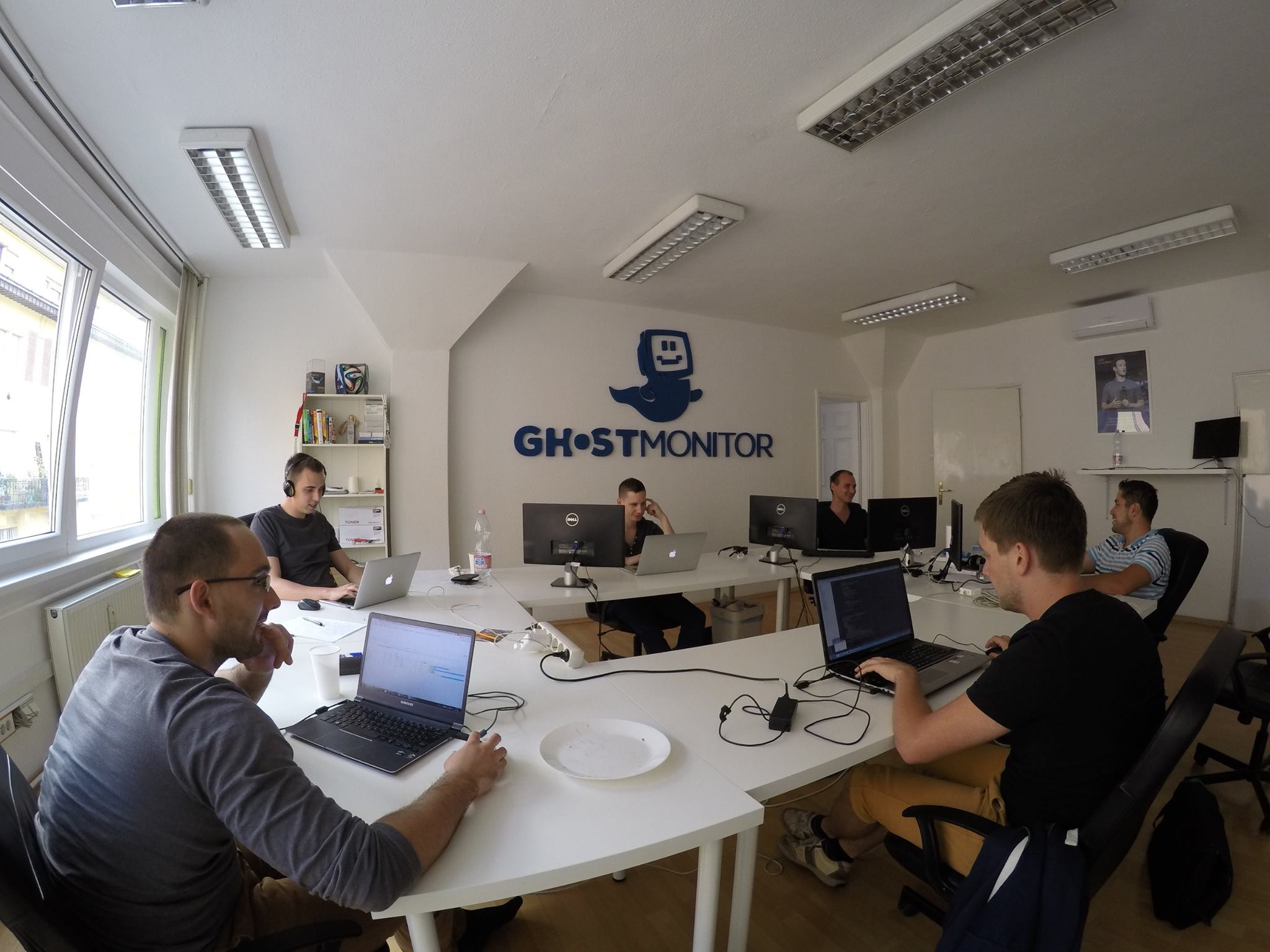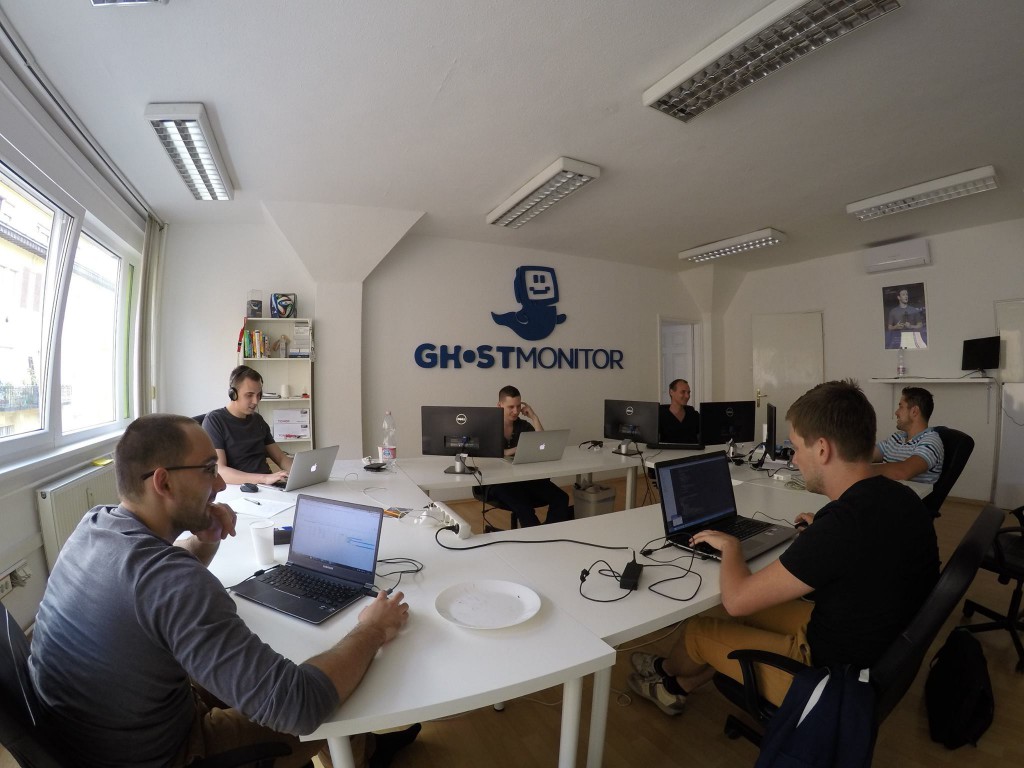 GhostMonitor was a cart abandonment software (and a pretty good one). Without any serious marketing efforts, we grew to 2,000 active users in just a few months. In 2016, we processed more than 16 million abandoned carts and drove more than $19 million extra sales to our clients.
As we grew, we were always looking for new ways to drive you extra revenue and help you make the most out of your traffic. And consequently, we started building several new features.
For example, that's how our "Add to Cart Popup" was born.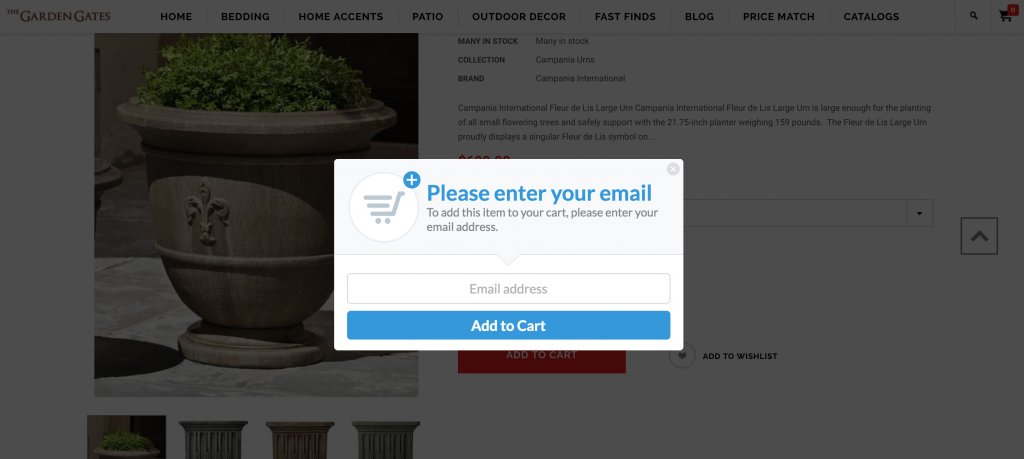 The popup was an immediate success. So with an average conversion rate of 74% (no joke), it became one of the best email capture tools known to man, allowing our 2,000 GhostMonitor users to build massive email lists.
After the popup, we rolled out our Form Autofill, which was installed by 400 merchants on the release day. And this handy little feature (still available only with Recart) auto-fills any known customer info on the checkout page, making the whole process more user-friendly and again, boosting your conversion rate.
The next step was to release our popular Checkout Tracking for Shopify (incidentally, the first and only of its kind on the market). By the way, it's also the only tracking plugin that doesn't require your customers to reach the second page of your checkout for their email to be captured.
Again, more sales for you guys.

It's easy to see where we're going with this, right?
We want to make more money for you and keep adding awesome new features to aid you on that path. However, with all these new features (and even more in the pipeline), the GhostMonitor name simply didn't cover all the goodness we do for your store.
We're not just cart abandonment software anymore.
We needed a new name. A new identity. And that's how Recart was born.
What Exactly is Recart?
Recart is your ultimate marketing tool, with one purpose only:
To make you more money.
With 6 powerful features, Recart will help you get the most out of your traffic:
Abandoned Cart Campaigns. Email, push notifications, and even ecommerce text marketing to reclaim lost customers (and lost revenue).
Add to Cart Popup. Innovative email capture right after adding to cart.
Push Notifications. Building oh-so-important engagement with your potential customers.
Email Capture. A bigger email list = more potential sales.
Form Autofill. Making the checkout process easier than ever.
Abandonment Analytics. Everything you could hope to know. If you can measure it, you can manage it and make improvements.
Push Notifications
First of all, one of our biggest new features with Recart is Push Notifications. It's a new and exciting way to engage your visitors with a whopping 20%+ click rate! I strongly recommend that you check it out.
If you're already familiar with Push, here's the great news. You don't need to pay for an expensive 3rd party solution anymore. Because it's included in the Recart pricing!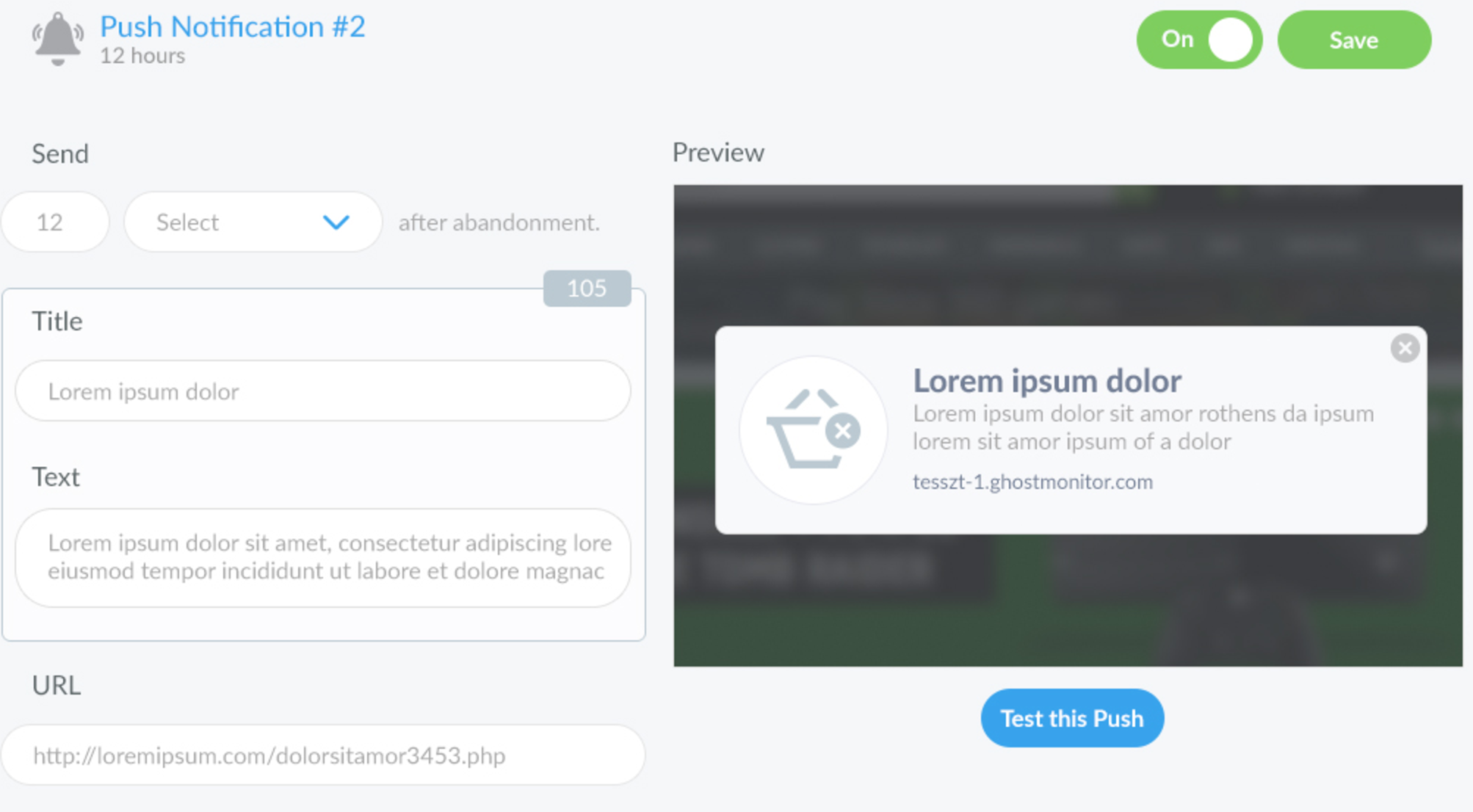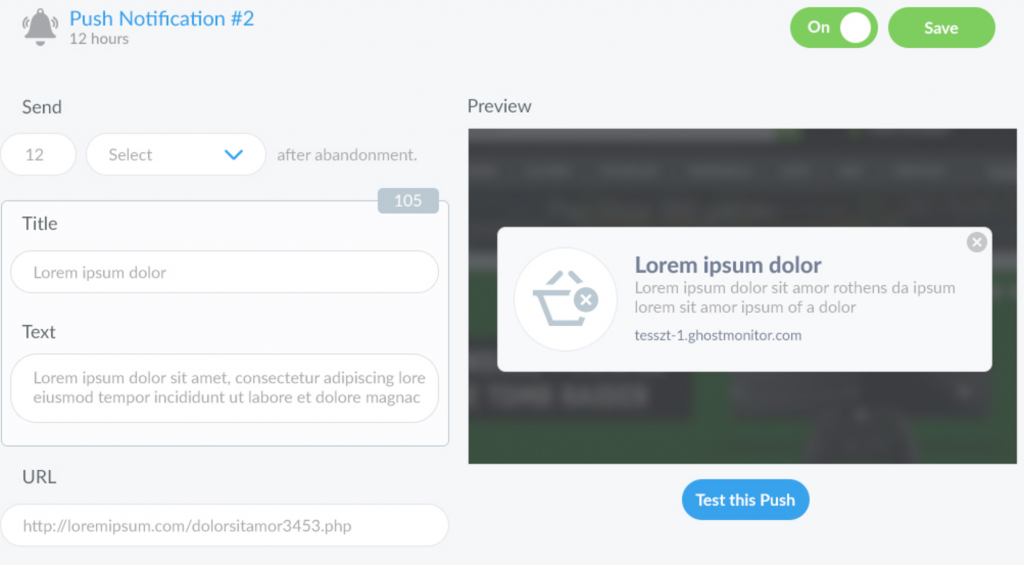 Push Notifications arrive on March 8. Stay tuned; we'll email you when we roll it out.
Recart's New Pricing Structure
10 months ago we decided to start out with a $10-a-month pricing for unlimited features.
I know, crazy right?
As a result, our goal was to drive great-quality users to GhostMonitor and gain valuable feedback on our product. And using that feedback, we could reach a product-market fit much faster.
It worked out perfectly.
The $10/month pricing formed an effective gate between those who were willing to pay for our software and those who wanted everything for free. We collected a ton of valuable feedback and with that improved a bunch of things in the software.
We learned how merchants think and how we can help them best.
But here's the thing:
With 2,000 active users running on our servers, we realized that our price point wasn't sustainable.
Although we made our users substantial revenue, we generated very little in return. Paying the AWS bill was no easy feat, not to mention feeding the 10-people development team behind this software…
Therefore, in order to keep the lights on and continue providing you guys with as much value as possible, we needed a new and fair price point that works for everyone.
Honestly, I've never been a fan of feature or visitor-based pricing. Most e-commerce apps benefit from extra sales, so why charge you for features or visitors?
At Recart, we decided to only charge you for the extra sales Recart makes you.
That's how we developed our new pricing. It's fair and affordable for everyone. We crafted a simple performance-based plan. It contains all features without restrictions. If we aim to make you more money, why would we limit your ability to do just that?
The New Pricing Plans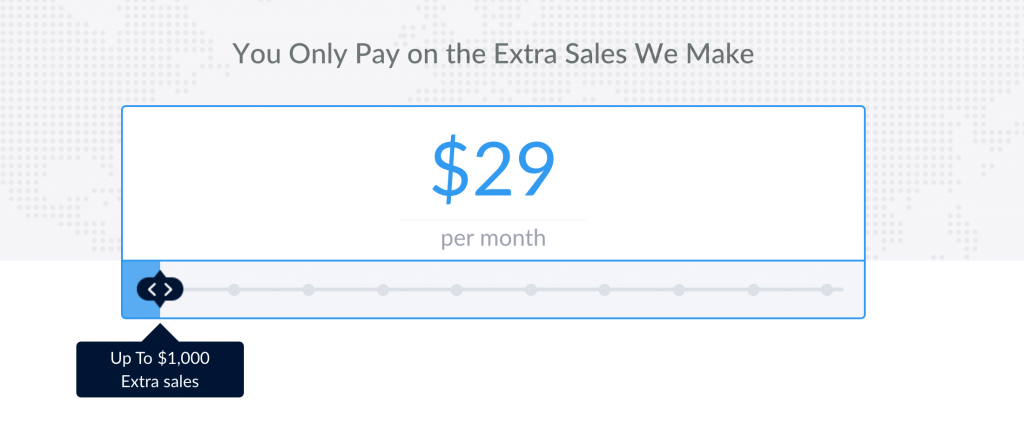 From now, you'll only pay for the extra revenue, starting from $29/month. Here is the full pricing:
$1,000 – $29
$2,500 – $49
$5,000 – $89
$7,500 – $129
$10,000 – $169
$12,500 – $209
$15,000 – $249
$17,500 – $279
$20,000 – $299
$20,000+ Contact us
The first column contains the extra sales Recart drives you monthly, the second shows you the monthly price for that extra sales.
The upgrades and downgrades are automatic. All you have to do is subscribe on your Recart Dashboard. We'll charge the corresponding plan after your 30-day billing cycle. Please check our Pricing page for more information.
Please note:
If you're already subscribed to the $10 plan, we'll let you take some time to figure it out if you want to stay with us or not.
Every existing $10/month subscription continues until March 31.
On April 1, all $10/month subscriptions will be terminated. If the time is closing in and you're still not subscribed to the new plan, we'll be in touch to remind you. And if you have any questions about the new pricing, don't hesitate to contact us!
What's next?
Here's the great news: We will roll out even more cool features for you guys this year.
Here's a short timeline of things to come:
Safari support for Push Notifications (March)
Schedule for the Push Subscription Popup (March)
Calls to action for Push Notifications (March)
Speed and reliability improvements (March)
BigCommerce integration launch (March)
More analytics on each campaign performance (March)
New Add to Cart Popup editor with brand new templates (March)
Email Analytics for each Abandoned Carts individually (April)
New Email Editor (April)
Today marks the next phase in our journey and I strongly believe this is a big step in the right direction for everyone.
E-commerce needs Recart – I know for sure since I use it on my own stores.
I know because I see how much money we make for our clients.
I hope you know it too!
As always, if you have any questions, don't hesitate to comment here or contact us.