Facebook recently released the latest tool to engage, support your customers and grow your Messenger list – right on your ecommerce store. Right after the Messenger team released the feature, we started working hard to release it to all Recart users, and from today, you can enable it on your store with a single click!
What is the Messenger Customer Chat?
The Messenger Customer Chat Plugin allows you to provide an easy way to start a Messenger conversation right on your storefront.
Since more than 2 billion people use Facebook every month, Facebook Messenger is the most effective way to connect to your customers. Better yet, the conversations your customers start on your store will also be sent to their Messenger app.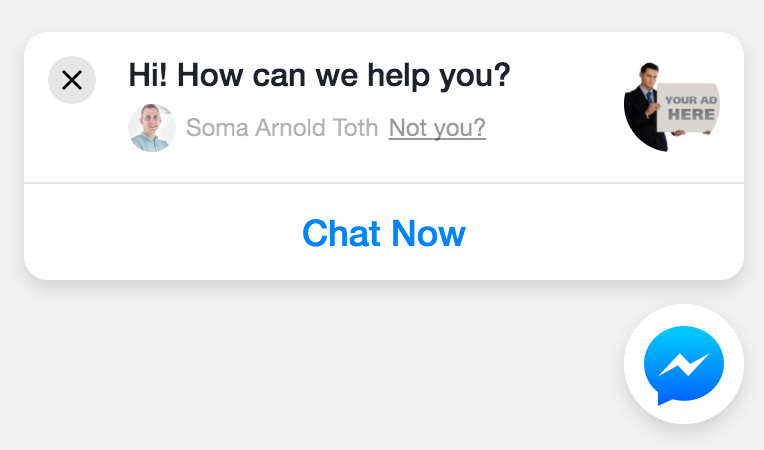 I bet you already have a support solution in place. You might use email, a ticketing system, or any other live chat. Here are the reasons why you should enable the Messenger Customer Chat right now:
Everyone who starts a conversation becomes a Messenger subscriber
Everyone who contacts you via the Customer Chat becomes a subscriber in your Messenger list. Recart also pairs their cart to the subscription, so they receive abandoned cart messages, receipts and fulfillment notifications. You can also send them Instant Messages in the future, just like those who opt-in from a Messenger Widget or an Optimonk popup.
All conversations happen in Messenger
Just like the answers to your automated Messenger messages – these conversations will appear in your Facebook Page inbox. When you reply, customers receive it in their Messenger app as well – with a push notification on their phone.
Your customers don't need to return to the website to get back to you. They can simply open the Messenger app, and pick up where they left off – the conversation history will already be there.
No promotions folder, no deliverability issues
When you handle your communications via email, you probably see some messages dropped, arrived in the promotions or spam folder or see that customers simply don't open the email at all. Messenger changes all this when it takes your business communications to its chat platform. Your open rates will be above 90%, and you don't have to worry about the spam folder anymore.
We prepared a quick FAQ for you:
How can I change the "Hi! How can we help you?" text on my chat window?
Unfortunately, there's no way to change that right now. Facebook doesn't provide an option for that yet. As soon as Facebook updates this, we'll make it available for you guys.
How can I get the most out of the chat?
All you need to do is enable it on your Messenger Dashboard. Once it's activated, you'll subscribe all customers to your Messenger list who started a conversation via the Customer Chat. After that, can send them
Abandoned Cart Messenger Campaign
Messenger Receipt
Messenger Fulfillment Notification
Instant Messenger Campaigns
without any extra permission – until they unsubscribe, of course.
Can I change the position of the chat?
You can't do that yet either. As soon as Facebook builds this setting in the Customer Chat, we'll give it to you.
Can I set up a welcome message for customers who start a conversation?
Not yet, but this feature is on our roadmap and we plan to roll it out in Q1 2018.
If you don't find your question here, hit us up on the Recart Chat or contact us via email.