It's every store owner's dream.
To know, whether at your desk or not, that your store is continuing to effectively chase prospects, warm leads, re-engage cart abandoners, and drive more revenue.
Automation and passive income are the holy grail of online marketing. To be able to grow your revenue with little to no effort is a dream we all have, yet few manage to achieve.
Whilst it's true that passive income isn't an easy goal to achieve, it's anything but impossible.
We know from first-hand experience. We recently crossed the 10,000 users mark here at Recart. That's 10,000 Shopify and WooCommerce store owners using our tool to effectively place much of their revenue driving campaigns on autopilot.
In particular, they're using Recart to implement automated:
Cart abandonment campaigns

Receipt delivery (with cross-sell recommendation)

Order fulfillment updates
Doesn't sound all that impressive, right?
I mean, email automation services have long been able to implement these kinds of campaigns. It's a channel proven to be the king of ROI. And these campaigns form the staple of many store owner's marketing efforts.
But here's the thing. Email might still sit the ROI throne, but there's a real chance it could become usurped in the very near future.
What new channel is threatening email?
Facebook Messenger.
Facebook Messenger has grown incredibly in the last couple of years. It not only boasts a staggering user base and incredible growth statistics. But it's also outperforming email in a couple of key areas.
We've put together the below gifographic to highlight the key points between the two in the biggest problem eCommerce faces, cart abandonment.
Sources – Salecycle #1, Salecycle #2, Recart's own stats!
Facebook Messenger is gaining ground on email in every key metric. And sure, it might not be outperforming it on the whole just yet, but if you're a smart store owner, you'll know that now is the perfect time to jump on the Messenger train.
To help get you started, I'm going to detail some of the more effective automated Messenger campaigns and how you can implement them, but first…
A Quick Overview of Facebook Messenger Basics
Messenger has made this a pretty exciting time for store owners. It's a direct line to your customers, much like email, but with vastly higher engagement rates.
Optimise your Messenger campaigns correctly and you could be seeing huge gains and massive conversion lifts in no time at all. And, of course, with the right tool, you can place those campaigns on autopilot giving you more time to focus on other areas of your business.
However, it's not as simple as sending a single message. You've got to know how people use Messenger, how they engage with messages, and what sort of content it is they want to receive.
We've done a tonne of research on this and put together a huge guide you can find by clicking here. But if you just want the cliff notes version I've included the key elements below.
1 – Limit your messages to one goal
Messenger is not for long-form content. You can't send someone a 500+ word promo through on Messenger. You've got to keep your messages short and your focus tight.
This isn't only going to help with the engagement for that message. But it's also going to help with conversions. When your message's focus is tight and has only one goal, you'll find it easier to optimise and improve that message.
2 – Don't Always Push for the Sale
I know it's tempting to hit your subs with a sales message at every opportunity, but you've got to beware of pissing them off.
If all you do is contact them with the latest promotion they're going to block you and unsubscribe.
Sometimes you have to play the long game. Messenger is not just about increasing sales, but is just as much focused on building a better relationship with your consumers.
Ask yourself if the user would be receptive to a promotion or if they're better served with a general update or simply notification.
You have to woo your customers. You've got to build that trust so they convince themselves that you are the best brand and product for their needs.
Screaming about your latest product or promo in every message is only going to lower trust and make you seem like a money-grubbing con-man.
3 – Don't Set and forget!
Any marketing campaign, from the first time you optimise a landing page to an ongoing outreach email campaign, should never be forgotten. You should never set and forget.
Meaningful gains come from iterative improvements. For you to continually improve the effectiveness of your campaigns you're going to have to analyze data and act upon your findings.
Automation can take a tonne of the actual busy work off your plate, but you still have to guide it in the right direction if you want to continually improve campaign effectiveness.
4 – Timing is Everything
One of the key findings we've found in our own experiments with Messenger revealed that timing really is everything.
When you send a campaign is of paramount importance to its success. You have to understand the user's intent and how best to capture their attention.
The only way to really understand this is to test different messages with your own audience.
5 – Remember, This isn't Email!
Don't use long words, sentences, or paragraphs. And don't be overly formal or too business-like.
People use Messenger to converse with their friends. So you, too, should converse like you're one of their friends.
Before you pen any of your messages I recommend taking a look through your own personal message history. Look at how you use emojis, GIFs, and slang.
Use the same patterns in your business communications. Just be sure you don't cross the line into becoming unprofessional.
Now the basic rules are out of the way, let's take a look at a  couple of Facebook Messenger campaigns and flows you should implement to take your online store to the next level.
Cart Abandonment
Let's begin by addressing the big bugger. The problem every store suffers from and that costs the industry trillions of dollars in lost revenue. Every. Single. Year.
Cart abandonment is a topic that's been covered far too many times.  And yet, still there are countless stores out there who aren't taking any steps to lessen its impact.
Fortunately, we've been experimenting with a number of different variables for cart abandonment solutions through Messenger and the below is what we've discovered to be most effective.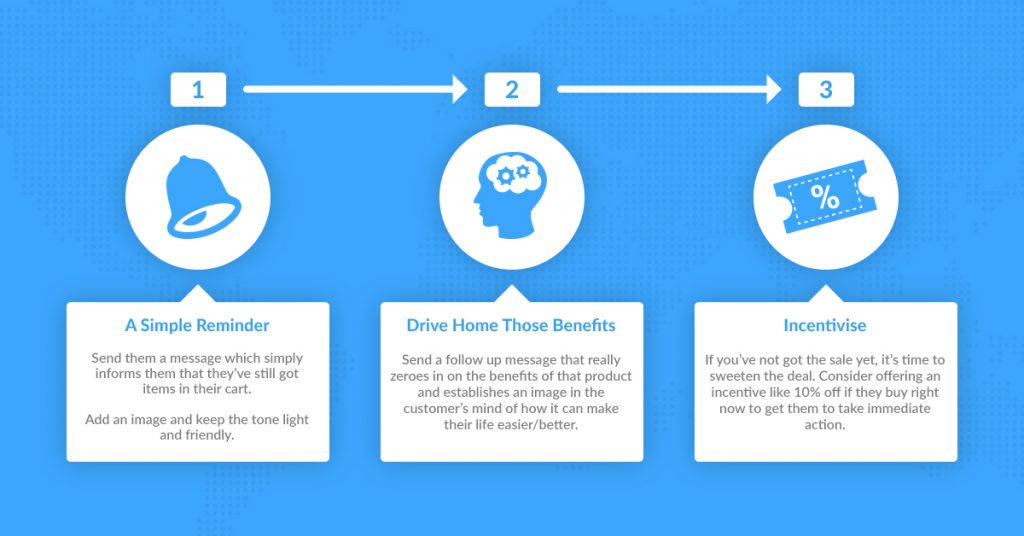 Welcome/Nurture Campaign
When it comes to email marketing, welcome sequences have some of the highest engagement around.
Over 74% of users expect a welcome email (

source

)

Welcome emails see more than 10x the transaction rate over batched emails (

source

)

Over three times the number of unique opens (

source

)

Welcoming customers to your brand is a huge catalyst for conversions. And with Messenger's incredible engagement rate, it could take your store to the next level.
Instead of simply sending a single welcome message though, capitalize on your customer's interest and set up a sequence.
This is how we'd recommend reaching out for that first contact to build the best foundation of your ongoing relationship.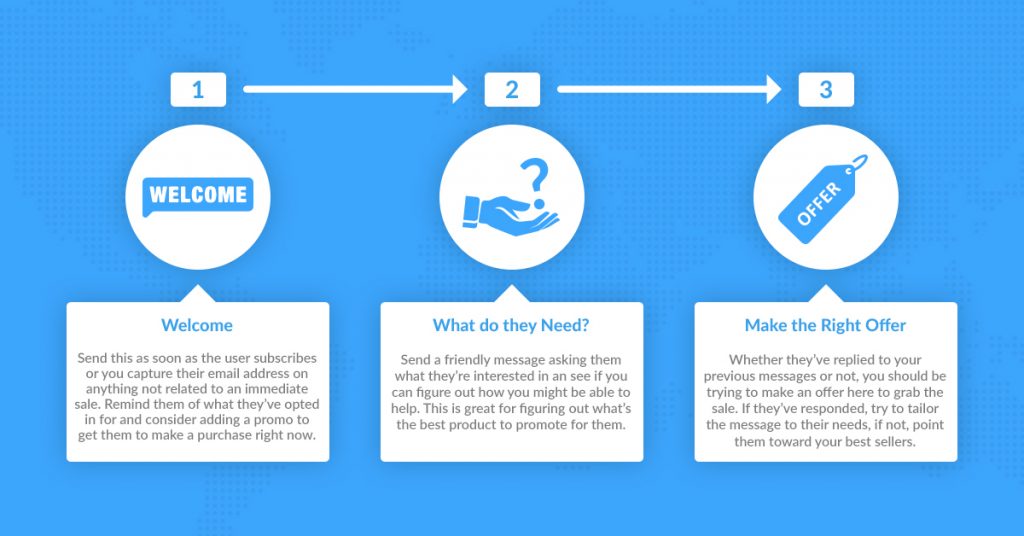 Post Conversion Messages
Grabbing the sale is not the end of the customer journey.
It's a major milestone for sure, but more than anything it's a pivot in the relationship you've established. You're no longer trying to get the sale. But instead you are trying to build a trusting relationship so the customer wants to come back and purchase from you again.
Nurturing current customer relationships is the smartest tactic there is for store owners. Returning customers not only spend more cash on subsequent purchases, they're also 10 times cheaper to hold on to when compared to sourcing new customers.  
It's a double whammy of earning more and spending less. So implementation of a post-conversion campaign is a must.
With Messenger, you've a few options on how to build relationships after the purchase. Here's a few we'd recommend.
The Order Fulfilment Update and Receipt Delivery
Everyone hates those annoyingly vague, bullshit delivery estimations.
You know the ones. Where you're told the delivery driver will be there between 9am and 5pm. They're useless and cause more aggravation than they alleviate.
Thing is, there's a simple fix to the problem. Simply follow up with the customer at relevant intervals letting them know how their delivery is progressing.
It's a simple step which every customer will be incredibly grateful to receive. Below is a basic flow we'd recommend implementing so that you not only give some useful information, but you also build relationships and have a chance at securing a second sale.
To take this to the next level, consider appending the receipt to a message with an incentive for another purchase.
Basic Follow Ups
If you let your customer relationships stagnate, old customers are going to forget about you and you could see your sales diminish. You've got to play the long game with customers and keep them engaged with relevant follow up campaigns outside the scope of those that immediately follow a purchase.
The problem is, Messenger has some peculiar rules on what it is you're allowed to send outside the 24-hour window following the start of communication.
You're not permitted to send promotional materials outside this 24-hour window, so you've got to play the game a little.
You've got to understand what it is you can say and how you're able to make the most impact whilst staying within Messenger's rules.
We've been experimenting with a couple of options and the below is the sequence we've had some pretty awesome success with. We're not yet at the point where we're ready to share what works best. But if you want to be the first to know, then either bookmark this page or sign up for a free Recart account. 
Facebook Messenger is an Incredible Method of Driving eCommerce Revenue
Email has long held the crown at the top of the ROI and revenue-driving monarchy.
But Facebook Messenger is fast closing on its heels. It provides far higher engagement and could, if handled in the right way, provide an even higher ROI for you and your brand.
The above are just the beginning. Messenger is a young channel. One which hasn't yet fully matured and for which there are no established best practices.
We're working hard to figure out exactly what it is that will bring you the best results. But what I can say is that you shouldn't be waiting around for us to figure things out.
There's no better time for you to get involved in Facebook Messenger marketing. It's taking off in a huge way and those brands who start their campaigns now will be leagues ahead of your competition.
The possibilities with Messenger are incredibly exciting. Don't delay. If you've not yet got any campaigns started, sign up for a free Recart account right this second and see how we can help you drive more revenue with automated sequences.