You know that feeling of coming to a product page that just feels right, but you have no idea why?
Luckily, we do.
It's every shop's goal and every shopper's dream.
In a world where the average conversion rate for online stores sits around 2%, your product pages are your bread and butter. From the moment your visitor lands on the page, you only have a few seconds to convince them you're worth their time and money.
This guide breaks down the seven essentials of a high-converting product page. We'll go not just into visuals and product description, but the overall experience for your visitor and what it takes for them to convert into paying customers.
Prioritize Product Name and URL
For something that takes up the least amount of space on your product page, the name and URL of your product page have some serious power.
Let's begin with the product name. Imagine this: you're looking for an essential oils diffuser, so you do a quick Google search. Which one of the two results below would you rather click on?

I bet the answer is the first one, and you probably didn't spend more than a second making that decision. The problem with the second result is that it's too crammed, there are words in there that remove a lot of clarity about the product ('essential oil diffuser' is hidden in the middle!), and the name isn't fully visible.
On the other hand, the first result is clean, straightforward, and represents exactly what you searched for.
So often neglected, product URLs can subconsciously impact the decision to click through to a certain result. Similarly to the product names in search results, URLs are an indicator of how relevant a result is. Let's say you're looking for running gear for kids. A quick Google search shows you these two results at the top. Which one is more attractive?

The second result indicates running gear, but nothing about kids. The third one doesn't even do that much.
However, the first result cleverly displays categories and reassures you you'll land on a page with running clothes specifically for kids. This means no clicking around the page and hunting for the right category.
Takeaway: Make sure your URLs and product names make the most out of the limited space and time you have to convince the searcher to click through. Do this right and the entire experience on the product page will be better, too!
Remove Distractions From Your Unique Value Proposition
To convert well, your product page must focus on one thing only: your product. Your only goal here is to get the visitor to complete the purchase.
Influencing a person's attention is no easy feat, but there are two key actions you can take to make this happen:
Make the product's unique value proposition obvious

Remove distractions that, well, distract from it
The unique value proposition of your product states who your customer is, what the product does, what makes you unique, and shows the end benefit. It sounds like a no-brainer and so complex to achieve all at once.
So how do you achieve that on just one product page?
Take a page out of CarveOn's book. CarveOn makes and sells hand-crafted, personalized accessories like wallets and passport holders, made from natural materials. That's also the exact impression you get when you land on their personalized wallet product page: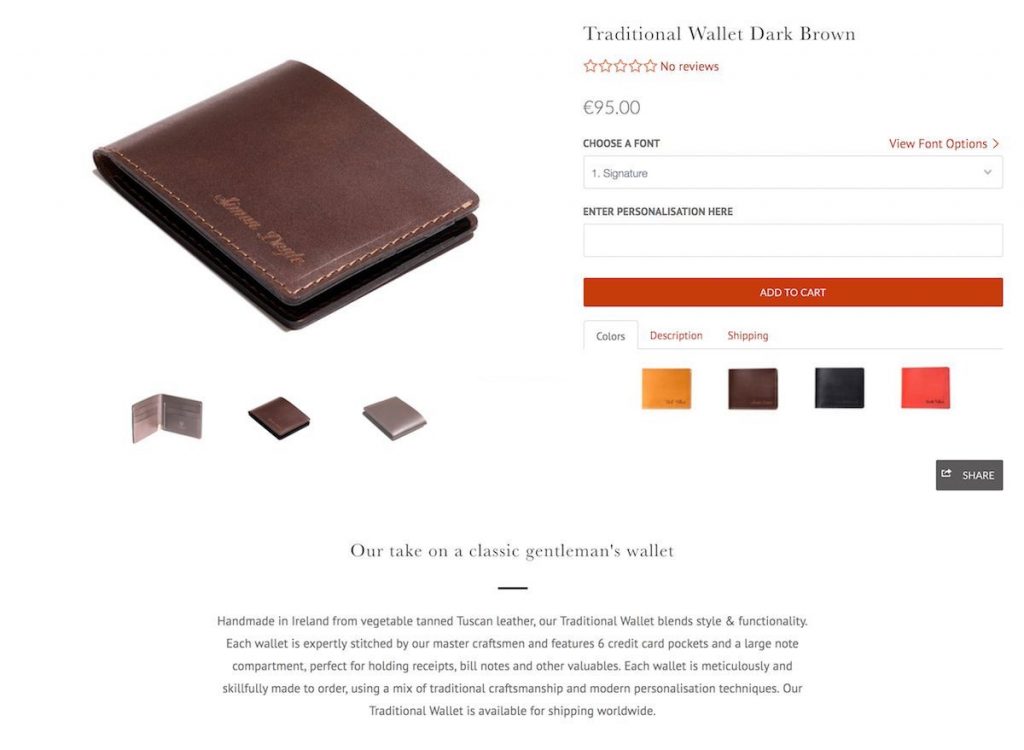 And one scroll brings you to this: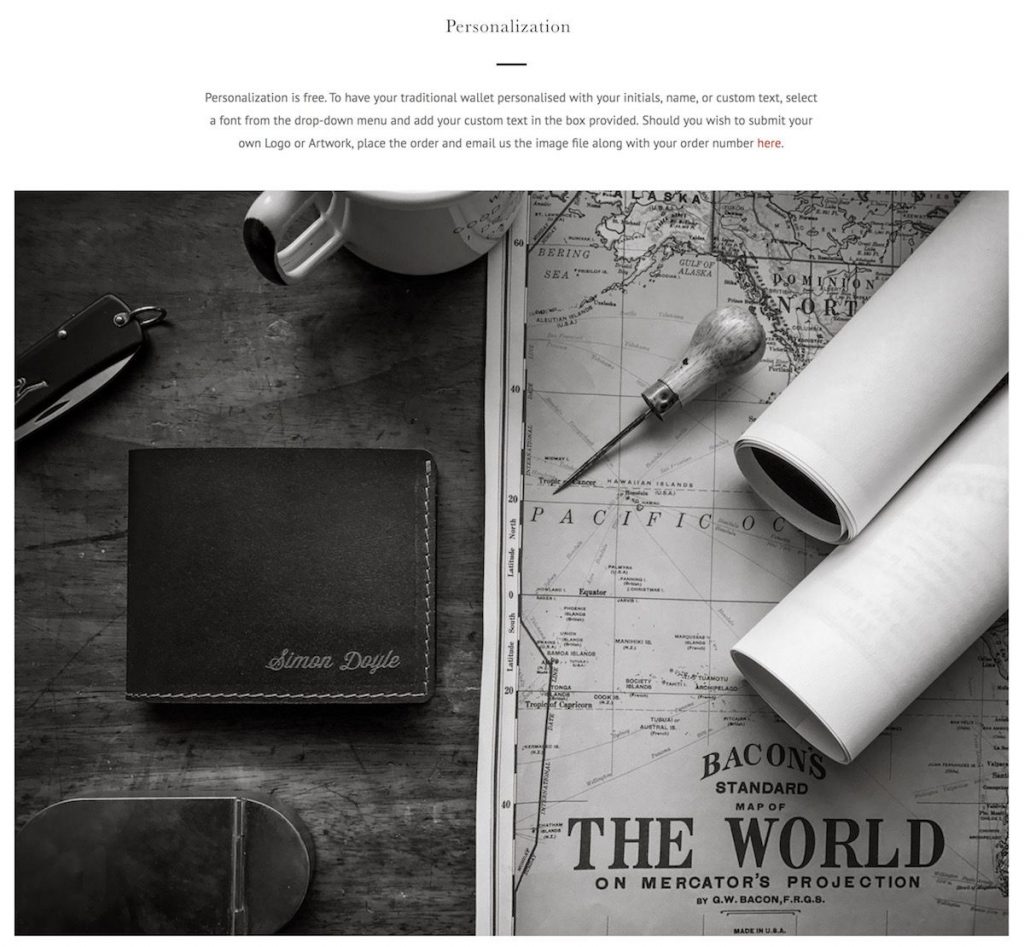 Not only can you quickly see all four parts of their unique value proposition, but there are also no distractions to draw you away from it. There are no banners, distracting links, or colors that stand out. Apart from viewing the font options, the only action you can take is to enter personalization and add to cart.
Takeaway: Know why your product should matter to your visitor and remove anything like rich backgrounds, extra navigation, links, and banners that can distract them from seeing it and taking action.
Use Images to Replace the Real-Life Shopping Experience
Here's the thing about online shopping: you can't touch the product, try it on, see it in natural light, or imagine yourself owning it in any practical way like you would in a physical store.
Product images must do this job instead. Here's the curveball: focusing on just having high-quality images isn't enough.
You know the way you try a colored gel pen before you put it in your cart in a stationery store? Or place a watch on your wrist before you buy it? The same feeling is present in online shopping. You shouldn't forget that your visitor wants to:
See your product from multiple (or even better, all) angles

Compare all the color variants

See your product being used

Zoom into fine details
New Look brilliantly tick all the boxes, and it only takes them up to six photos per color to do it: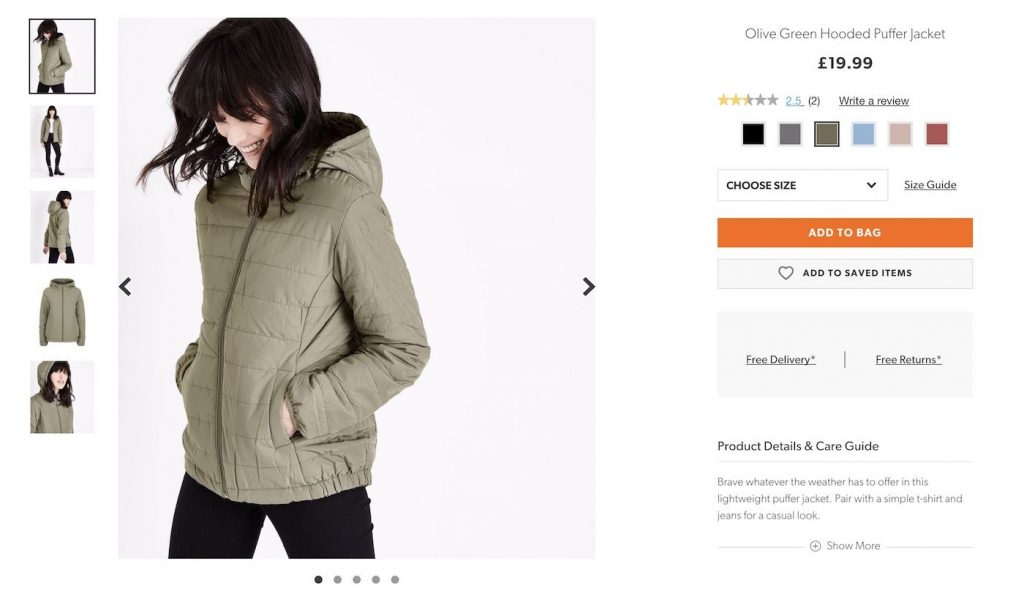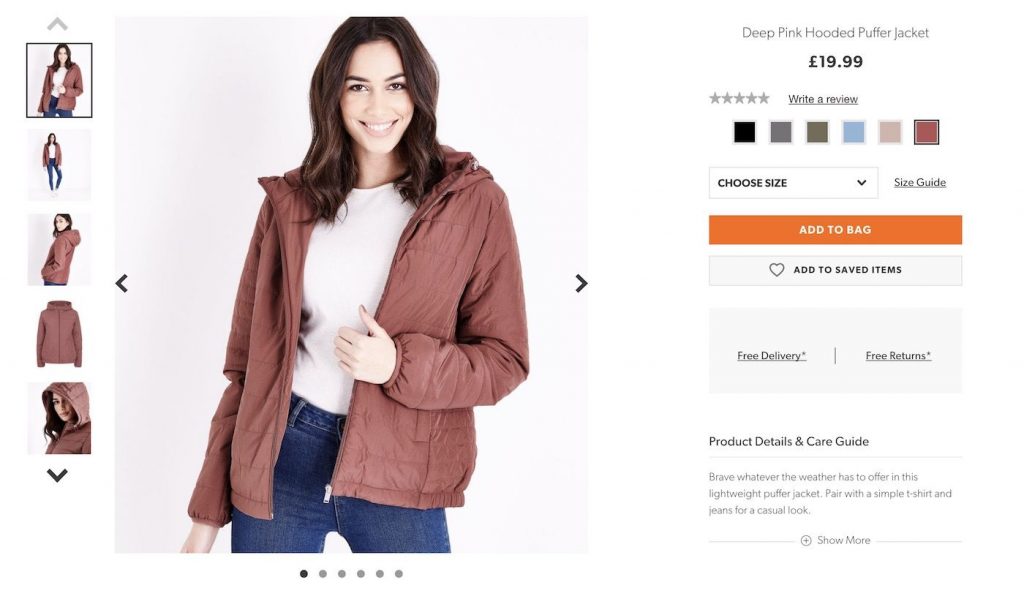 Bonus tip: You'll add that extra level of trust if you're upfront with the available quantities for each color/size variant, saving your customer the trip to the shopping cart only to find out something of their choice isn't available when they're ready to pay for it. New Look does a great job here, too: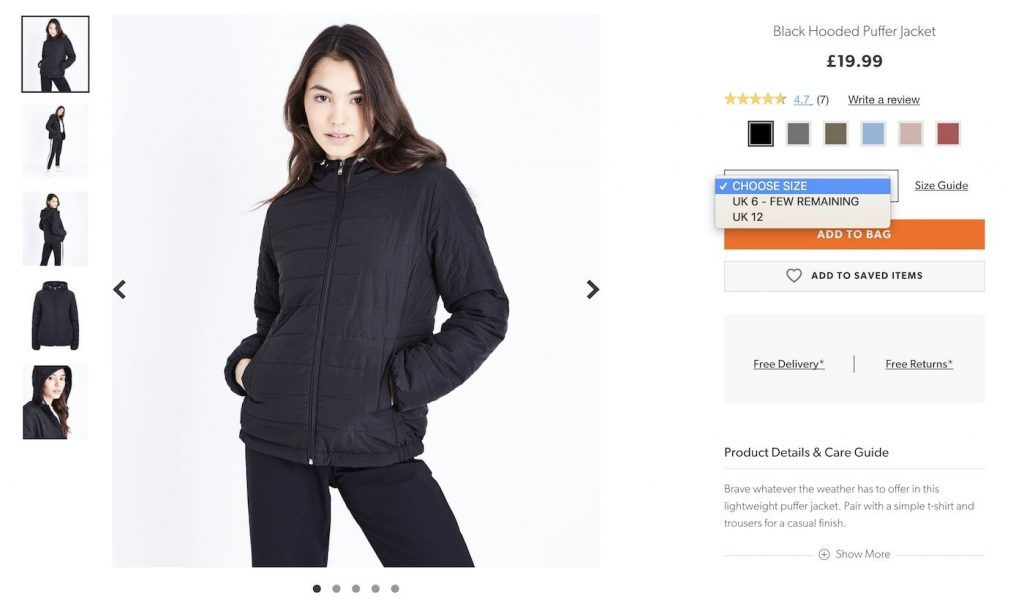 The folks at OOLY know the thing about trying out a pen before you buy it, which is why there's an image of their pens being used: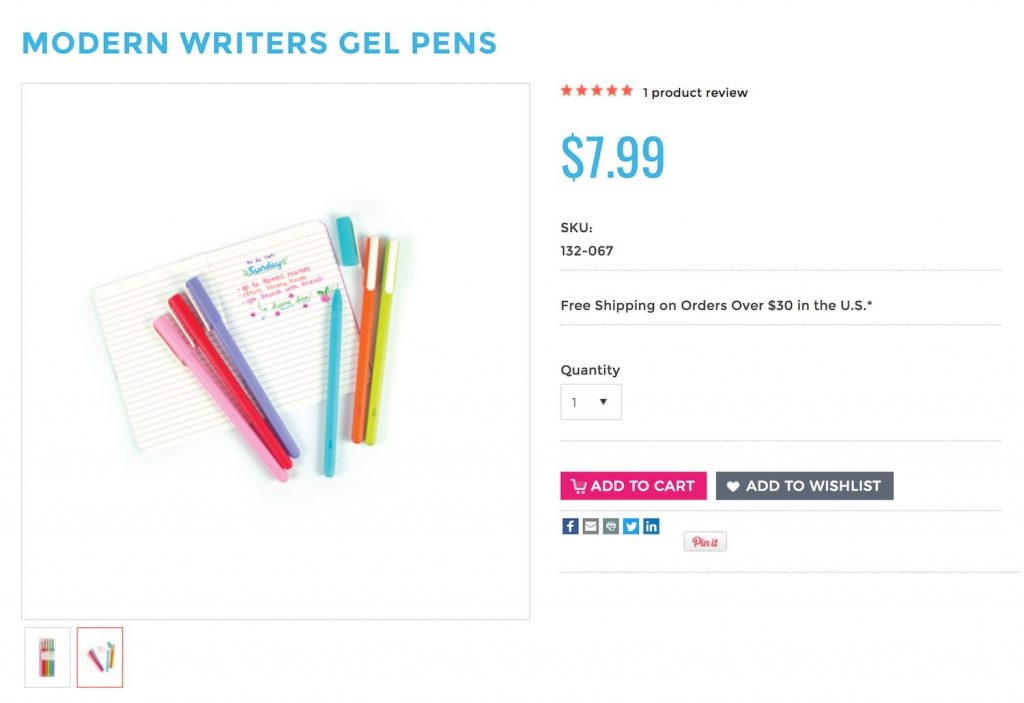 Even better, you can open that image across the whole screen and see the colors in details.
Takeaway: Showing the visitor how it feels to own your product is the key to get them closer to buying. If you're unsure of the amount photos, go with more rather than less. Of course, that doesn't mean you should add 60 photos for each product, but try to cover each angle for each variant and leave no space for guessing.
Inject Confidence With Video
An extra step you can take to capitalize on the value of high-quality visuals on your product page is using a product video.
Research has shown that product videos can boost confidence in potential purchases and reduce the chance for the products to be returned. To top that off, some companies have seen an increase in conversion rate of up to a whopping 160% for visitors who have viewed the video.
Wondering what to put in a video on your product page?
Present your product in action. I mentioned this in the section about images, but video can show additional bits like steps, movement, and context.
Answer questions and address potential objections. Is there a concern that's frequently raised by your customers before they buy? If you address this in a product video, you could reduce that friction and reassure the purchase decision.
Show the transformation. Take your potential customer on a journey and reveal the real-life result they can achieve with your product.
One of my favorite examples of this is the NaturallyCurly shop. Some of their product pages have a tab with videos below the main section, and it often contains user-generated YouTube videos just like this one: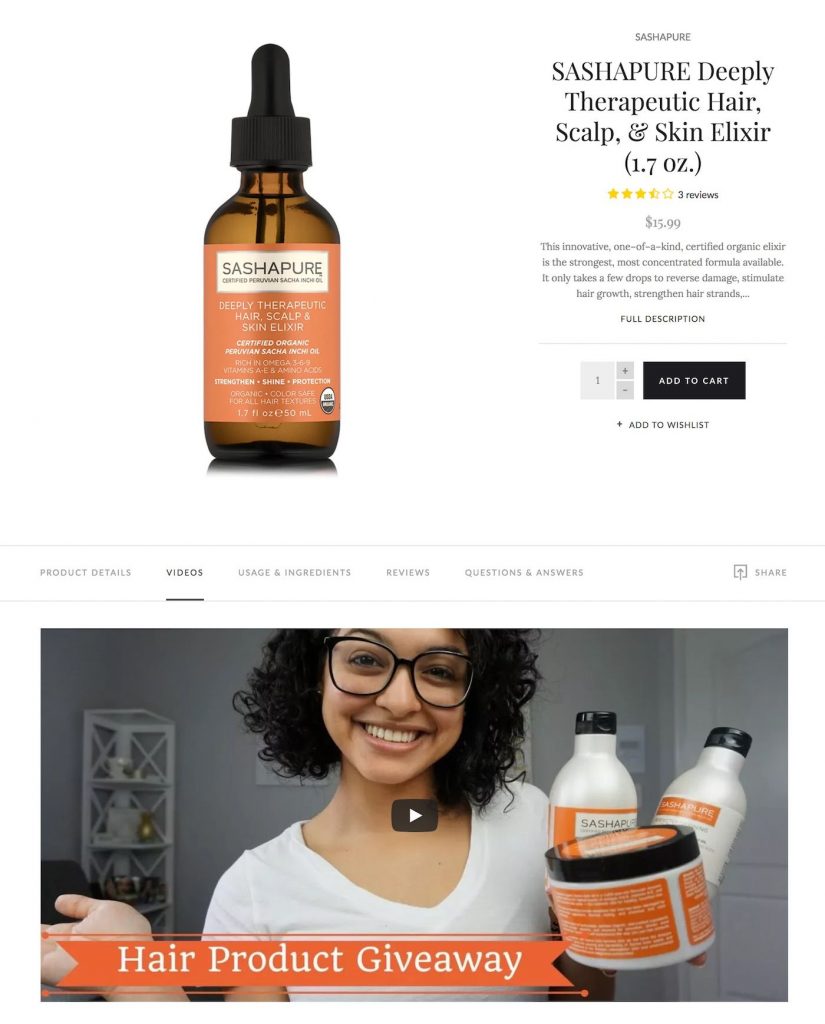 Takeaway: Put yourself in your customer's shoes and ask yourself what kind of information consumed in a product video injects confidence into your product.
Write Copy They Actually Want to Read
The job of product description is to complete the work that elements we talked about so far have already done for the product. Product name and value proposition set the tone and expectations, visuals added the feeling of owning your product.
So what's the mission of a product description?
The copy on your product page is important for two reasons: it adds to your search visibility, and it enhances the user experience.
While there's no one-size-fits-all formula that fits any and all product types and industries, there are actions you can take to ensure your product description appeals to your audience:
Write your own product description as opposed to using manufacturer's

Write paragraph(s) of prose along with a bulleted list of specs or product features; this

results

in increased conversion rate, lower cart abandonment, and a lower return rate

Appeal to user's emotions use phrases and pieces of information that they use when talking about it

Tell a story about the product, like who made it, what inspired it, or how you tested it; stories make readers

forget they're being sold to
There's no perfect length or format for your product description, but placing yourself in your customer's shoes will help you leave no questions unanswered and make it useful and engaging. Your copy should be as long or as short as it needs to be to provide what your visitor is looking for.
This example from ModCloth wonderfully follows these tips, and they used tabs to divide the description from bullet points and sizing information: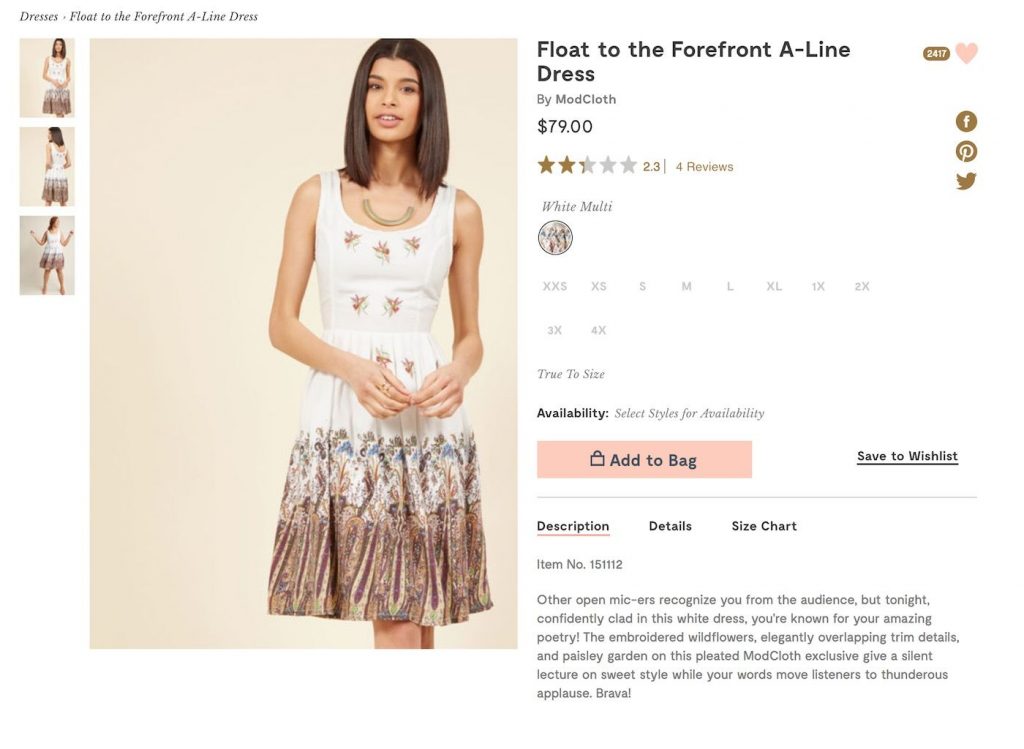 Innocent Juices have gone their own way and described their apple, pear, and cucumber superjuice by comparing it with the feeling of petting a labradoodle! This reflects the tone they use in all of their messaging, but they didn't forget to list all the reasons this juice is good for you. They also listed all the ingredients and nutrition info in the section with images, thus creating lots of whitespace around the actual copy: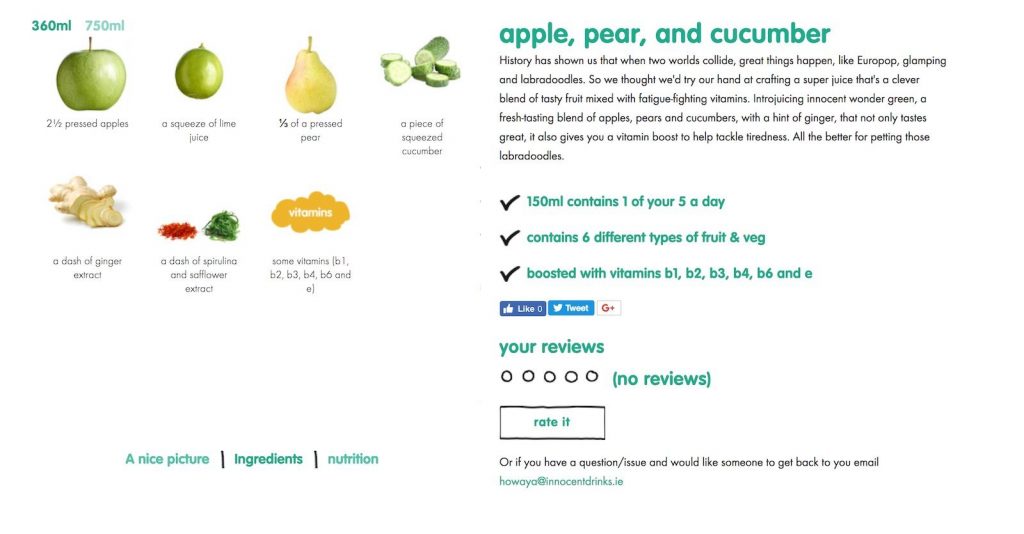 Takeaway: Leave no questions unanswered with your copy. Along with your visuals, it's playing the role of a staff member in a physical store. You'll know you've done an amazing job when you can make your visitor think "That's exactly what I was wondering"!
Place Shipping Details Front and Center
Have you ever found that wonderful product, the perfect version of something you needed at the time, only to get to the checkout stage and see the shipping cost twice the cost of the product?
I can recall times I wanted to buy a planner, running shoes, and a pricey piece of tech, but have given up because of that exact reason.
In fact, as much as 66% of online shoppers have decided not to buy an item because of shipping costs.
In an ideal world, shipping would always be free and everyone would be happy. If you can't offer free shipping, you can take these steps to encourage your customer to add the product to cart:
Make the details obvious, transparent, and easy to notice; they don't need to take up much space

Have a flat fee or a shipping calculator based on postcode or country

Display any opportunities for lower or free shipping, like a certain amount spent
There are different ways you can present this information. You can have it visible site-wide, like Myprotein does: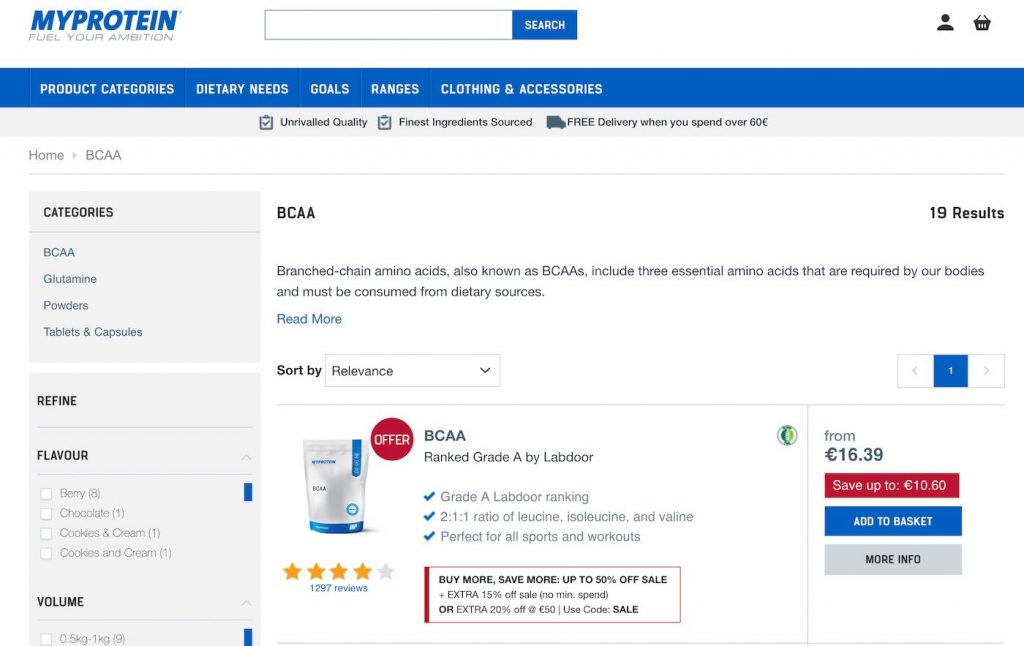 ASOS does the same, but they also added this information to the product description section: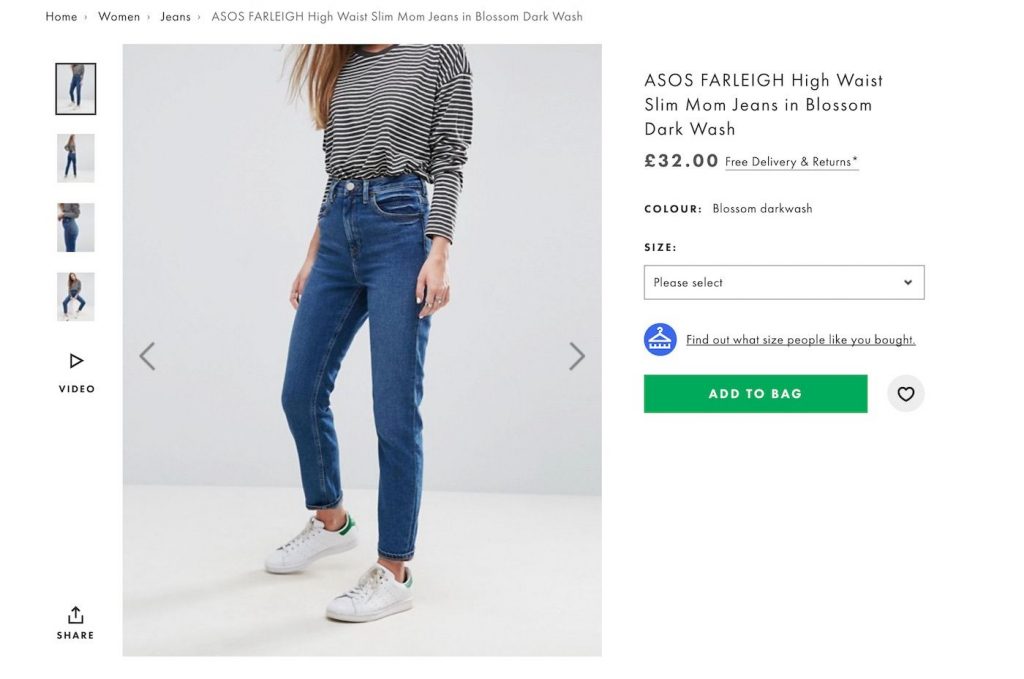 Takeaway: Ensure you don't mislead your customer by hiding the shipping costs all until the moment they're ready to pay; if they're unpleasantly surprised, they won't.
Make it a Risk-Free Purchase With Returns
The essentially identical logic applies to your returns policy and the way you communicate it.
But first, why does return policy matter?
No matter how good of a job you do presenting your products with images, videos, and stories, things change. People change their mind. Clothes don't fit. Kids want a different gift. It's not personal or directed at you; it just happens.
A clear, easy to understand returns policy instills your customer's confidence in your store, your products and you. Some of the things they'll want to know…
How much time will I have to send the product back?

How much will it cost me?

Is it going to be a hassle to send it back?
If you can tie in your returns policy with your shipping information, even better. ASOS did it in the example above. Earlier mentioned New Look is another great example: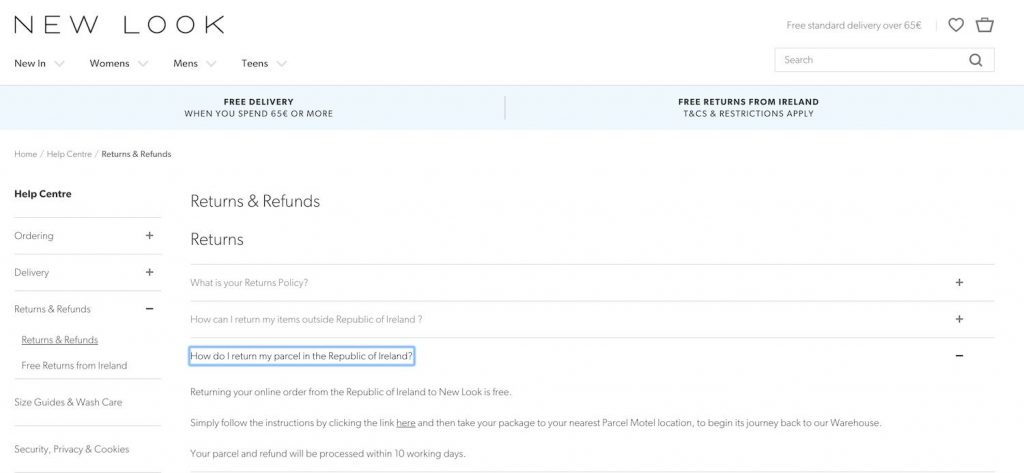 Takeaway: Make it risk-free for your customer to shop from you. Knowing they can easily return a product they aren't fully satisfied with means you're fully confident in your products, and they can be, too.
Make Reviews Obvious, and Reviewing Easy
Relying on ratings and reviews while we're online shopping is the equivalent of picking a restaurant based on how busy it is.
We do it probably daily and without too much thinking. While shopping for food on the local market, when looking for a new app on our smartphone, when picking our next holiday destination—we consistently rely on the confirmation from others who've been exactly where we are.
That's why 5-star ratings, physical queues and long waiting lists are somewhat magical.
Apart from making sure your social proof is visible on your product page—for example, a star rating right below the product name or descriptive reviews below the description—you also need to encourage your customers to actually leave reviews.
Ensure that the information you're gathering actually matters for your type of product. Apart from the simple star rating, you can ask for details like the type of fit or the ease of setup.
I came across one of the best examples while shopping for a new pair of runners recently. On top of the typical star rating, Amazon also added ratings based on how the shoe fits, so I was able to pick the correct size (and it does fit perfectly!):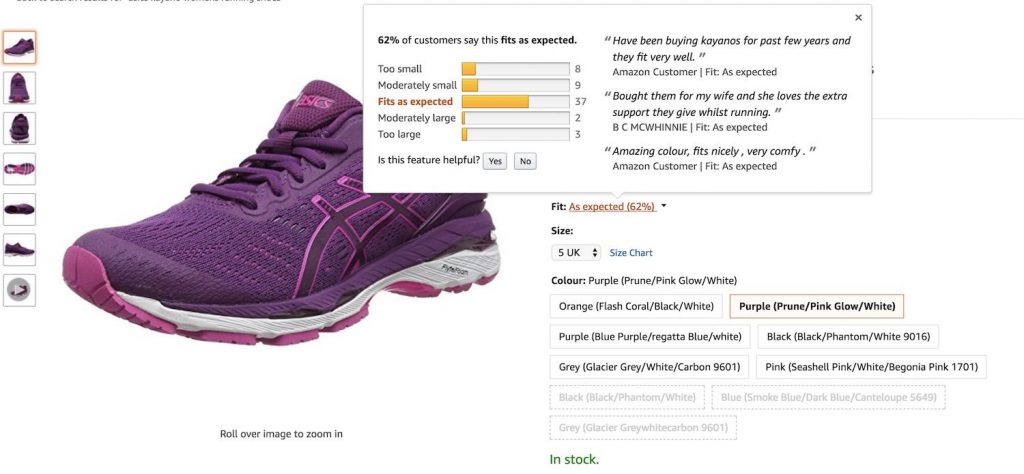 Takeaway: Your customers will be naturally more inclined towards the purchase if they see someone else was in their position and your product did exactly what they expected. No one can do a better job of making this happen than that customer's review.
Wrapping Up
Now you know all the steps you need to take to make your product pages better. Get inspired by these examples and take these actions, as they will help you create an attractive, reliable experience for your potential customers.
Over to you—what do you think are most important elements of a product page that increases sales? I'd love to hear from you.