Are you ready for some stories about customers and their "abandonment issues"? Then get comfortable and read on.
There was this casual Saturday night outing with the girls. And a friend of mine arrived wearing the cutest earrings that I've ever seen.
Believe me, I know every store in town where I can buy the coolest accessories, but these were unique!
Everyone started to ask her about it, how much was it, where did she get it, etc. It turned out very soon that our friend recently discovered the world of online shopping. And she had no intention to stop spending a big percent of her salary in online shops.
All of us were reminded immediately of the tingling sensation of pushing the "proceed to checkout" button when we just found the perfect "just casually going to buy groceries", the "this is our first date, I must look amazing", and the "I'm just walking the dog with a style" dresses.
Ah, those moments.
And then we started to also talk about the ups and downs of online shopping…
….and we did not need too much time to finally end up talking about why we don't buy things, and why we abandon our systematically selected shopping carts sometimes.
Let's run through their reasons!
First story – "Let's check this out somewhere else, maybe there's a better offer waiting for me"
Saving money is still one of the biggest issues. And, to be honest, no one can be blamed for that.
Compared to the past, when you had to move physically from one shop to the other to actually confront those prices, now it's just a few clicks away to be ready to choose the cheapest offer.
According to this study of Statista, 36% of the customers leave their carts because of this.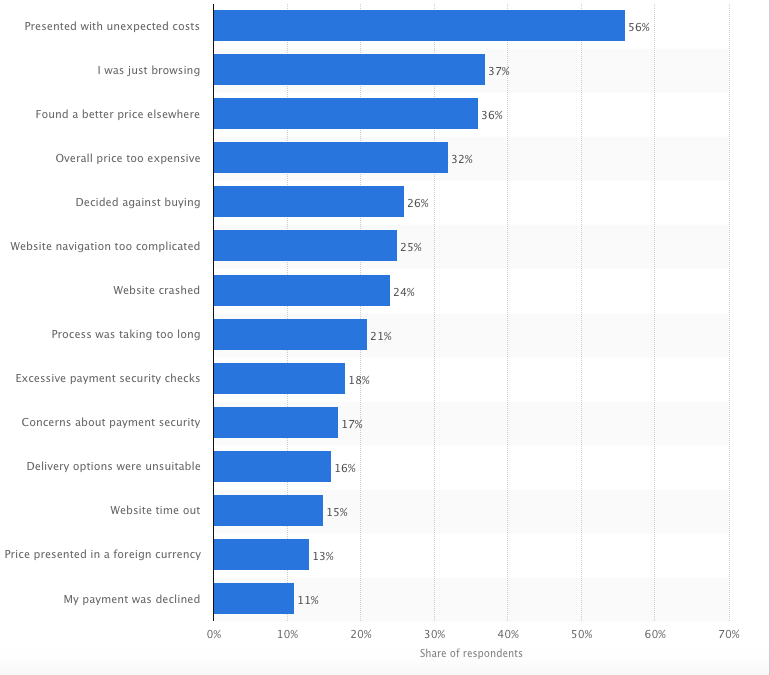 The customer of 2016 is self-conscious. And you shouldn't have a doubt that they will check out the alternatives and if they find a better offer, they will immediately choose the one which is better for them.
This is the aspect that now effects mostly brand loyalty – or what is left of it.
Solution: provide popups that are intent-specific.
This solution is perfect for those who are looking to maximize their shopping cart conversion rate. It is also great for those that have the ability to tempt potential customers back with a promotional message.
You can implement software whereby as soon as the visitor's cursor moves towards the exit button, a pre-configured notification will pop up offering an attractive discount and/or coupon code, with the goal of luring the customer to stay and reconsider their decision.
Second story – "I don't trust this thing"
What are the deficiencies in an ecommerce business that cause big trust issues?
Unexpected and not clearly communicated costs (e.g. shipping, taxes, etc.);
Not enough information on the product;
Not sufficient support during the whole buying process.
To see the depths of this, according to the already cited Statista survey, 56% drops out of the checkout because of unexpected costs!
This is honestly a number high enough to be taken care of, right?
Trust needs to be built and then properly maintained throughout the whole time when the customer stays at the site.
Solution: communicate clearly.
To avoid getting the 'unreliable' attribute, make sure your customers will know that their personal data and transactions will be totally safe.
Use (and most importantly indicate using) security tools like Norton security, RapidSSL and so on.
Provide rich content and images for products, and make sure your customers will know the total cost before they are redirected to the checkout page.
With these steps, your buyers will know exactly what is going on with the purchase, and they will have enough time to consider and make a decision, and finally to complete the purchase.
Third story – "The checkout is way too complicated, and I just don't have time for this"
Just imagine it, you're about to push the proper button to finally own the stuff you want badly – but there's no button…
…or at least you're just not able to find it.
That is an absolutely frustrating situation. A few seconds ago you were going crazy over the star-shaped mug which has a deep quote on it about how true love never dies, and now you're just simply annoyed.
Solution: provide good UX.
Get rid of everything that is not necessary, and try to provide as much support as you can. That should certainly do the trick. If your site is simple, buyers won't get confused.
Keep these stories in mind, and implement the offered solutions and you will make your life more simple.
And you will also make your customer's life more simple. And at the end of the day, this should be the main drive for you as an ecommerce business owner.